"When we adopted Haley, many of our black friends pulled me aside and shared with me the importance of educating myself on African-American hair care. Since then, I have consulted with salons, watched YouTube videos, and taken notes on everything my friends shared. There has never been a product that was recommended to me that I didn't immediately go out and buy.
As a white mama, I am deeply aware of the social and cultural areas of parenting where I will have to reach out for support. I desperately want to do the right thing for my daughter, and have always been thankful for the way my Black friends have stepped up to help me fill in that gap.
Last week, one of Haley's teachers sent me a picture of her, and I couldn't help but notice that her hair was messy and disheveled. Her hair seemed perfectly conditioned and styled when I sent her off to daycare a few hours earlier, but it looked different in the picture. The voices of all the women who had taken their time to tell me the importance of taking care of my daughter's hair rang in my ear. I felt like a failure. I was sure I was missing something simple— that I was making it more difficult than it had to be. In a moment of desperation, I posted the picture of her to my Facebook page asking for help.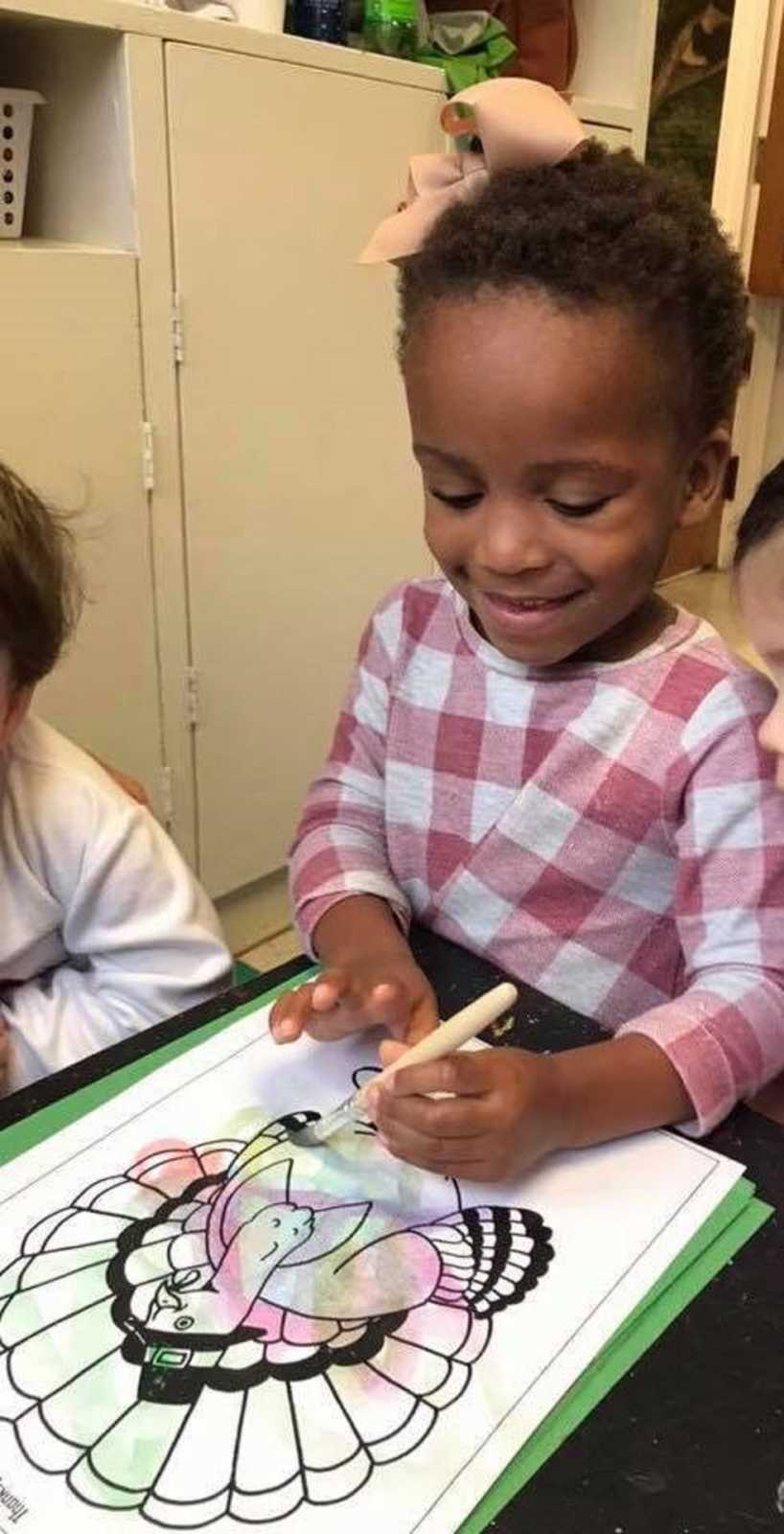 Here is what my post said:
Dear Black Friends of Social Media,
This clueless white momma is humbly coming to you to ask your help with Haley's hair. I have asked my friends. I have asked strangers in Publix with kids with cute hair, and I'm still not getting it. We wash once a week. We do the water, leave in conditioner, oil, and hot towel every morning. We've tried more products, no products, less products. We are gentle as can be, but she still requires at least 6 minutes of cuddles after the trauma of her daily hair combing. I feel like it looks great for about an hour or two and then it is tangly and clumpy again. This picture is 3 hours into the day. What am I doing wrong? I have literally bought every product that has been recommended to us. I desperately want to get this right!
Instead of calling a friend or visiting another salon, I was hoping the post could help me get to the bottom of some of the conflicting advice I had received. I was hoping that, maybe, different comments would help me see what I was missing. The response was astounding. Within an hour, I had gotten dozens of comments and handfuls of personal messages. Helpful, encouraging, useful advice. I immediately felt supported by my community.
One woman, Monica, who I had never met in person before, offered to come to my house and walk me through exactly how to style my daughter's hair. She was so kind and helpful over Facebook messenger, that I immediately took her up on her offer. She came to my home with a basket full of supplies, hair products, combs and headbands. She gave us her time, and advice. She asked for nothing in return and wouldn't accept my money. By the time she left I had a little more confidence in fixing my daughter's hair, and most importantly, I felt supported by my new friend. In a time of so much hate and division, our world needs more people like this.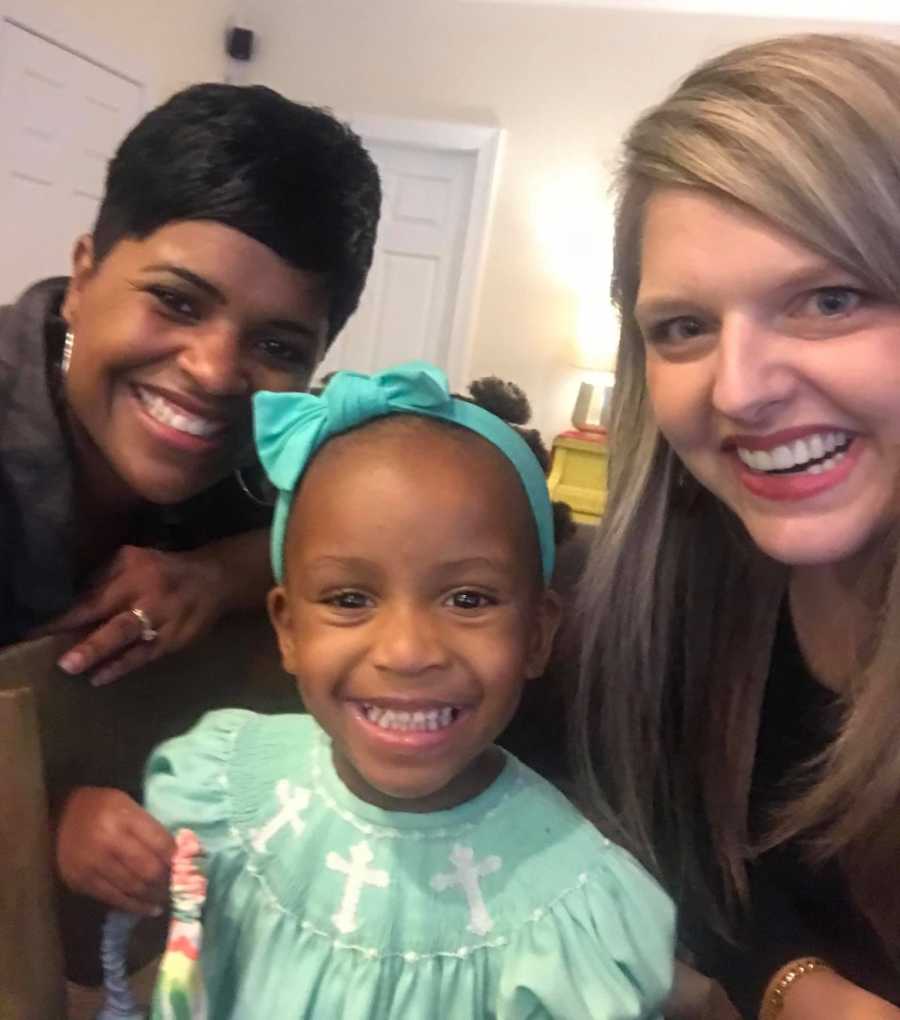 My daughter immediately took to Monica, and sat right in her lap as she fixed her hair. Monica explained exactly what styles and hair care routine my daughter needed right now. What I had missed in all of the previous advice I'd received was the idea that I would be able to do simple protective styles at home. What I didn't know I needed was for someone to be by my side and walk me through exactly what steps to follow. I was in awe of her grace and her kindness. She took time away from her family to help me, when she had nothing to gain.
Haley's hair looked adorable, and she kept looking in the mirror while touching her new puffs saying, 'So pretty!' She kept hugging me and then hugging her new friend, Mrs. Monica. I don't think I had ever seen Haley smile so big.
Monica and I chatted about hair, marriage, friendship, parenting, education and race issues. That day, I got so much more than advice and confidence in fixing my daughter's hair. I made a new friend. I know for a fact that we will continue our relationship past this point. We are already making plans to invite our husbands and children to our next get-together.
I shared our selfie to Facebook to let my friends know that I had received the help I was looking for and to share what an amazing person Monica was. I was blown away by the likes, shares, and messages from local media outlets asking if they could share the story.
For a minute, I couldn't understand why Monica's act of generosity was so shocking to people.
Beautiful? Yes! Heartwarming? Certainly!
But, newsworthy? That took me by surprise. Then, it clicked. It is newsworthy, because this is so uncommon. So inspirational.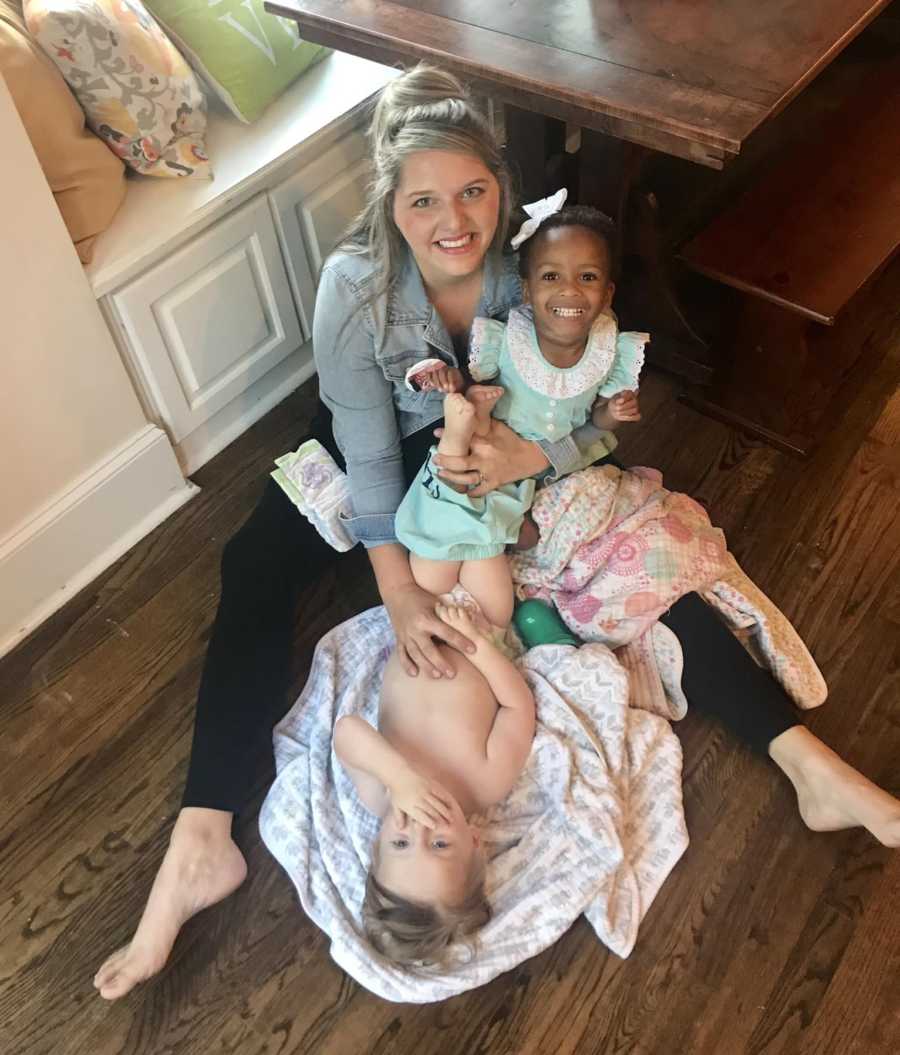 In our country, where everything seems so divisive, this quiet act of kindness spoke loudly to people from all walks of life.
People are hesitant to reach out to someone who may be different. Conversations are too difficult.
In these tricky times, it's hard to know what to say. How to respond. People seem so easily offended, so we stop trying to understand each other. We cling to those who think like us. Those who share our beliefs. Those in our same political party. Those who look like us. In the process, we close the others out.
The inability to share space with people when it is the slightest bit uncomfortable cements the divide. Underneath the 'other side' are amazing people that we are cutting ourselves off from. We have so much to offer each other.
This is newsworthy because Monica saw a need that she could meet and she did something about it. As simple and as complex and honorable as that. This is rare. This is what we need more of.
There is so much more that we have in common than the things that divide us. Thank you, Monica, for reminding me — and so many others — of the importance of kindness.
There are many opportunities to make someone's day brighter in our everyday lives. When we tune out the hate and the divisiveness that seems so loud, we remember that we are all people who need each other."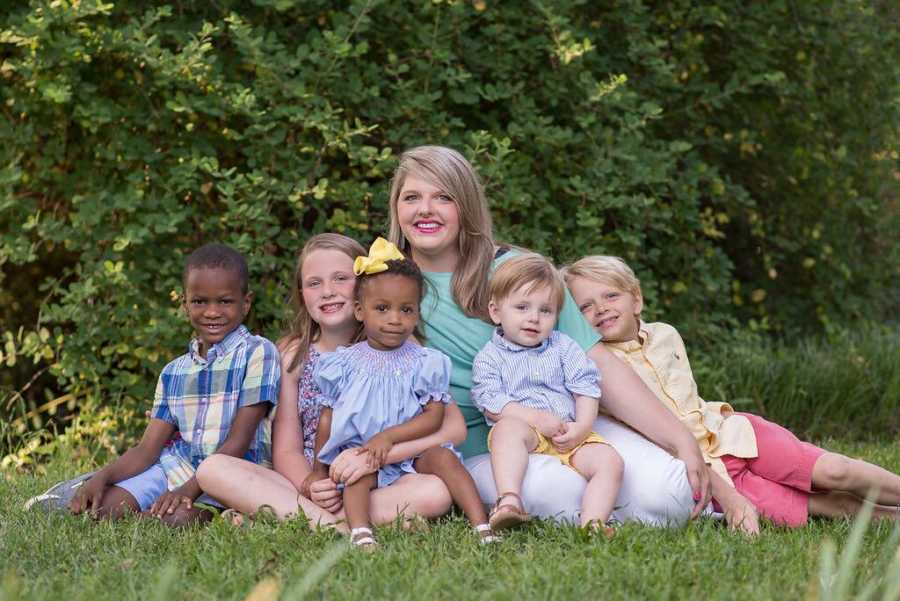 This story was submitted to Love What Matters by Stephanie Hollifield of Momstrosity. It originally appeared on their blog. Submit your own story here, and subscribe to our best stories in our free newsletter here.
Read about Stephanie's journey to adopt Haley here:
'I vividly remember the crazy looks I got with my huge pregnant belly and a newborn baby draped across my chest. I would stare too. It's an odd sight, and honestly something I never imagined for myself.'
SHARE this story on Facebook to encourage others to cherish every moment and love what matters most.