"Our lives have been full of unexplainable events dating back to when we first met. I (Megan) had been working as a side gig for a guy who promoted terrible bands in the city we lived in. One night, I went to a dive bar where one of the bands he was promoting was performing. I sat down at a half circle table with a bunch of people I had never met, none of which said a word to me. In walked the guy's girlfriend with her friend. After sitting there for a while, I had had enough for the evening and turned to the girl next to me and asked if she had a piece of gum because I was getting ready to leave. She didn't. That was the last time I saw the majority of those people.
A couple of months later, back in the days of MySpace, I got a message from a girl named Julie. She had just moved to the city I lived in and was looking for some new friends. As she described herself and we got to know each other, we realized she was the one I had asked for a piece of gum from months ago. What are the chances? As we got to talkingm we realized we had a lot in common, even though my profile said I was a Yankees fan and Julie was an avid Red Sox fan (I didn't really care that much about baseball). I was a Nebraska Cornhusker fan and Julie hated the Huskers.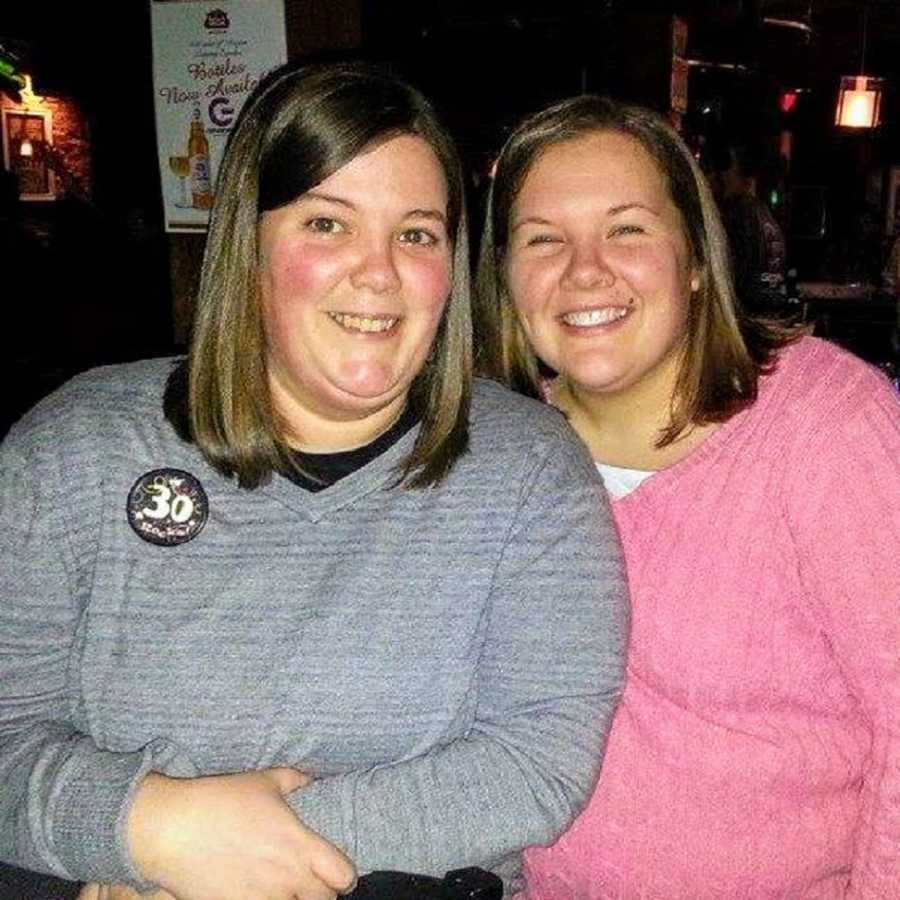 Julie was looking for a new roommate, and I had recently moved back from college and was also looking for more independence. We decided to meet up for drinks. Things just clicked and a couple of months later, I took over the lease of her apartment and we moved in together. We spent the next 7 years working together, living together, traveling together, and pretty much being joined at the hip. People didn't know me without Julie and they didn't know Julie without me. We were a packaged deal.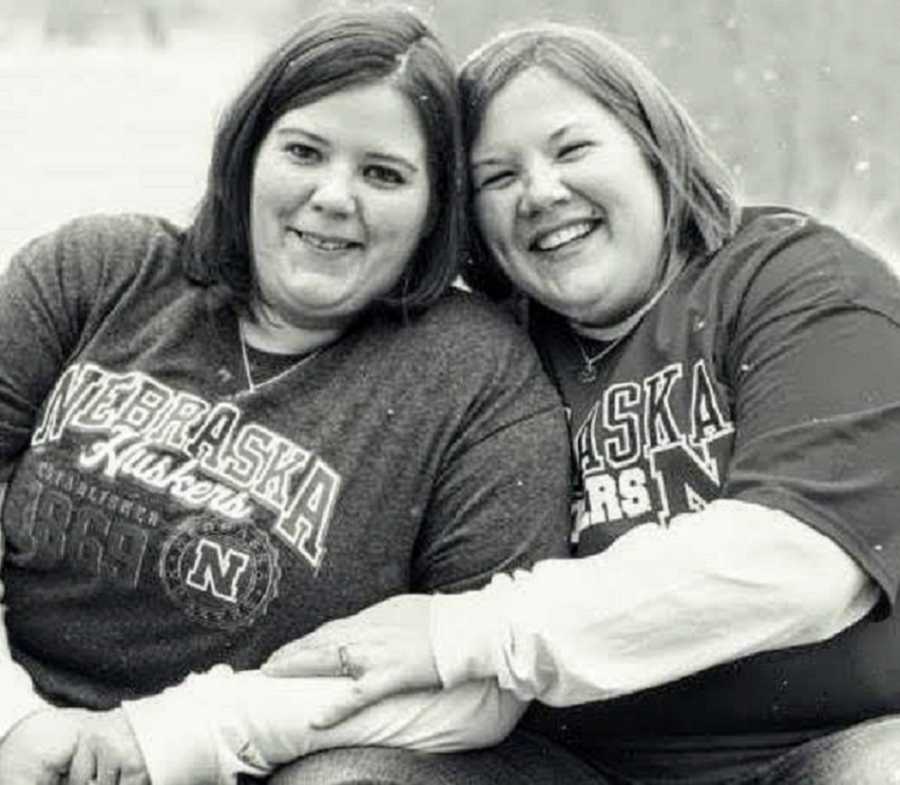 Once our state got their act together and decided they would recognize our relationship, we decided it was a good time to get married. We chose a beautiful winery in the area and had a fun wedding (even according to our guests) filled with all of our closest family and friends. It was amazing and truly something I never thought we would get to experience.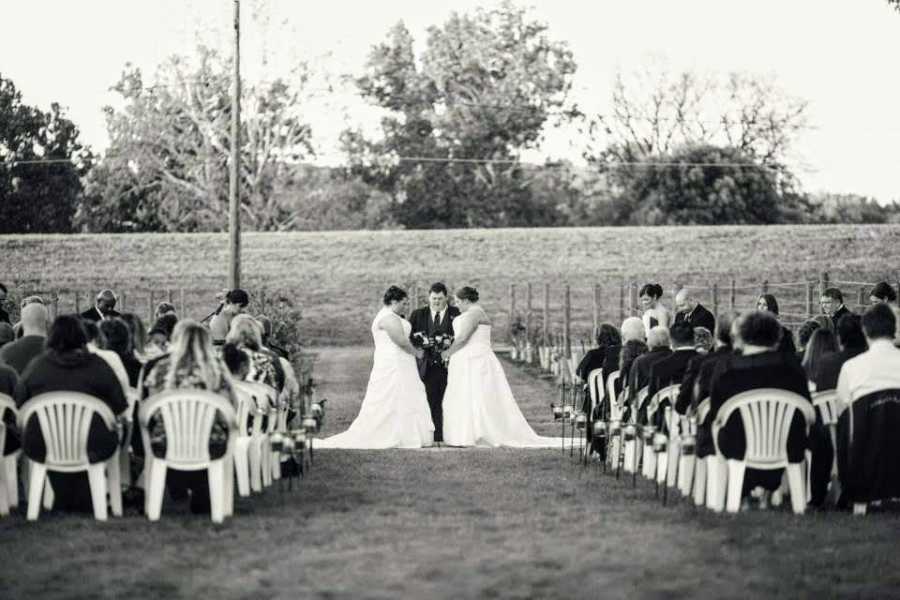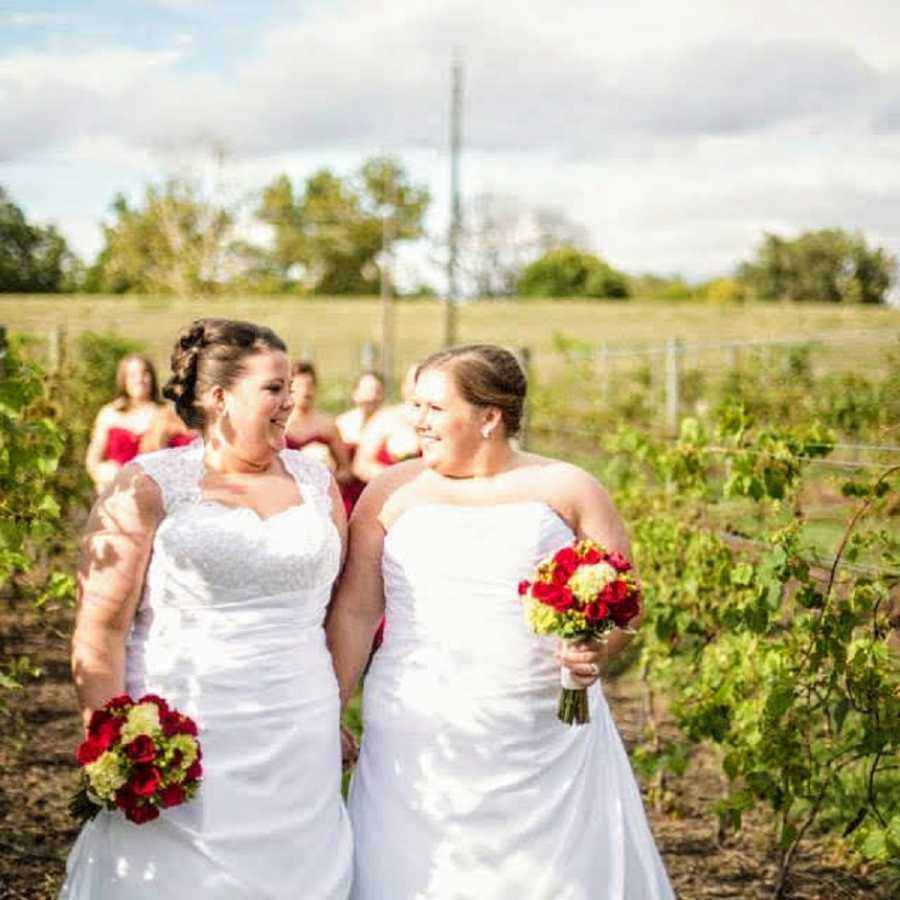 Early on in our relationship, we had discussed that we wanted to have children. We agreed we both wanted to experience pregnancy. Unlike most couples who can have children on their own, we needed to decide how we wanted to do that. We discussed many different options and Reciprocal IVF would have been our chosen method of growing our family had we made it that far. It was about the time we were discussing our family plans that genetic testing for illnesses like cancer was growing in popularity (but before Angelina Jolie announced her diagnosis). My family on my maternal side had a history of cancer, so my mom suggested our family do the genetic testing. Really without thinking about it, I chose to go ahead and do it. I'm not sure it was the right decision for me, but what it did would change the whole trajectory for our family.
I tested positive for both BRCA 1 and 2, giving me a higher probability of one day contracting not only breast cancer, but also ovarian cancer. This made me very scared to continue down the road of IVF knowing I had a good possibility of passing this gene on to my future children. That left us with a choice to make. We decided foster care was the road for us.
We got our first placement on May 16, 2014. They stayed with us for a whirlwind 10 days. They were thankfully able to go home to their family. While they stayed for 10 days, it truly felt like 10 months. Time didn't move. We loved (most) every minute of having those kiddos in our lives, having kids laugh, giggle, and run around like crazy little monsters was what we lived for. We were heartbroken when they left, but so happy their family was safe enough for them to return home. We decided we wanted to take a break. That break only lasted a week! We missed those kids so much and longed to fill our lives with laughter and craziness again.
We didn't have to wait long. A week later, our phone rang looking for a placement for sisters, ages 2 and 5. While we were scared to get back on the roller coaster, we said yes. We were able to meet the girls before they were placed with us and even introduce them to their daycare before they had to start. The girls were with us a very emotional 9 months before we learned we would be able to adopt them. I won't get into details as to protect the privacy of the girls and their biological family, however, we could probably write a book on our experience. If you have heard the story of a foster parent, we have probably lived something very similar.
As we prepared for the adoption of our daughters, we wanted to find them a gift they could always hold that reminded them how special they were to us and could commemorate our big day finally being a complete and legal family. A friend, who has experience in social work and is way more creative than we are, suggested we give them Cabbage Patch dolls that come with an adoption certificate. We set out on something truly amazing.
We started with the first Toys R Us in town. As we sifted through dolls on the shelf, we realized that each had their own special adoption date. We thought, 'How cool if we found one that matched our date, June 18th.' To our amazement, we found one. At the very first store we tried! We were excited we found one, but wanted each of the girls to have their own June 18th Cabbage Patch doll. We still had one more Toys R Us to try in our city.
As we drove there, we talked about what if we found one, and what if we didn't. We pulled into the 2nd store and took a big breath before going in. We found the dolls, and as we moved all the dolls on the shelf we were feeling defeated. There was one more left and I don't think either of us really wanted to look at the date. We picked it up and, sure enough, IT WAS JUNE 18TH!!! We did it! We found 2 dolls (a big girl and a baby) with the exact date of our adoption!
The night before our adoption, Julie's Mom and sister came to stay with us in preparation to attend the adoption hearing the next day. Julie's Mom suggested we have the judge sign the adoption certificate as a good reminder of the judge and the day. After the hearing, we asked the judge to sign the certificates and he excitedly signed it. While the dolls have been well loved, we were able to hold on to the judge-signed certificates so the girls could always have them.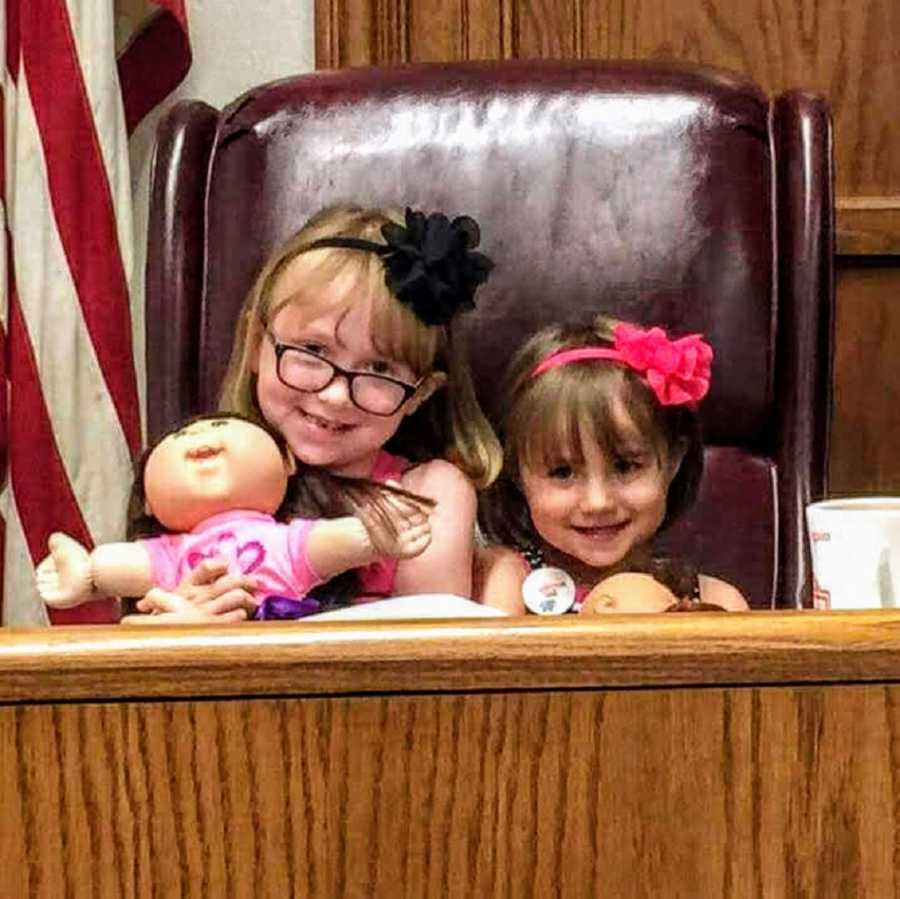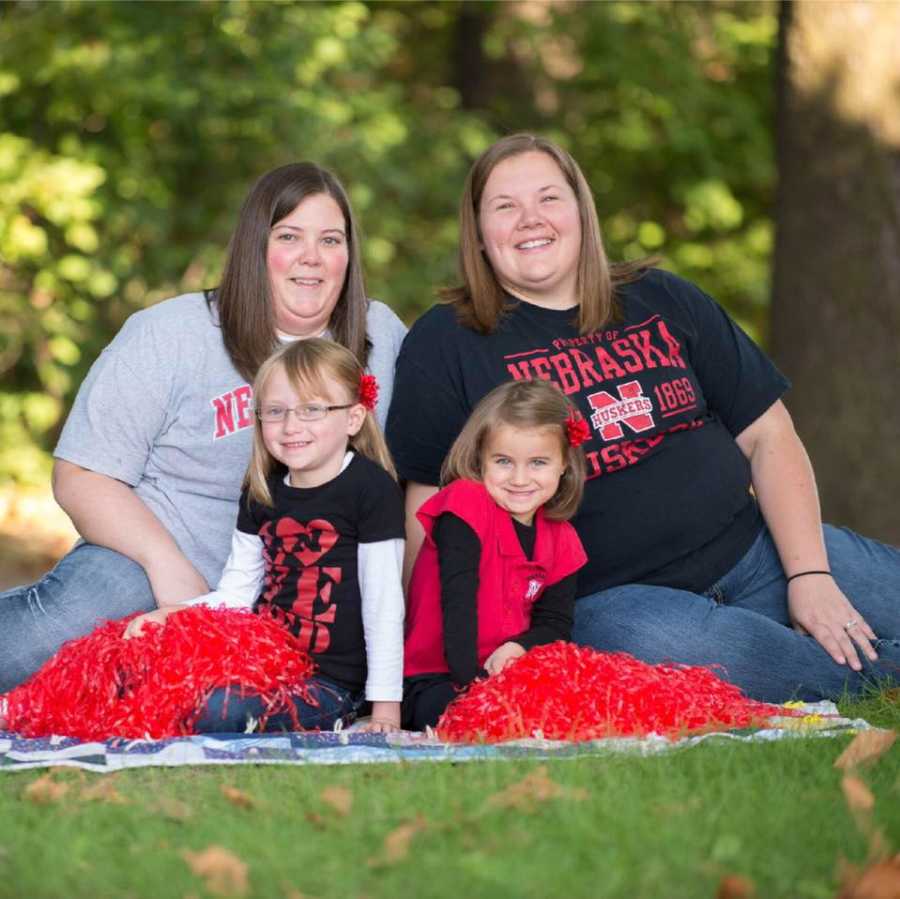 Fast forward 3 years and while we were sitting at dinner, our phones buzzed. We looked down almost at the same time and saw an e-mail sent to our joint e-mail with the subject line of 'Baby.' We never knew how much our lives were about to change. Our daughter's biological mom had had another little girl and we were being asked if we would consider growing our family and letting her grow up with her sisters. We had closed our foster license many years before and hadn't expected to expand our family. We had even moved across the country in the time since we had closed our license. We didn't realize until later that DHS had been trying to locate us so that the baby could be placed with her sisters.
We had Easter weekend to decide if we were going to take on the new responsibility. Our oldest struggles with mental health and behavioral diagnosis, and we sometimes struggle just managing life. We did the most adult thing we could think of: we made a Pros and Cons list. After listening to the suggestions of friends and family, and looking over our Pros and Cons list for what seemed like hundreds of times, we decided we needed to follow our hearts. We brought the girls' sister home on September 20, 2018. Unlike the girls, we knew when we brought her home that she would be staying with us forever but we needed to get through state laws, rules, and regulations first. Due to heavy caseloads, we had to wait longer than expected to legally complete the family.
Since Toys R Us no longer exists, we decided we weren't going to go through the craziness of trying to find a doll for the last one. To be honest, the thought of finding another doll with the same date as our new adoption date seemed outlandish and overwhelming. Instead, we had a doll made.
Our new adoption date was set for December 16th. On December 15th, I got a text from my Dad. It was a picture of 1 lonely cabbage patch doll on the shelf at Target. He had some errands to run and my mom mentioned to him that he should just look for a doll while he was at the store. What do you know….they had 1 Cabbage Patch left. It had an adoption date of December 16th!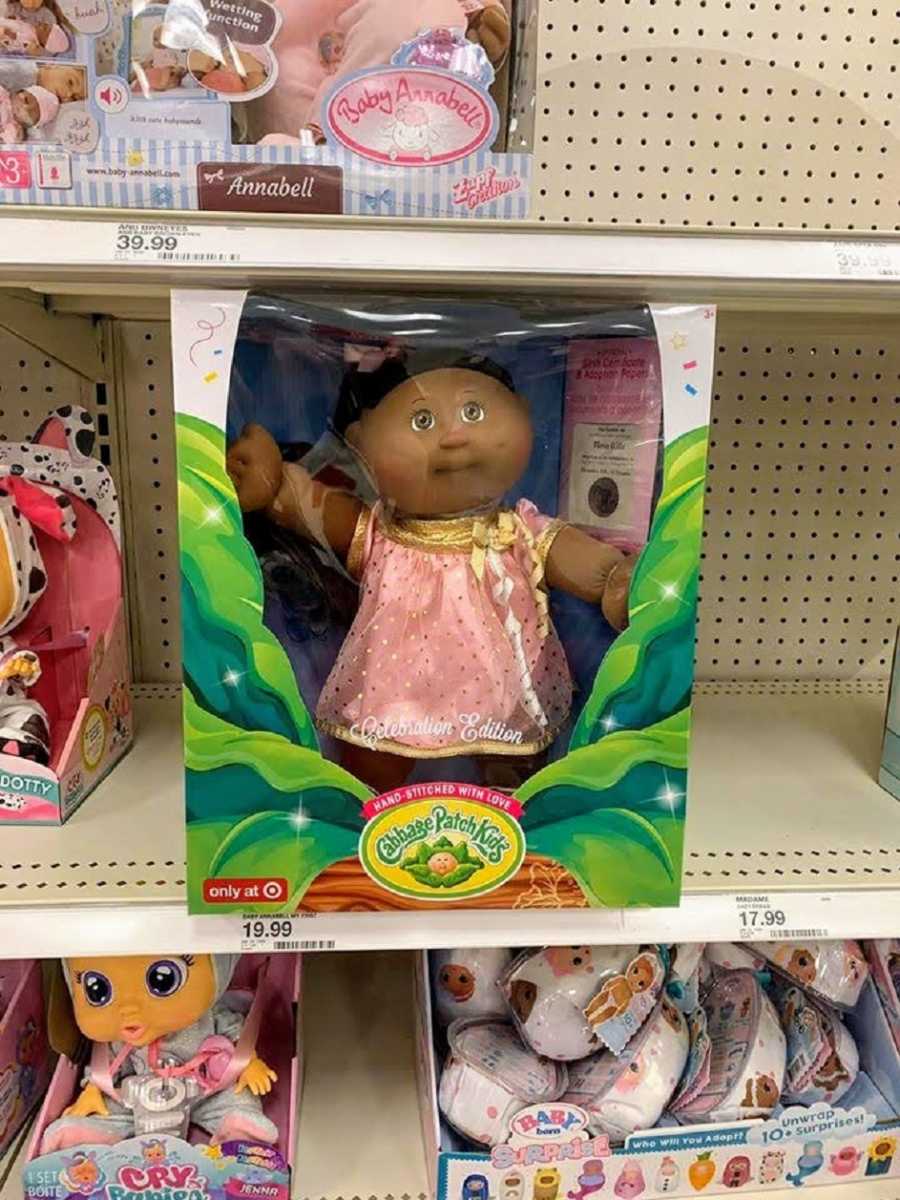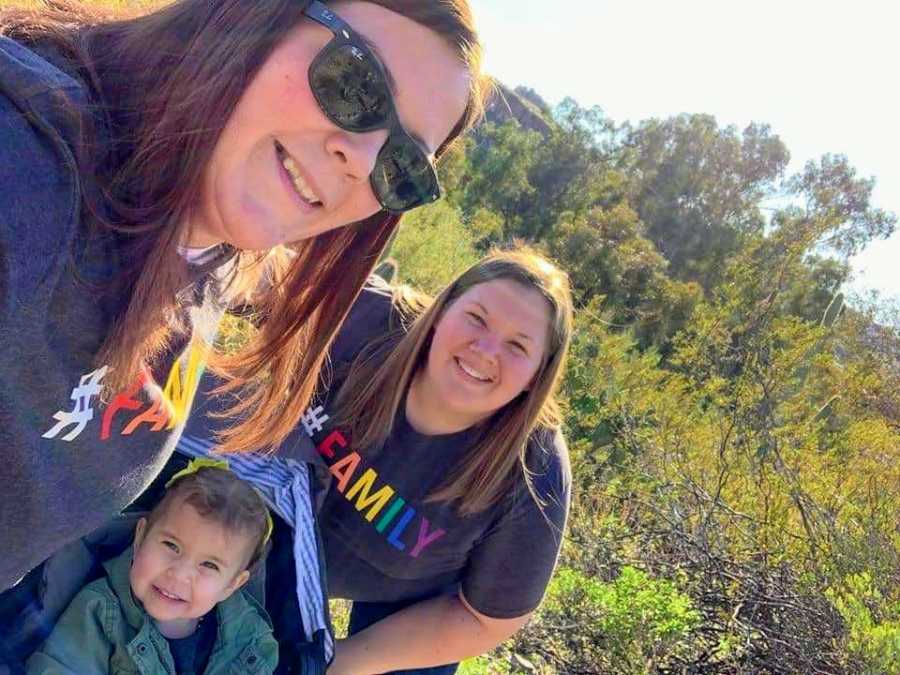 My dad scooped it up and made sure to get it home safe. If we were looking for a sign that we made the right decision to expand our family, I think we got it that day. Today is the 17th of December and I can thankfully and gratefully say we are now a legal and complete family of 5!"
From podcasts to video shows, parenting resources to happy tears – join the Love What Matters community and subscribe on YouTube.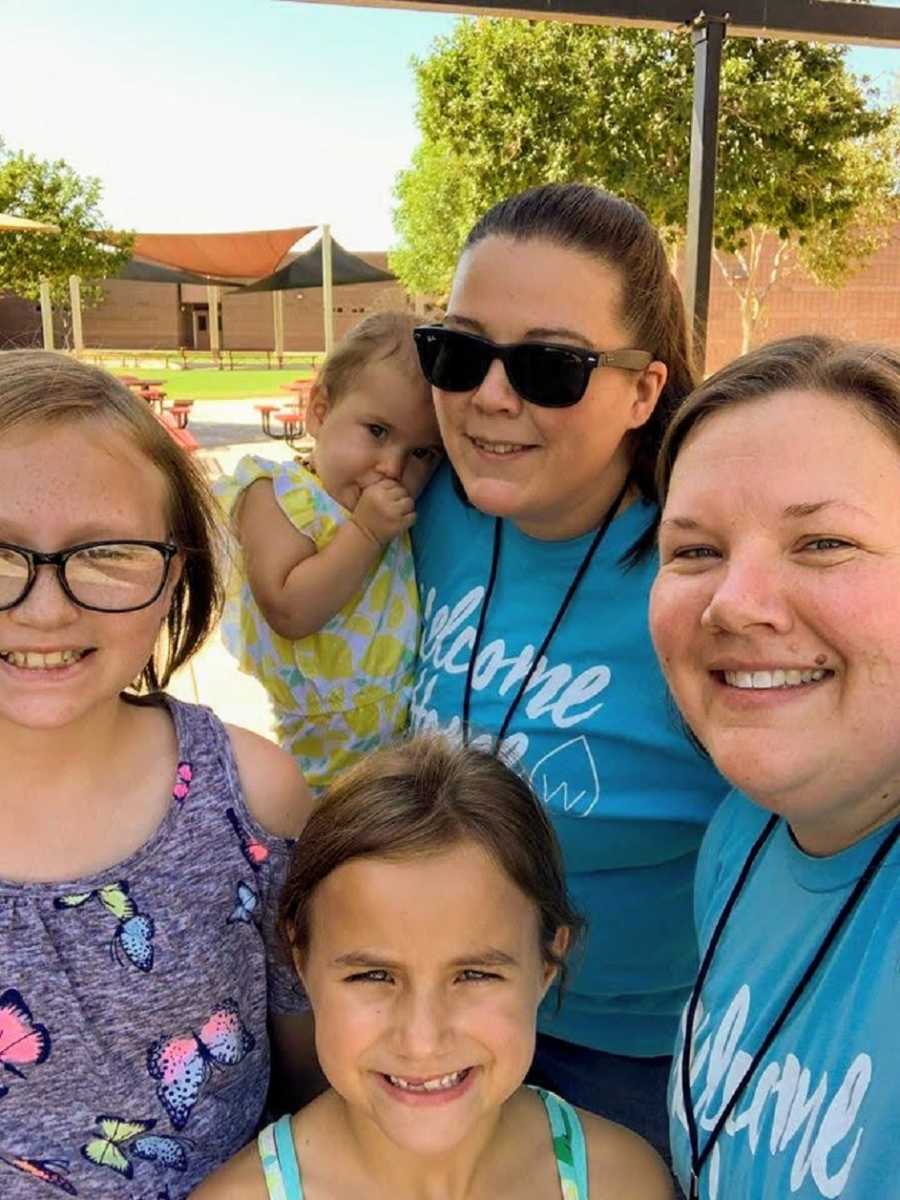 This story was submitted to Love What Matters by Megan Hunsen of Queen Creek, Nebraska. You can follow her journey on Facebook and Instagram. Submit your story here, and be sure to subscribe to our free email newsletter for our best stories.
Read more stories like this:
'Oh, are you babysitting?' 'They're mine.' I'm a 30-year-old single black woman with 3 white kids. Love has no color in my home.': Woman adopts 1 boy, 2 siblings from foster care, 'love is love, no matter the color'
'What are you doing? STOP.' An older gentleman approached me in the store. 'You stole that baby!': Mom adopts 'beautiful white baby boy' from foster care, claims 'love is colorful!'
Spread beauty and strength for others. SHARE this story on Facebook with family and friends.