"It was the flight from Amsterdam to the U.S. We hadn't slept on the overnight flight from Uganda to AMS, and after the five-hour layover, paired with the emotions of the past 24 hours, we were pretty spent. As we began boarding, we quickly realized it was a completely full plane. We were in a four-seat row, middle section. I knew Hallie would want to lean in to me while sleeping, so I gave her one of the middle seats and I took the aisle.
As we adjusted and shoved our carry-ons under the seat in front of us, we soon saw our seat mates. Two beautiful older women, with creased, tired eyes and wrinkle-pressed hands, who were dressed beautifully for traveling, as often their generation does. They filed in, and we exchanged smiles and the universal gestures of realizing this would be a full and cramped nine-hour flight. As the flight took off, Hallie quickly settled in. Shoes off, blanket on, pillow adjusted, iPad playing. As she watched, she started to doze. I was so thankful. We were going on 30+ hours of being awake, and one of us needed to be coherent enough to navigate the Detroit airport when we arrived.
As Hallie fell more and more asleep, her leaning turned in to laying, and soon she had her head on my lap and her legs tucked as tight as she could onto her plane seat. I remember thinking, 'Oh gosh, please please keep your feet on your seat. Do not be one of those inappropriate plane people where your feet cross over into another person's area. Hallie! Tell your feet to please stay in their lane!' The more she relaxed, so did her body. She naturally began stretching out, and at first her toes were just barely touching the lady's leg next to her. I kept looking and head-tilt nervous smiling, mouthing the word 'sorry' through her headphone listening. She just smiled and nodded.
I wasn't sure if it was an acceptance of the apology or an acceptance of my child's situation. Either way, I was nervous. Call it emotion, or weird parent paranoia, but I felt like I couldn't relax knowing I wanted Hallie to stay asleep, but not to infringe on her neighbor's space. As I sat and began over-processing this scenario, I watched, in what seemed like in slow motion, Hallie stretch her legs out completely onto the lap of her neighbor, and with it, her entire body fully relax. In a state of shock and horror, my big, wide eyes made contact with Hallie's seat neighbor, and what happened next I'll never forget.
She took my daughter's feet, tucked them under the blanket on her lap, and put her hand on mine, which rested on Hallie's back, and patted it. Then took her precious grandma, auntie, mama, sister, wrinkled hands and placed them on top of the blanket, on top of Hallie's legs and feet and gently rubbed them like an auntie, grandma, mama would do. She rubbed my daughters feet and legs as she slept. I closed my eyes and the hot tears fell and fell as she closed her eyes, holding my daughter's legs and feet on her lap.
She didn't know what our prior six weeks had been like.
She didn't know we had both left half our hearts behind.
She didn't know we hadn't slept in hours and hours.
She didn't know we needed the kindness of a stranger, yet here she was.
For the next 4.5 hours, Hallie lay stretched across three seats. Her head and feet laying on two different women, headed in different directions. Our new plane grandma would get up throughout the flight, to stretch or use the restroom, and when she returned she would tuck Hallie's feet on her lap again and carry on, as if she had known this child her entire life. Her kindness undid me, and I cried a lot on that flight. So much so I was nervous people would think I was having a nervous breakdown. Maybe I was just a bit, actually.
Most days, kindness does need not words. Often, just simple actions tucked inside everyday moments. In the most tender of flying experiences, words didn't matter, because you see, this woman and I speak a different language and worship a different God. But kindness and character matter more, and pay no mind to the details of theology or background. Kindness doesn't care about race, or ethnicity, or differences of opinions.
And when it comes to kindness, we probably shouldn't either. I pray for her often and wish I would have written her a note, in hopes it could be translated to her at some point. I hope she knows her kindness held me together as I fell apart on that flight. My heart was breaking, and she held it together as she held my daughters feet.
'Put on then, as God's chosen ones, holy and beloved, compassionate hearts, kindness, humility, meekness, and patience, bearing with one another and, if one has a complaint against another, forgiving each other; as the Lord has forgiven you, so you also must forgive. And above all these put on love, which binds everything together in perfect harmony. And let the peace of Christ rule in your hearts, to which indeed you were called in one body,'—Colossians 3:12."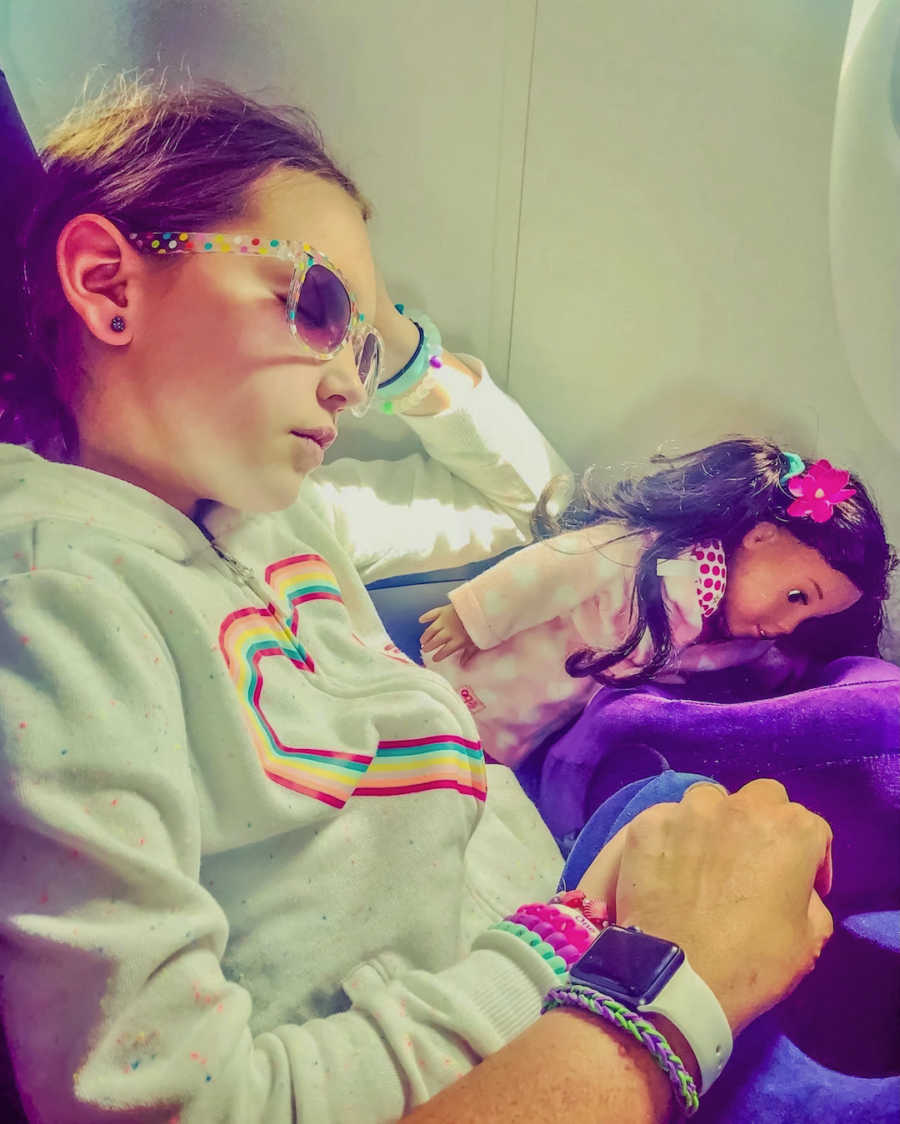 This story was submitted to Love What Matters by Mallory Robinson. Submit your own story here, and be sure to subscribe to our free email newsletter for our best stories, and YouTube for our best videos.
Read more stories like this:
'I'm sorry to intrude. I don't know you, but I saw you crying and I wanted to buy you flowers.' Tears streamed down her cheeks.': Stranger shows 'priceless' act of kindness, 'We will never forget'
'I didn't want to say this over email, but we picked someone else for the job.' After a year of rejections, I lost my sense of worth.': Woman details company's act of kindness after job rejection
'She looked up at me and said, 'Can I help him?' Shopping carts were scattered everywhere throughout the parking lot. She was irritated.': Little girl shares act of kindness for Walmart employee
'Ma'am, you dropped something.' She couldn't afford to buy a SLICE of cake for her son's birthday. 'Take this. It's yours.': Woman shares touching act of compassion for stranger, 'kindness is putting others before yourself'
Help us show compassion is contagious. SHARE this beautiful story on Facebook with friends and family.