"Dear Husband,
You may have noticed that I've been a little stressed out lately. This is the most demanding time of the year, and I am barely holding it together.
Some of this may come as a surprise to you, because even explaining all of the unchecked boxes on my to-do list sparks anxiety. So, I keep it to myself, probably leaving you completely oblivious that my already ginormous workload is tripled in the month of December.
You may even think Santa is responsible for all the Christmas magic, but it's time you know the truth.
I am Santa.
I am the one bringing the heap of Christmas cheer to our lives. I'm making a list and checking it more than twice. Only I don't have elves, reindeer, a magic workshop, or a jolly Misses at home to help me out. It's just me making Christmas bright, year after year.
But this year, things are about to change.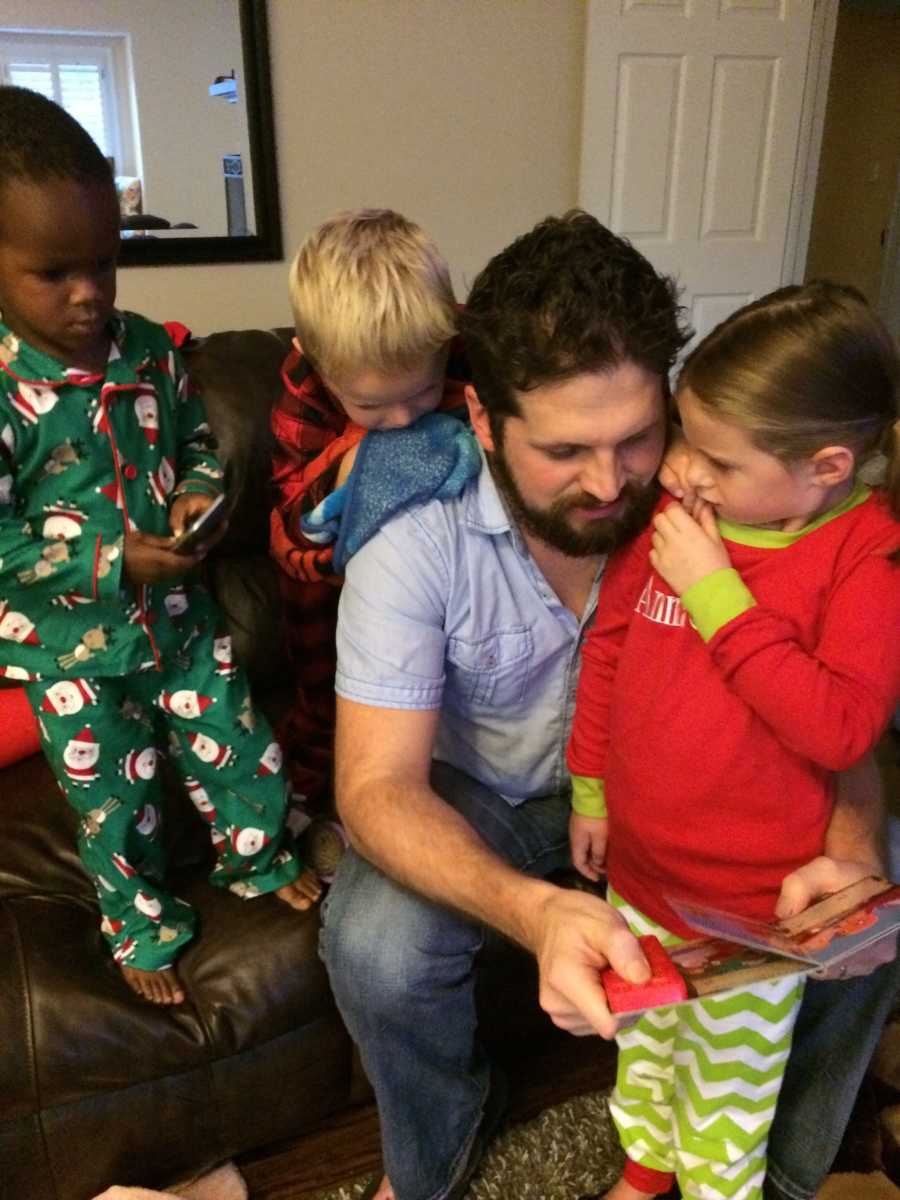 It's 2018, and men are sharing the workload at home. You help me clean the kitchen. You help with the kid's bedtime routine. You are a great partner! So, in the spirit of equality and progress, I would now like to share with you an exhaustive list of my Christmas duties in hopes that you might be able to help me out.
Around November, I start thinking of what we want our holiday to look like. What Christmas means to our family, and how we express that through our celebrations. Less presents with more meaning. More experiences. Treasured traditions worthy of being passed down to the next generation.
I hang lights and decorate the tree. I put out angels and Santas. I hang garland and stockings.
I get advent calendars. The countdown to Christmas is a fun and practical tradition, because without a display they will ask 82 times a day, 'How many more days until Christmas?!?'
I gather teacher gifts. This is a big one, because we have some…high maintenance children and some truly amazing teachers. They need thoughtful gifts that convey how much we appreciate them and that we understand they have the hardest job on the planet. Something they will actually want, not another mug or piece of apple decor. Something practical and thoughtful and significant. Also, we have sixteen teachers between all of our children, so we need these gifts to be budget friendly.
I buy presents for the kids. I am careful to research which toys will last. I read reviews. I look at STEAM toys and consider educational benefits. I have to balance this with the plastic crap they ask for because of some dumb commercial. (The marketing on the Disney Channel could convince them to join a children's cult in 30 seconds.) These toys that 'they have to have' are expensive and will definitely break almost immediately. Also, I need to buy these must-have toys before Thanksgiving, or they will be impossible to find, unless I'm willing to drop $300 on Ebay for the Toy of the Year. I am not.
I shop for your presents, sweet husband.
I buy gifts for dirty Santa parties, the babysitter, and coaches. I buy gifts for family. All the grandparents, aunts, uncles, and cousins.
I spend time considering if we should get something for people we only see a few times a year. The office staff, your work friends, and my carpool partners. I pick out generic gifts and wrap them, just in case I missed someone. I usually forget what/where this gift is when I actually need it.
I buy matching Christmas pajamas.
I plan pictures with Santa.
I schedule time for us to drive around and look at lights.
I make sure we have hot cocoa and popcorn for movie night.
I make costumes for the Christmas play.
I lay out our nicest church clothes for the Christmas Eve church service.
I make sure we have a recent family picture, and order Christmas cards to send out to all of our friends and family. Actually, I usually fail at this one. But other families are really good about it, and we should be more like them.
I plan holiday baking. Goodies for neighbors, the mailman, and friends.
I plan and shop for gingerbread houses and make cookies for the kids to decorate, that nobody but those gross kids would ever dream of eating.
I plan Christmas Eve Dinner, party appetizers, potluck side dishes, and a fun and nostalgic Christmas morning breakfast.
I read family devotions and set up nativities. I do my best to make sure our children understand the true meaning of Christmas. I try to foster a spirit of giving. I set-up volunteer opportunities. I encourage the children to donate toys to those less fortunate. I try to convey why we celebrate Christmas in this family. This is not an easy task. I'm preaching my heart out about love and hope and redemption. But no matter what I do, it seems almost impossible to compete with Santa and presents and parties and sugar. Now is usually when I have a mini-breakdown and wonder if I'm raising bratty children who will surely become selfish entitled adults.
I make countless trips to the store for extra batteries and chocolate chips and whatever else I forgot until the last minute. I buy wrapping paper and rolls of tape.
I lose and find every pair of scissors we own while wrapping gifts. I stuff the stockings.
I stuff my face and gain around seven pounds. I would like to find a way to stop, but Christmas treats are bomb.
I stay up late with you on Christmas Eve. This is your time to shine, and you do a great job putting together the four-foot magical dream castle! In only three and a half hours. You make sure everyone of the parts are put together perfectly. And you do it all while completely ignoring the step-by-step instructions included in the box.
On Christmas Morning, I make sure everything is perfect. I take pictures. I do my best to make memories that will last a lifetime. I usually cry because I am overcome with gratitude. We are so lucky, and our children are so beautiful. But this overwhelming feeling of love lasts only a short while, and I soon start yelling for everyone to clean up this MESS or all the toys are going to be given to children to actually appreciate their things and listen to their mother!
I get the kids to write thank you cards for their gifts. Before the new year, I clean-up and put everything away.
Don't get me wrong, I love it. I wouldn't change a thing about our traditions, except maybe the me gaining weight and screaming part.
I love Christmas, and I'm thankful that we have the means and resources that allow us to do so much. I am grateful that we have such wonderful family and friends to celebrate with. But it's a lot to carry by myself.
I must admit, this is partly my fault. I haven't made my needs clear. I haven't let you know how you can help. But that stops now. Here's what I need from you.
I need you to check in with me a couple times a week. See what I have going on and how you can lighten my load. Or, even better, if you see something that needs to be done, just do it! If I can delegate some of the shopping or planning to you, that would give me time to breathe and enjoy the season.
I need you to encourage me. Remind me that I'm not alone.
I need you to tell the children to stop being monsters. They get so high on sugar and entitlement, that they can start acting like evil little elves. You are great at calming them down and centering them. Do more of that.
I need you to stuff my stocking. That sounds perverted, but get your mind out of the gutter. I mean it in the most literal sense. On Christmas morning, I would love to see a stocking full of surprises and goodies that I didn't buy. You may wonder what I want. Literally, anything! Candles, lip gloss, hair stuff, make-up, perfume, ponytail holders, pens, gift cards, and the fancy $6 chocolate they sell at Target. Women love little things that they wouldn't normally buy themselves. So fill that stocking up, my love!
I want a gift on Christmas morning. Sometimes I say I don't, but I really do!  I want something to open that I didn't put in the Amazon cart or that I didn't buy and wrap myself. I want to be surprised. I want you to listen to me all year when I drop hints about the things I want/need/would like to have. It doesn't have to be expensive, but I would love for it to be thoughtful.
I want a thank you from you and the kids. I want to know that all I do means something.
I want to keep doing all we do around the holidays, but I want to do it with a little less stress and a little more help."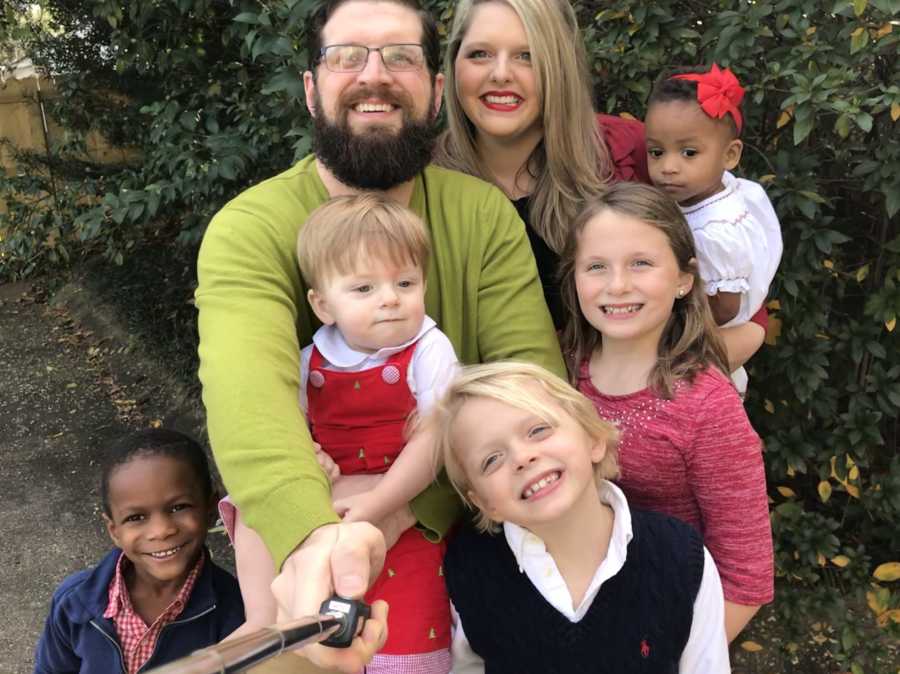 This story was submitted to Love What Matters by Stephanie Hollifield of Momstrosity. It originally appeared on their blog. Submit your own story here, and subscribe to our best stories in our free newsletter here.
Read more from Stephanie:
'My sons wear shorts in winter, swearing they 'aren't even cold, MOM!' Weird, I know.
'I vividly remember the crazy looks I got with my huge pregnant belly and a newborn baby draped across my chest. I would stare too.
Provide joy and strength for other moms this holiday season. SHARE on Facebook!