"This is obviously a very sensitive subject yet I feel the need to share. Everyone's story is different and yet somehow we're all connected through our pain. The feeling of disappointment and shame, embarrassment even of enduring something that should never happen. I was on that common pursuit of the happily ever after, my soulmate, to feel those butterflies again. I had so much going for me when I met him and in a matter of months it was all gone. I'm not going to put all the blame onto him because I clearly had my own demons from past traumas I didn't deal with; lack of trust and insecurities took its toll on us both.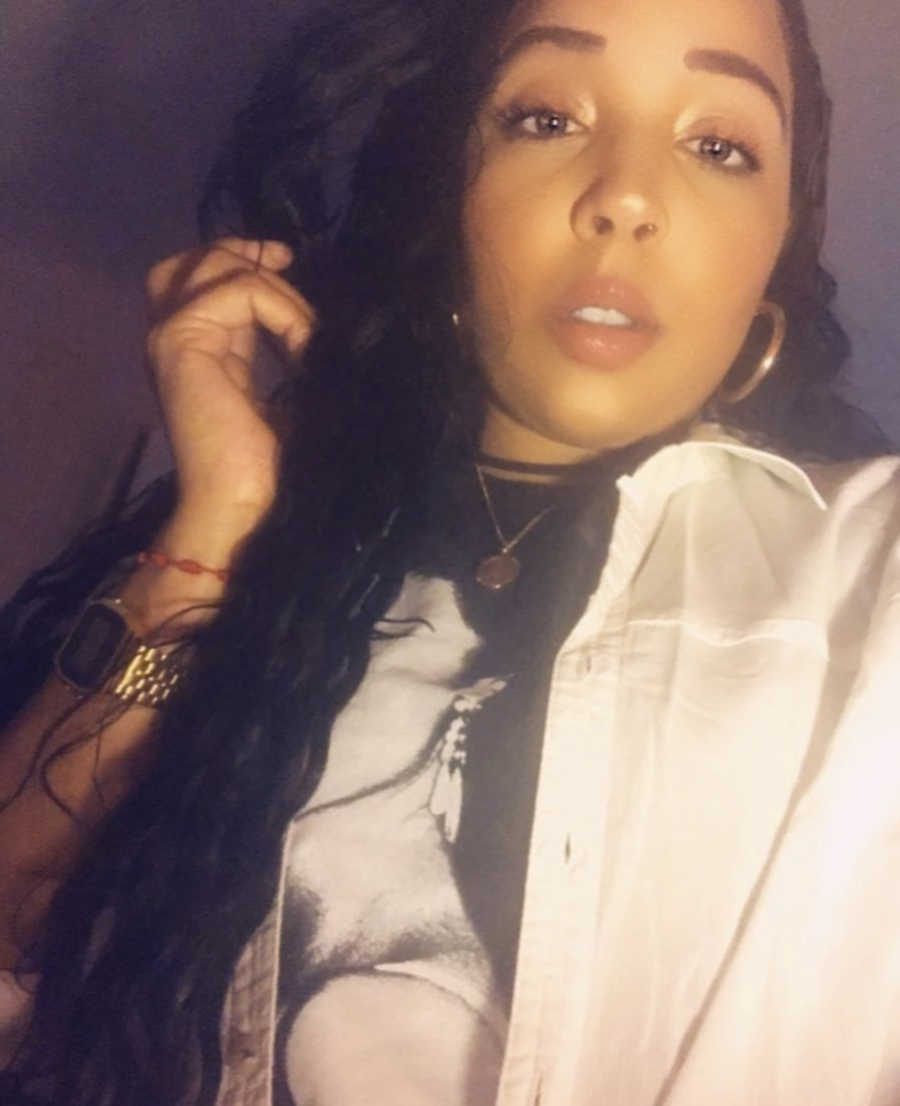 My mother died about ten years ago from a drug overdose, I watched her experience years of abuse as alcoholism and cocaine were her crutches through life. We ended up on bad terms and it tore me up for years because I could have done more for her. My boyfriend shared the same disease. He self medicated with cocaine, pretending his problem wasn't as bad as it was. Addiction takes over someone's life, sometimes it's thought of as recreational but really did impact our relationship. His controlling ways disguised in someone who just likes to be with me all the time, my wants and likes soon became his. My life was non existent now, no friends just him. He didn't really want to be around my friends ever, focused only on us being together and I never realized how toxic this was. I thought this was what I wanted, someone who wanted me so badly. The lack of love I felt seemed filled but the more he loved me the less I loved myself, my self esteem was so low. He embarrassed me in public several times, I hated that. The looks of the people around me, asking if I was OK. He got so high one day he dragged me out of a bar and yelled at me for not accepting his friends, he slapped me that night. He blamed it on me not liking his friends and yelled something like that as he slapped me. I remember asking him to stay, to deal with what he did. I loved him so blindly I didn't realize I was losing myself. We continued together but it didn't feel the same, that magic seemed to be fading but the love letters continued. He told me he loved me so much every single day, I mean he had to love me right? I excused his behavior as tantrums; as rebellion from a sad childhood. I thought our love could heal our wounds, I think we both did. It wasn't until the incident occurred I realized this wasn't love.
We went out that night with some new friends of ours, it was fight night so the bars were packed. He hated crowds, always wanted to be home; me being a social person this killed me. I wanted to show off our love, he wasn't in the mood that night. He made me leave the bar, I got mad, walked ahead of him. He kept bothering me, I was tired of his control. I went up to some people who lived near me and told them to tell him to leave me alone, they scared him off. I ended up going home eventually after he sent me a million messages. He kept saying he was worried about me and he was protecting me. The next thing I know we were fighting, he held me down so tight my arms were bruised for a month. He punched my face, my eye swollen shut, I pulled his hair to get off of me. I lost four nails. I felt his knee in my neck, I begged him to stop. I remember his face, his eyes looked so evil like nothing I'd seen before. I blacked out, ran out of the apartment screaming to my neighbors house. They opened the door and told me they thought I should go to the hospital. The room was spinning; I still tried to say it wasn't serious. But now my eye were swollen shut; I couldn't see out of one eye. I looked out of the window and watched him leave the apartment and never saw him again. I woke up on a hospital bed, scared and alone. The hospital staff and police officers were horrified, they told me I looked like an animal attacked me. How did I end up here? In this place of my life? I thought he was my soulmate! How could he do this to me after everything I did for him? He showed no remorse. That killed me more than anything.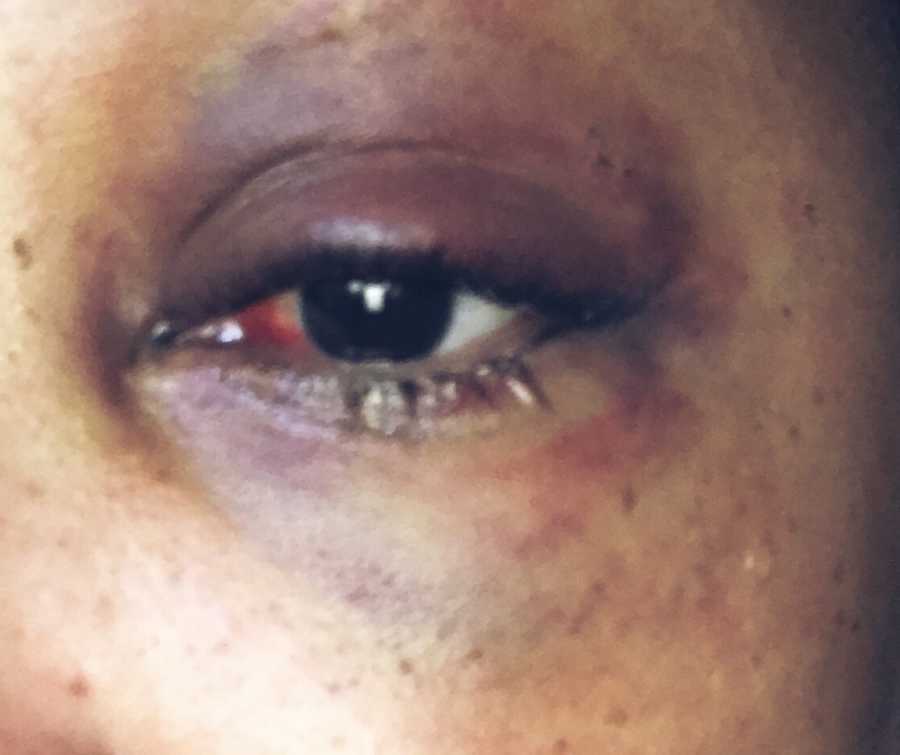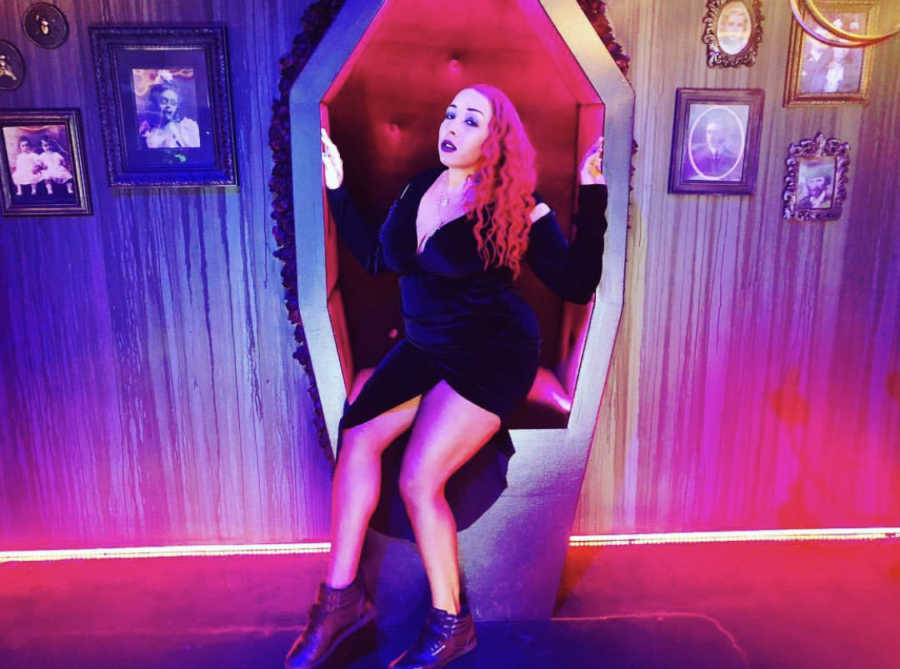 The next few months were some of the hardest since my mother died. Because of that I felt lost, alone, broken and the pain was consuming as I felt my former self die and a new version of me emerge. I was in and out of the district attorneys office, they wanted me to pursue felony charges. It was so hard replaying what happened over and over in my head, let alone have to tell a grand jury. After a lot of back and forth, I decided not to pursue felony charges, he was slapped with a two year restraining order and even pleaded innocent. I pushed for him to get counseling but he denied it, so I washed my hands of it all and attempted to move on. I began going to therapy weekly and started taking antidepressants because my PTSD was so bad. The crazy part of all of this is not only is it hard to believe it happened to me but how common it is. Had this not happened though, I would not be where I am today mentally and emotionally. I began to heal so many traumas I once carried as baggage. I began practicing self love and really taking care of myself. I started writing as a form of therapy, launching my blog and podcast as a platform of healing. If I could help anyone who is or has gone through what I have it makes it worth it, you are not alone. I'm very lucky my story ended up better than some, it was very unfortunate what happened. But through pain I built a better version of myself. A stronger, determined, grounded woman who knows her worth. So for that I'm grateful."
This story was submitted to Love What Matters by Maria Bloem of New York City. Submit your story here, and subscribe to our best love stories here.
Do you know someone who could benefit from this story? Please SHARE on Facebook and Instagram to let them know a community of support is available.
Read more inspiring stories about surviving abuse here: 
'Thank you my grandfather, who sexually abused me for years. You taught me how to protect my children. You taught me the good and bad in the world. That bad exists, but it never wins.'
'I was a victim, but I am a survivor': Woman's miraculous journey from scarring physical abuse, to severe PTSD, to 'hope and happiness.'