Disclaimer: This story mentions abuse and may be triggering to some.
"Christmas was an exciting time for my large religious family. I was the youngest of the kids, number six of six, 13-years-old. My mom asked me to go along with her to help wrap up her final details on gifts for my siblings. The ride to the nearest mall was 30 minutes away from our small Alabama town. So, off we went to be in the crowds, navigate holiday traffic, and bargain shop.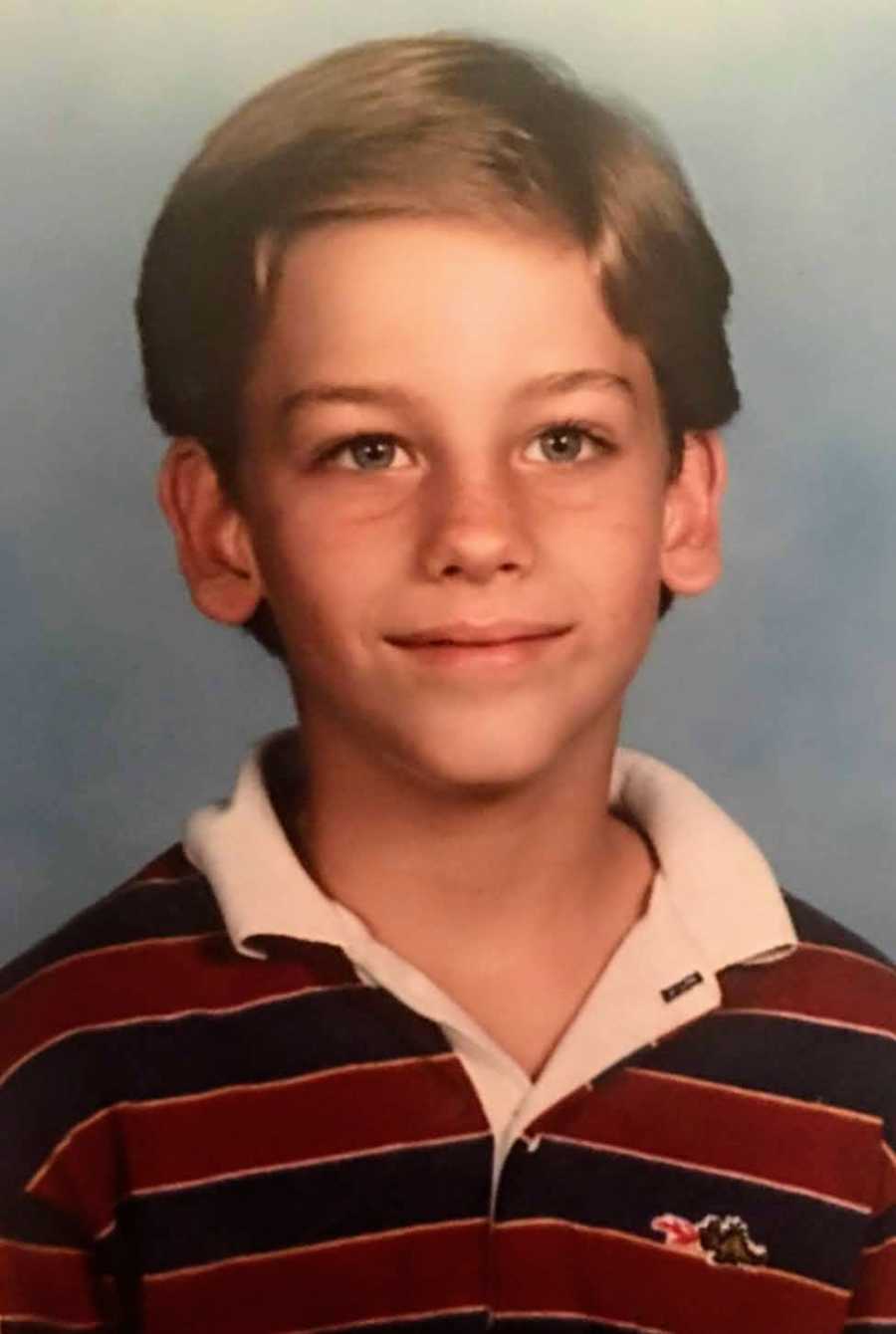 We scored our best find: a sale on a pair of tennis shoes. They were branded, boxed, and displayed for my mother's budget. She looked up at the salesman and said, 'I'll take six.' He obliged. As my mom rambled through her purse, wallet, and thoughts, the salesman took that time to establish a stronger connection with me.
He began by saying, 'I bet all girls at school have a crush on you.' While I reminded him of himself as a young boy, he was certain I was more popular. Chuck was 36-years-old and had thinning sandy blonde hair. He wore pressed and pleated slacks and a tightly knotted tie, securing his starched dress shirt. He entered my life by providing compliments and teasing my insecurity.
I can only assume I was an easy target. Anyone connected to me knew there was trouble at home, and that I was a kid struggling through a lot of uphill battles, looking, searching for a safe spot to be known.
Chuck continued with what felt like a sacred pursuit of getting to know me more. When he asked what I wanted to be when I grew up, my mom chimed in about how great I was at sales. That was his siren. That was his bridge. That was his free ticket. He, 36- years-old, paying his own bills, and having mastered life, was opening himself up and offering all of that freedom to poor, 13-year- old, abused Nate who wanted security from anywhere he could find it.
We wrapped up our purchase and Chuck ripped extra paper from the receipt feed. He tore the slip and wrote his phone number down as well as his name. My mom was distracted when he passed the information to me and said, 'I would love to help you figure out what you want to do when you grow up.'
Now there is this stranger who has shown up, and in a moments notice, given me the attention I had tried for years to get from my dad. He was attentive, kind, handsome, and very much in tune with me being different. He suggested it made me special.
The first time Chuck came to get me, I walked out of my front door on a school night and hopped into his car. He drove down a side road near my home asking if I knew where I wanted to go. I sat blank, not knowing what you are supposed to do when you are spending time with an adult stranger. Through more conversation Chuck probed, and planted. He persuaded and grabbed as much as he could from me. In the swift blink of an eye, my 13-year-old self was sitting on the side of his car, being taught what oral sex was.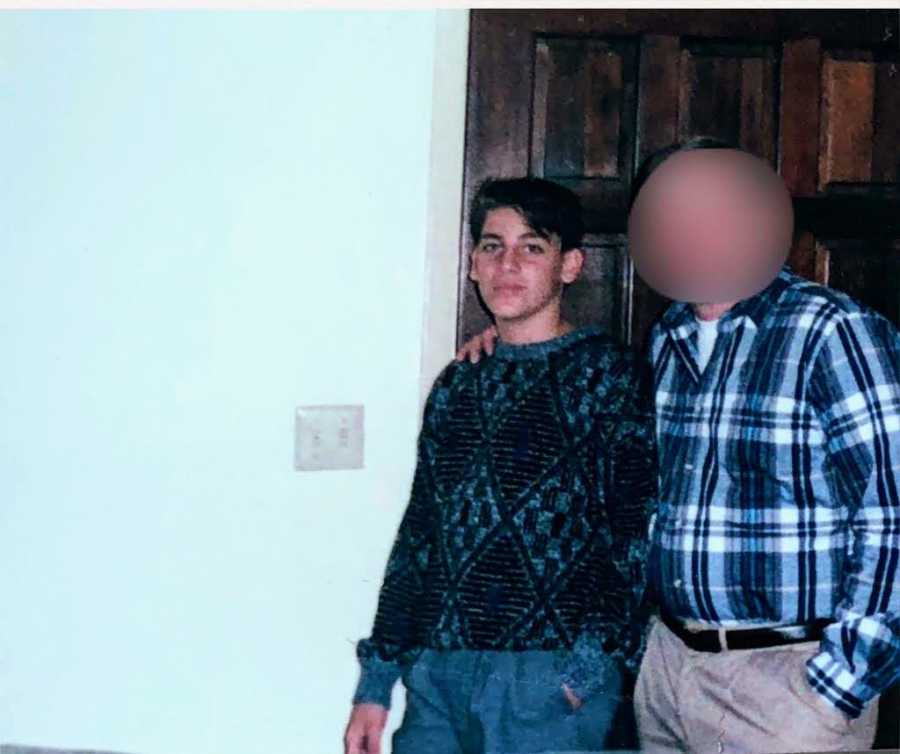 I had heard about being gay early on. Within the walls of my church it was openly discussed as the worst case scenario for anyone. I thought what was happening was gay. I did not yet understand that pedophilia is about power, not sex. In that first encounter, I was changed. The soul that already held previous sexual abuse from a female neighbor, and mounds of physical and emotional abuse, was now as heavy as it had ever been.
The thing about sexual abuse is that it lies so close to the most sacred parts of us that are meant to be cherished and handled with the most tender care. Once the violation happens, the abuse creates a road map full of twists and turns. It makes it feel impossible to ever return to anything feeling sacred.
The abuse went on for two years. Chuck had mastered his story lines about not wanting to have these encounters, but that it seemed I was enjoying them. He put his abuse on me because I had a physical response to it. I believed him. I believed I was a horrific person and my response to him meant I was gay.
He crafted solutions to every inch of insecurity, and in each scenario the answer was always… him. Right when I agreed, he removed my pants, my dignity, and my identity. My hope to feel whole.
When I was 18-years-old, I came to a breaking point where my brain and body began to work in different directions. I had spent the last few years burying the idea that I caused this man to do things he really did not want to do. I responded with pleasure toward what he did. I honestly believed I forced myself on him. All the work a perpetrator does, long before you come in contact, is craftily skilled to always make you believe you set it all up.
Because of my level of anxiety, I began therapy at 18. I still could not be completely honest with the therapist about what I had seen and done, until the anxiety increased to a place where I could not comfortably live day to day.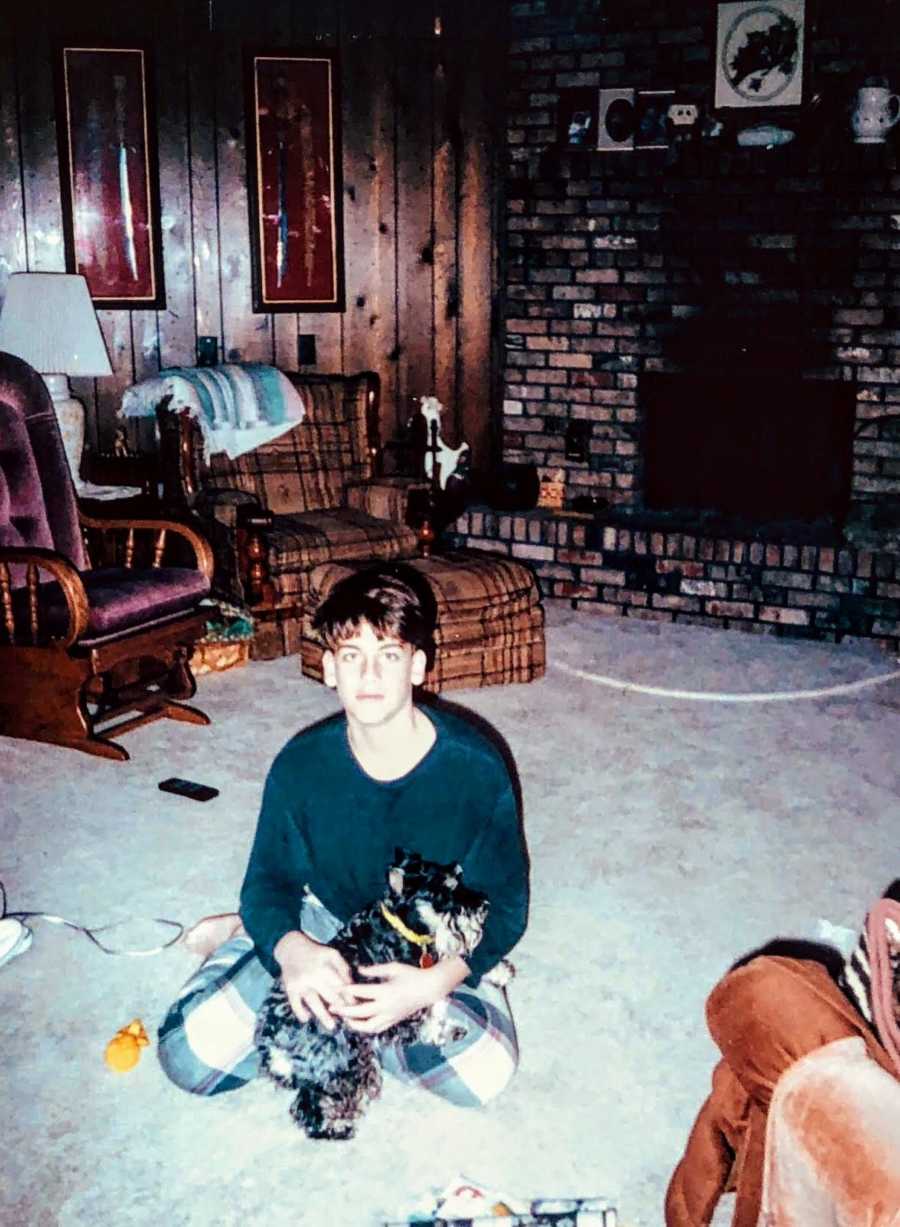 I spent years in therapy, and while I discussed many of the details, it was not until 13 years of therapy, that I was able to call the abuse, abuse. I had some deep convictions that because there was pleasure involved, I was to be held accountable.
But now I see it. I really see it. I see all of the anxiety I have had from loud noises, fights, tension, or toxic situations, was a direct result of every encounter with Chuck. I see my inability to be affectionate with others or allow close connections is a result of the violations he did to me. At a time where I needed appropriate touch, he tortured that desire with evil.
I see all the years I missed by believing this was my fault.
I look back and would give anything to see myself then, in person. I wonder if I would be able to pick up on the terrible self-esteem issues. Would I know, if I saw a kid just like me, he was confused about his sexuality? Would I be aware and engaged enough to sense he was being abused at home by his father? Would I get the sense he would give anything for that abuse to stop, and simply be seen and known?
I paid for the years of confusion. I took on every label given to me and fought like hell to believe I was lovable. I always ended up empty handed, until it all came together. Until all of the abuse from my childhood and teen years, and walking the tightrope of tension to believe I was one of the most awful, secretive people on the planet, became clear. Until my 32-year-old self was able to maturely, confidently say for the first time, 'I was molested.' Those words came in the form of an afterthought from a nervous breakdown.
For the next six years I fought a battle with severe CPTSD (Complex Post-Traumatic Stress Disorder). I had mastered disguise and chose success and sex addiction as the two anchors to keep me grounded. Both were uprooted, and for the first time, I was face to face with my pain, like I never had been before. In 2010, I had my first EMDR treatment. I moved into the trauma and prolonged denial about the amount of abuse that had been done (pre and post Chuck) and got honest, fast.
It has been a painful, yet beautiful journey of recovery. After finishing nine EMDR intensives over the course of six years, I was able to get closure from the sexual abuse and trauma. Not long after, I came out, and refocused what the rest of my life would look like. The sexual abuse, and deep roots of religion, robbed my ability to explore sexuality in a healthy way.
My heaviest days are behind me. I have undergone 23 years of therapy. I am still going and probably always will. But I am going due to a desire for stability, rather than a desperate need for a quick fix to make the pain go away.
I found comfort in success for much of my adult life. It provided a shield around me and sent a message that my life was significant. One of my proudest moments was removing that shield last year. I surprised those who had followed along by saying, 'I am done with this part of my life. I am done chasing this kind of success. I am done using my career to mask my pain. I am no longer interested in my job being my companion.' So, I left. I jumped on a plane. I traveled all over the world for six months and began writing and sharing this very story.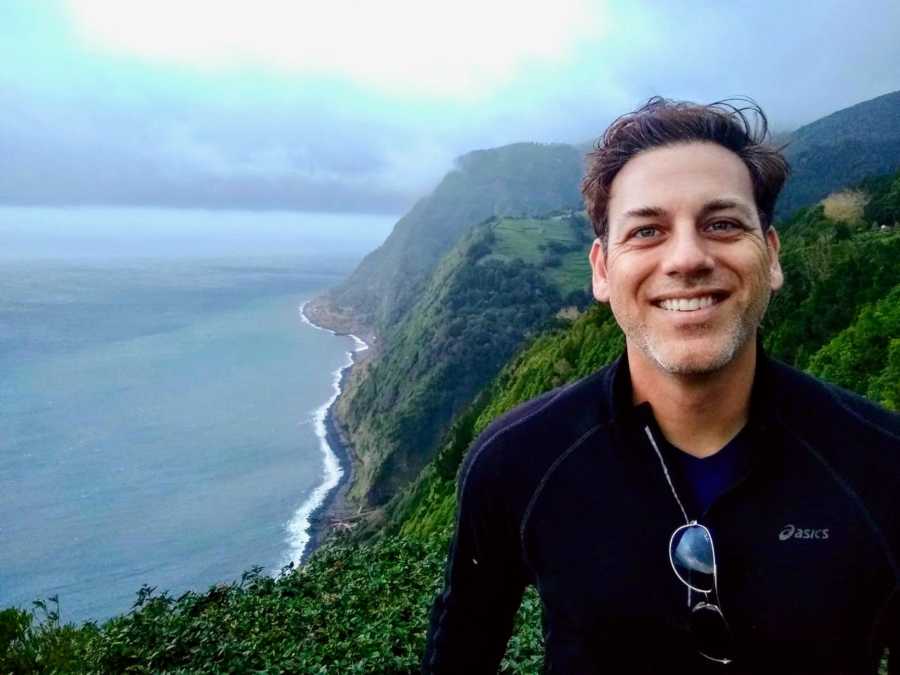 Thousands have followed along and hundreds have reached out to share their stories. The statistics are true. One in six males are sexually abused by the time they are 18. We choose not to tell because we believe it is our fault. We feel it exposes weakness to address it or hate what was done.
Sexual abuse is stigmatized among men and I will not slow down until more men have an understanding and space to be honest about their experiences. I want them to know they are far less alone than they've imagined."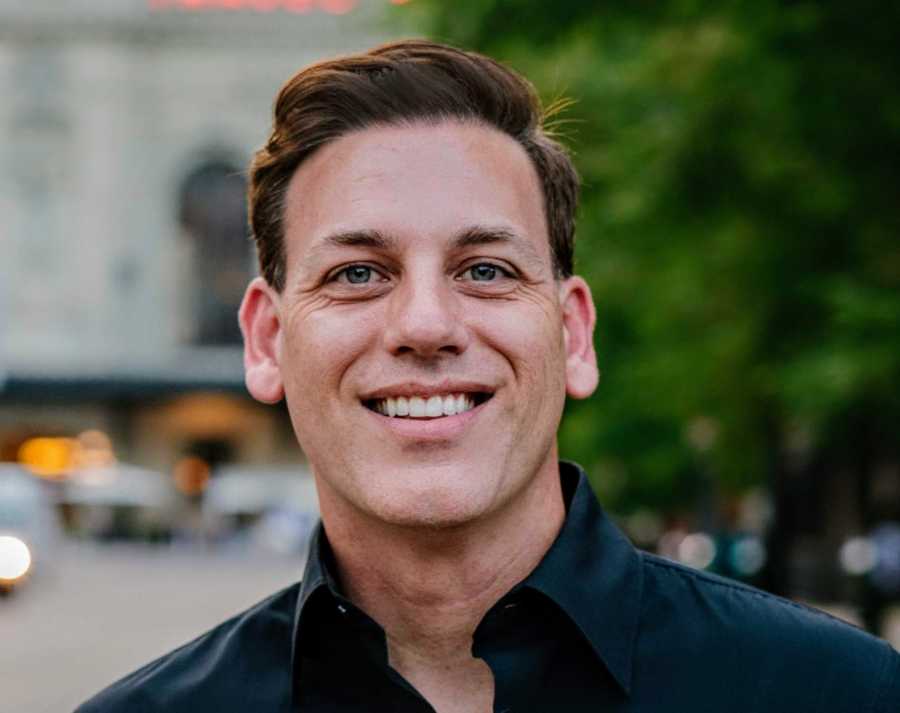 This story was submitted to Love What Matters by Nate Postlethwait of The Other Side of Saved. You can follow his journey on Facebook here and Instagram here. Do you have a similar experience? Submit your own story here, and be sure to subscribe to our free email newsletter for our best stories.
Read more stories like this:
'You drive me to drink. I wish I never had you!' It was a nightmare. We suffered in silence.': Abuse and bullying survivor urges, 'Be kind to one another'
'I love you, Mommy. I love you. MOMMY!' She interrupted her daddy's beratements. He was a pastor and he 'never' laid a hand on me.': Domestic abuse survivor urges 'every soul has the power to fight'
Spread hope and strength. SHARE this story on Facebook to let others know a community of support is available.