"It was a spring afternoon just like any other — rainy and cloudy with the sun still picking out. My friend and I were walking home from work, sharing an umbrella and conversing happily about how, despite the pandemic, our lives were beginning to settle and show signs of normalcy after much struggle for the two of us.
The week before, I was celebrating one year living in Canada, a difficult one, full of mixed feelings. Adjusting to a new life wasn't easy and despite the fact of being happy and grateful for finally settling, I was also feeling a little depressed about leaving my family, friends, and everything else that was home behind. However, I felt that things were starting to take better shape: In just a year I managed to get a good job, I was making friends, my English was improving… And suddenly, in just a matter of seconds, everything changed.
That spring day, my friend and I were going to cross the street, at a crosswalk that is practically in front of our building, after my friend pressed the button for the traffic lights to start flashing. The cars on one side of the avenue stopped and we thought that the car coming from our side would stop since it was far, so we decided to cross. We had only walked a couple of steps when the upcoming car came speeding through the light, hit us, threw us, and dragged us about 20 meters, and changed our lives forever.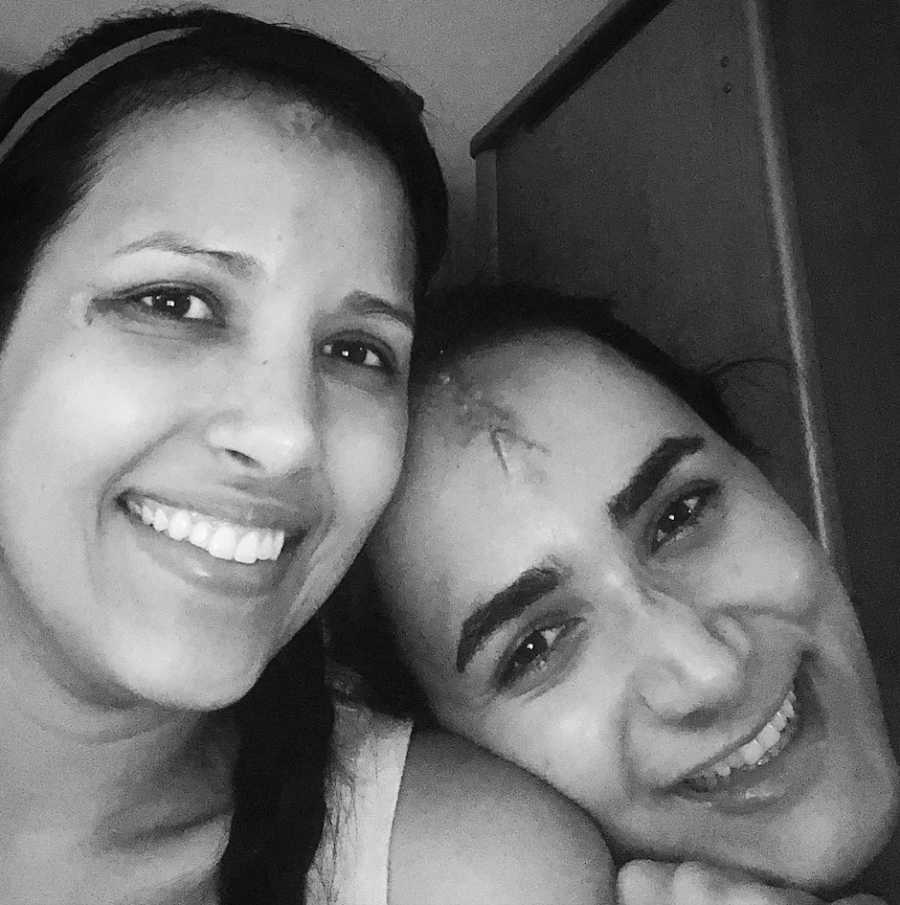 I have absolutely no memories of the impact. I just remember opening my eyes and being very confused because I never imagined that I would be hit by that car. When I was lying on the pavement in the middle of the street, I felt panic — I didn't feel my legs. I desperately began to look around for my friend and I saw that she was lying on the ground near the sidewalk. Her eyes were wide open and her gaze was fixed. I thought she was dead, and I began to scream very loud, the kind of screams that only come out when you're terrified, the kind that can't be faked.
I immediately felt excruciating pain throughout my body, the most horrible physical pain I have ever felt in my life. I thought my legs had been ripped off from my body. It was intense, very intense. People began to approach us. They helped us by encouraging us to stay awake; they covered us with their jackets and stayed by our side until the paramedics arrived.
Our building was only a few feet away, so my husband and my friend's roommate were quickly tipped off on what had happened to us. The driver remained at the scene, although she never approached us, and, according to the witness's account, she had to be stopped in her attempt to keep on driving and she chose to remain in the car. The police questioned her and she said she hadn't seen us, so I can assume, and based on the police account, that she was distracted — her eyes were definitely not on the road.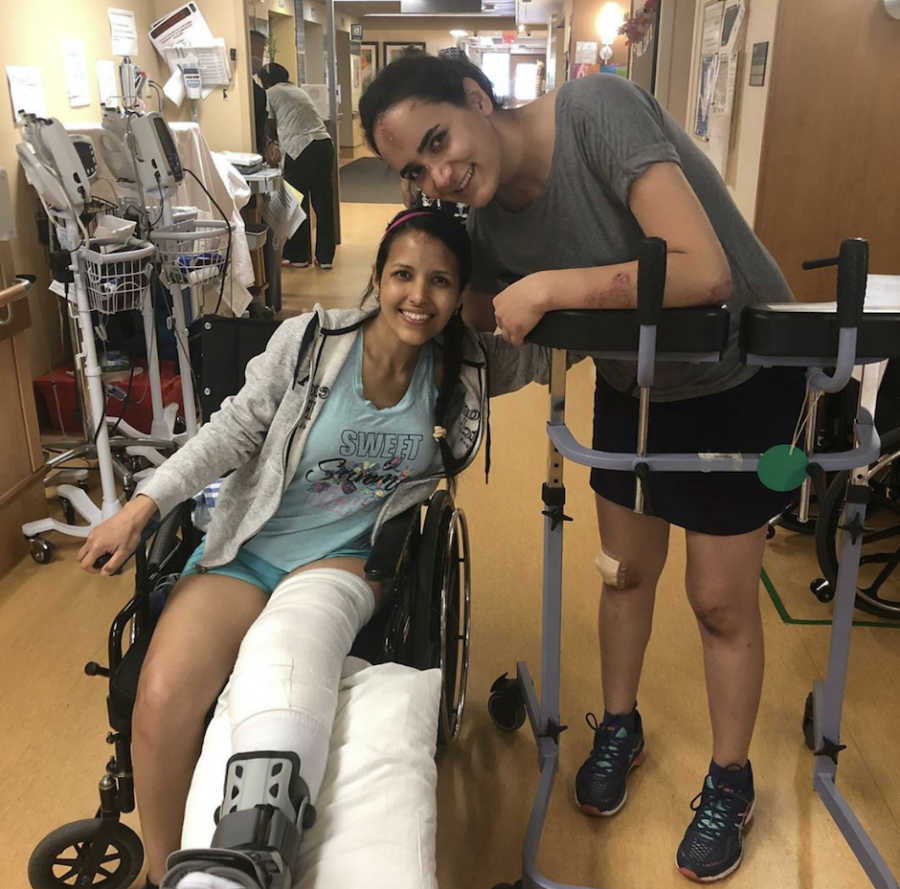 My friend and I had different injuries, but both very serious. In my case, the major injuries were from the waist down; I also suffered a contusion and lacerations on my face. The left side of my body took the biggest impact since the car ran over my legs. I spent five weeks in the hospital, had three surgeries, and I'm waiting for a fourth one. It has been a very tough journey, physically and mentally, but surprisingly, I've been very positive during my recovery.
The weeks that I was in the hospital, I dedicated myself to help everyone I could, that was the therapy for my wounded soul. I was so grateful I've survived that I didn't give my depression and anger a chance to take over my thoughts. Due to COVID 19, we were unable to receive visits from our family and friends, making this ordeal even harder, so I decided that I would find the company I needed in my roommates and the nurses.
During that time, I was able to sympathize and empathize with the pain of my roommates, who were also recovering from their injuries. I was able to appreciate the hard work the nurses and all the staff who work in the hospital do every single day. I
was able to be more aware of how important it is to give without expecting anything in return. I learned, above all, to give my life the value it deserved and realized how much we take things and moments for granted or worry about nonsense. We don't
appreciate the true gift that life and health are.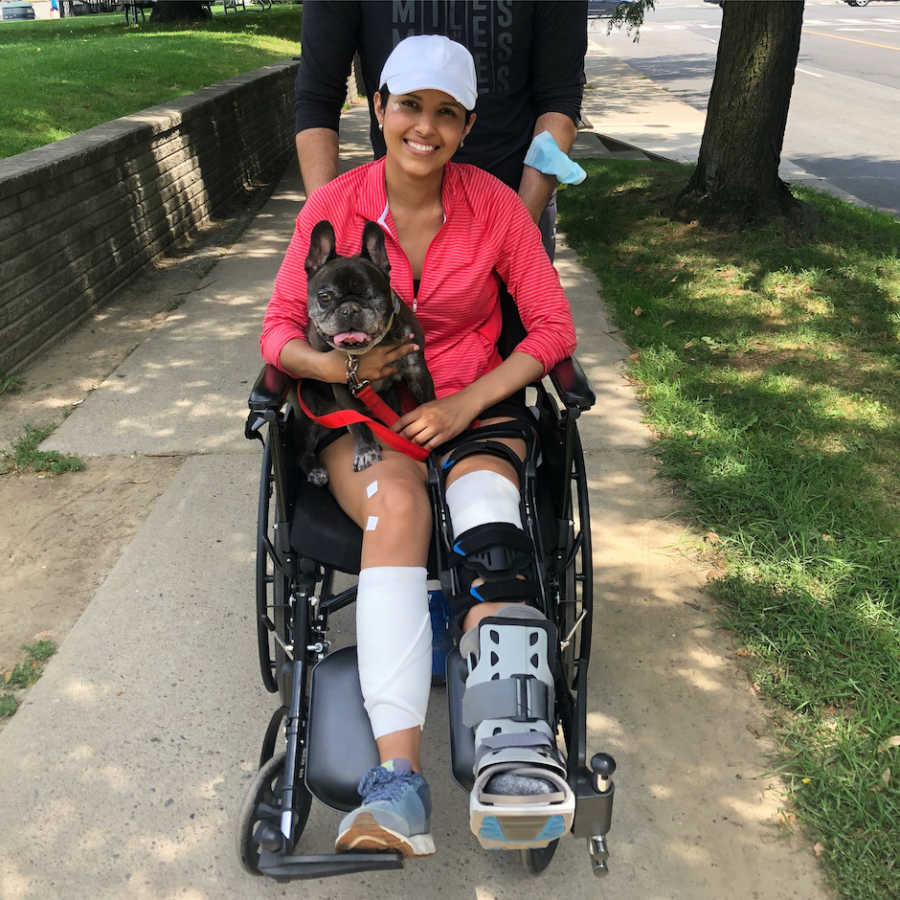 When I got out of the hospital, my lifestyle changed completely. For the first weeks, I was in a wheelchair, and little by little, with therapy, I was able to walk again with the help of a walker and crutches. Then with much more effort and dedication, now I only need my cane (and my husband's arm) to walk. I still deal with physical pain every day: I have days of sadness and frustration, I have to do aggressive physiotherapy, and my productive activities have been significantly reduced. Before the accident, I was a very active person. I used to walk 20,000 steps daily, do yoga and gymnastics, run errands, and chores at home. Now when I walk about 100 meters I feel exhausted, going for a short walk feels like a marathon. My sports activities have been reduced to only my physical therapy, and even dressing and putting my shoes on takes a lot of effort. My doctors said that I will need at least a year or more to fully recover. So, I need to be patient and stay focused on my goals, otherwise, I may feel frustrated and tired.
Nevertheless, I always try to remember how lucky I am to be alive and to have all the parts of my body. I'm grateful to have another opportunity to share with my family and to continue working on my dreams and projects. My friend and I have our mothers far away — they both live in our home countries — so it's a relief to know that we didn't have to give them the sad news of our passing, but only the scary news of an unfortunate accident. It will take us a long time to fully recover and feel that we are ourselves again, but I think we are both willing to continue working hard so that this episode will be only a memory in our lives. We also grew to be the best of friends, linked forever by this sad event, but having each other shoulders and supporting one and other during our recovery.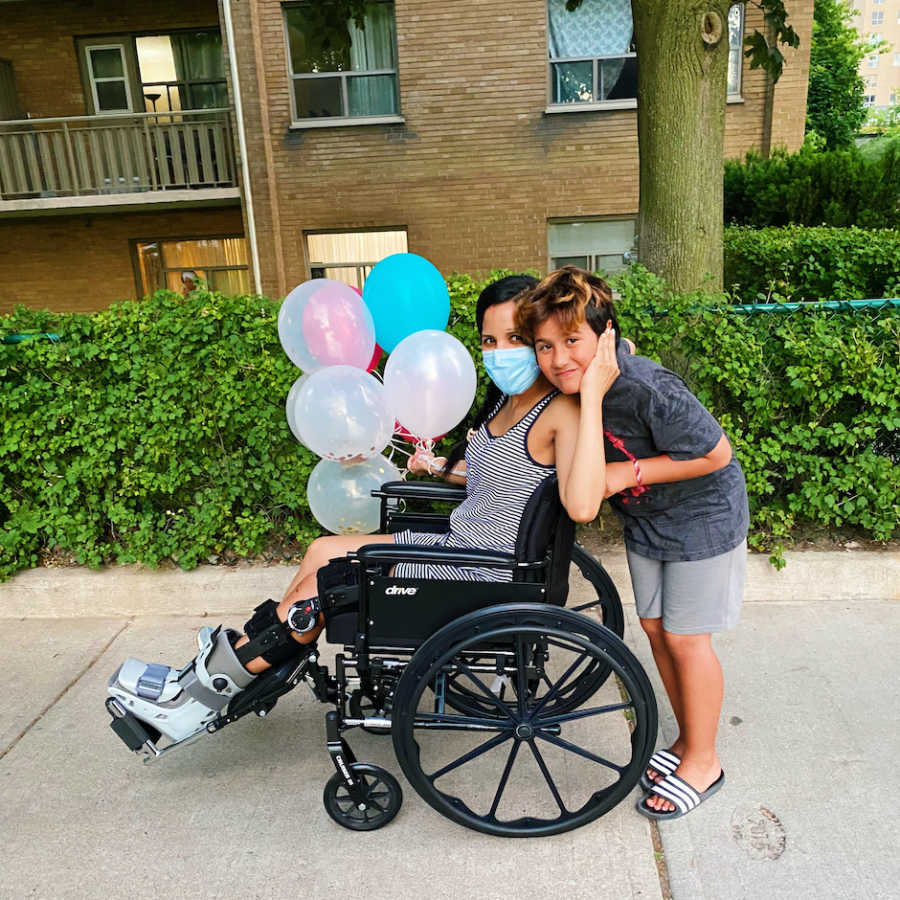 After this experience, and still in the process of recovery, I want to share some lessons:
Be grateful for what you have and enjoy it.
Help those who need it — even a smile can make a difference.
Remember that anything is possible if you put your mind and heart into it.
Driving a car is a huge responsibility – don't get distracted and keep your eyes and
mind on the road. It only takes a second to change a person's life forever.
Value your health, especially during these times of pandemic.
Appreciate the work of the doctors, nurses, and staff working in hospitals; they
are literally sacrificing their lives for their patients.
Don't let any adverse situation steal your smile and your will to live.
Say what you feel — especially to those you love — because you never know when
your last chance may be.
Smile at all times even when you don't feel like doing it.
Live to the fullest because life is a gift.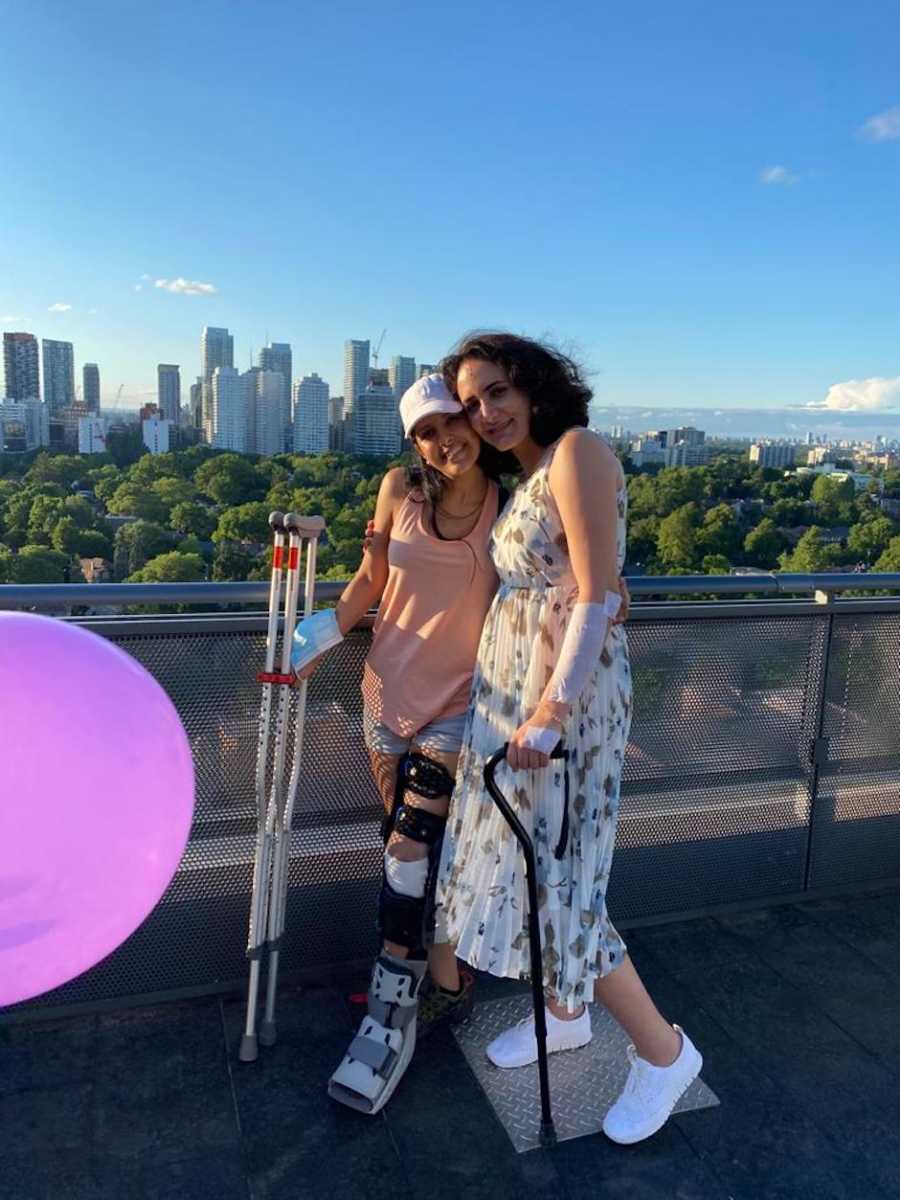 This story was submitted to Love What Matters by Eloísa Valles in Canada. You can follow her journey on Instagram. Submit your own story here, and be sure to subscribe to our free email newsletter for our best stories, and YouTube for our best videos.
Read more stories like this:
'I hit a patch of black ice and lost control. 'We can't get her out!' They cut my seatbelt off, but my legs were stuck.': Woman survives car accident, traumatic brain injury, 'I've come SO far'
'He's awake!' 'I couldn't move or open my mouth. The doctors only gave me a 5% chance of survival.': Man recounts near-fatal accident, 'Show gratitude every chance you get'
'I was waiting at a red light when I lost consciousness. I called my Sergeant. 'I've been in an accident. Something isn't right.': Officer credits rottweiler for saving her life post-traumatic brain injury
'I got the text, 'Lex, we had an accident, but I don't want to worry you.' My son was the baby who literally fell onto his head accidentally.': Mom to become NICU nurse after miracle baby survives traumatic brain injury
Do you know someone who could benefit from this story?  SHARE this story on Facebook and Instagram to let others know a community of support is available.