"Today is Juneteenth.
Juneteenth is the oldest known celebration that commemorates the end of slavery in our country, but in recent years, it is being embraced by more communities nationwide as a way to celebrate African American culture and freedom for all.
Several years ago, I probably would have rolled my eyes. I would have seen this as another holiday that 'uses race to divide us.'
I would have seen that this as unnecessary and irrelevant in today's world. As a white woman, I would have felt uncomfortable and out of place.
I would have been wrong.
Since adopting my son, I have seen that freedom for all is still being fought for in America.
I have felt the stares, overheard hateful whispers, and witnessed parents make their children leave the playground when my Black son showed up.
I have listened to ignorant and hurtful comments and held my daughter after her friends told her they don't really like 'those' people.
My son is still young, and is blissfully unaware. But I grieve for the day this changes.
I have had tearful discussions with black mamas who have warned me to get ready, because raising a brown boy is going to be a lot different from raising a Black man. I have learned about the 'talk' I will one day have to have with my son, the one where I will have to look in his sweet, innocent eyes and tell him that some people will see him as a threat and a criminal, simply because of the color of his skin. I will have to convince him that he will have to be overly compliant and well-mannered and careful so that he doesn't end up another statistic.
I don't want to make it seem like it is all scary. Our lives have been so much brighter since we consciously embraced African American culture. Our lives have become richer after we sought out voices and stories that we may have not otherwise heard. I take pride in introducing my children to Black men and women throughout history who have paved the way for all of us. When my son sees people who look like him succeed, he hears a whisper that says 'you can do it too.' I swell with joy when I watch him discover strong Black role models making a difference today. It is so important, and I can't believe I was blind to this for so long.
I hate that it took my child to pull me out of my imaginary perfect world, but it did. I hope you learn from my ignorance. I have read and listened and educated myself, and I can say without a doubt: we have to do better.
Doing better means getting out there. It means learning about the past, being honest about the present, and planning for the future.
Start this month.
Find a book, or an article, or a Juneteenth festival to attend with your family. If we don't learn from history, we can't expect to advance.
Embrace and appreciate vibrant African American culture.
We don't want to be colorblind.
We want to celebrate color.
We want a world filled with color.
Take a minute and educate yourself and your children.
Take time to research the roots of this holiday that still have so much relevance today.
Take a moment to pray for those who are still oppressed and treated like they are less-than.
Look around at your church and school and friend group. If everyone looks like you and thinks like you, it's time to mix it up. Growth doesn't happen in a mirrored vacuum. Visit playgrounds and churches and restaurants with diversity. It will certainly be uncomfortable, but I can say with 100% certainty it will change you for the better.
Open your mind to someone else's lived experiences without getting defensive or argumentative.
Just listen.
Have real discussions about prejudice and racism, even though it may be awkward.
Make space to consider how we can make our country better for the next generation.
I know this makes my white friends uncomfortable. I know this because you tell me, and I know this because I lived in that mindset for so long. I am embarrassed that it took my child being treated poorly for me to listen. But what I now know, I can't unknow.
Friends, attend the Juneteenth community events. Learn the history. Have the talks. Make a change. Let's celebrate how far we have come, and let's work towards how far we have to go.
We can do better together."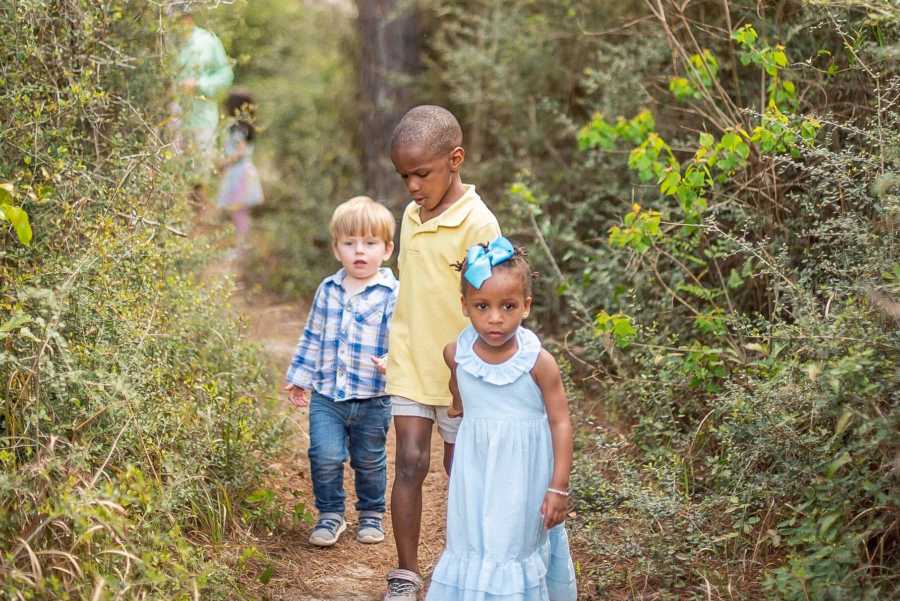 This story was submitted to Love What Matters by Stephanie Hollifield of Momstrosity. It originally appeared on their Facebook page. Submit your own story here, and subscribe to our best stories in our free newsletter here.
Read more inspiring stories like this:
'For us, he was only ever our son. Not our black or adopted son. Even though most folks find him adorable right now, they might feel differently when he dates their daughters.'
'His teacher suddenly jumped on the desk. He started walking across each one, to make sure every single eye was on him.'
'A stranger helped me with my black daughter's hair. I desperately want to do the right thing. Our world needs more people like this.'
SHARE this story on Facebook to encourage others to cherish every moment and love what matters most.