Disclaimer: This story includes details of sexual abuse and may be triggering to some.
"'Daddy, did I do it right?' I said as I casted my pole into the water. His face lit up so much I remember thinking he looked like the sun. I was 4 at this time. He was so proud of me as he cheered me on. 'Reel reel! Look! You caught a fish!' This moment is so vivid in my mind. He lifted me up and spun me around as I screamed in delight. My dad was my best friend, my hero, the most incredible person in the whole world. It was really true what they say. A dad is a daughter's first true love.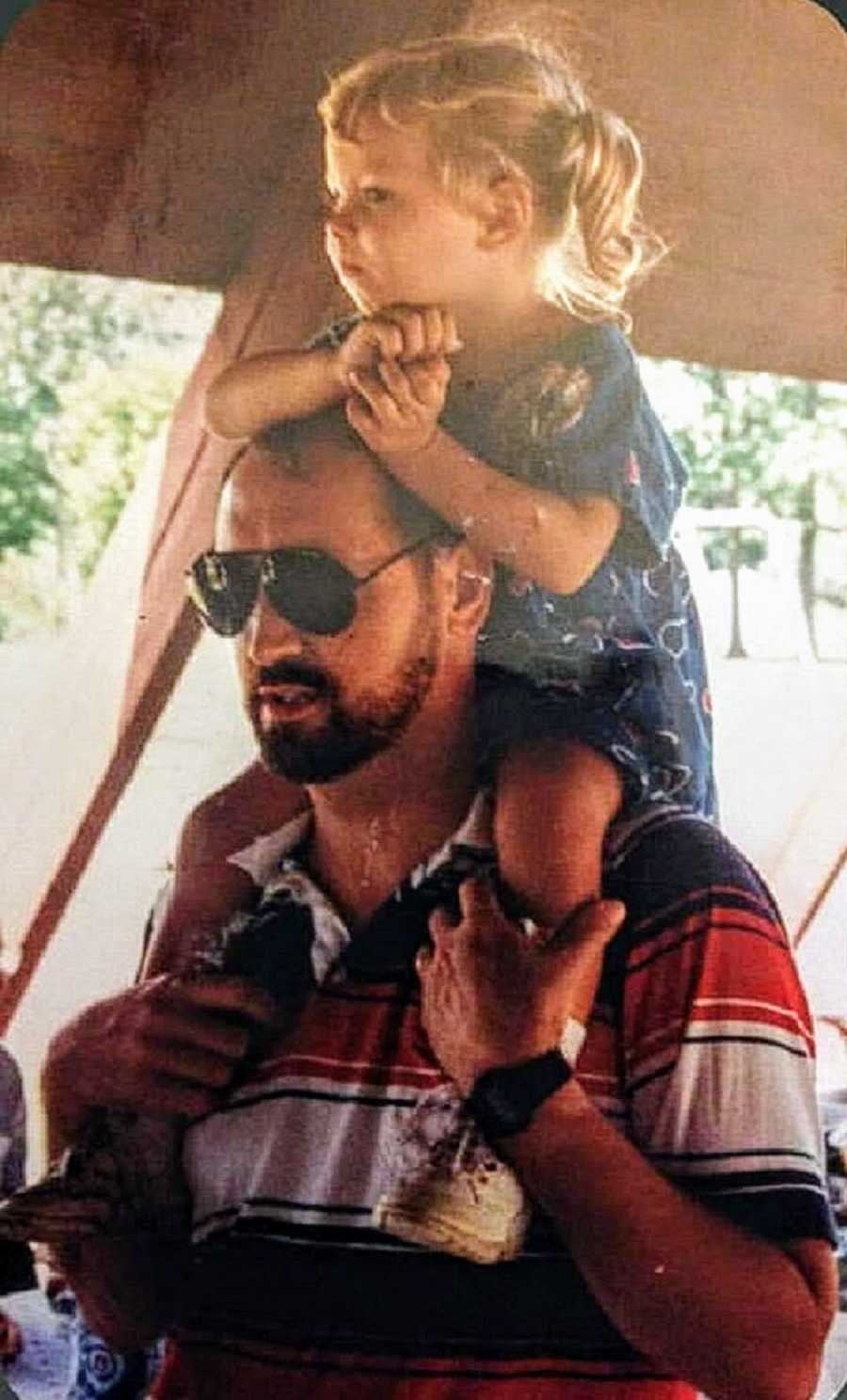 My life was picture perfect at this time. I had 2 parents who loved me, and an older brother who I wanted to be next to in every moment. Our next door neighbors had 2 kids, John and Jason, that we were so close with I called them my 'bonus brothers.' We had an amazing church community that was extended family to me. I started playing soccer and T-ball, both of which I excelled at. We would go camping every chance we could get. I was a very outgoing, loving, and full-of-life child.
But everything started to change when I was 5 years old.
Kindergarten was half days, so on occasion I'd go over a friend's house after school to play. 'Take off your pants and lay down' 2 of my friends said to me. I felt the blood rush to my face with embarrassment. 'Why?' I laughed with nerves. 'It will feel good, just take off your pants.' I laid on the grass, as they started touching me. I didn't know what was happening or why my body felt like it was on fire. 'I want to go home!'
I remember staring at my underwear in the bathroom later that day. Why was there blood there? Where is it coming from? I went into my room, changed my clothes, and threw them in the hamper. 'Mommy will be mad that I made a mess in my underwear. I hope she doesn't see it.'
Panic took over my body while I stood in front of my mother. I tried so desperately to find the words to tell her what happened. But I couldn't comprehend what happened at all. I blurted out, 'They hurt me! I never want to go back there!' She stared at me while silence choked my throat. Her anger grew. I remember seeing it all over her face. She rolled her eyes, started mumbling to herself how that was her break, how upset she was, and stormed out of the room in a huff. I can still feel the way I felt that day in that room. Loneliness held me tightly. I started crying. I shouldn't bother my parents with these things ever again, I shouldn't have said anything at all. This lesson was internalized into my soul from that day forward.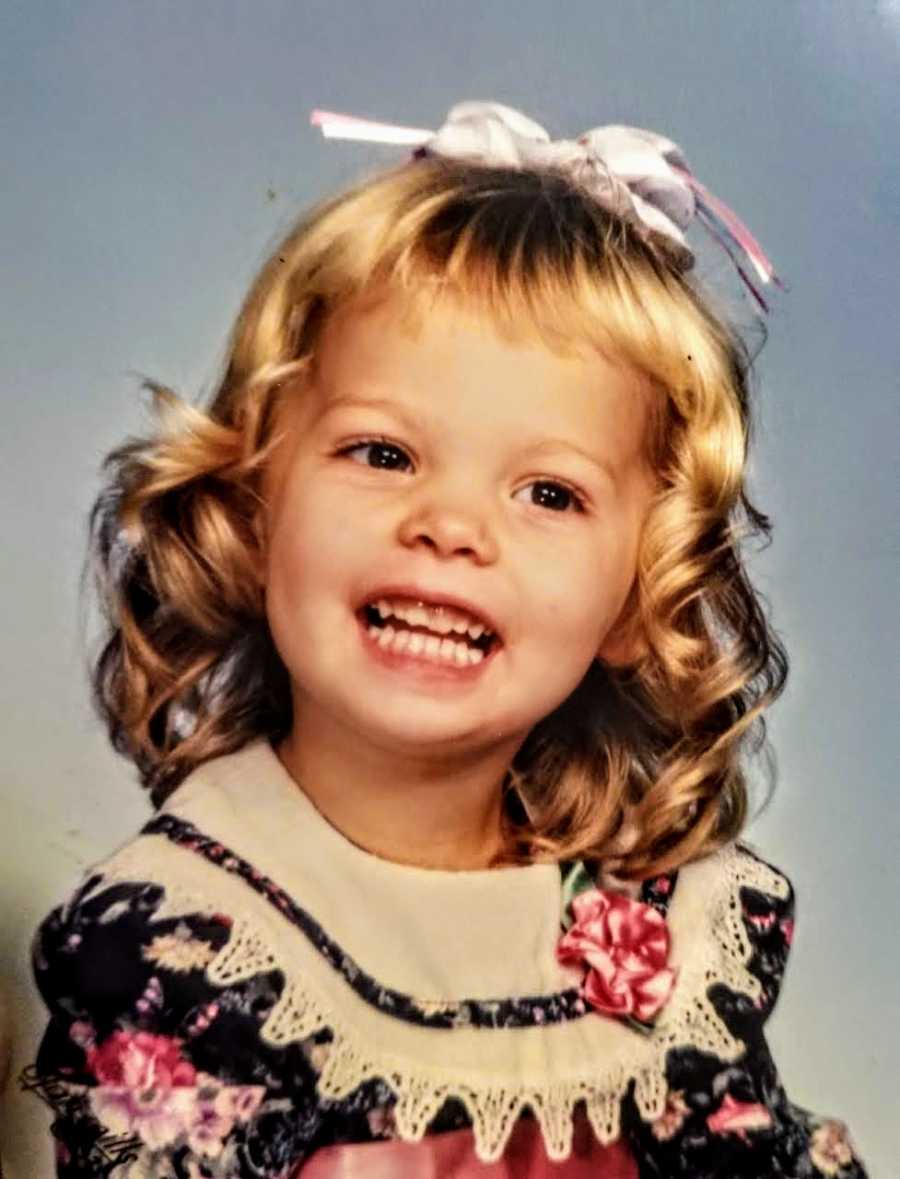 During the summers, us kids would swim every day in my parents' pool. I was either 5 or 6, not long after the first incident, when John started rubbing me on top of my bathing suit. I was confused. But it didn't hurt like the time before. Maybe this is fine. He's my brother, he knows what is best. I felt that same rush to my face with embarrassment. My body was on fire once again. What is happening? Is this right? He's my brother, it must be okay. It must be okay.
The night terrors started happening around this time. Anxiety started to course through my veins. Am I bad? Does God hate me? If anyone finds out they won't love me anymore. They love John, and won't believe me. I can't upset my parents and tell them. I need to stay quiet. Maybe it won't happen again.
But it always did.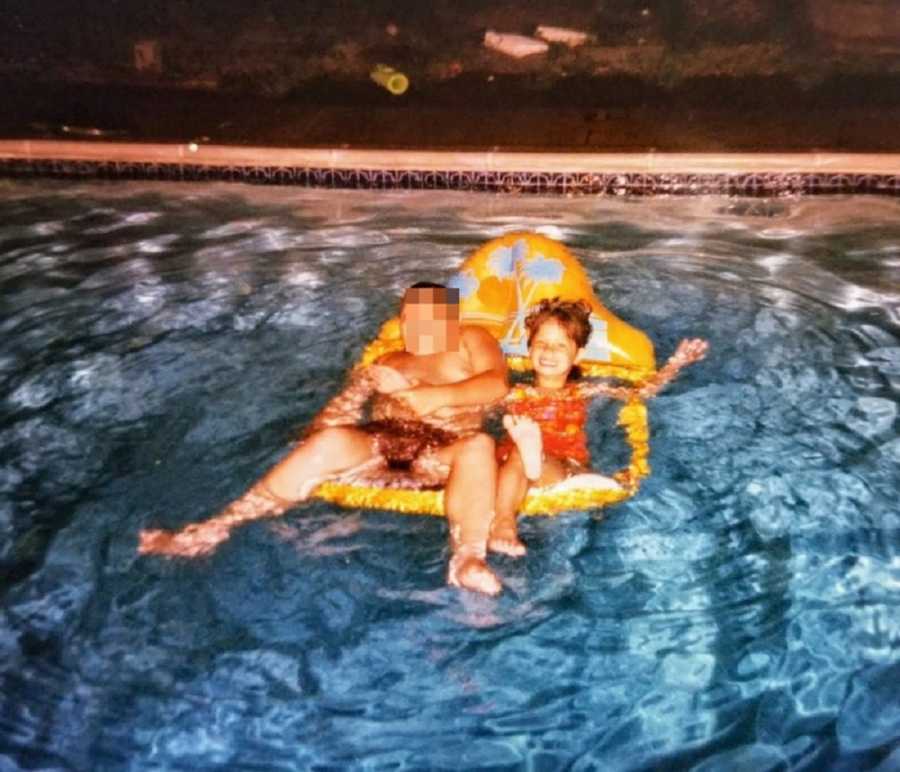 I was 7 the first time I stumbled upon my father's porn. I was watching my favorite Care Bear movie my dad recorded for me on a VHS. When it ended, static took over the screen. I hopped up and went over to pick a new one. I couldn't decide, should I watch The Lion King? The Little Mermaid? And then the screen flickered onto 2 adults in the desert. What's this? I went, sat down, and watched. As she took off her pants and he started doing the same things that happened to me, my body filled with a feeling I never had before. Sheer terror as my mind was trying to comprehend what I was seeing. My dad made this tape for me. Does my dad like to do this stuff? Is this normal? I watched the whole thing as my body was frozen with shock and fear. Is that what is going to happen to.. me?! Why does my dad have this?
That night, when my parents were asleep, I snuck into the basement, my dad's 'man cave.' I was shaking as I grabbed all of the VHS tapes that he recorded movies on, took them upstairs, and checked. I found a lot. I cried hysterically. I don't understand why my dad has these things. It must be a part of life. Why is my dad hiding this stuff? I felt so alone and broken sitting with my demons. They had a grip on me that suffocated me from that day forward. I lost the last fragment of safety I felt in that moment. My hero was not who I thought he was.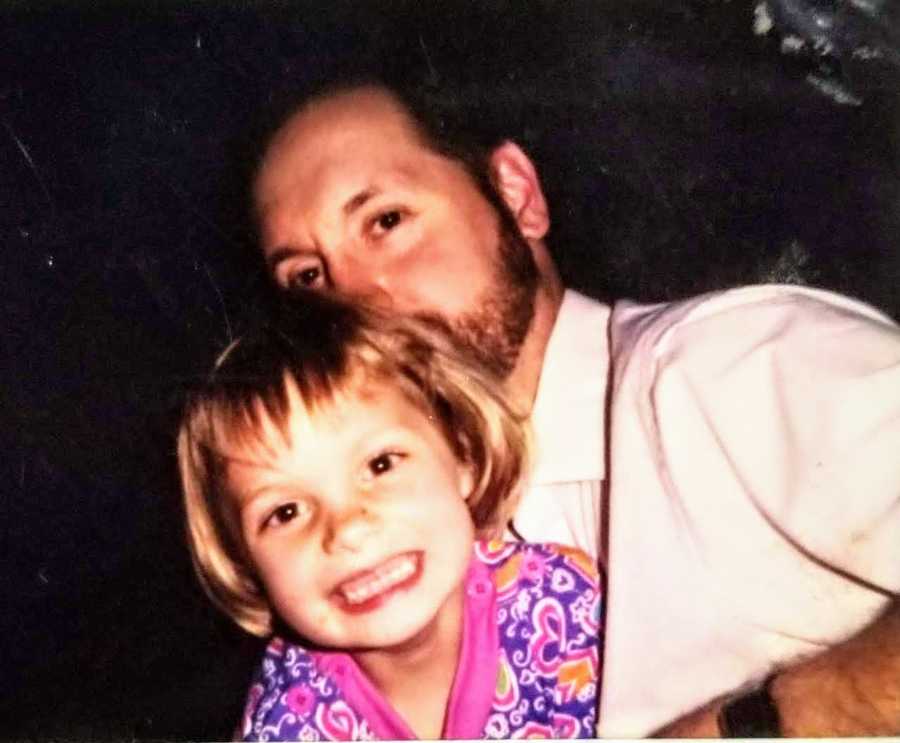 After that, my memories started to cut out. There was an incident in my room, when I was sleeping. I awoke with my body in pure shock. Someone is touching me. Who is it??? It was pitch black as I stared up into the emptiness. I have no memories of what else happened that night. I woke up the next day, got ready for school, and told myself it was a bad dream.
Camping was my safe haven. Every week in the summer we would go. I remember this day so clearly. I was 9. I spent the whole day on the water fishing with my dad. I adored those times with him. Watching the waves hit the boat. Out fishing my dad that he would jokingly be mad about since I was so good. Spending time with just me and him, and no women or screens in sight. I had all of him to myself. I loved that.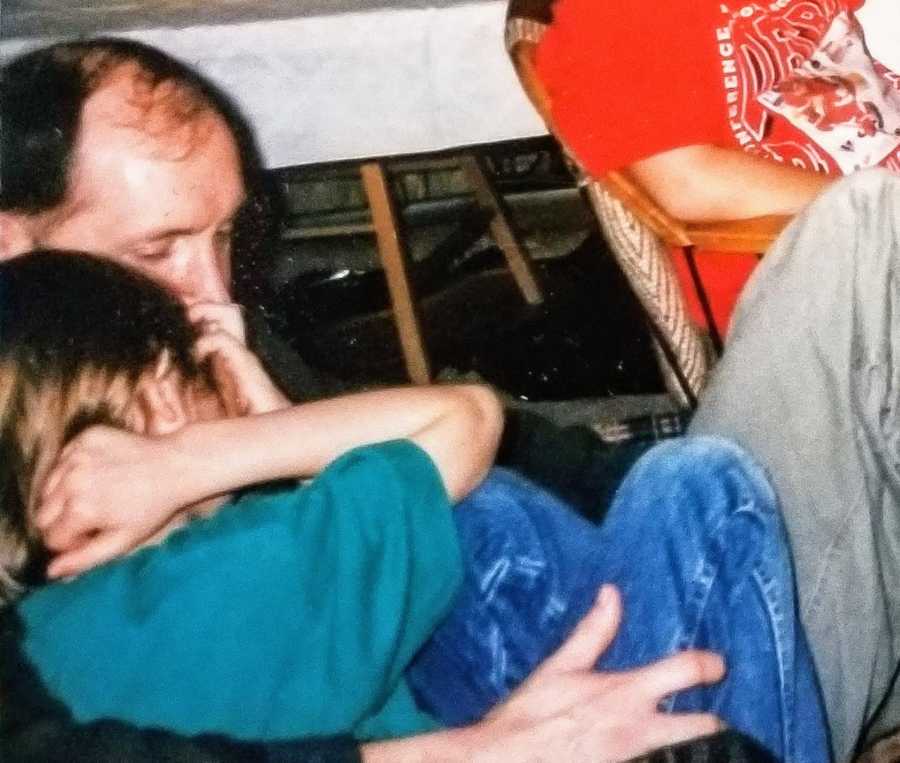 That night, the adults told us kids to go in the camper, it was time for bed. John was on this trip. John and my brother folded down the kitchen table, put a mattress on it, and laid down. I always slept in the top bunk above the driver and passenger seat. I loved that spot. I always felt like I was on top of the world when I would look out the windows.
I was falling asleep when John crawled into my bunk. What was he doing up here? Then he started taking off my pants. Not again. Not again. Scream Carissa. Knock on the windows to let the adults know you need them! But my body couldn't move. I opened my mouth to scream, but nothing came out. I glanced down at my brother and begged him in my mind to wake up. Please wake up! But I watched him sleep, as John started. Everything goes black after that. I have tried to remember what happened, but it hasn't come. However, my body's sensations from that incident have always told me, what really happened that night.
It finally stopped when I was 10, but it was just the beginning of my suffering from keeping these secrets. I remember wishing for death, for the first time in my life, sitting in my 5th grade class.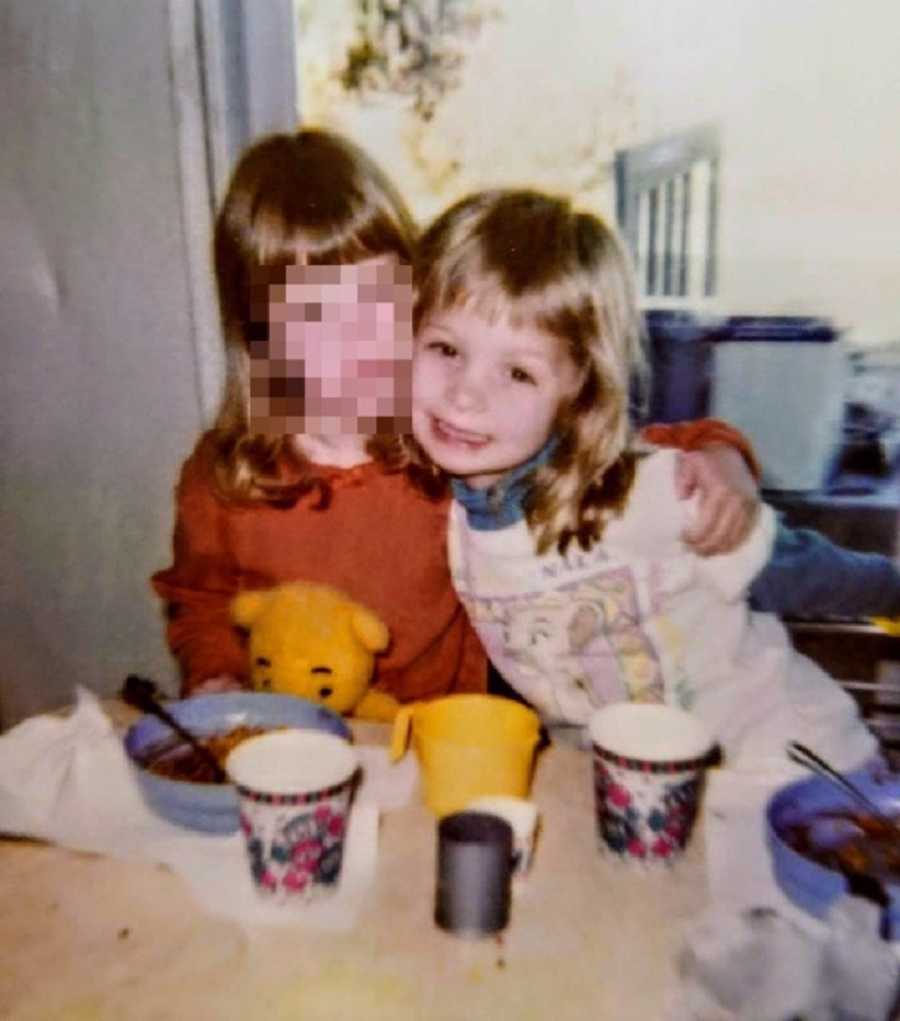 The years to come were agonizing. I completely lost myself. I became obsessed with knowing when my father was unfaithful. I would go on rages and throw away everything I would find. All the VHS tapes, the DVDs, the magazines above the toilet, the recordings on the DVR, any downloaded files on the computer, and I would even erase the search history in the web browsers. I needed my hero back. I was trying to fix his problem, just make it go away so maybe I can feel safe. But it never stopped. I always knew when he would check out women, and then come home and go downstairs to look at more women. I also became aware that my mother had no idea. It was a daily thing, and I was in hell.
I suffered from CPTSD, depression, anxiety, self-mutilation, chronic migraines and stomachaches, eating disorders, depersonalization, substance abuse, suicidal thoughts, and the night terrors never stopped. I hated myself and my body for betraying me. I would wear baggy clothes and sweatshirts even in the hot summers. I didn't want to be seen, I would beg God to make me invisible. But I still never told a soul as I suffered.
The wall I was building since I was 7 between my father and I was complete when I was 14 years old. That's when I quit all sports. I stopped trying in school. I gave up on life. I gave up trying to fix him and make him see how much I needed him. I was sure that God hated me and I wouldn't be accepted into heaven. Sex before marriage is a sin, and I wasn't pure anymore. I felt worthless and only here to be used in this world. My body was for others' pleasure, and it never mattered that I never wanted any of this for myself.
My dad's anger grew. When I would be suffering, he would tell me I was a liar. A hypochondriac. That I messed up my life by quitting sports. That he didn't recognize me. He barely told me he loved me anymore. I was not the golden child I once was, and he ingrained that in me. I grew to hate him. But, I believed his words every time. The love that was once so strong between us, was dead.
I went from relationship to relationship after that. I was raped at a party when I was 15. Tried to commit suicide after. Rape attempts kept happening from male friends. I was in an abusive relationship when I was older. Life seemed to keep piling on more trauma. I was being crushed under the weight of the world all while still keeping mine and my dad's secrets.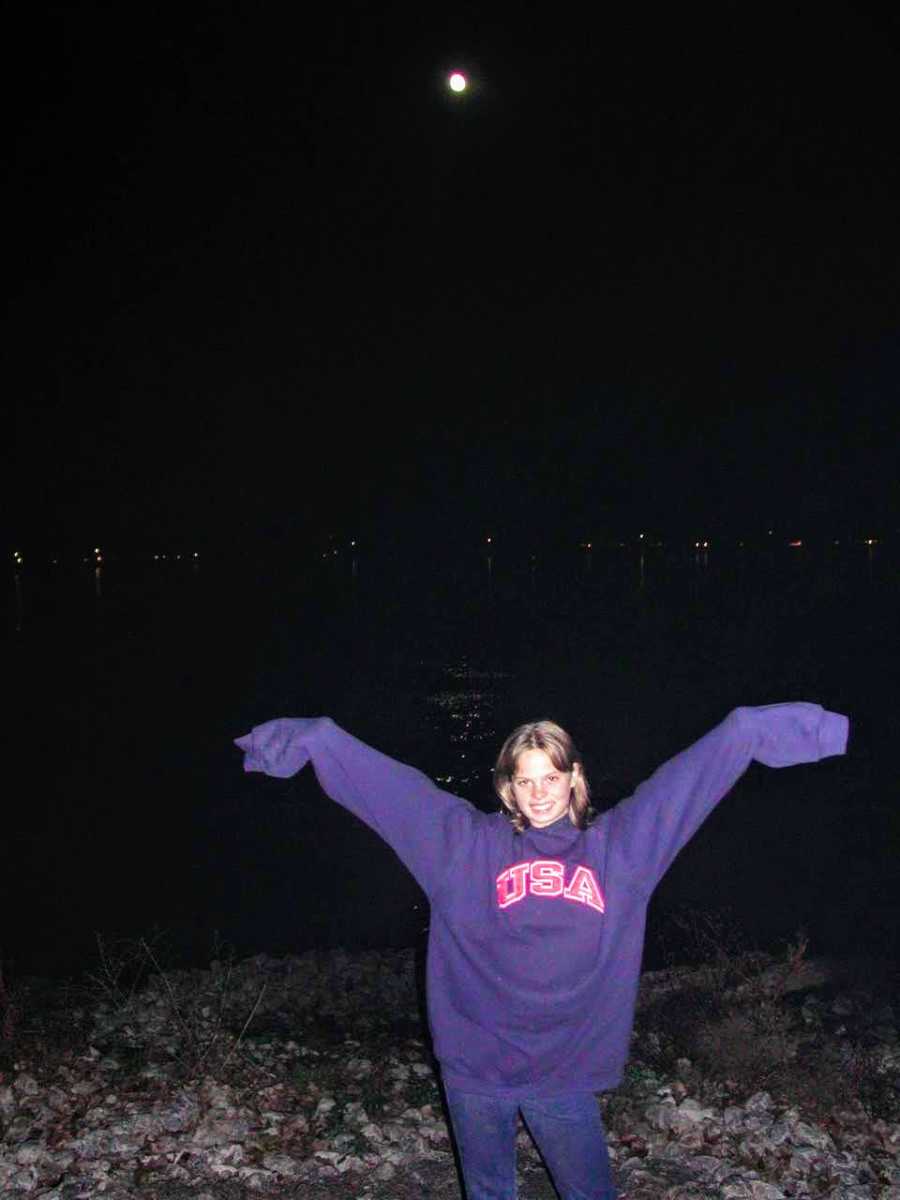 And then, I had my daughter when I was 21. She was my saving grace. I was so unprepared to be a mother, as I held this tiny perfect soul in my arms. I vowed, to protect her, to honor her, to always be on her side, and to love her so fiercely she would never have to wonder how loved and wanted she is.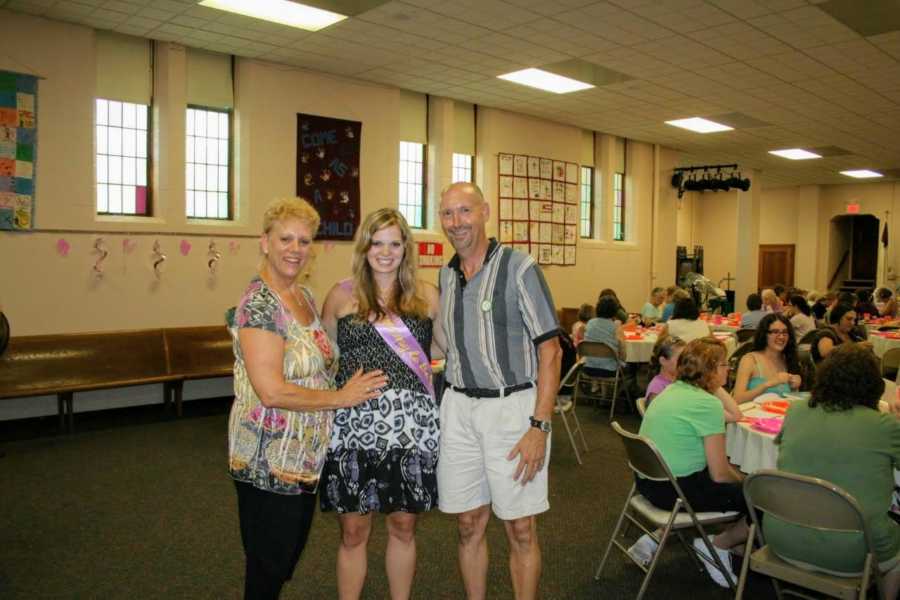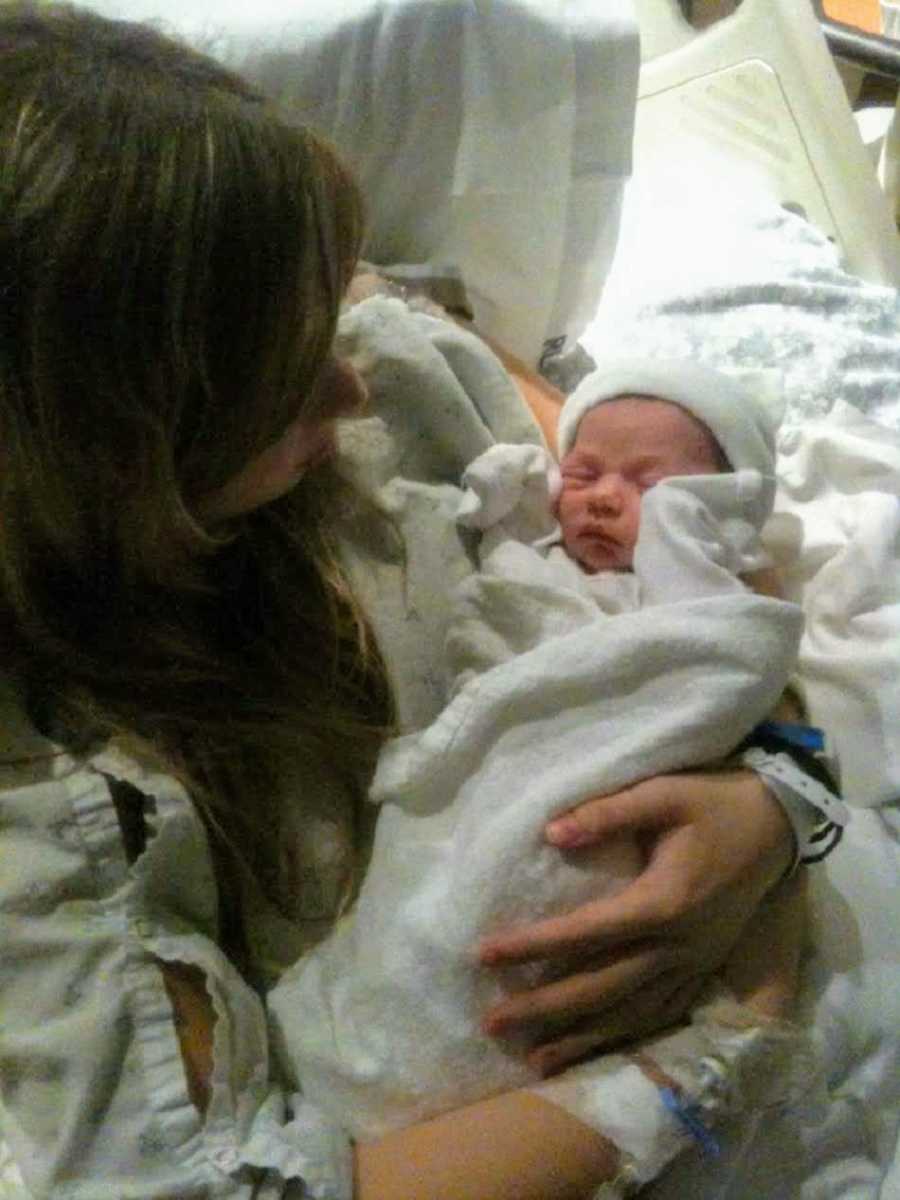 I think my dad felt like this was his second chance. I've never seen someone love another the way he loved my daughter. I got a glimpse into what mine and his relationship used to be. It always brought tears to my eyes. I was so happy she got to share the best parts of him. And also that I got to witness all the good he still was.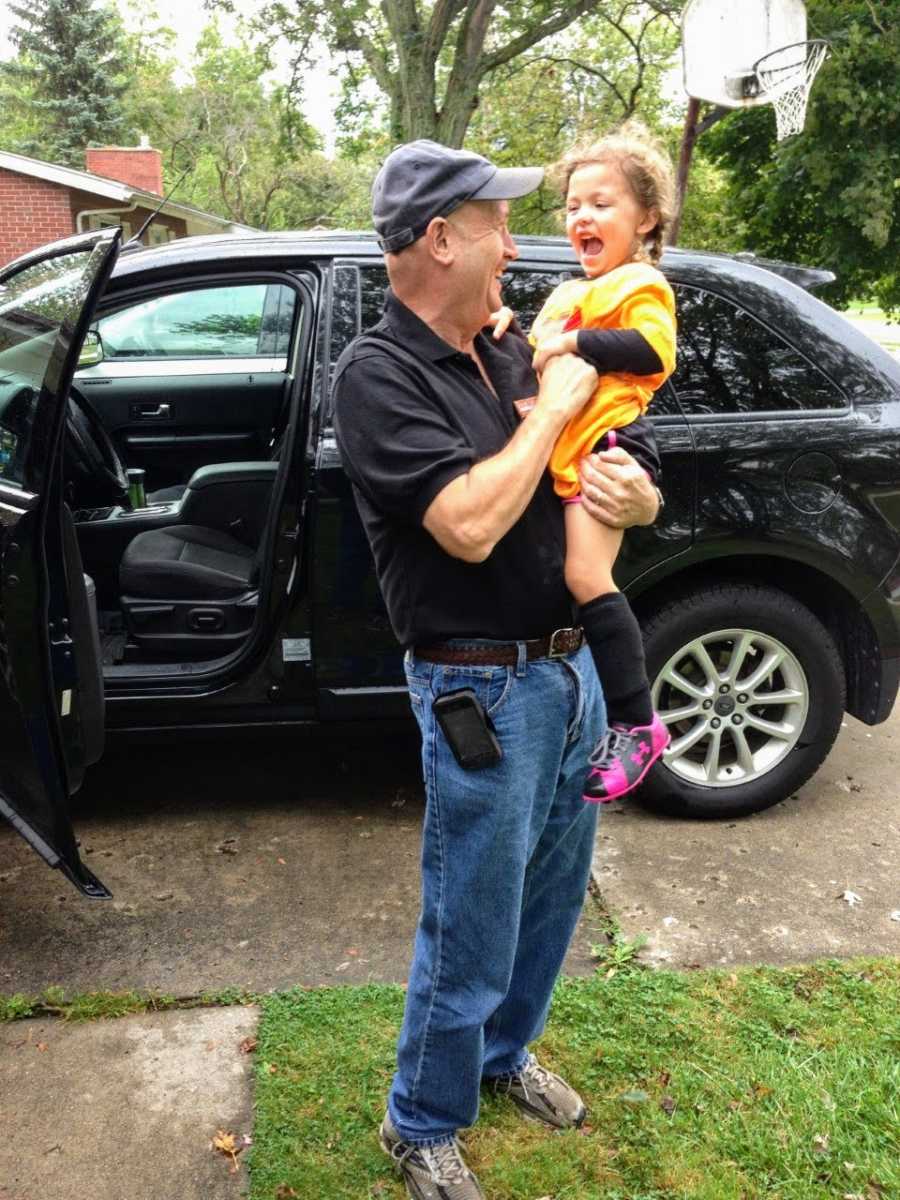 Seeing my daughter grow is what made me face the demons and secrets I've been carrying with me since I was 5. I need to protect her from that cruel part of this world. I took my first steps into my healing journey through a book called 'The Courage To Heal' by Ellen Bass and Laura Davis. It was brutal. The darkness consumed me, as I finally admitted to myself I was a childhood sexual abuse survivor.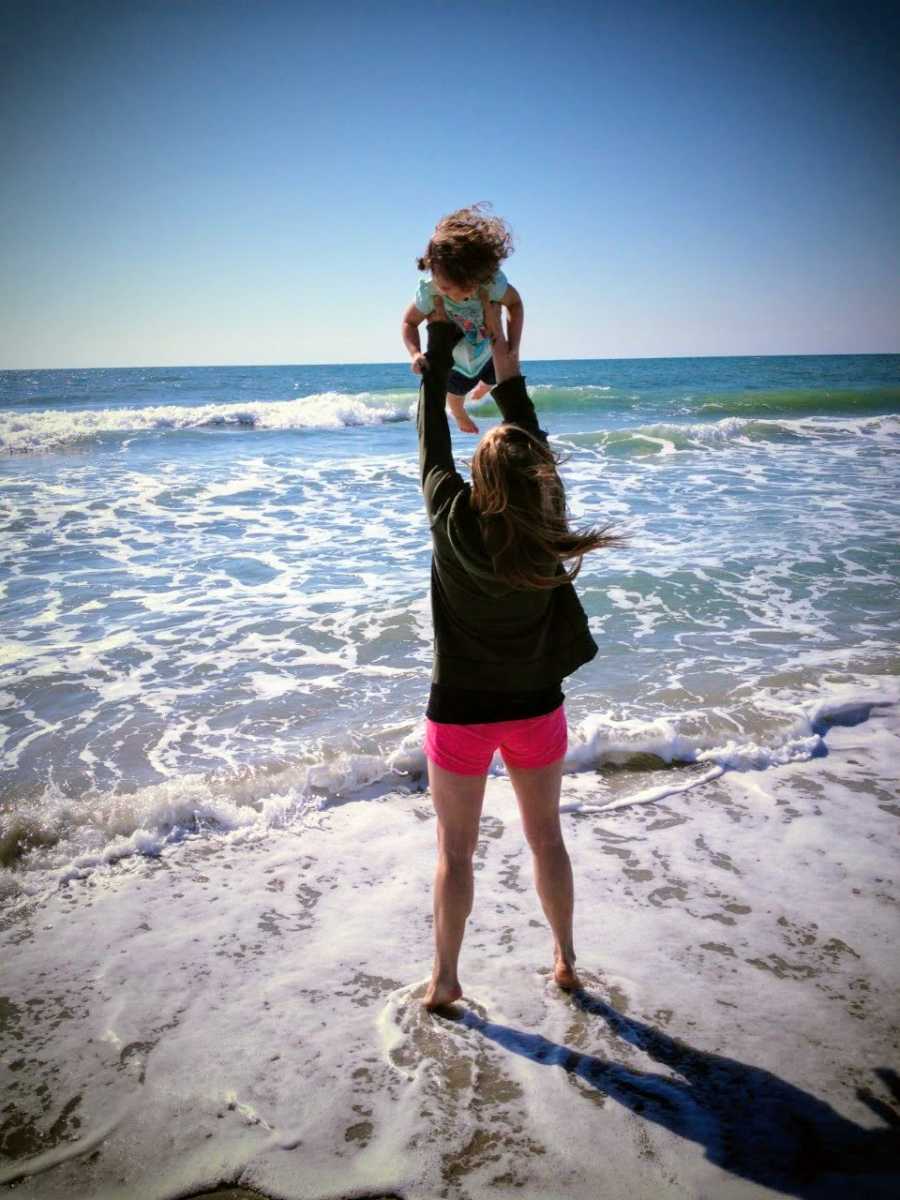 May 17th, 2016, my life came crashing down. My dad had been sick with the flu, or so we thought. We later found out his heart was failing. This day, he went downstairs to try and get ready for work. When he didn't come up, we all figured he was sleeping. It was 9 o'clock at night when my mom's screams pierced every cell in my body. It felt like I flew down the stairs. I have no recollection of my feet hitting the ground. As I turned the corner and saw his body, I knew. He was dead. My father, was gone. I got my mother upstairs and then it was just me and him alone. I looked at him, exposed, sitting in his chair in front of a blacked out computer screen, and the naked women running across the TV just above. I have never felt anger and rage like I did in that moment. His lifeless eyes staring at the ground. The shame swept up my body. 'How could you die like this, dad?! Why was this addiction SO important that you were dying and STILL came back to it?!' If you just went to work maybe we could have saved you! Maybe I could have saved you, dad…'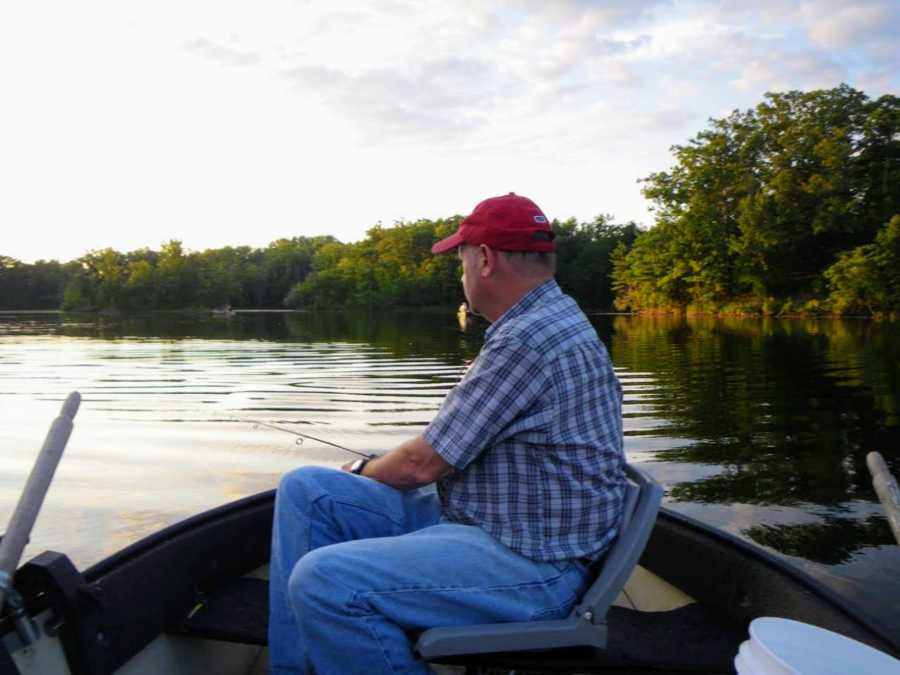 I couldn't call 911 like this. They will know he is a dishonorable, disgusting man. They will know his secret that he kept from everyone for so long. I needed to do something. I tried moving his robe but it was wedged under his arm. So, I grabbed his arm. It sent a shock through my body. His arm never felt like this before. It was hard. Like the end of a hammer. I forced it up, and covered him. Tied it closed and called 911. They said they were on their way. I turned off the TV. And ran outside. I fell onto the concrete busting up my knees, but I couldn't feel anything. I watched as the blood fell from my jeans.
The shame and anger consumed me. As I stood in front of him in his casket, I pleaded to him and God to take it all away. To wash over me with forgiveness in my heart. But it didn't come. So many people told me how amazing, great, and loved my father was. But I couldn't hear them. When they lowered him into the ground, I saw spots from my rage. How could he not see how much his addiction to women and porn slaughtered the little safety I felt as a child? How could he leave me with all of these horrific memories? He was supposed to be my safe place. My protector. I just wanted my dad back. The man I loved before my innocence was taken. Before I met his demons. But he is gone, and I'll never get the chance, to make things right, ever again.
It's been 3 years since my father has been gone. I pushed forward with my healing journey, and finished that book. I vowed to myself, no matter how dark it gets, I can do this. I deserve to heal. I don't want to be in this hell any longer, and if that means things need to get worse before they get better, than I am ready.
At age 27, I told my mom and brother about the abuse. I messaged John, and asked him about that night in the camper. He never responded, and recently I found out he skipped state right after I sent it to him. Even though I don't have the memories, my body knows what happened. I accepted I was raped at age 9.
Since then, I have created an Instagram where I started sharing my art and my story. I say daily affirmations to myself and have spent countless hours of research on how trauma effects the body and mind. I've found an amazing community of survivors. I taught myself how to be my own best friend. I reached a place of acceptance. I could see and understand the ones who hurt me who most likely endured the same abuse from others. It was taught, and they passed it onto me. I was able to forgive them. I forgave myself, and finally could feel that what happened wasn't actually my fault. I didn't deserve any of it. I am worthy of good things, of love, especially the love I have for myself. I finally stepped into my power.  It saved me.
The main thing I struggled with still is forgiving my dad. But something magical about unconditioning and healing yourself is that you align with who you really are. The good that you've always been. And that, brings unexpected blessings into your life.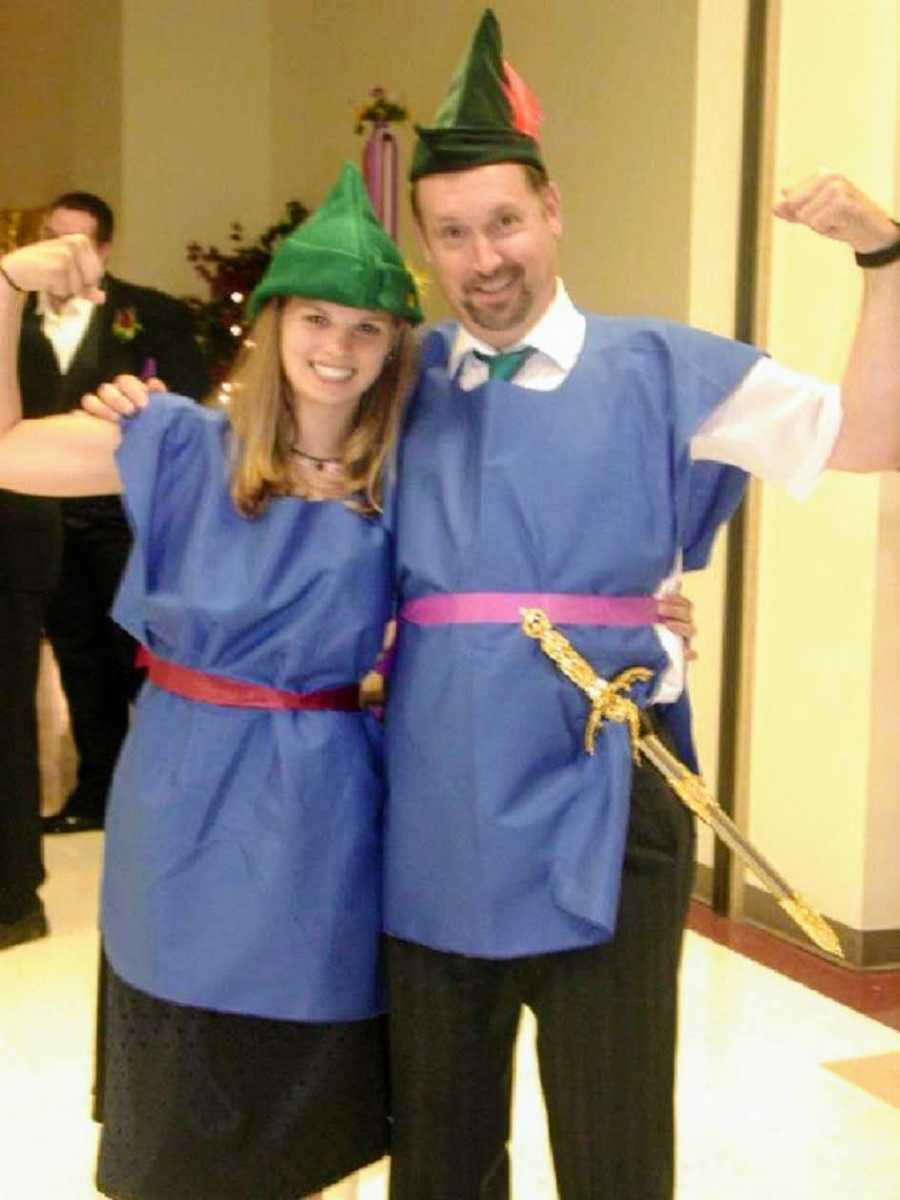 Love found me. A man who held my heart when we were only 14 years old was back in my life again. I forgot what home felt like, until the day I showed up on his doorstep and he held me in his arms. I have always been afraid to be vulnerable. I've been met with anger, shame, blame, neglect, and even more abuse from sharing my pain with intimate partners. But I shared with him my darkest demons. And every time, I sat there with my body tense, on guard, and then, a wave of love would wash over me that brought me to tears each time. He was the first person I told about the abuse when we were 19 years old. He was the only one who could see right through me, into who I always was under all the darkness. He makes me feel seen, heard, cared for and loved, for the first time in my life.
I've found forgiveness. The anger disappeared. Finally forgiving and truly missing my father has been the greatest gift in my grief. I have the man who holds my heart to thank for this. When light shines upon you in your darkness, it brings miracles. I hope he knows just how beautiful, impactful, and pure his love is.
If you are struggling from trauma from the past, from an addiction, or even self-worth, the power of healing is within you. Healing my inner child has set me free. The work can get really brutal and dark, but I believe in you. You can do this. You deserve to heal. You deserve to be free and fly. You deserve all the good things this world has to offer.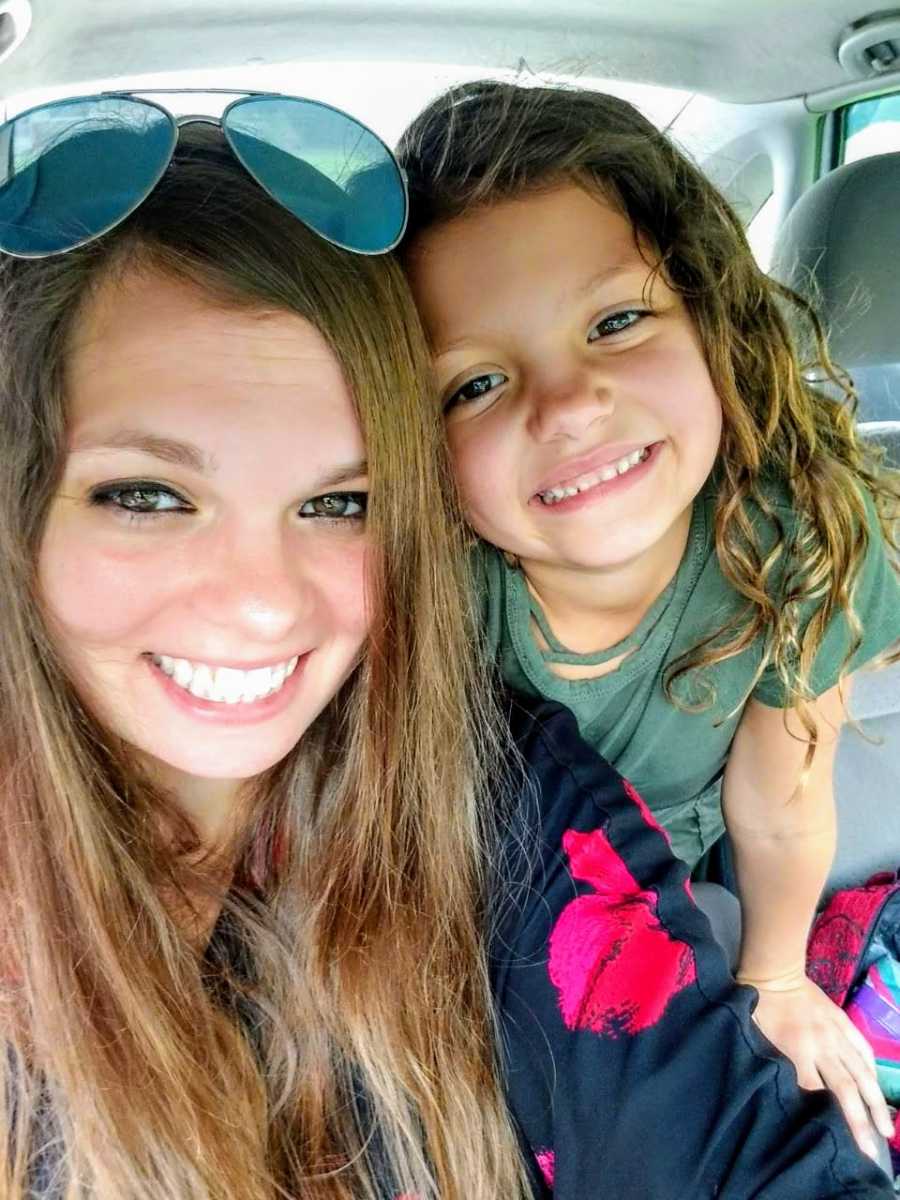 It's not an easy road to go down, but I promise your light is waiting for you. It wants to wrap you up, and show you how loved and special you are. Your story is not in vain. Your story is one of unbelievable strength. You are a true warrior of life. You can conquer any darkness, because underneath, you are the light of the sun and have been all along.
I recently started a page called Survivors to Thrivers for any survivors to come and find sanctuary. I am hoping to grow this organization to be able to help others find community, find their power, and aid in the healing process any way I can. You are not alone. You can find your warrior tribe to remind you of how strong you truly are. Never give up on yourself, and please never give up on your kids. They are the guiding lights in this world and deserve parents and loved ones who will fight to keep them shining."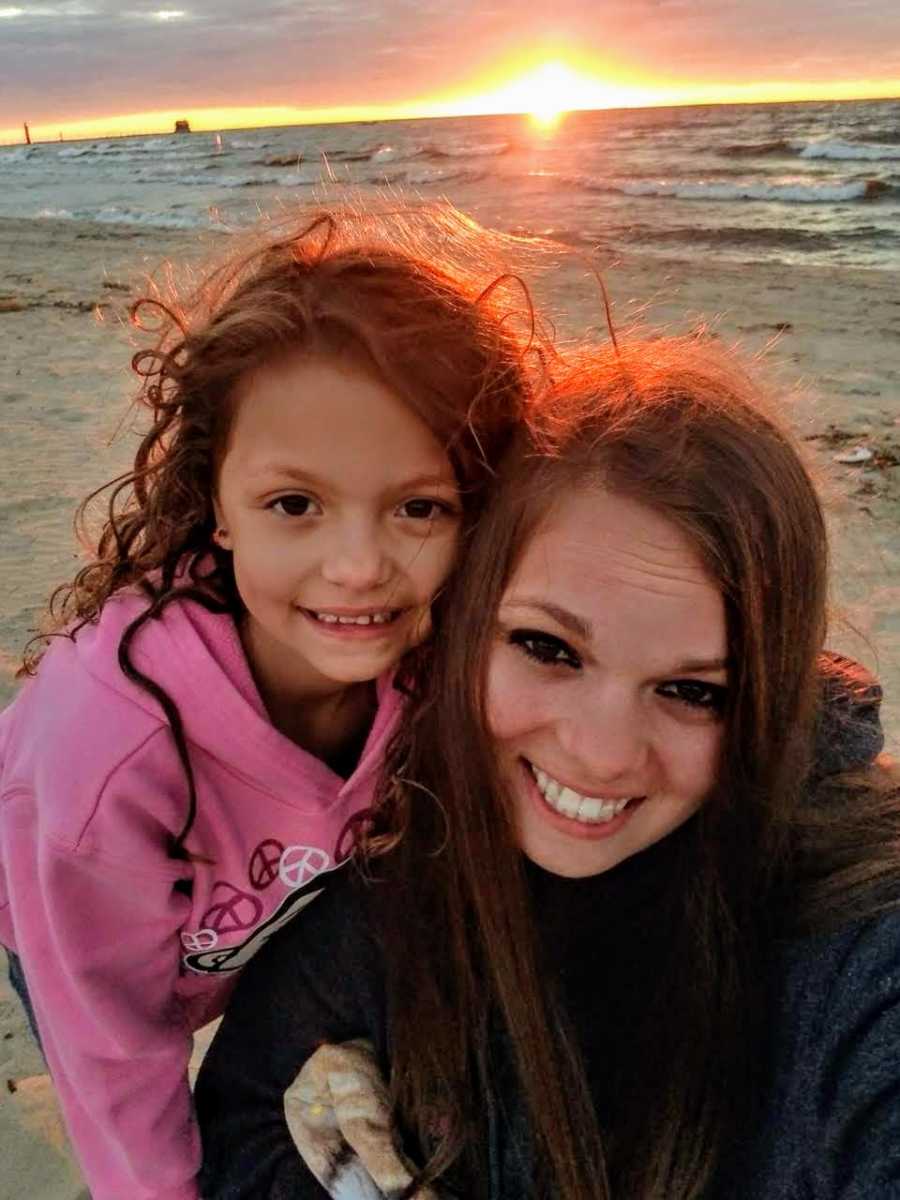 This story was submitted to Love What Matters by Carissa Lenhoff. You can follow her journey on Instagram. Submit your own story here and be sure to subscribe to our free email newsletter for our free email newsletter.
Read more powerful stories from sexual assault survivors:
'I was staring at a naked picture of myself on my father's computer. 'What the heck?,' I said out loud, the last words before rage overtook my body.'
'My brother started the 'naked man' game when I was 6. I felt so empty I thought I might just float away.': Woman overcomes sexual trauma, now uses kindness as an 'act of rebellion'
'My brother started paying extra attention to me. I didn't think much of it until he began coming into my room at night. He took every chance he got to touch to me.' Assault survivor shares heartbreaking journey to peace
'I received a note from my brother. 'Have you ever wanted to see a naked man?' I was disgusted and appalled. 'No! Why would you ask that?!' He my best friend. Until he shattered that trust.'
Provide hope for someone struggling. SHARE this story to let others know a community of support is available.