"I am no stranger to anxiety and depression. SSRIs and anti-anxiety medications have been a part of my diet since my mid twenties and honestly should have probably been snuck into my baby bottle. When getting pregnant with my son, I weaned myself off of the medication because I felt it was what was best for the baby's health. The doctors said, 'Sometimes it's more important for the moms to stay on the meds as there is little risk to the baby and more of a risk for the moms.' I didn't listen.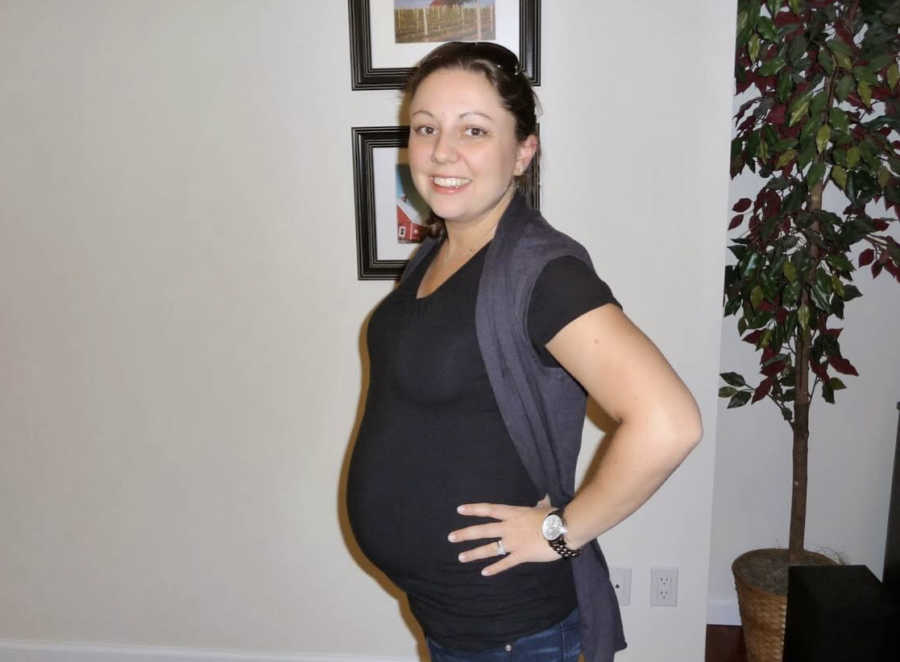 Fast forward to my labor which consisted of 12 hours of unmedicated labor (by choice…because I was one of THOSE women) followed by 7-10 more hours of pushing and finally an emergency c-section. Over and over the doctors would ask, 'Are you ready to just have a c-section?' Nope, I was determined. So to say I was disappointed by how my birth story ended up is quite the understatement. I felt immediately like a failure. I remember saying to myself, 'I did everything 'right'… everything  the documentaries and books said anyway, so why did I end up with a c-section? What did I do wrong?'
I vividly remember hearing my baby cry for the first time as they pulled him out and feeling…nothing.
'Mom he looks just like you!,' the doctors said. I tried to squeeze out a tear because that's what new moms do, right? I tried to feel the happiness. They told me I would, but it wasn't there. I recall being alone in the hospital room at night, praying each wheeled cart that went by would not be my son ready for another failed breastfeeding. I remember texting a good friend I thought I made a mistake. A mistake in having him at all.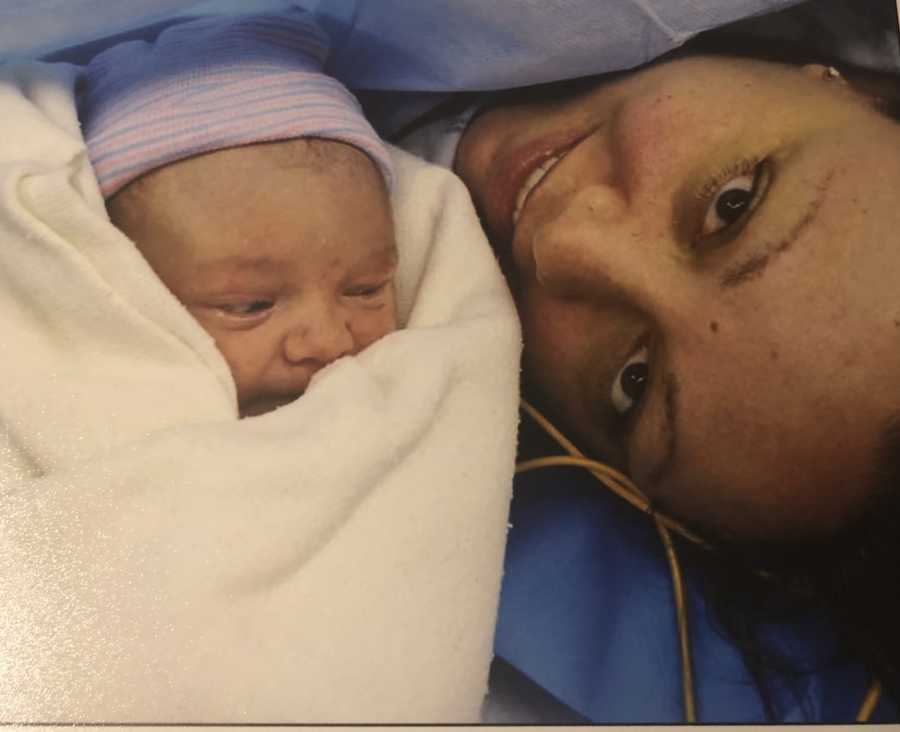 As the days went on and the breastfeeding became more impossible (I had Lupus but didn't know it yet) and the lack of sleep got worse and worse, I felt even more hopeless. While I never wanted to hurt my child I wished to GOD I could go back in time to pre-child life.
'You are not meant to be a mother,' I told myself. I failed at birth, I failed at breastfeeding, and lastly failed at connecting like a mother should. I had been sobbing for hours and my husband came home and saw me with my baby on my chest and immediately said, 'What a great picture'! He didn't know I had been a mess prior. I think of those moments every time I look at this photo.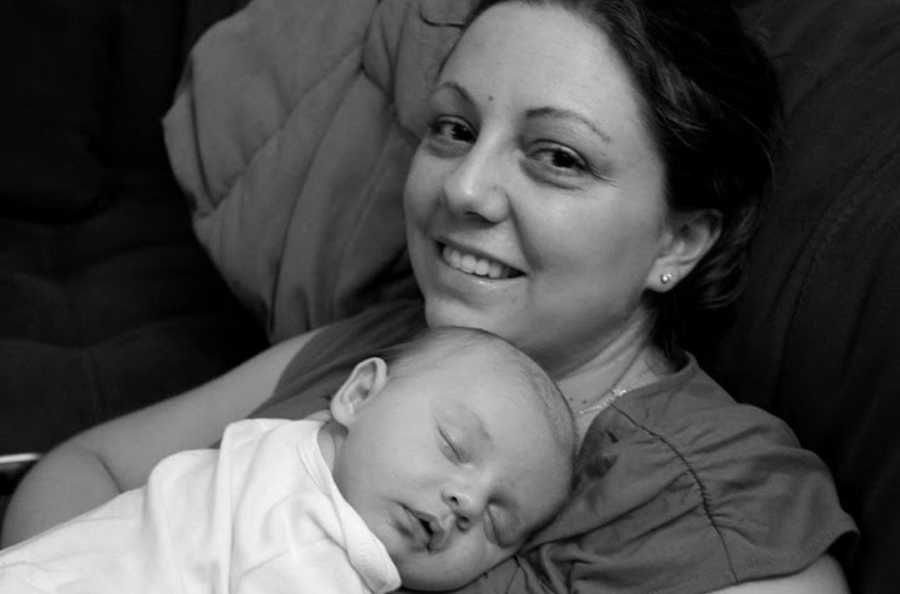 Luckily a tiny part of me knew myself and immediately went to a doctor to get my medication re-prescribed. It took weeks to kick back in and during that time I doubted myself and my baby every day. I didn't realize hormones crashing could send me into more of a tailspin then I already was. But as I got more stable and I figured out each week was different, my baby would change, begin to sleep, react and give me emotions I could give back to him. He would smile when I smiled. He would be happy to see me and I, him. And I would never go back to life without him.
I still feel bad I robbed my son and myself from those early days. Because we can't ever go back. But luckily, we can go forward. And we have."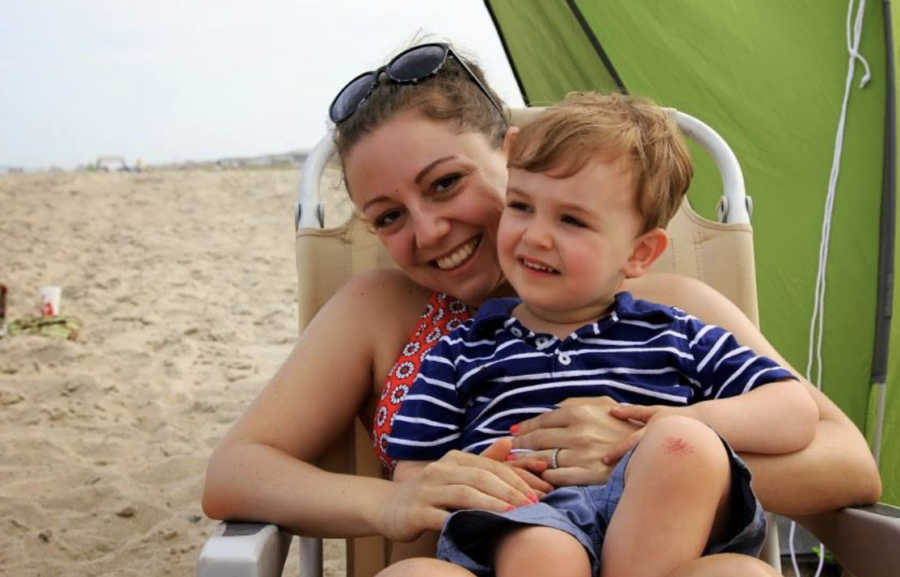 This story was written by Becky B. of New York, NY. You can follow her on Instagram here. Do you have a similar experience? We'd like to hear your important journey. Submit your own story here, and be sure to subscribe to our free email newsletter for our best stories.
Read more inspiring stories about overcoming postpartum depression here:
'Failure, darkness and defeat were coursing through my body': The day I finally asked for help with postpartum depression'
'GET HIM AWAY FROM ME!' I pushed him toward my husband's lap. I resented him. I felt out of body. Then, BOOM. We were home.'
Do you know someone who could benefit from this story? Please SHARE on Facebook and Instagram to let them know a community of support is available.