"This is us, the Miller Bunch. It all started with an online match via eHarmony in January of 2017. 3 months of exchanging messages, eventually numbers, and eventually the first date in March. A true single mom of one 4-year-old son, never been married, and a divorced dad of one 5-going-on-6-year-old son.
My husband, Michael, and I had a whirlwind romance. We met in January 2017, went on our first date in March 2017, got engaged in August of 2017, and eloped in October of 2017. After we were engaged, I received a letter from the court I needed to appear to have a final judgment on a case I had open for the past 5 years. It was the case I had with my son's biological father. This 'man' had physically, mentally, and emotionally abused me. The 'man' who took me to court because he knew that's how he could hurt me the most when I said I no longer wanted to be with him. We were not married when I had my son, so he took me to court to legitimize my son and attempt to get visitation and I was scared to death because of the person I knew he was.
We had a step-up plan in place where he had to do so many visits supervised before he could get him unsupervised and then so many unsupervised before we could get overnights, all while paying his monthly child support. However, he did what he does, which is let you down. He never paid a full month of child support and he only came three times to see Mason before everything stopped altogether. The last time he saw his son was when he was 11 months old. We were supposed to go back for a final order once the plan had been carried out, but we were never summoned and I just let it go, figuring that we never would.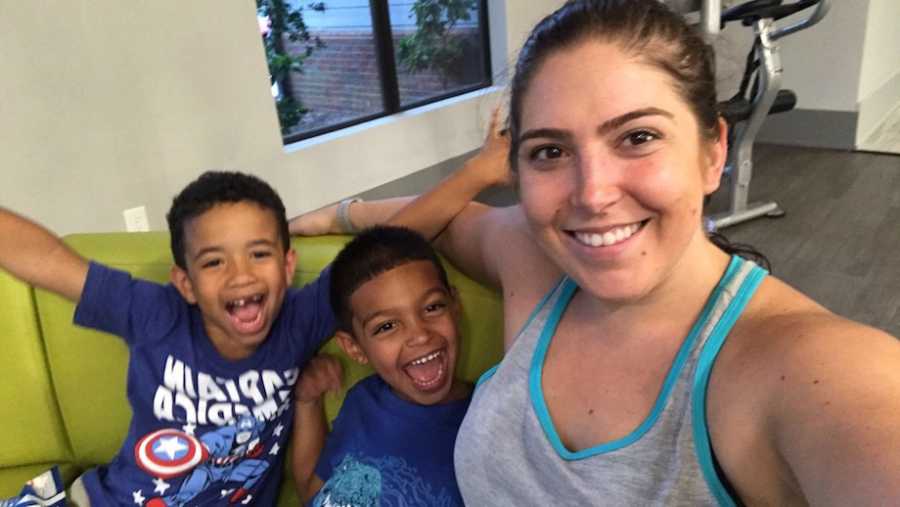 When I got the letter in the mail, I was already engaged to Michael and when we sought legal counsel my lawyer said the only foolproof way to make sure my son's biological father's rights were terminated, despite everything, was for me to be married and to have a plan in place for Michael to do a step-parent adoption. So, even though we had not planned on getting married that quickly, we decided to, considering the circumstances, and would let fate take its course.
We eloped in Las Vegas, Nevada. No, not by Elvis, but by an ordained minister on a street corner. My son's biological father's rights were terminated, we continued our plans to have Michael adopt my son, and when we returned from Vegas Michael and his son, Michael Jr. (or MJ) moved in with us.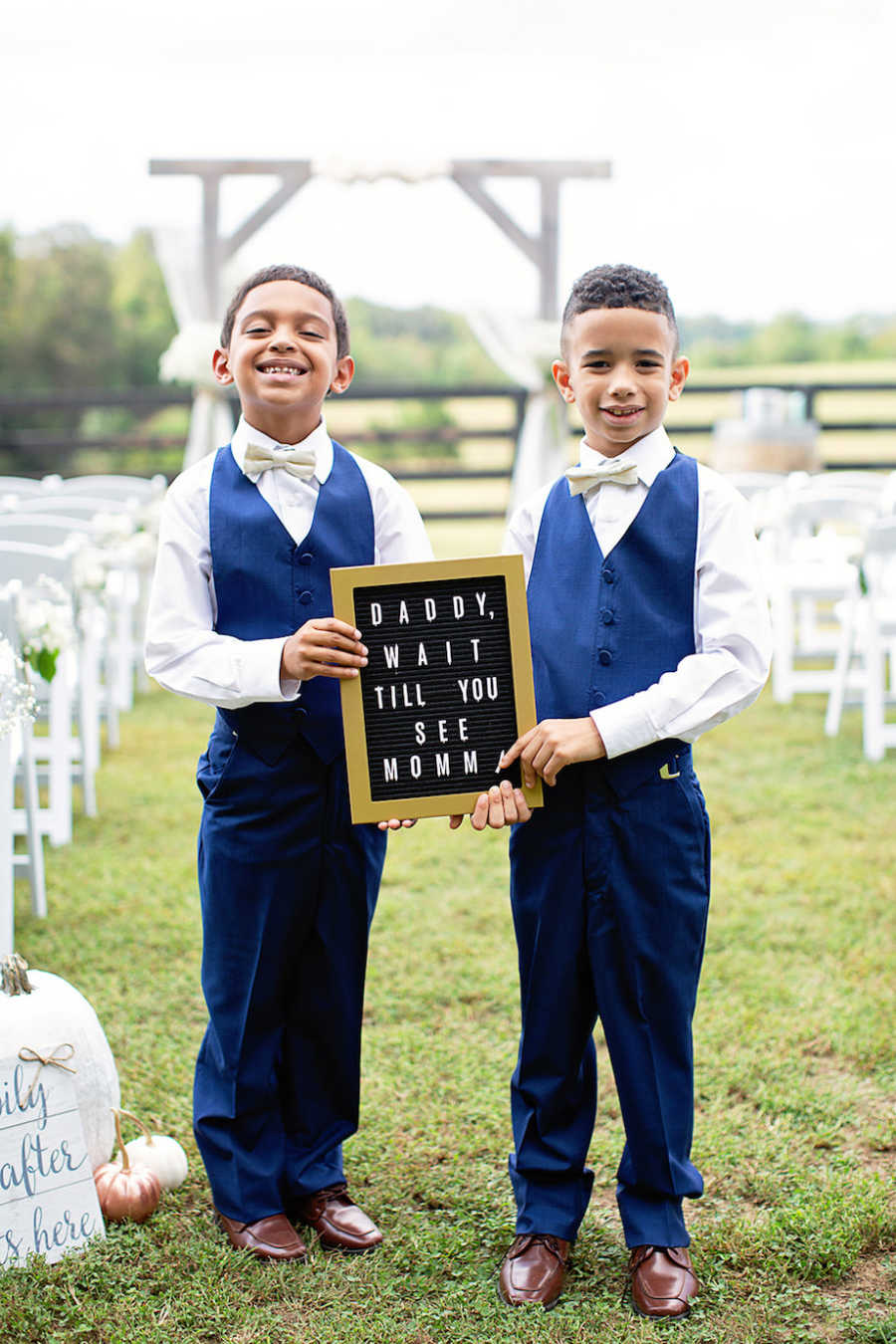 Throughout our courtship, Mason, my son, and MJ seemed to get along because they were only about 16 months apart. MJ seemed to like me and it all seemed pretty okay. I heard some concerning stories from Michael about MJ and I had witnessed some things that seemed strange to me, but I just shrugged it off since I was so in love. The concerning stories were mostly outbursts in school. MJ had thrown a shoe at a teacher, knocked over some desks, and broke a chalkboard. He also got suspended twice in first grade. I thought, 'Whoah, that's not normal.'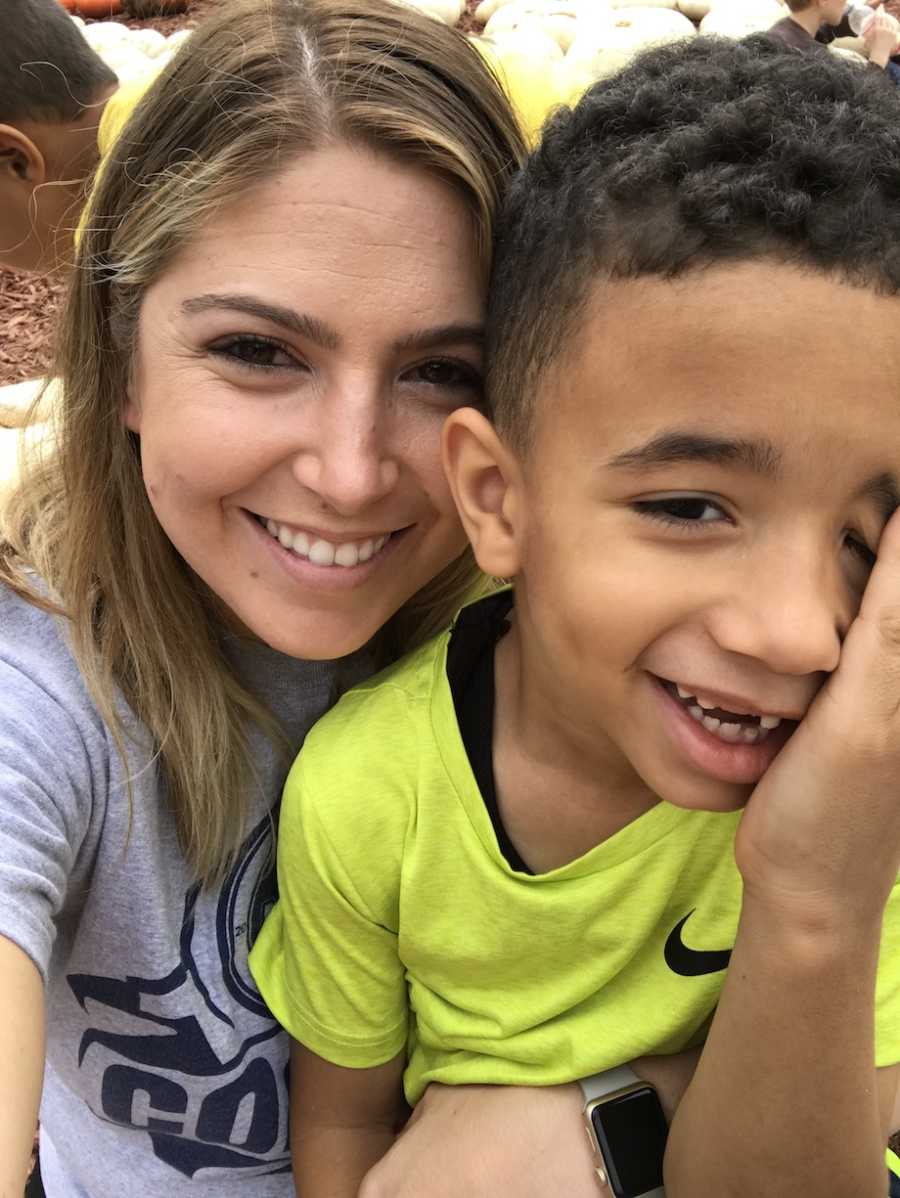 Then things I witnessed were MJ was always in his room when he was with Michael and he also did not like to hug or kiss or any kind of physical affection. My son always wanted to be wherever I was and love to hug, kiss, and snuggle. He also had never had any aggressive outbursts, so this kind of behavior was all new to me. I won't lie to you, when we first merged after getting married, I thought I had made a huge mistake. MJ's behavioral issues almost broke up our marriage. It not only was a huge stressor on our marriage, but also on my son, and I was in mama bear mode. While I know I have an obligation to MJ through marriage, I still feel protective of my son, even from MJ.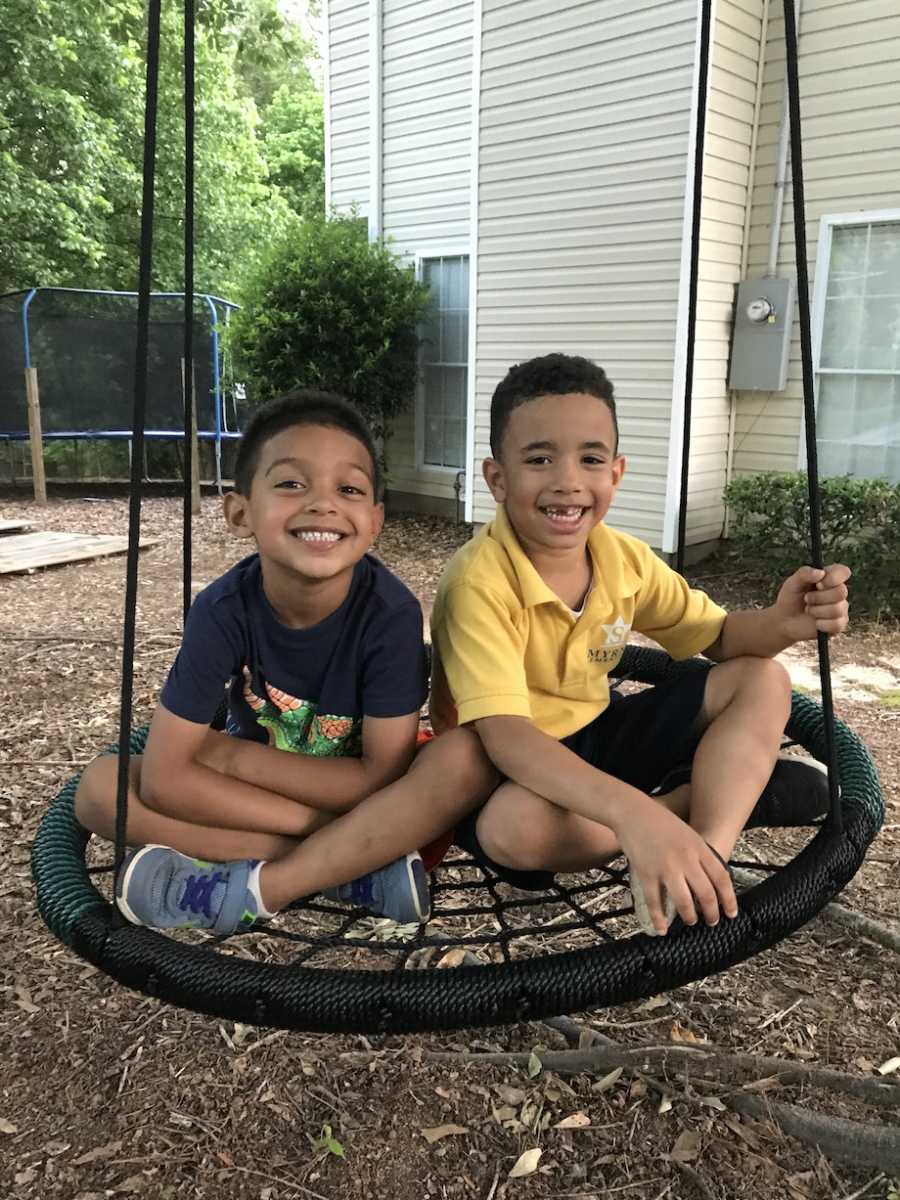 The next year or so was a lot of butting heads with his ex-wife not wanting to get on board with counseling, IEP programs, and medication. That made it really hard for everyone. Some days I wanted to throttle the kid, but mostly, I just wanted to wrap him up in a hug and put my love in all the cracks his mom and dad's divorce left in him. As an adult, I clearly could tell he was hurting. I knew when people need love, they ask for it in the most unloving ways. It was a very trying time, but eventually, we got to the other side.
The other side….what a great place to be. It's the place we are now. After a million doctors, counselors, IEP programs at school, medication, and getting more in sync among bio Mom, Michael, and mysel— MJ finally is in a better place. I think having Mason around his dad at first made him extremely jealous and I think a lot of things were said to him that probably never should have been said, and it just fueled the fire. I think we wanted to like us but felt obligated not to.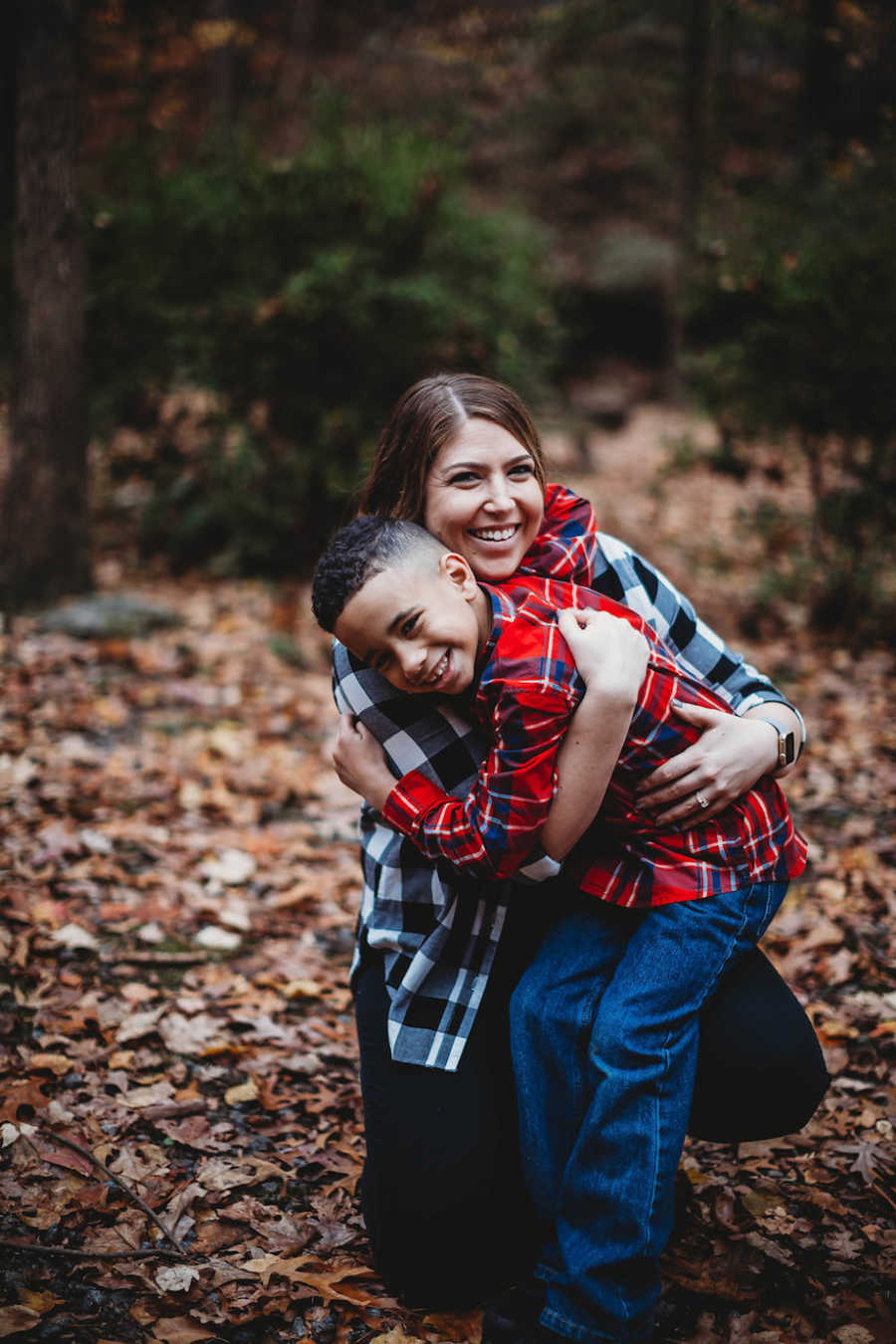 MJ is now in fourth grade and is doing well. He takes his medication to help with his impulse control. He has a lot fewer outbursts. He and Mason get along a lot better now. Michael and I have since had a daughter of our own, Harper, and MJ loves being a big brother. Michael also officially adopted Mason, so he and Mj are now really brothers!
I can't believe how far he has come and I am so, so proud of him. I am so glad he finally lets his guard down around me and he can call me 'Mommy' at his ease and I always get all the hugs now. This kid is almost a different kid. I think it just took the time and effort to show him he's worth it, he isn't in competition for his dad's love, and he is a part of us, a part of me. Although our family looks a little different, we are beautifully blended.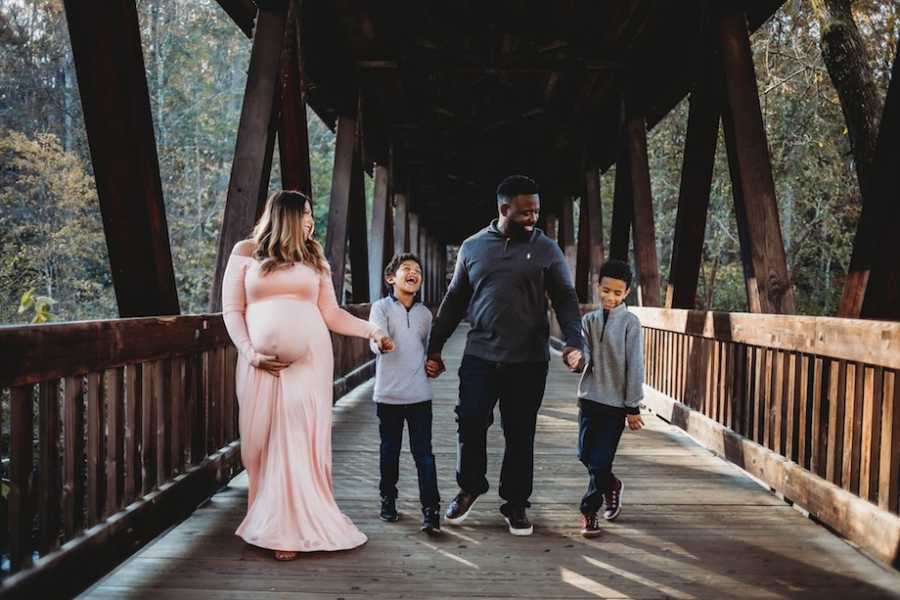 Having a bonus son is way different than having a biological son. The love doesn't necessarily come easy or natural in the way it does with your own child. But I also think that's what makes it so special because making the choice to love someone else's child when you didn't have to is so brave and beautiful. You also don't take for granted the loving moments, since they do not necessarily come as often as they do with your own child. I'm sure after experiencing divorce, and then the not-so-great co-parenting, and a whirlwind romance of a new woman and child making him split the little time he had with his dad was very hard.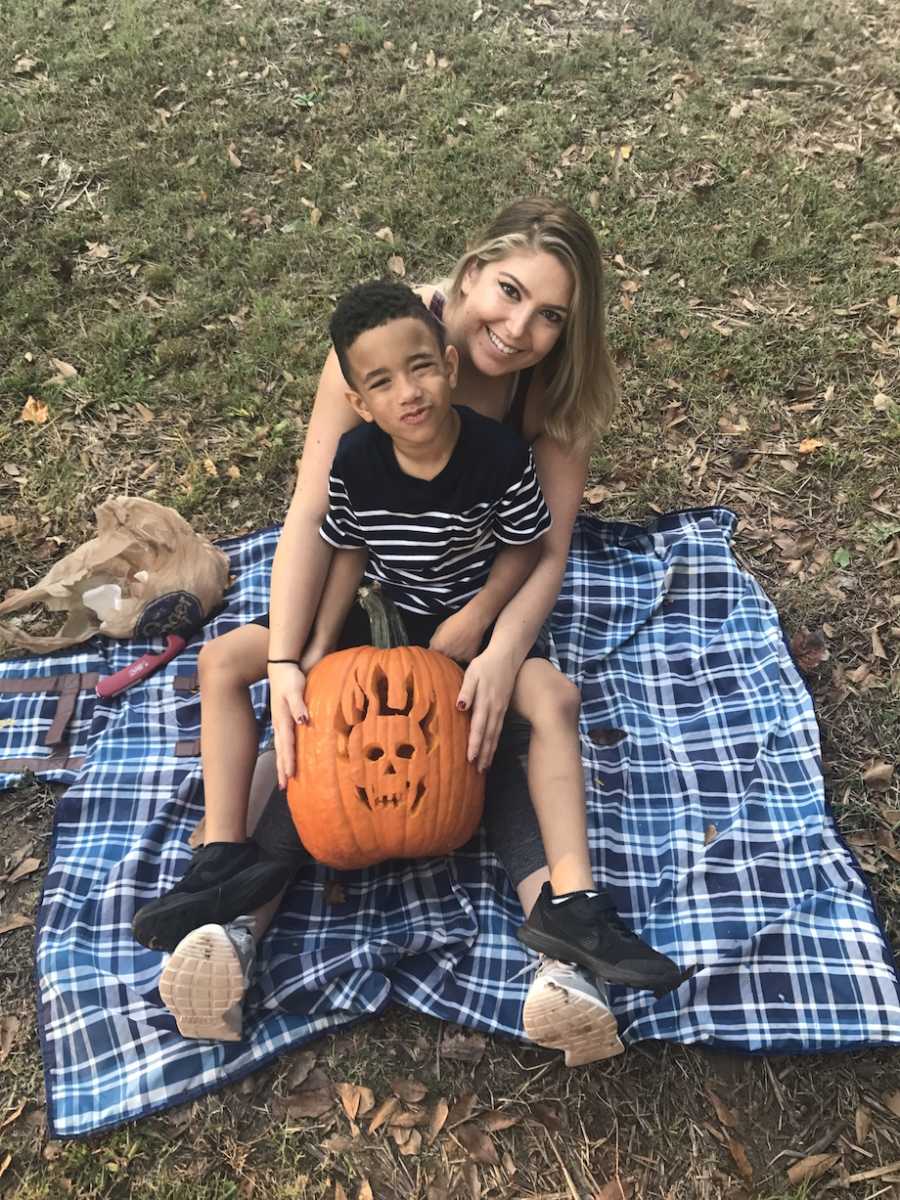 Despite everything, I hope he knows he is loved, and although he may not always like my way of doing things or my decisions, they are made with the best of intentions. It really is an honor to be able to shape the person he will grow to be. I hope he knows no matter what the co-parenting relationship is, he knows he is loved by us all. That he matters. That he is special. That he is wanted. That prayer I made a long time ago about wanting to put my love in the cracks his parents' divorce left in him, I think it's working.
Time is on my side because as it passes, I see more and more layers come off. Love takes time to grow and I will keep showing up every day to place it in his heart. I pray our relationship keeps growing in a positive and healthy way. I love that kid, my bonus son and I love being his bonus mom, and if you ask me, biology is the least of what makes someone a mother.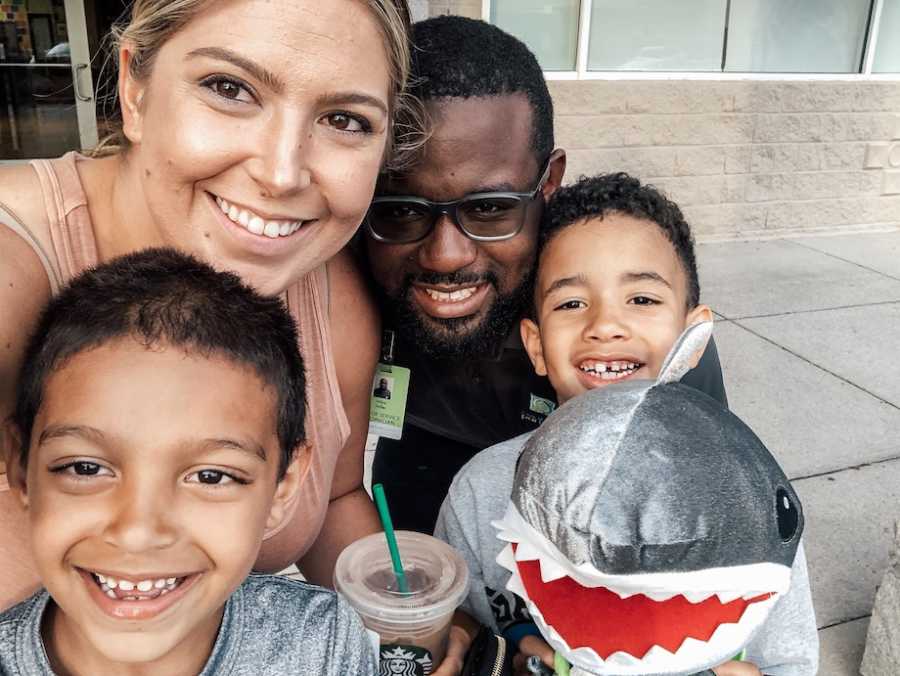 Becoming a bonus mom has challenged me in many ways, but it also helped me become a more compassionate and understanding person. Being a bonus mom has taught me patience and grace. Blending a family is hard as hell, there is a reason the statistics for them failing are so high. I thought we may end up as another statistic, but I am so glad we didn't. We are a bunch of people who have dealt with tremendous pain and loss, who all took a chance to find love again, and trust each other with the unique scars of our past. I think each one of us brings something to the table that helps fill those gaps the past has left in us. I'm proud of us."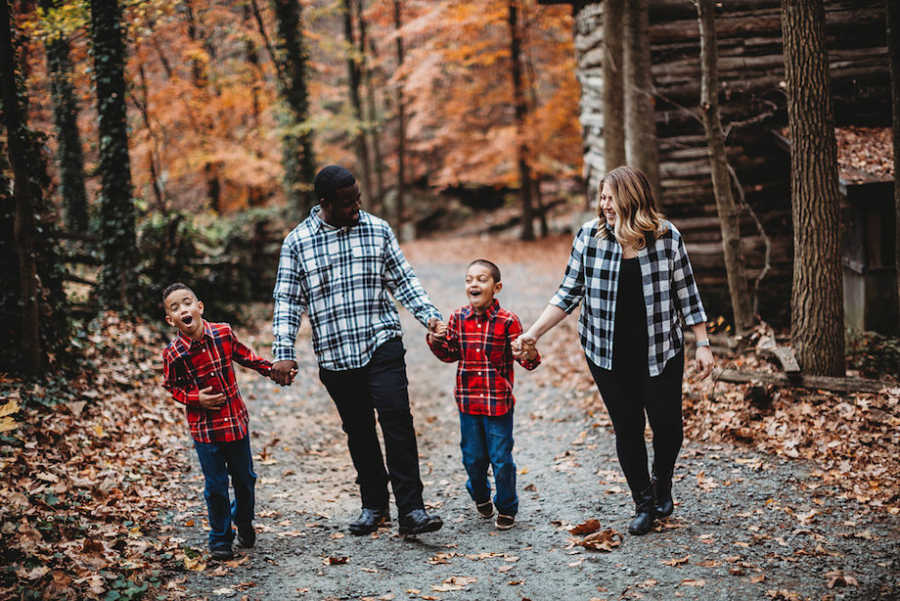 This story was submitted to Love What Matters by Hilary Miller from Powder Springs, Georgia. You can follow their journey on Instagram. Do you have a similar experience? We'd like to hear your important journey. Submit your own story here. Be sure to subscribe to our free email newsletter for our best stories, and YouTube for our best videos.
Read more stories like this:
'Are they ALL yours?' What do I say? 'Yes, these 4 are mine, but those 3 aren't.' Being a step-parent is THE thankless job.': Mom discusses ups and downs of being a blended family
'My ex-husband married my best friend,' she tells everyone. We've given 'Sister Wives' a whole new meaning.': Wife and ex-wife become best friends after years of fighting, successfully co-parent blended family
'If you ask my boy, he'd tell you, he has two dads and two moms. All 4 of us kept Jaden's needs before our own. A loving, crazy, enormous, blended family.'
'I was divorced, he was divorced. There wasn't a light at the end of the tunnel. It was there, in each other.': Mom re-marries after 'emotionally abusive' relationship, now 'beautifully blended family'
Help us show compassion is contagious. SHARE this beautiful story on Facebook with friends and family.