"My wife Angelica and I conceived Myah through at home sperm insemination. We had first tried with Angelica and she unfortunately had a miscarriage. After that we decided I would try to get pregnant. To our surprise we got pregnant right away, we were both scared but also super excited. We went to our first ultrasound when I was five weeks and six days pregnant. Everything looked fine and we were told to come back in a couple of weeks.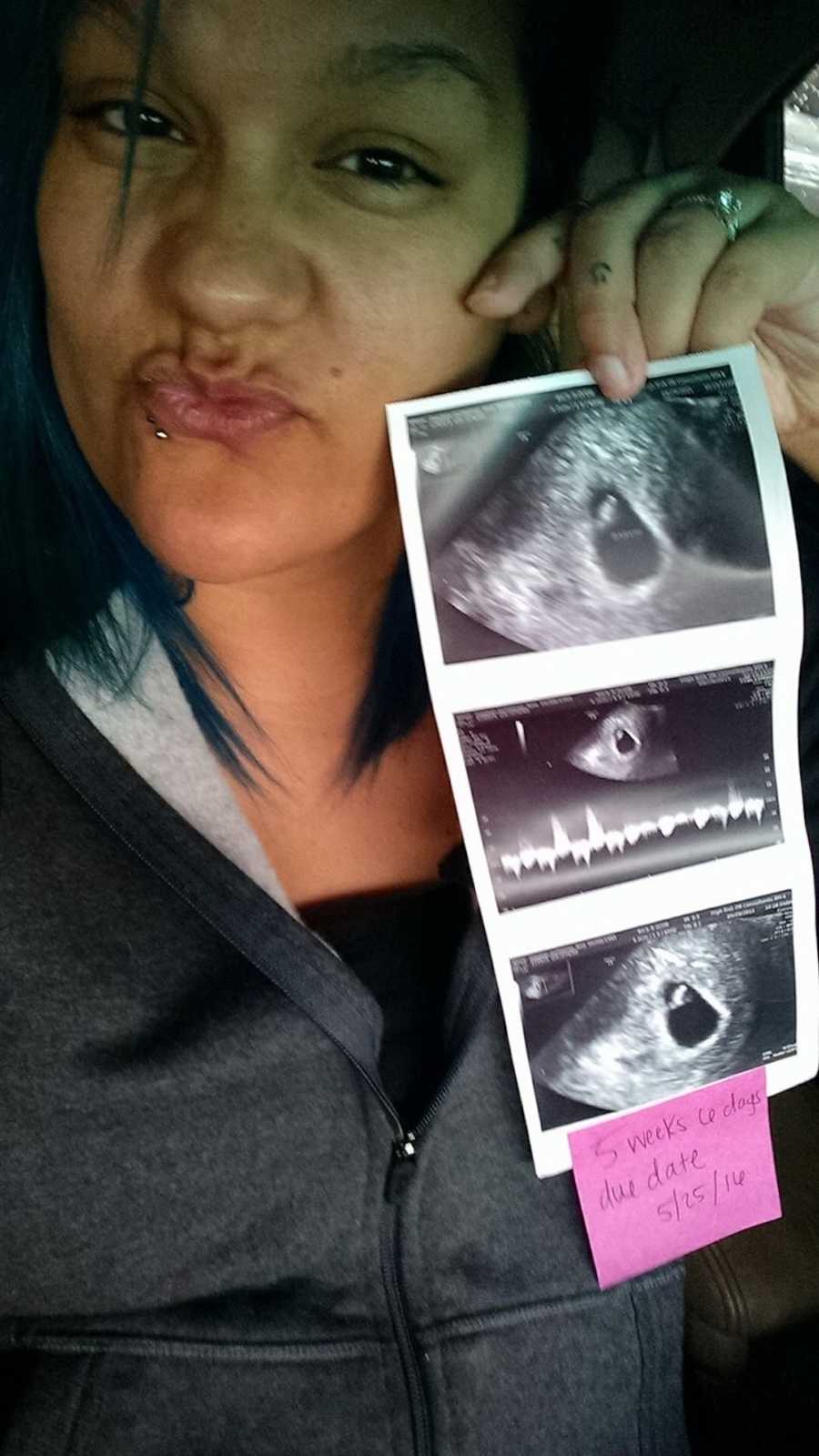 Before we conceived Myah we both agreed no matter what we wouldn't get testing done. It just wasn't something we wanted to do or even planned on doing. When we went back for our next ultrasound we had scans and saw our little baby. They said everything looked fine and sent us on our way.
Our third ultrasound was more different than the first and second. For one the doctor came in which we knew wasn't normal. He took a look at my ultrasound and told us it looked like there was markers for Down syndrome and would we think about getting tested. As I said before we had already discussed that we didn't want any testing. Of course when someone tells you that there is something wrong with your baby you start to rethink your decision. He told us about a test that could determine abnormalities through a blood draw. After discussing it, Angelica and I both decided it would be a good idea to get the blood work done just to better prepare ourselves.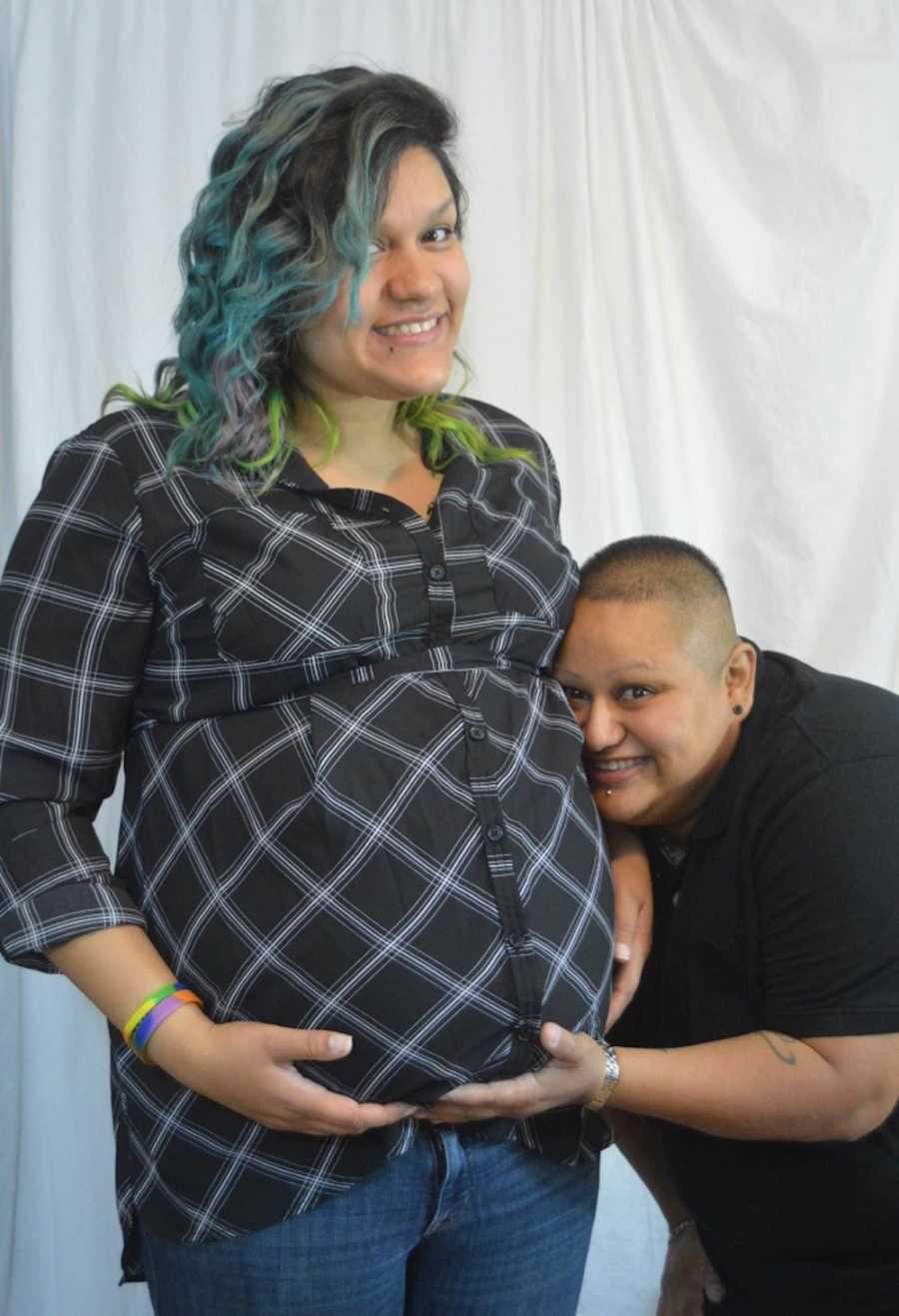 It took around two weeks to get our results. To be completely honest it was on our minds but we didn't really believe we would have a child with Down Syndrome. I can't tell you the exact date of our phone call but I can tell you it was around Thanksgiving. I will always remember that phone call. I was in the bathroom when the phone rang. I answered the phone and she asked if she could speak to Ana and told her that was me. She said 'Hello my name is ***** and I'm calling from your OBGYN's  office. I have your results from your blood work. I'm sorry but your tests show a 100% chance of your baby having Down syndrome.' I was in absolute shock, I yelled to Angelica to tell her what the nurse had just said. Angelica stayed quiet, I  couldn't see her reaction or what was going on, all I could tell is that her voice was broken and she was crying. I tried to stay calm and not cry while on the phone which was very hard. I then started to ask questions. My first was, how accurate is the test? She told me it was 99% accurate. I was so confused on how a test could be that accurate from only your blood. How could a vial of blood tell you all of that about your unborn baby? She also mentioned that most people who get these results terminate the pregnancy. She then proceeded to ask me if we wanted to terminate the pregnancy, I told her no.
I asked if there was another test I could take to ensure these results were right and she explained to me there was only one test that can give you true results and that was an amniocentesis. I questioned the process and what had to be done in order to get what they needed. She explained and I told her it wasn't something we wanted to do because of the risks but that we would think about it as a couple. She then asked me two more times if we would like to terminate the pregnancy, I kept telling her no. The last time she asked I told her 'no, we work with adults with disabilities why would we want to terminate our baby?' With that phone call in our heads it took us forever to get over the fact that our baby would be born with Down syndrome.
How could we raise a child with Down Syndrome, what are our lives going to look like? Are we capable of being great parents to a child with special needs? All kinds of thoughts ran through our minds. It was still hard on Angelica, I remember it being thanksgiving and I was sitting on the bed crying, wondering if I was going to have to do this alone. I remember talking to my belly and rubbing it as I said 'I'm thankful for you and I love you no matter what. You are my child and I will treat you as I would treat any other child even if I have to do this by myself.'
Angelica took the news hard. It's not that she wouldn't love our baby but the uncertainty of raising a special needs child was terrifying her. She wasn't around a ton of people with special needs and had no idea of their different abilities and disabilities. She wasn't sure what kind of life our unborn baby would have and that's what scared her. I on the other hand have been around others with special needs my whole life so I wasn't as scared. By no means am I saying I wasn't fearful as I was, even more so because I had no idea if I would be doing this alone.
It took Angelica a while to get over the fact that our Myah would have Down syndrome. After she got over the news she started loving on my belly, giving it kisses, the whole nine yards. In everyone's case each parent takes it in differently and in our case Angelica took it hard but eventually she was ready for the journey we were meant to be on. Through my pregnancy we tried not to think about our phone call and get on with our lives. We had more appointments than normal but we took it as a chance to see our baby more and we got more pictures of her.
I was eight months pregnant when they asked me to come in for a non stress test. They put me on a machine that just monitored Myah and made sure her heart was beating and that she was moving. I was hooked up to the machine for 30 minutes and they noticed Myah's movements had slowed down a bit. I was told I was going to be admitted and sent down to triage. I was so scared because when we got our Down syndrome diagnosis we were also told having a baby with DS can make you a higher risk to have a miscarriage or stillborn. When I got to triage I told them no matter what if there is any stress on the baby get her out even if I had to have a c-section. I was monitored for four more hours and they said if I was dilated more than 5 cm I would go to labor and delivery. I wasn't so they told me I could go ahead and get something to eat and come back in an hour. Angelica and I walked to the hospital cafeteria and grabbed a bite to eat. I told Angelica I wanted to walk up and down stairs so we could get labor going naturally.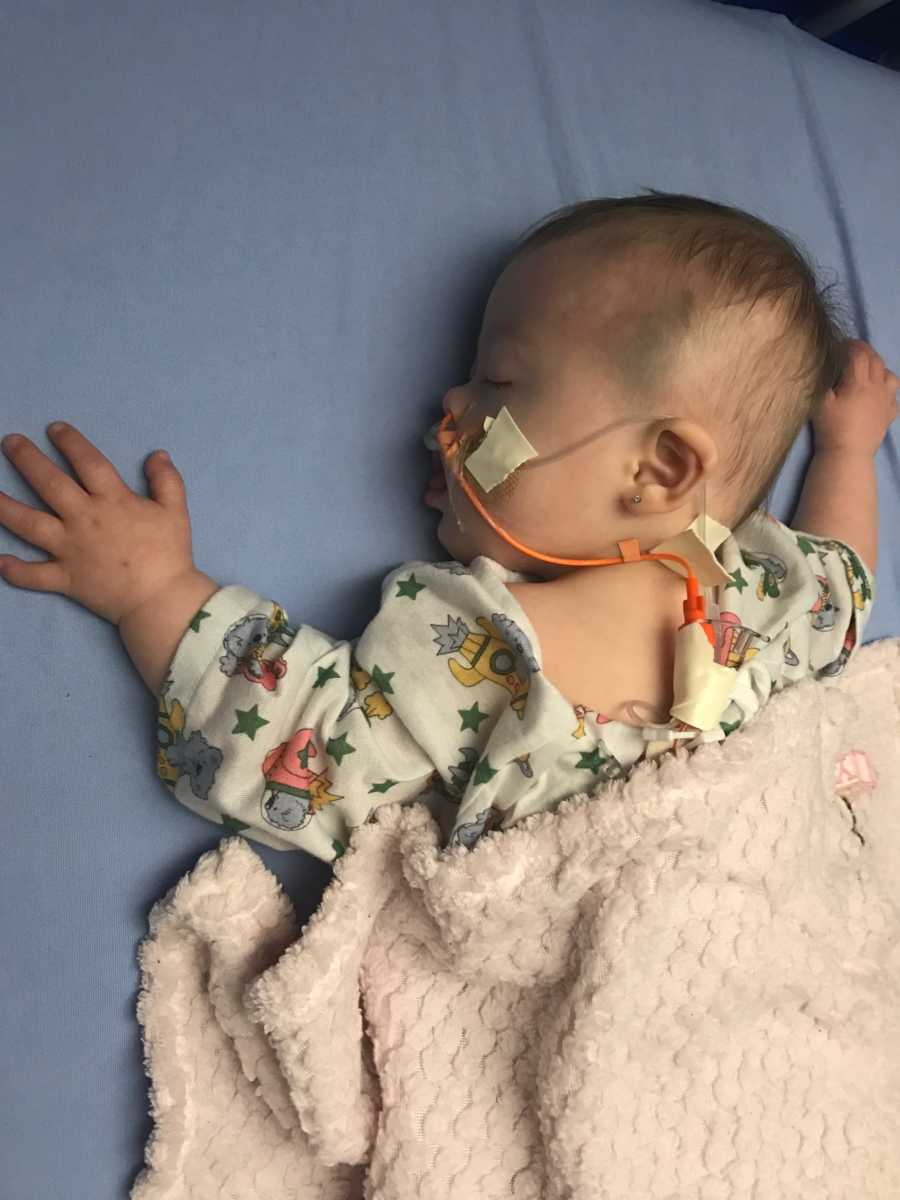 I was monitored for another two hours before I was moved to labor and delivery. I was in labor for twenty hours! It was rough and even more rough on Angelica as she was going through her own heath issues that we had no idea about. Our sweet baby girl was born at 11:30 a.m. May 6th, 2016 weighing seven pounds three ounces. I had her in an operating room vs. a labor and delivery room because they had no idea what kind of help she would need. Myah was checked out by the the doctors and then was finally handed off to us. Angelica had to work that day so she had to leave but I had family over and they visited for a bit.  Angelica arrived back at two a.m. and spent time with Myah. I knew we both needed sleep so we asked the nurse if she was able to go to the nursery. Immediately after she took her we received a call to our room from her saying that Myah turned purple and had been admitted into the NICU and the doctor would give us a call.
We waited fearfully but patiently and then the phone rang. The doctor told us that Myah's oxygen was low and that's what caused her to turn purple, her body temp was also low and informed us it is best she stay in the NICU to be monitored. We agreed yes, that was best. Angelica and I slept a bit but I woke up occasionally to drop off pumped milk. Angelica had work the next day so she went ahead and went while I stayed in the NICU all day.
I had Myah on a Friday and was discharged on Monday. The Monday we left we had an appointment for an MRI to see why Angelica wasn't feeling all that well. As if a new baby wasn't enough, that day I felt like my whole world came crashing down. The results weren't good at all and Angelica was admitted into the hospital for emergency surgery. After she went back I headed home as her surgery was going to take awhile. As I was leaving all of my emotions hit me. I felt so overwhelmed, my newborn baby was in the hospital and now my wife. I felt helpless.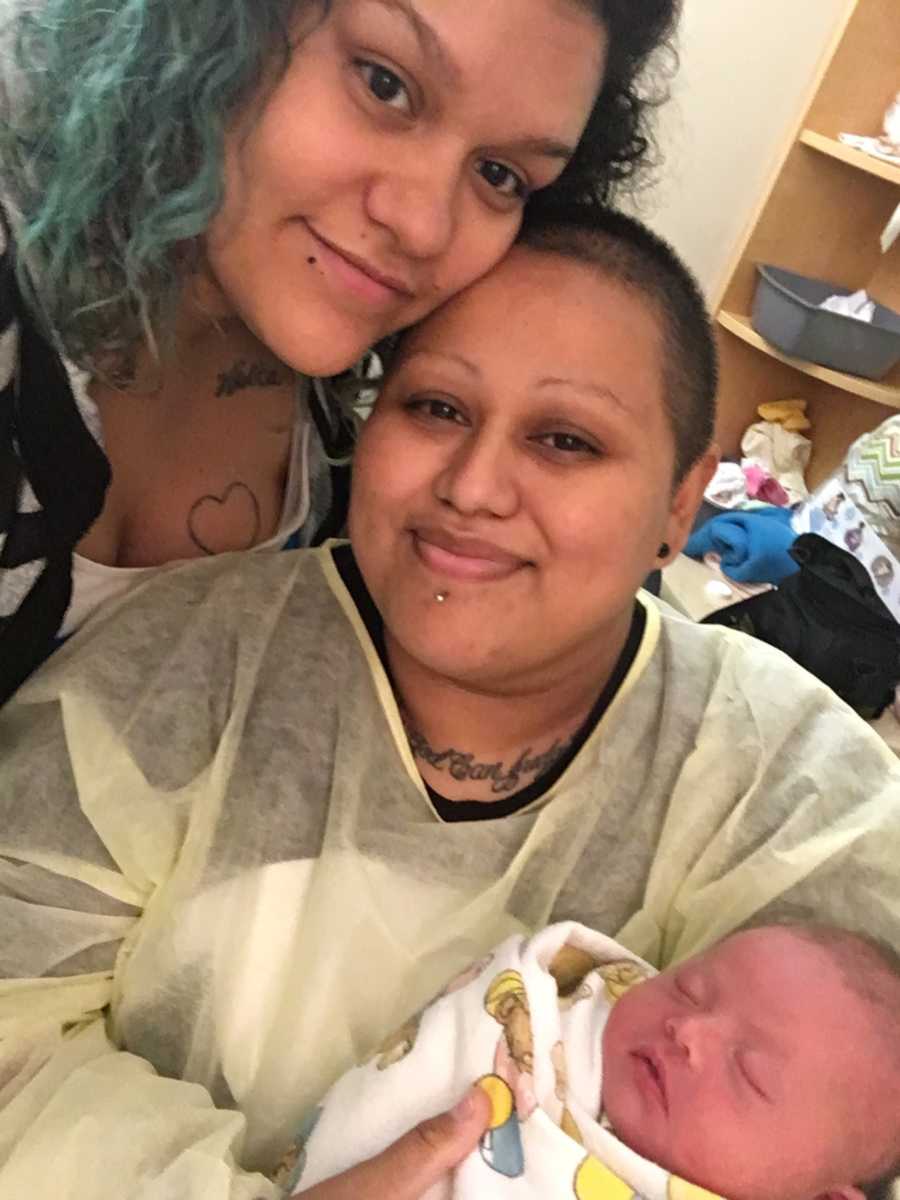 The next couple of days were awful, it consisted of me pumping, taking our dogs out, visiting Myah and Angelica in two different hospitals on the opposite sides of the city. I tried my best to stay positive but it was hard. I broke down some days and had no idea how I was managing. Not to mention being stressed because things kept changing with Myah. Angelica ended up having a cyst on her fallopian tube that busted and crystalized causing her to have to have her tube and gallbladder removed. Along with all of that she also had to have a foot of her intestines removed all within six months of Myah's birth.
Angelica was discharged Friday and we immediately went to the hospital to see Myah as she was only able to see pictures and videos. She was so excited to see Myah, I will always remember the face on Angelica when she got to see our daughter after five days, it was absolutely precious.
Myah stayed in the NICU for 8 days before coming home to us. We were terrified but beyond ready. We stayed a night in the hospital to make sure she was still okay without oxygen. The next couple of days were hard but great. I was pumping around the clock and Myah was getting her feeds even during the night although she hated waking up for them. She was an amazing baby, she hardly cried and slept through the night. Of course she had her days where she wouldn't sleep as a newborn does.
Myah was doing great and when she was four months old we got her started with early intervention and she started some therapy. A month after that we had our physiatrist appointment and that's when she started all her therapy evaluations. When Myah began her therapies you could see the determination she had in everything she was working so hard to do.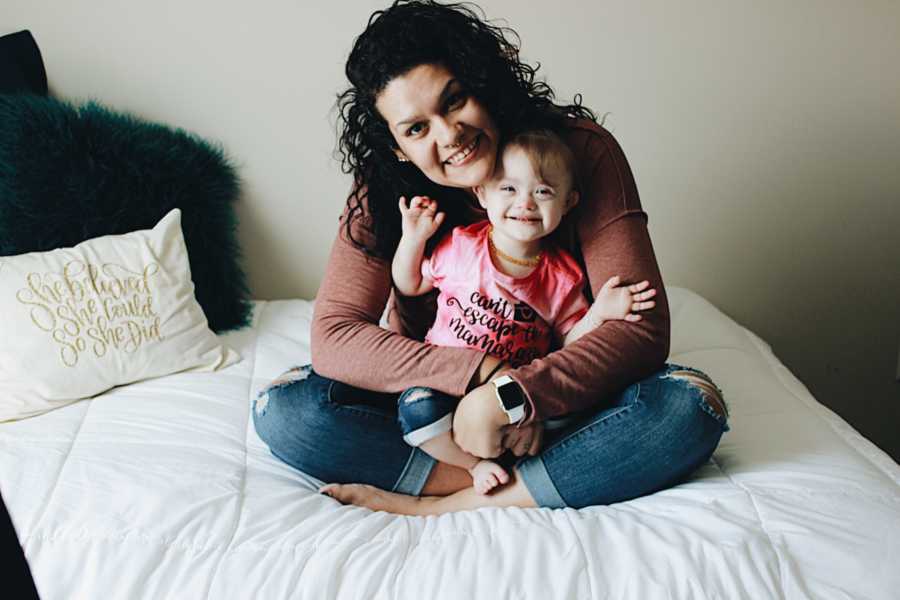 Myah worked so hard to accomplish the littlest things from rolling over to sitting, crawling and even pointing. Every milestone was a celebration, Myah made us appreciate everything in life we took for granted. Watching your child struggle to learn things that should come easy is hard but watching them try and try again and accomplish those things is absolutely amazing. The look on their face of accomplishment is well worth the struggles. Seeing Myah accomplish sitting, crawling, walking and now running has been the highlight of our lives. She has shown us how truly amazing she and others with Down syndrome are and that they can accomplish everything they set their minds to.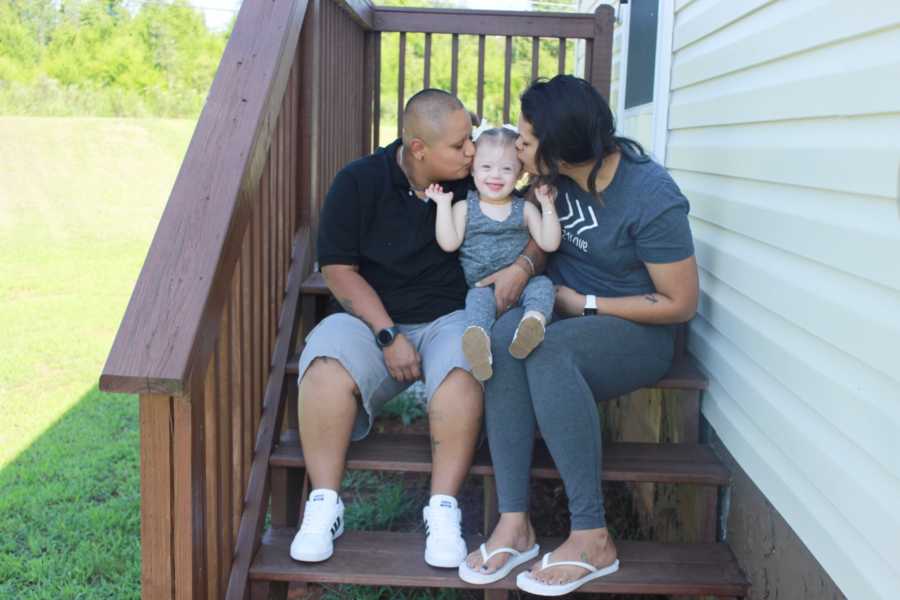 When Myah was ten months old she got sick and we took her into the hospital but we were quickly sent home. A day later we went back and she was admitted for having RSV. Having RSV and Down syndrome don't mix well, Myah has respiratory issues so it hit her hard and she needed to be put on an oxygen machine. She refused to eat or drink anything even breastmilk and ended up having to have a feeding tube put in. After a couple of days she ended up pulling it out and that was a sign she was starting to feel better. We stayed in the hospital for a week and then finally got to go home.
After that Myah has done great, she's had a couple of sick spells since then but nothing that required a hospital stay. Myah is currently two but will be three in May, we are currently going through the transition process for her to go to school. Its crazy I'm even saying that right now but it is happening. Myah is also currently trying to potty train which is harder than I expected but we're still at it. She defeats the odds that doctors give you about a child with down syndrome.
Myah brings us joy by just being herself. Her smile lights up our days. She shows us there is nothing to be scared of and that everyone's life is worthy no matter the diagnosis. Myah's personality brings us joy, the laughs and the faces she gives us are priceless. She is exactly who she was meant to be."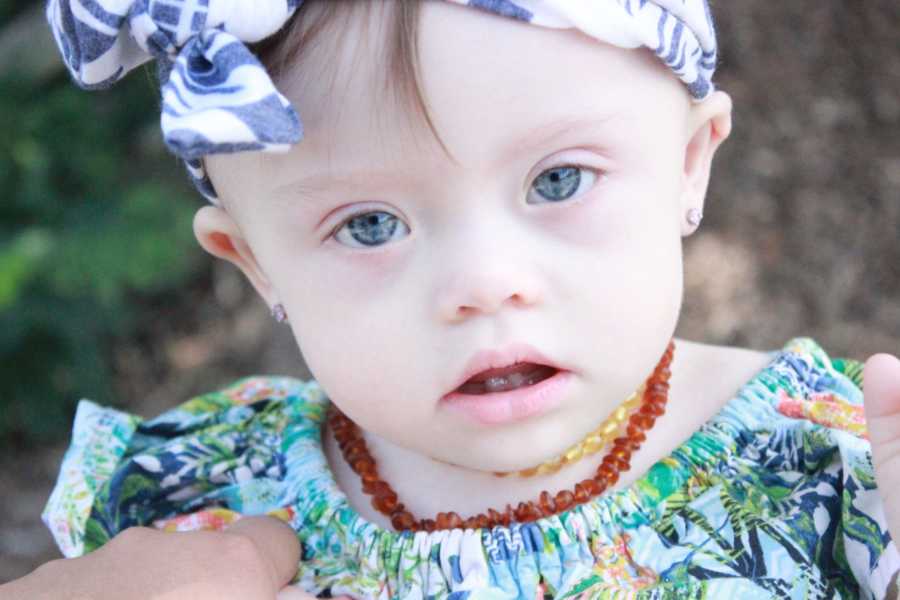 This story was submitted to Love What Matters by Ana Flores of Phoenix, AZ. Follow her on Instagram here. Submit your own story here, and subscribe to our best stories in our free newsletter here.</Do you know someone who could benefit from this story? Please SHARE on Facebook to let them know a community of support is available.