"A while ago I was at playgroup and the kids were playing, another little girl who is 4, took a particular interest to my daughter, Sofia, she started to push her over and knock her about. I moved Sofia out of the way and held her so she wouldn't get UFC'd by this other kid anymore.
The little girl, bless her aggressive cotton socks, came right over and slapped Sofia in the face, her mum looked over and asked me what happened.
I was caught in the dilemma of downplaying it because I didn't want the other mom to feel bad, and also wanting to say that her little girl resembles the karate kid and keeps wax on and wax offing my daughter. I ever so nicely said 'oh I think your cute babe is just excited and is just playing a little rough'
She looked at me and said 'no, she's never rough' and stormed off. My face went as red as the first day of my period (too much? Yeah I don't know what's wrong with me lately). After feeling like a massive dickhead I heard her say to another mother 'why would she even tell me that?' That mother approached me later to say her daughter is always rough, everyone's afraid to say it. I never went back to that playgroup again. However, I would like to be the mum that puts up her hand and wholeheartedly says, 'if my kid is being a jerk – I want you to tell me. If my little girl is digging her nails into your child and twisting her skin – I want you to tell me. If my son is the bully of the playground and pushes your kid over when I'm not looking, please tell me. I went to school where two students had affairs with the TEACHERS – if that's my kid, you better tell me. If my kid comes over to your house and drinks all your vodka and vomits in your backyard – tell me.
If my daughter is smoking weed and rolling around in a field laughing hysterically at dandelions, tell me.
If you see my husband walking with a strange woman holding hands who clearly isn't his mother, call me right away, in fact call an ambulance on his behalf as well.
Tell me.
I don't ever think my kids are perfectly behaved, yes they're perfect in my eyes but they can be real jerks some days I'm sure… and kids are kids yes, but if I pretend or you pretend it isn't happening, they're going to grow up as adult as*holes and we are a village, help me grow my village.
If you ever are err-ing on the side of caution and can't continue our friendship because I repeatedly have stuff in my teeth, my chin hair is explosive and I faintly smell like a farm while my kid destroys your house and I'm too busy to notice – tell me. Don't worry about nice or hurting my feelings, say it bluntly, not rude but bluntly and I will forever love you for it.
I promise!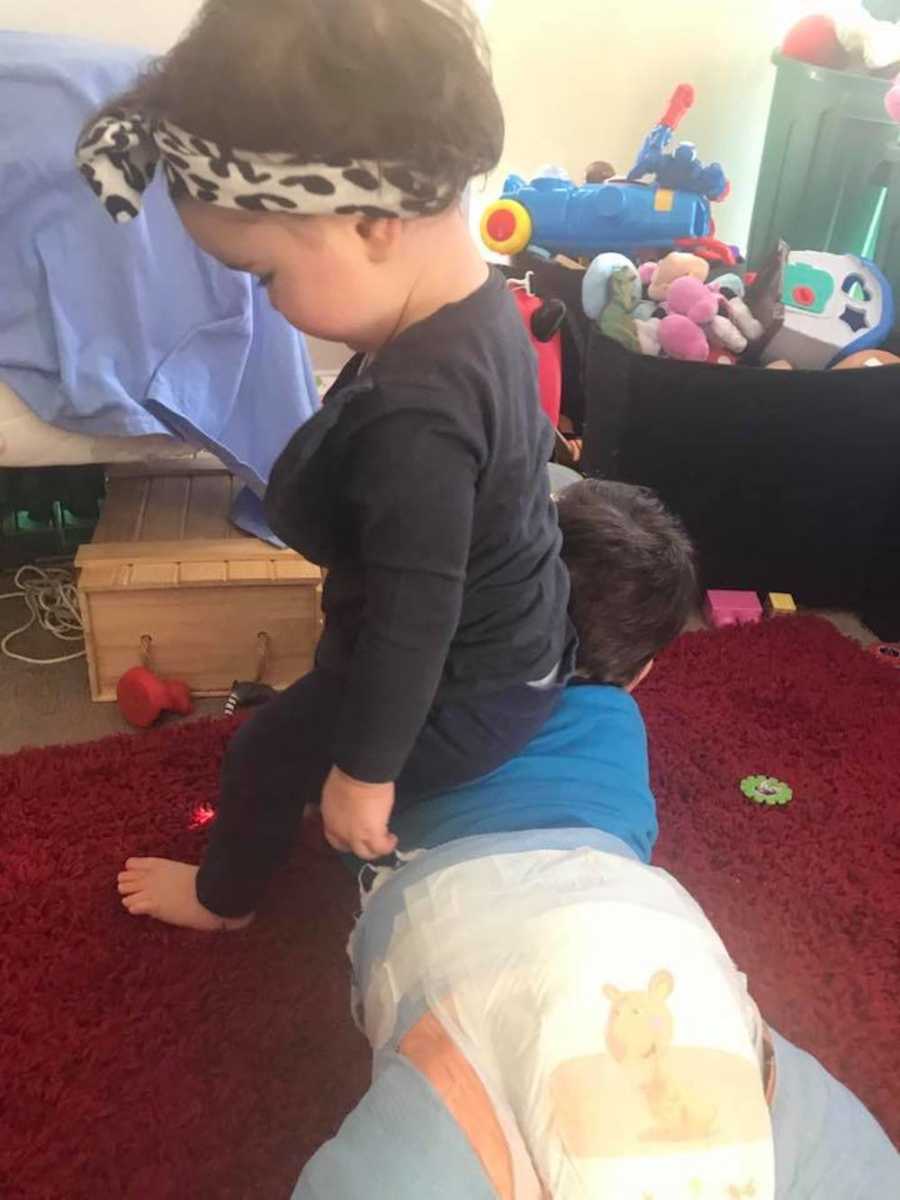 P.S.: my son was in a spica cast because he broke his leg, so my daughter sat ontop of him. He wore two nappies one inside and one outside to stop him from ripping it off and putting his poo everywhere. He's healed and happy now
🙂
(And no poo ever touched the walls thankfully)"
This story was submitted to Love What Matters by Laura Mazza of Mum on the Run, where it originally appeared. Submit your story here, and subscribe to our best love stories here.
Do you know someone who could benefit from this story? Please SHARE on Facebook or Twitter.