"'I'm fine. Everything is fine.'
This is the lie my friend told me when I asked how things were.
I had seen her walk-through pain and heartbreak for over a month, and I knew everything was far from fine.
I was frustrated that she was being dishonest and dismissive. 
I wanted to be her safe place. 
I wanted to be worthy of her truth.
Before I could get too angry with her, I remembered all the times I muttered a halfhearted "fine" without thinking.
How are you?
Fine. 
How was your day? 
Fine.
How are you feeling?
Fine?
I am a girl's girl. I enjoy time with friends. 
I adore loud obnoxious laughter and lighthearted chit chat, but big talks with tears and aha moments- those are my absolute favorite.
This sharing of our struggles is cathartic and healing, and in my opinion it's also the purest form of friendship. 
Women were created for empathy and communication. 
We have big feelings, and our minds run constantly.
We are rarely 'fine.' 
We are scared, bored, and excited.
We are exhausted, grateful, and angry- and sometimes, we are all of these things at the same time.
When did we learn that we have to hide ourselves?
When did we decide to put on a meek smile and deliver sweet little lies?
When did we deduce that our inner thoughts are too big, and might make others uncomfortable?
The truth is heavy and complex, but it not a burden-it is a blessing. It is a disservice to ourselves, and everyone around us when we cover it up and downplay it.
Friend, I am here for you.
I don't need you to filter your feelings.
They are a gift, and they don't need to be minimized.
I don't need you to strategically make excuses for your emotions. 
I have also randomly started crying, and I can't pinpoint exactly why. Maybe we can figure it out together. 
Please do not lie about your fears.
Chances are, I have been up at night dealing with similar thoughts. 
Your anger is not a dirty secret.
I deal with it too, and there has to be a path to calmness. Maybe we can brainstorm coping methods, but if that doesn't work, what a beautiful thing to be able to exhale with good company.
Don't you dare undersell how tired and overwhelmed you are.
The last thing I need is one more woman in my life acting like she has it all together- like she knows something the rest of us do not. 
Friend, not everyone in life is worthy of your secrets.
Some people will gossip and use your words against you. Not everyone can be trusted.
But I can. 
And those that have proven their love and loyalty- they can.
Lean into us.
We can keep each other going. 
We can point each other to truth.
We can remind you that you are not alone-not in your thoughts, not in your feelings, and certainly not on your journey through this messy life. 
I believe that our friendships are one of life's biggest blessings.
I believe God made us to carry each other, to support each other.
I believe we may never be "fine" in this lifetime, but I believe our celebrations are more joyful and our hardships are lighter when we carry them for one another. 
Let me in. Let me do some of the heavy lifting with you.
So, let me ask you again–How are you?"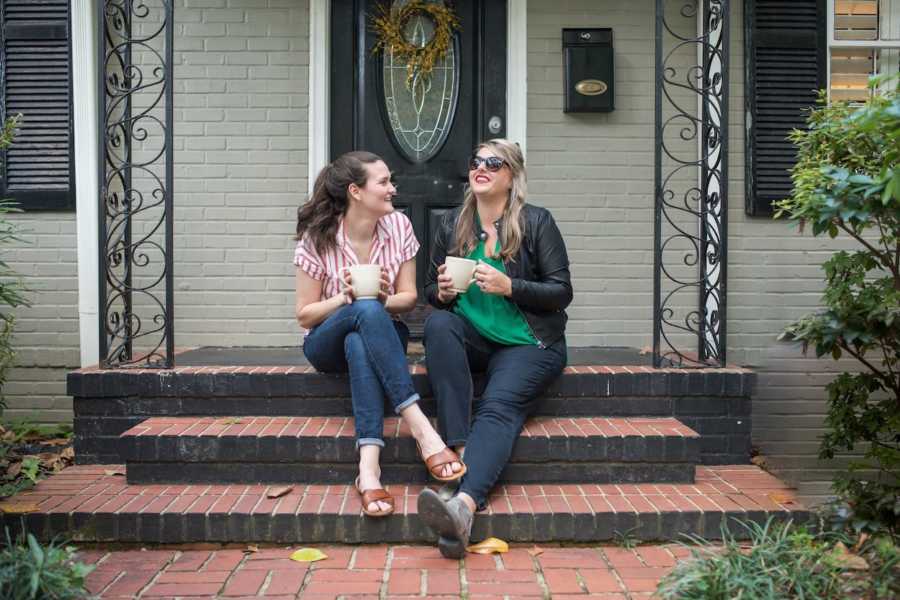 This story was submitted to Love What Matters by Momstrosity. It originally appeared on their Facebook page. Submit your own story here, and subscribe to our best stories in our free newsletter here.
Read more from Momstrosity:
'My normally patient husband was suddenly withdrawn and short-tempered. He turned into a man I had never seen.'
'Are they ALL yours?' My husband loves to whisper, 'Not all of them are mine. My wife went through a wild phase.'
'Let's hear it for the dads. The ones who don't 'babysit' – they parent. The ones who come home from work, ready to pitch in.'
SHARE this story on Facebook to encourage others to cherish every moment and love what matters most.