"To my child's teacher,
School starts tomorrow, and I am nervous.
I am leaving my child with you, a stranger, for the majority of his waking hours. I have heard that you are a great teacher, but I am still nervous.
I want to take a moment and introduce my son.
I desperately need you to know that my child is special. I am sure you have 22 other parents who need you to know the same thing – but for me, I really hope you see him as the unique individual he is.
He is funny and loving and smart.
But he is also goofy and loud and seems to always find trouble.
This year may be tough for him.
I hope you are regimented and structured, but also gracious as he learns to navigate life.
I need you to be consistent with rules and consequences. Never tolerate disrespect or defiance. We are on your team, and we will back you up if he is ever rude or rebellious.
He is a spunky little boy. We love this about him, and we hope you will give him some room for silliness and play.
You will probably have to remind him to raise his hand before speaking. He gets so excited and has so many thoughts and so much knowledge to share.
I hope you will be patient if he wiggles and jiggles in his chair. He has so much energy. I bet it is going to be tough to remember to walk with the class in a straight line without running or skipping after our unstructured summer days.
At home, we are constantly teetering between tough discipline and grace for the fun and energetic boy he is. I hope you will strive to find this line too.
My biggest fear is that he will get labeled the 'bad kid' in his class. Actually, if I am being honest – my biggest fear is that he will start to believe that he actually is a bad kid.
My son is coming to you as a bright and optimistic student who loves school. He sees the best in everyone and every situation. I hope you can help protect this.
I am nervous about mean kids. I am nervous he could become one of the mean kids. Please, don't tolerate hate or bullying in any form. Help us instill kindness and love in him. I want nothing more for him to lead with empathy and goodness.
I hope you will work with me to develop his character right along with his long division and history knowledge.
I am apprehensive about this school year, and what it will mean for my boy.
I think it comes down to the fact that I don't know where things go from here. I don't know the next part of the story. I only know that this is my most important job on the planet, and I am delegating a chunk of it to you.
But this year, like so many years before, I am giving up control.
I am surrendering my child to you.
I am hoping you will influence and teach him in ways I am not able to. I am trusting that you will be able to pick up on areas of strength and weakness that I had overlooked.
Tonight, I said a prayer for you. And I plead with God to give us another amazing teacher, because we have truly had the best.
My children are who they are because of the teachers in their lives, and you will be the newest influence on him.
It is humbling to me, as a parent, to realize that I can't be my child's everything – and to see that an adult outside of our family can impact my child in a way I cannot.
Thank you for loving your students and for guiding them through the year.
Lastly, I hope you will be patient with me.
I am still learning to let go."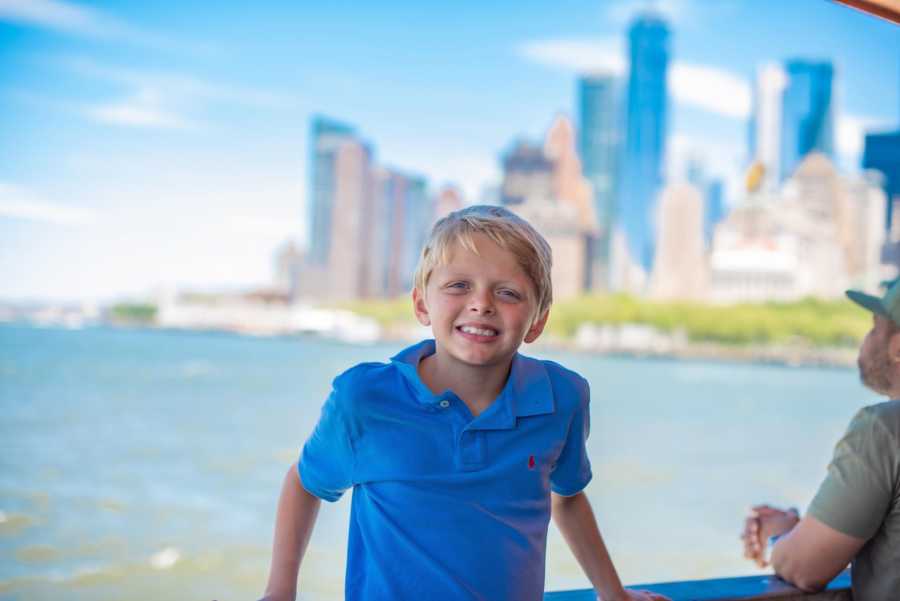 This story was submitted to Love What Matters by Stephanie Hollifield of Momstrosity. It originally appeared on their Facebook page. Submit your own story here, and subscribe to our best stories in our free newsletter here.
Read more from Momstrosity:
'My husband took me to Louis Vuitton and told me I could choose a purse for my birthday. Y'all, I'm not a Louis kinda gal.'
'Are they ALL yours?' My husband loves to whisper, 'Not all of them are mine. My wife went through a wild phase.'
SHARE this story on Facebook to encourage others to cherish every moment and love what matters most.