"It was a warm spring day in late May when we kissed our sweet daughter who just turned one good bye and waved to her and my father as we drove down the driveway. We were headed to the hospital for our 20-week ultrasound. The car ride was full of excitement and worry. As soon as I found out I was pregnant I had always had a feeling tugging at my heart something was wrong with our baby. So, the day had finally come where the doctor could finally tell me all my worries were for nothing and that we had a healthy baby. My family always told me it was my emotions getting the better of me and I was going to have a healthy baby. The drive was beautiful down all the backcountry roads. There were flowers in bloom, the sun was shining and I was hand in hand with my husband. It was a perfect day.
We reached the hospital and everything went as usually. It was finally time for our ultrasound. We entered a cold dark room with all the typical equipment. I hopped up on the table and laid back with my husband holding my right hand and cupping my belly with my right. The ultrasound tech began looking at the baby. I saw her swipe over the baby's heart and I asked, 'How does that sweet little heart look?' with a big smile on my face. I was so excited to see that flicker on the screen in front of me.  She stated she couldn't get a good view of the baby's heart. I thought that was odd because I saw the heart on the monitor. She checked a few other things and kept coming back to the heart. I asked her repeatedly about the heart and how it looked to only get the same response. She then stated she needed to get a senior tech to see if they could view the baby a bit better.
As soon as she walked out the door I turned to my husband as tears flooded my eyes and said 'It's the heart! Something is wrong with our baby's heart' he smiled so sweetly back and told me that I was worrying and that the ultrasound tech just couldn't get a good view of our baby just like at our daughter's 20-week scan. The tears started pouring at that point so I ran to the bathroom to clear my face. I immediately texted my sisters in the bathroom and said something was terribly wrong and I knew it was the babies heart. I just felt it in my gut.  My sisters knowing how much of a worrier I am tried to ease my mind just as my husband had. I quickly rushed back to the room as the second ultrasound teach came in. This time I studied their face and not the screen as they moved the transducer over my belly. Their faces showed signs of worry and confusion. They both quietly left the room and I began praying harder hoping my gut feeling was wrong and that everything was okay.  Then the doctor came in. As soon as I saw the doctor I started crying again and thought of every horrible thing that could be wrong with our sweet beautiful baby. After about five minutes she sat us down in that cold dark room and gave us the news that changed our lives forever. I swear it felt like my heart broke into a million pieces and came crashing down on that hard, dark cold floor.
She looked us straight in the eyes and told us that our baby had several Congenital Heart Defects and that parts of his heart was missing. She also said that all his valves and arteries were flipped. Along with his whole heart structure on the wrong side of his chest. His organ systems were also flipped and it was possible he didn't have a liver. She then referred us to specialist but encouraged us to think about termination of our pregnancy. At this point I could barely breath and fell sobbing into my husband's arms. He was so strong. I knew he wanted to breakdown with me in that moment but he remained positive and encouraging. He kept reassuring me that it could all be a mistake and we needed a second opinion.  A week later we went to see a cardiologist which performed several different tests to confirm our son's diagnosis. It was there he told us our son SJ's heart is one he had never seen before and it was unlikely operable. There was nothing they could do.  He encouraged us to consider termination of our pregnancy. This was the second time I heard this and I finally blurted out crying that this was our baby and God gave him us for a reason. We will never terminate our pregnancy and I will be grateful for any time we had with him. We went home so defeated and didn't really know what to do. After a few days, I started researching top cardiac hospitals for children in the country so we could get a third opinion. The previous hospital sent our records over. About a week later, I received a phone call to set up an appointment at the new hospital.  When scheduling the appointment, the nurse was adamant about getting us in before we hit 24-weeks pregnant. I asked her why and she said that way if we chose to we can terminate our pregnancy. At this point I was mad. This was now the third time someone has talked to us about termination. I said I wanted my appointment to be at 24 weeks and 1 day. I will not be terminating this pregnancy and to note it on our chart to never discuss that with us again. She was such a kind nurse and understood how we felt but I think it was her job to let us know our options.
We hit the 24-week mark with so many unknowns about our son's health. Was our baby going to live? Would he die before birth? That drive to the children's hospital was two hours long and neither my husband or I said one word. We pulled up to the parking lot and I began crying saying I never thought we would ever be in a place like this. I am sure every family thinks that as well. No one ever thinks things like this will happen to them. It was a full day of testing but we finally got some answers. They couldn't give us an exact diagnosis but they did state they have never seen a heart like his. It was confirmed his organs were all flipped as well as his heart. He had an underdeveloped left ventricle and it was thought that his top two atriums were also flipped.  During our pregnancy SJ's diagnosis changed weekly it felt like. As he grew it was growing more difficult to get the best images of his heart due to his bone growth. The doctors were not sure what the outcome would be. Worst being he would pass away before anything can be done. Best being they could stabilize him and plan his course of treatment.
Following that appointment there were so many more appointments.  Eventually I was 6 weeks before my due date. Due to the complexity of SJ's heart we moved into an extended stay hotel for two months so I could be minutes from the hospital. My husband commuted to and from work while we lived there and my sisters and parents rotated who would be with my daughter and me while my husband was at work.  We moved in early because I gave birth to my daughter early and they were worried that might be a possibility with SJ. My job was to keep him comfortably inside my belly until he was full term. That would be the only chance he had at survival. Those last 6 weeks were filled with doctors' appointments that went from weekly to daily. 38 weeks came and went. 40 weeks came and went. Finally, it was agreed I would be induced at 42 weeks on a Wednesday evening so that they could have all the facilities best in the OR. On October 18that 7:07 a.m. we welcomed our beautiful boy into the world after 36 hours of labor.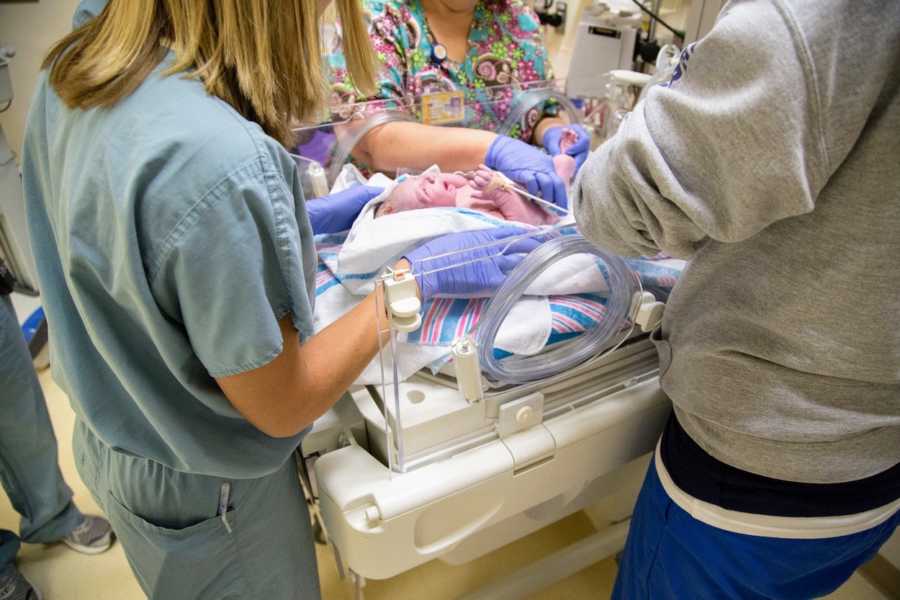 I didn't get to see him; the room was filled with so many medical professionals and he was immediately rushed to the nest. There were several different teams in the room all working like well-oiled machines. My husband went right with SJ to be by his side. The hospital broke protocol and allowed one of my sisters in the room after his birth because my husband would be with our son. She walked in and her face gave me so much comfort. She didn't need to say a word but her presence calmed me a little. Making me feel more hopeful. After about 15 minutes they stabilized SJ. It was a miracle from God that I was able to see him. My husband was able to bring him to me for about 30 seconds before he was taken to the cardiac intensive care unit. It was one the happiest moments of my life knowing that he was alive but also one of the saddest because I had no clue what was to come.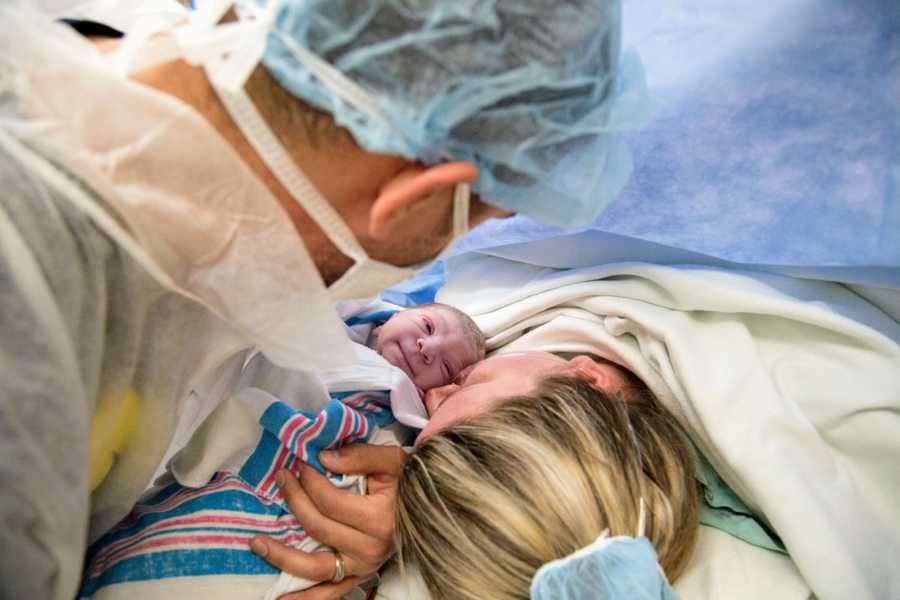 After birth I needed to recover for a while before they would take me to see my son. When I finally got up to see him his room was filled with doctors and nurses. He was hooked up to machines and had iv cords coming out of his belly. It was there that we finally got his diagnosis. They told us SJ had 10 different congenital heart defects (DORV, VSD, ASD, D-TGA, MVP, Atrial situs inversus, Pulmonary stenosis, Under developed left ventricle, Dextrocardic, mitral stenosis) and Heterotaxy. They had never seen a child like him and were unsure about his treatment path.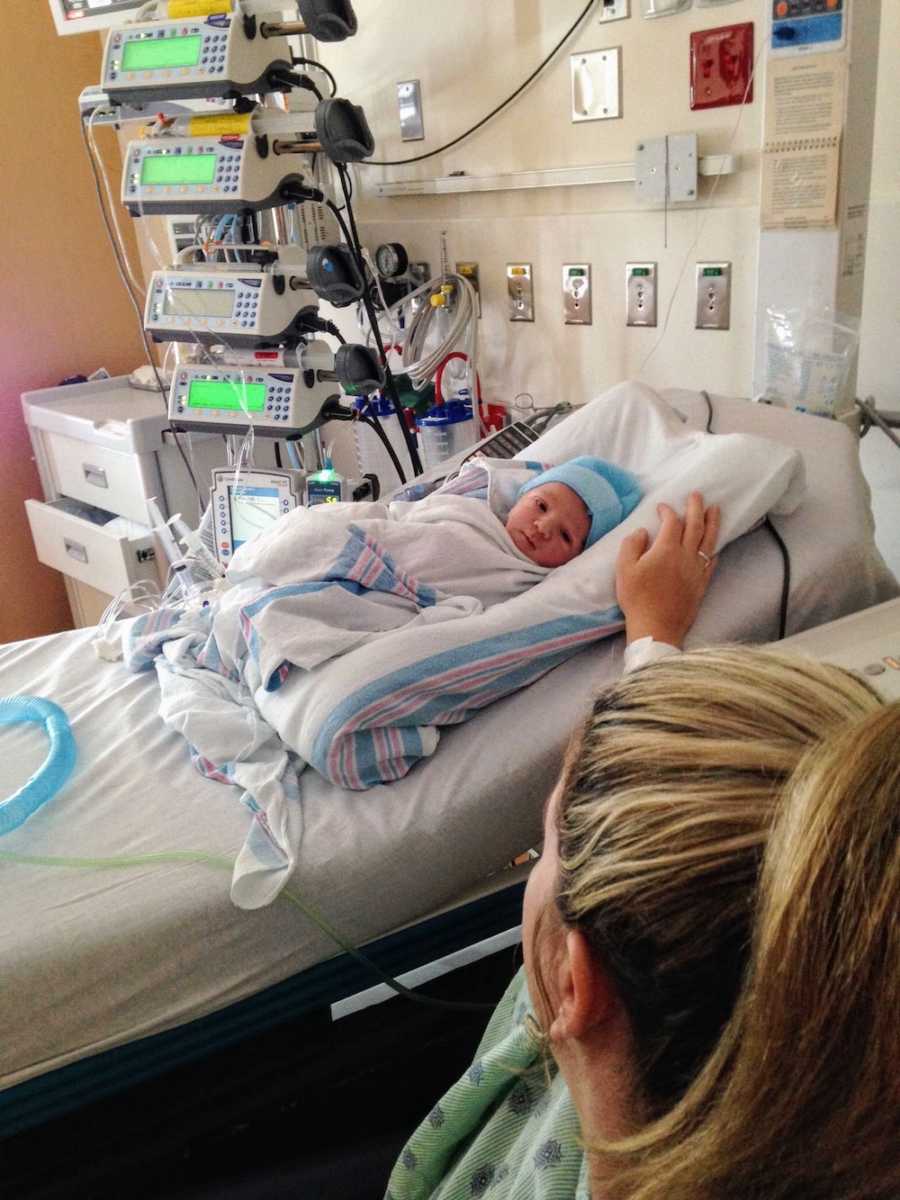 Fast forward a few weeks and it was determined he would need a heart surgery in the upcoming months and multiple ones after that. We were finally able to go home after almost 10 weeks away. We were home one week which was filled with doctor appointments, in home nurse care and medications before we ultimately were back in the hospital.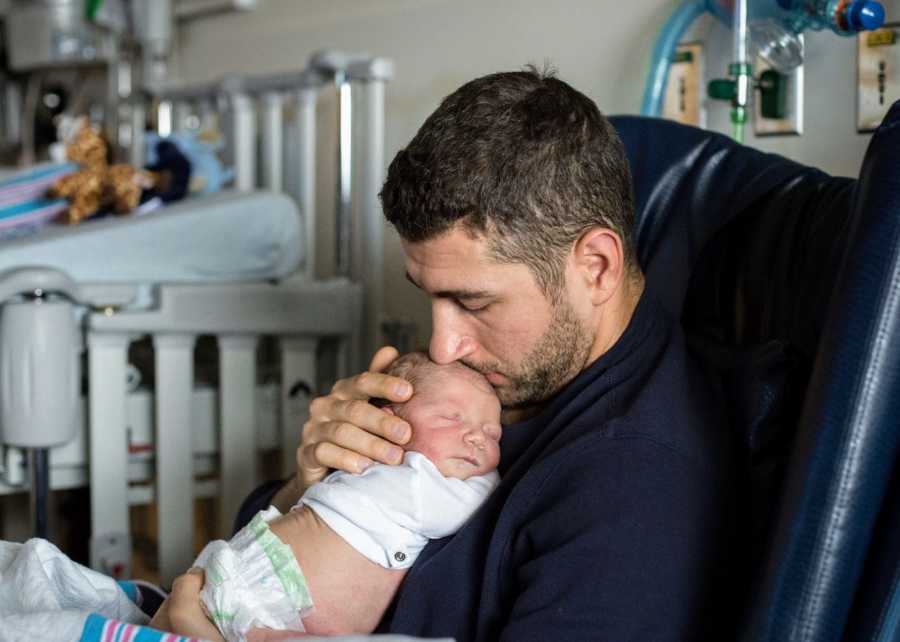 I kept telling the nurses and doctors that I felt something was not right at each appointment.  His color looked off at times. They always ran the appropriate tests and he came back clear. That Sunday I noticed the coloring more frequently so I told my husband I want to take him to the local ER. My husband drove us with both kids in tow. Once in the ER it was chaos. SJ was screaming as they hooked him up to all the machines. I got him settled and everything looked great. The doctor was going to discharge him and I said something is not right. I feel it. She was kind and told me that everything looks wonderful and I could follow up with his cardiologist the following week. I asked her to wait a few more minutes. As those words came out of my mouth while both of us were watching the monitors SJ's blood oxygen level dropped from 95 to 80 to 70 then to 60 and it kept dropping. Immediately the room was flooded with so many different medical professionals. They threw oxygen on him, started an IV and were yelling out at giving each other orders in preparation for transport. An ambulance that was going to rush us across the state to his heart center. In that moment alone in the hospital I feared this was the beginning of the end. Because up until this moment SJ beat all the odds that were stacked against him.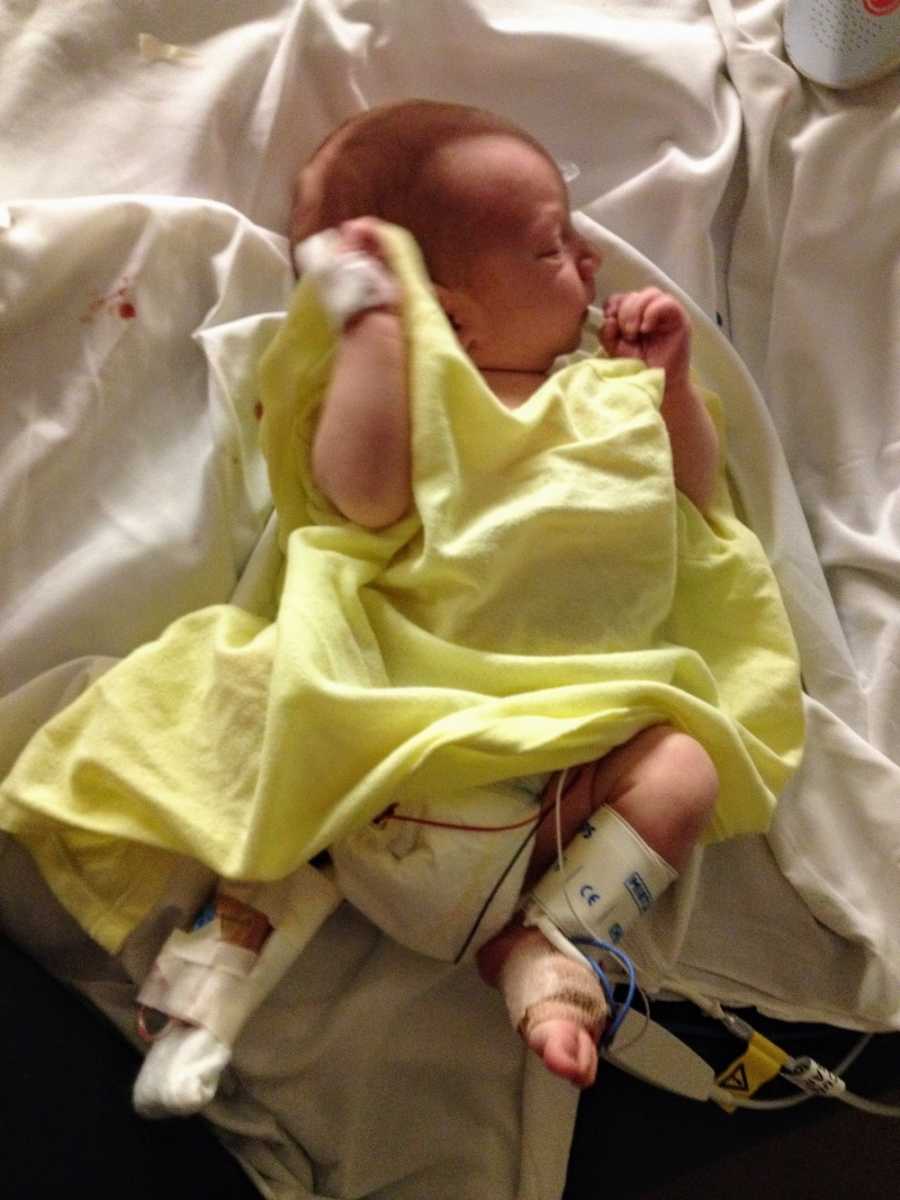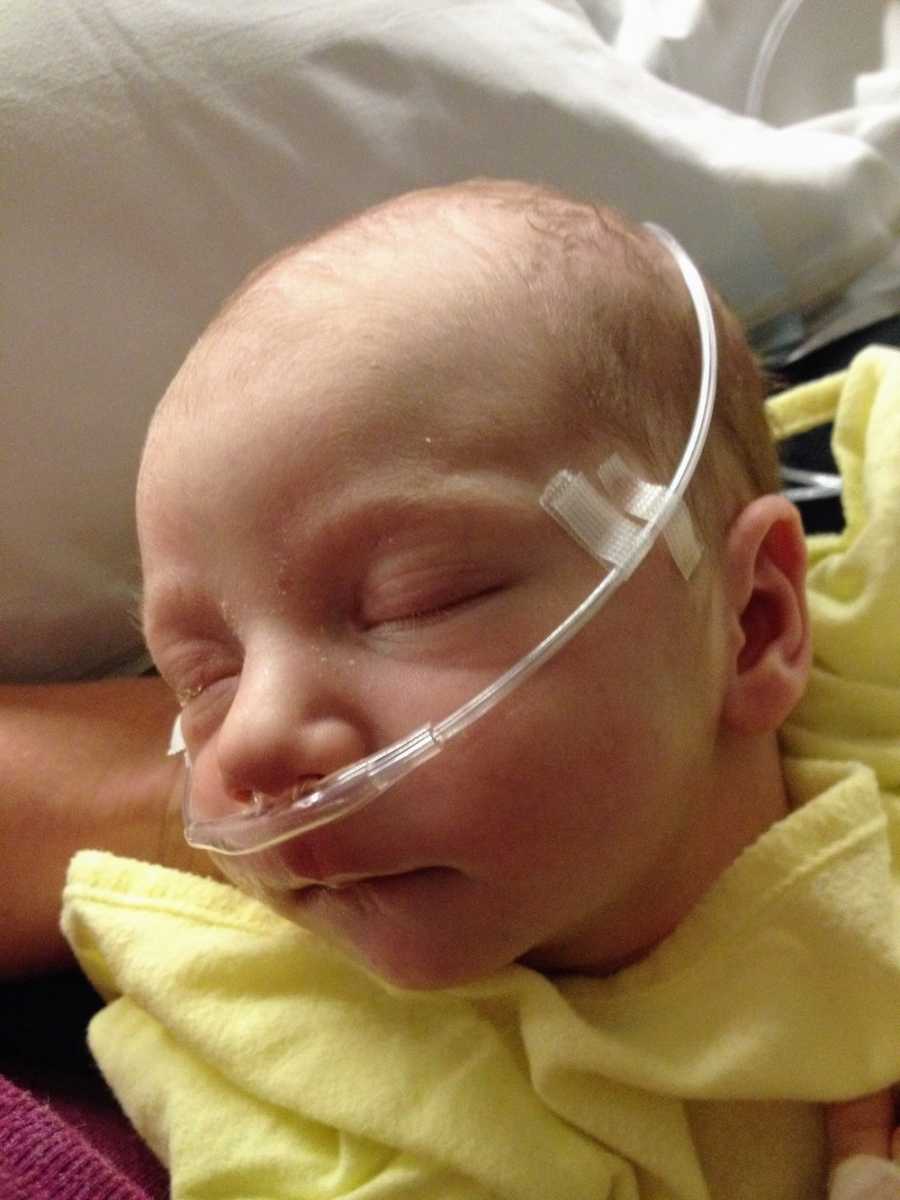 I kept praying over and over again to God to not let him die.  We were loaded up in the ambulance and headed to our center. Words cannot even begin to describe the emotions I felt during that ride. We got to his heart center where my husband met us. It was apparent SJ's heart was failing and fast if something was not done. The next morning, we had SJ baptized in the hospital minutes before we were pushed down to prepare for his first open heart surgery.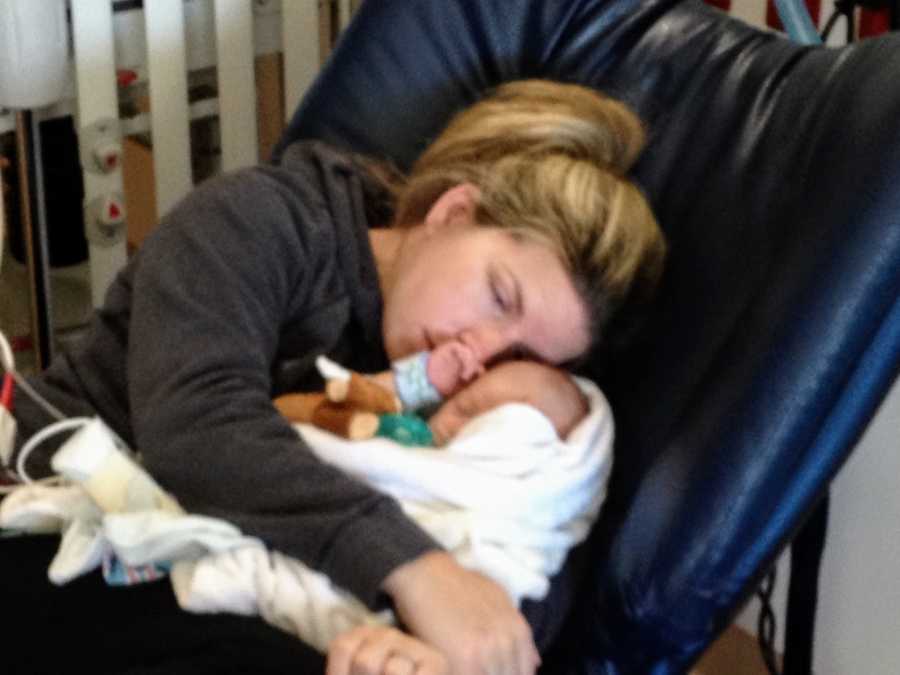 He was just three weeks old when he had his first open heart surgery. I'll never forget the pain I felt handing my baby over to a nurse and watching her walk down the long hall with him to the OR. I feared this would be the last time I ever saw him with a beating heart.  The surgery was long. It felt like years had passed in those hours. We held our breath every time a nurse came in with updates. Finally, he was out of surgery and it was successful. We were able to go back and see him a few hours later. Nothing can or will prepare you to see what we saw. Our newborn baby was blue, on a ventilator with so many cords and lines coming out of him. He was hooked up to so many different machines all doing their job to keep him alive.  It took SJ a long time to recover from this surgery. He was on a ventilator for a week and we were able to slowly work him off some of the machines.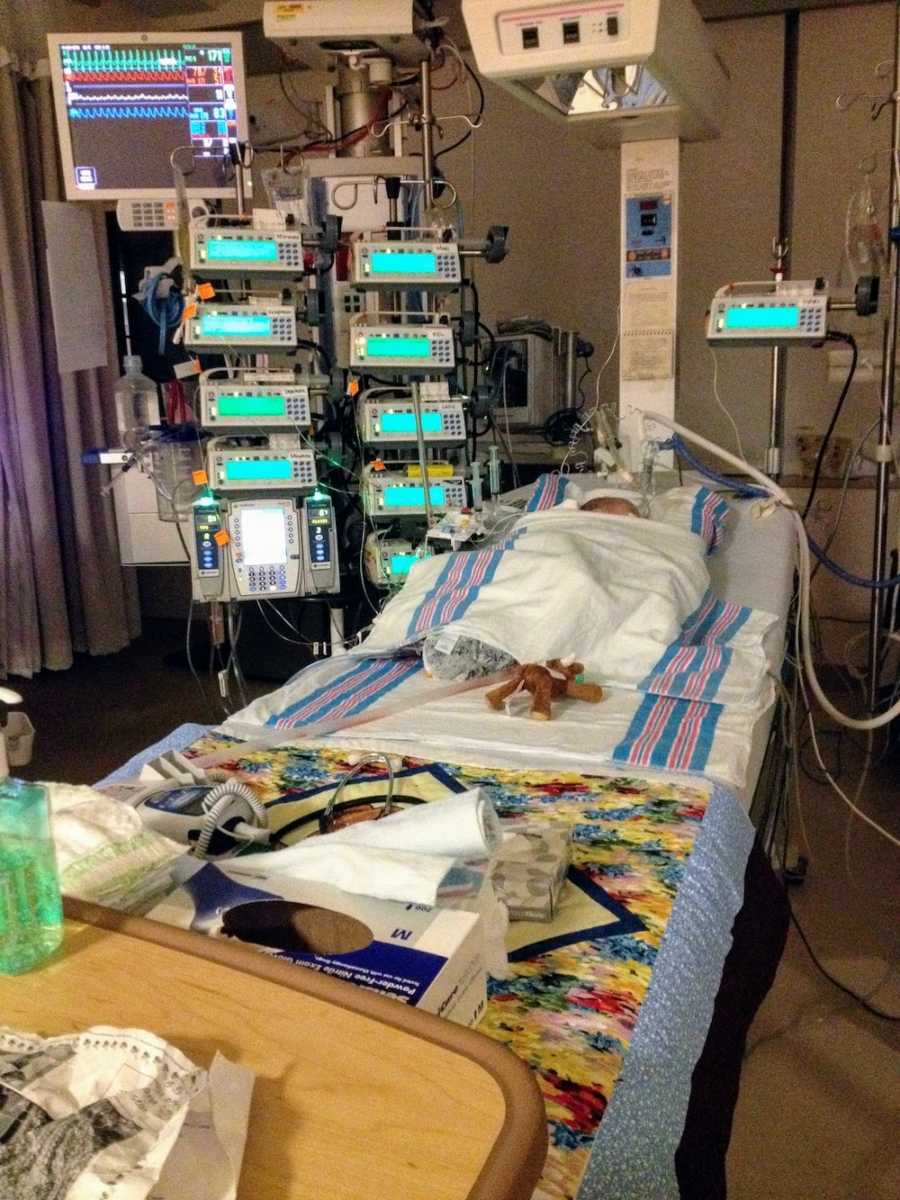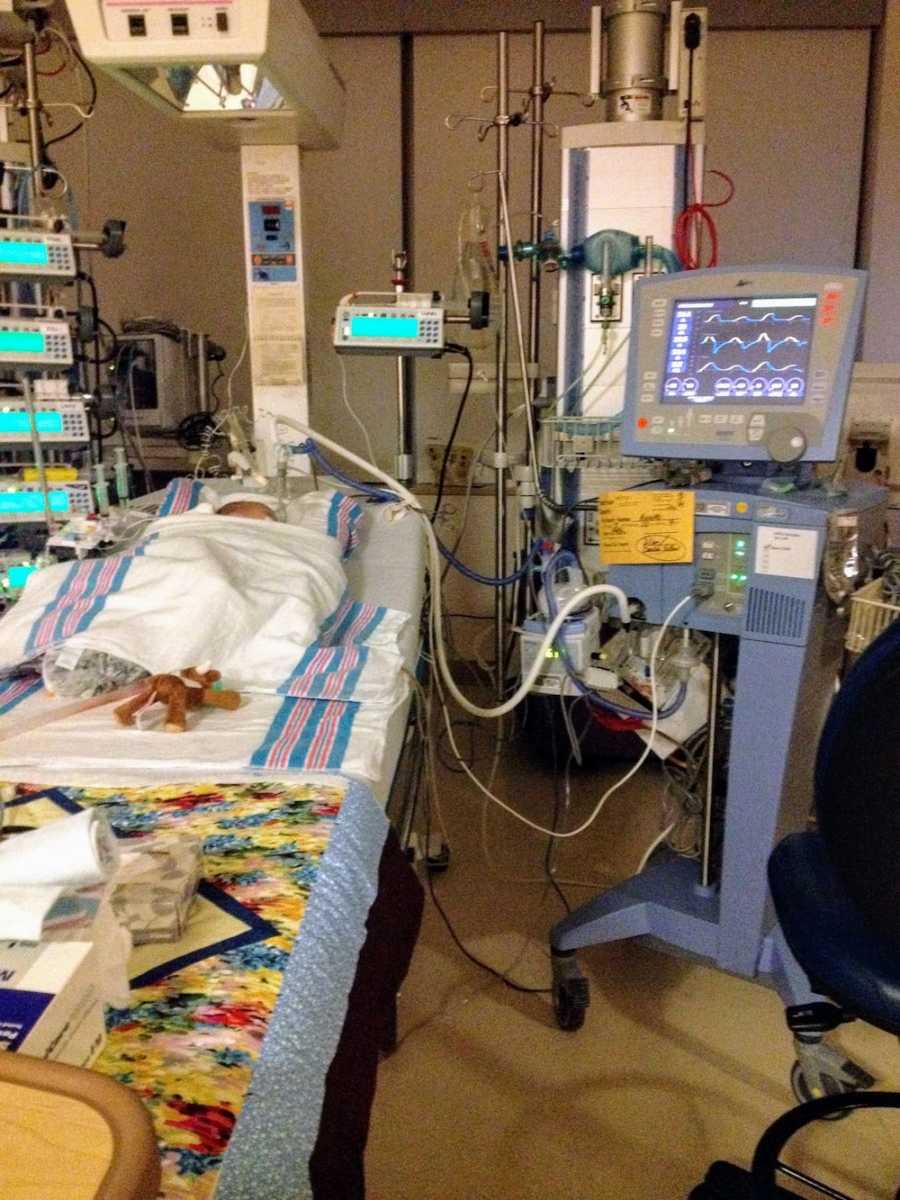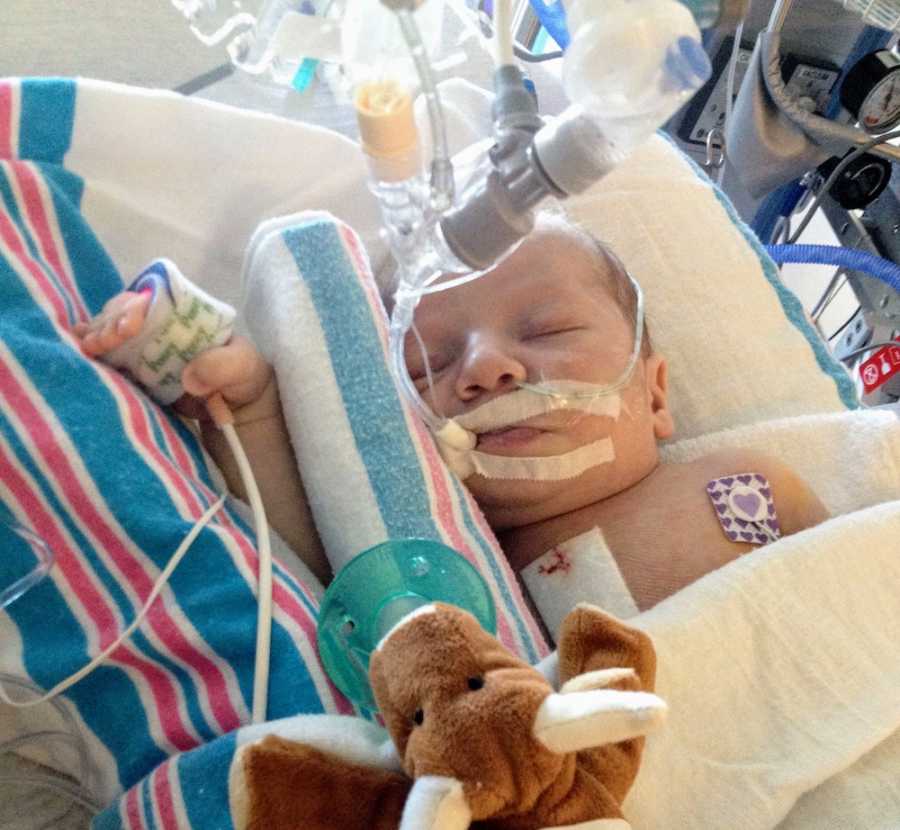 Finally, it was time to head home. We were so scared to bring him home. I remember I was learning to place his feeding tube down his nose and throat and I was terrified I would hurt him. I kept telling the nurse I was not ready to go home because what if something when wrong. She reminded me that I trusted my gut in the first place which saved his life, gave me a hug and told me we can do this alone. Those first month's home were a blur. SJ required round the clock medications but we eventually developed a good routine. We had in home nurses that visited and doctors' appointments weekly.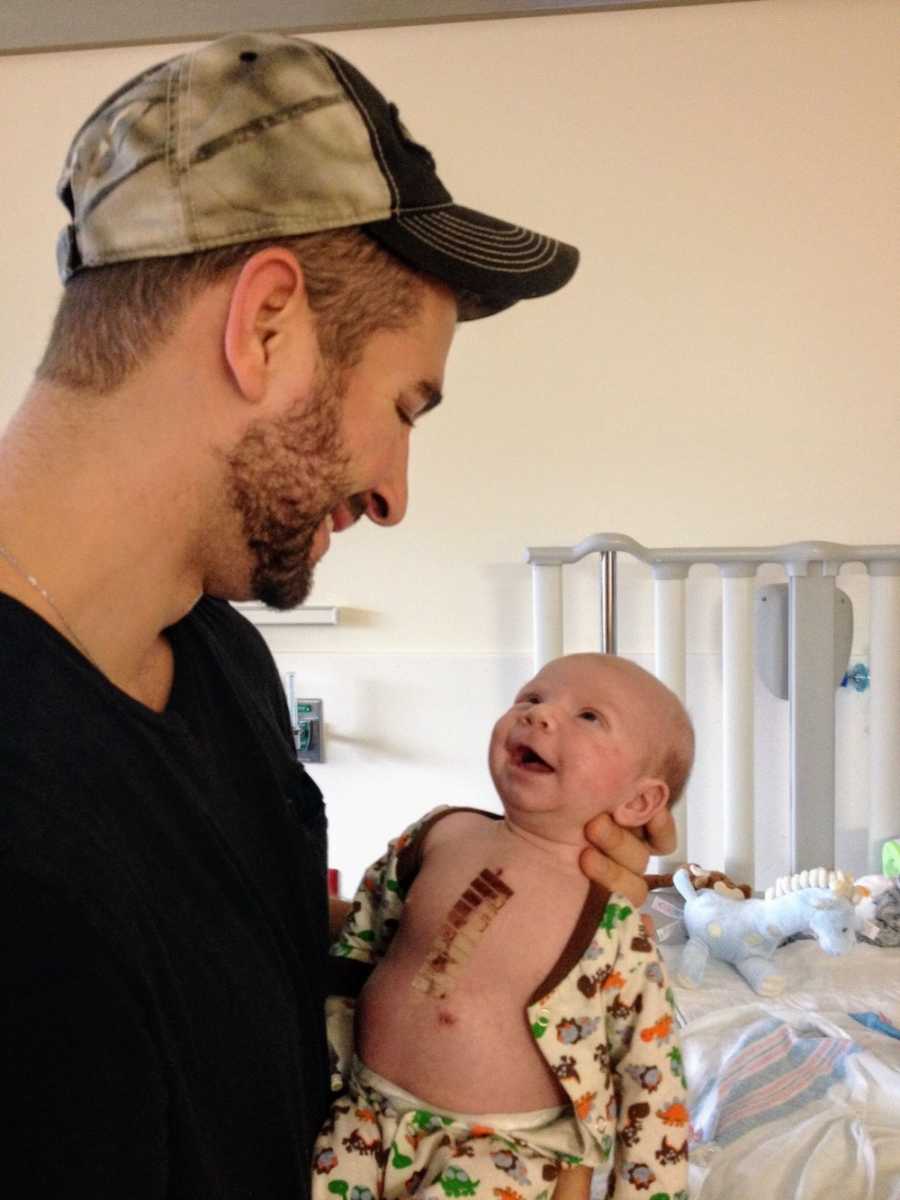 As the months passed SJ started to show signs of struggle and it was determined that his left ventricle did not end up growing as we had hoped. His second open heart surgery called the Glen Procedure would need to be performed. This surgery was going to begin the stages of rerouting his blood flow so his blood would go directly to the lungs and not circulate in the heart. This was a crushing moment because for months we prayed his left pumping chamber would be able to be used. We knew if we had not left ventricle it was highly likely he would need a heart transplant.
At 5:00am we headed out the hotel door and drove to his hospital. He was giggling and laughing in the backseat. My heart was heavy realizing this could possibly be the last time I hear those giggles. Once we checked in and he had a few more tests done it was time to hand him over to the nurse. Being only 11 months old he began screaming and crying and reaching for me and my husband. Mama, Dada on repeat as he was screaming. I asked them to let me take him back. I comforted SJ and calmed him down. I then suited up and walked the long walk back to the pre-op room. I had my face buried in SJ telling him how much I loved him and how much he meant to our family. He had no clue what was going to happen. He had no care in the world. He was just happy and content being in my arms. I finally reached the cold white bed and laid him down as they gave him meds to fall asleep. I kissed him one last time and walked the long walk back to my husband. When I met my husband at the end of the hallway we just hugged and cried. As I have said before nothing can prepare you for this and here we were doing it all again in less than a year.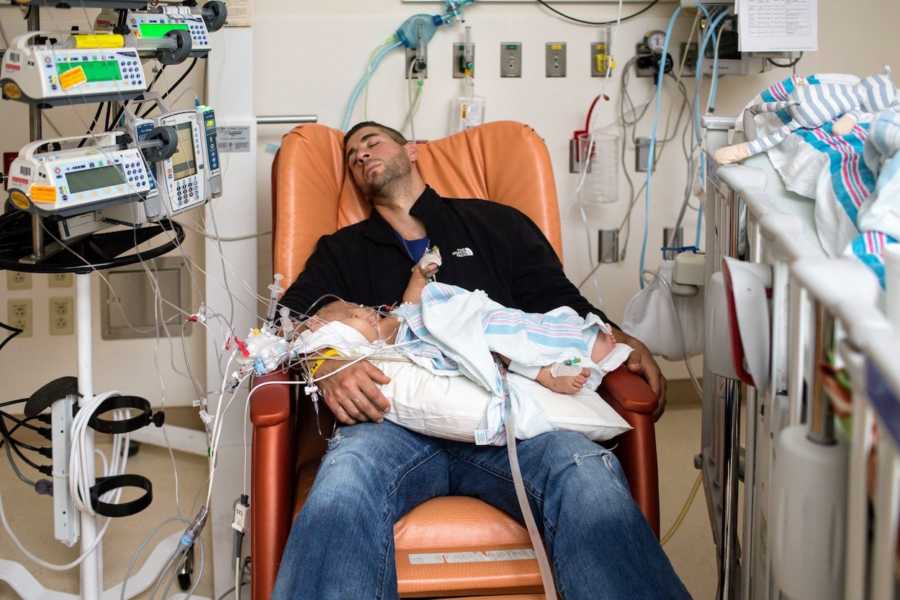 We walked up to the waiting room where we had family waiting for us. They sat and helped entertain our daughter. Surgery went as planned and after hours of waiting we finally were told he was in recovery. I had memories of what he looked like from his first open heart surgery and I was trying to refresh my brain so I wouldn't be in shock. As we walked up to his bed he laid lifeless. Machines, tubes, cords and lines were everywhere but his coloring looked better than the last surgery. SJ recovered well from this surgery until he formed a blood clot in his heart. Due to the clot, he was placed on blood thinners to try and dissipate it. We ended staying in the hospital longer because his blood levels were off and it took a while to get the correct dosage. Due to the structure on his heart he will always for blood clots in this hear if he is not on a certain dose of blood thinners.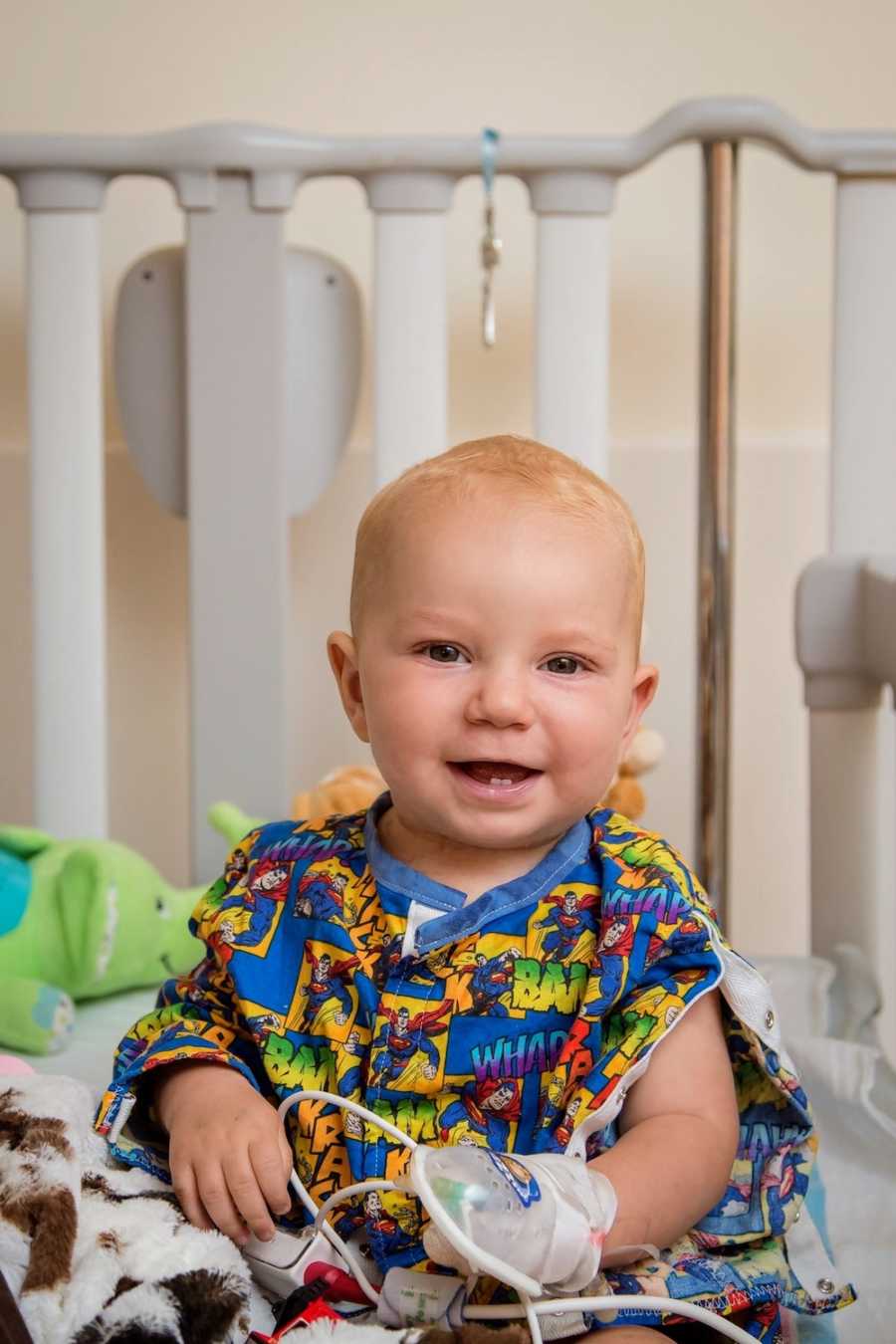 Finally, we were able to come home from the hospital and enjoy the fall as a family.
Not even a week home from the hospital I found out I was pregnant. This was such a beautiful surprise. I did worry about our son Jacob's heart until it was confirmed he was heart healthy. During my pregnancy, life fell into our normal. SJ was doing well but still was not walking or standing. He didn't start walking until he about 20 months old. He had a lot of doctor appointments and was still taking a ton of medications.
In early June after 48 hours of labor we welcomed our third child Jacob. SJ bonded with him instantly and Allie just adored having a baby. For the first time in over 2 years I felt like we were normal. SJ didn't have any planned heart surgeries until he was 2 and we could just focus on being together and cherishing every minute of being a family of 5.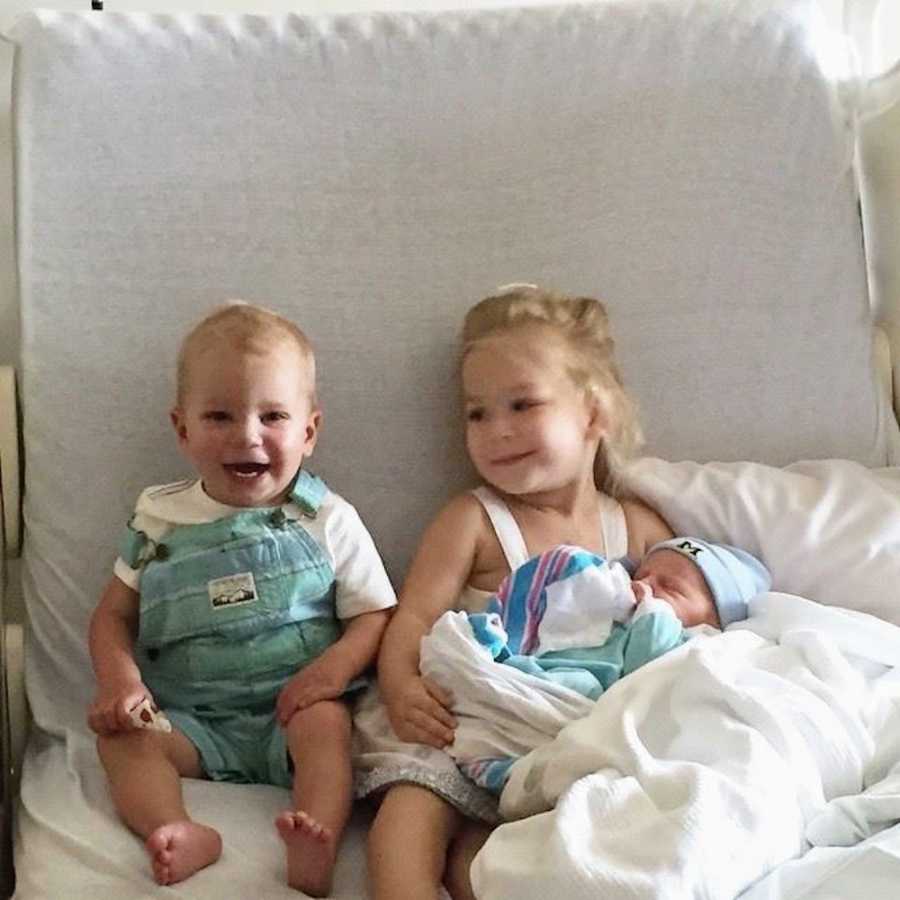 Jacob was about 5 weeks old when SJ started to look jaundice to me. I noticed it and it began to get worse the next day so when my husband returned from work I took SJ to his hospital's ER. It was there that we learned he was in liver, heart and kidney failure. SJ had a diaphragmatic hernia. This is something that is usually found in newborns. All his intestines traveled into his chest cavity and was pushing on his liver and heart. We were admitted to the hospital immediately. It took almost two weeks to figure out a plan of action for what surgery could be performed that would allow his heart to handle it. In the meantime, I was nursing and caring for a colicky newborn while in the hospital caring for my sick son. Our hospital allowed Jacob to stay with me at bedside so I could continue to care for both of them. I was so thankful for that because I have never left SJ's side during any hospital stay, doctors visit or testing. The only time I was away from him was while he was being operated on. Finally, it was surgery day which was a blessing because the night before he vomited bile all night long. The surgery had to happen and we prayed his heart would tolerate it. The surgery went well. His recovery time was fast too. Finally, we were home after a three week stay.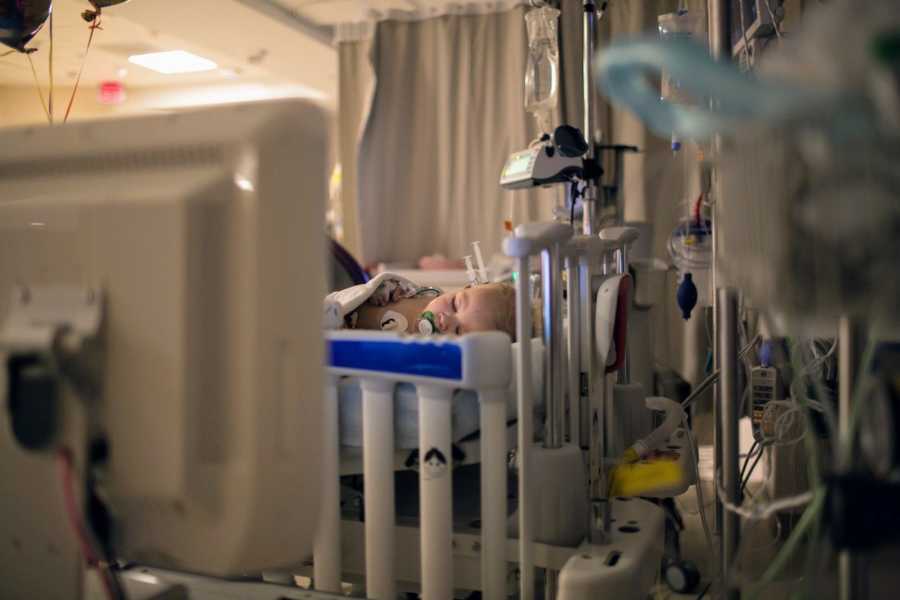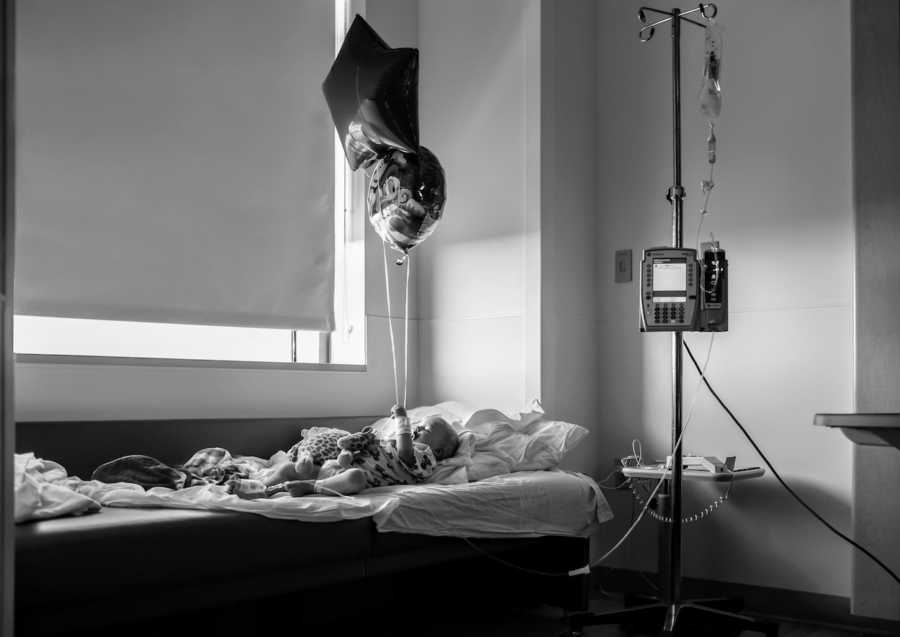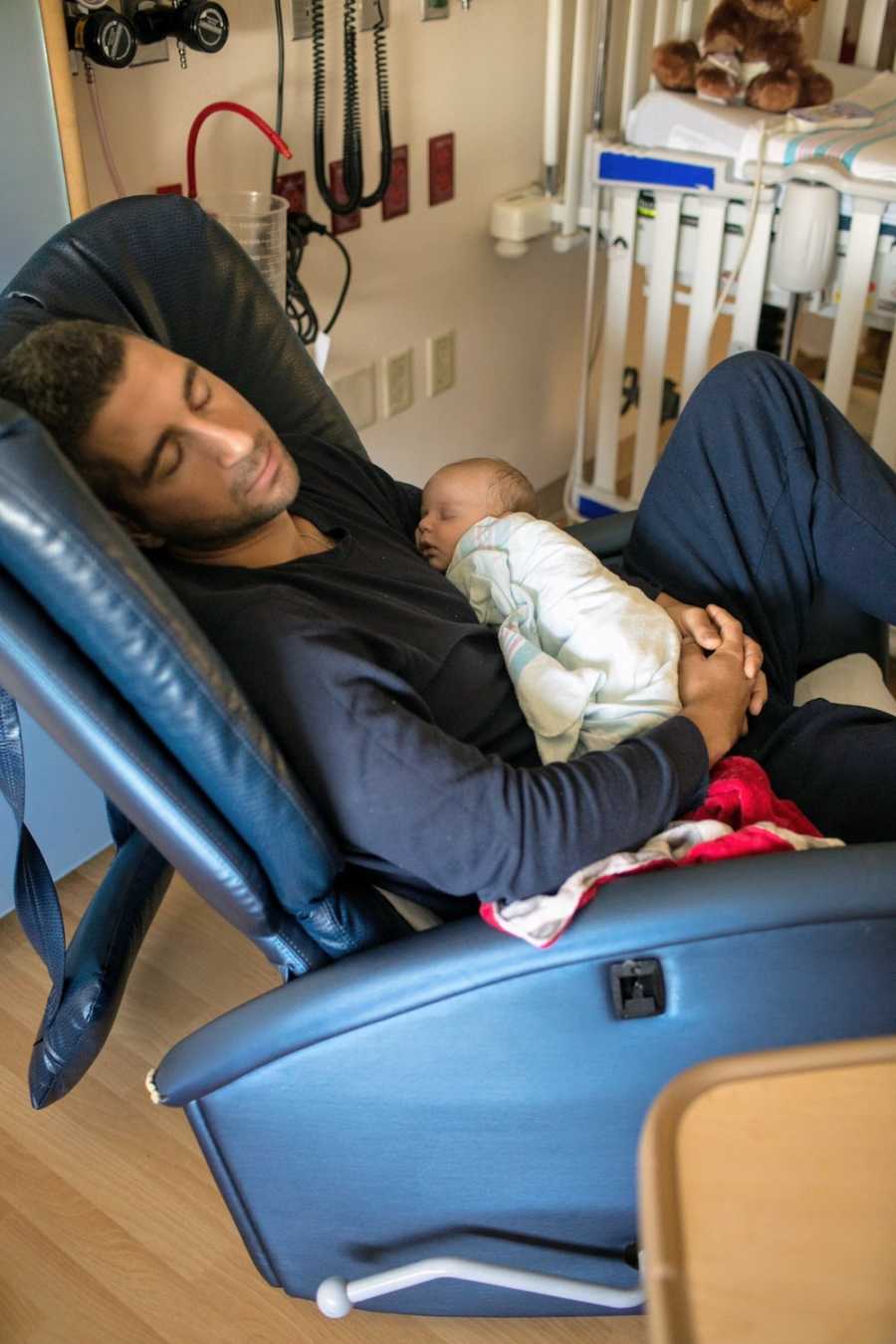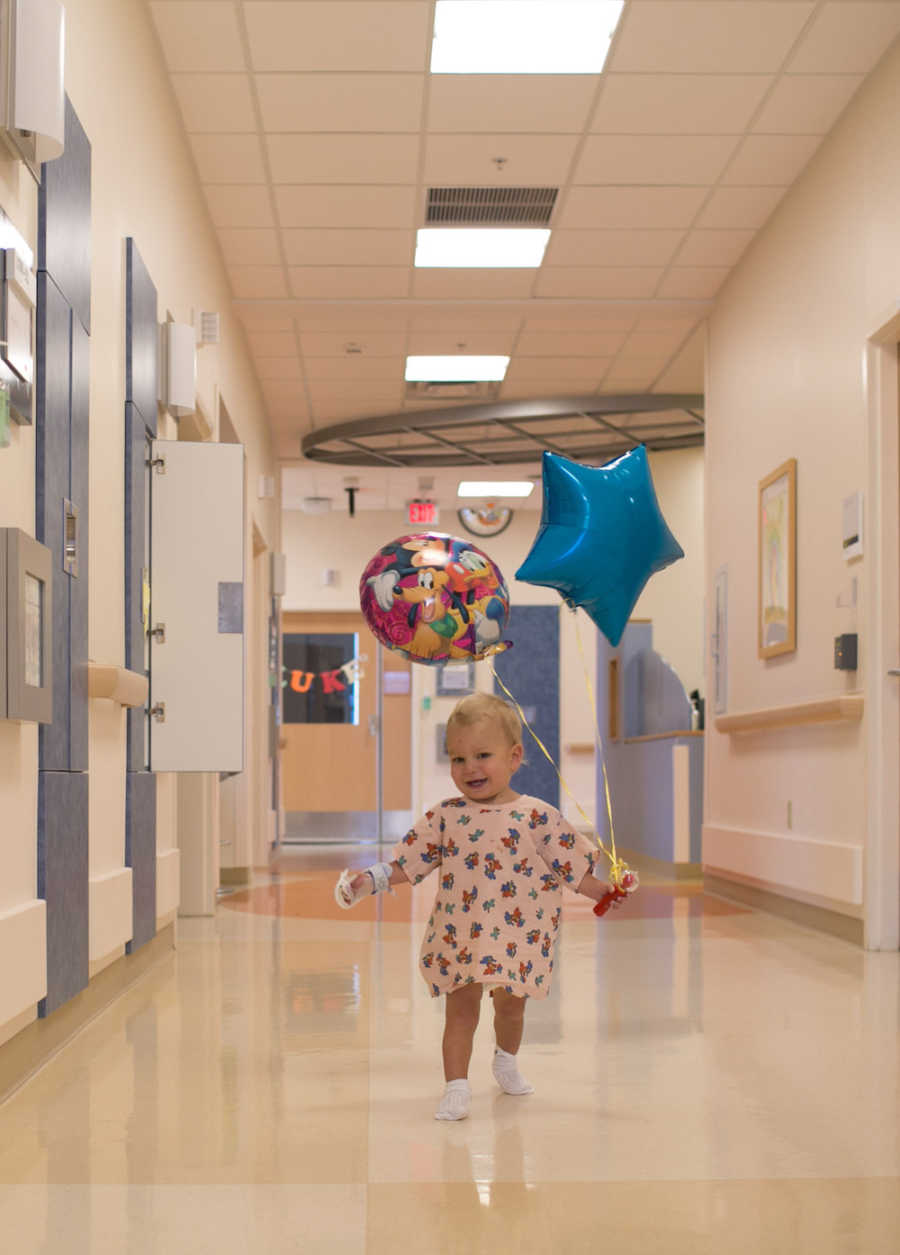 As before life settled back into our normal with doctors' appointments and medications. As the months went one SJ started to slow down more and more. His oxygen levels were in the 70s and at times the 60s. He couldn't walk more than a few steps without being winded. He needed to drive his power wheels tractor all around the farm in order to get around or he was carried. He was still sleeping most of the day and night. His body was telling us it was time for his third open heart surgery, the Fontan. I had night terrors all that summer about this surgery. It was going to be one of the hardest on his body. I always feared that while they could stop his heart with ease what if they couldn't get his heart pumping again. All the what ifs played in my mind as the weeks leading up to the surgery. We all were on edge.
Just as we did before we headed to the hospital which now feels like our second home and prepared him for what was to come. We hugged and kissed and told SJ how much we love him. He was emotional this time. He cried and cried saying no more pokies mommy. I want to go home. With each tear that fell from his eyes my heart was crushed a little more. This time I was able to carry him into the actual OR and help hold him down as they gave him the medication to fall asleep. He was kicking and screaming at the top of his lungs. This is something no parent should ever need to do yet so many face this battle with Congenital Heart Defects. The kicking and screaming slowly stopped and he was limp and asleep. I was escorted out of the OR and my husband met me in the hallway. We both looked like the life was sucked out of us and fear just washed over our faces.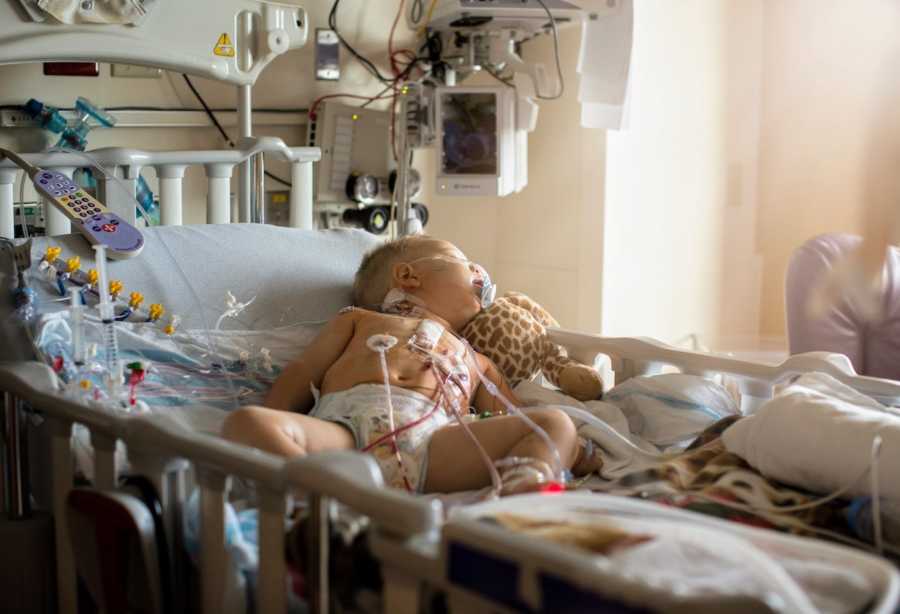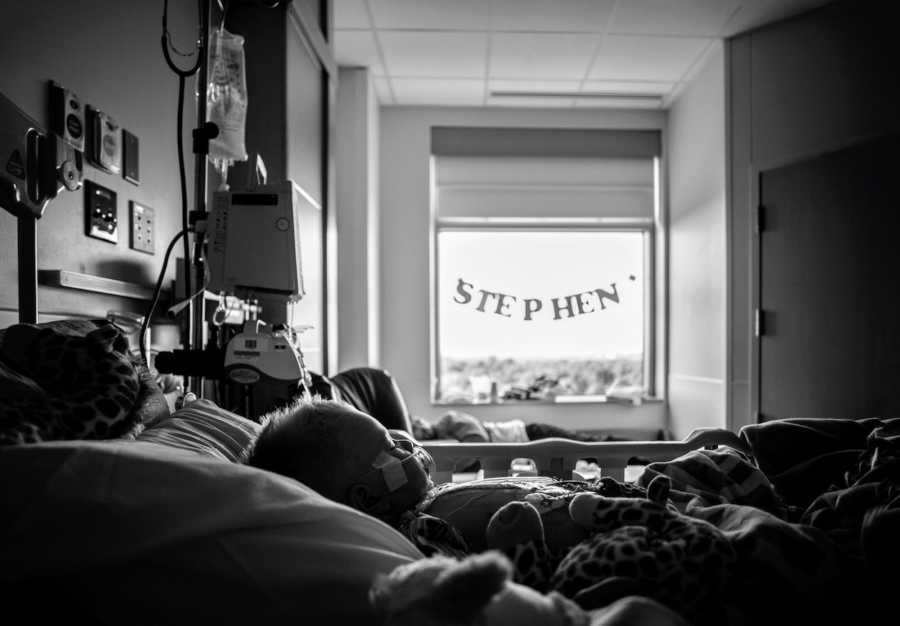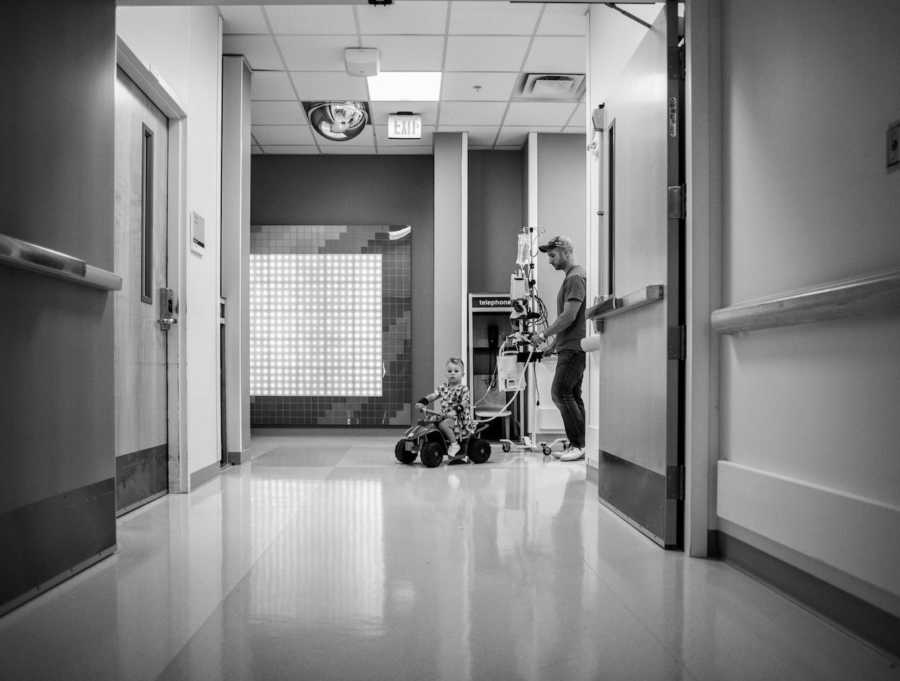 SJ's open heart surgery went amazing and he was discharged in record speed. He was able to come home one week after his surgery. Which still blows my mind. That was record speed especially for him because he always tended to have longer recovery times. Since then SJ has done well. We have had a few bumps in the road like any child who has complex heart issues and are preparing for a heart transplant in the future. We are thankful he is not listed currently and we are letting his body tell us when its ready. That could be tomorrow or two years from now but until then we take life day by day and are grateful for the time we have together. SJ is a miracle! He has endured so much in his lifetime yet remains one of the kindest souls. He lights up the world around him. He has taught us so much about life and how to live it. He is a boy that loves! He loves life, he loves baseball, he loves his family. He is our superhero.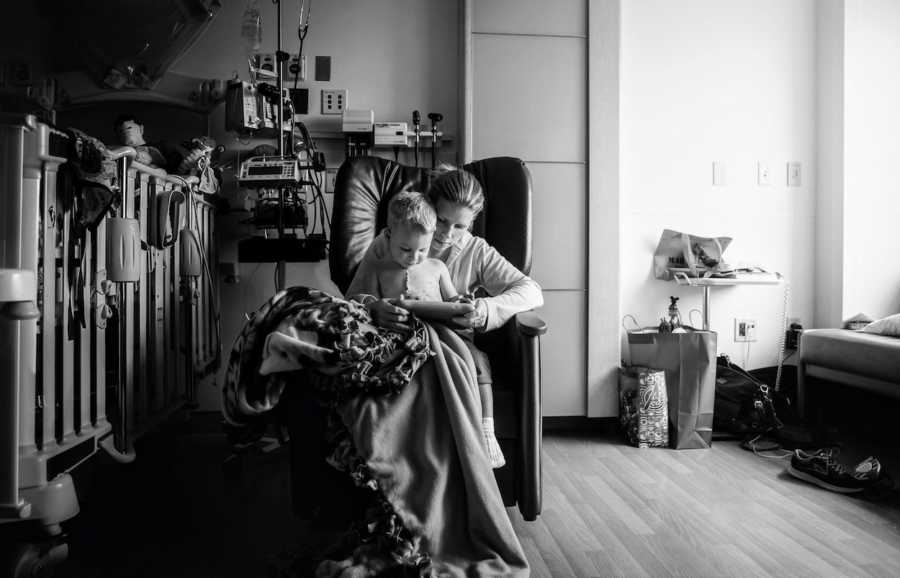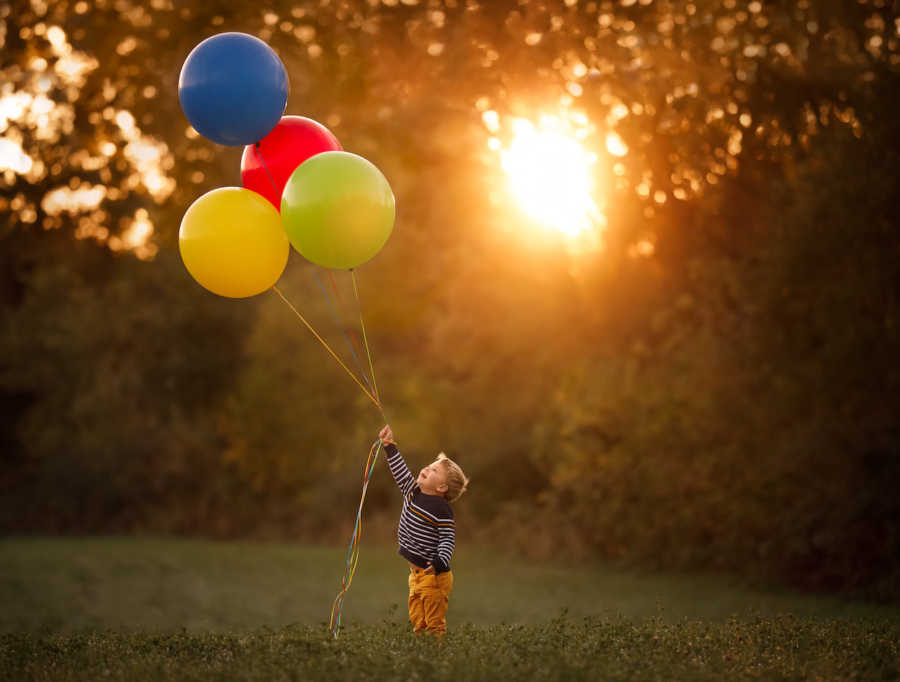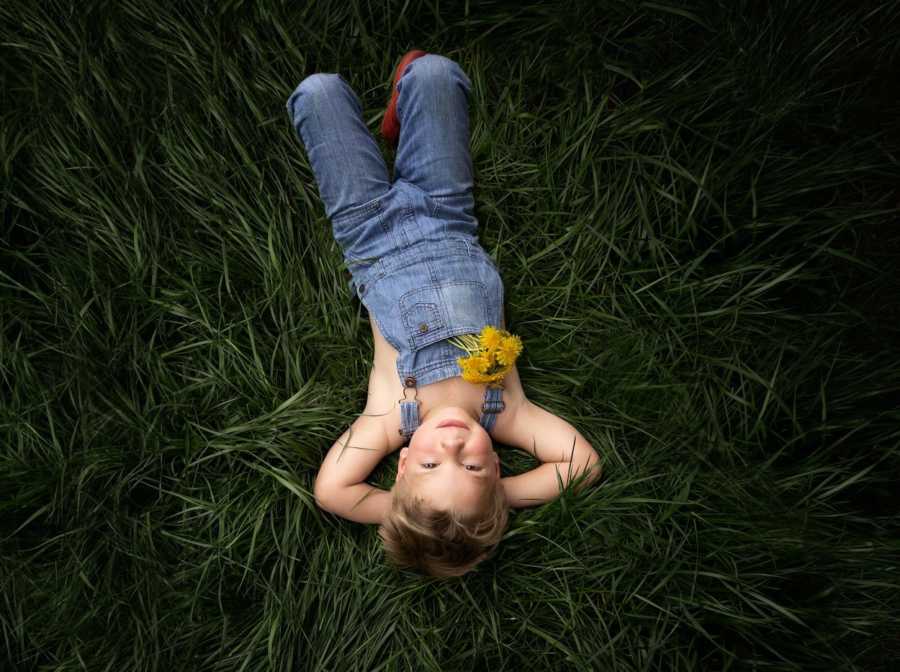 There is still so much awareness and funding that needs to happen regarding Congenital Heart Defects. In 2016, I created The Paper Heart Project which is a campaign that spreads awareness about Congenital Heart Defects also called CHDs. Congenital Heart Defects are the most common type of birth defect. The severity of CHDs can range from mild to deadly. Nearly 1 in 100 babies are born with one or more of the 40 different types of Congenital Heart Defects. CHDs are the most common childhood disease yet is the most underfunded in regard to its prevalence. Twice as many children die each year from CHD than from all childhood cancers combined yet pediatric cancer research funding is 5 times higher (which is also underfunded). Please join in the month of February to help spread awareness about Congenital Heart Defects.
Anyone can participate in this project. You simply take a photo of a paper heart. Then post your photo to any social media outlet and hashtag your post with the following hashtags: #paperheartproject #CHDAwareness. Let's take the internet by storm with our paper hearts. The more awareness we can spread, the more funding for research we hope to receive. Let's get the conversation going about all the past present and future heart warriors in the world."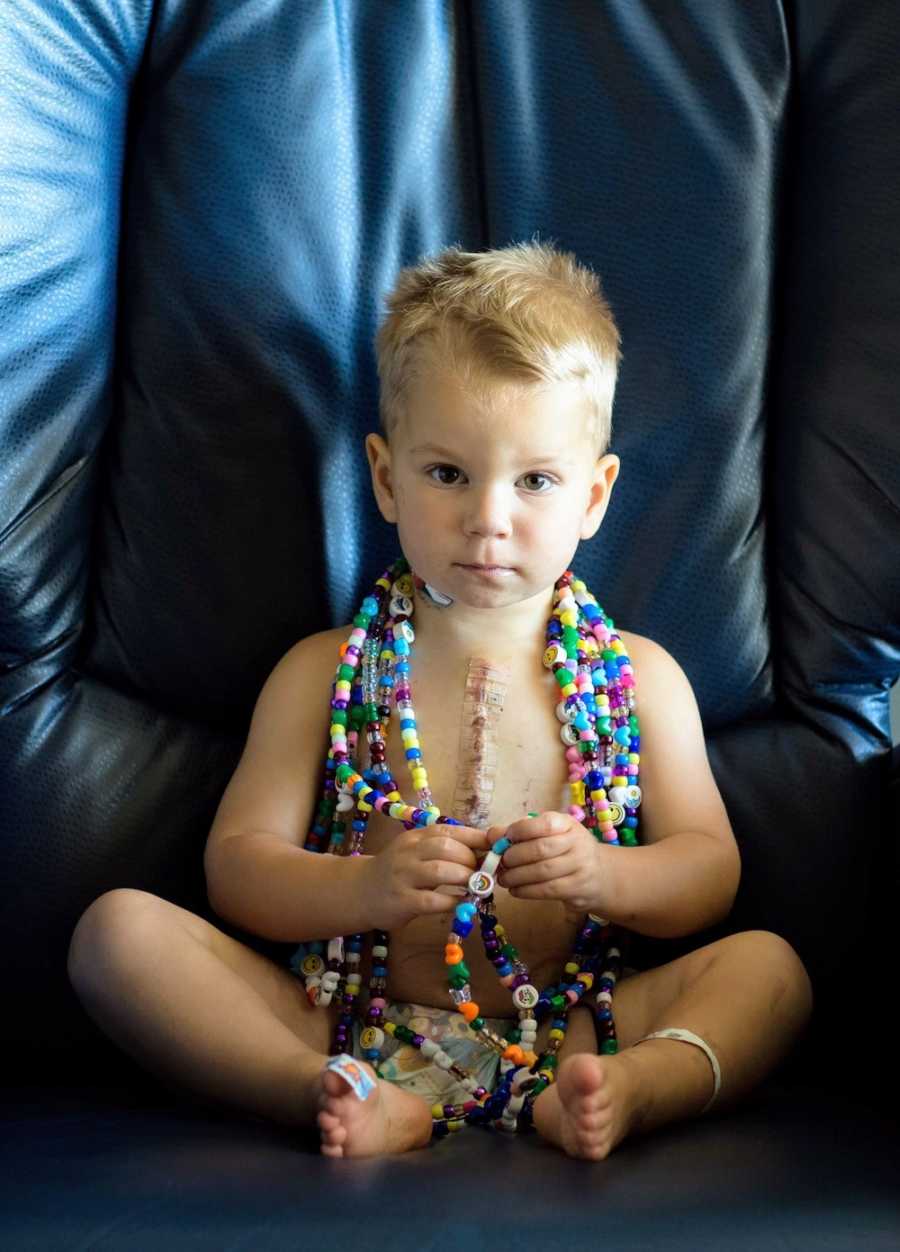 This story was submitted to Love What Matters by Danielle Awwad, 35, of Marshall, Michigan. Follow her family journey on Instagram here. Submit your story here. For our best stories, subscribe to our free email newsletter.
Do you know someone who could benefit from this story? Please SHARE on Facebook or Twitter