"I've been looking for her a little bit lately, the old me.
I've been missing her, my husband, balance. The scales have been tipping for a long time.
I've either been out of my mind or inside it too much.
It still feels like we're in the thick of it, even though there's no newborn anymore.
Chat is usually about things like having showers at night to save time in the morning, kisses are rushed or missed, 'goodbyes' are muffled through closed doors.
I'm then gathering up the things to leave the house with.
I find myself sitting in the car with the kids in a disheveled state, unsure where we're going.
I wonder how I look to others now, do I LOOK like a Mom?
I'm still confused, I know I need to eat better but if I'm ever alone in the car I find myself scoffing McDonalds at the lights like an animal.
I'm confused how some days I can feel like a lioness, and others a chameleon, still trying to 'fit in.'
I'm confused why people tell me to enjoy every moment.
I'm certain I'm growing more through the ones I've enjoyed the least.
I'm confused by when I talk about how hard self-discovery can be through motherhood, I always feel the need to tie it up with a 'but I wouldn't trade it for anything.'
Of course I wouldn't.
I don't need to validate it, just leave it untied as the endless string of moments it's meant to be.
I'm confused.
What do I even enjoy anymore?
This 'Me' in Mom, this motherhood lined jacket that some days doesn't warm up, and others fits just right.
I wonder if motherhood truly does strip you back, or is it just another layer entirely, so consuming that breaking it down to our core simply takes time?
What I do know though is it isn't necessarily about going back to the 'old you,' old jeans, old lifestyle, old body.
It's about becoming.
Maybe I have to stop looking for 'Her,' so that she can come and find me."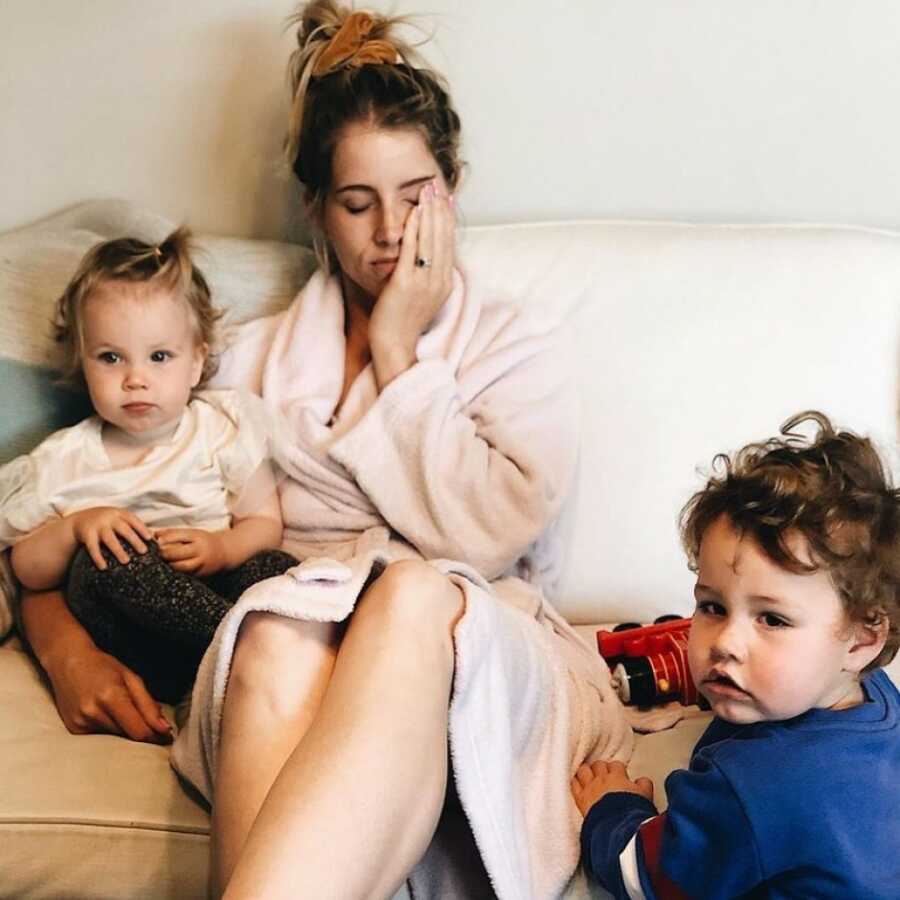 This story was submitted to Love What Matters by Jessica Urlichs. You can follow her journey on Facebook and Instagram. Submit your own story here, and be sure to subscribe to our free email newsletter for our best stories.
Read more from Jessica here:
'Why aren't you breastfeeding?' My voice clipped from the wind punched out of my gut.': Mom urges 'you don't owe anyone an explanation for how you feed your baby
'Dear mom, there is so much I didn't understand back then, but now I do.': Woman pens sweet letter to mother after giving birth
'I can't decide if I want a baby! I'll ruin my career,' my friend messaged. I was brutally honest.': Woman 'mourns' loss of life pre-motherhood, 'I gave up a lot, but I gained so much more'
'Yes, you are my second child, but my love for you is second to none. You've made me the mama I am proud to be.': Mom shares touching ode to baby #2, 'I'd move mountains for you in seconds'
Spread beauty and strength for others. SHARE this story on Facebook with family and friends.