"A few weeks before my 22nd birthday, my oldest sister Miya killed herself at 28 years old. My first instinct is to write hung herself, but I try to hold back because who really wants to imagine such a thing.
My flip phone says 3 missed calls.
2 from home.
1 from him.
I assume her phone died so she used his to call me.
And I quickly relive the night before, up in the wee morning hours, listening to her tears, telling her it'll be okay – get to yoga – center yourself – you only want to be with someone who loves you no matter what.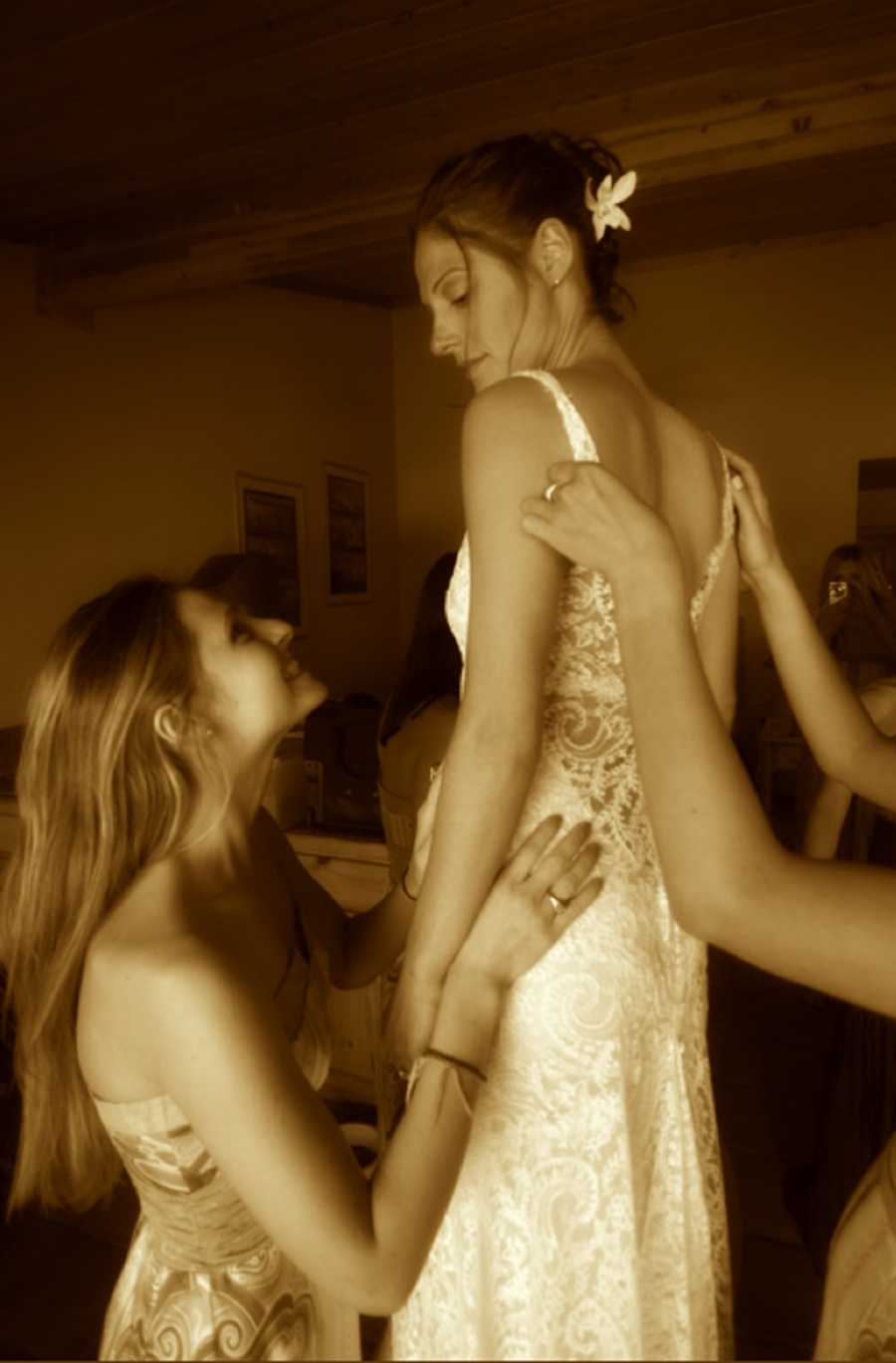 So I call home and my dad's voice utters, 'Miya killed herself,' like if he gets the words out faster it won't be true. And the wind is knocked out of me, like a bat smashing into my chest. Flesh and bones spewing in every direction, ricocheting from incredible force.
I hang up.
I call him, illogically hoping maybe she'll answer. But it's not her, and he utters coldly, 'What do you want to know, Sabrina?'
'How?,' I ask, followed by a quick, 'No, no, I don't wanna know!'
My voice unnervingly powerful. And I realize looking at my missed calls that he called me first. He wanted me to call my parents to inform them politely, calmly, that their first born just hung herself.
He wanted me to do it.
Not he who didn't try to hoist her body up and out of the noose, not he who ran out of the house screaming, not he who showed up to the police station with an attorney, not he who wouldn't let us in the house, not he who didn't fly to Michigan for her funeral.
He called me first.
But I don't know these things in the 3 a.m. moonlight of my Baltimore apartment. All I know right now are my tears and snot have soaked the sheets around me and my chest is heaving. So I call home again and hear my mom's voice followed by the thunder of my dad rampaging through the house a thousand miles away from me, smashing walls with his fists, bellowing with anger and fear and hurt so big his 250-pound frame feels like he might die from instant grief.
And I'm rocking myself hoping my breath returns.
I too feel like I'm hanging.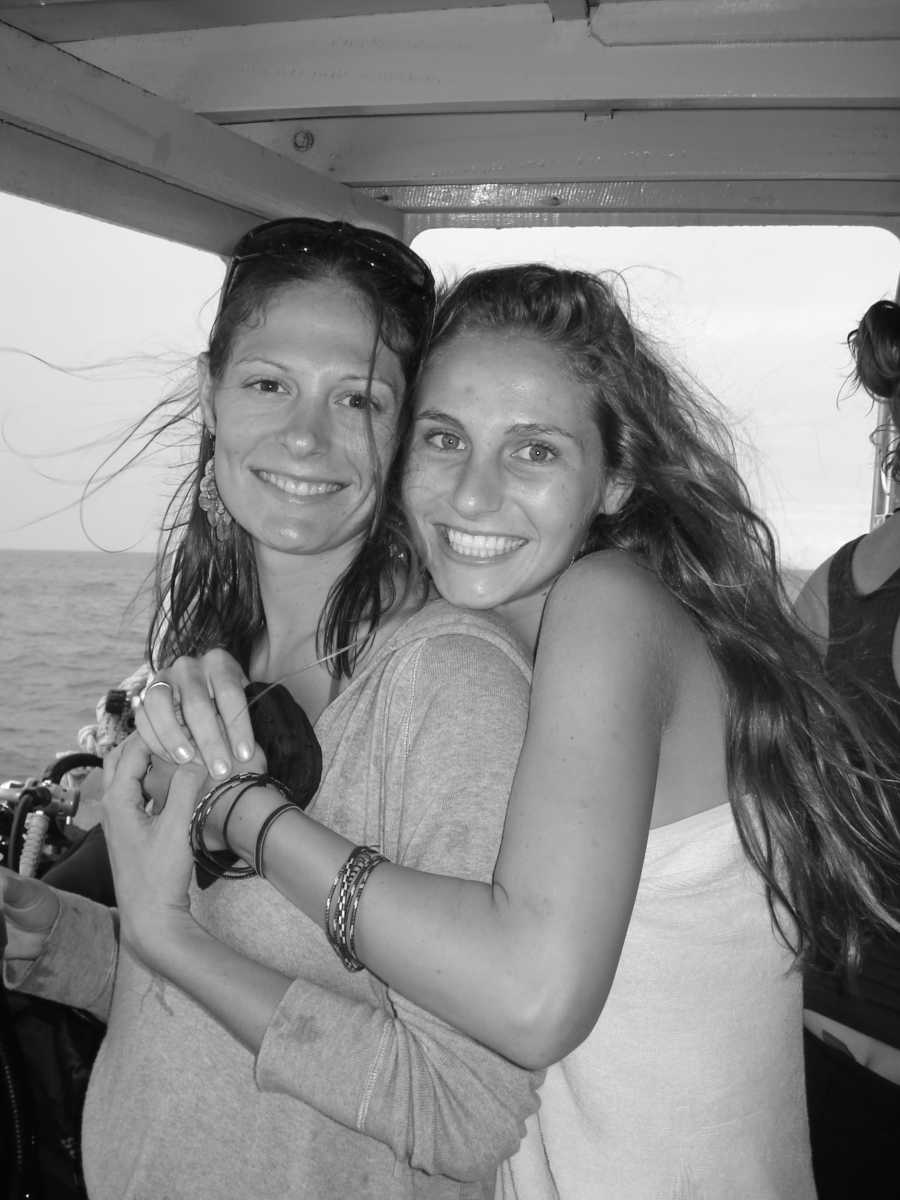 Days after she died, I stood in front of a packed funeral home and shared these words:
She'd suffocate you. With love. With hugs. With plans. With changed plans. With changing outfits. And with more changed plans. But mostly with love. Unconditional love.
All Miya ever wanted was someone to love her back.
When I was young, she'd creep into my room, scoop me up, and burrow me underneath her covers, forcing me to snuggle with her. Butt naked.
Her windows were always wide open in the middle of February in Michigan. I'd be so uncomfortable, nestled into the contours of her body, hot and sticky, her blankets stuffy. But, it was just so cold outside, I was left with no alternative other than to stick it out and fall back to sleep. Uncomfortable but safe.
I already miss those incessant phone calls, her 'You're my little Beeeeaaaaannnn Dip's!' and 'Hi, Boopers!' and, most of all, those 3 a.m. smothering, naked snuggle sessions.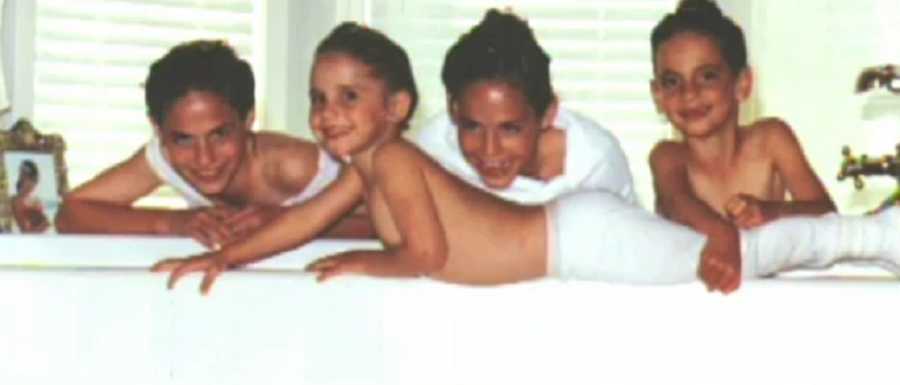 I wish I could cash in and take back every time she annoyed me and I told her to stop kissing me or poking me for just one more of our morning conversations. Or to get one of her famous, colorful, self-made birthday cards with her beautifully ugly handwriting. Or to hear her annoying 'dog talk' to Henley and Billy, 'Stinky #1 and Stinky #2.' Or to have her hop into the shower with me at the Big House, hogging all the water, as though she didn't realize our shower was only two-by-two feet wide. Or to enjoy how she'd bellow: 'Grannnndpppaaa Billyyy!' Or to leave her voicemail messages when 'Running Just as Fast As We Can' came on. Or to hear her call Kacee 'Dimples.' Or to listen to her and Britni joke about their 'Remember when…' anecdotes when Kacee would 'remember' and then they would say, 'It never happened!' Or to watch her characteristic hand motions, twisting and turning in mid-air while she spoke. Or for her to give me airplane rides on her feet. Or to hear her chant: 'Miya Must, Must, Must increase her bust!' Or to hear her sing and encourage: 'Sabrina, please stop singing, now, now, now!' if I was singing in the car and annoying everyone. Or to have her magically rub my leg cramps out. Or to hear her tell me how much she loves me and misses me. Or, most of all, to spend just one more night, suffocating in her sheets, just to feel her breathing.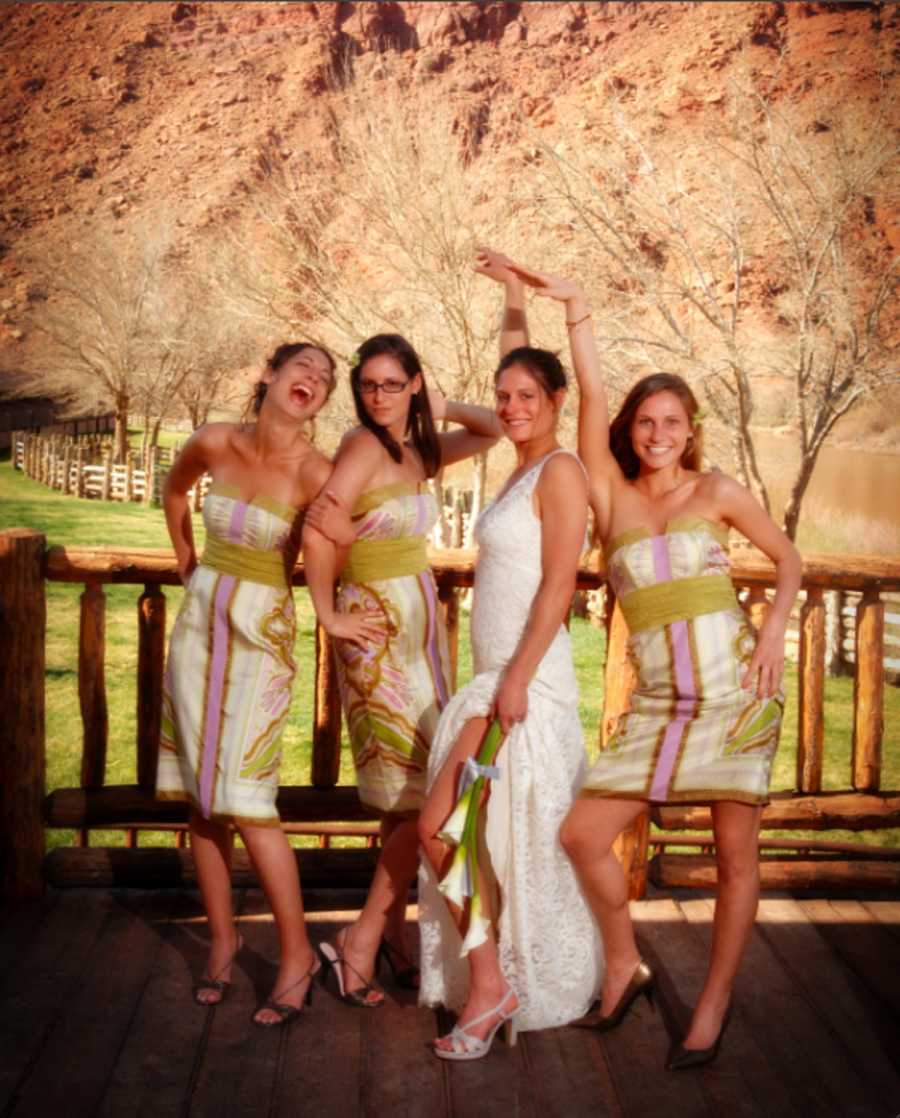 My sister was full of life, expressive, emotional, intense, loving, fun.
The sensation of touching her in the coroner's office haunts me, even 12 years later. I think about her purpled tongue wedged between her lips. I think about her skin, rubbery. I think about desperately trying to pull her bracelet over her tightly clenched fist, terrified her hand would just fall off. I think about my dad and mom hunched over, tears blanketing the white cloth that entombed her body.
Everything I considered easy and good about the world was shattered. I was infuriated with my sister's abusive husband, infuriated how immediately people wrote off her death as a product of being bipolar, infuriated attorneys wouldn't consider a wrongful death case because of her mental health history, infuriated my sister chose to leave me, infuriated with myself for not being able to save her.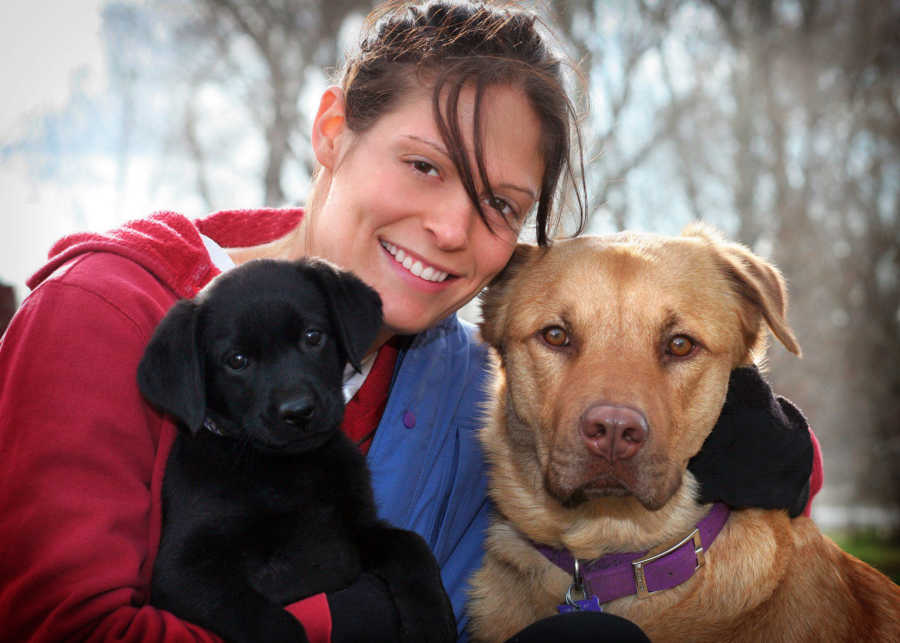 Two weeks after her funeral, we sat in chairs and on couches in an oddly shaped circle, the remaining 5 of us, my uncle, my cousin, and Rebecca (the medium). A dim, cozy office space in the heart of Denver, a pitstop on our way to Gunnison for the memorial service. We were riddled with confusion, not allowed in her home, not allowed to see her dogs, not allowed to pack her belongings, not allowed to have her phone or computer, and so we came here in hopes of unraveling the story a bit. Where did she do it, when did she do it, who was there, did her husband egg her on, how is she now, are Grandpa and Debbie (my mom's sister who drowned at age 6) with her? Questions and questions and questions obsessively consuming our minds for two sleepless weeks, searching for answers to a very complicated, muddled reality.
'Chicago, something about Chicago. Look there first. There was another woman.' My sister's husband was cheating on her with someone he met online from the Windy City, who in two days, to our shocking surprise, would introduce herself to us at her memorial service as an acquaintance.
'Who's making necklaces with all your initials on it?' 'Me…' I said, 'it was a surprise for everyone.' 'She loves that you're doing that.'
'Oh, and yellow sunflowers!' Announced out of nowhere. The words my sister Britni, in the car an hour prior, said Rebecca had to say out loud if she was going to believe any of this crazy sh*t.
You want to not believe it, because it appears hokey. Because you can't 'see' it. Because it's talking to the dead. But then all the details practically smack you across your face, like, 'Listen up! We're right here.' A medium bridges the gap between the living and the dead, sharing stories and specifics that no stranger would know. Not even the police knew some of what Rebecca shared that afternoon. You have to experience the magic for yourself to believe.
I left that session, almost 12 years ago, feeling a sense of hope, that even if my sister wasn't physically here anymore, she was protecting us. My parents and I in particular didn't feel as hopeless as we did two weeks prior in Gunnison when claiming her body. We arrived in that tiny town with a renewed sense of focus. We had to figure out what the hell had happened.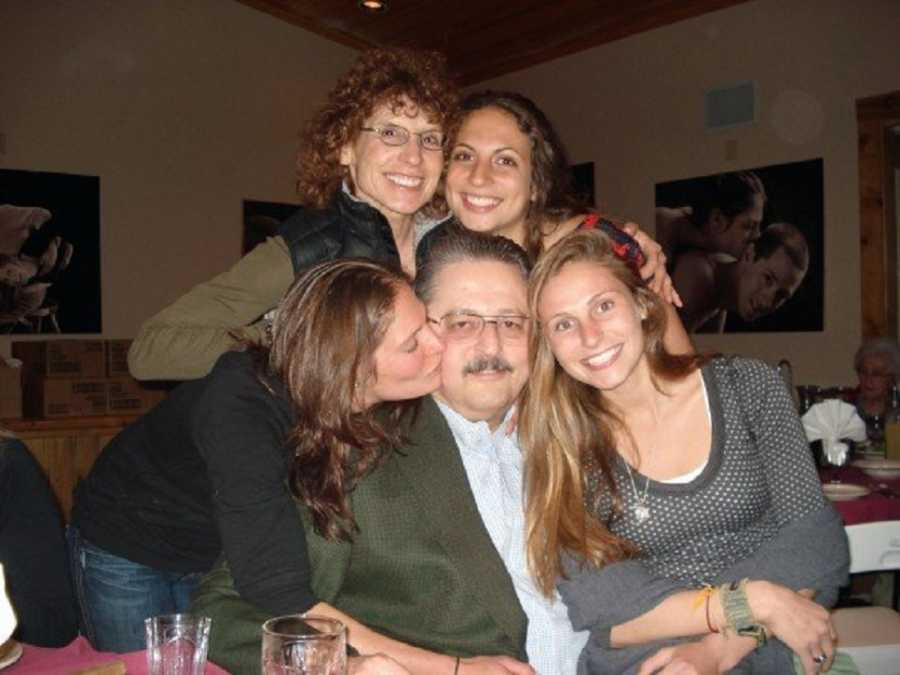 Though I haven't had a reading in over 9 years, I'll hear snippets when my mom or someone else goes. (My sister Miya is a VERY strong presence, and, during group sessions, she'll practically annoy a medium until he/she pays attention to her. Like a toddler tugging on your pant leg.)
Sometimes, I almost forget speaking to a medium to connect with Miya is an option. It's probably because I speak to her almost every day. I ask her advice, I talk to her (probably like a crazy person) on bike rides, especially when I'm missing her. 'Hey, Miy,' I'll say out loud, pretending she's racing me through the streets, giggling like we would have. Holding my hand out while writing on my couch late at night, as if she's next to me. And often saying, 'I love you so much,' as if she's on the other end of a phone call, unknowingly saying her last words to me back to her.
'I love you so much, Sabrin; I love you so much. I want you to know that.'
'I know, I love you too.'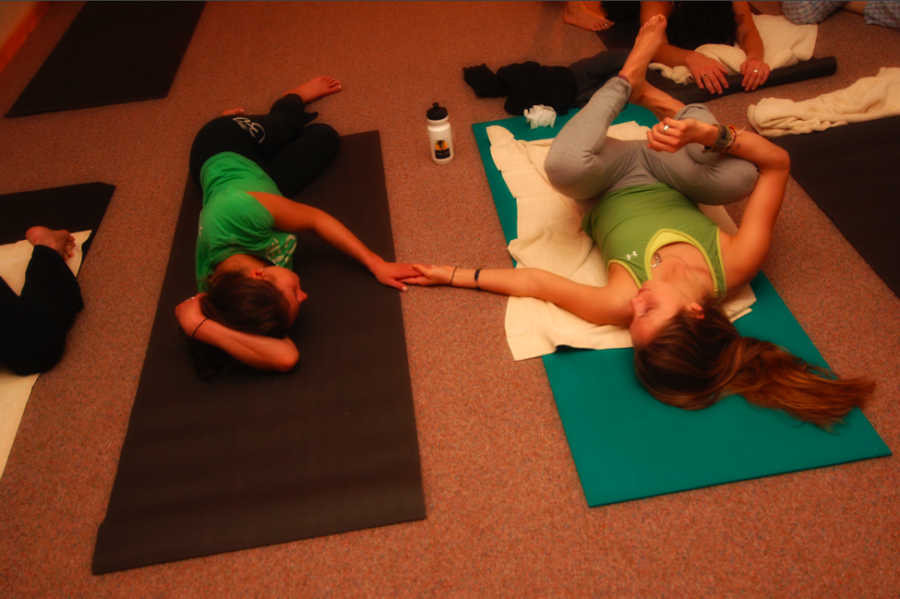 Last week my mom joined a small gathering of 8 or so people—all strangers—for a reading with Thomas John, a medium who has become quite famous. I told her I hope Miya comes through, to voice record it, and to call me afterward.
A few hours later, I stood in the living room at my friends' house, with the boys lounging on the carpet, my mom on speaker. She said in the middle of the session, while talking to another person in the group, Thomas stopped to say, 'I just heard Sabrina is too honest.' Hearing the words, I covered my face with my palm and cried. Like I could feel the honesty of the moment. The same sense of hope I felt back in Colorado, a sense of calming, Miya's way of letting me know she's right here.
Narrowing the space between the living and dead is what a medium seems to do best (or at least that's how I make sense of it). It's definitely kooky but it's one of the most undeniable truths I know because of the details shared.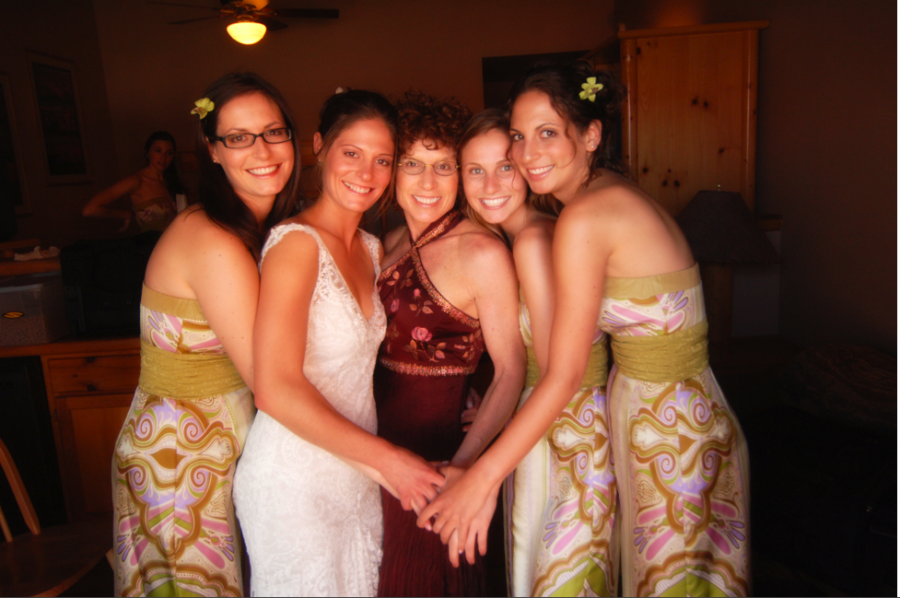 It's been 12 years. And while I still harbor immense guilt for not saving her and also anger toward her husband for encouraging her to kill herself, I mostly think about the goodness of my sister. How deeply Miya loved me, my family, and her friends. How she'd do anything and everything to make sure we were okay. That's what you must hold onto to celebrate someone.
I've learned if we listen closely and quietly, we can hear and feel them all around. They're energetically in the air we breathe, protecting us."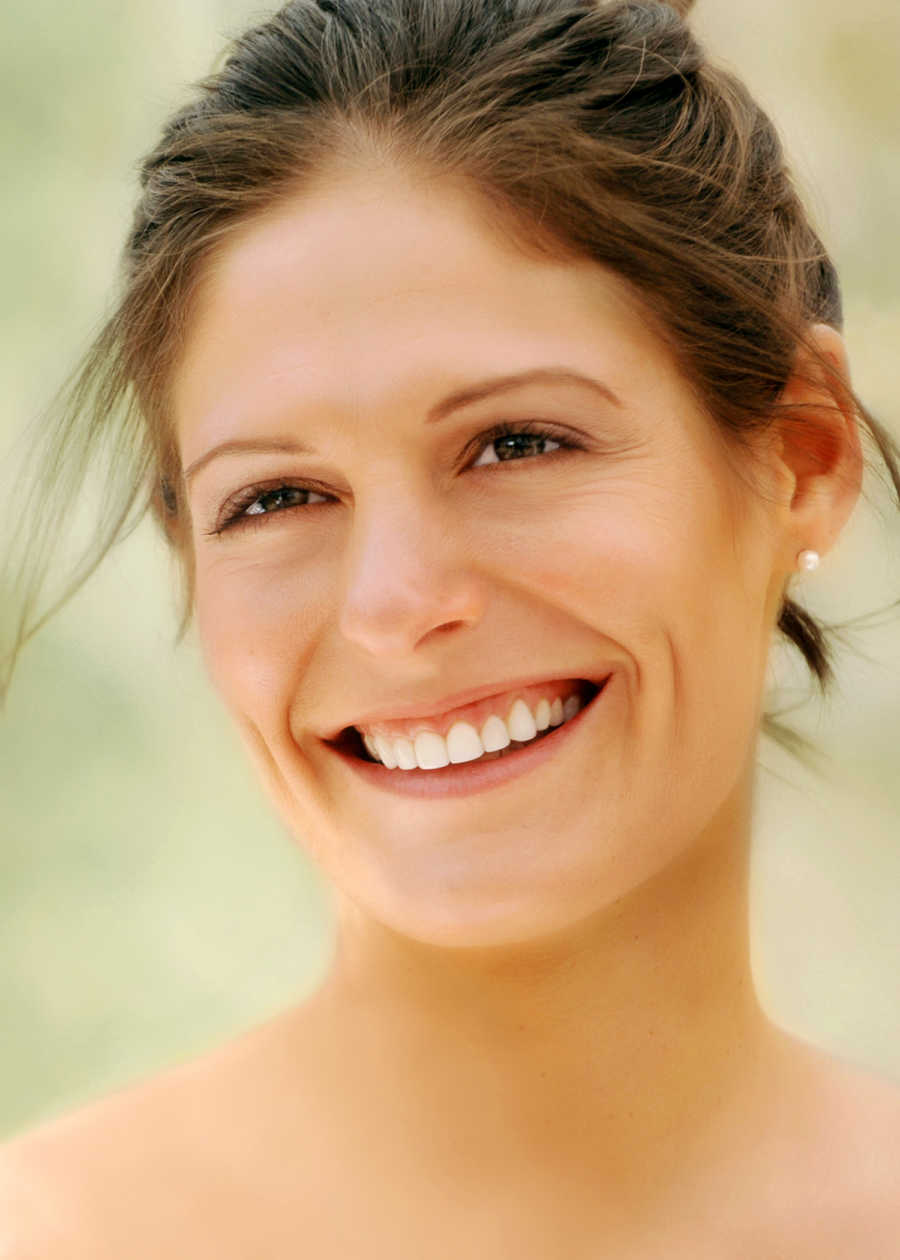 [If you're thinking about hurting yourself, please call the National Suicide Prevention Lifeline at 1-800-273-8255 or visit suicidepreventionhotline.org to live chat with someone. Help is out there. You are not alone.]
This story was submitted to Love What Matters by Sabrina Must. Versions of her story originally appeared on her website here and here. You can follow Sabrina's journey on Facebook and Instagram. Do you have a similar experience? We'd like to hear your important journey. Submit your own story here. Be sure to subscribe to our free email newsletter for our best stories, and YouTube for our best videos.
Read more powerful stories like this:
'I really messed up Will. I'll call you soon.' Nothing prepares you for this. I pulled over and lost it. I look back at conversations I had with my sister and tears run down my cheek.'
'Mom, I need you to know I love you. But I can't do this anymore. I'm at a bridge. I love you.': Mom recalls the 'unbearable' emotion learning of son's suicide attempt, 'I am NOT okay'
Spread awareness for suicide prevention. SHARE this important story on Facebook and Twitter.