"Only a few short months ago we were counting down the days to the start of summer break.
We spent family dinners talking about the stress-free days that were on the horizon.
We made big plans for fun activities, day trips, and memories that would last forever. Summer is the best, and this year we would make the most of it.
As often happens, reality fell short of our expectations.
Sure, there have been good times and laughter.
We stayed up late catching fireflies in mason jars.
We made cookies and had movie marathons.
We played in the sprinkler.
We built forts, had pillow fights, and made lots of art projects.
But, we also had a fair share of stressful days that didn't go as planned.
A day that was supposed to be spent having cannonball contests at the pool was dramatically called to a halt by me shoving everyone in the van like a lunatic when the kids refused to stop running around the pool – after being warned no less than a bajillion times.
An afternoon that was supposed to be spent making glitter slime was cancelled because the kids were even messier than normal, and I simply couldn't take it anymore.
Our trip to get frozen yogurt was cut short because my children were screaming like wild hyenas when one of them was 'touching' the other. I'm embarrassed to admit it, but that was my worst parenting day yet. I went to sleep with a sore throat from yelling.
What if these are the memories now etched in their little minds forever?
What if our hours spent building sandcastles together are forgotten?
When they think back on this summer beach vacation, will they remember mom complaining about having to haul all the chairs and buckets and toys and coolers and bags through the hot sand?
What if, instead of them remembering me cuddling beside them in bed and asking them about their highs and lows of the day, they remember me zoning out on the couch while staring at my phone?
I know exactly how I want their childhood to look. But, once again, my expectations have proved unrealistic and left me frazzled and disappointed.
Life has shown itself to be tougher than I thought it would be.
My feelings of frustration and stress have been impossible to keep tucked away from my family.
Surely there is still time? My oldest kid has 9 more summers for me to claim that precious real estate in her memories. We have 9 more summers to follow through with plans, to stop chasing the idea of perfection, and to enjoy each other.
Maybe next year, Maybe…
But also, maybe not.
Our kids will have plenty of good times to look back on with nostalgia, and, unfortunately, they will also probably have lots of junk to talk over with their therapist.
Try as I may, I will never be the cool mom who lets things roll off her shoulders.
I will never be the one who laughs at the huge mess.
I am the one who loses her temper, and then immediately regrets it.
Maybe one day, I will get it right.
And if not, that's okay, too.
I want my kids to remember a mom who falls down and gets back up. One who fails miserably, but keeps trying.
It's okay if they remember a messy mom who doesn't have it all together, as long as they remember a mom who loved them with all she had.
I want them to remember a house full of grace and second chances.
It's okay if they remember me completely losing my cool, as long as they remember my sincere apology that came in the morning, followed by me trying my best to do better – to be better. Imperfect people raising imperfect people.
If your summer has been less than absolute magic, it's ok. Our kids have the exact mama they need – summer meltdowns and all."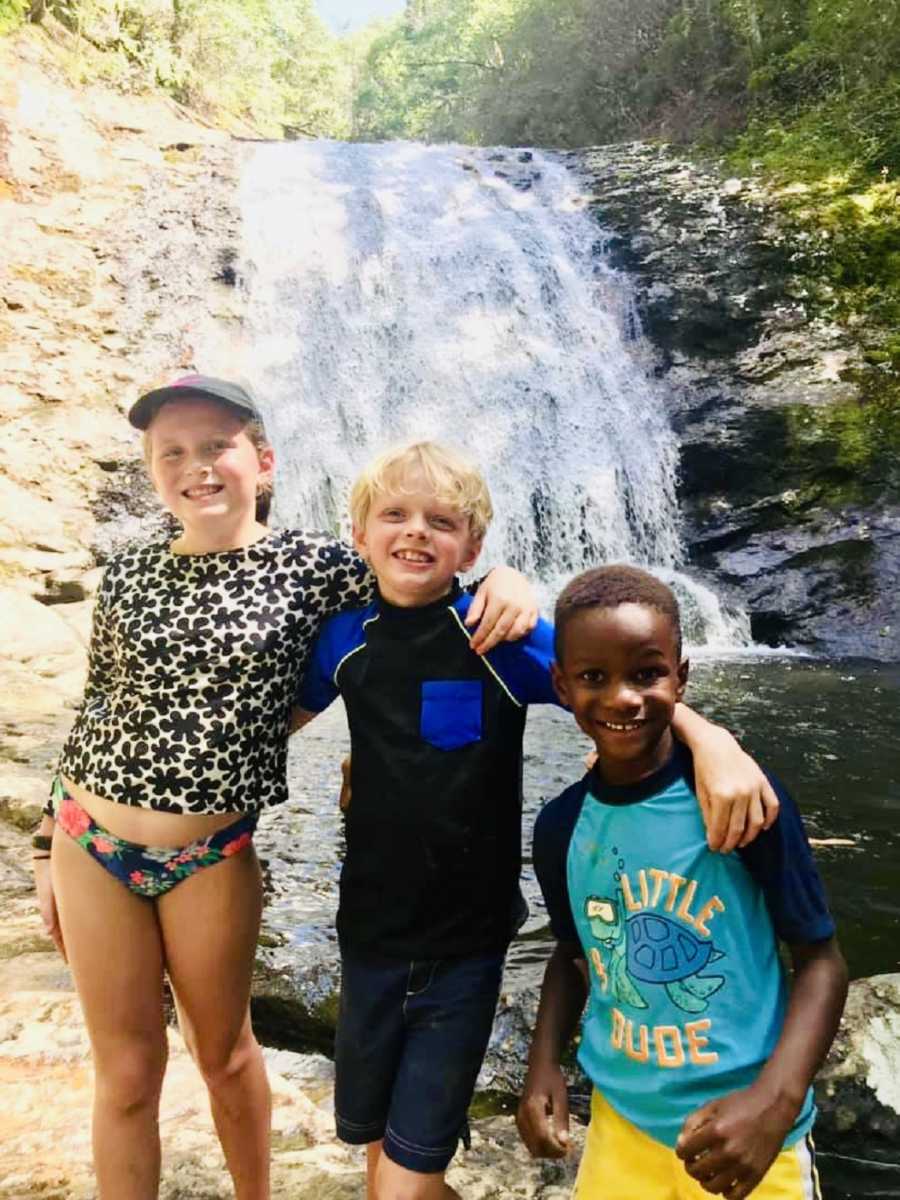 This story was submitted to Love What Matters by Stephanie Hollifield of Momstrosity. It originally appeared on their Facebook page. Submit your own story here, and subscribe to our best stories in our free newsletter here.
Read more from Momstrosity:
'I am done trying to cram him in a box he was never made to fit into. I have to let it go before it kills my little boy's spirit, or worse, our relationship.'
'Are they ALL yours?' My husband loves to whisper, 'Not all of them are mine. My wife went through a wild phase.'
SHARE this story on Facebook to encourage others to cherish every moment and love what matters most.