"On November 2, 2018, my mother, Stephanie Ann Stegman-Staats died of an overdose.
Addiction does not discriminate. It comes quietly through the back door then attacks like a lion to its prey. Its pain and grief spreads like wildfire through generations of family and wreaks havoc on anything in its course. My mother did not want to be an addict – she tried her level best to fight back and was very successful at times, but its demons always lurked in her shadows until it claimed her last breath.
I never stopped praying for her sobriety. For a relationship with her that a daughter dreams of. For her to know my own daughter and walk alongside me in motherhood. I always had an intuition about her wellbeing. The Lord woke me straight out of bed more nights than I can count after months, sometimes years, of not hearing from her; prompting me to get to her or call her immediately. Every time it was accurate – that she was in great need. I prayed more times than I can count that He would stop His promptings because the heartache was never easier; every time I drove away or hung up it felt like the first.
Exactly two weeks prior to her death I started being stirred. I had plans to go to her alone, but one hour before I left Kansas City, I told my husband I needed him to come and that I wanted my daughter there too. God began preparing my heart like only He can do.
She spent an hour in the driveway that Saturday in and out of consciousness playing sidewalk chalk with my daughter. We left that night and I knew it would be the last time I saw her this side of Heaven. For the first time in 25 years I did not drive away that day praying that God would perform an absolute miracle on my mother's body letting her live a life of sobriety, but that He would take her home, no matter the pain it left on earth – that He would take her home to be free once and for all of all of this suffering – to receive her new body.
He stands beside me the same today as He was that day, as he has the last 25 years, and as He will until His return.
This is the last picture I have of her. I am so thankful for it. It is my hope that the cruel disease of addiction that altered her life and, in turn, those who loved her most, will trend toward a broader degree of prayer for the addicted and a movement away from the stigma that those that struggle with this demon are just junkies; rather, that they are human beings of which Satan has strung his noose tightly around their necks. We should all be so lucky to escape its evil.
Anyone that loves someone that has battled addiction deals with it in their very own unique way, the best they know how for themselves and for their families. There are hundreds of resources on how to walk these roads, but every road is uniquely wound in its own way. I would urge you to respect every person's mode of coping, for we can never know their reasons for their own path.
I will never stop loving my mom and thanking God for her life. Until I see her again in glory."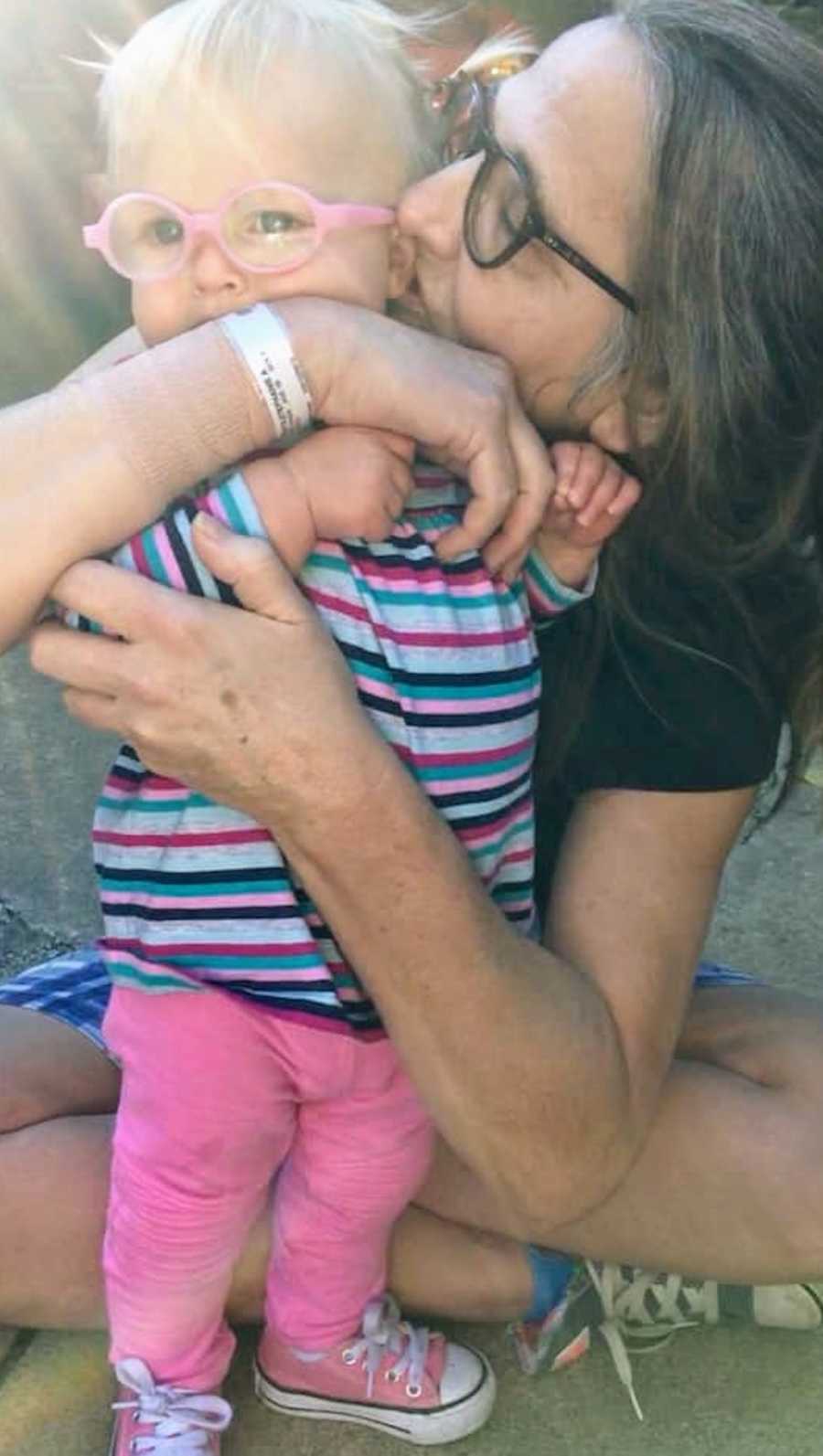 This story was submitted to Love What Matters by Lindsay Stamper of Kansas City, Kansas. Do you have a compelling addiction story? We'd like to hear about your journey. Submit your story here, and subscribe to our best stories in our free newsletter here.
Do you know someone who could benefit from this story? Please SHARE on Facebook or Twitter.