"These moments are fleeting, little man. No matter how hard I hold on, they'll slip through my fingers anyway.
That's life. Sometimes I wonder if I held on long enough.
But I hope a boy will always need his mom.
One day, your arms will dangle at your sides instead of reaching for me to pick you up. In fact, I think that has happened already. You won't need your sore knee kissed, or your cuddly, or my cuddles before bed. I'll remember the times I wished for my nights back and realize then, I got them.
And I'll hope, a boy will always need his mom.
You'll stop running into our bedroom in the morning, sometimes before sunrise, when our tired bones ache the most. You'll stop climbing into the sheets and demanding we get up.
Instead, I'll wake up and you'll be in the kitchen, pouring milk into your cereal. I'll look at you then and realize things are much easier now, and somehow harder too.
And I'll hope, a boy will always need his mom.
You'll stop calling out for me in the middle of the night; I won't know when the last time will be that I'll come running. You won't tell me you love me five times a day. I hope you still tell me, but it won't be with those little hands on my cheeks. It just won't. And that's OK.
And I'll hope, a boy will always need his mom.
You'll let go of my hand one day. You'll tell me you can walk the rest of the way to school on your own. You'll give me a hug that never lasts long enough.
I don't recognize your smell quite the same, but I still see a glimpse of those toddler cheeks and I'll wonder if I'll always see my baby.
And I'll hope, a boy will always need his mom.
Then one day, you'll be a man holding a baby of your own. I'll tell you he's an old soul just like you were. You'll smile because I'm teaching you things about yourself you didn't know and I'll smile because you've been doing that to me for years.
I'll know then, you'll always need your mom, but just in different ways. That's how I wanted to raise you.
So, I'll hold onto those precious cuddles. I'll keep picking you up. I'll run to you in the night as long as you call.
Because one day, even when you need me less, you'll know I'll be there."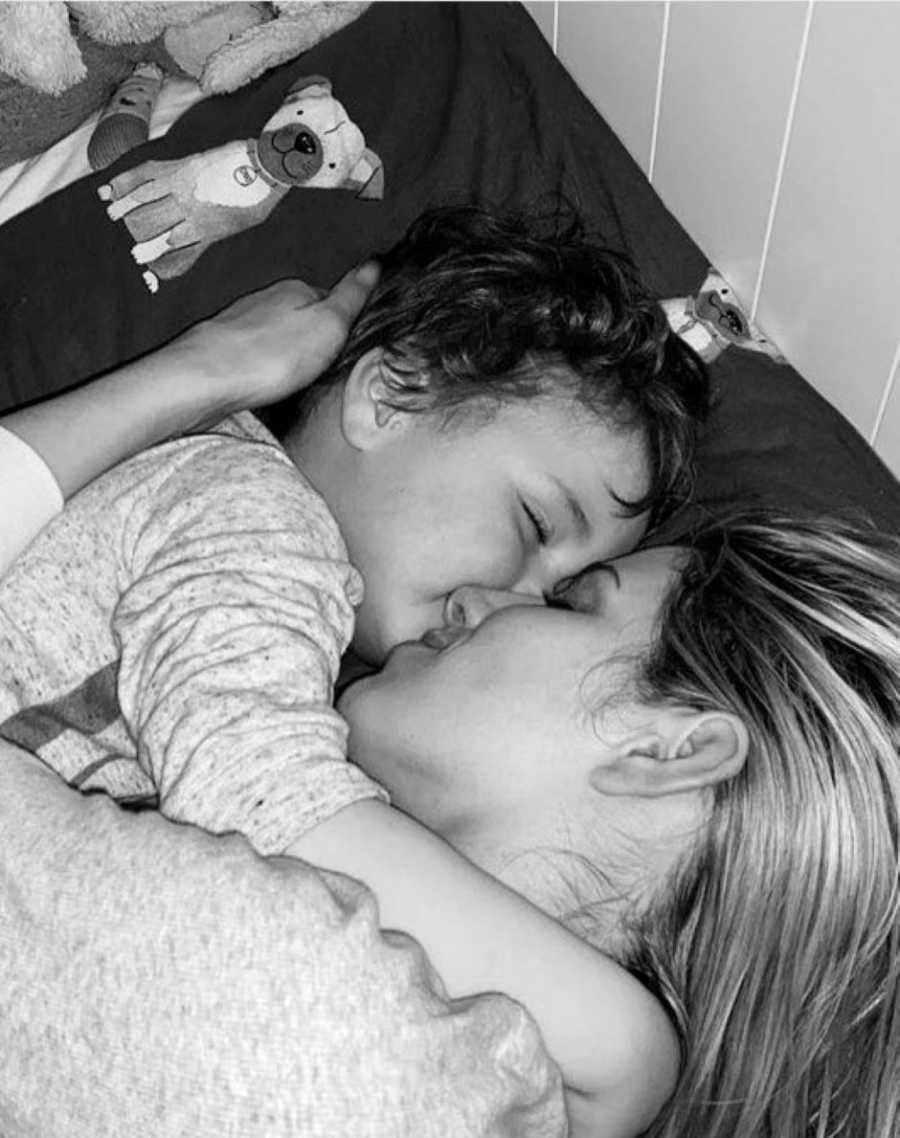 This story was submitted to Love What Matters by Jess Urlichs. You can follow her journey on Facebook and Instagram. Submit your own story here, and be sure to subscribe to our free email newsletter for our best stories.
Read more stories from Jess here:
'I remember your smile; it was the first reason I smiled. Thank you for teaching me love has no limits.': Mom pens sweet letter from perspective of toddler
'Ohhh so cute! Good for you for giving mom a break.' When my husband goes grocery shopping with one of the kids, he's a star.': Mom urges 'dads don't babysit, they parent'
'She is moving mountains, even when she loses her footing. She will never forget the pain of fatigue, but she'll find herself aching to breathe in those cuddles again.': Mom urges 'you are enough'
'Dear friend, it's still me. Well, sort of. I'm no longer popping bottles, I'm pouring milk into them. I'm canceling a lot and it's hard to explain why.': Mom to newborn says 'please keep inviting me, it means more than you know'
Do you know someone who could benefit from reading this? SHARE this story on Facebook with family and friends.