"I am a 32-year-old woman living with a chronic lung disease. I was diagnosed less than a year ago with CTEPH, after which I underwent open lung surgery, followed by another four lung procedures in a span of seven months. I spent a week in a coma, 6 weeks in Toronto General Hospital, and I've had more medical appointments and tests than I can count. Shortly after I was released from hospital, once I had learned to walk again, I decided I wanted a dog for a number of reasons. The prospect of a new dog would give me something to look forward to and, once I had him, something to care for, a reason to get out and exercise, and a companion for long days at home.
By profession, I am a commercial litigator. I spent 9 years in post-secondary education to become a lawyer. I am frustrated to be taking a year off of work to get treatment. And while, being sick really is a full-time job in itself, I was excited at the prospect of having a new pup to keep me company and to care for. In February, I submitted an application to an Ontario breeder for an Australian Labradoodle puppy. By April, my litter was born, and my parents kindly offered to buy the puppy as my 32nd birthday gift. Six weeks after the litter was born, my partner and I went to Halton Hills to pick our puppy. We were lucky to have first pick of the litter. When we arrived, the breeder opened the crate and all but two of the puppies came running out after us. The puppies, which had been labelled using colored collars, began climbing on us, on each other, wrestling with their litter-mates and generally acting as six-week-old puppies do. Two remained in the crate. 'Lime Boy' and 'Blue Boy'. Lime Boy couldn't be bothered to wake up. Blue Boy slowly wandered out of the crate and straight to me. I picked him up, he didn't squirm, he just nestled his little head into my chest and it was love at first cuddle.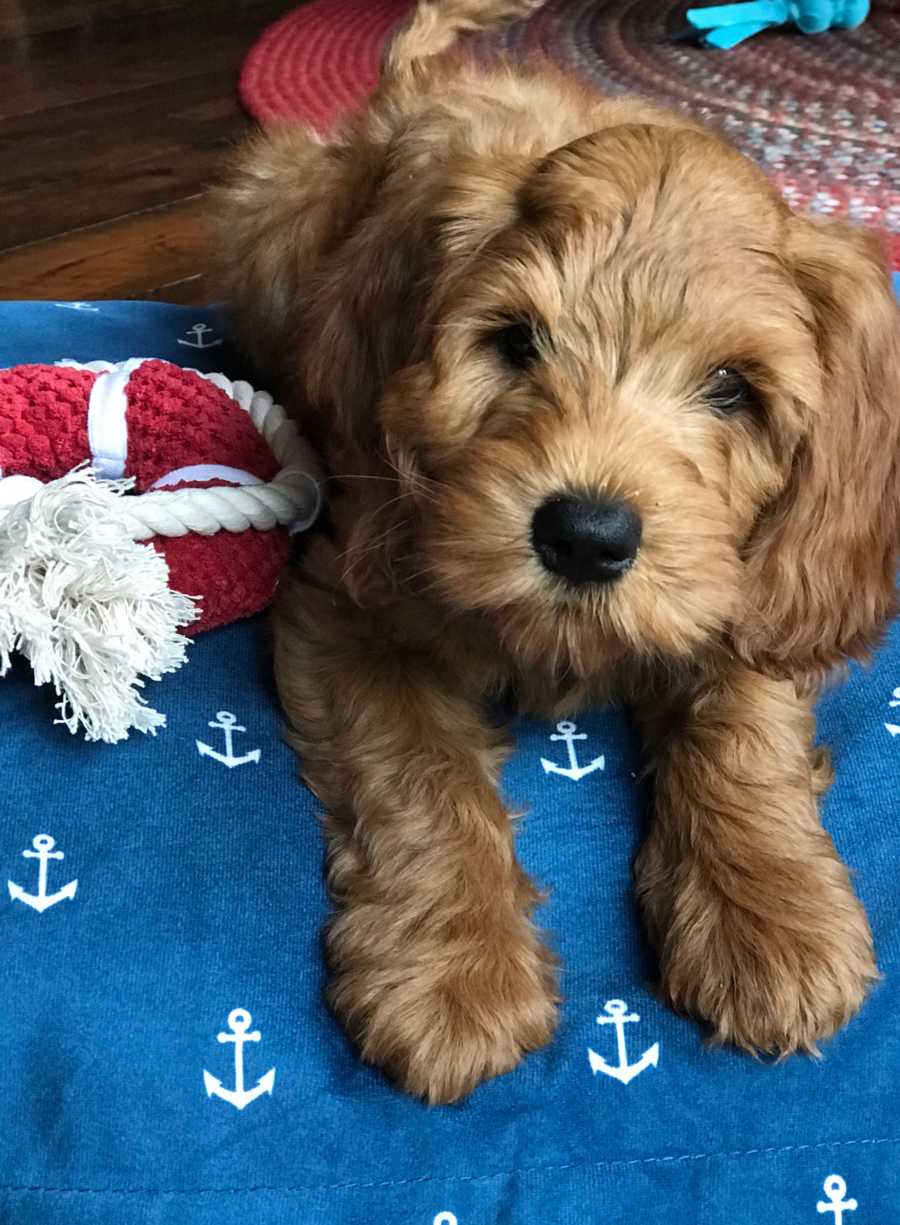 Two weeks later we were back at Halton Hills Labradoodles to pick up Blue Boy. We decided to name him Oscar – a name he seems to suit perfectly (though he is no grouch). We took him home and quickly learned that Oscar had lots of personality, was charming, and loved to cuddle. He rarely barks, loves to give kisses, and stays close to me always. At the dog park, Oscar would often hide under park benches away from the bigger dogs with louder barks. At home, he didn't care for his overpriced Casper bed – instead choosing to sleep next to my bed, sprawled on his back like a starfish, snoring away.
By the time he was 4 months, Oscar was getting used to walking on a leash, playing fetch, and was well into his puppy obedience classes. We were spending time at my family cottage in Muskoka, so I purchased a retractable Flexi leash from PetSmart, with the intention that I could use it at the cottage to let him have some distance from me. As a patient with chronic lung disease, I can hardly run after Oscar if he decides to take off. Most of Oscar's off-leash exercise is at a dog park, or in Muskoka where he plays leash-less for hours on end. I also liked that the retractable leash had a flashlight feature, which was useful up north, where there are no streetlights, for nighttime walks.
A couple weeks ago I was getting home with Oscar and, for whatever reason, I had him on the Flexi leash, not his standard 2-meter leash. It was locked so there was about 1-1.25 meters on the retractable leash. We got in the elevator on P2 and I pushed the 3rd floor button. While we were in the elevator, Oscar was playing with a leaf on the floor of the lift that had come in off someone's shoe. I gave him his 'drop it' command, like the good boy that he is, he promptly dropped it. By then we had arrived at the 3rd floor. Oscar got off the elevator first, with me following behind him. I was about 1 arm's length from the door of the elevator. I reached in my purse to grab my house keys, looked up, and Oscar was gone. I was wondering where he could be in an empty hallway. Then in a moment of terror, I saw that the leash in my hand led to the elevator door, which was already closed. The elevator descended from three to ground. Oscar, inside the elevator, was pulled to the top of the door. I know this because I later saw the stream of urine and vomit down the inside of the elevator door. I quickly pushed the elevator buttons, unlocked the retractable leash and prepared myself for the worst.
When the elevator returned, the door opened, and Oscar fell from where he had been hanging at the top of the door, to the floor of the elevator. For a moment he lay still and I thought 'Oh God, he's dead'. Then, miraculously, he popped up, shook his head, and ran into my arms.
I have had a very unlucky year. I've been diagnosed with a chronic and potentially terminal lung disease, I've had open lung surgery and spent a week in a coma, a month in TGH, and it seems no matter how many good luck charms people keep giving me, and how often people pray for me, the bad luck strikes over and over. And then the accident with Oscar happened and when I was sitting there on the floor with him, holding him, I thought, OKAY THE TIDE IS FINALLY TURNING!!
People will say I am ignorant, or careless or just stupid but, in my opinion good people can make mistakes, and there are mistakes that are commonly (or, repeatedly made), and that can be avoided by raising awareness.  In this scenario, the real mistake in my opinion wasn't using a retractable leash (though that is the story that seems to have come out of it). The mistake was having Oscar on any leash at all, so close to the elevator without having him in my sights the entire time. I should have walked further from the elevator with him, before digging for my keys.
In this case, actually, the retractable leash saved Oscar's life and he was lucky in that the circumstances, though tragic, aligned in a way that actually saved his life: we lived on the 7th floor of the same building until recently, if we still did – he'd be gone. If the elevator had been called up instead of returning to ground – he'd be gone. If he hadn't been on a retractable leash, that I was able to unlock and extend to 16 feet – he'd be gone."
This story was submitted to Love What Matters by Emily J. Pinckard, 32, of Canada. You can follow Oscar on Instagram here. Submit your story here, and subscribe to our best love stories here.
Do you know someone who could benefit from this story? Please SHARE on Facebook or Twitter