"This week, our school celebrates the end of the year with award ceremonies.
I have one child that has brought home a handful of awards year after year, and another who faithfully collects his lone participation certificate.
School is hard.
School is hard for my daughter who has never made less than an 'A.' She practices and prints off extra homework – partly because she enjoys it, and partly because the thought of failure invokes panic in her busy little mind.
It is hard for my son who fights to stay out of trouble. Studying and homework aren't his idea of fun, but he gives his all when he has it to give. His best will never look like citizen awards and scholar of the year certificates, but I wouldn't change him for the world.
School is hard, and success looks different on every child.
If you have a child who isn't getting many certificates or plaques this year, I want you to know that it's ok.
I realize it stings a little, because I feel it too – but mama, your child is worth celebrating. There may not be an award for them this year, but I think there should be.
There should be an award for the kid who didn't get it all right, but got a little better every day.
Sitting still and being quiet is dang near impossible, but they kept trying. For every thought that went through their tiny head but didn't escape their mouth – that's a victory. This year they learned a little more self-control and are able to concentrate a little longer.
There should be an award for the boy who just couldn't understand.
The words on the pages jumbled together, and the numbers in the equation just never added up how they were supposed to. He was frustrated and embarrassed, and sometimes he felt plain dumb – but he never gave up. This year he learned that sometimes you have to work a little harder, but that failing for a season doesn't make you a failure.
There should be an award for the child who faced mean kids, but still treated others with kindness.
What a sting to be excluded and talked down to. Instead of joining in and repeating the harsh words that echoed in their ears, they ignored it and found new friends to hangout with. This year they learned the weight of feeling unwelcome and the power of goodness.
There should be an award for the ones who are having a tough year at home because of family changes or loss.
They had constant thoughts and images from the days before running through their head while they tried to concentrate on the teacher's instruction. It's so hard to separate home and school life, but somehow they made it through. This year they learned they are stronger and braver than they could have ever known.
There should be an award for the student who spent much of the year questioning their identity.
They can't help but feel different, like they don't belong. Maybe they don't look like the others, or maybe they don't think like the others – but something in them seems out of place. Instead of shutting down and running away, they began asking tough questions. They began to find themselves, and this journey of self-discovery will lead to a happier life. This year they learned you don't have to fit in to deserve a space in this world.
There should be an award for you too, mama.
You meet your child where they are. You love them no matter their achievements or their struggles. You have given your all to help them get ahead.
You have spent hours with them in their tears and frustrations over flashcards, homework sheets, and projects.
You have held their tender words and their hopes and fears in your heart as it broke right alongside theirs.
It hasn't been easy, your baby is worth it.
We know that a certificate will never define our children, but we also know that they are worth recognizing.
Let's slow down and make sure our kids know we are proud of them.
Let's spend time with them taking count of all they got right this year – the things that can't be summarized with an award.
Let's not forget to celebrate, because we all deserve it!"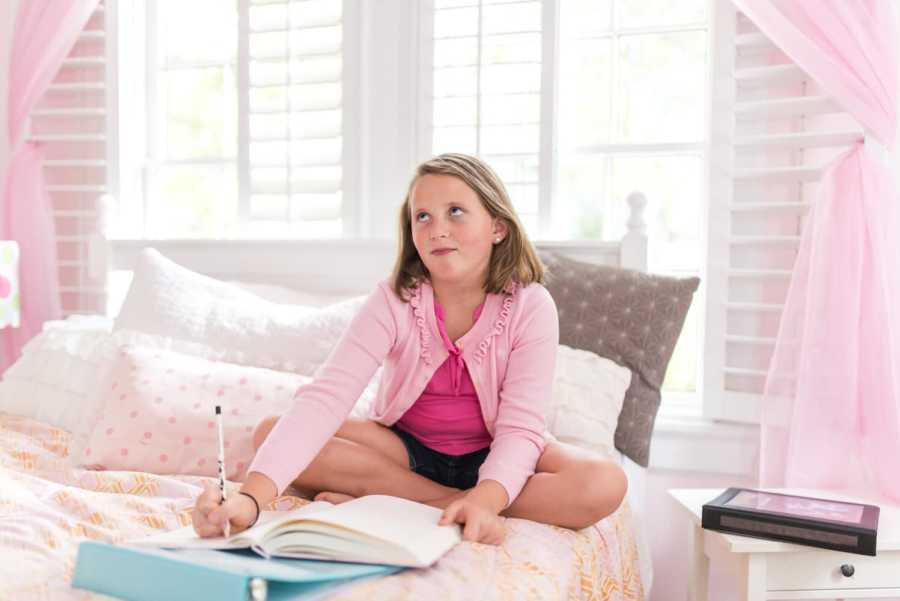 This story was submitted to Love What Matters by Stephanie Hollifield of Momstrosity. It originally appeared on their Facebook page. Submit your own story here, and subscribe to our best stories in our free newsletter here.
Read more inspiring stories from Stephanie:
'I am done trying to cram him in a box he was never made to fit into. I have to let it go before it kills my little boy's spirit, or worst, our relationship.'
'Let's hear it for the dads. The ones who don't 'babysit' – they parent. The ones who come home from work, ready to pitch in.'
SHARE this story on Facebook to encourage others to cherish every moment and love what matters most.