"Some days, you're gonna drop the ball. You're gonna forget the money for the pizza party, you're gonna be late for the 6-month well-check. You're gonna run out of whole milk, you're gonna say a bad word when that stupid Suburban cuts you off getting onto the highway. And your 4-year-old will repeat it later that week. Loudly. In front of everyone you know. Including the uptight church lady.
Some days, you're gonna snap at your husband. Some days, you're gonna forget to text your best friend back. You're gonna rely on paper plates and a frozen pizza from Walmart on your way home to carry you through dinner time. You're gonna forget to put the clothes in the dryer for the third time and everything you own is going to smell like mildew. Some days, your husband is going to call and say 'did you remember to fill out that form in the kid's backpack?' and you're going to scrunch up your nose and ask 'ummmmmm what form?'
Some days, you're gonna burn the pancakes.
And guess what? It's all gonna be ok. Everything is gonna be all right. Everyone is still gonna be alive (except for that pet frog you forgot to feed over the weekend).
Take care of your family. Love your friends. Laugh with your kids. Kiss your husband. Be kind to strangers. And stop expecting so much out of yourself. Give yourself the same grace you give to everyone else. See the same beauty in your reflection you see in everyone else. Perfection is not required.
So, toss those burned pancakes in the trash, have a good laugh, and try again. You've got this.
And if you don't 'got this' today, ehhhhh…you'll get it tomorrow."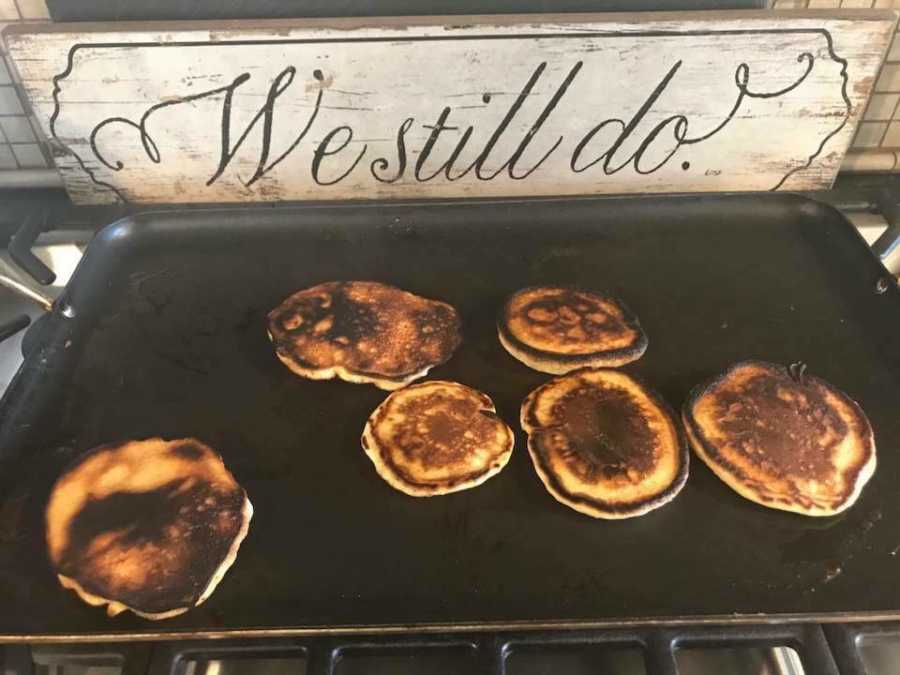 This story was submitted to Love What Matters by Amy Weatherly. The article originally appeared here. Submit your story here, and be sure to subscribe to our best love stories here.
Provide beauty and strength for other women. SHARE this story on Facebook with your friends and family.