"I am an adopted Korean American from a small rural town in update NY. My now husband and I were in Kindergarten together and attended the same school until we graduated high school. His Mom lived down the street from my family (still does) and I always remember she gave out the biggest handfuls of Halloween candy. But we never dated until we both ended up in San Francisco. After a decade of dating, we finally tied the knot. I knew I always wanted kids. Being adopted and knowing my mother's journey to motherhood, I had a lot of concerns and have always been paranoid about not being able to have a biological child. I always dreamed of having someone who looked like me since I never had that growing up (I know, selfish).
Both of us loved to travel. I got a bunch of trips in before even trying to get pregnant. But I imagined I would take our baby everywhere and they would see everything. So many things I already started imagining, like so many people, even before we started trying. We were trying before the pandemic started; when Covid happened, we had the conversation of whether we should we keep trying. We decided to knowing this pregnancy and our baby's first bit of life would look different in a pandemic.
Months after months of trying, I remember thinking that month, 'Well, this isn't the month, maybe next,' but decided to test anyways. To my happy surprise it was positive. We were beyond thrilled, but it didn't feel real yet. We decided not to till anyone until after things were a little further along. With Covid, first appointments were pushed back and I didn't see my doctor until I was about 11 weeks along. I, like many during the pandemic, went to my appointment alone. I had never been pregnant before and hadn't told anyone. So, I sat there waiting in the doctor's office, watching all the other pregnant women going to their appointments alone. I started to feel sad thinking of the women further along alone. I texted my husband saying how hard it must be and he reminded me I was one of them.
Everything looked good, still I was so happy; I was in disbelief. We went back 3 days later for an ultrasound and again everything looked good. We waited to tell family until after our standard genetic tests came back and we did our ultrasound. Everything looked great. We were dying to know the gender, not because we wanted one or the other, we just wanted to know! All we kept saying was we just want a healthy baby. A small part of me wanted a girl. I wanted a mini me, especially being adopted, I wanted to look at this baby and see me.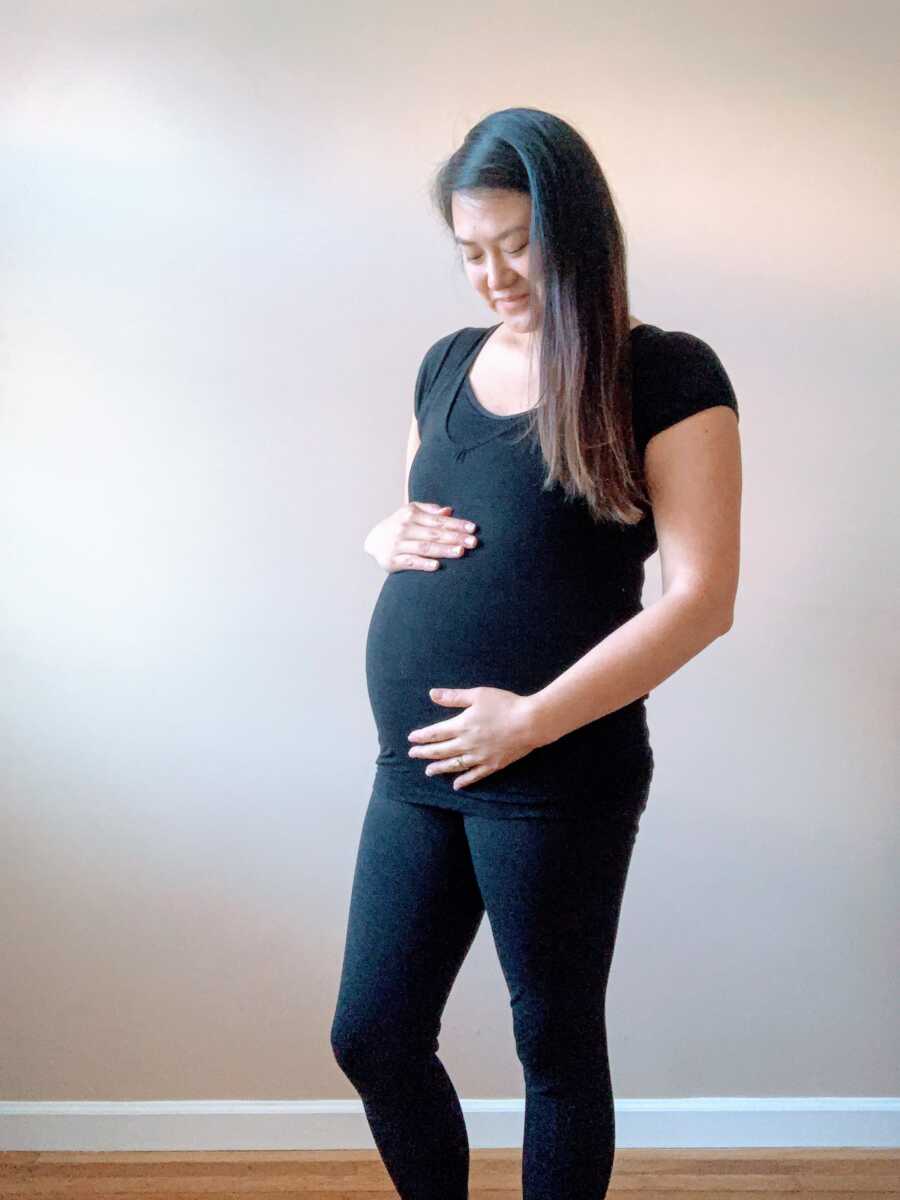 Other than being super sick during my first trimester and barely able to drink water without gagging, I was that pregnant person other pregnant people hated. I was happy, comfortable, and oddly looked better than I had in a long time. I still look back at pictures and think, 'I'd kill for my pregnant body.' I had more pregnancy symptoms of cravings, swollen body parts and pain before I was pregnant. But this pregnancy was going so well. I wasn't gaining much weight, so we did another ultrasound and baby was still looking good, measuring just below average. Kicking and moving, I constantly sent my family videos of my belly. I loved feeling her move. Looking back, these movement memories are bittersweet.
Like many during 2020/2021, my pregnancy was different. Most of my family on the east coast, I didn't have a baby shower, no belly rubs other than my husband and my doctor. I facetimed my husband during our doctor's appointments; he wasn't there to hold my hand through them or listen to her heartbeat. But we planned this, we knew what we were getting into. The Virgo in me planned everything. We had all the stuff for this baby. A picture perfect nursery and I was ready. We didn't do birthing classes or prepare. I wanted to go in blissfully blind; the classes seemed more stressful. But we were ready, in fact early, because I thought she would come early. Entering 40 weeks and nothing…dilated but no real sign baby was coming. I ended up being induced at 41 weeks, on Feb 9th at 11 p.m.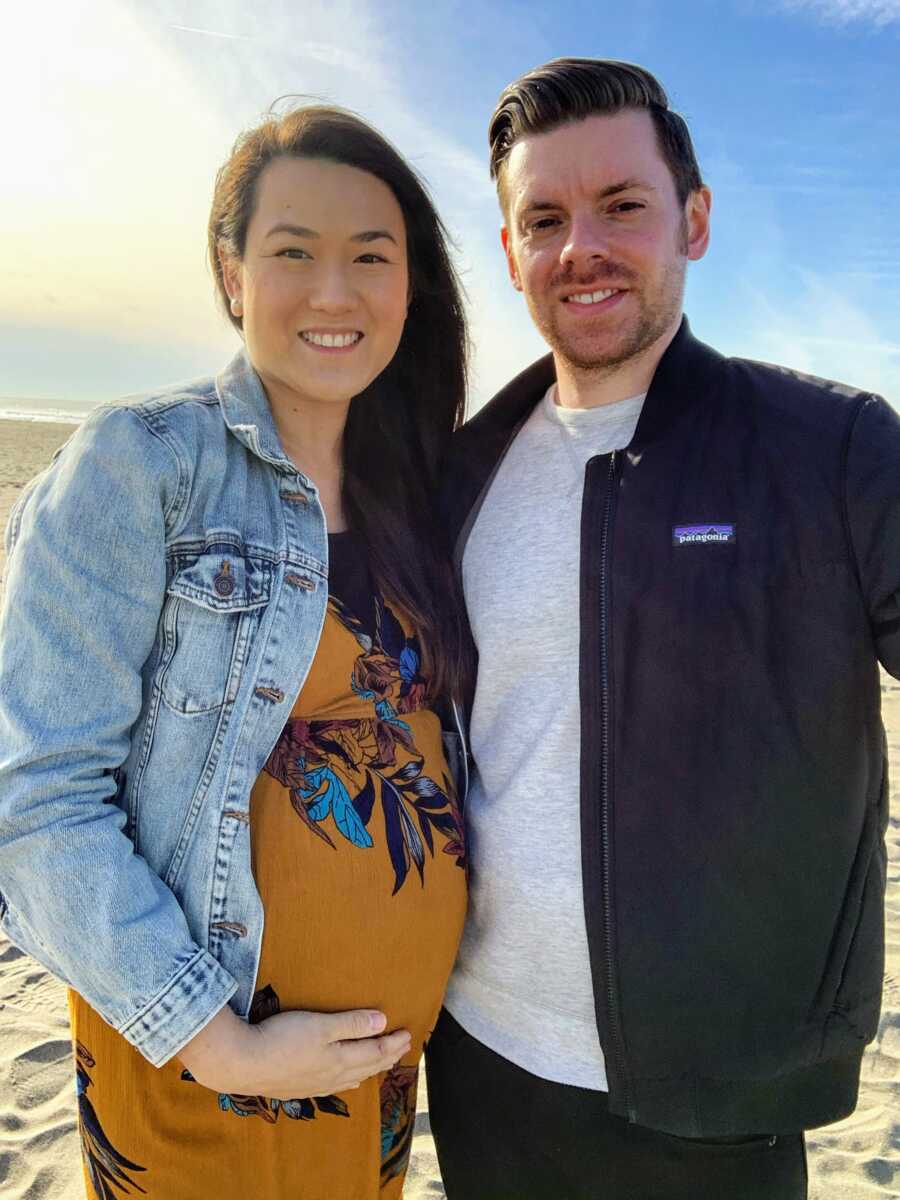 I decided I wanted to try without pain meds. Everyone advised me against this because they said induced contractions were more painful. On Feb 10th, at 4:30 p.m., I finally started pushing. A doctor came in and said, 'Has anyone talked to you about having a big baby?' I was like, 'No, they told me she was measuring just below average.' My husband and I are not big, there was no way this baby was going to be big, or so we thought. We ordered burgers and milkshakes, the nurse laughed and said an odd choice. When they arrived I was too busy to eat, but told my Steve to. 4 hours later, after they kept saying this baby was coming any time, I was still pushing without pain meds. At hour 5, I asked what my options were. None of them sounded like anything I wanted and I said, 'No, I can keep going.' I remember telling the nurses and doctor, 'This is going to be my first blood relative, I can't wait to get her out and hold her!'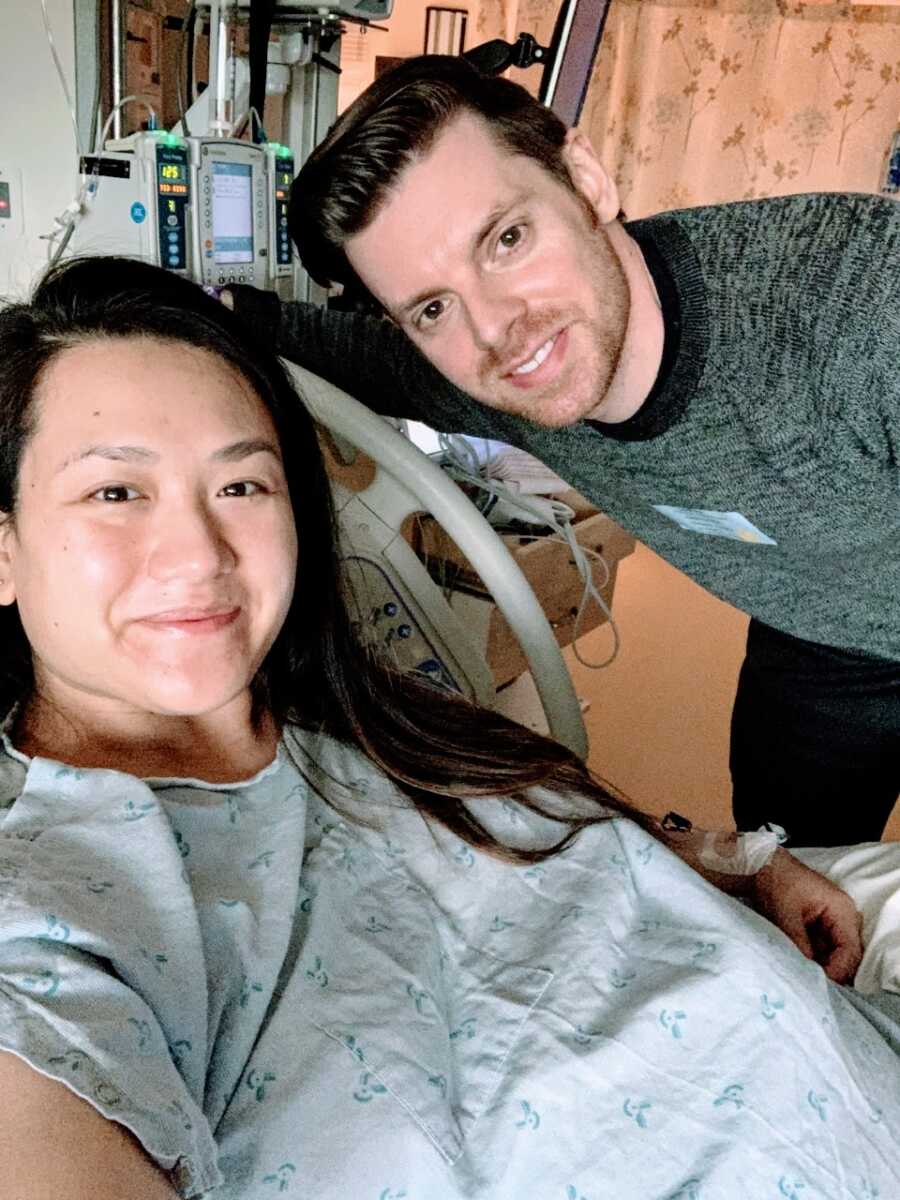 Over 6 hours later, with the help of my amazing doctor and husband, our big beautiful 9lb baby girl was born. My husband texted our family, 'She's out and healthy.' It was before we knew any different. For a brief moment, we had our healthy baby just as we imagined. I was able to hold her for a few minutes before they took her to the side of the room. She wasn't breathing great and they were a little concerned but thought maybe just from the long labor. She started to become stronger and was brought back to us. We held her close and decided on Leah Louise Gaddis. Louise after my Grandmother. She was the cutest baby ever! I had my first blood relative. I was beyond happy, how could I be this lucky! We had our skin to skin moment and she started sucking to feed. It was just perfect.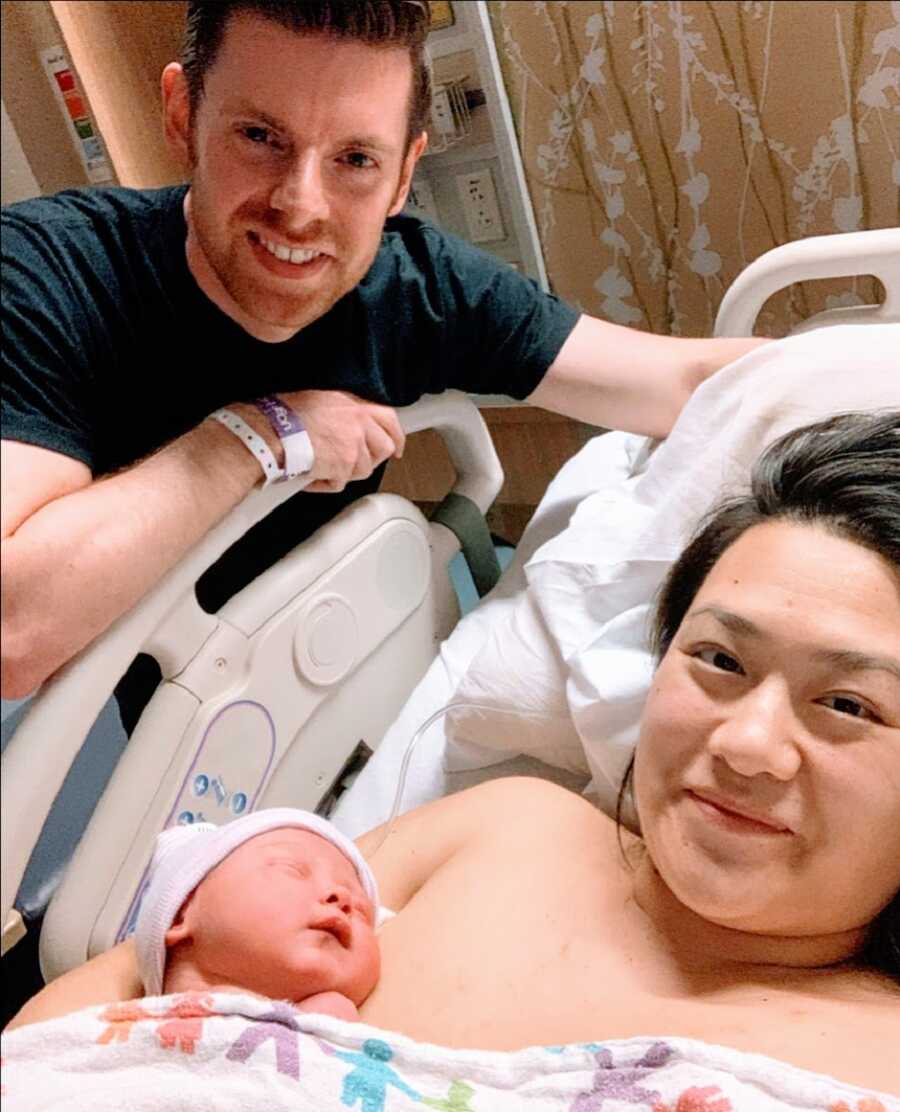 She had a small ear tag on her left ear. I remember looking at it thinking, 'Oh, I hope no one makes fun of you for this. Good thing you're a girl, your hair will hide it and if it bothers you, I'm sure we can fix it.' Little did we know this would be very least of our problems. Since Leah was a little floppy and needed a little oxygen right after birth, they wanted to monitor her in the NICU for a few hours. We went and waited with her. I remember a nurse giving her a pacifier and then looking at me and saying, 'Oh, is that okay?' I was livid. I was so concerned she would have issues feeding or something from this.
We all went back to our postpartum room together. I remember thinking, 'I'm not even taking that many pictures because I just want to be so present with her.' We hovered over her, changing her diaper, not knowing at all what we were doing, but laughing and smiling through it all. The next day, doctor after doctor came in to examine Leah. They were concerned because she had an ear tag, trouble breathing for a few moments, and seemed a little on the floppy side. But every exam she was stronger and stronger. The doctors seemed happy with her progress. They took her blood sugar and it seemed a little low. So we started giving her a bottle since she needed more than what I was offering.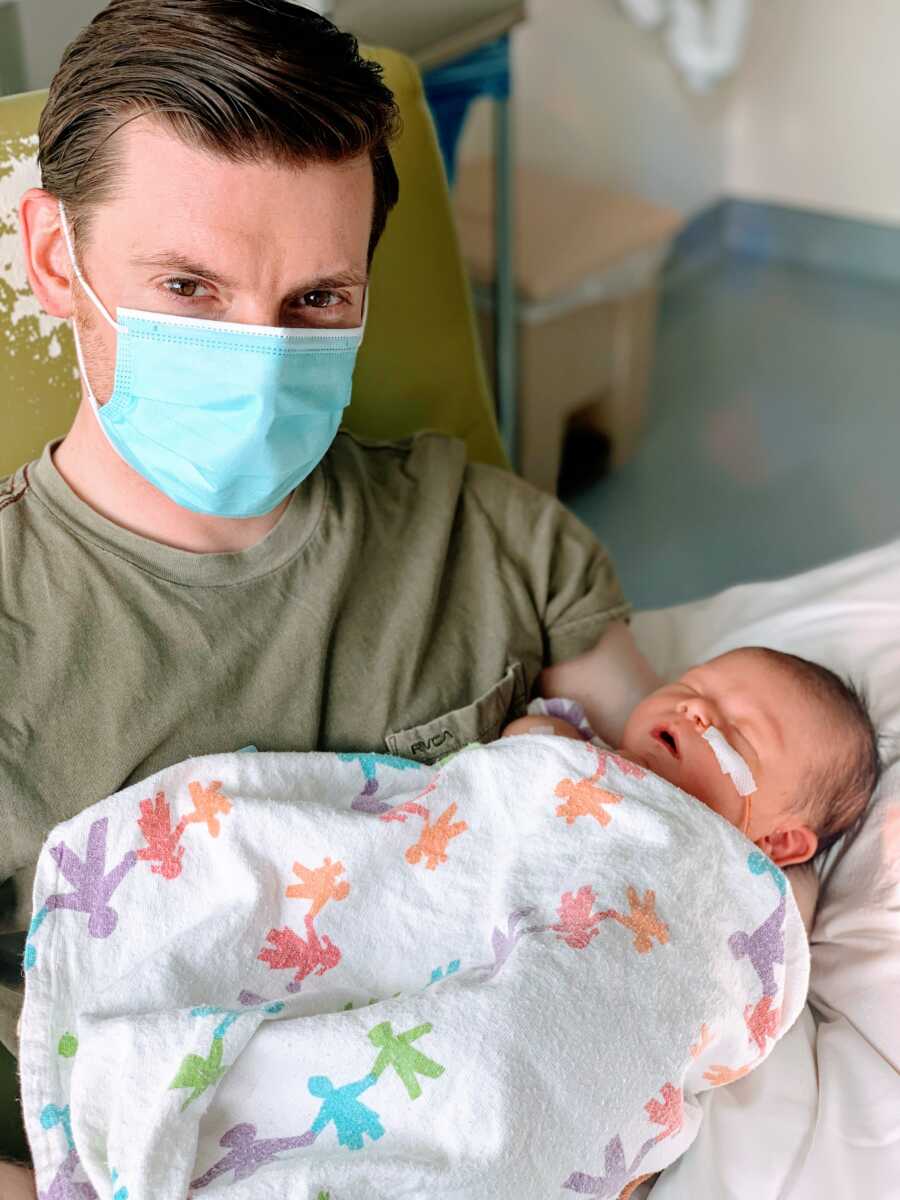 We barely had any time alone for Leah's first day. SO many people in and out examining her. I barely held her and my husband only did twice. No pictures really, just lots of doctors in and out. They decided as a precaution it would be best for her to do her next night in the NICU just to be monitored and be safe. I followed. With Covid, only one parent was allowed at night, so Steve stayed behind. I held her and noticed she didn't want to feed. Moments later, she had her first known seizure in my arms. Her stats alarms went off and the nurse who was already in the room helped. She immediately got connected to more monitoring and an EEG. As I watched my newborn having a seizure, my empty womb could feel those movements. I knew in my gut she's had these before, inside of me, the place she was supposed to be safe.
I was wheeled back to my room to update my husband. He wanted me to rest; I had been through so much and hadn't slept at all yet. I couldn't though, I just wanted to be with her. The postpartum nurses came in, examined me and prepared me for breastfeeding. I broke down as one nurse came in. She was pregnant, rubbing her belly and helping me collect colostrum. They didn't realize my baby wasn't here, my baby might not live, everything was not okay, why were they talking to me like everything is normal?  They began test after test. Doctors came in to talk to us. Neither of us had slept or showered in days. I probably had birth still somewhere on my body. I was wheeled back and forth, back and forth, to see Leah. Unable to hold her and just staring at her covered in wires and monitors. She was being poked and prodded to find out what was the cause.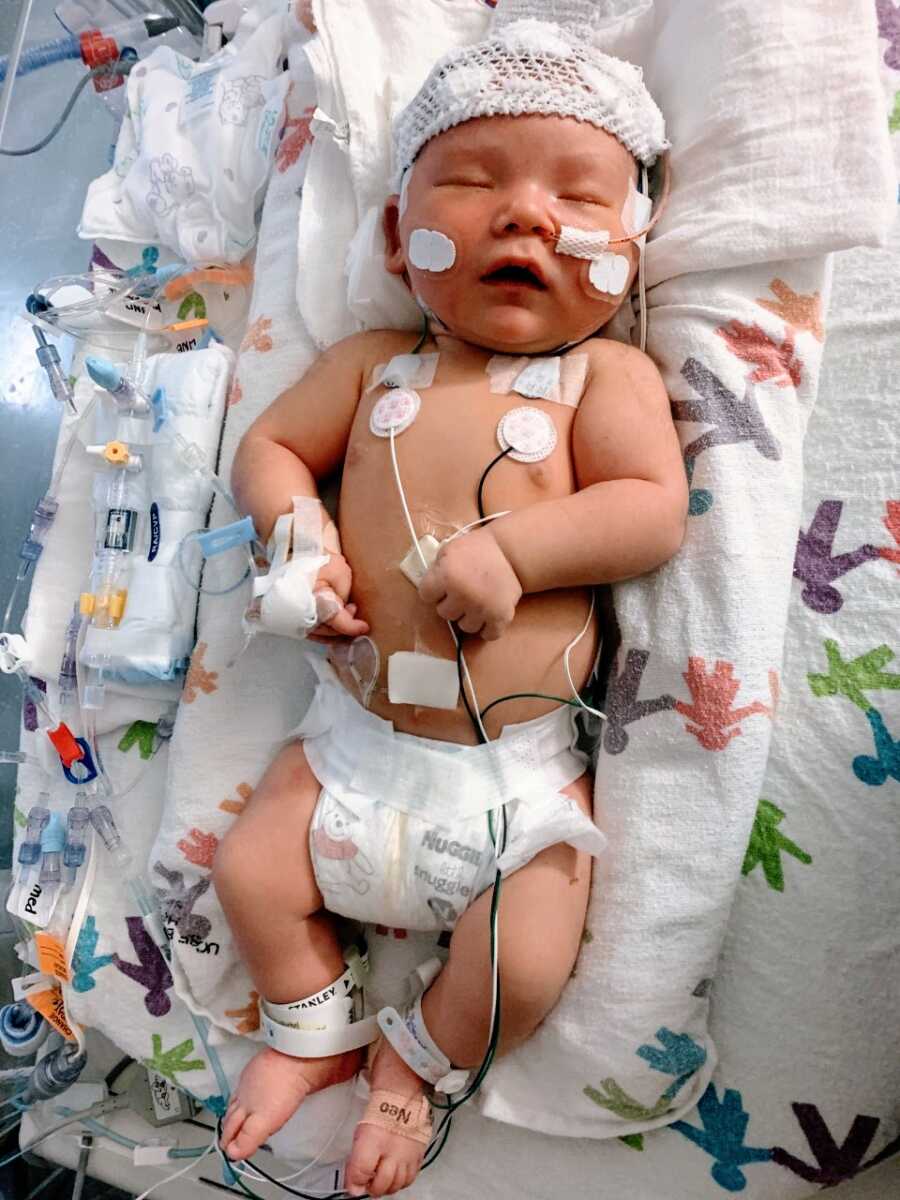 The nurse came in to discharge me. She asked my pain level, and I said, 'I have no idea, I'm honestly numb. How can you discharge me? My baby is still here.' They allowed me to stay another night and we prepared to come home without our baby. The drive home unbearable. Steve carried the empty car seat inside. He got me inside and settled and left to park. I immediately went to her room and found myself in a ball on the floor sobbing harder than I could ever imagine. He walked in and covered me with his body. I moved her bassinet and other baby things to her room and closed the door. At this point so much was unknown, I didn't know if I'd ever bring our baby home.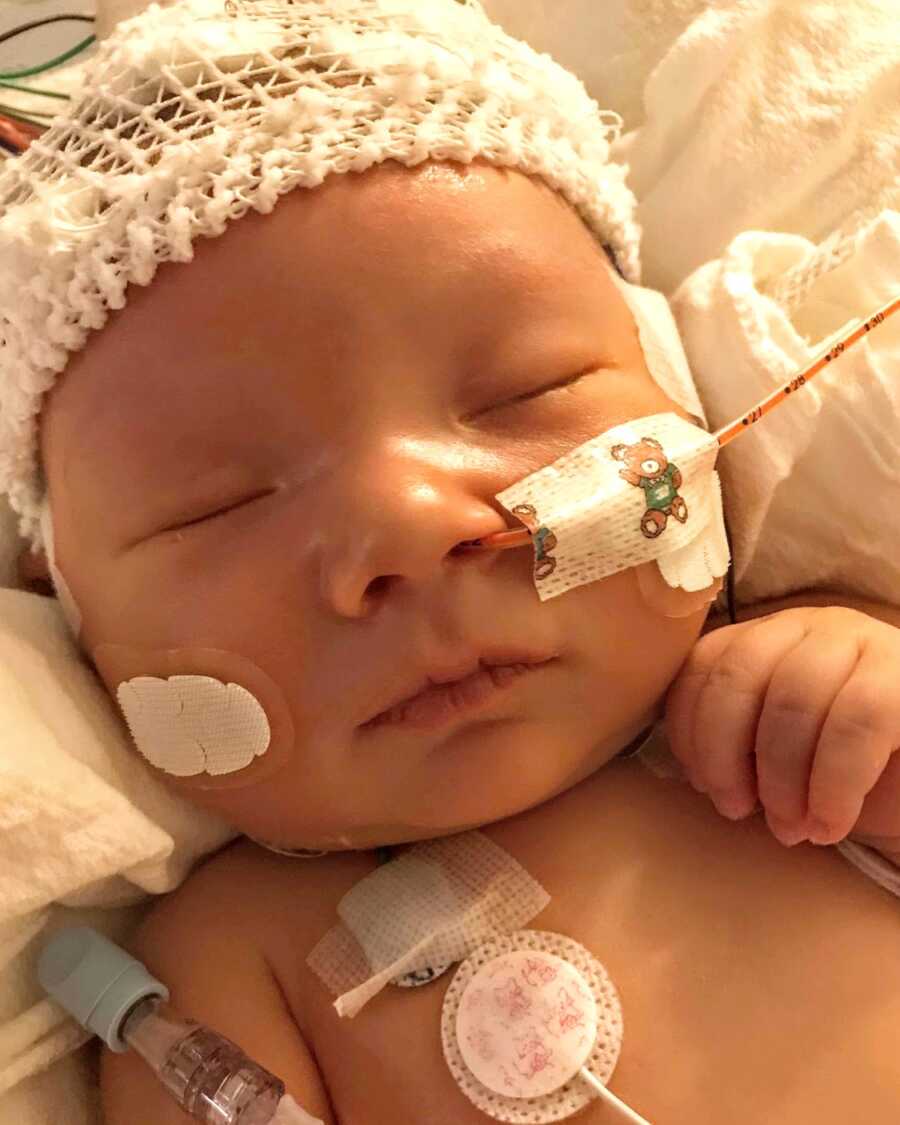 The next 3 weeks we waited for a diagnosis while we went back and forth to visit Leah in the NICU. I dreaded every 415 area code phone call, thinking at any moment they would call to tell me my baby was dead. I came home from the hospital every night and pumped every 2-3 hours, looking at pictures of Leah I had taken. I started timing my pumping to when I knew she would be tube fed from one of the nurses. I left notes for nurses, making sure I was there for any first. I wanted so badly to be there all the time, but my husband forced me to rest, which I needed.
Every test was coming negative. The doctors and us knew this had to be genetic, and the worse case scenario. I found out alone in the NICU, while my husband dropped me off early – Leah had infantile epileptic encephalopathy. A diagnosis no one should ever receive alone. I looked at the masked doctor in disbelief as she said developmental delay would be moderate to severe. If she is able to be mobile at all, she will probably need some sort of assistance. I had to tell my husband immediately. He heard over the phone from me, neither of us being able to comfort each other. I thought back to the moment she was born, when she was 'healthy' and how I was worried about how people would react to her ear tag, now flooded with emotions of how people would react to my disabled baby and daughter.
There were countless times doctors came in to tell us some horrible news. I was desperate to do anything for Leah and kept pumping, it made me feel like 'mom.' I remember being alone holding Leah as she cried nonstop and my breasts leaking. I could feel it running down my body while hearing some horrible diagnosis. The hospital made an exception and allowed both of us to come in early. They wanted to have a family meeting. I've seen this on TV shows: a bunch of doctors and a social worker around a table about to give you horrible news. They again went over what infantile epileptic encephalopathy meant for us and how it would change our lives forever, how nothing would be what we imagined. How if she was able to walk she may need support, she may not be verbal and the likelihood of her ever living on her own was almost nonexistent.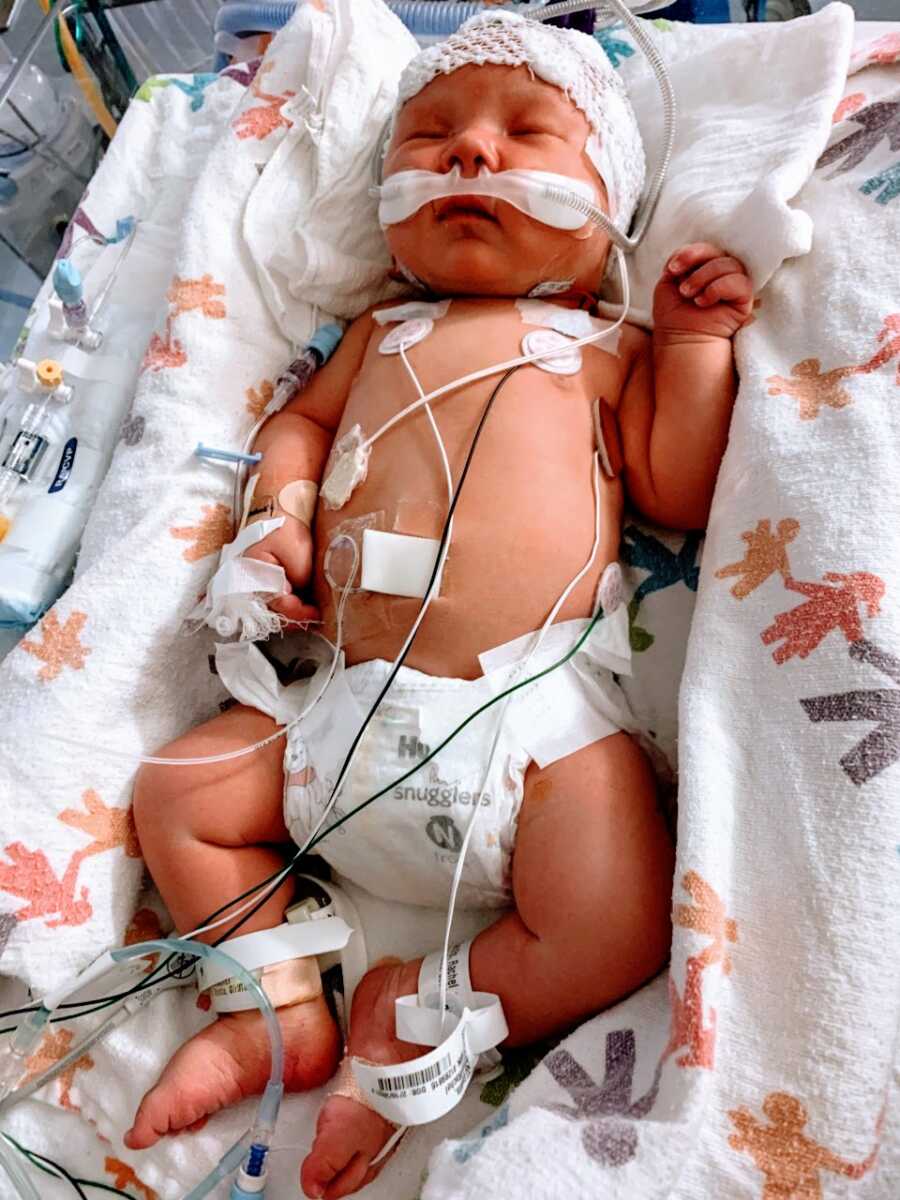 I remember being so excited we lived next to this playground. While pregnant, I'd walk past it and imagine playing with my daughter. Now walking past it, I hold back the tears, wondering how she would play there and looking at all the healthy kids running around. I thought of how I'd possibly travel with her in a wheelchair to places all over the world. And selfishly, how I'd ever be able to any of the things I did before. People talk about losing your identity when you become a mom, and then becoming a mom to a child with a disability and medical complexities – no one prepares you for that. We had just bought a car before she was born; I thought how we would eventually need something different. We had planned on moving cities potentially after Leah was born. All theses conversations we had before she was born. All of it was put on hold. Her doctors were here. Her therapists were here. Insurance was here. Everything changed. We had to rethink, replan, reimagine everything.
We were heartbroken, sad and unsure what to do. We decided yes we can be sad, yes we need to feel ALL this. But it's not adding to anything, the only thing we can do is make sure Leah has the best life ever.  The next couple weeks, our goal was to see if Leah could bottle feed or if she needed surgery for a feeding tube. Our lives were at the hospital. We lived in masks and occasionally pulled our mask down to kiss our baby. We got in somewhat of a routine. Learning how to be a parent while nurses and doctors hovered in the background. She was eventually eating 80% of her feeds orally. I walked in one morning and saw the tube removed from her face and I could see her cheek. I've wanted so badly to kiss and touch them since she was 2 days old. We were beyond excited. I thought to myself as a big foodie and love to cook, this is one thing we can share! She's an eater! And Leah was finally cleared to go home.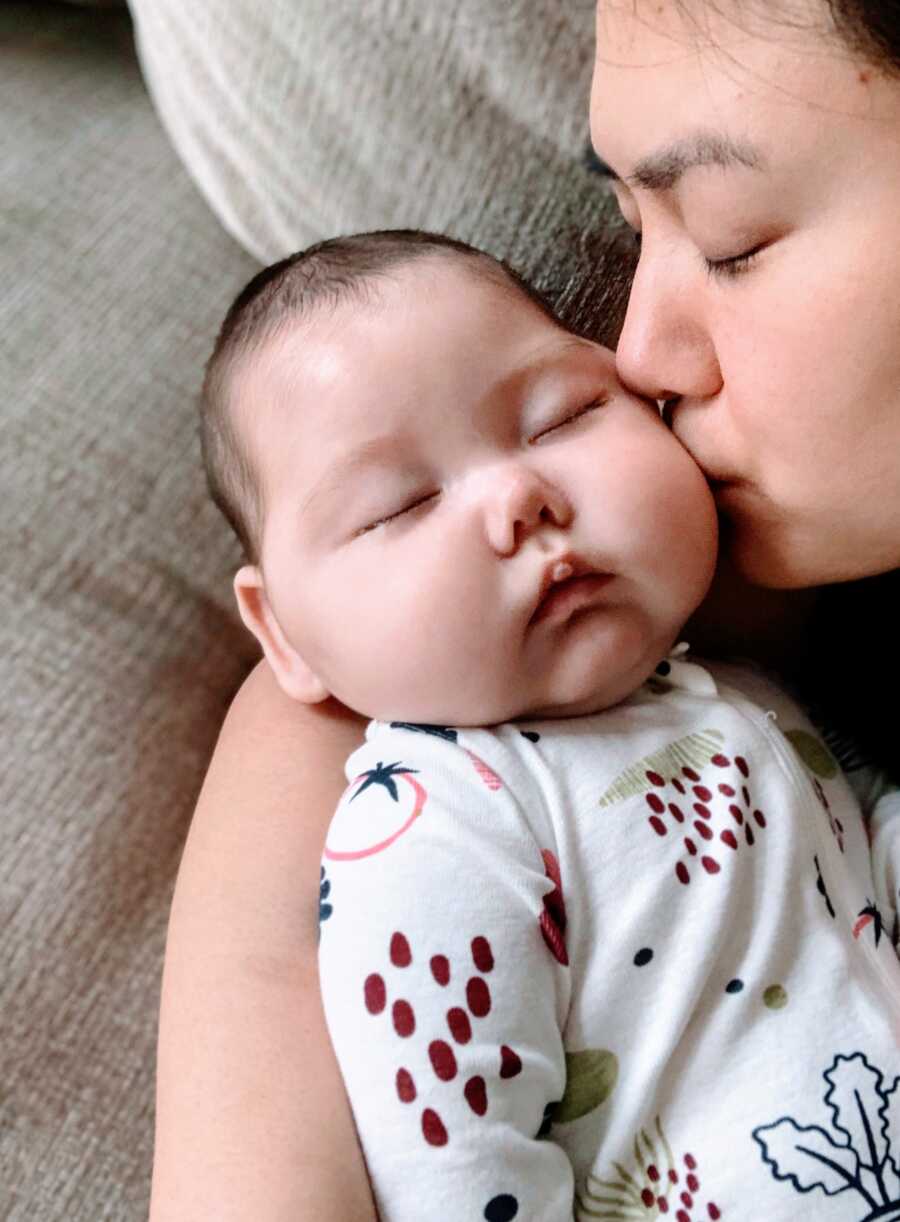 During our first week home, we found out Leah has a rare genetic mutation called KCNQ2. Completely random, it's not inherited from either of us. We were as happy as we could be finding out her diagnosis. Early on, in car rides home we had conversations of if this was inherited, she would probably be our only child, even though we dreamed of 2 or possibly 3. My husband and I also had those conversations of could we even manage another child, what would that mean for our second child's life? The mutation causes mild to severe (or some doctors label it as 'catastrophic') developmental delays and countless medical complexities, some of which are also rare. She is the only one with this variant of the mutation, meaning she's truly one of a kind. There is no cure, only treatment. We do know of one successful treatment for KCNQ2, but it was discontinued because the manufacturer was not able to monetize it. Currently, it is in clinical trial again with hopes of qualifying soon.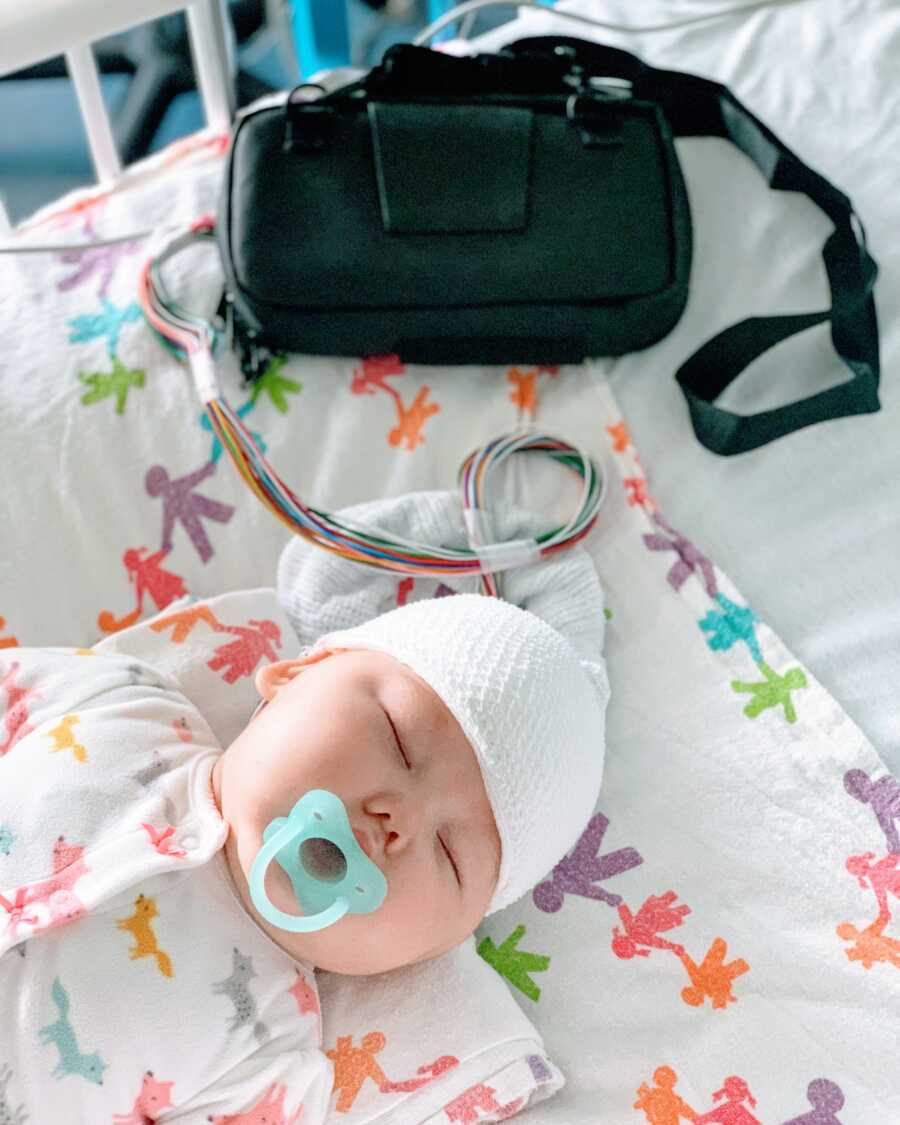 We are navigating this journey somewhat blind. What we do know isn't always the rule for this mutation, and with no one else having this variant, we really take one day at a time. A lot of times there is no clear route to take because putting 2 or 3 rare conditions on top of each other makes it hard to know what to do. Our first month we had countless appointments. I'd have to get Leah there alone, still recovering myself (I never really gave myself much time to heal) and only one parent was allowed. I'd receive life changing diagnoses alone without any doctor even noticing how much information I had to absorb alone. One being Leah has CVI, meaning she is visually impaired. All those sweet gazes we experienced, we wondered, could she even see us?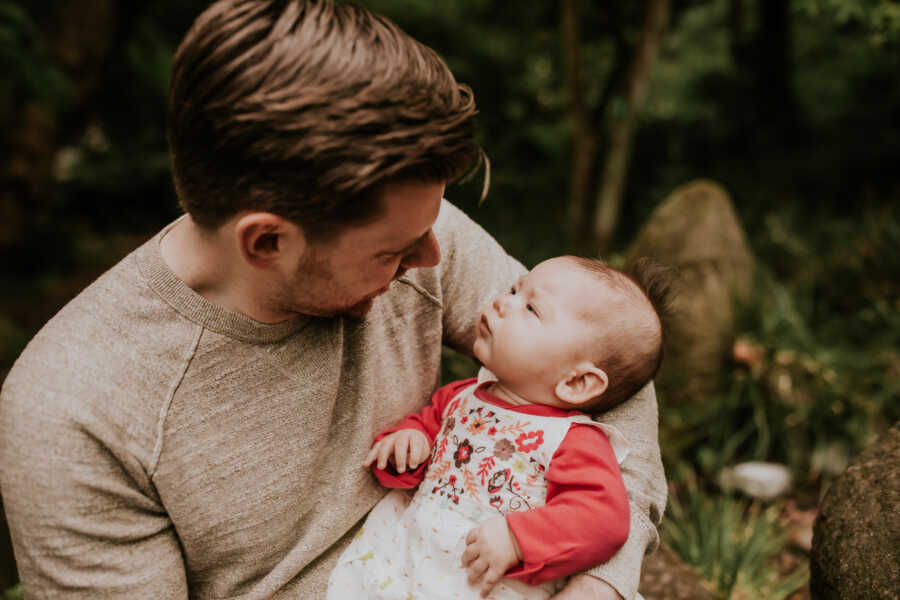 On top of learning all the medical things our daughter needs, what to do in an emergency, how to administer meds and just all the things of being a first time parent, we also had mountains of paperwork. Early intervention programs, therapists, financial aid, medical aid, disability, etc. Meanwhile, my husbands paternal leave was up. At around 3 months old, I pushed for an early EEG. They allowed both of us there early when the scheduler realized I just had a baby and would probably need some help.
We found out from the EEG she was at risk for infantile spasms, another rare epileptic condition. The next 2 months we tried treatment after treatment. Nothing worked. In and out of the hospital. The first half me alone doing overnight after overnight because of Covid. The treatments were brutal. Leah cried nonstop for 2 months and became extremely puffy and uncomfortable, and because of this her suck weakened. She had worked so hard to learn to breastfeed a little and I longed for it because it made me feel more like mom and suddenly it was gone.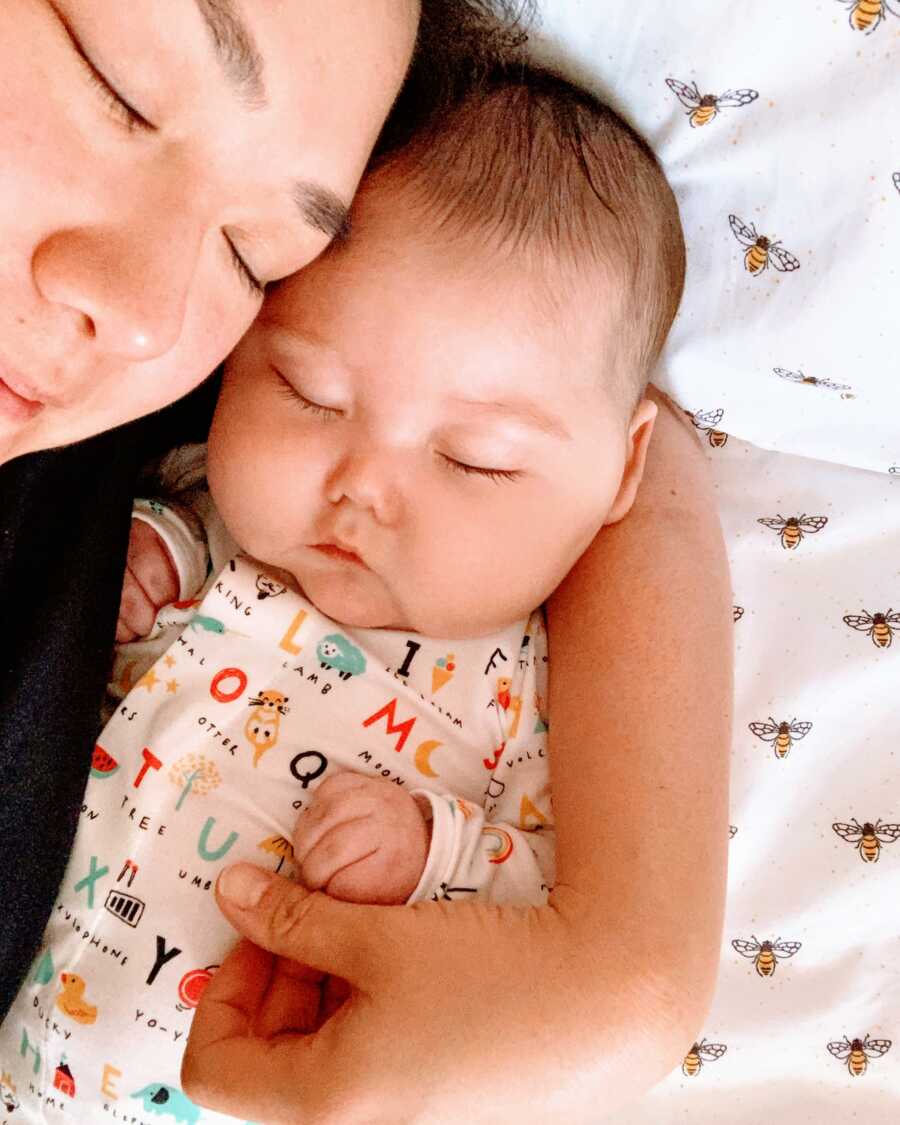 While we waited to start another treatment, her seizures worsened. We called 911 several times. One time we got a voicemail – yes, 911 has a voicemail. While I frantically kept calling, I looked at my daughter and thought, 'This is the last time I'll see you alive.' We ended up in and out of the hospital A LOT. We ended up having to sedate her until we could start the next treatment. We've done all of this alone. No help from friends or family. Leah's immune system was weakened from treatment, and with Covid we couldn't risk anything. When you have a medically complex child and each therapy is life changing and each doctor's visit and hospital stay is crucial, we couldn't risk the extra exposure.
Leah has started Keto to see if it can help control some of her seizures. I was heartbroken at first, all the work we've done trying to get her to breastfeed. Me, reimagining how her food choices would be limited. How do I make baby keto food? How would she eat the Christmas cookies I made every year? I guess I'm learning how to make a keto birthday cake. As we wait to see if keto works, our new norm is feeding, vision, physical and occupational therapy each week. Most of the time her dad is unable to join due to Covid restrictions. We continue to adapt all the toys and things we bought her while I was pregnant and tuck away things we may never use.
We've learned to celebrate each win no matter how small, enjoy every moment we can and have more patience and strength than we ever thought imaginable. We can't change a lot of things and have little control over most, but we put our energy into what we can. Our daughter is loved and we continue to work to make her life the best ever, even if it's not exactly how we imagined."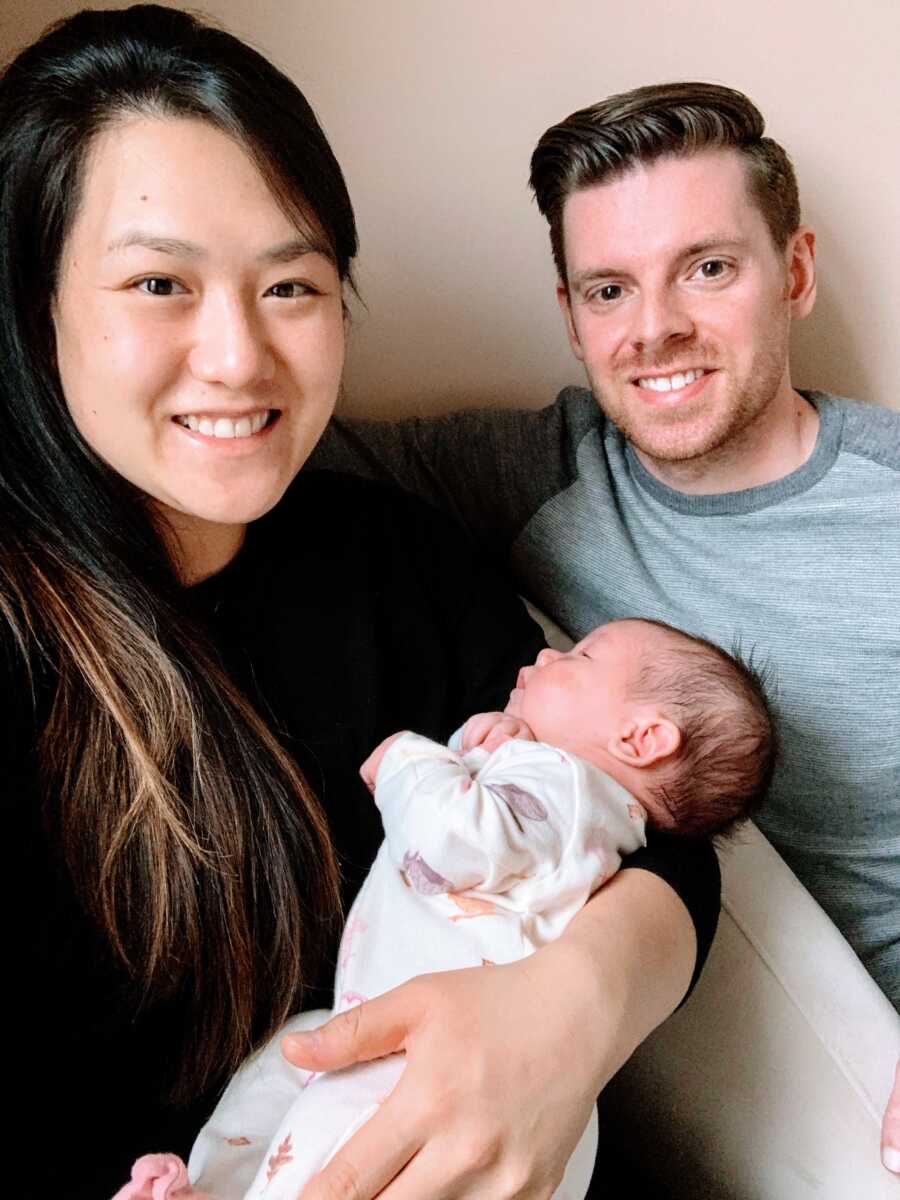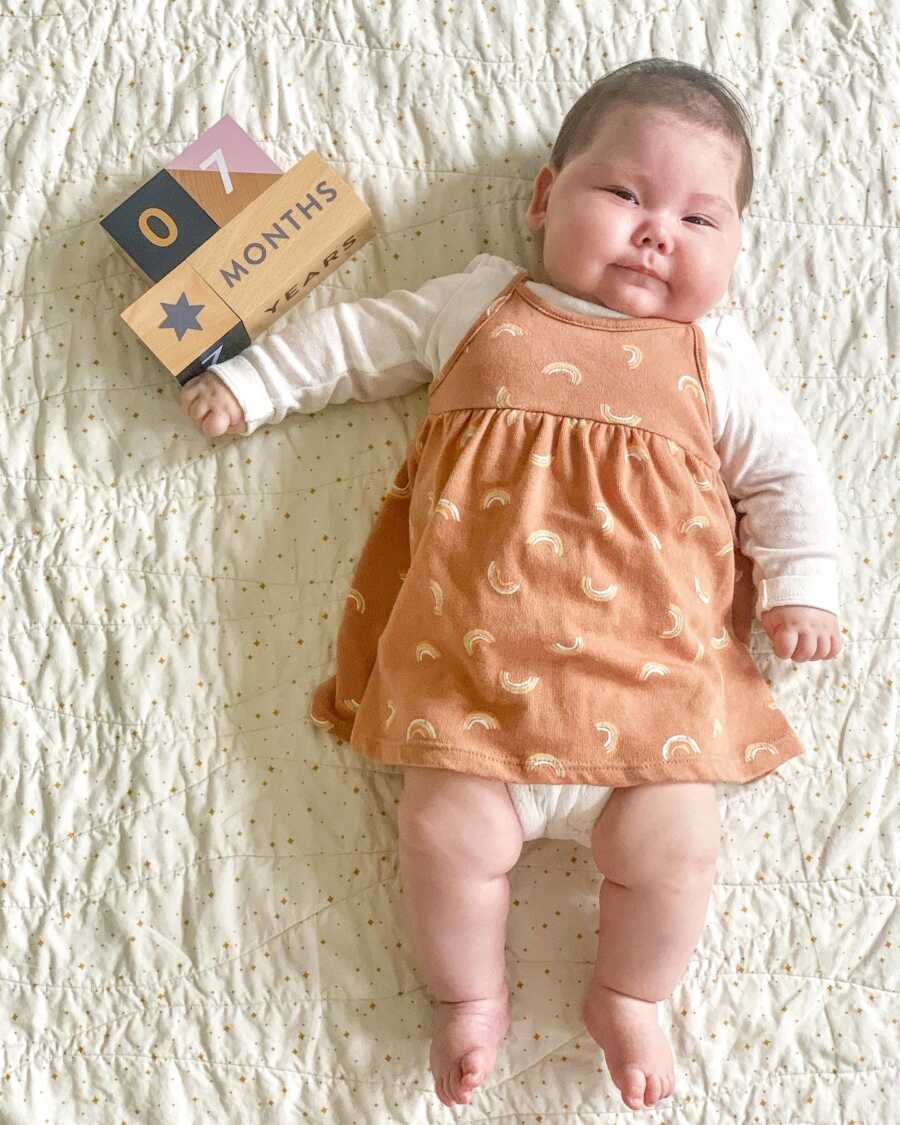 This story was submitted to Love What Matters by Rachel Gaddis. You can follow her journey on Instagram. Submit your own story here, and be sure to subscribe to our free email newsletter for our best stories, and YouTube for our best videos.
Read more stories like this here:
'I'm so sorry mommy wasn't there to protect you.' Forever didn't last as long as we thought it would.': Adoptive mom remembers medically-complex daughter after her passing
'She was sent home with 'acid reflux.' She felt like a wet noodle. At 4 months, she was acting like a brand new baby.': Mom advocates for undiagnosed, medically-complex warrior
'He is 1 in 6 billion.' I clenched my husband's hand in disbelief, tears welling in my eyes.': Mom praises medically complex son, 'He is our little heart warrior'
'And you continued the pregnancy anyways?,' he said in a shocked and condescending tone, as he shook his head.': Mom gives birth to child with Edward's Syndrome
Provide beauty and strength for others. SHARE this story on Facebook with your friends and family.