"My son Samuel is truly one of the happiest kids you'll ever meet. He is funny, smart, silly, and always full of laughter and conversation. He is a social little boy with an infectious personality. He is stronger emotionally and physically that anyone I have ever met, and his resilience is astounding. But behind his smiles and tough exterior lies an unbreakable spirit determined to live each day to the fullest, refusing to let his rare condition define his life.
My husband and I faced years of infertility and loss before I became pregnant with Samuel. I was overjoyed and elated, excited to become a mother and meet my precious baby. The first half of the pregnancy went smoothly and before we knew it, it was time for the twenty-week anatomy scan. The only concern my husband and I had going into the ultrasound was making sure the technician didn't tell us the gender. We had waited years to become parents and we didn't want to find out what we were having until the baby was born. Up until this point I'd had several ultrasounds and was familiar with the routine. Nothing about this twenty-week scan seemed different. However, following the ultrasound we were told to return to the waiting room while the doctor reviewed the images. Many minutes ticked by before we were escorted back and led into a doctor's office. He was seated behind his desk and immediately I noticed his uncomfortable body language. He told us that abnormalities were detected on the ultrasound. He explained that the baby was measuring incredibly small and behind for the gestational age. The skull shape and structure was 'off' and there was a two-vessel cord instead of three. On top of it all the long bones of the arms and legs were bowed. In that moment my heart sank. It is hard to hear the word problems and your baby in the same sentence. To me, my baby was precious and perfect just the way he was.
Immediately I was sent to a perinatologist. He too completed an in-depth ultrasound and from what he saw strongly believed Samuel had a type of dwarfism, achondroplasia specifically. The doctor performed an amniocentesis to confirm his suspicion about achondroplasia, however the test results came back negative. The specialist continued to follow me throughout my pregnancy conducting several ultrasounds and trying to diagnose the condition Samuel had. As the pregnancy progressed Samuel's bones continued to fall further and further behind. His arms and legs continued to bow and there appeared to be a femur fracture. Despite his best efforts, our doctor couldn't quite pinpoint the specific condition Samuel had and did his best to prepare us for when he was born.
Despite my fears, worries, and the unknowns I went about my daily routine. My husband and I told very few people about the challenges of our baby. We did this protect ourselves and our emotions. We did it to savor some normalcy. We didn't want to be treated differently or field more questions about our baby. This was challenging to do. Not only did we try and get through daily life, but so many women close to me were pregnant including my sisters in law, cousins, and friends. Each of them was receiving great reports at every checkup they went to. I was thrilled for them, but it only made our struggle that much harder. A fake smile shielded my concerns and worries as I plugged through day to day life.
With each appointment my perinatologist grew more and more concerned about the baby. By 36 weeks he decided it was time to induce me because Samuel wasn't growing. The day I was induced was filled with mixed emotions. I understood the seriousness of everything, yet I was so excited and eager to meet my baby. Early in the morning Samuel made his grand entrance into the world.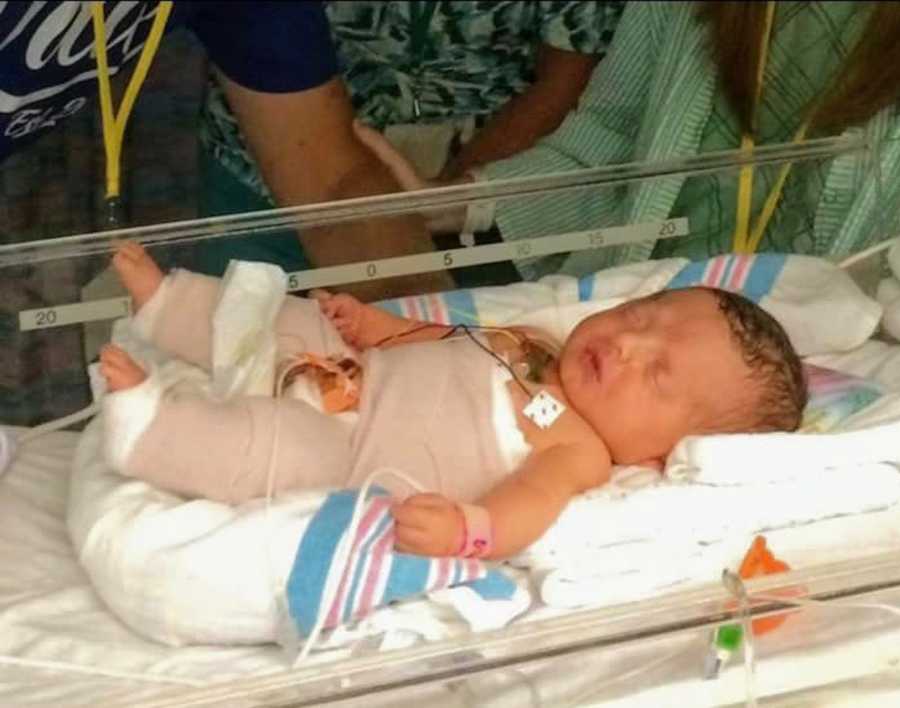 He was perfect, all five pounds eight ounces of him. I stared in complete amazement at Samuel, my tiny precious miracle. A team of NICU nurses quickly evaluated him and spoke quietly amongst themselves. I desperately wanted to see Samuel, touch him, and hold him. Finally, one nurse handed my son to me for the first time. I gazed down at him and gently embraced him for everything he embodied. He was our medical miracle. He was pure joy and a product of our faith and determination. We had waited years for this moment and for him, our precious Samuel. With Samuel in my arms I felt overwhelming happiness, peace, and relief. Our long journey filled with doubt, heartbreak, loss, doctors, appointments, procedures, and unknowns was over, a distant memory now. Looking back, I think about how wrong I was. Our journey was only beginning.
Minutes after Samuel was born, he was whisked away to the NICU for further testing. We were prepared for that to happen. However, if I had known then that it'd be a week before I could hold my son again, I never would have let him go. Hours went by before we were finally allowed down into the NICU to see him. Immediately upon entering the NICU our world was turned upside down. Before we could even make it to Samuel's bedside, we were informed Samuel had Osteogenesis Imperfecta, also known as brittle bones disease.
The doctor told us how rare the condition is and how she suspected Samuel had a severe form of the condition, making him even rarer. She went on to tell us that Samuel was born with a fractured humerus, two broken femurs, a fractured skull, and many healing fractures. His left leg was so badly broken that it rested backwards up by his ear, no matter their many attempts to rotate it back down. We were in disbelief and stunned. All I could think about was getting to my son and comforting him. Finally, we were led to Samuel's crib and immediately I broke down. He was lying there covered in wires and electrodes monitoring his heart rate and pulse and he was heavily sedated given the trauma of his fractures and level of pain. I wasn't allowed to hold him as doctors didn't quite know how fragile he was, and they didn't want to risk any more broken bones.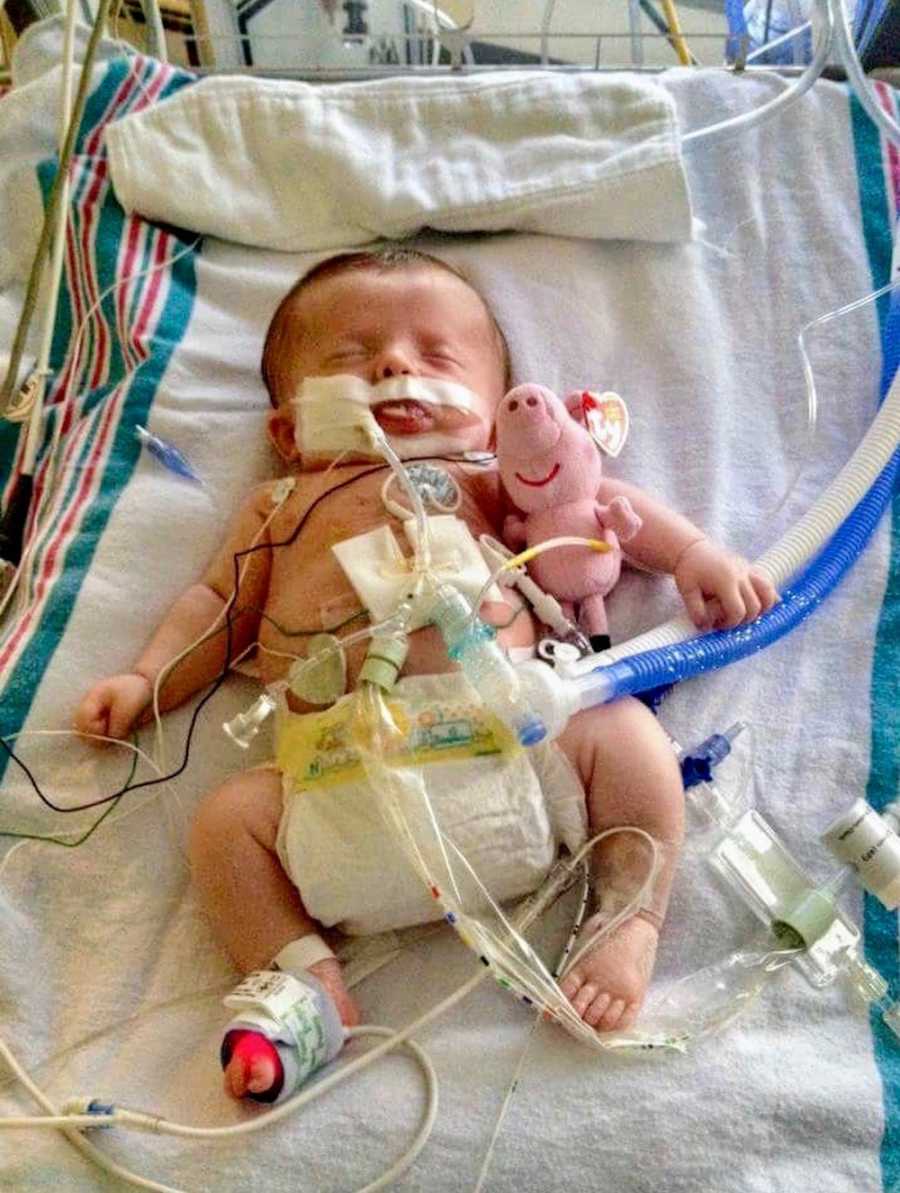 What was happening felt like a mother's worst nightmare. I should have been holding Samuel, comforting him from the pain he was enduring. I should have been memorizing every sweet feature of his. I should have been singing to him and talking to him as I cradled him in my arms. Nothing can prepare a mother for that. I gently held Samuel's tiny fingers and spoke softly to him, reassuring him that he was alright and that we were there with him.
Within those first few minutes with Samuel we were interrupted by two doctors who introduced themselves as part of Samuel's pain team. They discussed in length the strong medicine they had administered to Samuel and informed us that he would remain sedated for a while to get a handle on his pain. We had barely finished speaking to the pain team before the neonatologist stole us away to speak privately. She too went over Samuel's condition with us and also strongly believed that he had a more severe form of Osteogenesis Imperfecta. She informed us that the orthopedic department had been paged along with genetics and they were now waiting on a CT scan to get a better view of Samuel's broken skull to see if there was any bleeding on his brain.
My husband and I had very little time to catch our breath in the first few minutes and even first few days in the NICU. We were incredibly overwhelmed by all the vital information being relayed to us and also frustrated with everyone stealing us away from Samuel's bedside to speak. We clearly understood that the doctors were just doing their job, but we wanted just a few peaceful and uninterrupted moments with Samuel before everything in our lives changed forever.
Samuel spent the first week of his life in the NICU under pretty heavy sedation and the first month of his life on a patient floor with a stint in the PICU on a breathing tube. It was a whirlwind of a month as we learned more about his condition and the challenges it came with. During that month Samuel was placed in a Spica cast from his chest down to immobilize his broken femurs. He had surgery to place a g-tube given his many feeding complications. In the same surgery a central line was also placed to help with blood work and to start an IV for infusions. While Samuel was inpatient, we regularly met with geneticists, orthopedics, a pain team, a skin team, neonatologists, hospitalists, endocrinologists, speech pathologists, physical therapists, nutritionists, audiologists, and surgeons. It was overwhelming for us.
While we were trying to get a handle on the medical side of the diagnosis, as parents we were also trying to prepare for day to day life with Samuel. On top of feeding issues and fractures we were trying to learn how to work his feeding pump and flush his central line with heparin. We had to learn how to safely life Samuel without fracturing him. We couldn't lift him up under his arms, so we learned to lift him by placing a hand under his neck and butt and lifting him flat. We had to find safe ways to perform diaper changes and comfortable positions to hold him in. We had to search for clothing that could be buttoned up and not placed over Samuel's head so as not to risk fracturing his arms or neck. There were so many details of Samuel's everyday life that had to be considered in addition to learning all we could about his rare condition.
After a month Samuel was discharged. We thought life would slow down once we got Samuel home, but we quickly learned that it was just as chaotic and busy as the hospital. Our home became a revolving door of care workers for him. Birth to three therapists, IV nurses, and private duty nurses have become part of our normal everyday life. His childhood is constantly interrupted by his many weekly physical and occupational therapy sessions, along with trips to see specialists, over ten of them to be exact that stretch from Connecticut to Delaware.
Through our journey with Samuel we have learned that Osteogenesis Imperfecta is more than just breaking bones. It can result in other serious challenges including Chiari malformation, hydrocephalus, restrictive lung disease, kyphosis, dentinogenesis imperfecta (brittle teeth), hearing loss, feeding complications, and sleep apnea. In addition to all of that, Samuel's condition leaves him more susceptible to illnesses that easily land him in the hospital.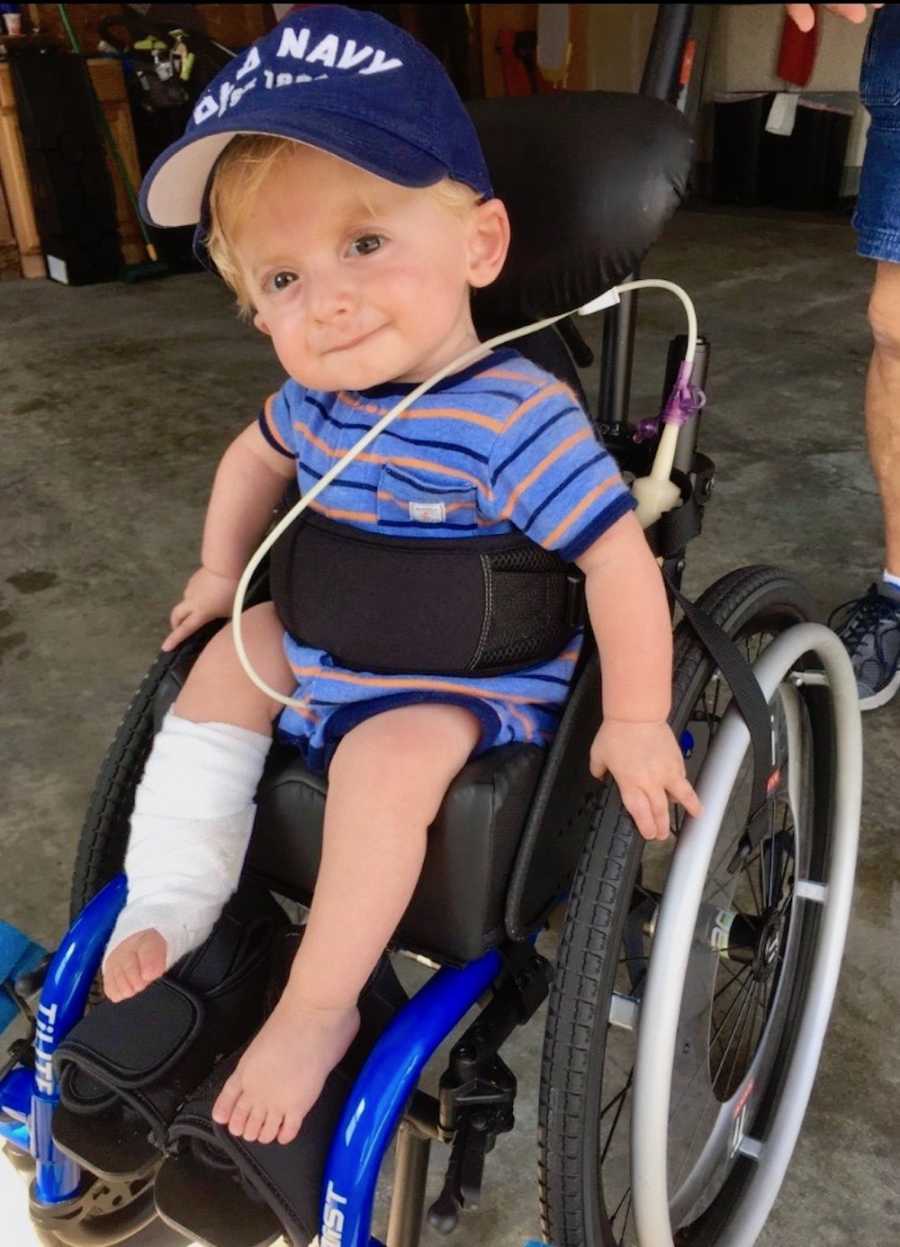 In Samuel's three short years he has endured six surgeries, countless ER trips, dozens of infusions, and numerous hospitalizations. He has suffered at least thirty to forty broken bones that we know of. He has fractured many of the bones in his arms and legs multiple times, countless ribs, his skull, and has had compression fractures of his spine. Samuel has fractured from coughing, sneezing, leaning too far forward, trying to stand, rolling over, and sometimes for no reason at all. It is heartbreaking to see Samuel deal with so much pain and so many setbacks. We do our best to remain strong and positive for Samuel, but it is difficult at times to keep the faith and stay optimistic.
One of the main complications of Osteogenesis Imperfecta is mobility. It took Samuel a year and a half to gain head control and almost two and a half years to sit up independently. He works harder than anyone I have ever met trying to progress with his mobility and he never giving up. Samuel relies on a wheelchair to get around and also has a gait trainer to practice standing and walking. Nothing comes easy for Samuel and he is a fighter through it all.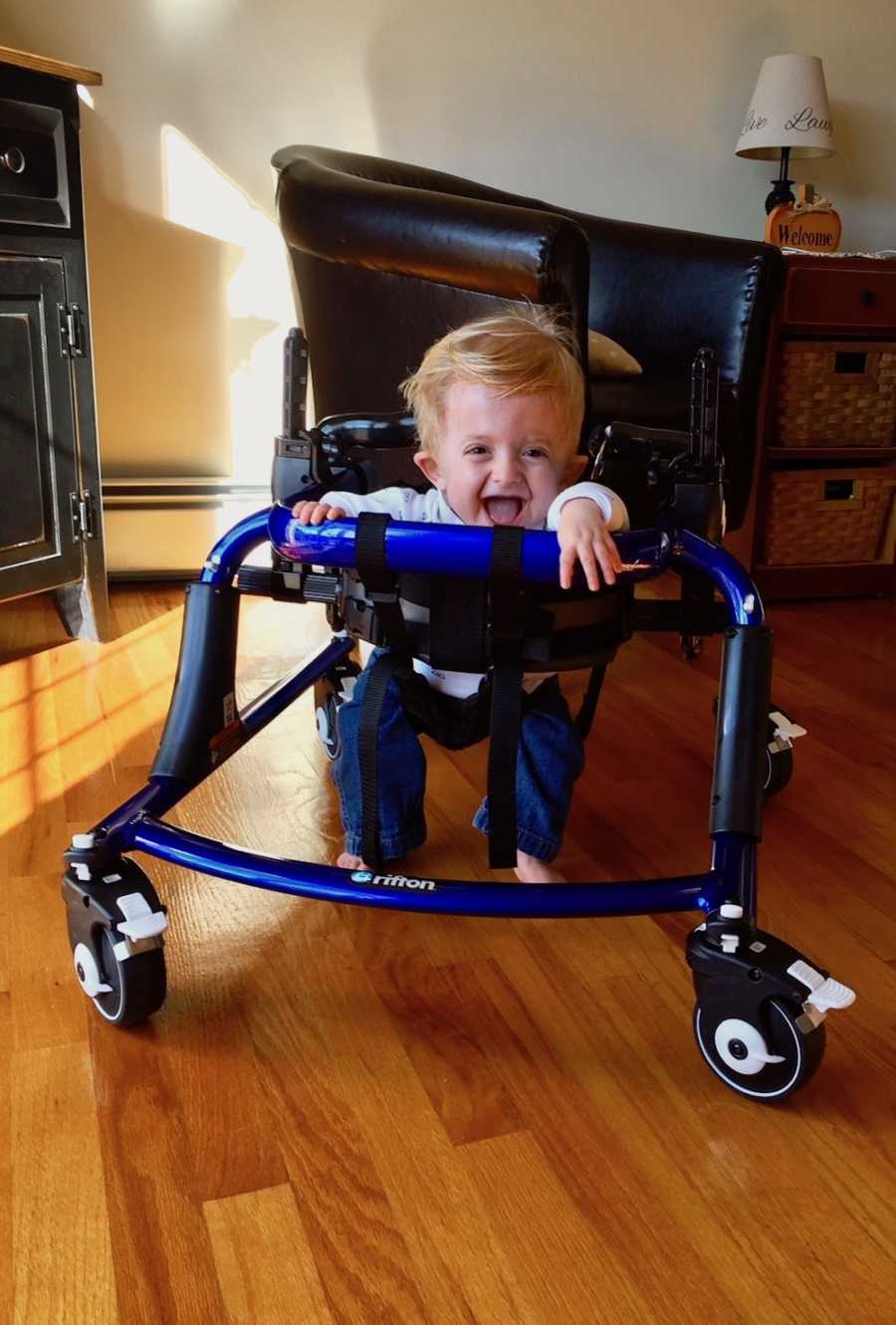 Much of our home now holds a reminder of Samuel's condition. Medical supplies including syringes, feeding tube connectors, splinting supplies, oxygen tanks, a pulse ox machine, and feeding pump can be found scattered throughout our home from our dining room to living room and bedrooms upstairs. It used to be an image I struggled with but is now something I have come to be proud of. These medical supplies are little reminders of just how strong my little boys is.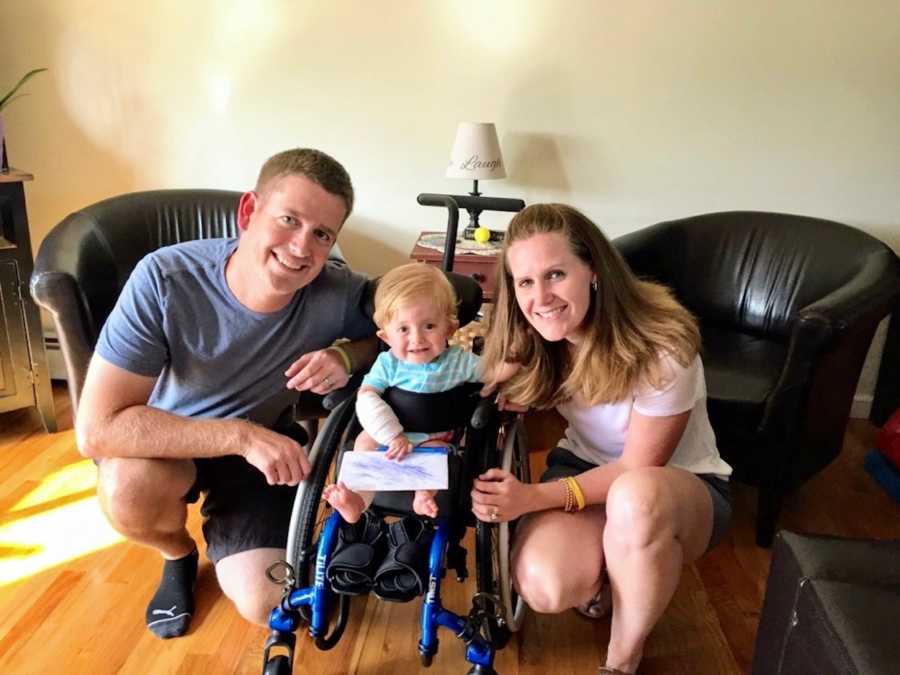 Samuel doesn't see limits and boundaries and I hope he never does. He never complains even when he is dealing with multiple fractures at once, bedridden, hospitalized, or even healing from surgery. There is always a smile on his face no matter his pain level. Samuel loves to be around other kids and do everything and anything he sees them doing. This is both a blessing and a curse as parents. We do our best to adapt and modify any activity Samuel expresses an interest in though it may worry us our fragile boy has been sledding and ice skating. He has gone swimming in a pool, played in the sand, and splashed in the ocean. Samuel is doing things that we were told he would never be able to do. We never want Samuel to feel like his condition is holding him back and preventing him from experiencing life.
Samuel is my hero and my inspiration. He has taught me more in his three years than I ever could have imagined. I never take anything for granted anymore as he has shown me just how precious life and our blessings in it are. But if there was one lesson that he has taught me that stands out above the rest it's that a diagnosis doesn't define a person and their abilities. If anything, a person defines the diagnosis. Samuel is an example of that every day. He is forging his own path with Osteogenesis Imperfect and although he may be physically fragile, his spirt, determination, and positivity are forever unbreakable. As one of his nurses recently stated, 'Once you meet Samuel, he will change your life forever.'"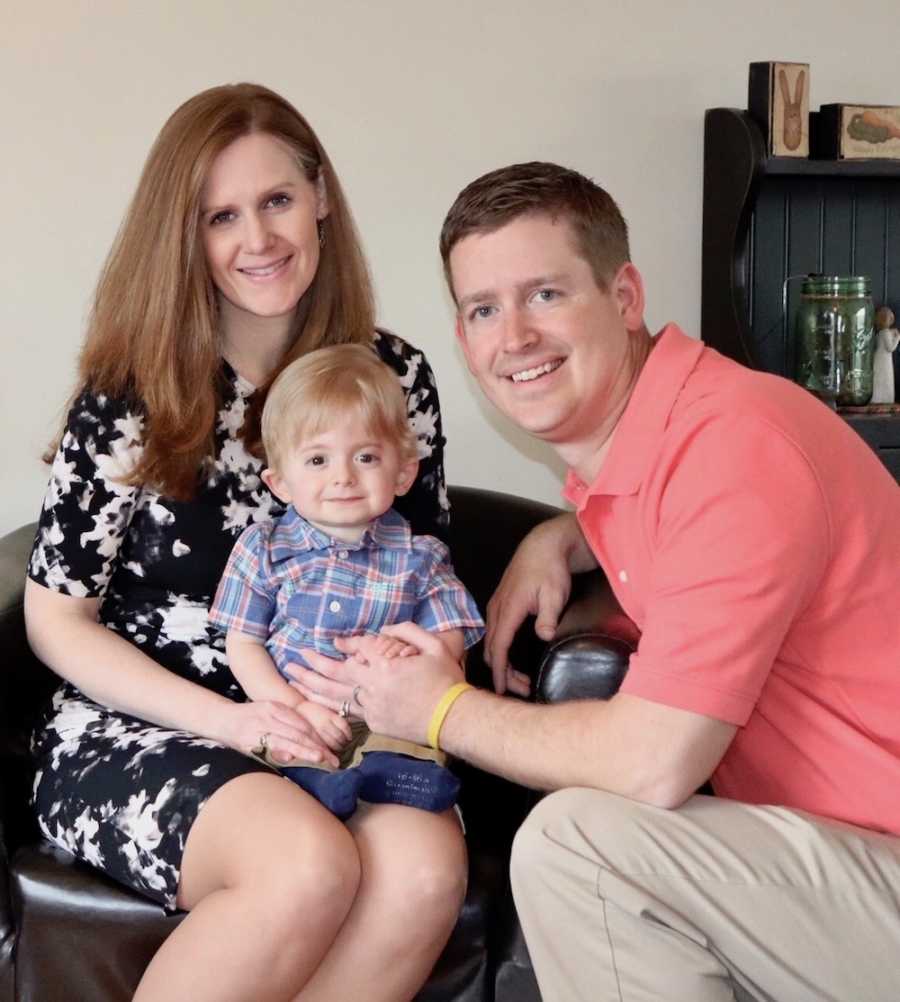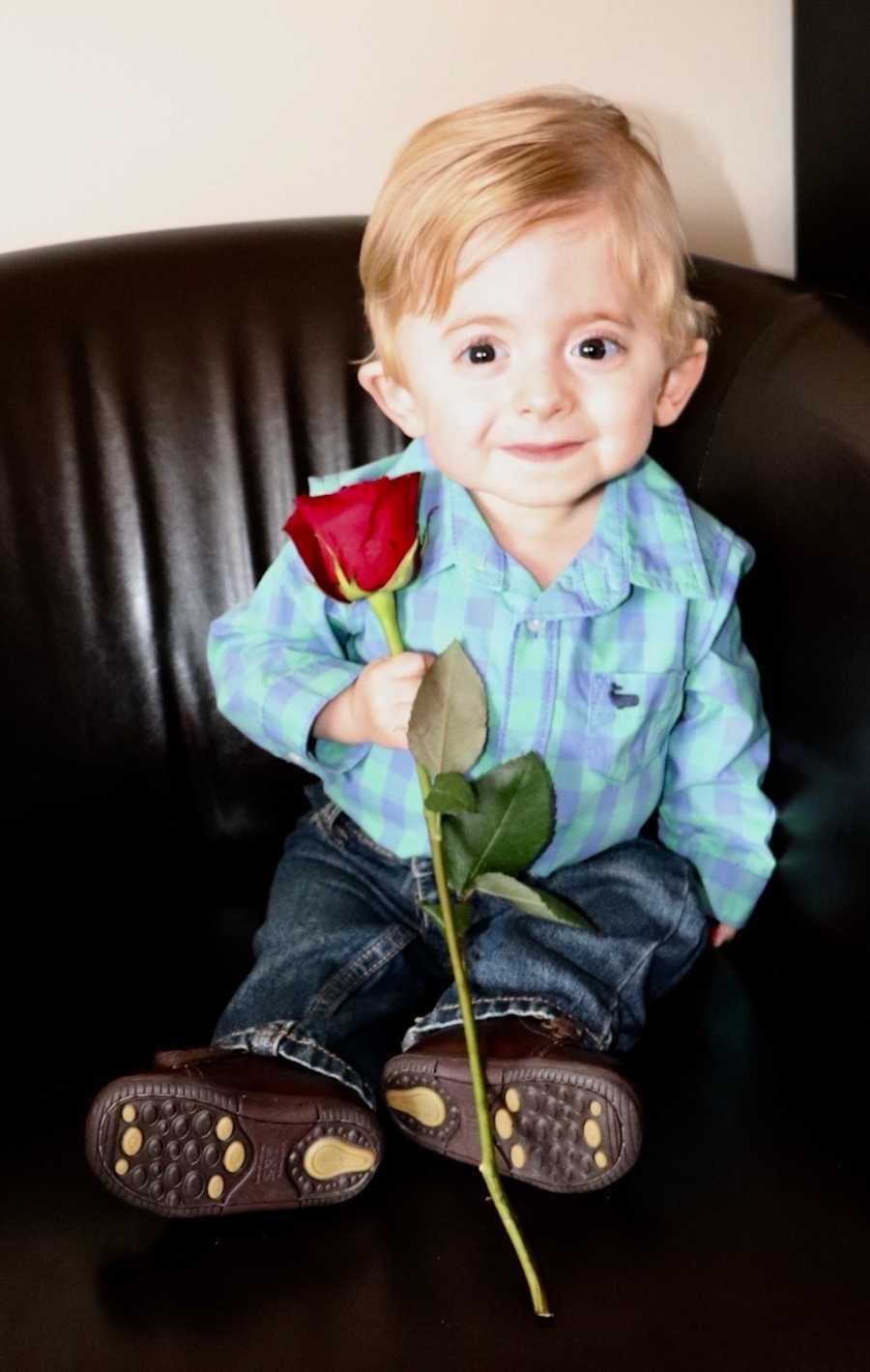 This story was submitted to Love What Matters by Allison Silver. Follow Samuel's  journey on Instagram here and Facebook here. Do you have a similar experience? We'd like to hear your important journey. Submit your own story here, and subscribe to our best stories in our free newsletter here.
Do you know someone who could benefit from this story? SHARE on Facebook or Twitter.