"Growing up I never really had that 'motherly instinct'. Friends would tell me how excited they were to have children and a family. I couldn't relate.
My family was small, small as in I only have 2 cousins. Both of which being the same age as me and my younger brother. Because of this, there were never any babies at family get togethers, thus leading to my preference of a 'kid free' life.
I met my now husband in sophomore year of high school. He was a popular athlete and I was the quiet art girl. I guess they say opposites attract.
He was a year older than me and graduated my junior year. Because of this I lost a lot of friends, and my senior year wasn't very exciting.
Until around the end of 2014, we had always used protection and knew the risks. But when I didn't get my period the end of November, I knew something was wrong.
I bought a pregnancy test just to make sure. I'll never forget that moment, sitting there waiting for the test. The minutes felt like hours, and the anticipation grew into dread.
It read positive, and I was devastated. I was a senior in high school, it was senior week, I had plans for college. I couldn't have a baby, not now! Long story short my mother ended up finding out and supported me through the event.
I ended up deciding on abortion, and on January 7, 2015, I left Planned Parenthood and passed the burden I was growing. My boyfriend wasn't happy, but supported me either way.
Fast forward to 2017. Autumn became busy for us. In August we moved into our first home, and on October 20 said, 'I do.' Shortly after moving in, the talk of children came up. I shut it out and instead we got a puppy. I felt like we had gotten a baby, even if it was only a dog. But little old me was still on the no baby kick, even more so after what happened in 2015.
In the beginning of 2018, we talked and planned and decided. We were going to at least try. A couple months went by and in March, a test I had loathed in the past read positive. But unlike before, we were overjoyed.
Our first ultrasound was April 8. My husband and I both went since it was the first. During the ultrasound there was talk of a screening to test for deformities. We didn't really care just as long as he/she was healthy. But the OB said, 'this might change your mind' and turned the screen toward us. Lo and behold there THEY were. Baby A and Baby B. Stunned silence. 'Is that twins?' I was able to get out. 'Yes, and they're identical!' We were overwhelmed, but eventually shock turned into excitement as we prepped to bring not one, but two little ones into the world.
Daniel and Tyler made their debut by C section on October 14,2018. Both boys were in the NICU for a couple days, thus giving me time to recollect everything that had just happened. I became a mom, let alone a mom of multiples.
The leading months were full of emotion. Love, anger, frustration, obsession, regret, and joy. I soaked in each moment with my little men, knowing this is what I was called to do.
It hit me one day after the boy's arrival. 'What if it was only supposed to be one? But what if God was forgiving me for the action I took years ago? What if he blessed us with that child that should have been earthbound?'
I took it as a sign. God had given me a blessing before, and I rejected it. But being the God He is, ultimately blessed me again. This time, I saw the joy it could bring. I wouldn't change being the twin's mom for the world. For almost 10 months so far this journey has been the most incredible event I've had in life, and for it I feel eternally blessed."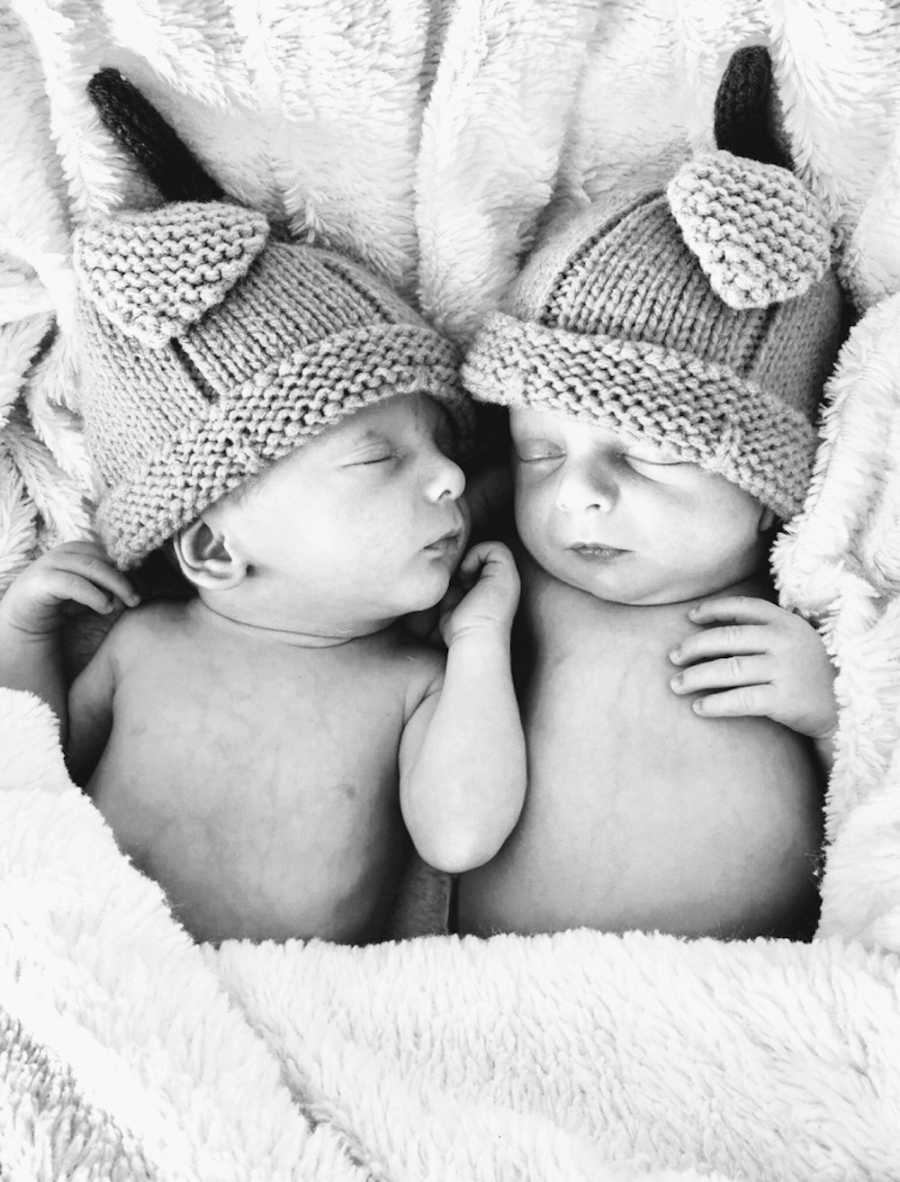 This story was submitted to Love What Matters by Laura Ciamaichela. Submit your own story here, and subscribe to our best stories in our free newsletter here.
Read more stories like this:
'I was in my parents' bedroom- confessing a huge secret I had been keeping, one that would change our lives forever. I was pregnant. My dad decided I was going to have an abortion.'
'My 'friend' said, 'Come on, of all people, you should understand why someone would want to abort a cleft baby."
'Who wants a single mom with a deformed monster?! NO ONE!' Pregnant at 18, my abortion was the next day. A flip switched.': Mom raises son with missing limbs despite abusive partner's pressure to terminate pregnancy
Spread beauty and strength for others. SHARE this story on Facebook with family and friends.