"A dream I had month prior actually became true. And it was a nightmare. Let me start from the beginning.
I met my soon-to-be husband ten years ago. We had always had a crush on each other. We even established the nicknames 'hubs' and 'wifey' way back then. Needless to say, I had always been smitten by him. He was tall, handsome, athletic, soft spoken, and a no-drama kind of guy.
Four years ago, he joined the Air Force. After boot camp, he re-connected with me and started writing me letters and buying me little things. I vividly remember him getting me Wonder Woman workout pants and Jeep Freaks t-shirts. I was hesitant to start anything with him. I knew he would be stationed in Idaho for the next four years and I really had no intention of moving away from my family. I had a home and a great job here in Iowa.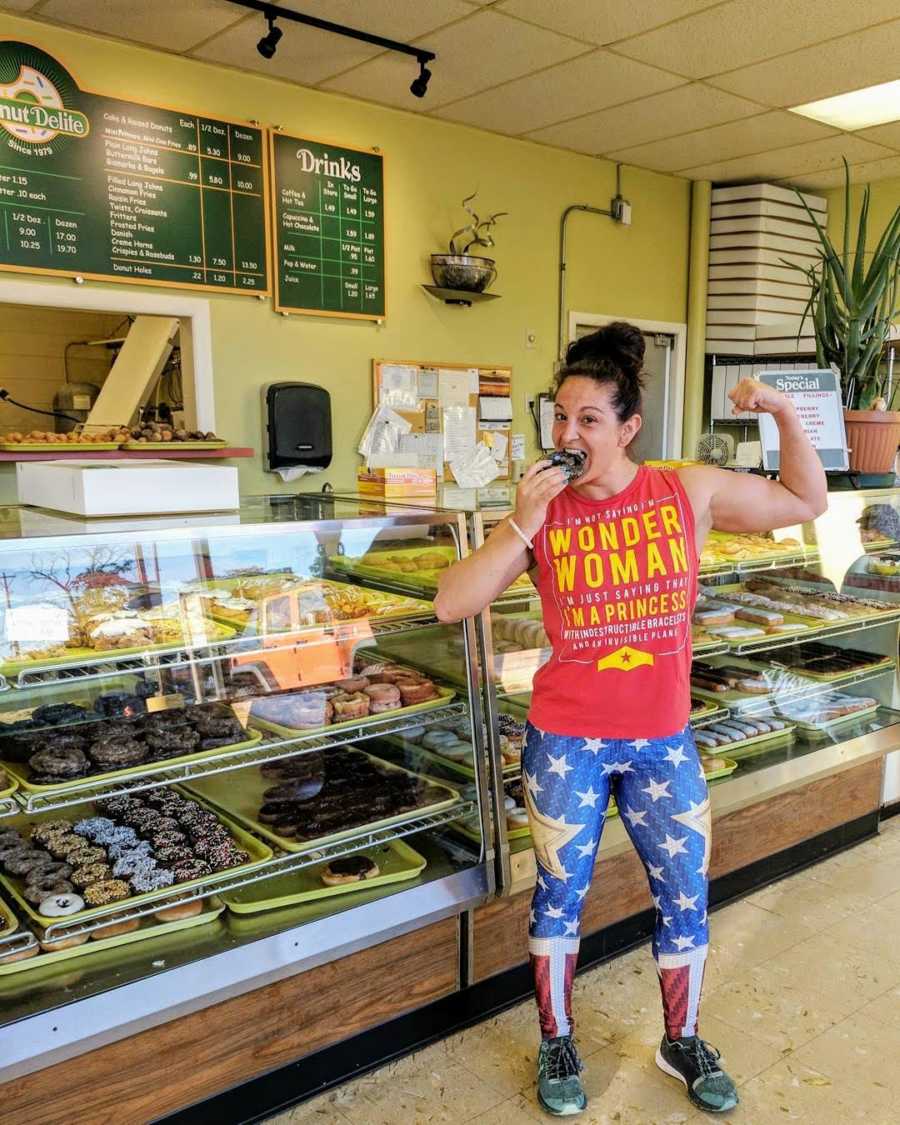 However, I fell head over heels in love with him. I thought it was fate that this little crush from ten years ago could turn into a relationship. About a year later of doing long distance, flying back and forth from Idaho and Iowa, he proposed in August of 2016.
The big wedding was planned for August of 2018. We decided to do something a little different so that he could get out of the dorms and into a house. We simply wanted to be married. I had a small ounce of doubt prior to the wedding. I remember thinking, 'What if he's marrying me to get extra money in the military and to move out of the dorms?' He swore up and down that this was not the reason and he just wanted to spend the rest of his life with his best friend.
During this time, I began working towards my master's degree in Organizational Leadership. When we got engaged, he hated the military. He promised he would be getting out in November of 2018 and moving to Iowa to be with me and start a family. We were married in May of 2017 and had an awesome wedding at a coffee house. There was pizza, donuts, and 200 of our closest friends and family. This was no courthouse wedding.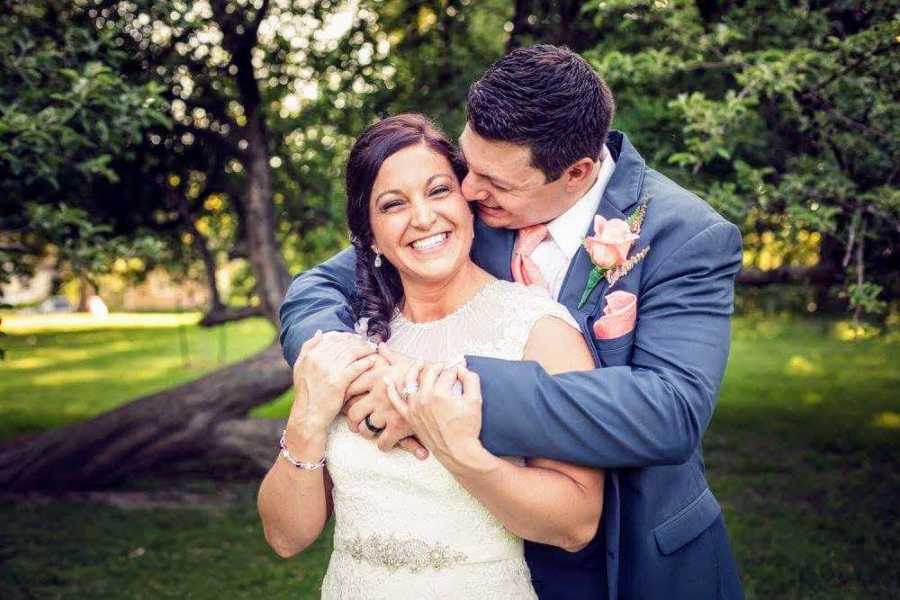 As time went on, I noticed that I started to feel less and less loves by my husband. It got to the point where I was practically begging for his attention every time I visited him. I constantly kept asking him, 'Are you happy?' But his answer was always yes. I asked him if he was sure he wanted to be married to me and, once again, the answer was always yes. So, I figured nothing was seriously wrong and just chalked it up to the distance between us. I believed everything would change once he was officially home and living with me.
In May of 2018, we celebrated our one-year wedding anniversary. Prior to this, we had discussed me getting off birth control and trying to get pregnant because he would be out of the military before the baby was there. Low and behold, I got pregnant that month on our first try.
When I told him the news, he seemed utterly excited. I always knew he would be a great father. It was something I loved about him because he was so good with kids. We started talking about baby names and even possibly when we wanted to try for another one. I thought life was great. My husband was finally coming home after spending four years apart and thousands of dollars on flights.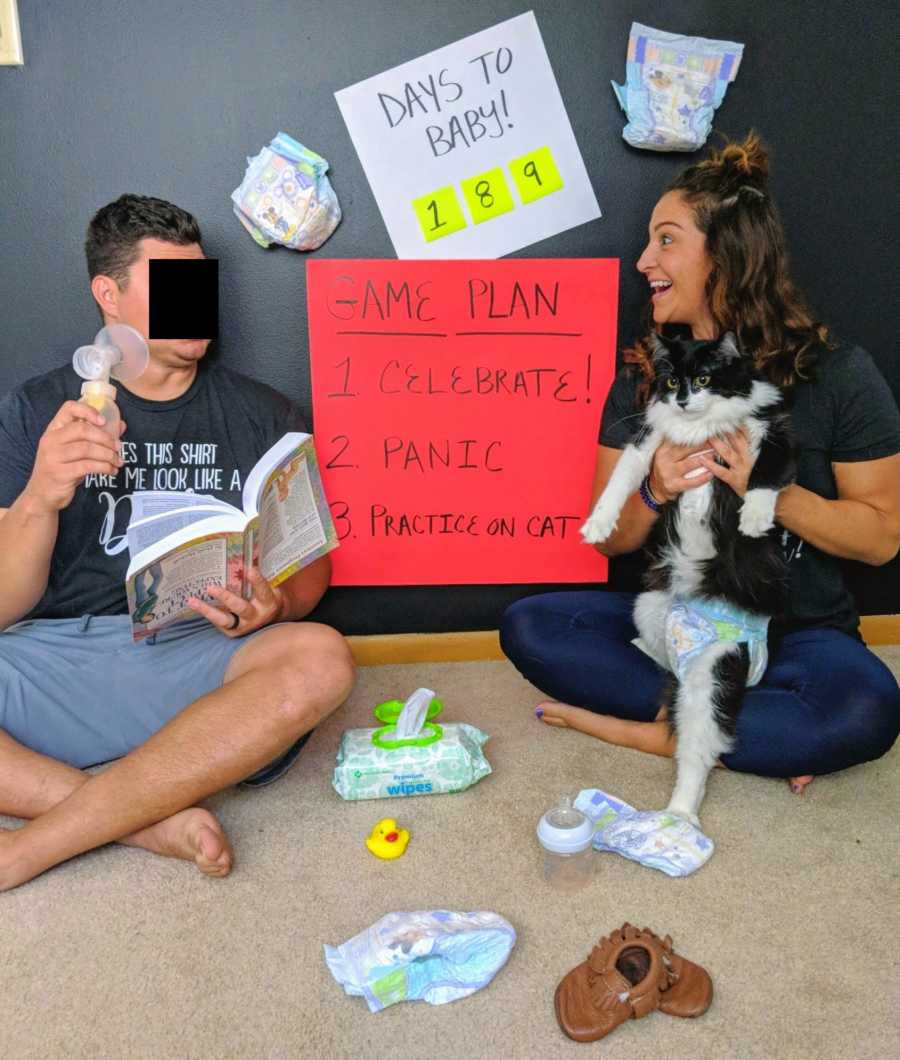 In the meantime, in September of 2018, my parents got a divorce after 30 years. It completely devastated my mother. She was suicidal, did not want to live, and hated that I still had a relationship with my father. Here I was, four month pregnant, trying to convince my mom how much I wanted and needed her in my life and not to take her own. There were many days where I missed work because I feared she would take her own life every day.
By this point in time, I was still working three jobs, studying full-time, bar tending three nights a week and coaching gymnastics. My plate was full. I was tired physically and mentally. When I would talk to my husband about my parents, I would always say, 'Please, babe. If something is ever wrong between us, communication is so important.' I never wanted to be completely blindsided by divorce like my mother was. My husband was always great at comforting me and calming me down.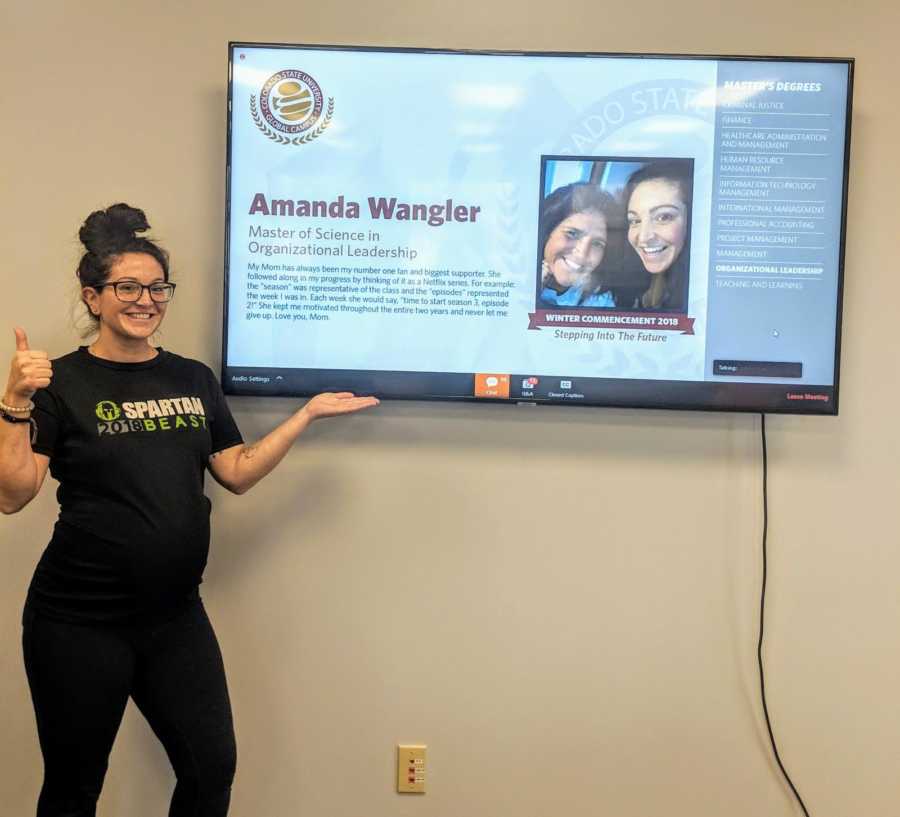 To back track ever so slightly, in June of 2018, I had a dream that my husband left me at three months pregnant. I was broken and did not feel I could go on. Mind you, this was all a dream. I told my husband about it and he replied with how awful that was and that it would never happen.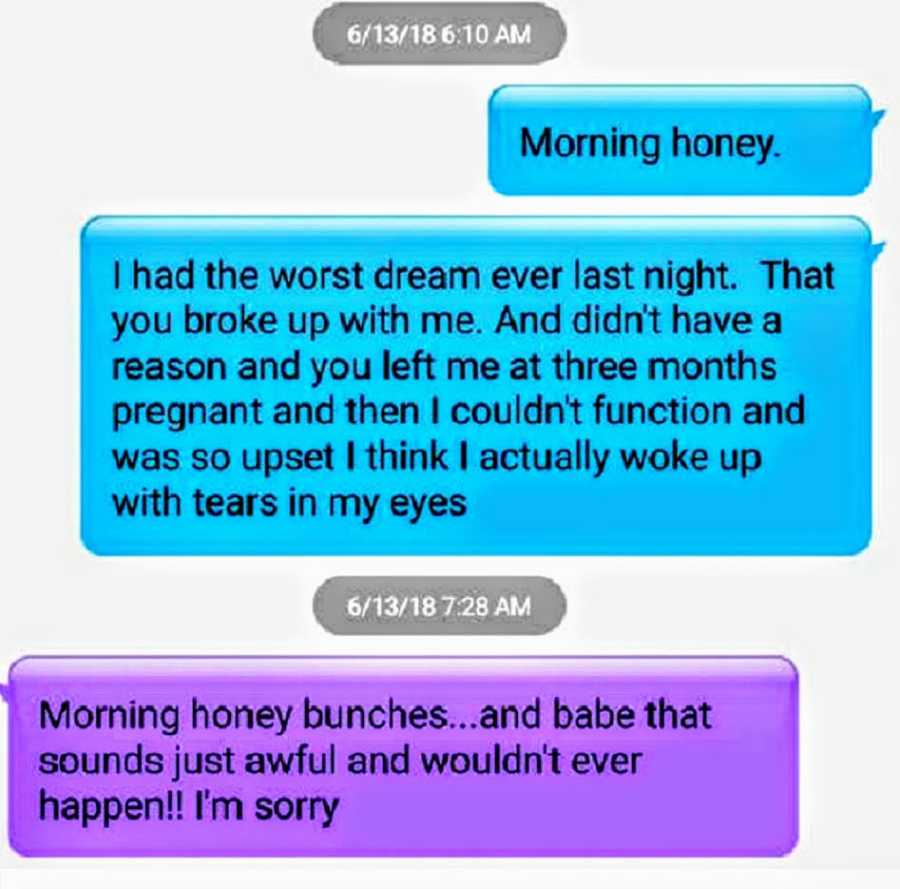 Well, my dreams became a reality in October of 2018, at five months pregnant.
My husband told me he no longer wanted to be with me. That he did not want me to follow him in the military and he was re-enlisting. That I made him miserable and he had been for a long time. I fell to the floor and just cried. I cried for hours. I called my mom and my closest friends to come over and stay the night with me. My world had been flipped upside down. Everything I believed in for the last four years had been wiped away without reason.
For the month of October, I begged and pleaded with my husband to do counseling, fly home and talk to me about this in person, tell me what I did wrong so I can fix it. He never responded. He never called. He never texted. I never heard a word from my husband up until 5 weeks before my daughter was born. I was a complete mess.
I also found out that he was staying with another woman 'who needed him' when his wife, his pregnant wife, was the one who needed him most. I lost weight from the pain when I should have been gaining it. I was not eating or sleeping. The thought of food made me sick and my mind never stopped playing every situation over the last four years over and over again in my mind, analyzing every detail of what went wrong. Not only was I pregnant, going to school, working and dealing with my parents' divorce, but I was now about to be a single mom. How could a man walk away from someone who had waited for him for four years? How could he plan to have a child and just walk away with no reason at all, no explanation?
My husband did not speak to anyone for months. I cried myself to sleep every night for four months straight. I prayed to the lord every night to give me a sign that everything would be alright and that I would be okay. My employer was amazing to me as I would sit at my desk crying thinking about how my life had changed in the blink of an eye. I felt so alone and never wanted to be a single divorced woman at 30 years old. I had done everything right in my life. I didn't understand how I got there and was constantly blaming myself.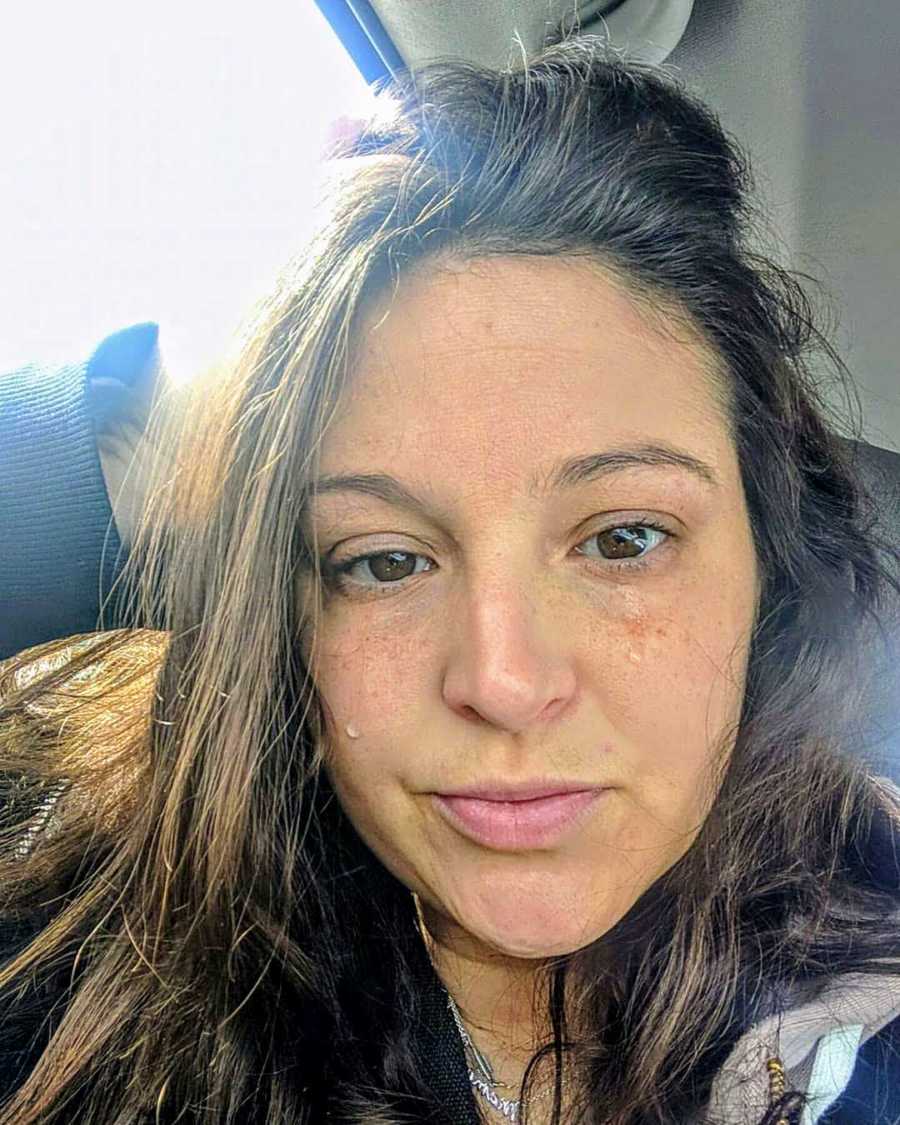 I went to therapy and got help in order to maintain the healthiest pregnancy I could, and I did. I gave birth to my daughter, Arrow Grace, on February 10, 2019. The labor and delivery was a breeze. I cut that umbilical cord and held my daughter for the first time.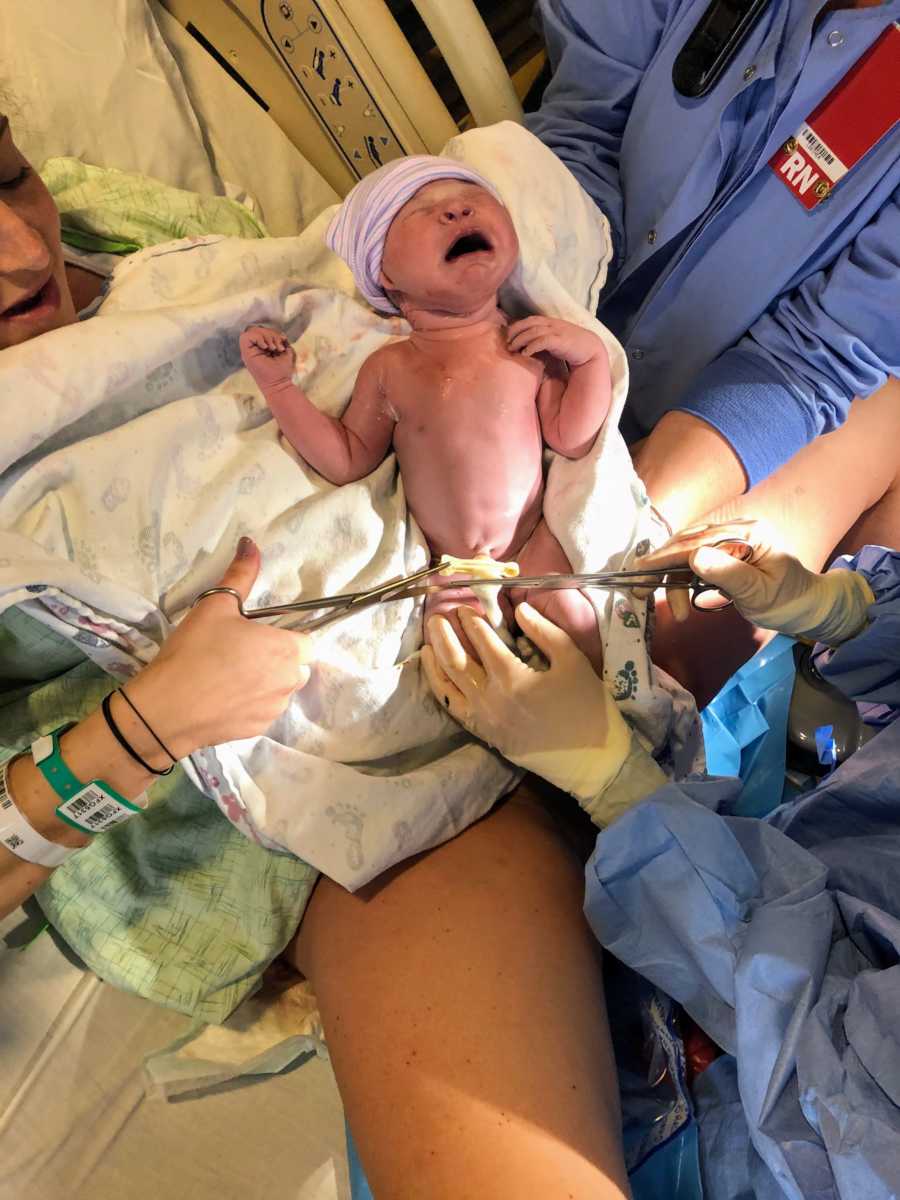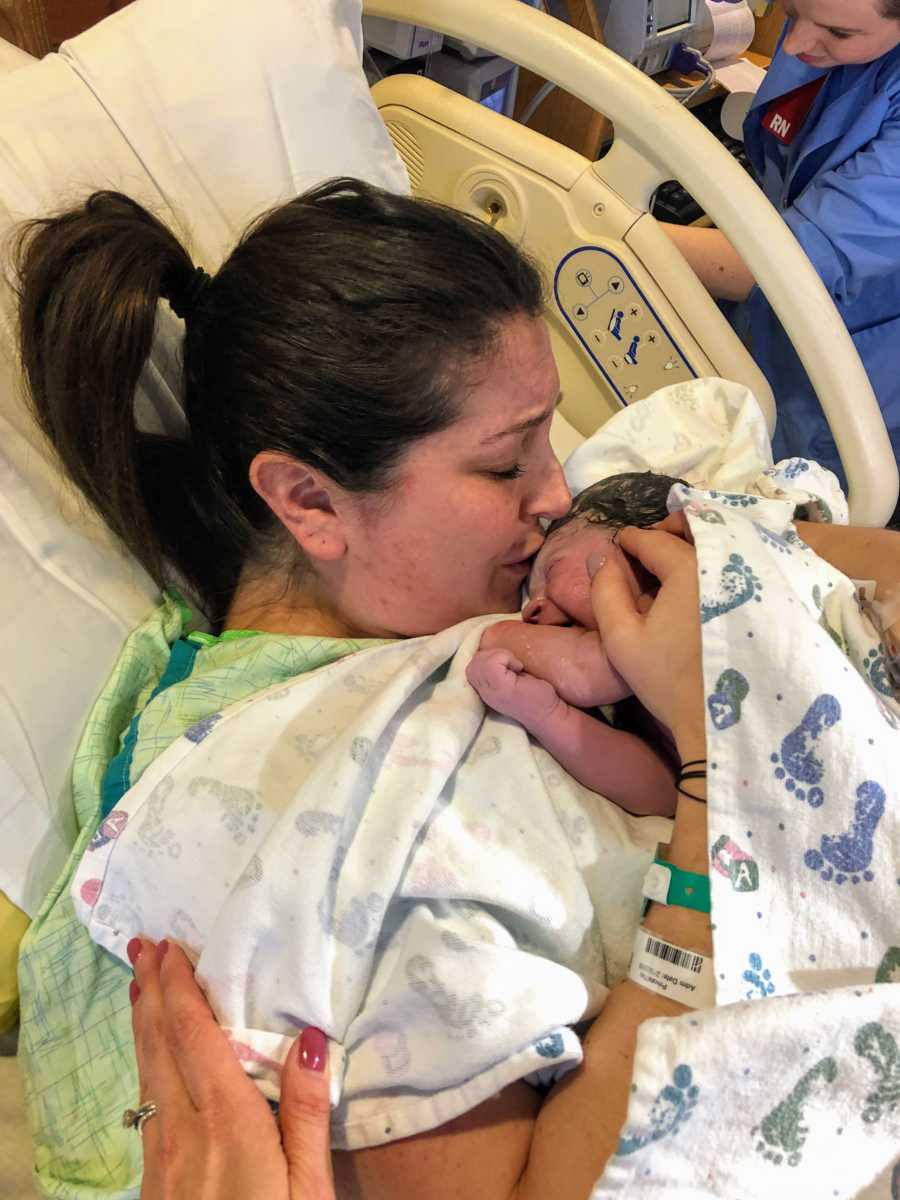 In that moment, the world stopped. I forgot about everything up until that point and was overwhelmed with nothing but the purest kind of love.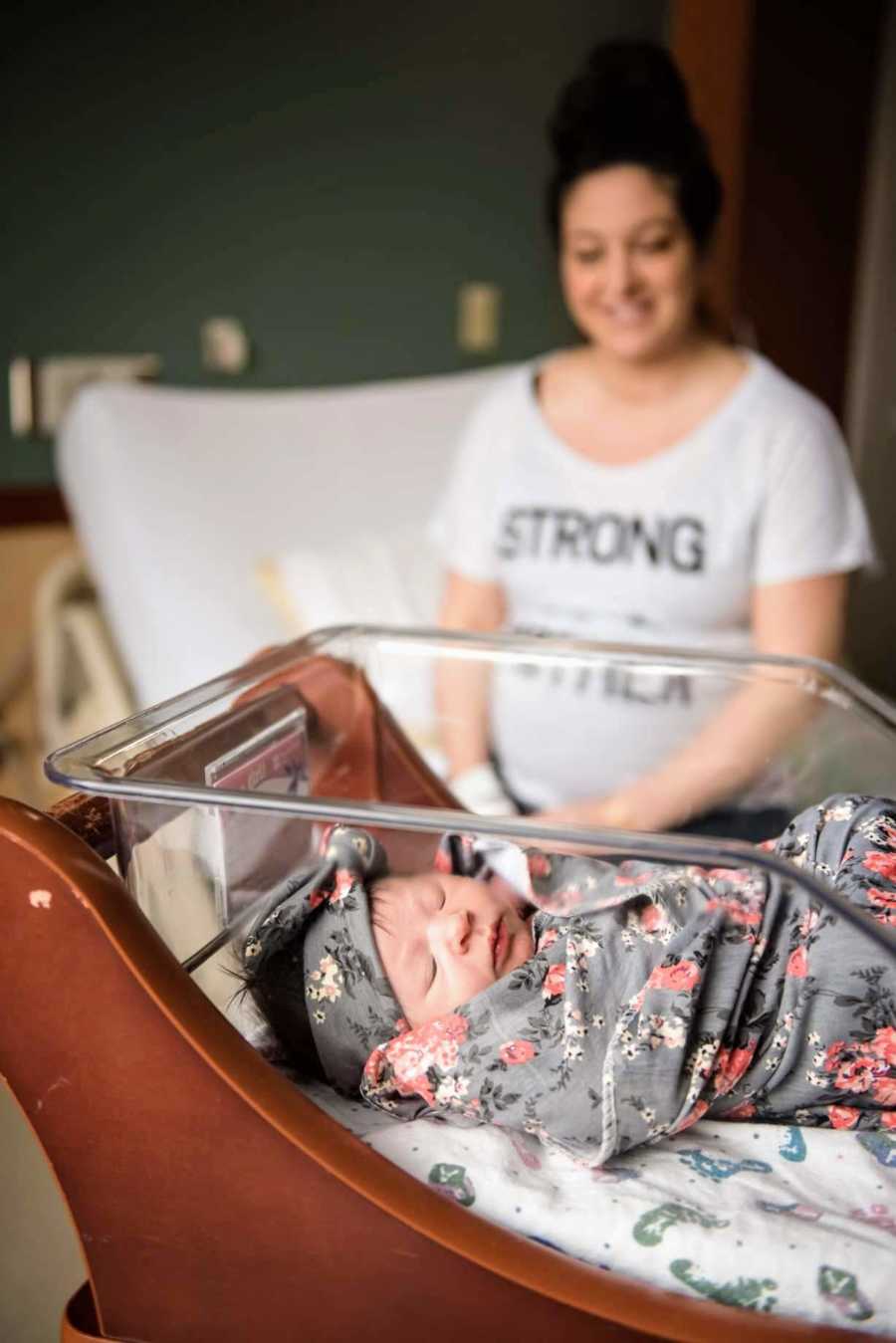 Her name is symbolic of all we had gone through during the pregnancy. An arrow can only be shot by pulling it backwards. My life had gone backwards, but when she was born it was instantly shot into something amazing and beautiful. We handled this awful situation with as much grace as we could.
I informed my husband, as he requested, that she was here. Again, he did not respond to me, ask how delivery went, or ask how she was. Nothing. I allowed him to come to the hospital to see his daughter and he sat there silently not saying a word. It was the highest tension and most awkward situation I had ever been in. My chest broke out in hives and I was fighting back tears. The nurse came in and realized how upset I was and kicked everyone out. It took everything in my body to tell my attorney I was ready to file for divorce. Even though it was not what I wanted, it didn't seem this relationship could be repaired no matter what I did. My husband no longer loved me or even seemed to care.
As I was nursing my week-old daughter at two in the morning, he was caught out with other woman 'celebrating being a father'. I sat there and cried over my daughter as I looked through the pictures of him with his arm around another woman. A week later, I stood in front of him crying my eyes out as he said goodbye to his daughter. He didn't blink an eye at my pain. I was almost never alone. I had my daughter, friends, family. But I felt alone.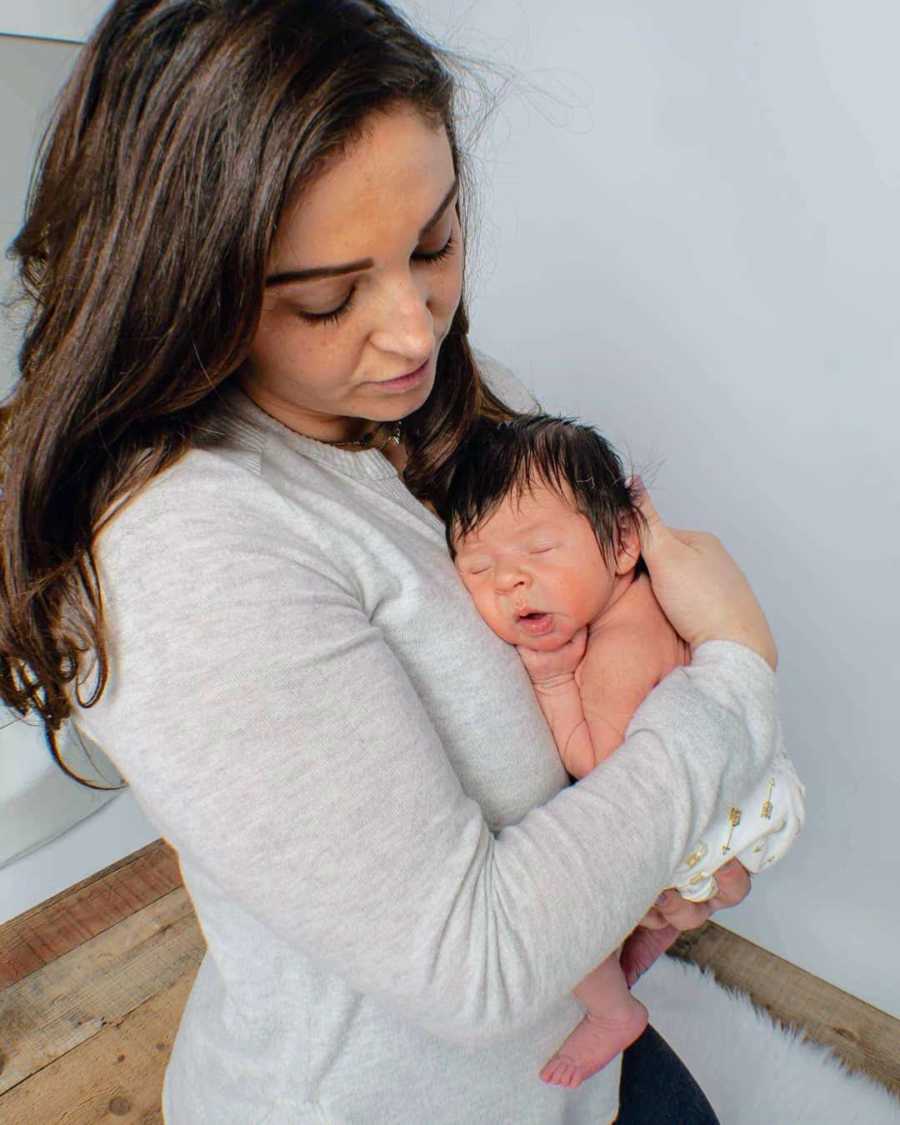 People checked on me day in and day out and those little check ins meant so much to me. It made me feel like even though they may not understand the intense pain I felt throughout my entire body, I mattered. I mattered to them enough for them to check. I have the best support system in the entire world and they are the ones who got me through my pregnancy.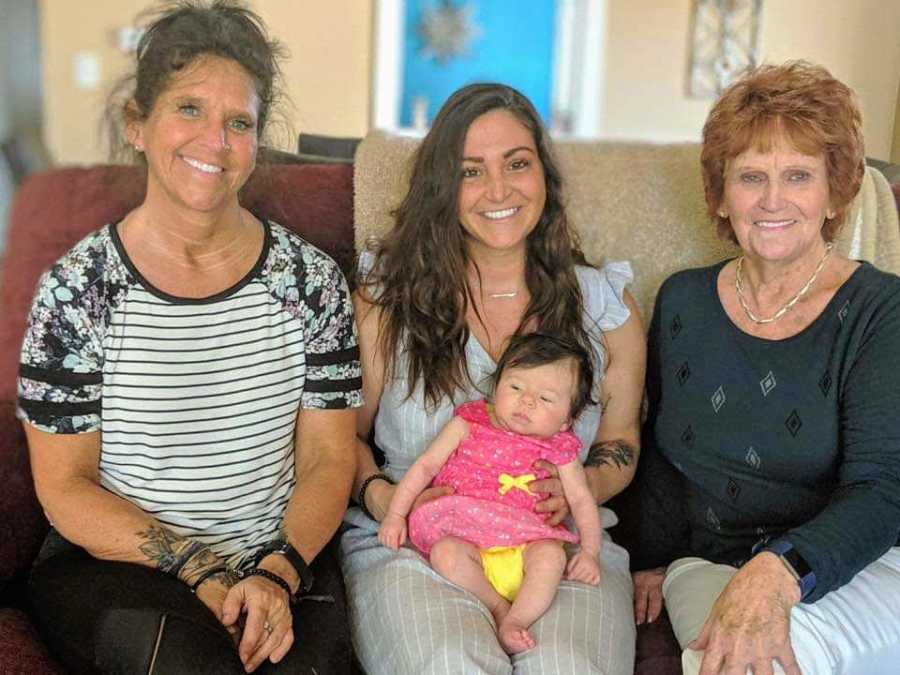 Here I am, four months later, with the happiest baby girl in the world, a master's degree, and a smile on my face (most days). Last week I walked across that stage in Broomfield, Colorado, shook the president of the college's hand, and earned my damn degree! Besides the birth of my daughter, it was the proudest moment of my life. Despite all the stress and negativity going on around me and feeling like I was walking on a cloud the entire time, I finished this!
I walked and got my graduate degree with my daughter in tow.  Even though she is too young to remember this moment, I plan to show her the photos later in life. I want to prove to her that with hard work and perseverance, she can do anything she sets her mind to, no matter the circumstances.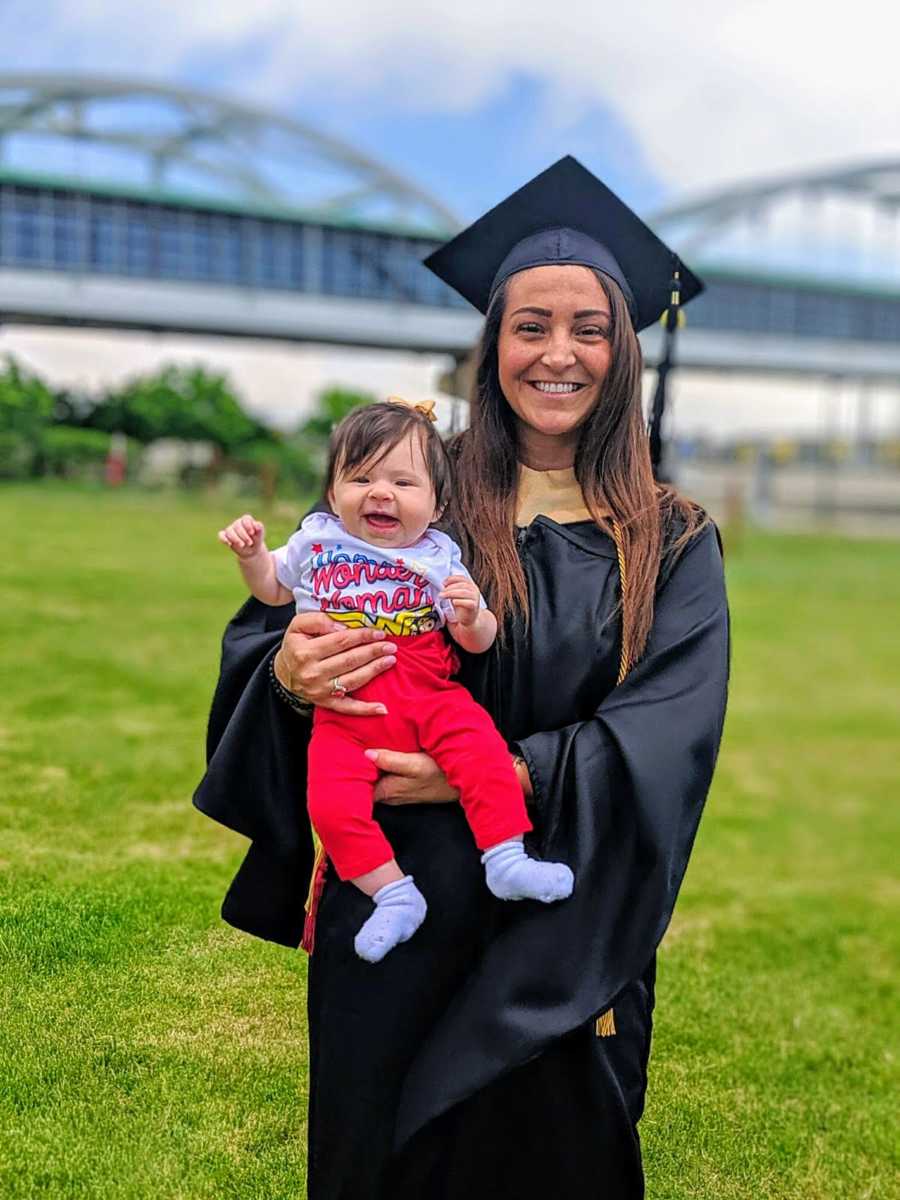 I could not have made it through this pregnancy journey and the first months of having a newborn without my amazing family, friends, and, most importantly, my own mother. They say it takes a village and that statement could not be truer. There are days I just want to go home and cry myself to sleep and not face my reality, but I choose to pick myself up every day and be the best mom I can be to Arrow Grace.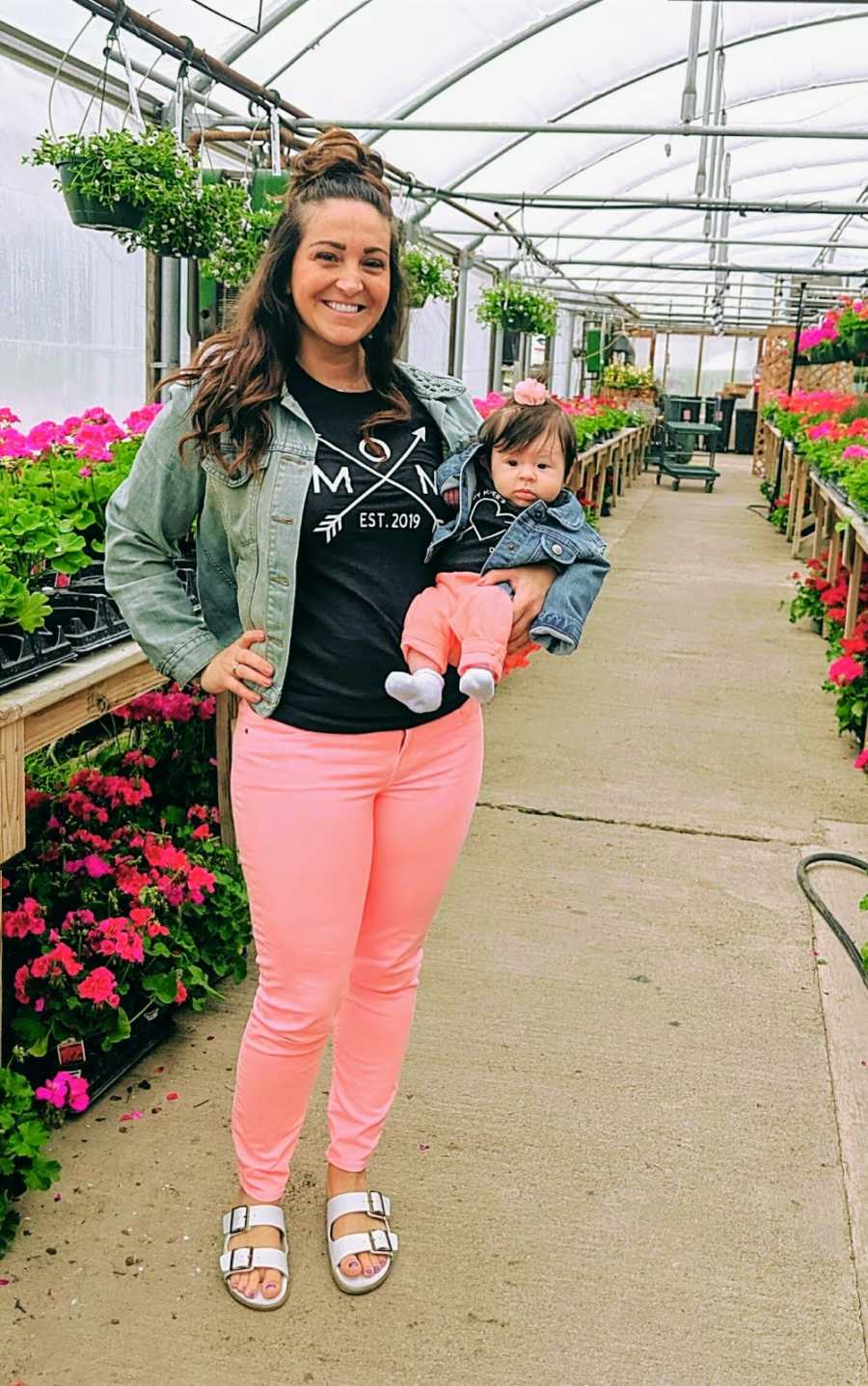 My daughter saved my life. If it was not for her, I fear I would not be here. I battled suicide before but got through it. This situation darn near broke me. Arrow is my motivation to be better, do more, and live out my life to the fullest despite the hand I have been dealt. God has a greater path for me, one full of love and happiness. Life didn't go exactly as planned and there have been lots of clouds, but I will be the sunshine. I will be strong.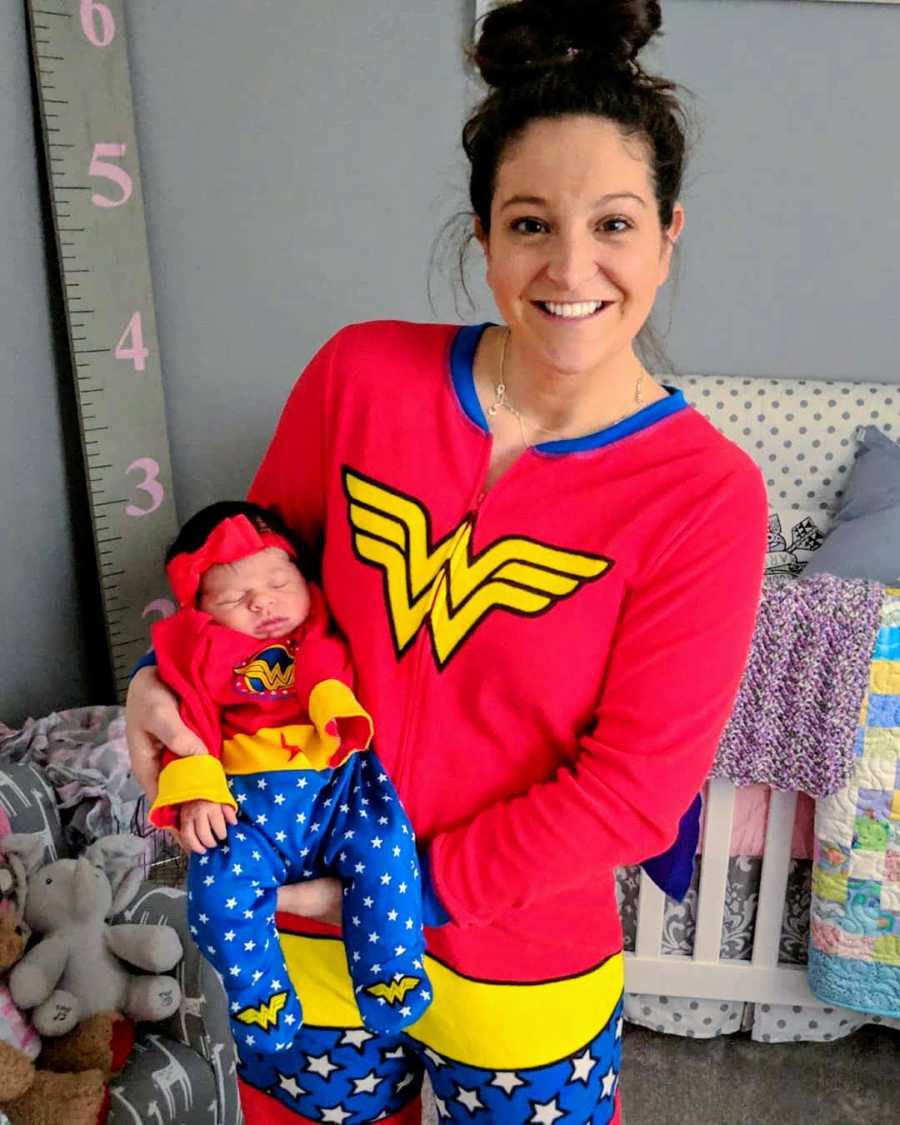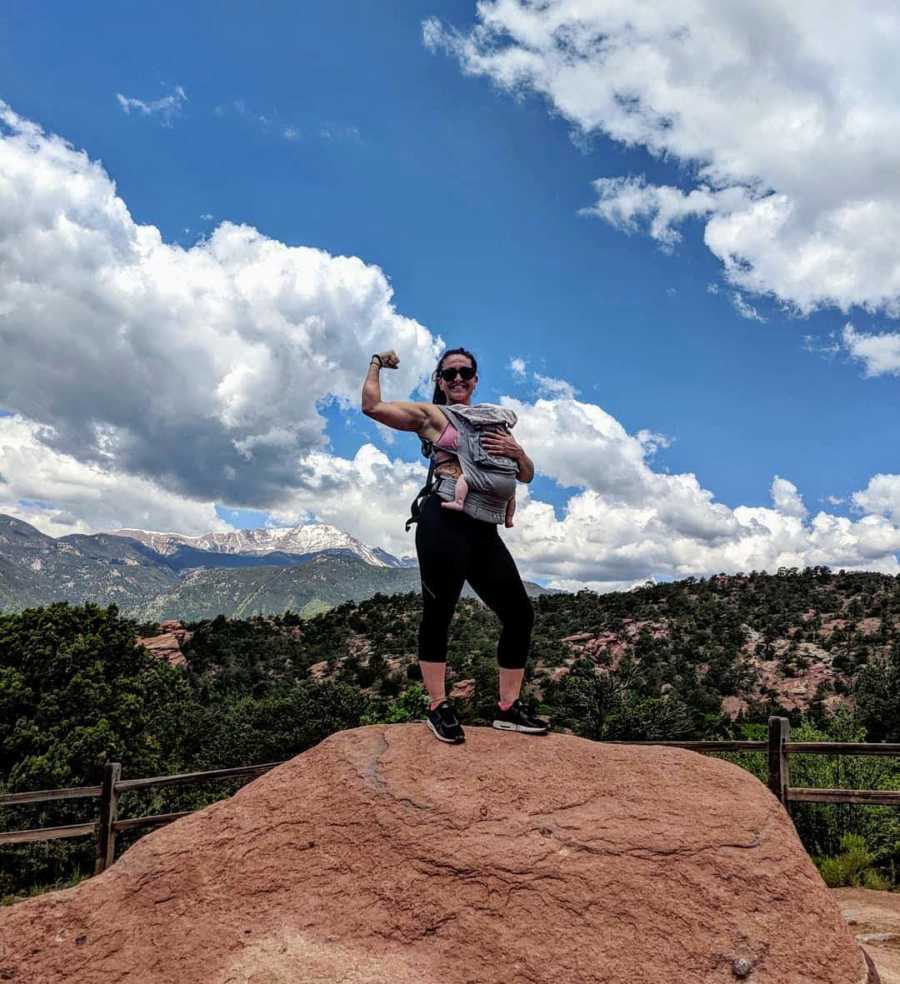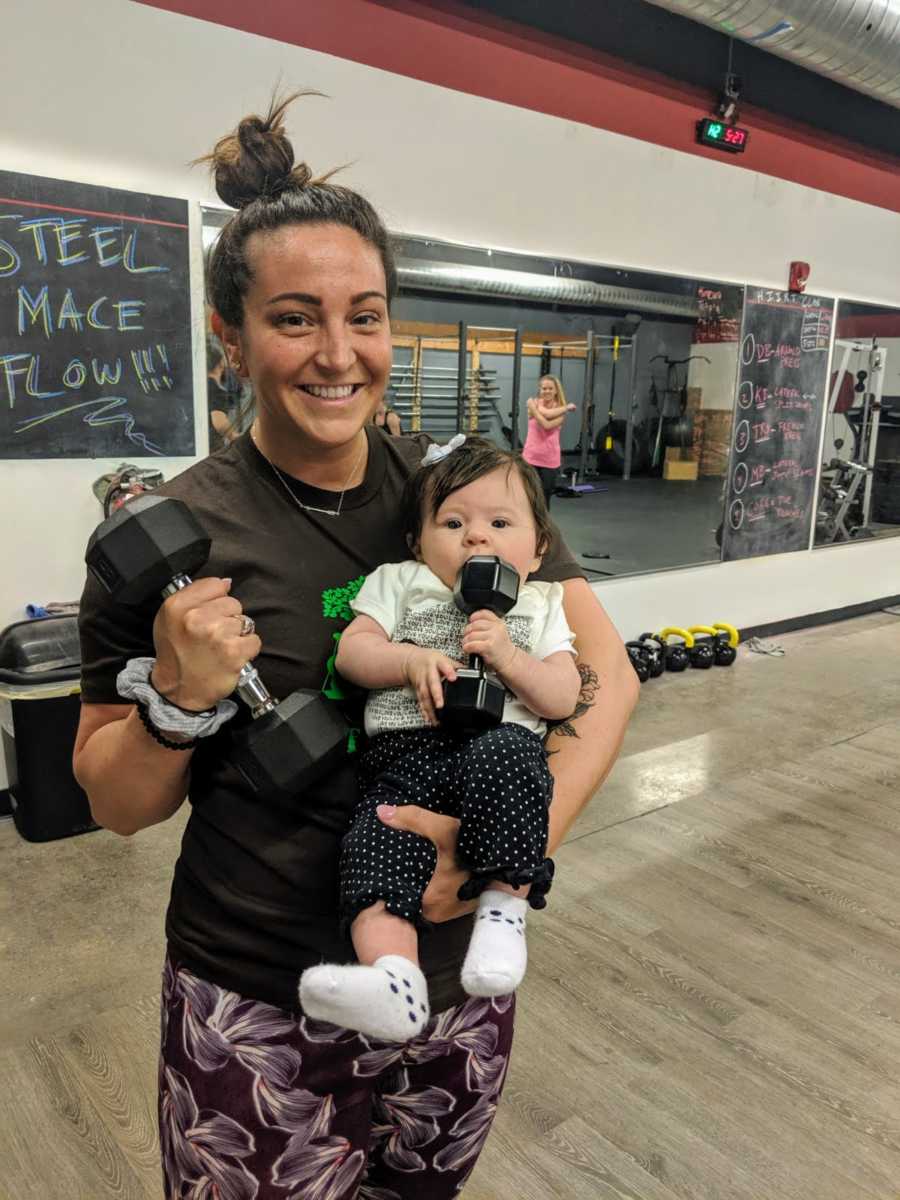 As I will always tell my daughter, aim high and shine bright my sweet girl – show this world what you are made of! The pain still lives in me every day, but the joy of seeing my daughter smile will always supersede that pain.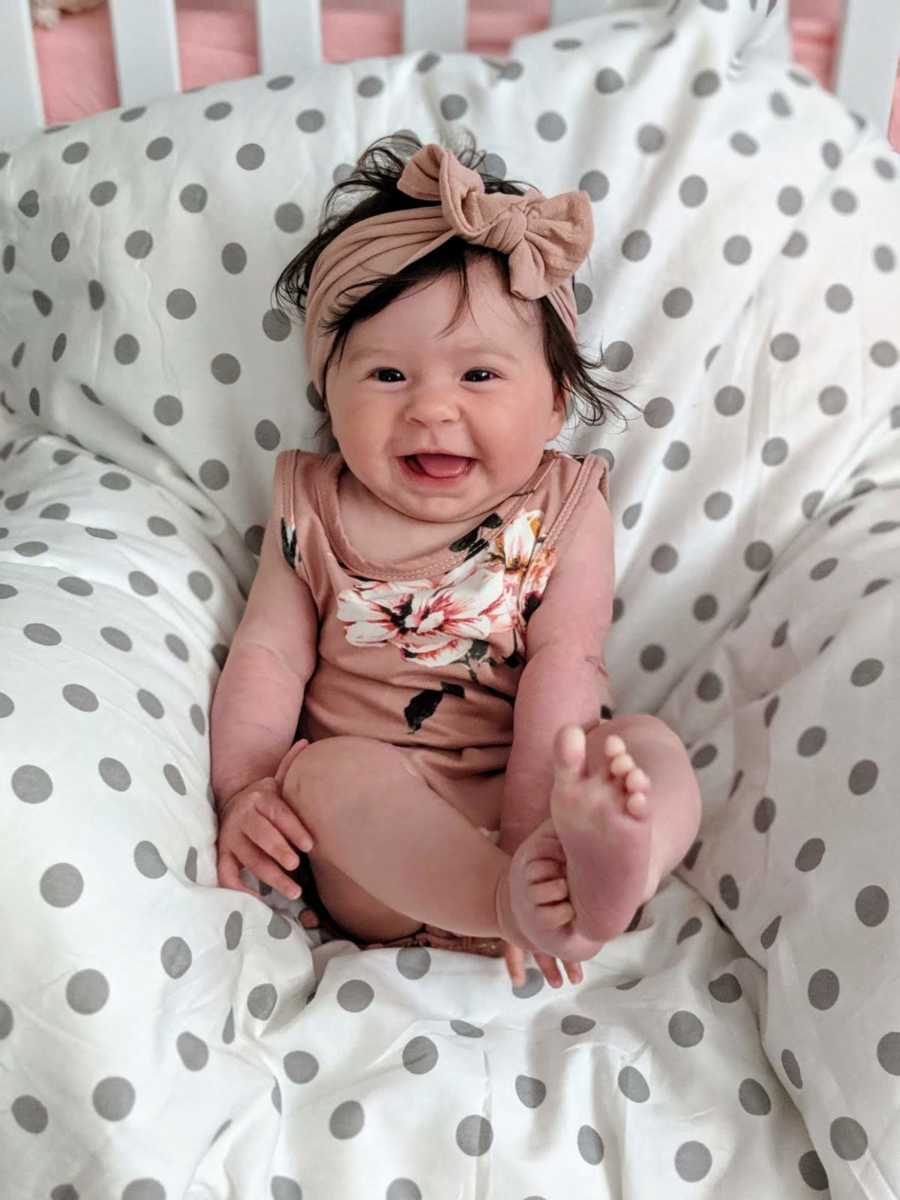 I will never let my daughter know what her father did to me. I will never speak badly of him. The happiness in her heart matters more than the anger I have in mine. She does not deserve anything but kindness in her life. When she asks why mommy and daddy aren't together, my response will be this: 'We just love you so much that there wasn't any room left in our hearts for each other anymore.'
I am grateful for this experience simply because up until October of 2018, I had a pretty darn good life. This experience has grown and shaped me into a much stronger, wiser woman. And for anyone who knows someone who is going through a tough time, reach out, show them you care. Even just simple 'I am thinking about you' text can make all the difference. BE KIND ALWAYS!"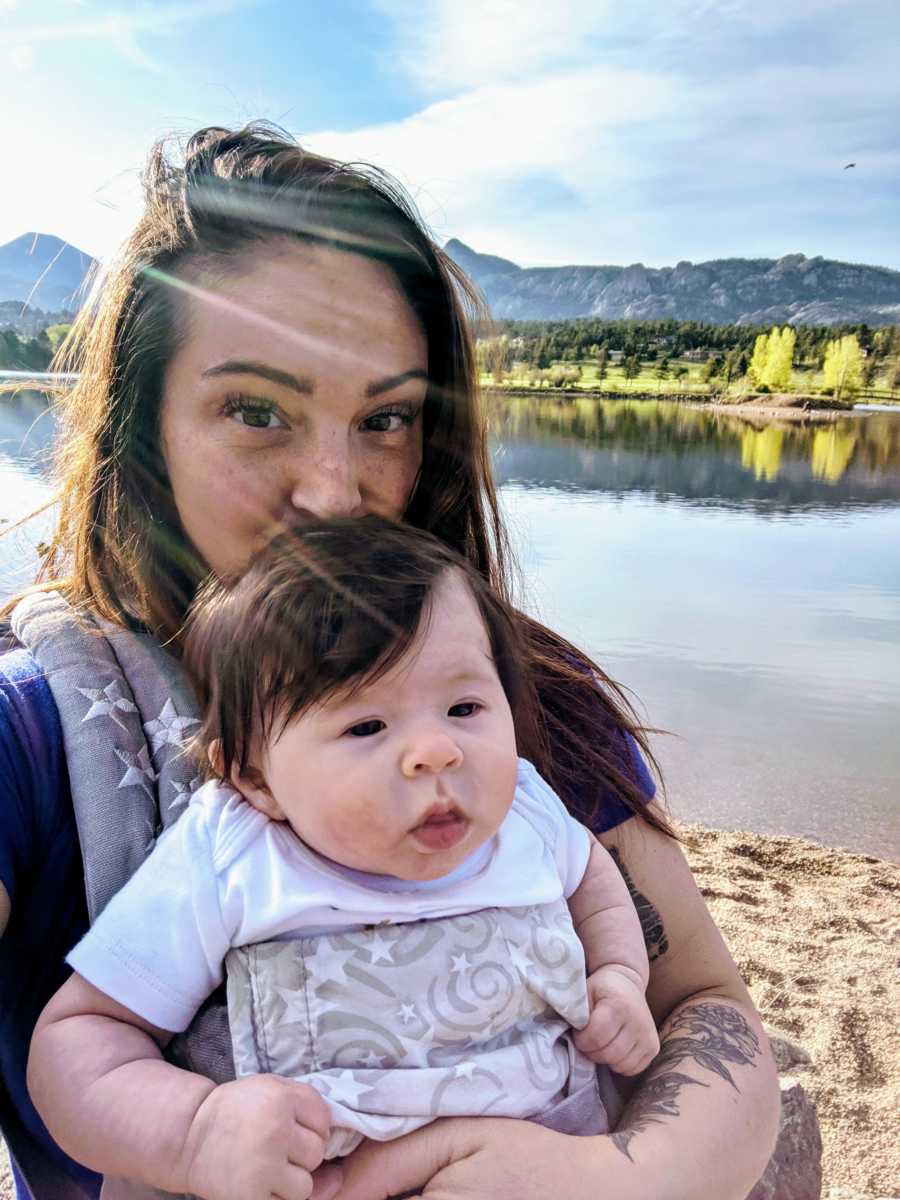 This story was submitted to Love What Matters by Amanda Wangler of Bettendorf, Iowa. You can follow her journey on Instagram here. Submit your own story here and be sure to subscribe to our free email newsletter for our best stories. 
Read more stories like this:
'I found YEARS of mail in his trunk. My husband was living a double life and had another daughter! He abandoned us in a Target parking lot and changed the locks to our home.'
'After 22 years of marriage, I found myself headed to a divorce court. When I walked into Kmart, my life forever changed. 'I would ask you out if you weren't wearing that wedding ring,' he said.'
Provide hope for someone struggling. SHARE this story on Facebook with family and friends.