"You see it on television and in the movies. A car pulls up and two men in uniform get out of the vehicle. They walk up to the house and knock at the door. As a viewer, you know what is about to happen. They are about to give the heartbreaking news to someone that their loved one is gone. For me, this wasn't a movie, it was my reality.
April 1st is known to many as April Fool's Day, but for me it will always be the day my life changed forever. I woke up that morning with a pit in my stomach. The kind you just can't shake. As a military spouse of an active duty Marine, I was used to the distance and not getting to talk to my husband all the time. He was stationed in San Diego, California, and I was back home in Kansas City, Missouri. Between the two-hour time difference and life in general, we would go hours between talking, but never this long.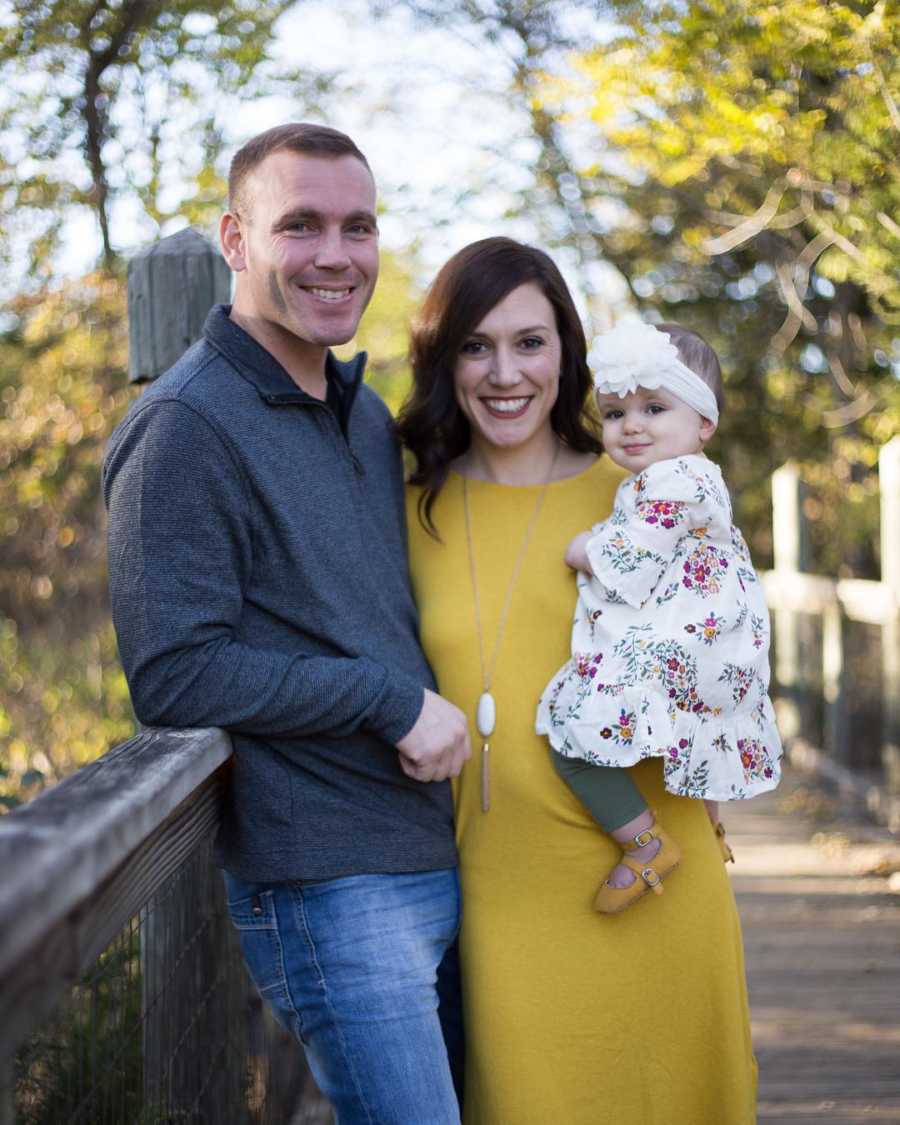 I hadn't spoken to my husband in almost 48 hours and was really worried. Every text sent went unanswered. I kept telling myself he had lost his phone and I was just overthinking it all. I decided to reach out to a fellow Marine wife who was also in California. That's when things took a terrible turn. I was sitting in my classroom full of 24 students and I read the words, 'He didn't show up to work.' My stomach dropped. Paul would never not show up to work. I kept telling myself he must have overslept since he lost his phone. Anything to make sense of this horrible dream I felt I was in.
I walked over to my teammate and asked her to watch my kids as I needed to make a phone call. I called a fellow Marine and co-worker of Paul's searching for answers. I remember him asking, 'What do you know?' I told him everything I knew hoping all of this was a mistake. He told me he would let me know what they figured out. After hanging up the phone, the day seemed to drag on. I had 24 students counting on me. They needed me and I needed them more than ever that day. The hours passed and I still had no answers. I remember sitting in the lunch room with fellow teachers and everyone's world was still going. Life was moving and yet I felt helpless, lost and confused. I couldn't eat lunch. I couldn't stop thinking about all the possibilities of what could have happened. I kept telling myself he just isn't thinking. He is going to be in so much trouble for not showing up to work, and I'm going to be so mad at him. I WANT to be mad at him. I remember spending my whole lesson planning time searching for answers, sending texts and making phone calls. I remember calling my mother. I remember saying, 'Paul didn't show up to work today. This isn't good Mom. I need you to pray. Please just start praying.' Time continued to pass and still I had no information. I remember the moment one of my kiddos walked up to me for no apparent reason and just gave me a hug. They say kids just know sometimes, and I felt in that moment he knew I needed that hug more than ever. I fought back tears as I hugged him back. I had to be strong. I had no other choice.
As my teaching day ended, I heard my phone ding with a message. I looked down only to read the message was offering condolences to my family and referring to my husband in past tense. I burst into tears. I remember saying over and over, 'What does this mean? Why is she referring to my husband in the past? He is just missing. He isn't gone.' I realized I needed to get home. I needed to be with my daughter.
As I walked in the door, I saw my sweet little girl and gave her the biggest hug. She was 17 months of perfection and just what I needed. My mom was there with her and began to help me attempt to search for answers. Every phone call went unanswered. I was so frustrated and angry. I didn't understand why no one was including me on what was going on, and being 1,600 miles away made it that much harder.
And then my phone rang. It was my sister asking why two men in uniform showed up at her door. You see, our home was being occupied by my sister and it was still listed as our home address. I remember saying, 'I have to go,' and hung up immediately. I looked at my mom and I said, 'They're coming. The Marines are coming. They are finally going to ask me what I know and allow me to help them find Paul.' I believed that. I had too. I paced at the door as I waited. I saw the car drive past my house. I ran outside and waved at them almost as if to say, 'I'm right here, hurry up.' They waved back. I went inside and waited. As the two men approached, I welcomed them in. They sat down on my couch. I barely remember the words, but I remember them reading a report about what had happened. They said that Paul had passed away. He was sleeping and they couldn't get him to wake up. They tried CPR and nothing could bring him back. I looked at them like they were crazy, saying, 'No! There are a million Paul's in the world. How do you even know it's my husband? It can't be.' I don't know when I finally accepted it. The rest of the night and days following were a blur. I remember going through the motions, but not really feeling anything. I could barely find the strength to get out of bed, but somehow, I had to. I had to keep going because I had a little girl who needed me. She was my purpose. At 31 years old, I began planning my husband's funeral.
On April 14, I finally welcomed my husband home, but in the way no one should ever have to. As I saw the casket draped with a flag, my eyes filled with tears. He was finally home where he belonged.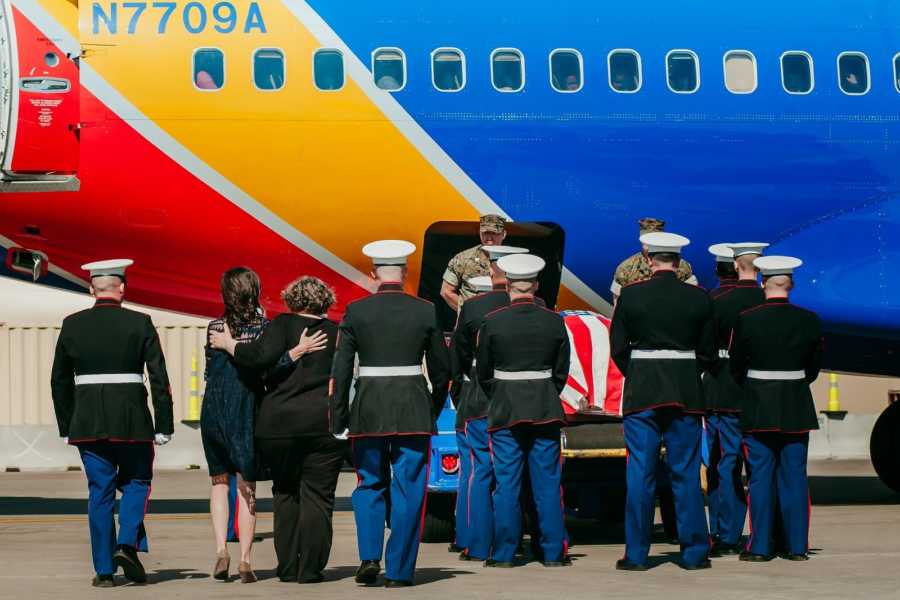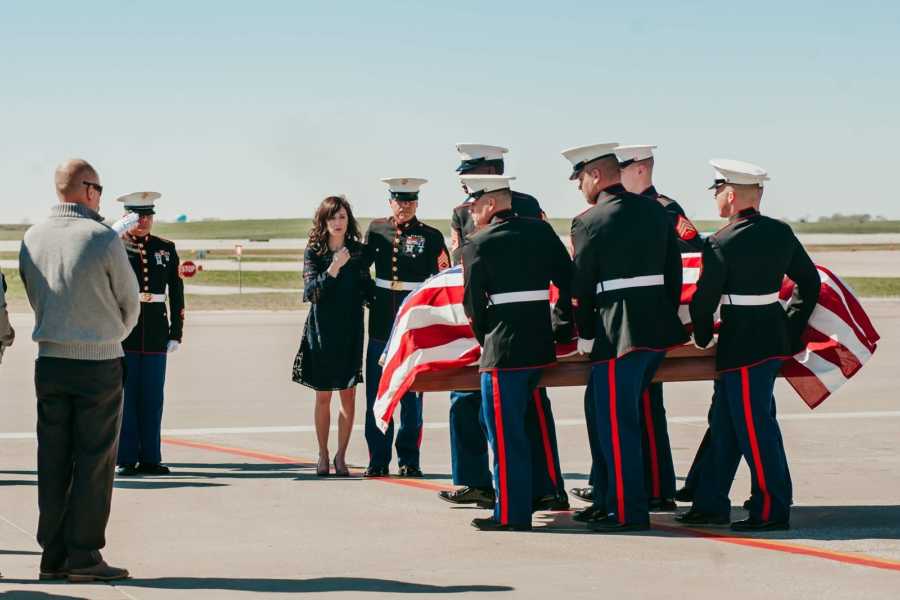 Over the next 24 hours I was flooded with emotion as I laid my husband to rest.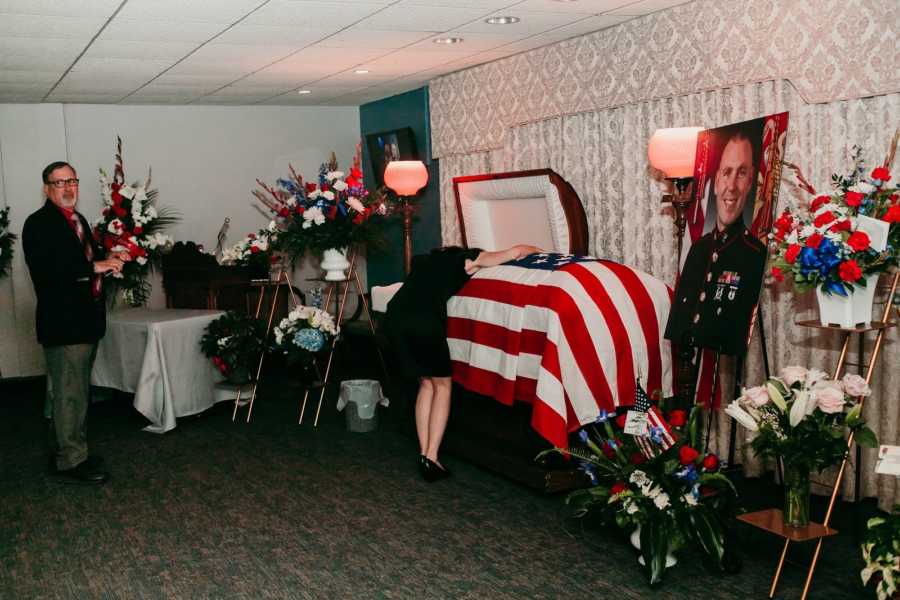 I will never forget the moment a Marine bent down and handed me his flag. Moments later, a second Marine bent down to hand our daughter, Haisley, a flag of her own. Her tiny little hands reached out and touched it. In that moment I saw her innocence. She had no idea what was happening and what that flag represented, but one day she will. It will be my job to teach her.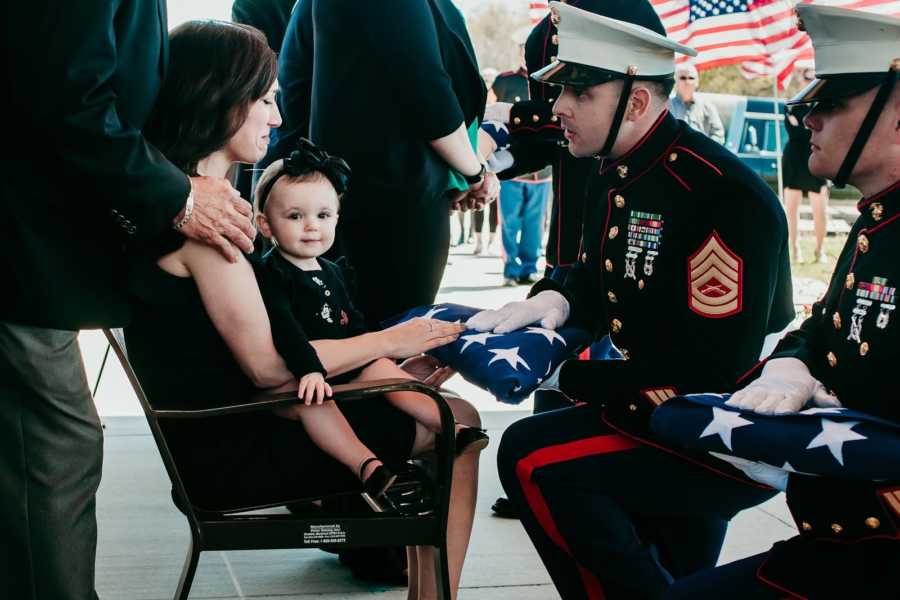 I will tell her that her Daddy was a Gunnery Sergeant in the United States Marine Corps. That he loved to hunt and fish. I will tell her the hundreds of stories that have been shared about the impact he had on this world and how many lives he changed for the better. I will make sure every day she knows just how much he loved his 'little princess.'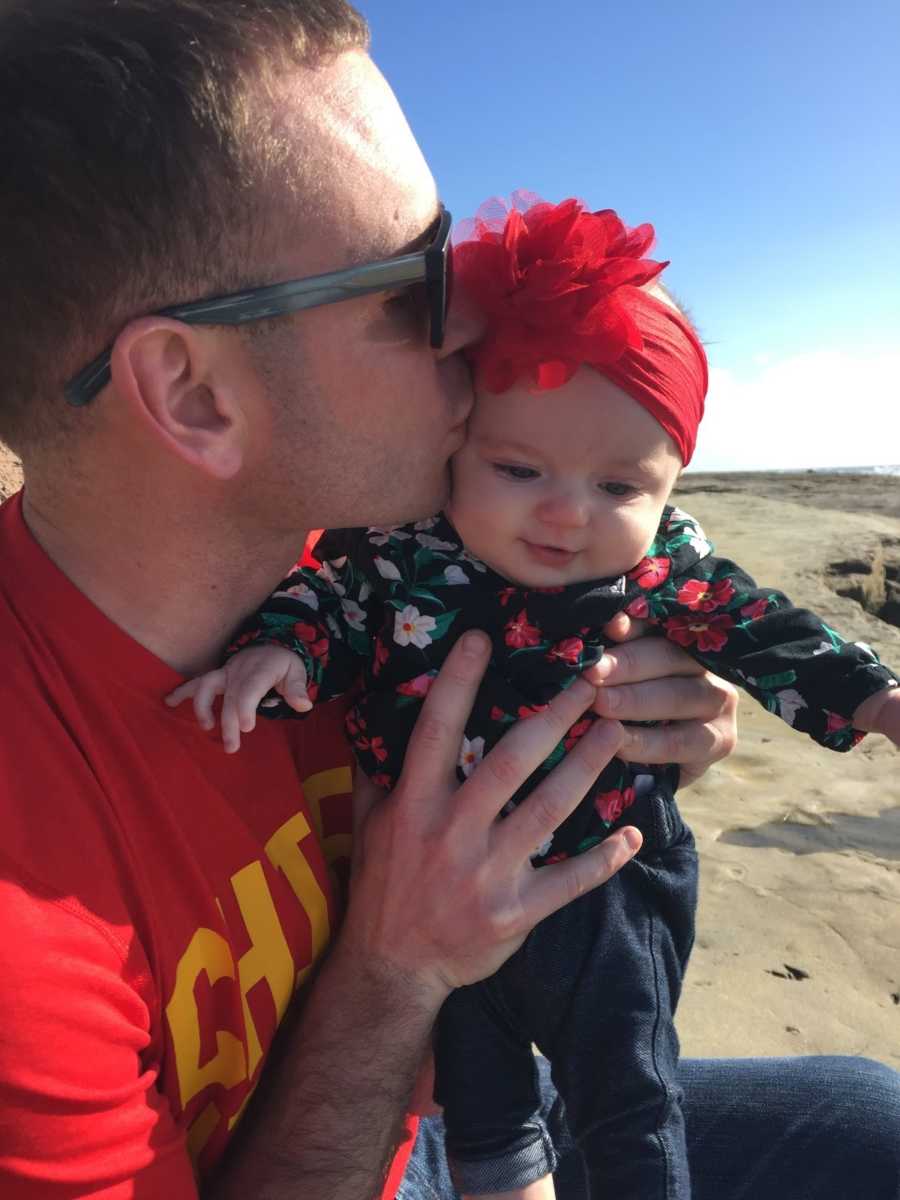 As I look back on our relationship, I think about the 8 years we spent together. While no time would ever be enough, I'm so grateful for all the memories we shared. From dating long distance, buying our first home together, to bringing our daughter into the world. Our relationship had its ups and downs, but no matter what, we never gave up on each other.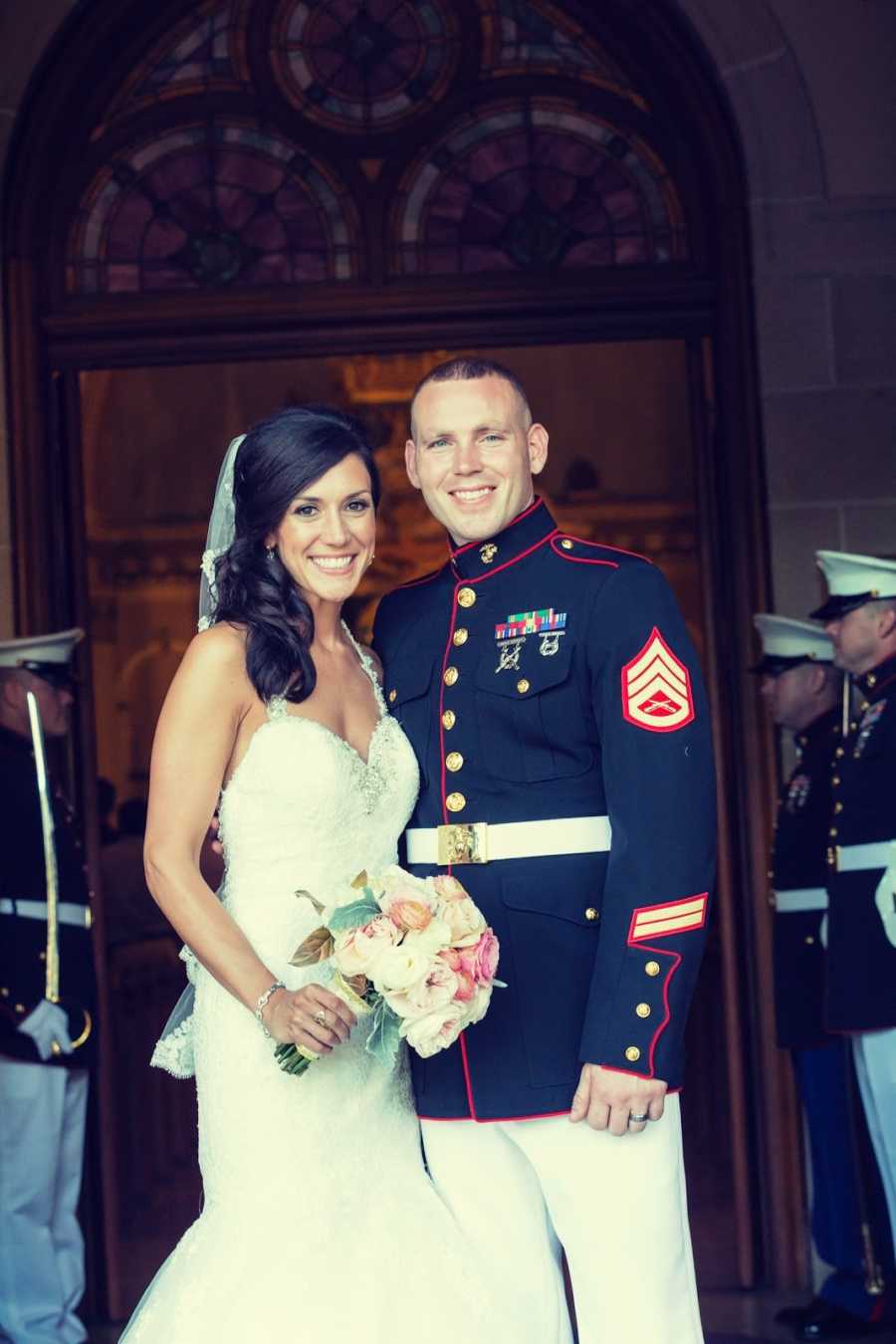 The hours, days and weeks that followed felt impossible, but somehow as I sit here nearly a month later, I see the light even on my darkest days. It has been shining ever since that horrible day in the smallest moments. I see the light in our daughter as she grins and smiles just like her Daddy. I see the light in the friends and family who continue to check on me and reach out to offer help and support. I see it in the strangers who have become friends walking alongside me on this journey. I see it in the random acts of kindness that have been bestowed upon my daughter and me. I hope you will see where there is pain, there is love. I hope you will see the honor that is bestowed upon our service members even in their last moments. I hope you will take the time to tell someone how much you love them and never take a single second for granted. I hope you will live life to the fullest.
While every day brings new challenges, I know I am not in this alone. Paul is walking beside me every step of the way."
From podcasts to video shows, parenting resources to happy tears – join the Love What Matters community and subscribe on YouTube.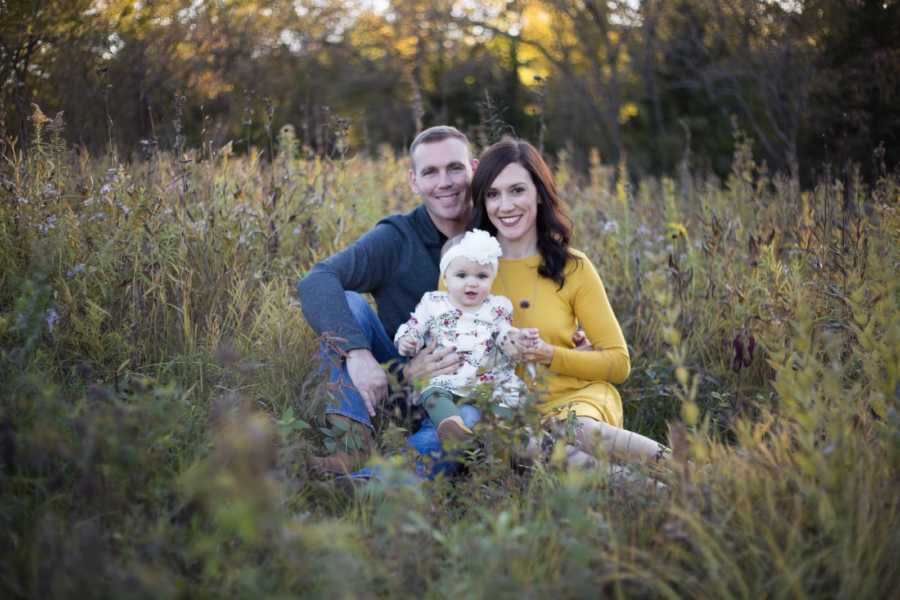 This story was submitted to Love What Matters by Gillian Bush of Missouri. You can follow her journey on Instagram and Facebook. Do you have a similar experience? We'd like to hear your important journey. Submit your own story here, and be sure to subscribe to our free email newsletter for our best stories.
Read more powerful stories of military families:
'We eloped on August 31, 2018, after dating just 40 days. She is my wife from another life and now that I have her, I am complete.'
'My dad had been dead for almost 9 years. I was shaking': Marine son receives wedding gift from father in heaven to 'protect' him
Show your love for the active duty heroes around the world. SHARE this story on Facebook or Twitter.