"Sam and I met when we were in the same second-grade class. We were not friends and we just knew of each other and sang in the elementary school choir together. Side note: Neither one of us should have ever been in any type of choir our voices are atrocious and to this day, we know the only reason we were in the choir was they had to let every student who tried out participate.
Fast forward to the summer before our freshman year of high school. Our paths once again crossed at a church youth camp. A few days after we arrived at the camp, Sam needed to borrow a phone charger so I lent him my charger. I had put one of those stickers with my first and last name on it, just in case it got lost or stolen so he had no choice but to return it. On the way back home from camp, my friend and I rode back in a van because there wasn't enough room on the bus, and Sam requested to ride with us. My favorite part of this whole week was on the way home. He was sitting next to me and when we got out of the car, he leaned over and said, 'Your hair smells good.' This filled my stomach with butterflies and I still remember what kind of shampoo and conditioner it was.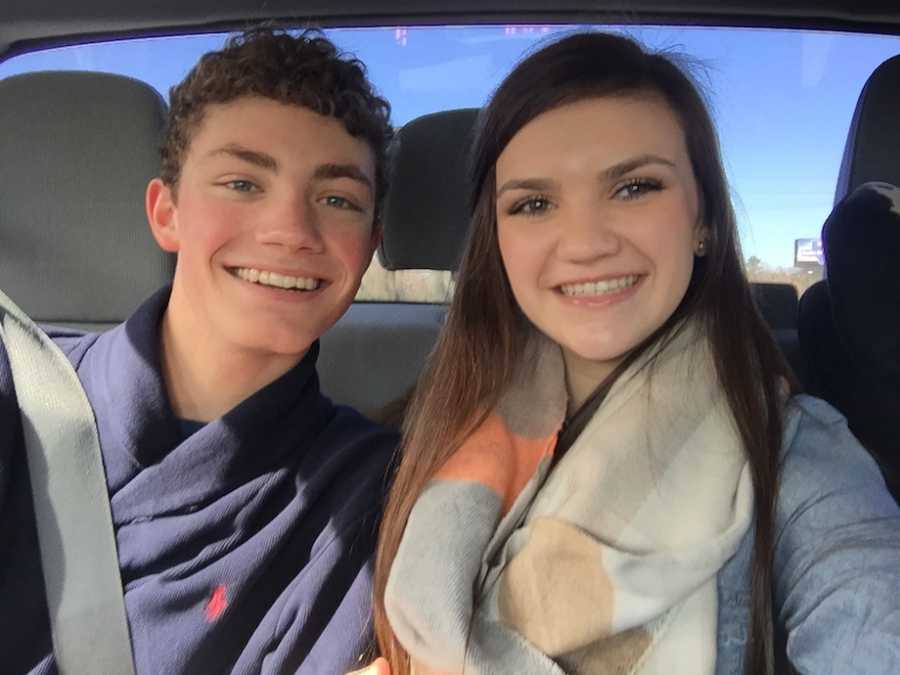 A few weeks later, Sam invited me to these youth classes that happened once a week and we attended them for several weeks, getting to know each other. Then the fall came and I needed a date for my cotillion dance called 'Fall Ball.' I knew exactly who I wanted by my side. I texted Sam and of all the things I could have done or said, I sent a simple text basically saying, 'Hey do you want to go to a dance with me?' He immediately said yes and a few short weeks later, we were on the dance floor holding hands and singing to each other.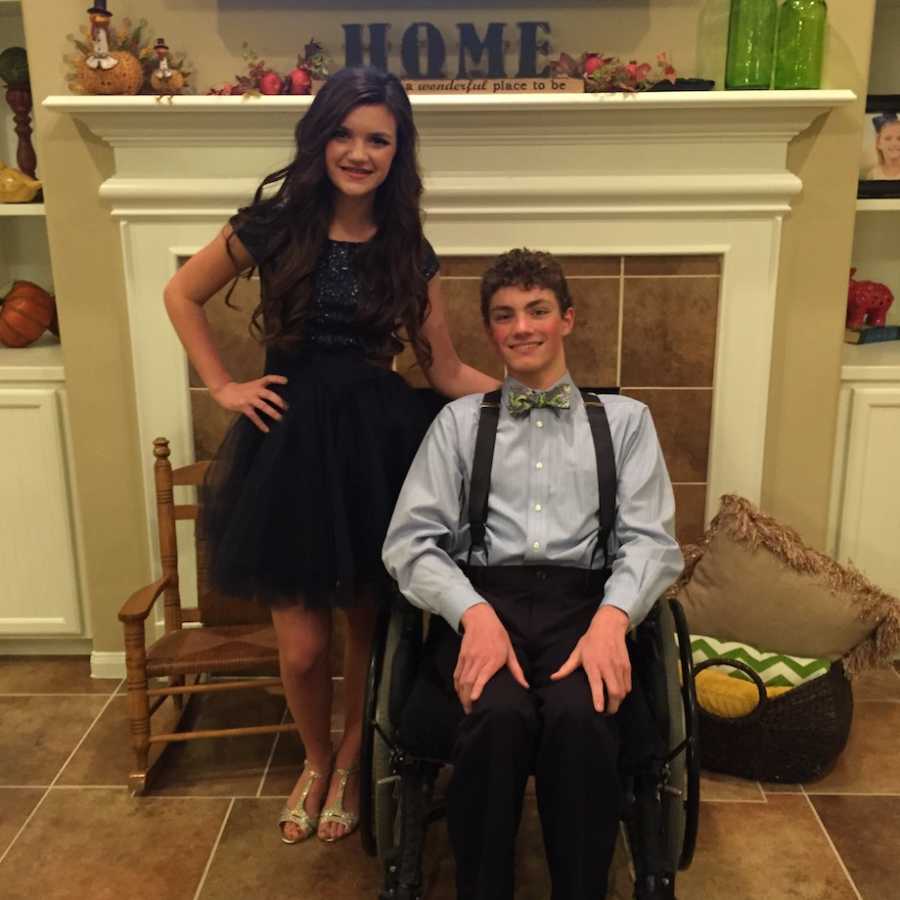 We started dating on November 28, 2014. At this point in our story, I am sure you are starting to wonder if I am ever going to mention the fact Sam uses a wheelchair… I was not oblivious to the fact Sam was in a wheelchair, but Sam had the most beautiful blue eyes, the curliest brown hair, and the biggest, brightest smile I had ever seen, and those were the things that really stood out to me. Several months went by without me really knowing the specifics of what Sam had. To be honest, we were just soaking up every moment we had together not worried about anything else.
I really learned about what Sam had because I had to do a project on a disease caused by a genetic mutation in biology class. I choose to do Friedrich's Ataxia (FA). Sam has FA, which is a terminal neuromuscular disease that affects nearly every part of your body. FA causes hearing and vision loss, severe scoliosis, hypertrophic cardiomyopathy, loss of coordination, and speech impairment. The worst part of this cruel disease is it's progressive, meaning all symptoms worsen over time and there is currently no cure or treatment for FA, ultimately leading to an early death.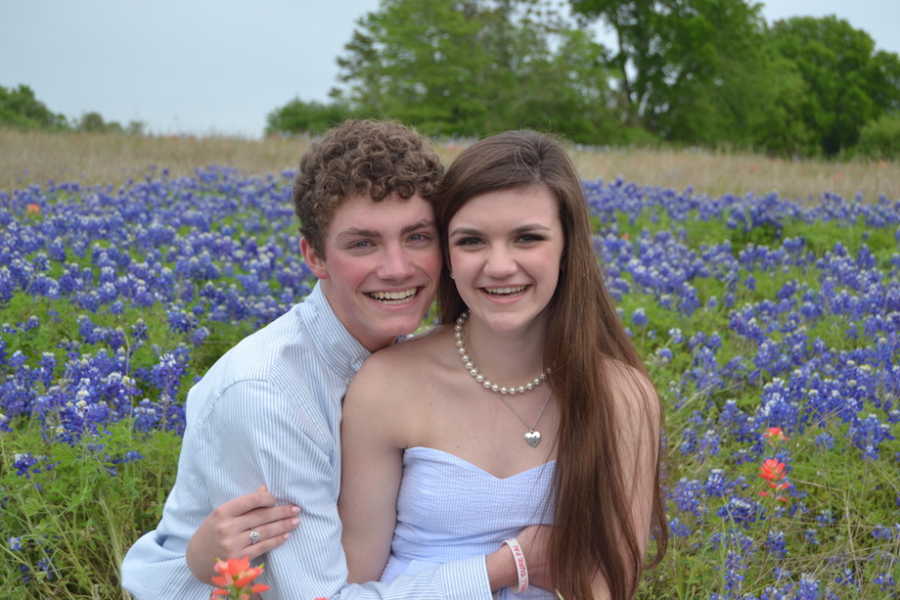 This was a lot to take in. However, it did not change the love I felt for Sam. Not everyone saw our relationship this way. Many people doubted us, saying we were too young, I didn't need to be taking all this on, etc. This was frustrating for both Sam and me because people didn't see the joy we brought one another. They were only seeing the 'burden' that was supposedly being placed on me. They didn't see the value of Sam's love for me and the respect and gratitude we had for one another. We were different than anything our small town had seen, and they didn't know how to handle it, but we didn't care. We pressed on. We knew we loved each other, and whether people supported us or not, we were made for each other. One day, they would see how deep and genuine our love for each other truly was and is.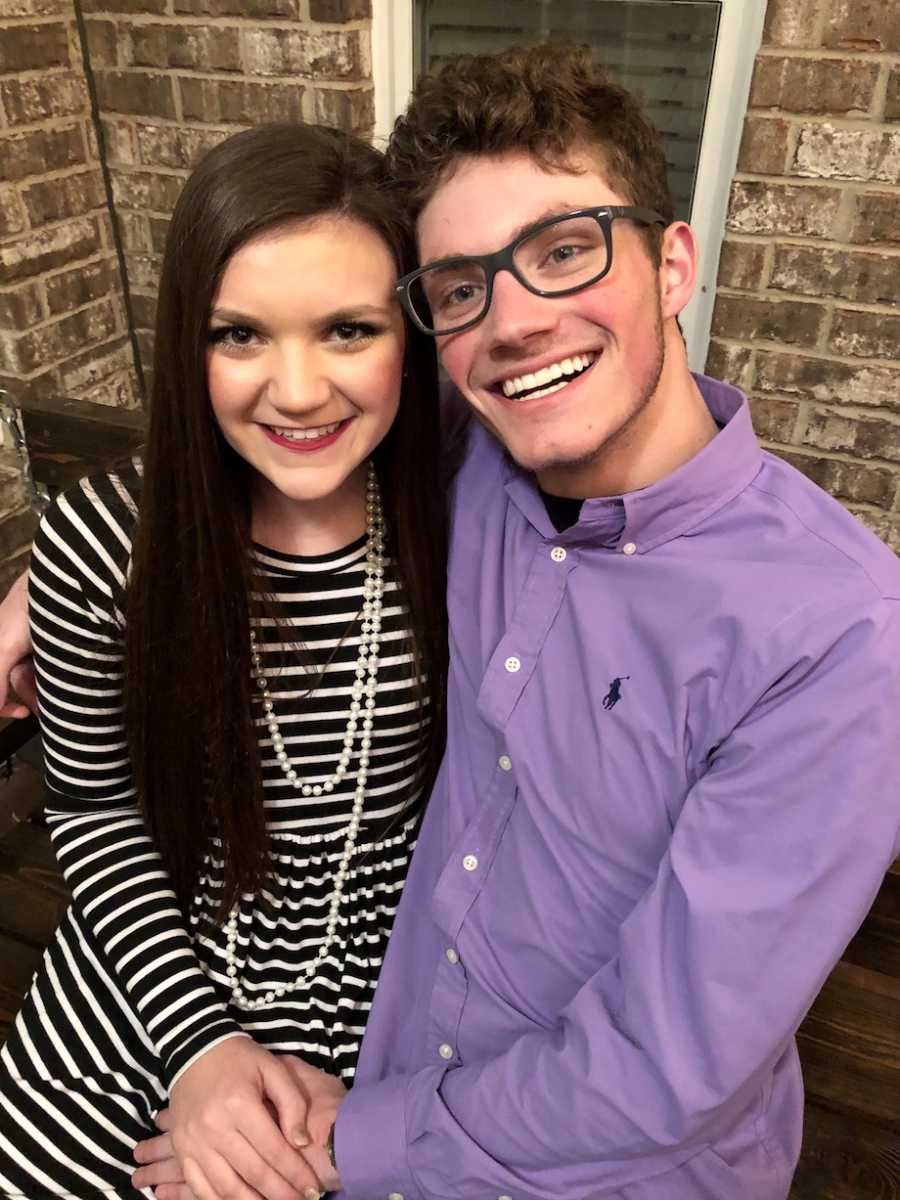 Throughout high school, we were each other's biggest support system. I went to every football game Sam managed, and Sam went to every dance competition I competed in. We attended every dance, banquet, and award ceremony together. Although, our high school days were not all sunshine and rainbows. I started to see Sam's progress from when we first starting dating to our senior year he went from taking himself to the bathroom to having to depend on someone for this and it couldn't be me at school. We also began to notice a decline in Sam's vision, hearing, and coordination. He needed help writing and reading small font and he was not getting the help he needed at school.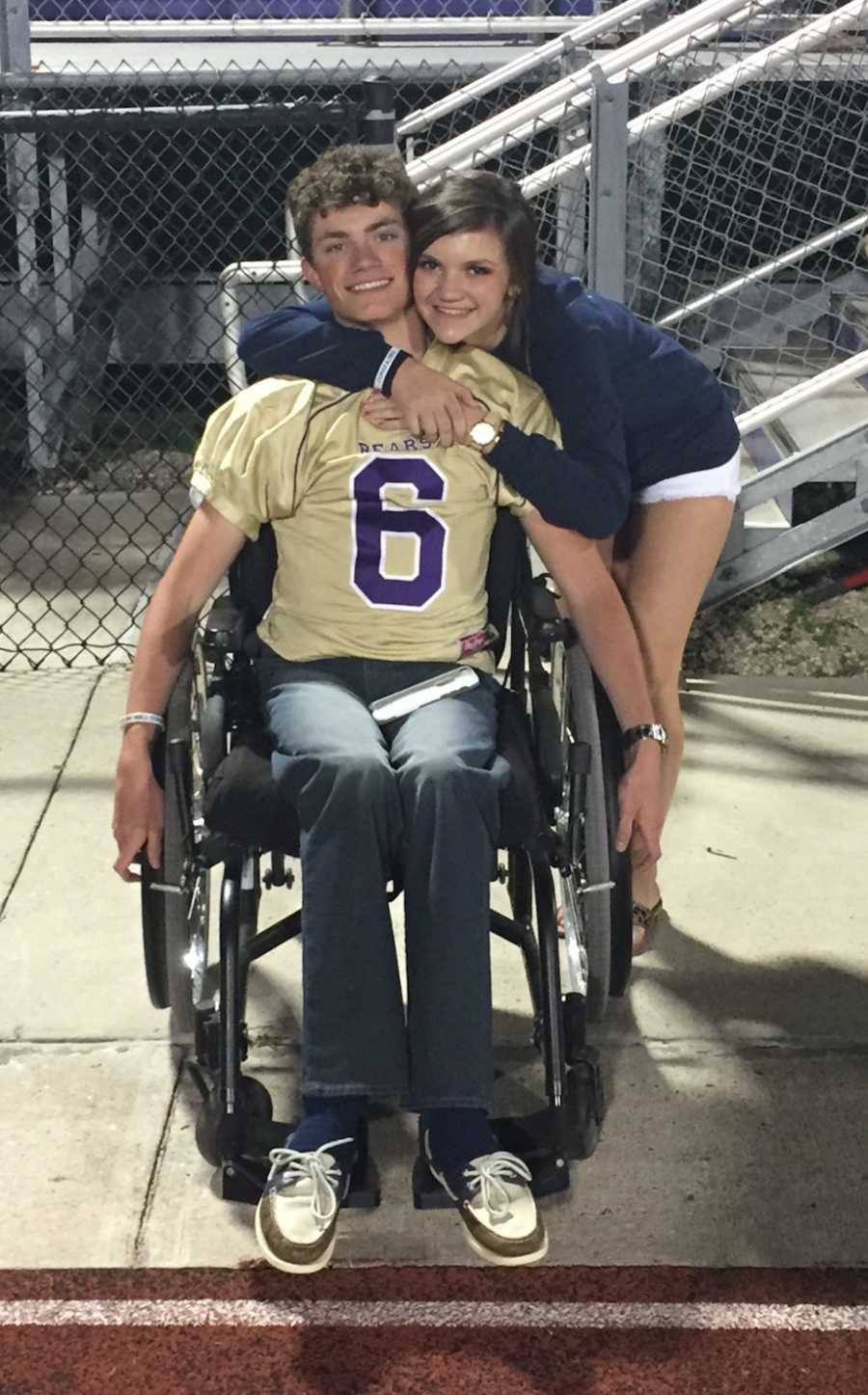 Sam and I had to fight tough battles in high school for his right to an education. Battles for accessibility and assistance due to the simple fact Sam was in a wheelchair and needed accommodations to make school an option for him. While these battles seemed frustrating and unnecessarily difficult at the time, we now realize these obstacles were just preparing us for the inaccessible world ahead of us. We finally made it to graduation after a long 4 years and we were ready to make huge strides in our life.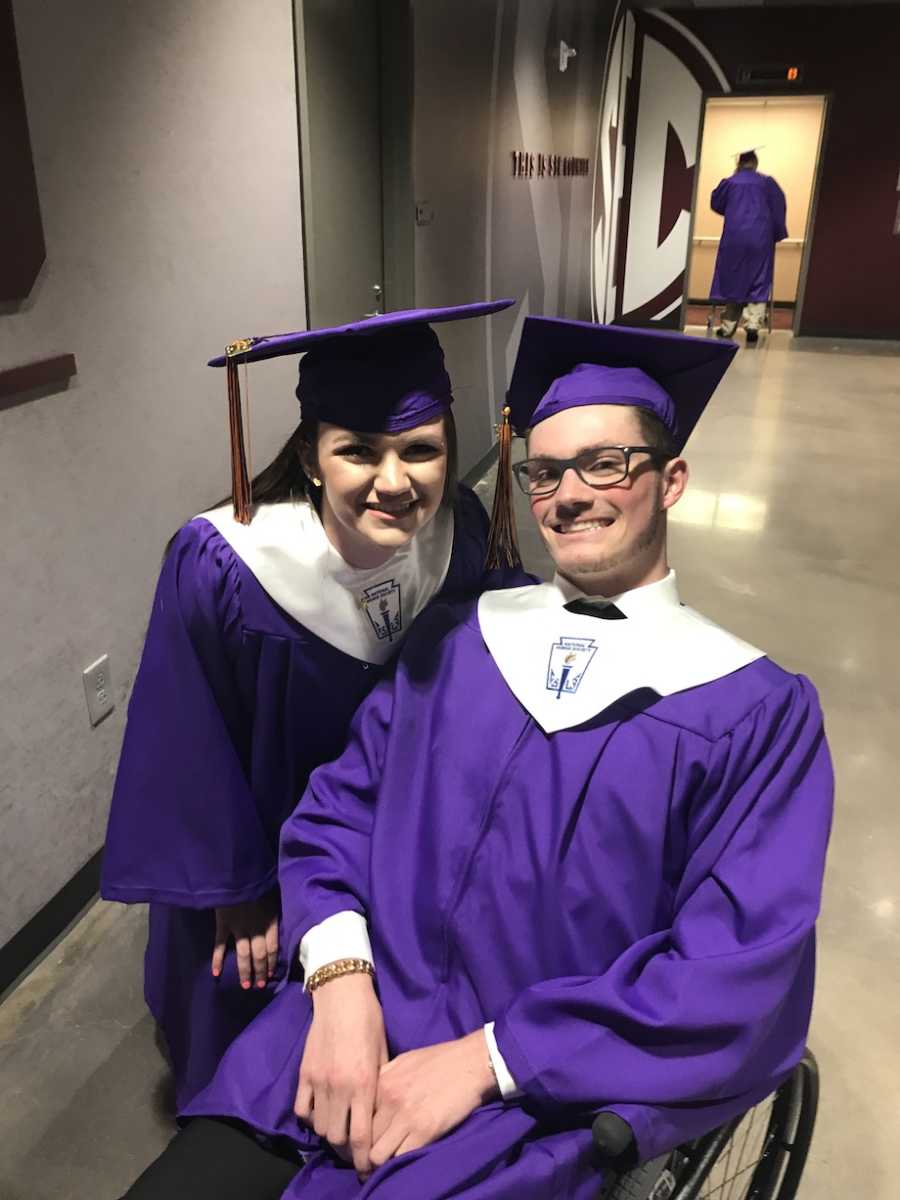 The Christmas after graduation, Sam took me to my favorite restaurant and asked me the most important question ever, 'Will you marry me?' I had never been more shocked and excited to say, 'YES!' 8 months later, we were in paradise exchanging vows with all of our friends and family. Our wedding day was the most romantic and sweetest day we could have ever dreamed of. I walked down a sandy beach to my teary-eyed groom, thinking about what an amazing future we had ahead of us. We danced the night away and spent the next day celebrating the grand occasion that had taken place.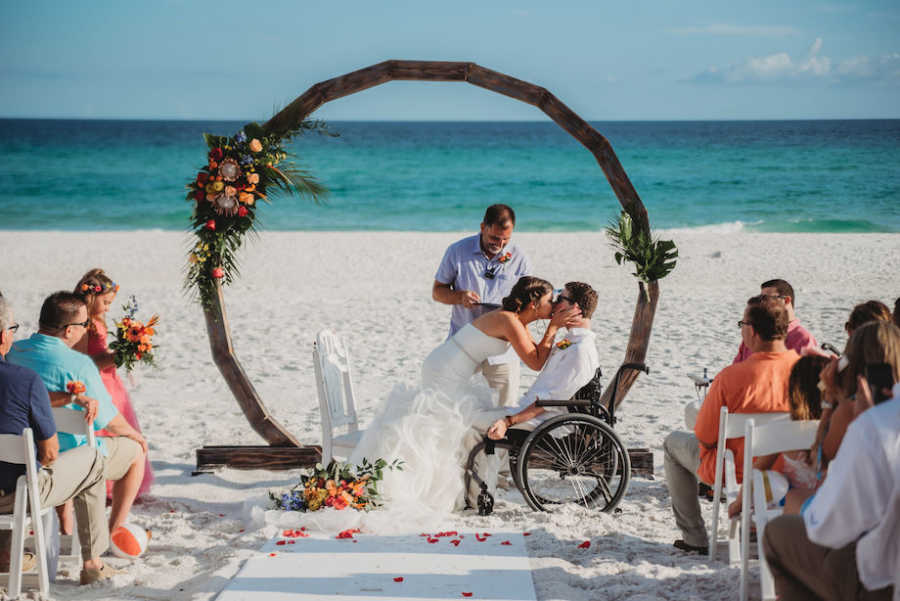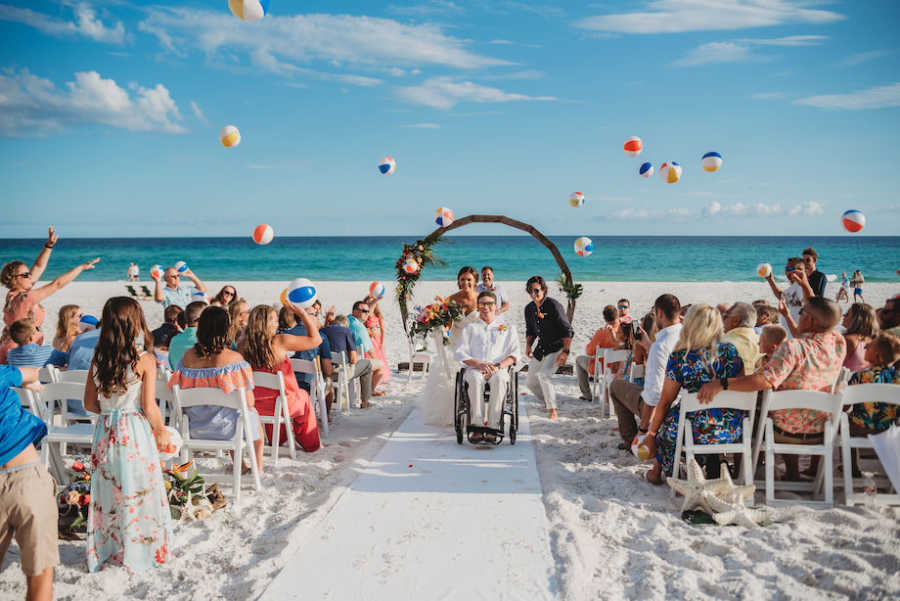 Sam and I have been married for a year and a half now and we don't take for granted one moment together. We, of course, have hard days, especially the last few months. We have seen the FA progressing, and Sam's eyesight starts to dwindle and his coordination goes to basically nothing. However, it's in the quiet moments of us sitting on the couch together or holding hands in the car we remember just how lucky are to be together. Amongst all the adversity we have faced, we still have the most important thing: each other. We also believe in a God who put us together almost 7 years ago and has perfectly orchestrated our life to be where it is now. We wouldn't make it one day without the love, peace, and patience God has given us for each other and for the world.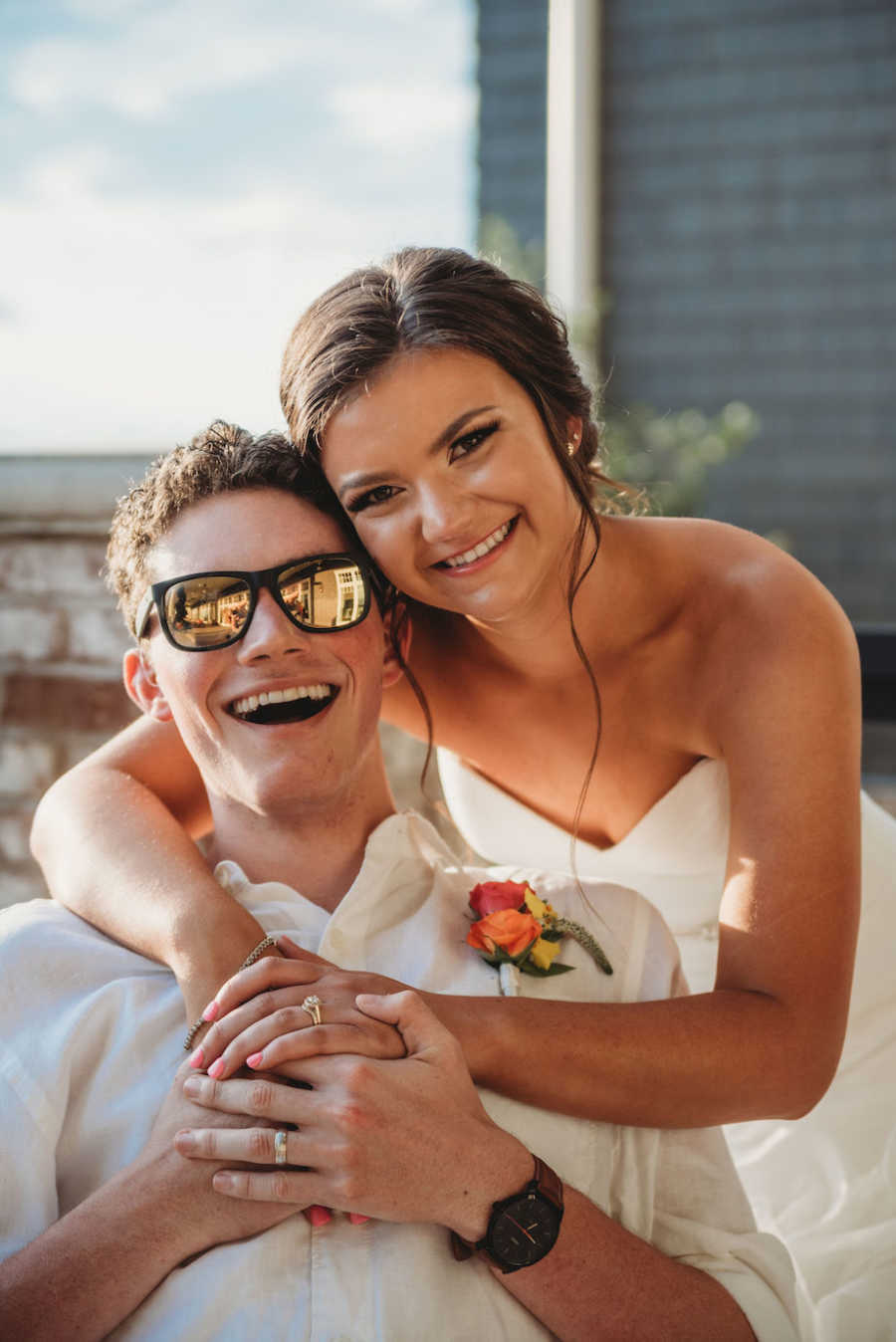 We are just one of the hundreds, if not thousands, of interabled couples. Our story is just a tiny piece of the puzzle when it comes to improving and normalizing life for people with disabilities and their spouses. It is important to remember every love story and disability is different we don't all fit into one big box. Even if two people have the same diagnosis, they can have completely different abilities. Interabled couples deal with different types of 'challenges' in their relationship but every relationship has its 'challenges.' They just don't all look the same.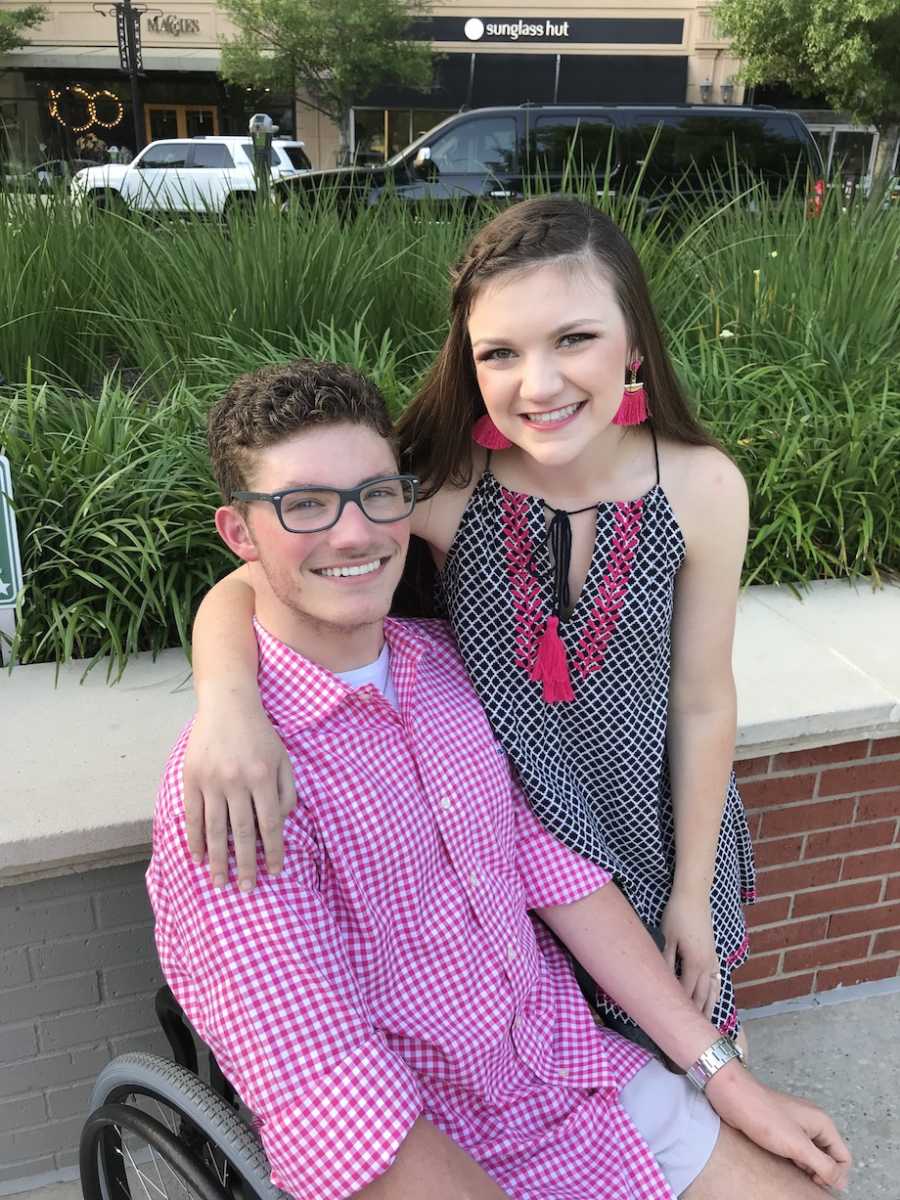 Here's a quick story to show you what I mean by that. If Sam needs to go to the bathroom but there is no family bathroom, I go into the women's bathroom to see if there is anyone in there. If there is, we wait until everyone leaves, and then we enter. After Sam is done, we again wait for the bathroom to empty before exiting. We have had some really mean comments come our way. I will never forget one time, I was pushing Sam in the bathroom after I had already gone in and checked to make sure no one was in there. A lady walked up behind us and said, 'Ummm… a man in the women's bathroom?' We both looked at each other mortified because there was not a family bathroom and Sam had to go. We told her to go ahead and we waited outside until she had exited the bathroom.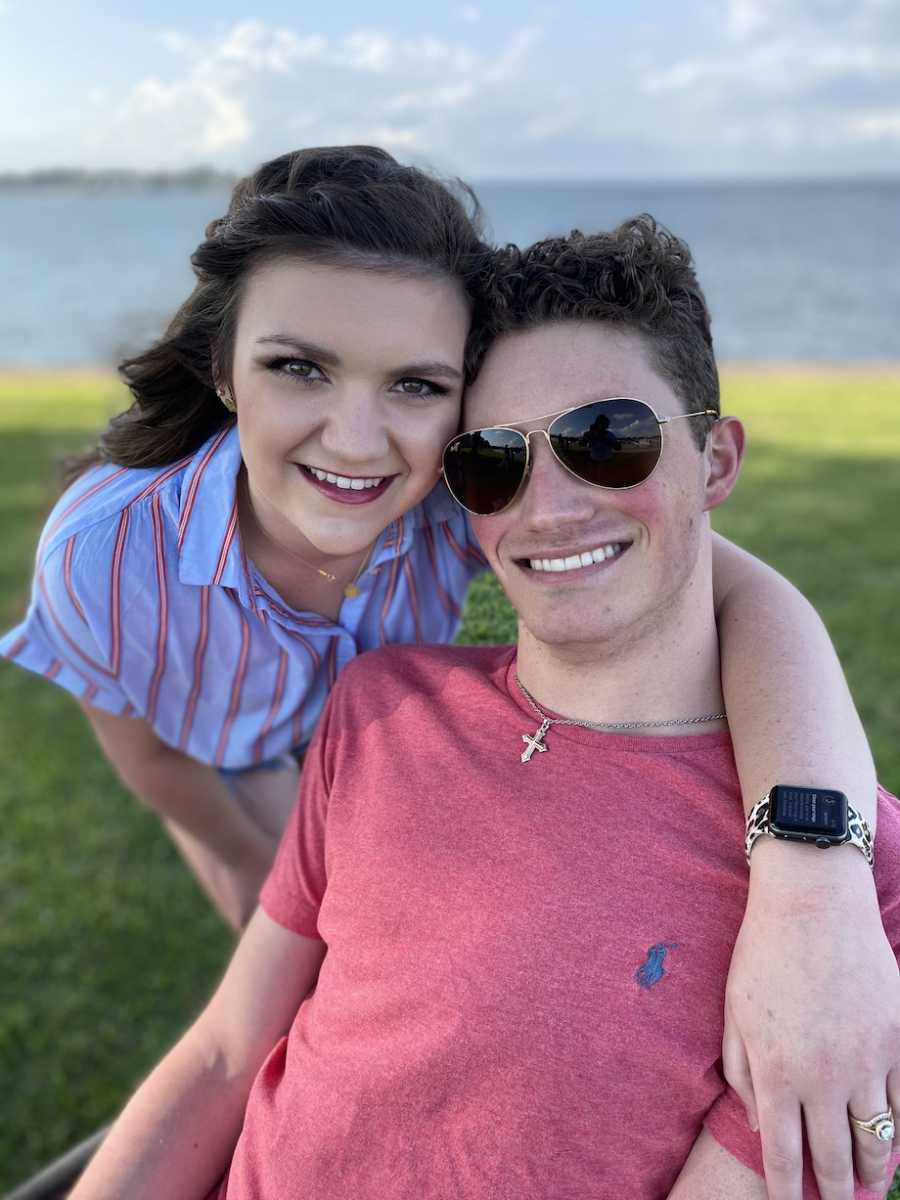 We often face challenges that can easily be avoided if we created a more accessible world for everyone to enjoy, disabled or not. Being disabled does not mean you don't have a heart and you don't have feelings. Having a disability does not hinder your ability to love or to be loved. The next time you see a disabled person in the community, don't assume they are with a caregiver or their sister/brother. (Sam and I get this all the time.) Disabled people are in romantic relationships too. Don't just awkwardly stare at them or ask them, 'How are you?' and then quickly look to who they are with to answer for them. Be patient and know disabled people are humans just like you with the same ability to feel emotions and use their voice.
Our goal of sharing our story is not to make you cry or think we are an inspiration, but rather to educate you on FA, accessibility, and how wonderful and full our life as an interabled couple is."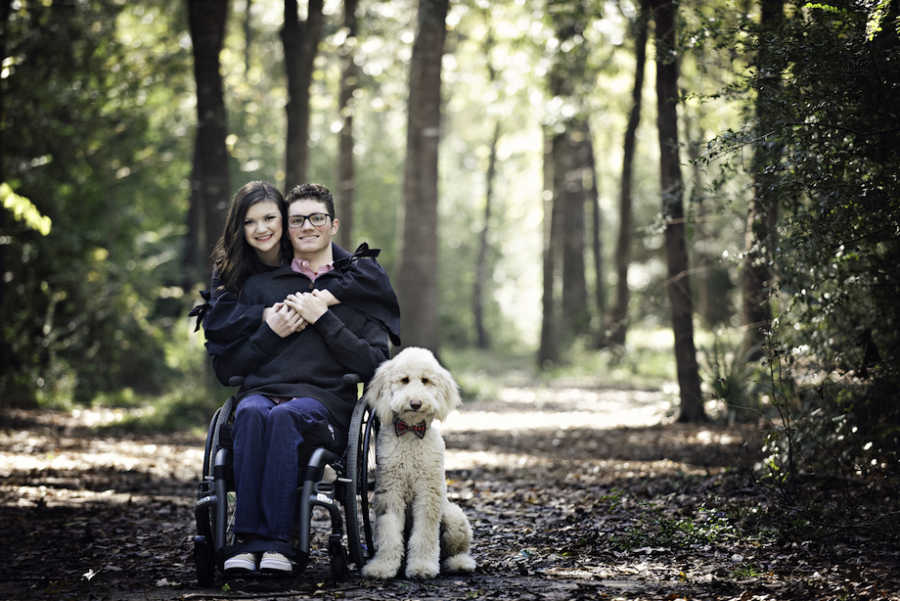 This story was submitted to Love What Matters by Sam and Katlyn Ferguson from Montgomery, Texas. You can follow their journey on Instagram and YouTube. Do you have a similar experience? We'd like to hear your important journey. Submit your own story here. Be sure to subscribe to our free email newsletter for our best stories, and YouTube for our best videos.
Read more stories like this:
'Why would you want to date someone with a disability?' They didn't understand. His disability doesn't make him less worthy of love.': Interabled couple share unique love story

'You know I'm in a wheelchair, right?' I canceled our date. I limited myself on the love I truly deserved.': Interabled couple share love story, 'Our relationship is 50/50, no matter what society thinks'

'How are we going to make this work?' Our families thought we were crazy. We really felt like this was forever.': Interabled couple share love story, 'Get rid of the idea disabilities hold you back'
'We were 15 years old. 'Let's exchange letters.' I couldn't keep waiting. He was just the guy with the awesome jawline.': Couple shares unconventional love story, 'We still choose each other'
Do you know someone who could benefit from this story? Please SHARE on Facebook to let them know a community of support is available.