"When I was young, I thought 'I can't wait to be an adult, so I can eat whatever I want.' And now as an adult, I do things like take the bun off my cheeseburger, and turn down cake at birthday parties, and keep Tums in the cabinet in case I eat spicy foods past 8:00 pm.
When I was young, I thought 'Yay! No more acne.' And now as an adult, I do things like buy anti-aging products for my skin at night and buy anti-acne products for my skin in the morning and try to work up some weird concoctions, so I can both dry out my acne and keep my skin hydrated at all times because wrinkles…and zits. (I actually think I've found the perfect product. But I have only been using it for three days, so I'm waiting for two weeks to make sure it's the real deal before sharing, but so far OH MY LANTA.)
When I was young, I would've seen these tweezers and thought 'Ohhh they are so cute. I'm going to buy them just because.' And now as an adult, I find myself buying these tweezers because I caught a glimpse of a random chin hair in the sunlight at a red light and realized it needed to be gone pronto. (I've shown you pictures of my old ones before, but they broke, so…) So, there ya go. These are my new car tweezers for plucking eyebrows, chin hairs, and any other unwanted/uninvited/unwelcome hairs I find because the car mirror is a jerk-hole and tells no lies and I hate it. We are enemies.
Getting older is fun, kids. In no time, you can do whatever you want, when you want, and other awesome things like scrub toilets and pay bills and fold laundry on Friday nights like a boss. Car tweezers and grunting when you stand up after sitting for a long time are only the beginning.
***I know I'm not THAT old, but man…needing car tweezers sure will make you feel like a dinosaur."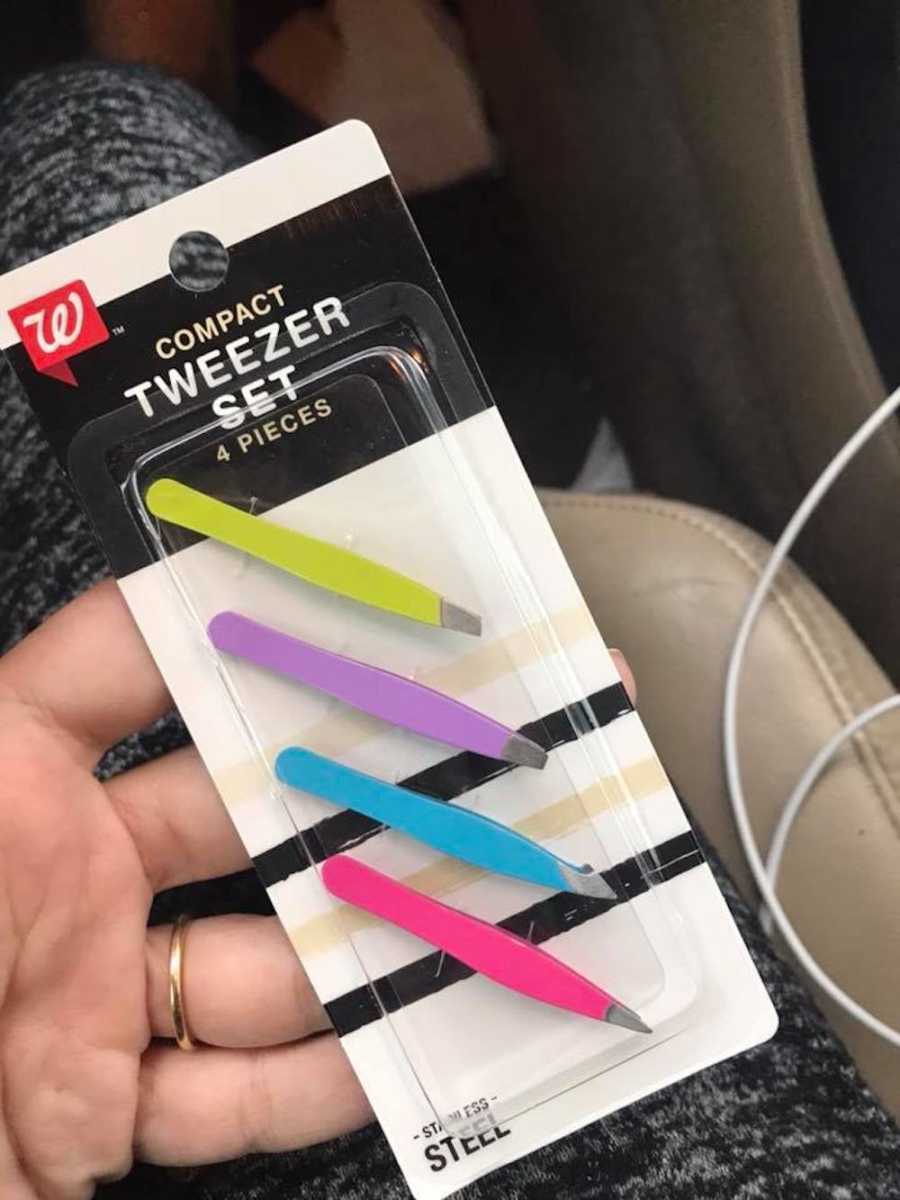 This story was submitted to Love What Matters by Amy Weatherly. The article originally appeared here. Follow Amy on Twitter here. Submit your story here, and be sure to subscribe to our best love stories here.
Provide beauty and strength for other women. SHARE this story on Facebook with your friends and family.