"December 2nd, 2016, was the day my daughter was born. It was just as much of a whirlwind as the rest of her story. Before I could even blink, I had this beautifully bald, tiny 5-pound human-being squirming in my arms. She had arrived 3 weeks early, and in style.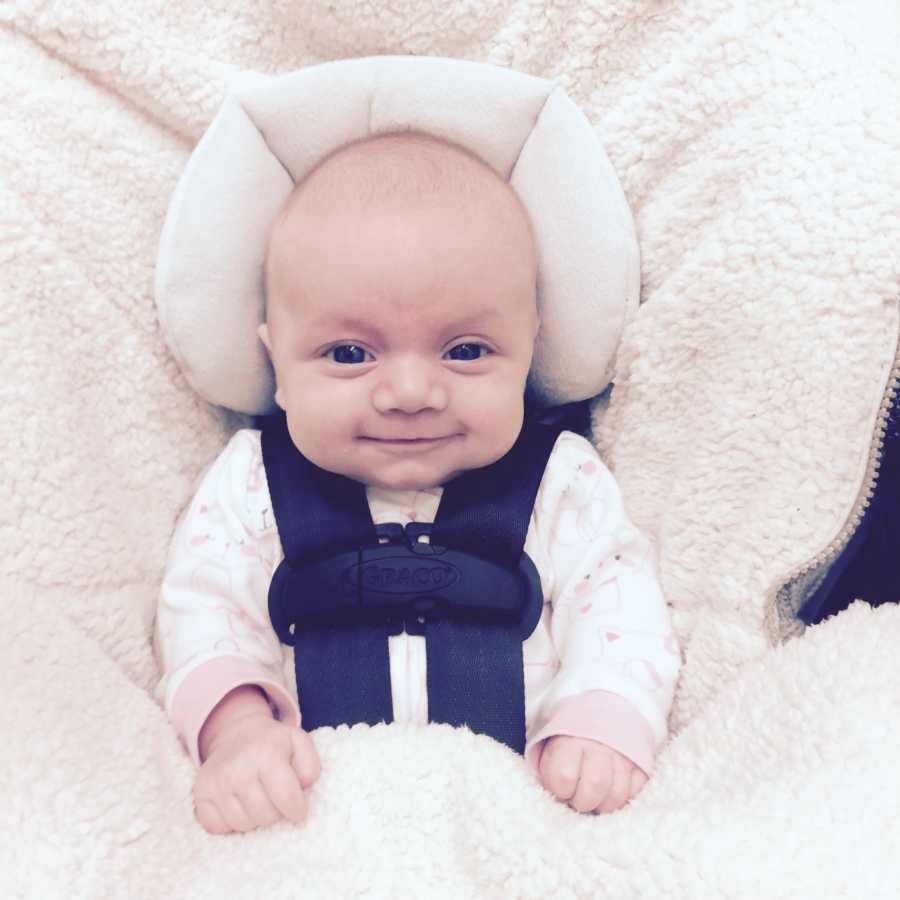 Our delivering physician nicknamed her, 'Taylor Swift,' like the country star because of how quickly she had entered the world without notice. Little did we know, it would be the first of many unexpected nicknames she would later be dubbed with.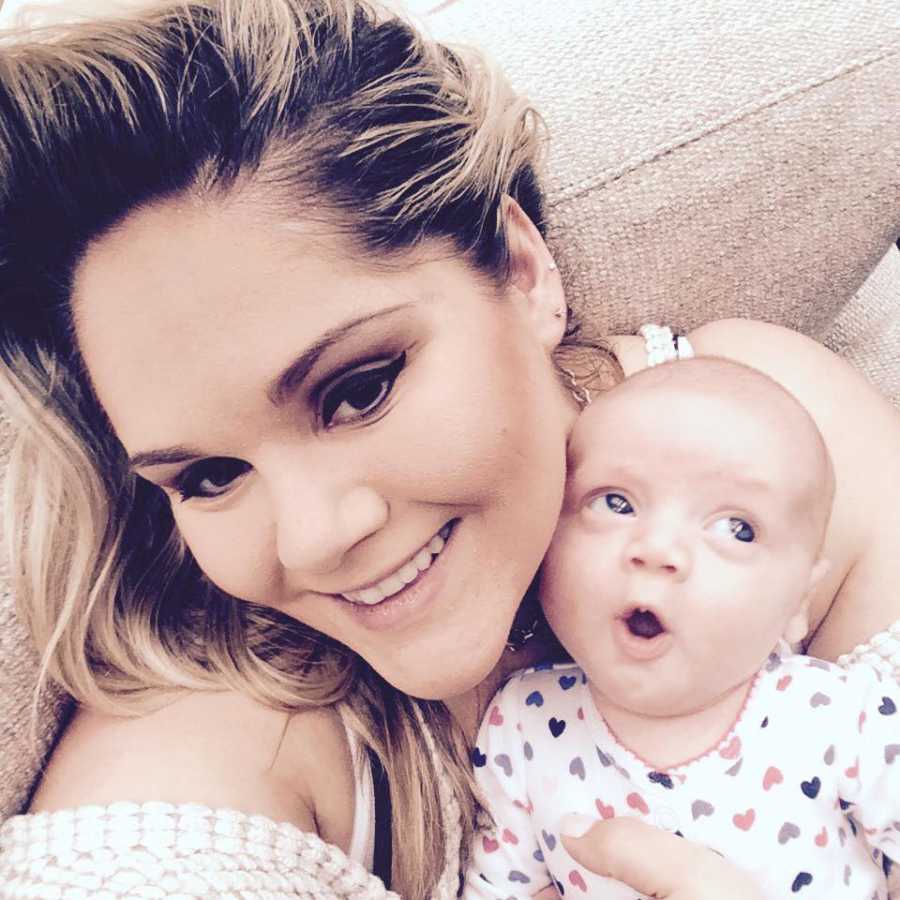 Then came… 'the hair.' We affectionately called it that for a little while, not knowing what to make of it. When our baby girl turned roughly 5 months old, there it was! Would she be a redhead like some of her Irish ancestors, would it be blonde? As many adorable babies often do, she had begun sprouting a cute, soft, fuzzy little hairdo. I was excited at the time and couldn't wait to try out all of those little bows and hairstyles I had been dreaming of.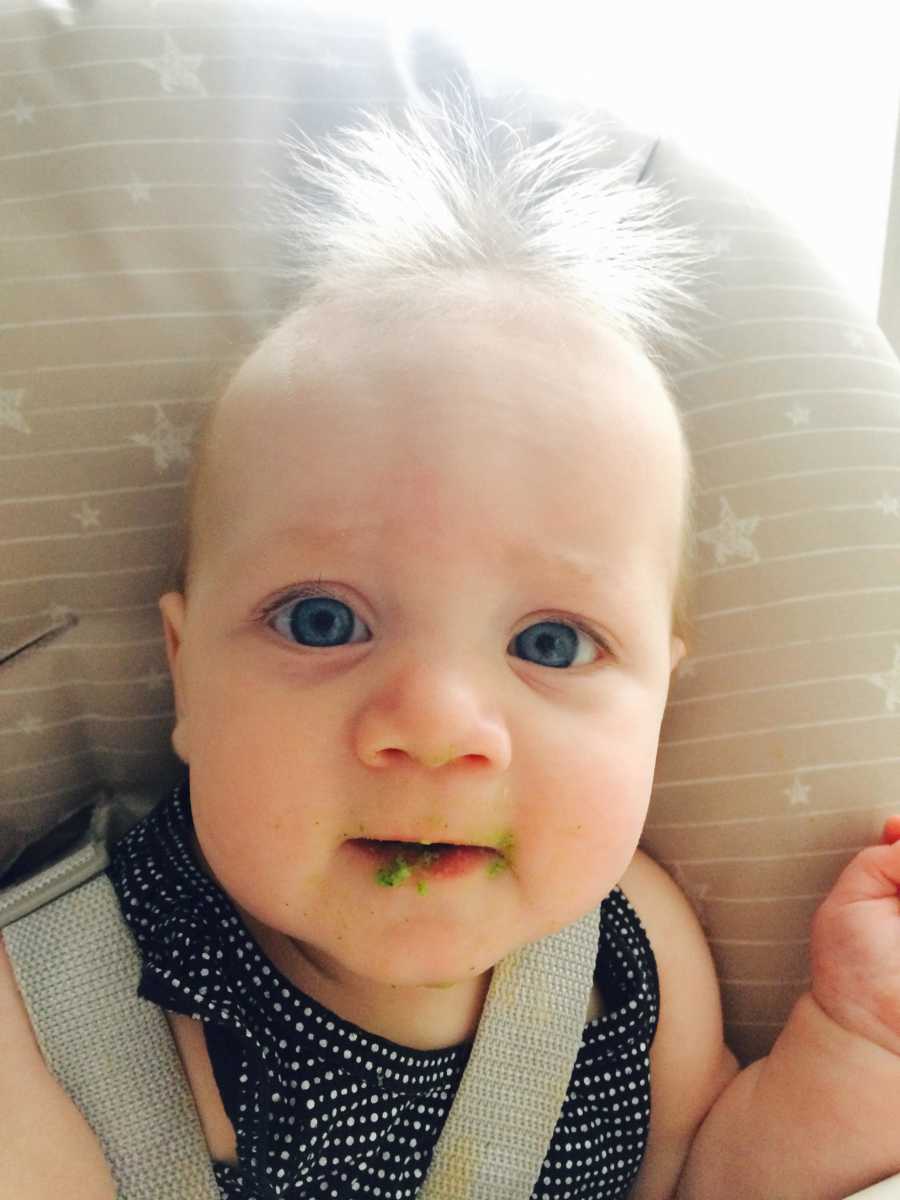 It had been a visit to the pediatrician's office one day that had thrust my thinking into forward motion. 'Aw, what a cutie with that head of fuzzy hair, but don't you worry though, it'll fall out soon,' a nurse chattered as she walked us into an exam room for our well-baby check. 'It won't,' I thought to myself. Taylor was too old to still have this fuzzy head of hair, and although I wasn't a doctor, I knew it. That's when it hit me: something about my daughter was different.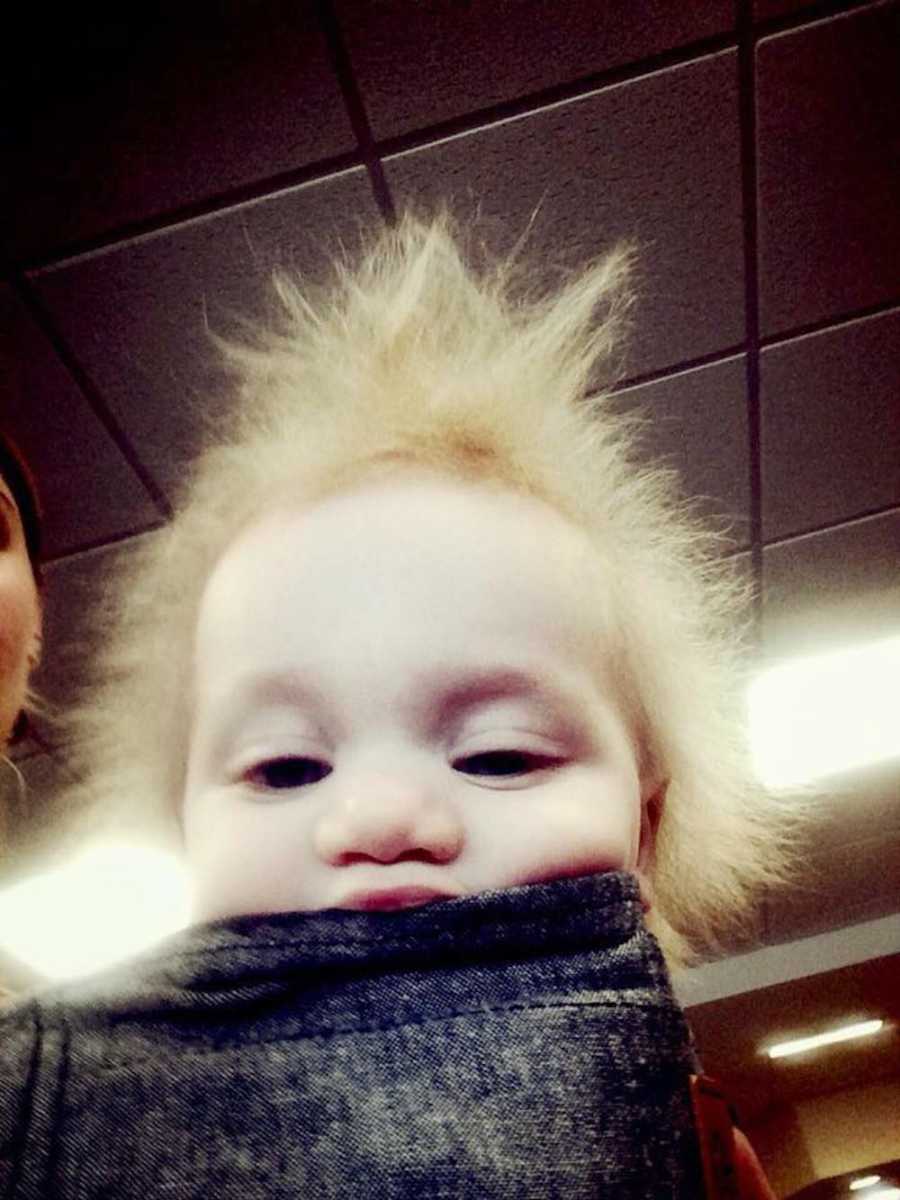 Within no time, Google was the new platform for seeking out answers about our baby little, 'Duckling.' Following some swimming lessons in combination with her hair and affinity for the yellow rubber ducks provided in the pool, this had affectionately become her new nickname. But what was it and WHY was her hair so darn fluffy? As the search came to a head, my mother-in-law finally came to the rescue: 'I saw this photo online of another baby that looks just like Taylor, I think she has something called Uncombable Hair Syndrome,' she shared casually, during our weekly visit. At first, we laughed it off. Googling photos of other children with Uncombable Hair Syndrome, I was terrified. How was my child ever going to have a normal life if she actually had this condition?
No, our daughter could not possibly have this ultra-rare hair condition that popped up on Google in this fancy journal article published by the American Journal of Human Genetics. We would have liked to have been right at the time, but we weren't.
Regina Betz was our next step. The kind, compassionate doctor who had discovered the gene responsible for Uncombable Hair Syndrome was happy to speak with us. I was shocked at how accessible she was to us as a busy geneticist, but grateful nonetheless. Before we knew it, the whole family was FedExing blood samples to Regina's genetics lab at the University of Bonn in Germany. It was at that time I was reminded once again of the whirlwind in which Taylor had entered our lives; could this be real? Did we really just send our genetic material over 4,000 miles away to see if our daughter was one of only 100 people, in the ENTIRE world? Indeed, we had.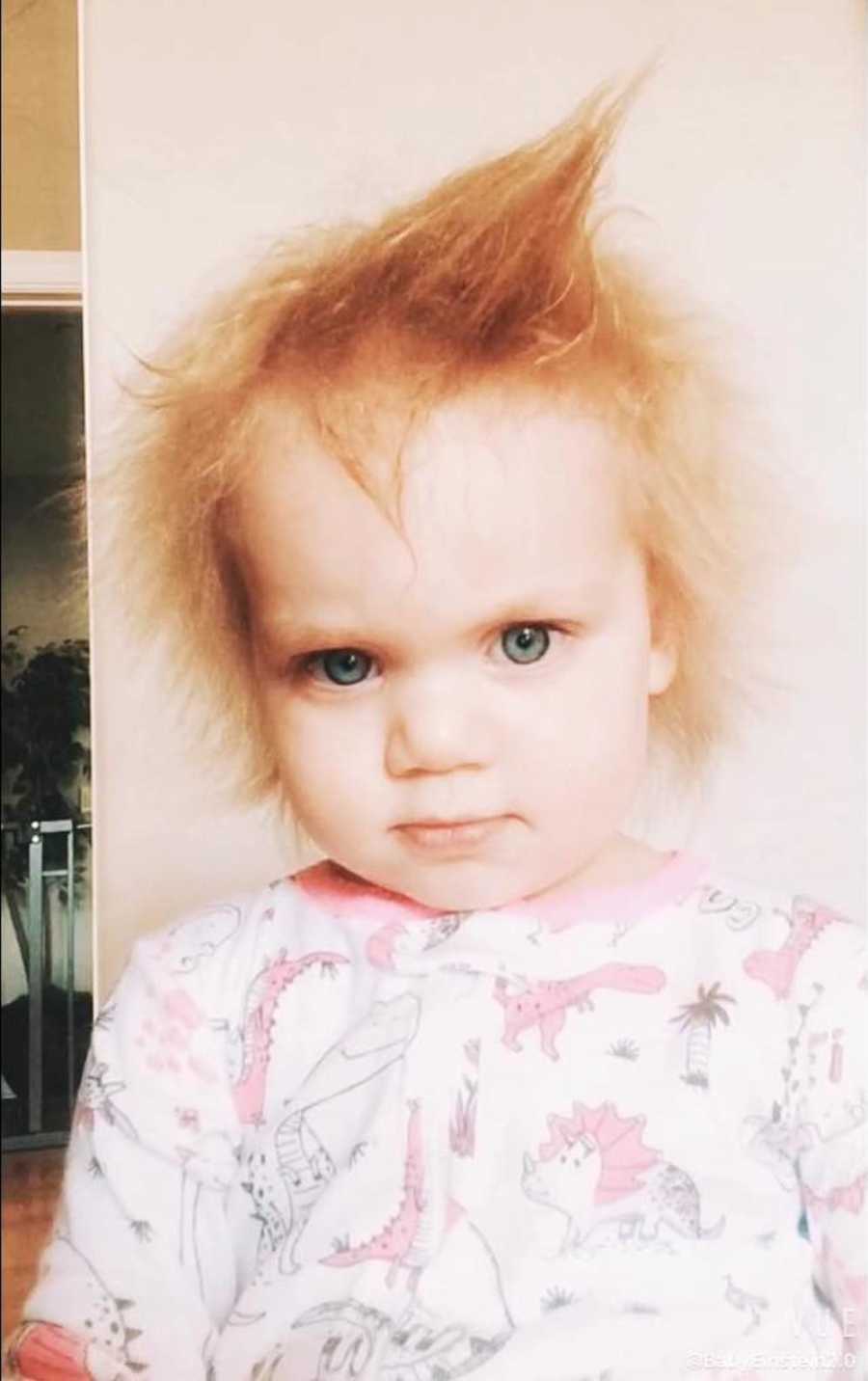 It was January of 2018 when Dr. Betz gave us the news. Taylor Lynn McGowan, 'Taylor Swift,' our, 'little baby duckling,' had Pili Trianguli et Canaliculi, otherwise known as Uncombable Hair Syndrome. I was in shock. What would the future hold for my daughter? What was once an adorable, cute little nickname wasn't funny anymore. Would my daughter be facing a life of adversity? What if she would live an unhappy life, be bullied; what if she'd never be asked to prom or get married? To be truthful, the diagnosis was devastating at first. Many tears were shed over the future well-being of my child.
When we first found out, I felt devastated. I felt like we had made it through all of the huge hurdles and fears of parenthood: the genetic screenings, tests for disabilities, the birth, all the scary things… my child was supposed to be happy and healthy… and really she was, but here I was, facing what could potentially be a lifelong challenge— and for a moment I caught myself feeling sorry for my daughter and for myself.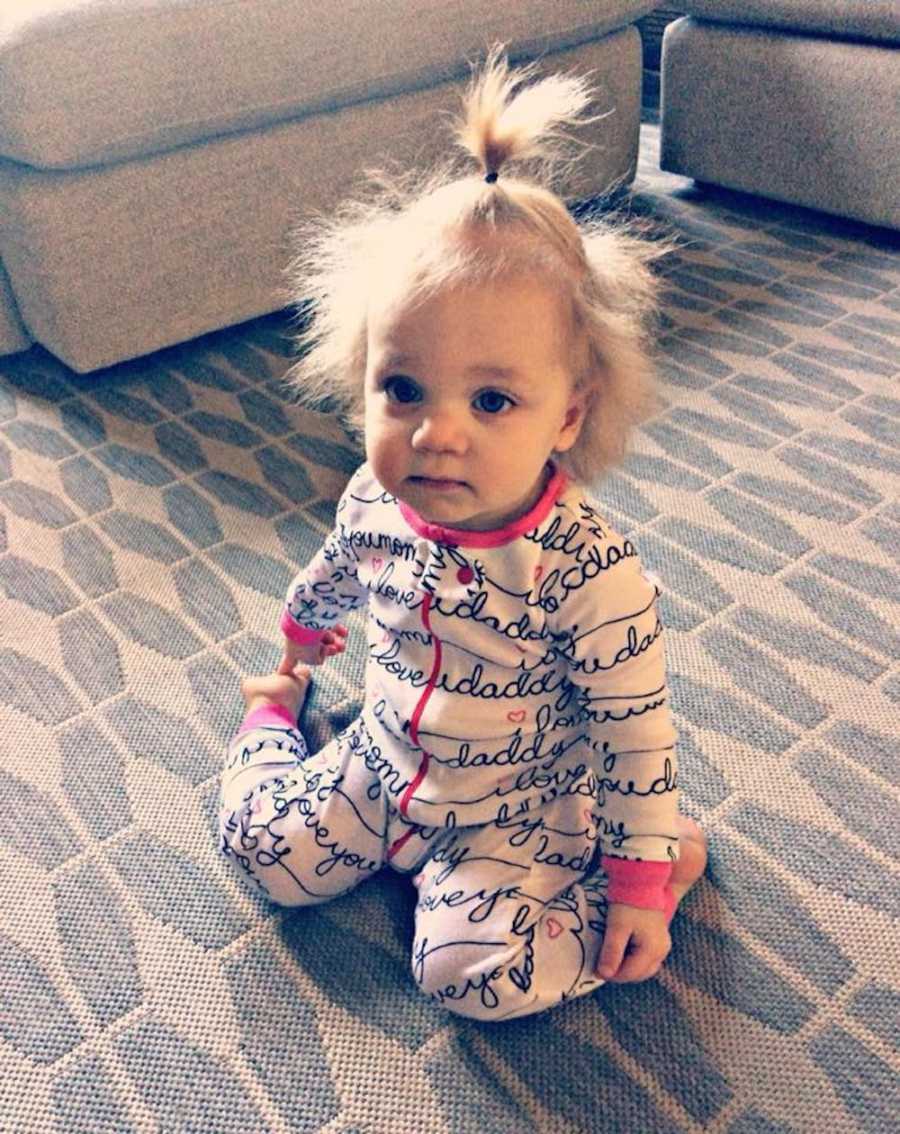 There was a day when she had refused to let me style her hair and it just wasn't cooperating, it was windy out… the day was a mess— but when we went outside to play on a field that day and the wind just carried off her hair and she was just beaming from ear to ear, I just thought to myself how lucky I was to have such a perfect, happy, beautiful child who could care less about anything but the perfect day she was having.
Taylor has always refused without a doubt the use of products, bows, hairstyles, or changing of her hair whatsoever. She has given us a really clear message that she wants to be exactly who she is, just the way she is, and that is the beautiful message we've chosen to share with everyone. Photos of her exactly how she was born, being wild and free just like her hair, being who she wants to be, and setting the example for herself and for everyone that that is perfectly okay. Be who you want to be no matter what anybody else thinks and don't be afraid to put yourself out there.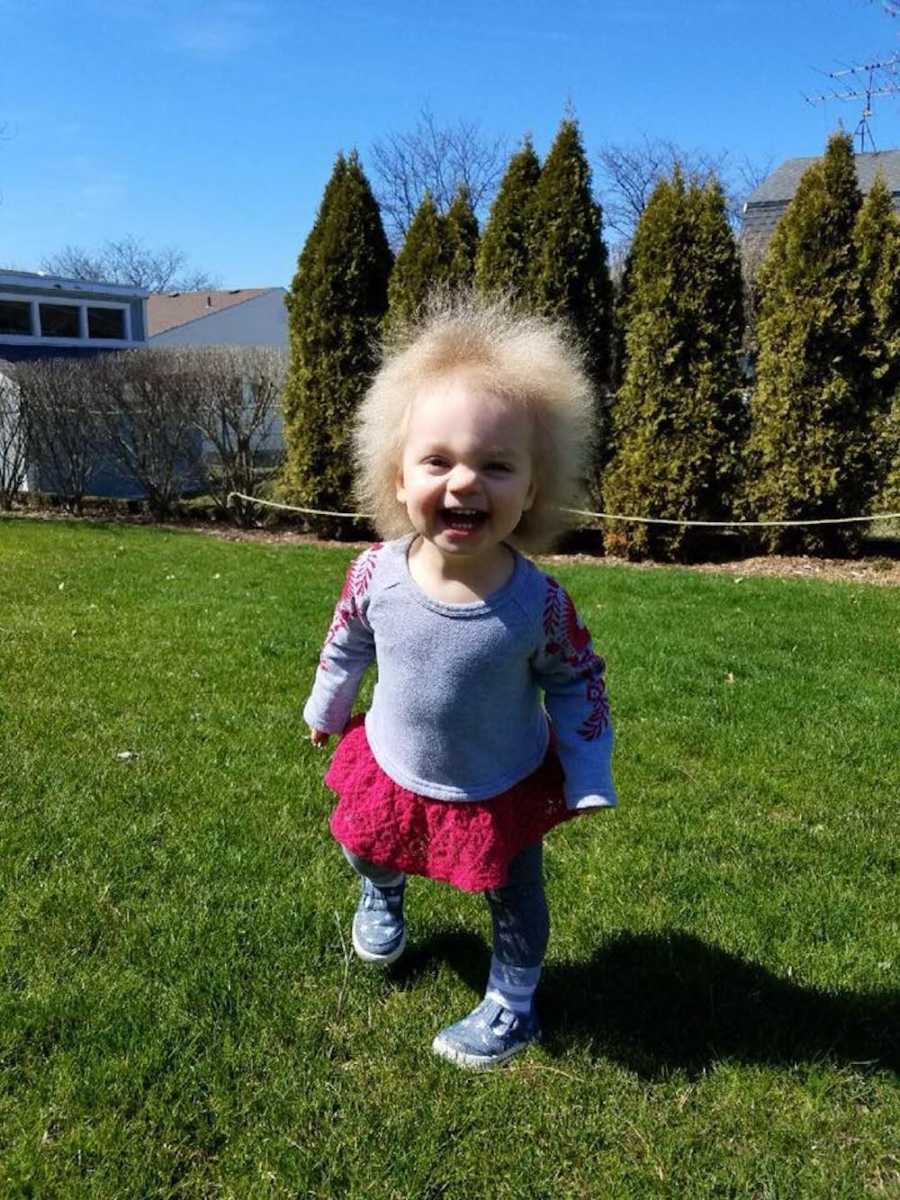 After a period of sadness, finally (and thankfully), my 'mama bear' instinct kicked in. Nobody was going to make fun of my child. My child would not grow up to lack self-love, a healthy self-esteem, self-worth, or a sense of pride within herself. We were going to find a way for her to have a childhood that was just as fun and friend-filled and happy as anyone else's. I was either going to find a way to help her fight against whatever adversity she might face, or I was going to make one… and that I did.
That day, Baby Einstein 2.0 was born on Facebook. Yet another nickname, a new chapter, and another term of endearment for my daughter, but also a social platform which would open up the world's eyes to the uniqueness it can contain. Today, Baby Einstein 2.0 explains to the world Taylor's differences to others, shares her beauty, empowers others who are different to embrace themselves, and one day, when she is old enough to understand, it will show her how incredibly loved and accepted she is by people ALL OVER THE WORLD.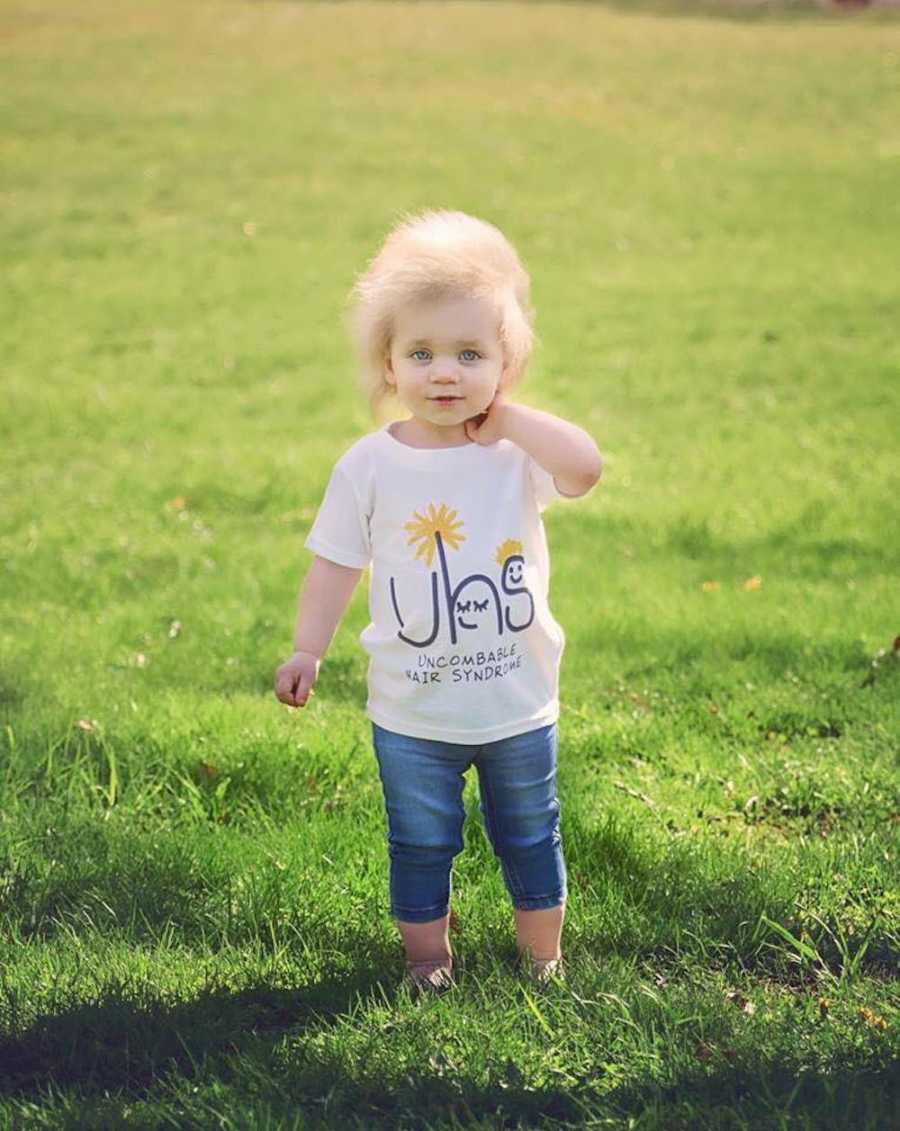 Our decision to share Taylor's story with the public was an easy one: our exuberant, happy, ignorantly blissful toddler with a head full of beautiful, wild, Einstein-like hair represents exactly what our world should look like: a world with no color, race, creed, orientation, disability, or otherwise distinguishable difference that should ever get in the way of one's happiness. We should openly be embracing the difference and diversity that we see in others, and especially within ourselves.
When I learned of the true rarity of the condition, I knew our family had fully embraced it when I caught myself telling my husband how romantic I thought it was that we the two of us genuinely had to be destined for one another in order to create such a rare, and unique human together. If we have another child, the chances of that child having UHS will be 1 in 4 for us as a couple. At first, I thought to myself that doing so would be unethical because our child would be predisposed to a life of adversity, bullying, and so on. Nowadays, after learning that beauty is only skin deep, we wouldn't hesitate because something like Taylor's uniqueness is nothing to be ashamed of."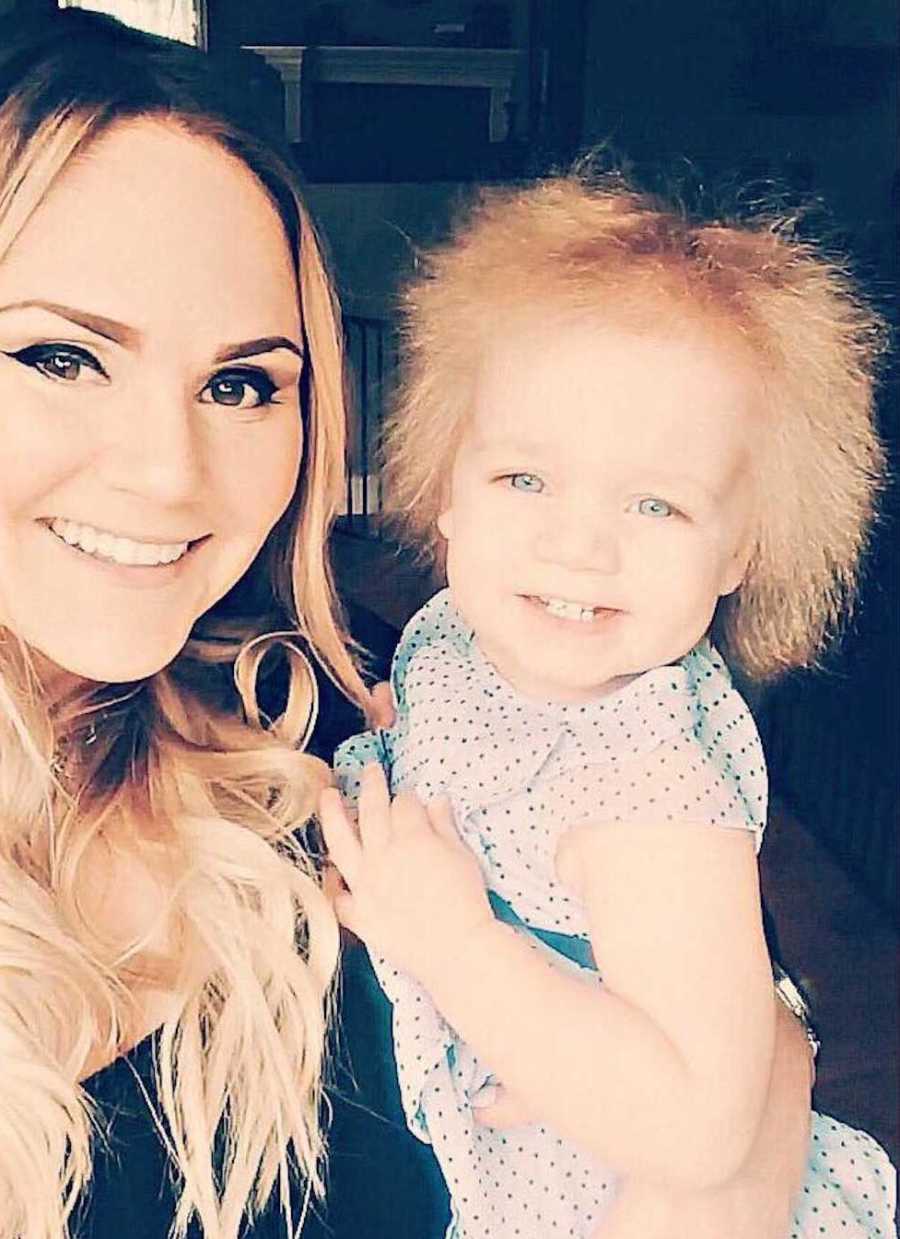 This story was submitted to Love What Matters by Cara McGowan, 32, of Chicago, Illinois. You can follow Taylor's Journey on Baby Einstein 2.0 by visiting Facebook and Instagram. Submit your own story here, and subscribe to our best stories in our free newsletter here.
Read more stories of children with unique differences:
'When he was born I heard, 'Oh my God. He has RED HAIR!' I paused. 'No, just wash him a few times.' The nurse washed him 3 times. 'No mama, you've got a little ginger.'
'I heard 3 things when he was finally out: 'He's here, he's breathing, and he has a TON of hair!' What a joyful moment. I say moment – because the joy only lasted that long.'
SHARE this story on Facebook to help celebrate unique and beautiful differences!