"'WILL YOU TELL HIM HE'S ADOPTED?'
The question made my heart jolt.
'He looks so much like the rest of you… you'd never have to tell him!'
She wasn't wrong. He looks just like my other children– fair skin, blue eyes, dimples and all.
But the question– it stung me.
I knew she had good intentions (just like the other people who have said the same thing to me), but the reality is this: I don't want there to ever be a day that my son doesn't know he was adopted.
When I was younger, 'you're adopted!' was a punchline between siblings on TV shows. It was a way to diminish the other's value or lovability. It was an insult.
But it won't be in my house.
Adoption is many things: it's beautiful, it's broken, it's heartbreaking, and it's amazing– but it's not (I repeat: it is NOT) a source of shame.
My son will always know he has two moms– his first mom, whose eyes he has and who carried and birthed and made a brave choice on his behalf– and me, the mom who has rocked him to sleep every night, and who will (God willing) dance with him on his wedding night.
There will never be a tense conversation where my husband and I 'break the news' or 'reveal the truth.' There will be no secret to keep.
Our older children (only 4-years-old now) know age-appropriate information: He didn't grow in Mama's tummy, and we adopted him on a happy day in August. The details will be his alone to know and share when he's older, but the fact that we don't share the same DNA won't be a secret. Instead, it will be celebrated.
I'm not so naive to think that his identity as an adoptee won't come with struggles and emotional difficulty and, to put it bluntly, trauma– but I also know that being open with him about these things will help him process these emotions in the future. Hopefully, they'll reinforce that his dad and I are a safe place to land when he wants to talk things through.
And, while 'adoptee' will certainly be a part of his identity, it won't (I hope) define him. I want him to know he is so much more than any one title. He is strong. He is smart. He is deeply loved and loves deeply.
He is not my adopted son. He is my son."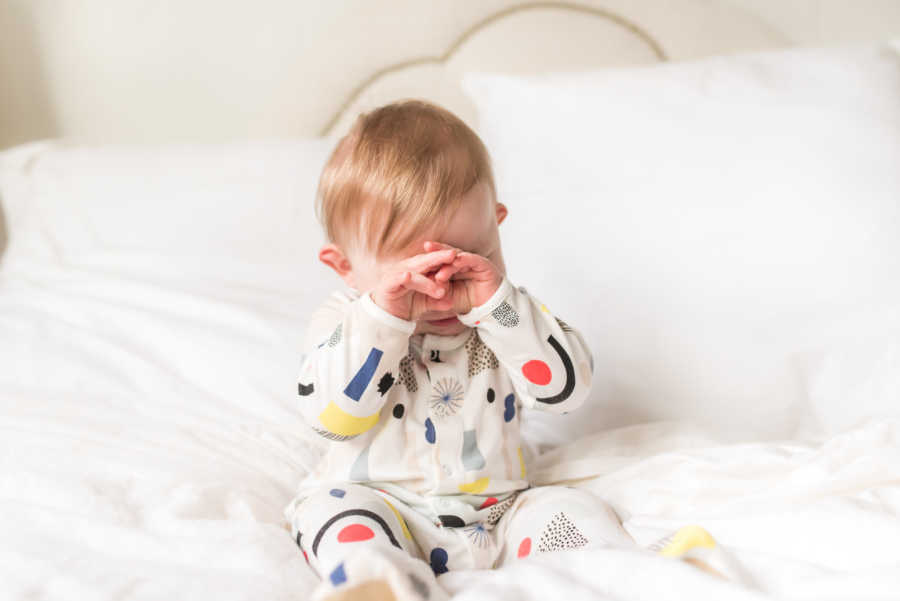 This story was submitted to Love What Matters by Eliza Morrill of Momstrosity. It originally appeared on their blog. Do you have a similar experience? We'd like to hear your important journey. Submit your own story here. Be sure to subscribe to our free email newsletter for our best stories, and YouTube for our best videos.
Read more stories from these ladies:
'My husband took me to Louis Vuitton and told me I could choose a purse for my birthday. Y'all, I'm not a Louis kinda gal.'
'Are they ALL yours?' My husband loves to whisper, 'Not all of them are mine. My wife went through a wild phase.'
'I am done trying to cram him in a box he was never made to fit into. I have to let it go before it kills my little boy's spirit, or worse, our relationship.'
SHARE this story on Facebook to encourage others to cherish every moment and love what matters most.