"How will I know if I'm in labor?'
'Trust me, you'll know.'
These are the words we hear as a first time mom as we doubt ourselves and our bodies, almost rendering ourselves useless because of the war stories out there. But when we do listen to our bodies, are the others listening to us?
Harrison was my first baby and I had no idea what to expect with his birth. I had an open mind the whole way through but I had a lot of anxiety about what might happen. I watched birthing videos constantly in an attempt to desensitize myself to it, but can you really desensitize yourself to birth?
I almost felt like this is what happened to me that night, when I went into hospital, it all felt routine to everyone and I was sent home without being heard. Like most first time mothers those early tinges of labor start off questionable, you don't want to bother your midwife at 1:00 am but then again, she did say, 'trust me, you'll know when you're in labor.' I already felt a bit anxious because it was my midwife's weekend off so I was contacting her fill in, whom I hadn't met.
As the rhythms of pain became more regular and consistent my husband and I decided to make the call and tell the midwife tat we would meet her at the hospital. When we arrived, I was given an examination and told I was only 3 centimeters dilated and because he was posterior it could take days. At this stage I was already starting to feel sweaty and sick at the thought of this pain for days. I couldn't even fathom it. I thought she had to be joking.
But I was sent home with a hand full of codeine and told to call her back at 7:00 am. As I was walking down the corridor with my husband out to the carpark I was already having to go to a different place in my head to be able to cope with the tugs of labor, knowing full well I wouldn't be far off giving birth.
When I got home I stood parallel to the wall while my babies spine was parallel to mine and I tried to breathe through the waves of pain. My husband was busy timing my contractions with his app, putting a cool flannel on my face and putting on calming music, but I can't remember any of this.
I remember feeling panicky as I went to sit on the toilet instinctively, or jump in the bath or shower, all in the efforts to naturally relieve the blackout pain of posterior labor.
At 5:00am I remember being huddled into the ground and I said to my husband 'I can't wait until 7:00 am, please call her now.' He tried and she didn't answer. After trying one more time we jumped in the car and just left. The only thing more painful than labor, is being in a car in labor with a baby on your spine! My husband stops at the yellow light and I roar at him 'DRIIIIIVEEE!'
When we arrived this time I could barely get out of the car. When we got back up to the ward one of the hospital midwives told my husband not to bother getting our bags out of the car. 'You're just in the early stages of labor', she said to me. 'You would be crawling on the ground or reaching for the drugs otherwise.' Confused by this strange criteria of labor, I then vomited. This got her attention and she gave me an examination.
As I went to lie down on the bed I begged my husband with any bit of energy I had to lend, 'Please don't let them send me home again, please.' He assured me he wouldn't as he stood next to me.
While I was being examined, she then said, 'Wow, this is either a really good thing or a really bad thing.' This sent me into a state of panic until she said to me I was 9 cm dilated. I still to this day don't really know what 'the really bad thing' would have been, but I know It wasn't comforting to hear at the time.
When the midwife finally arrived an hour later her first words to us were 'why did you come here before me?'
Not long after she arrived I was ready to push, but my baby went into fetal distress and his heart rate dropped dangerously low. I was exhausted beyond measure and my blood pressure sky rocketed, before I knew what was going on about 10 people were in the room and my midwife was pushed out of the way. I was delirious and depleted of strength by this stage but I found some and I did it. I managed to push him out with the encouragement of the new doctors in the room and with the assistance of a ventouse (or vacuum) and he arrived more perfect than ever.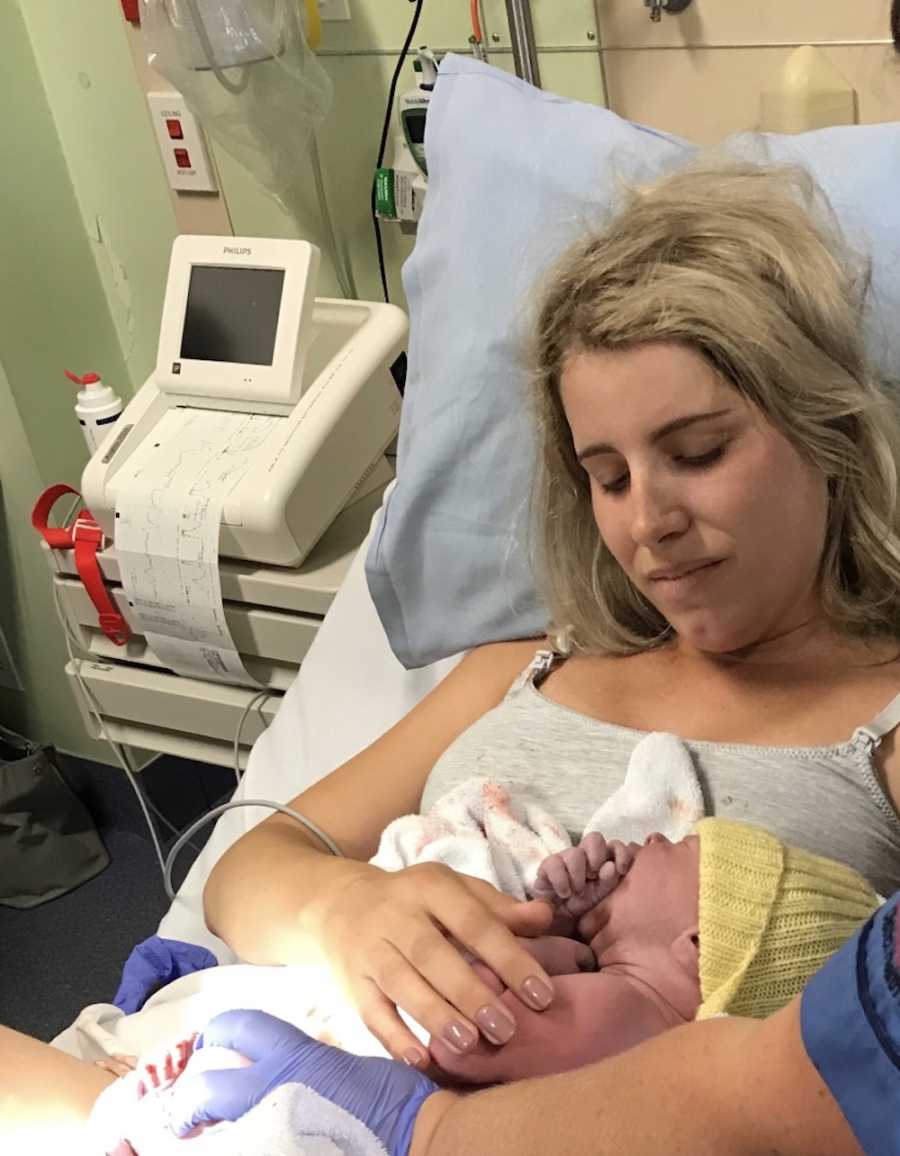 I know we're allowed to be disappointed with our births, but I'm actually not. He was delivered safely and for that I am so grateful. My disappointment lies purely around my voice being silenced in my most vulnerable state. We are told to trust in ourselves, trust our bodies, and we also rely so heavily on the support we've chosen to remind us of this in the throes of labor!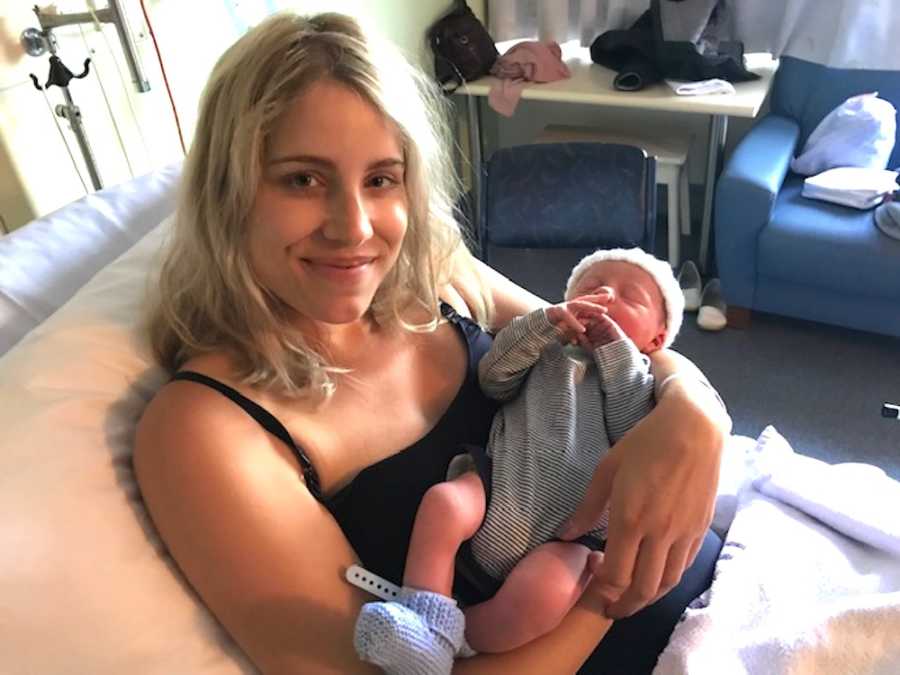 My second time around I knew to make myself heard and I believed in my choices without a doubt. My second birth really healed what had happened to me with my first because not only did I have an idea what to expect I knew to trust in my body and my voice.
And that time, they listened."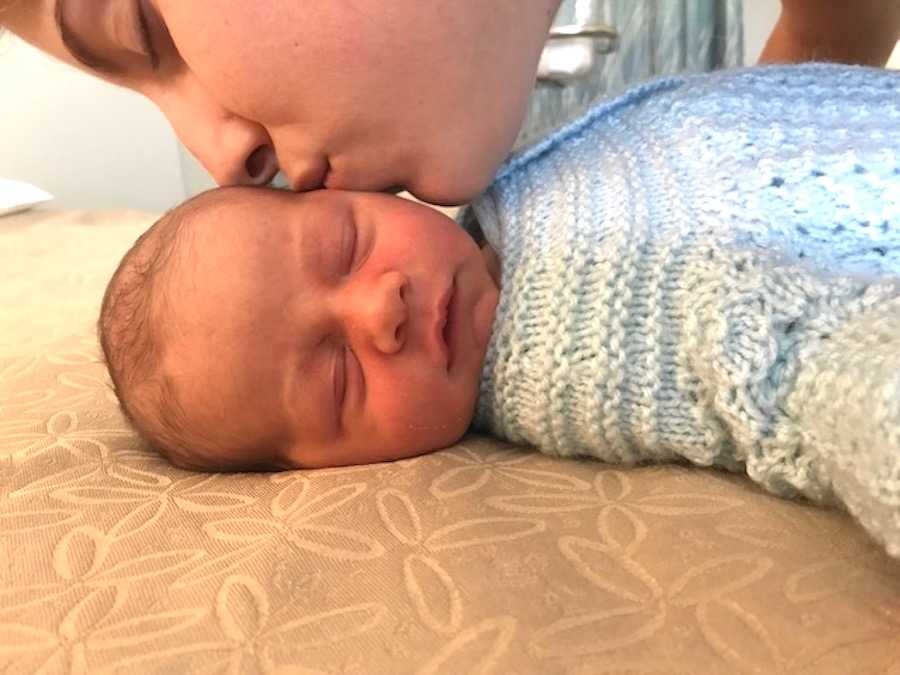 This story was submitted to Love What Matters by Jessica Urlichs. You can follow her on Instagram. Do you have a similar experience? We'd like to hear your important journey. Submit your own story here, and be sure to subscribe to our free email newsletter for our best stories.
Read more amazing stories about the ups and downs of birth here:
'The story of a girl, a baby and her first ever C-section': Mom's HILARIOUSLY CANDID, all-too-real birthing experience
'I felt the doctor reach inside me. Blood spilled out. I couldn't bring myself to open my eyes.': Mom survives 'near-death birthing experience,' admits to 'physical, emotional trauma' 10 years later
Give other women strength and courage to love themselves. SHARE this story on Facebook and Instagram.