"Every year a group of our teens goes on a mission trip. It was Miami one summer and Rhode Island the next. Our church has long standing relationships with churches there. You have to do a stateside mission trip before you can go to Ghana, and a group goes to Ghana every year as well.
My son, Michael, 17, went to Miami on the mission trip. On Monday, June 18, his friends dug a hole in the sand at Pompano Beach, where the group had stopped to have their devotional. The decision to be the one buried in the sand was spontaneous.  He was buried in the sand for fun and it has become our nightmare. Four of our people contracted a parasitic infection, hookworms, from the Pompano Beach. Michael has the worst case, by far.
When he came home June 23rd, he slept all weekend. I blamed it on being on the mission trip. I know now that is a sign of hookworm infection. He had an ear infection, so he went to the pediatrician and was on oral antibiotics. The next week, he showed me 4-6 bites on his upper thigh, backside. I blamed it on being outside in Miami, doing outdoor VBS, helping at Day camp for children. A few days later, he showed me a few more bumps. I thought he must not have noticed them before. He turned 17, June 20th while on the trip. Happy Birthday; here is a parasite infection for you.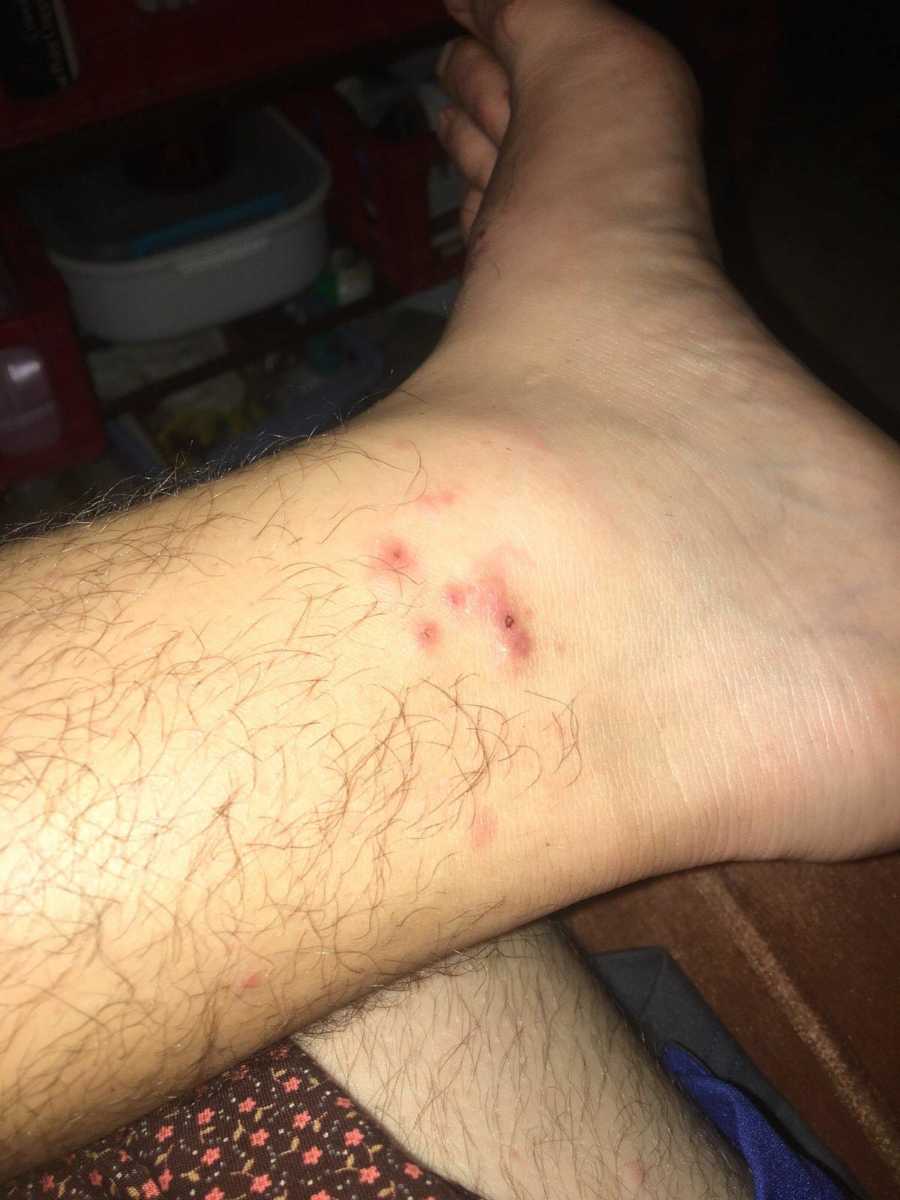 He went to Arkansas with my mom on July 1st. On July 5th, he called to say there was something wrong with his feet. He sent me pictures.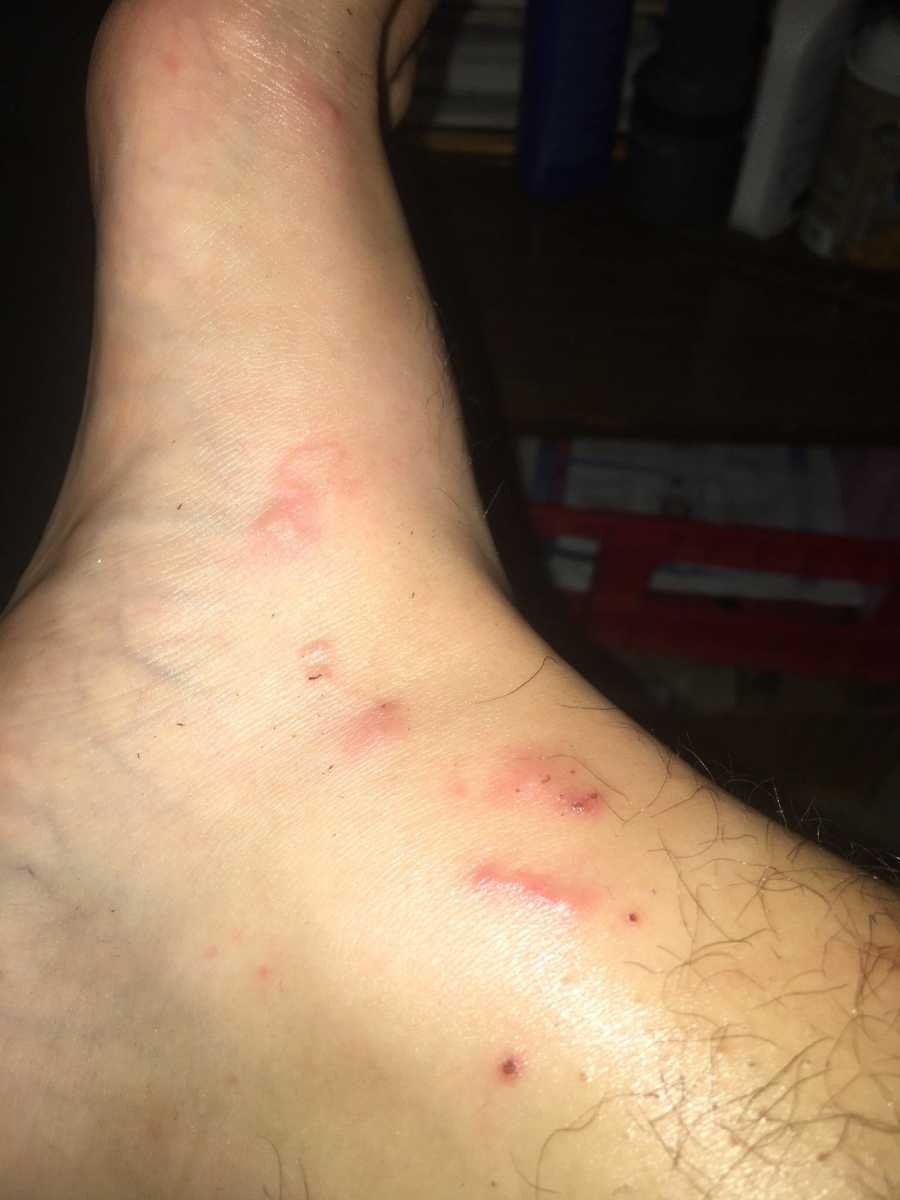 The pictures above. It looked like scratch marks from yard work. Not like worms!
On Thursday he called and said 'mom, I need to go to the doctor' while still in Arkansas. I made an appointment. He walked in the door Friday July 6th looking horrible. He said he had not slept all night because of the itching. We went to our pediatrician who looked at all the areas on his body affected. He did a culture (which came back negative) and gave us broad spectrum antibiotic, a steroid dose pack and anti-itch pills and ointment.
On Monday July 10, our pediatrician called to tell me the culture was negative (so no Staph) but he had cutaneous larva migrans. Hookworms. He phoned in Ivermectin, an anti-parasitic. Michael took it July 11th. Two days later he told me he was worse! I phoned our pediatrician and he said 'Get him an emergency appointment with a dermatologist.' The one he referred was closed on Friday's.
We went to the dermatologist Friday July 13th. She took cultures and diagnosed him again with hookworms. Hookworms burrow into the soles of your feet while you walk on the sand or soil. They also can burrow into your flesh while lying on the beach or when being buried in the sand. Never be buried in the sand or walk on the beach without closed toed water shoes! That is the main message for people to know. You cannot see them, so you DO NOT KNOW THEY ARE THERE. In Michael's case, they were not only on his foot, but on both feet and because he was buried, other places too.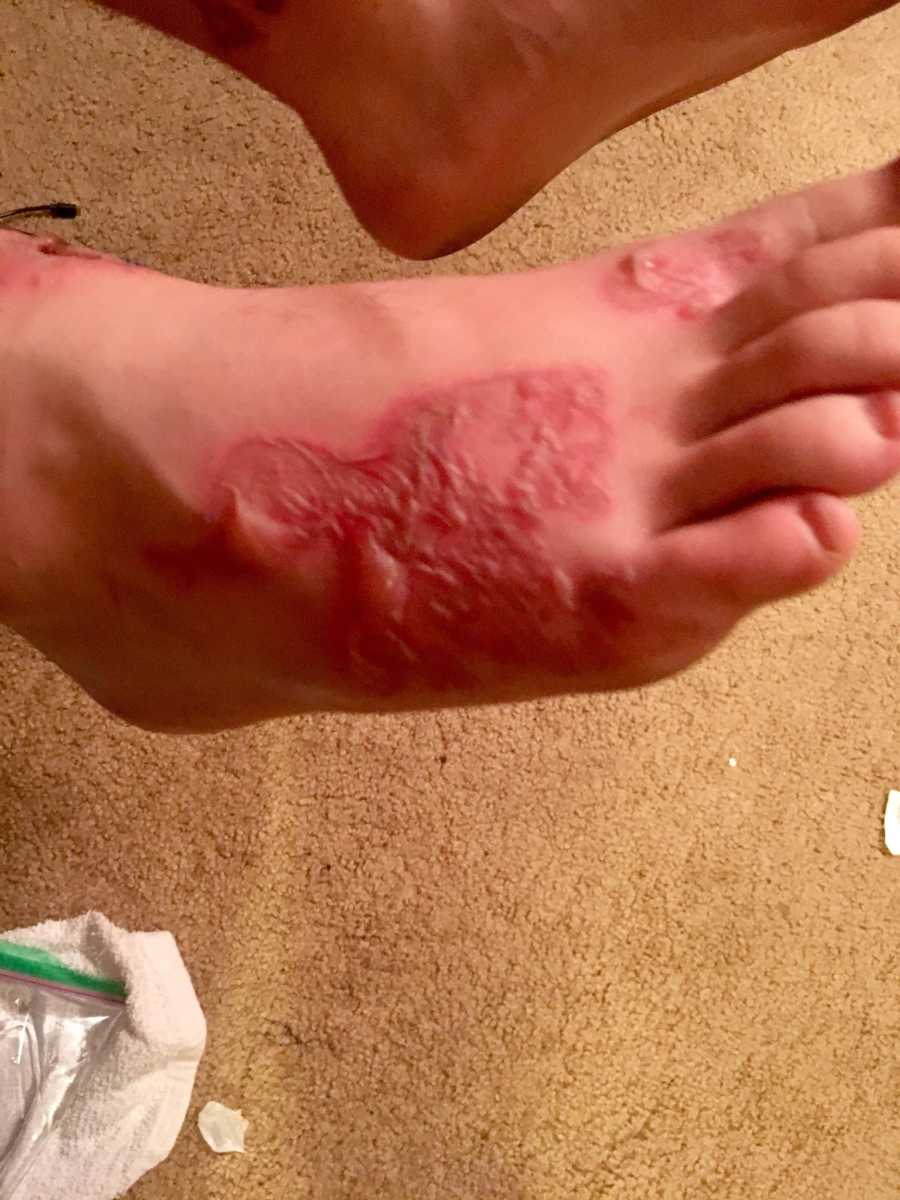 The dermatologist used liquid nitrogen to do cryotherapy on both feet and both calves inside and out. Hookworms burrow into your feet and then cruise under your flesh upwards. Michael could feel them moving, trying to get away from the cryotherapy. It was horrible.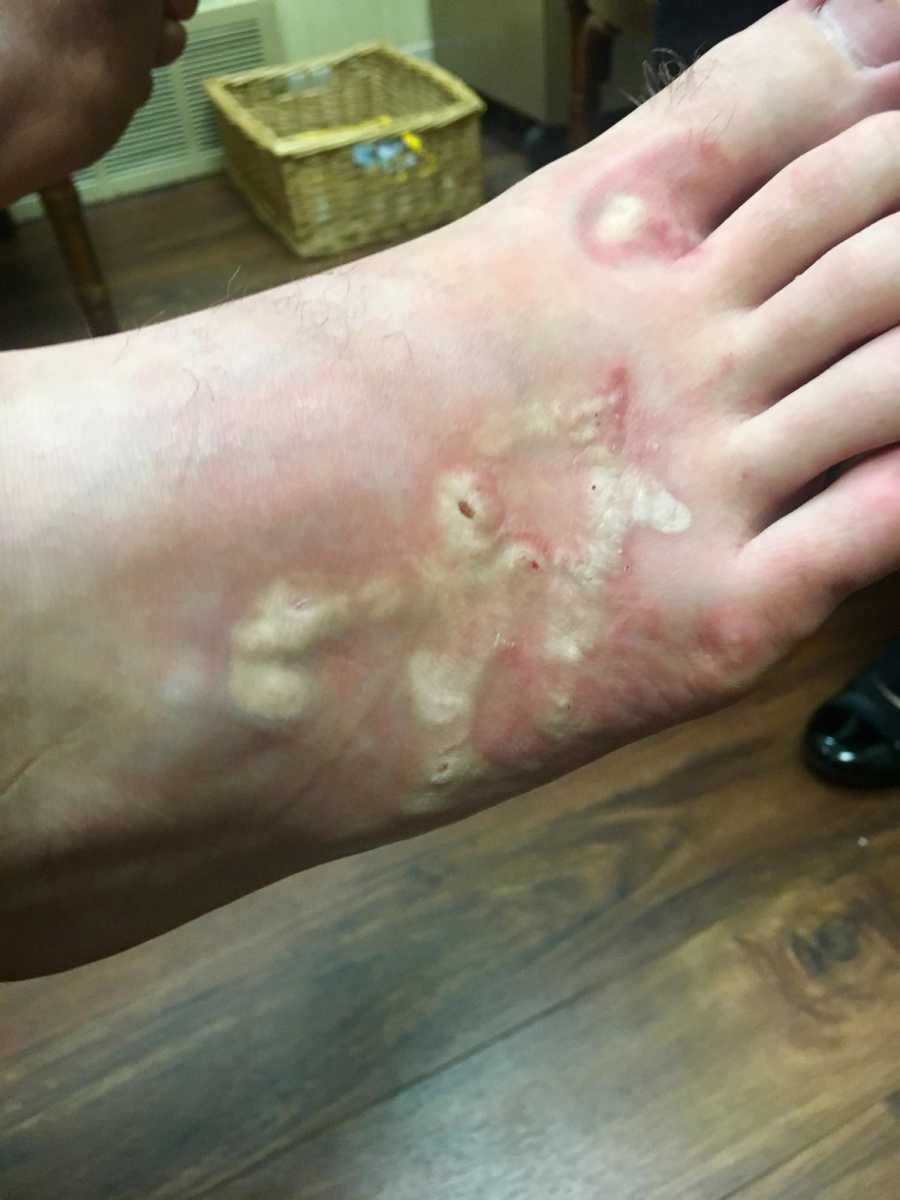 She prescribed another anti-parasitic medication, which he took. He has to go to the doctor every Friday and we don't know when it will end. On July 13th, he developed a Staph infection. His legs and feet have blistered from the cryotherapy needed to stop the worms. He is housebound. He can't put Band-Aids on his wounds. He can't wear socks. He can't wear shoes. He could not go to church camp and he has gone to church camp since 4th grade.
Last Friday, there was still visible evidence of hookworms underneath the skin in several areas. He is on his third round of anti-parasitic medication! And on his third week of doxycycline for the Staph. Now on probiotics because the doctor is worried about C-DIF.
He will have permanent scars on his body. He has trouble walking. He limps from the pain. His sister is getting married August 11th and he is a groomsman. A sockless, shoeless groomsman might not look so great for the wedding album, but I just want him well and there is no end in sight. We are 6 weeks out.  The Health Department in Pompano Beach said, 'Everyone knows to wear shoes on the beach because you can get parasites.' I assured them everyone does NOT KNOW THAT!"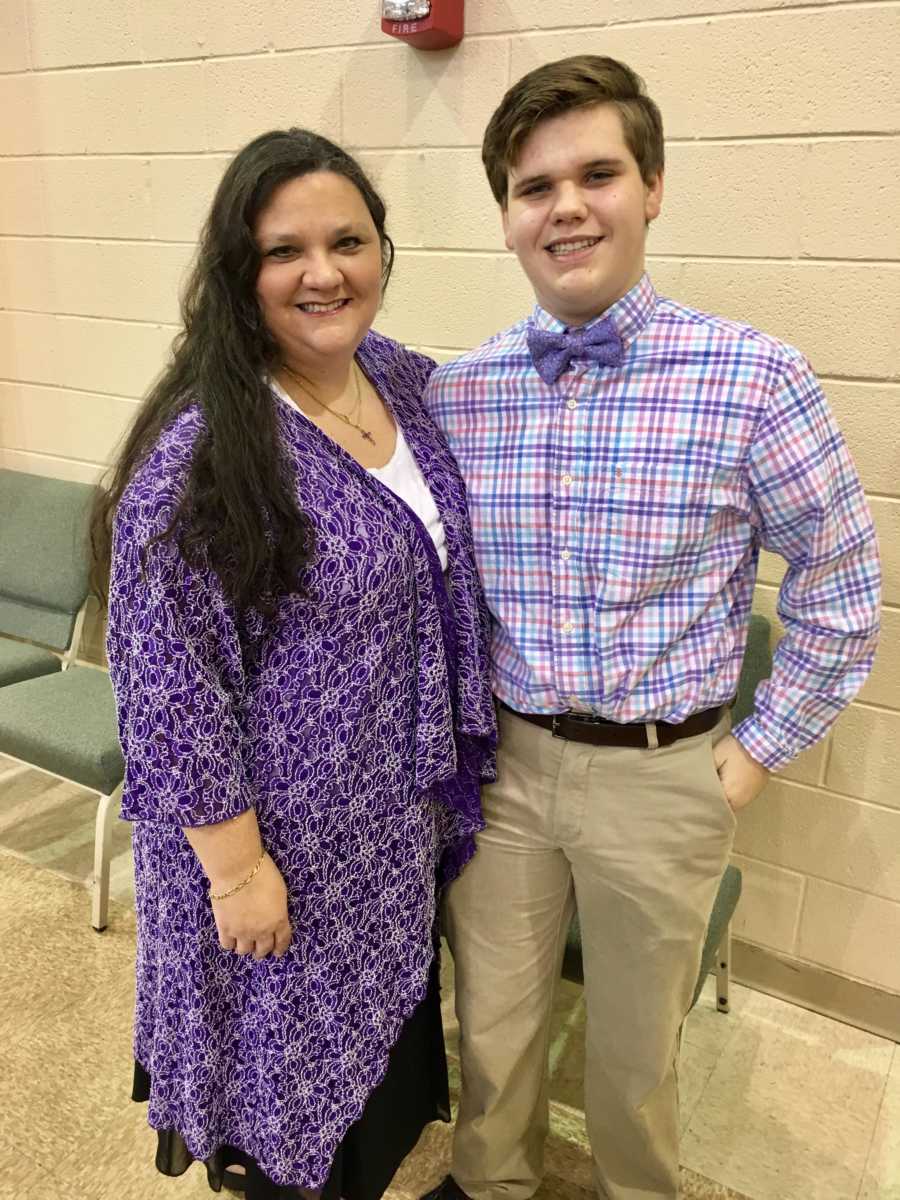 This story was submitted to Love What Matters by Kelli Mulhollen Dumas of Memphis, Tennessee. Subscribe to our free email newsletter, Living Better—your ultimate guide for actionable insights, evidence backed advice, and captivating personal stories, propelling you forward to living a more fulfilling life.
Do you know someone who could benefit from this story? Please SHARE on Facebook or Twitter.