"She can reach this doorbell now.
When she started prime time care 3 years ago, she was 2 feet smaller and she couldn't reach.
She was 3 years younger and she didn't know how.
She would tiptoe, jump and try to reach but always, we helped her through.
On the other side of the door lies opportunity. Friendships that mom and dad do not influence.
Decisions only she can make.
Lessons only she can learn.
On the other side, there is growth and exploration of the mind – in addition to the kind of growth that can now reach this doorbell.
I used to pick her up so she could do it 'all by herself' and sometimes I used to race her to it so I didn't have to pick her up.
But here we are, just reaching.
No race is required.
No lift from mom justified.
All by herself.
Reaching to little tip-toe moments with ease and a smile.
All the little-tip-toe moments add up. And some of the big-to-us moments might be ones our kids fly right by without even celebrating; they may tiptoe right around them.
But you should celebrate anyways.
Because only you know the personal standards of life with which to hold your children, and it is up to us to decide what standards we hold for them.
Some people measure life in memories. Grades, behaviors, or abilities. Others, it's just good days or bad ones. But for some – it is the standards we set.
We get to decide the abundance of those standards, where they start, and when they're met.
And for our family? This year's life is measured by this doorbell. A symbol of independence – that this kid's mom will remember even when this kid will not.
Because when we started, she could not reach this doorbell no matter how hard she tried to without her mom.
And today – she can."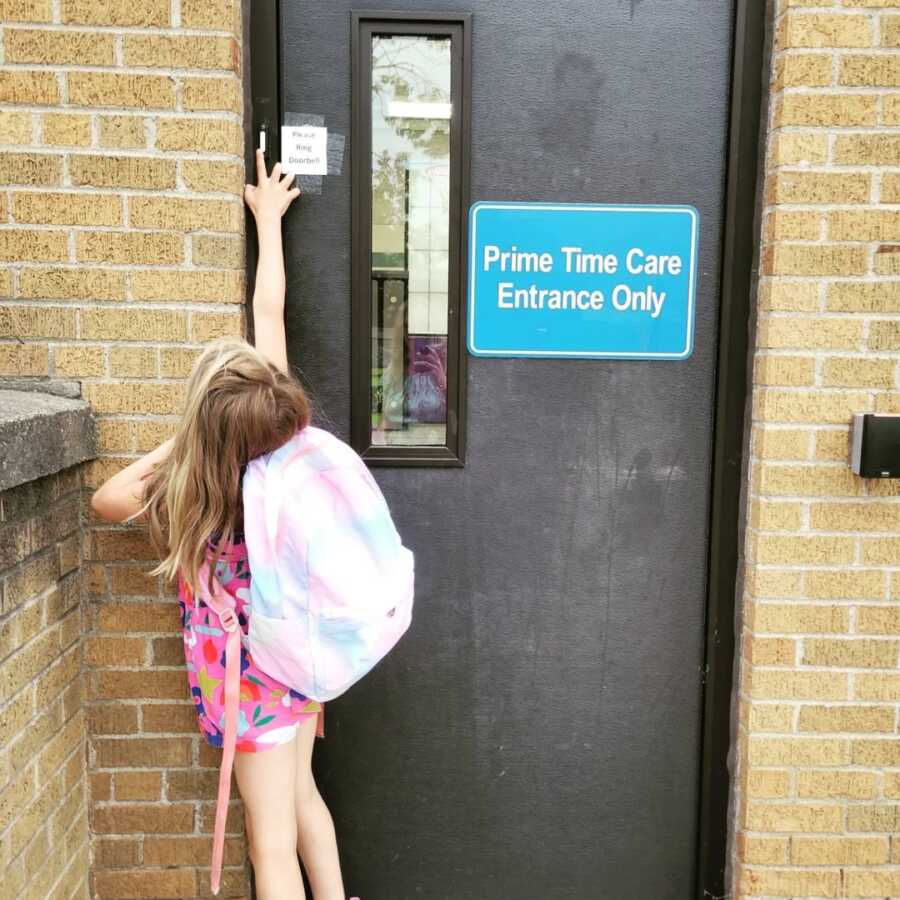 This story was submitted to Love What Matters  by Wallflower Writing at Detroit Moms. You can follow her journey on Instagram and her website. Join the Love What Matters family and subscribe to our newsletter.
Read more from Wallflower Writing here:
'I've been an absent friend. Piled up unreturned messages, piled up excuses. Sometimes it gets away from me.': Woman expresses need for self-preservation, gratitude for true friends
'I hope my daughter remembers all my f-bombs. You don't hear that a lot, but it's true.': Mom shares memories, lessons she hopes her daughter holds onto
Do you know someone who could benefit from reading this? SHARE this story on Facebook with family and friends.