Multiple Miscarriages
"Back in 2006, I met my 'sister.' We are not biologically related or related in any sense of the word but when she became my babysitter, we grew a bond like no other. I'm an only child, since Katie was my babysitter and was with me all the time, she became my biggest role model.
Over the years our relationship changed from babysitter, to friend, to big sister. We've gone on vacations together, I have visited her when she lived in another state, and when I come home from college I sometimes stay at her house rather than my own. 
Katie's journey to motherhood started in 2020 when she became pregnant for the first time. She had a miscarriage at 9 weeks and this is when I first started to learn about the baby loss community and what it means to be a loss mom bestie. Katie got pregnant again the following year and had another miscarriage at 9 weeks.
Three months later, when Katie told me for the third time she was pregnant, I felt all the feelings. I was in complete disbelief since she texted me, 'I think I might be pregnant again, don't say anything.' I was on a street corner in New York City with my parents and had to keep this huge secret to myself (I'm terrible at keeping secrets).
I didn't know whether to be excited or scared, considering the past. But as soon as she told me, I knew this pregnancy was going to be different from before. This was really the first time I felt like I was going to be an aunt.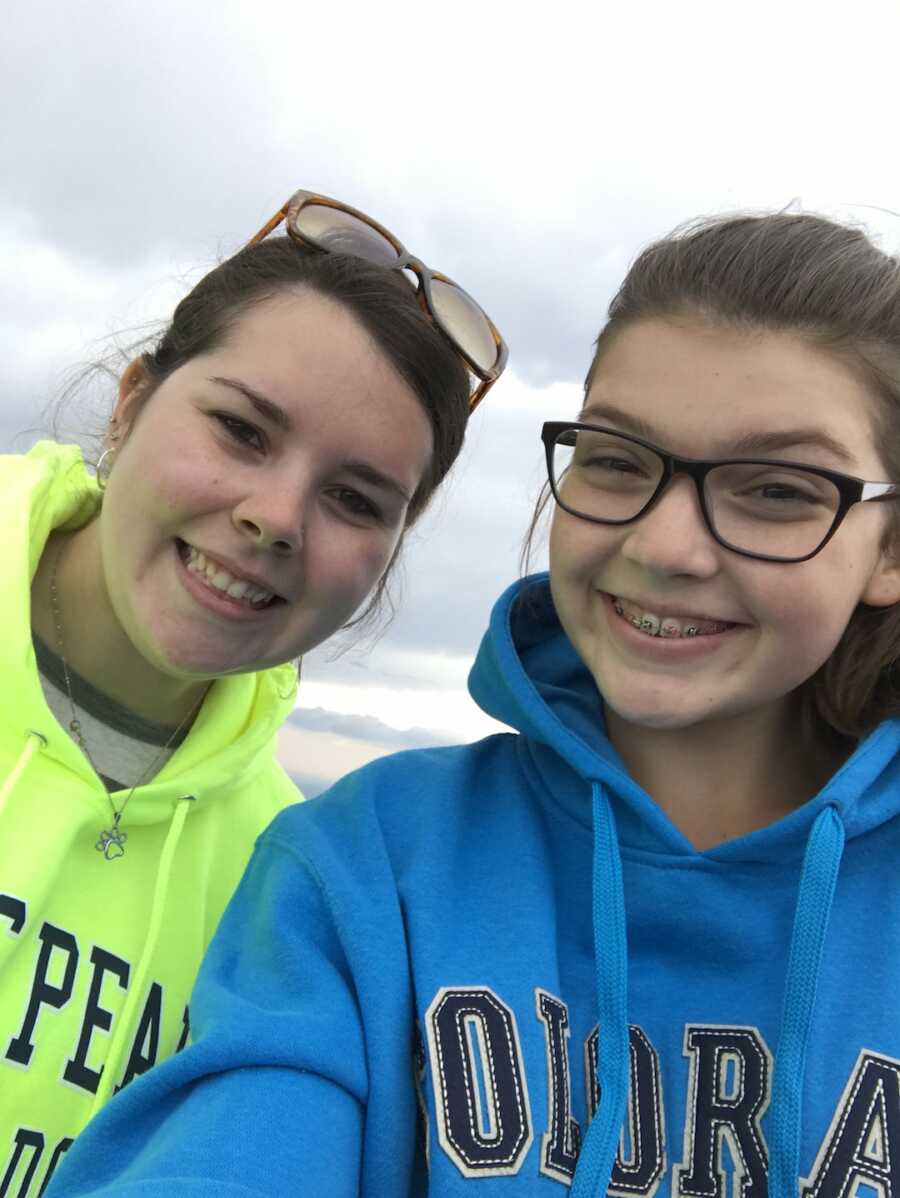 Premature Birth
Throughout the first few weeks of her being pregnant, it felt like all we could do was sit and wait. Once she passed the 9-week mark then the feelings of excitement and anticipation started to really kick in. Fast forward to when I found out whether I was getting a niece or nephew. I was sitting in my college dorm room with my friend anxiously waiting for Katie to call me after her anatomy scan at 20 weeks.
I picked up the phone on the first ring and was shaking with excitement. She asked her husband Trevor if he wanted to tell me and he said, 'We're having a girl!' I screamed so loud and immediately started sobbing.
It's hard to even describe what I was feeling at that time. I was just so happy for them that they were getting their rainbow baby and that I was getting a niece.
Then I asked what her name was in between sobs. Katie said 'Makenna Gwen.' And I cried even more. Such a beautiful name for such a special girl.
Two weeks later I was home from college for the summer and getting ready to go on vacation with my family. The day before I left, I went to Katie's. Makenna was kicking like crazy that day and Katie told me to come and feel. I went over and it was the weirdest but coolest thing I've ever felt.
Never did I think that would be the first and last time I would get to feel her kick. 
The next day, May 20th, I was on the way to the airport, and I got a text from Katie that she was driving herself to the hospital. Instant anxiety. My big sister was driving herself to the hospital because she thought she was in labor, and I was about to get on a plane.
Before I got on my first flight, I found out that Katie was being admitted to the hospital to try and keep Makenna inside a little bit longer and that she was in active labor. After what felt like the longest hour of my life, we landed at the next airport for a layover.
As we were sitting at the gate my mom got a call from Katie's mom. She answered the phone, looked at me, and walked away. I proceeded to get up and followed her, asking what was going on.
My mom came back and told me to sit down and said, 'Katie had the baby.' Cue the tears. I was in complete shock considering the last thing I knew was that Makenna was safe and sound inside.
22 weeks and 6 days is not old enough to be in this world. How is this real? But, Makenna was here, my big sister had just given birth, and I was in Disney World.
For the next 4 days I was flooded with amazing pictures of my niece. I still couldn't believe she was here. I just kept thinking to myself, 'Keep fighting Makenna, you are tiny but mighty.'
Then on May 24th, I was on a cruise ship in the Bahamas and my dad came into my room. He looked at me and said, 'The baby didn't make it.' Once again, I was in disbelief.
How could Makenna have died when she was just wiggling around a few hours ago? How is my best friend now a mom to three angels?
What was I supposed to say to my big sister whose daughter just died in her arms? All I could say was, 'I am so sorry. I love you. She will always be with you.'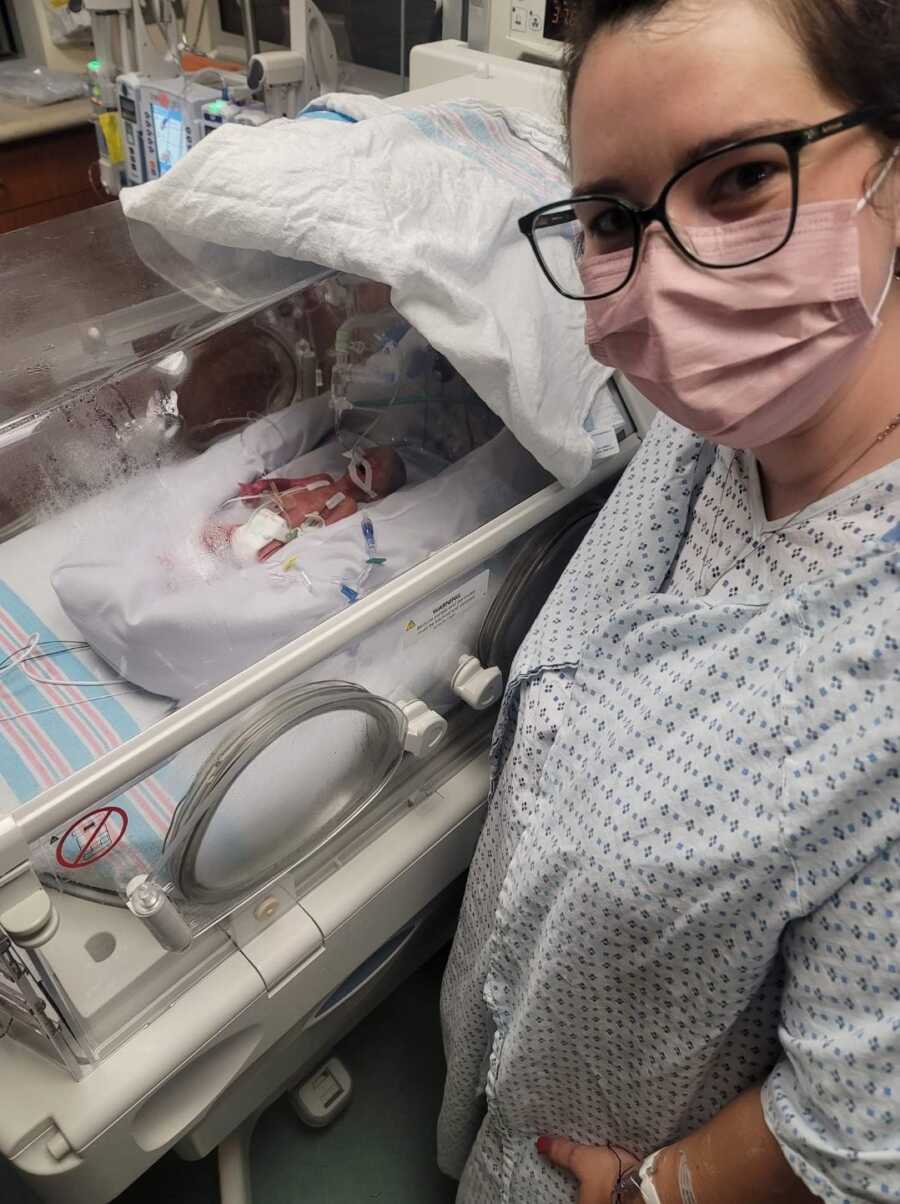 Becoming A Loss Mom Advocate
What does it mean to be a loss mom bestie (advocate)? Since there is no official definition on Google, I will provide you with my own:
 A Loss Mom Bestie: A person who knows or is friends with a loss mom and is able to support them through their grief and life after their baby passes.
For those of you who don't know what a Loss Mom is, they are someone who has lost a baby due to a miscarriage, stillbirth, death after birth, or any other thing that resulted in their baby passing.
I am a loss mom bestie. My niece Makenna died at 4 days old, and I have created a small business in memory of her. The business started as an idea two months after Makenna died.
I was in Michael's with Katie, and we ended up in the bead section. As I was looking around, I saw this small kit of beads and had an idea to make inspirational word bracelets I could sell.
I decided the money from the bracelets would go to Katie to support her nonprofit Rainbows for Makenna, which was created to keep Makenna's memory alive and spread awareness about pregnancy and infant loss.
As I got more orders for bracelets from friends and family, I knew this was going to be big. A few days into starting to make the bracelets I asked Makenna to send me my first sign. I asked for something unique, so I knew it was from her.
I asked Makenna to send me a unicorn. That night I went to Michael's to get more beads and as I was checking out, I saw a single unicorn stuffed animal sitting on a shelf. I really knew it was from Makenna not only because it was a unicorn by itself, but it was a rainbow unicorn and Makenna always visits in rainbows.
From that moment on, I knew I wanted to name my business after a unicorn, so I came up with The Unicorn Project.
Starting My Nonprofit
The Unicorn Project started as a way to help Rainbows for Makenna monetarily with profits from bracelets going towards comfort boxes, but has evolved into so much more. Katie creates comfort boxes that are free to request, and are personalized to each angel baby. Each box contains things like support books, journals, a personalized plaque, comfort items and something from The Unicorn Project.
Every box is different, and we take the information provided on the request form to make it special for each family. From The Unicorn Project, either a keychain or bracelet is put in. I let Makenna help guide me on what is best for each specific box. I do this by talking to her about each baby and their signs, I go with a feeling.
The Unicorn Project started as a small way to help Katie with Rainbows for Makenna but has now grown more than I ever thought it would. Katie and I have started going live on Instagram at 8 p.m. EST on Thursdays where we talk about different topics from both a loss mom and loss mom bestie perspective.
Most recently, we talked about how to survive the holidays, what you can do as a loss mom to honor your baby, how you can be a loss mom bestie to the loss moms in your life, as well as how you can support them during the holidays.
I recently made a post on Instagram called 'How to be a Loss Mom Bestie.' In this post, I talked about things you can do to support loss moms. I made this post so that loss moms can share it with people in their lives who need a little hint on how to be a loss mom bestie.
There are two main things I wanted people to take from my post. First, you will never understand the pain a loss mom is going through, but you can be there to support them.
If you have a loss mom in your life who is talking about the death of their baby don't say, 'I get it,' just to say something because you don't get it. I know the loss mom knows that, and you know it. Instead say, 'I'm so sorry you're going through this; how can I support you?' 
The second takeaway is, saying something small is better than saying nothing at all. Something as simple as, 'Thinking of you and your baby today,' can go a very long way.
When you say their baby's name you're not reminding them that their baby is dead. They know their baby is dead; you are letting them know you are thinking of their baby. So, reach out to loss moms in your life but saying something small is better than saying nothing at all.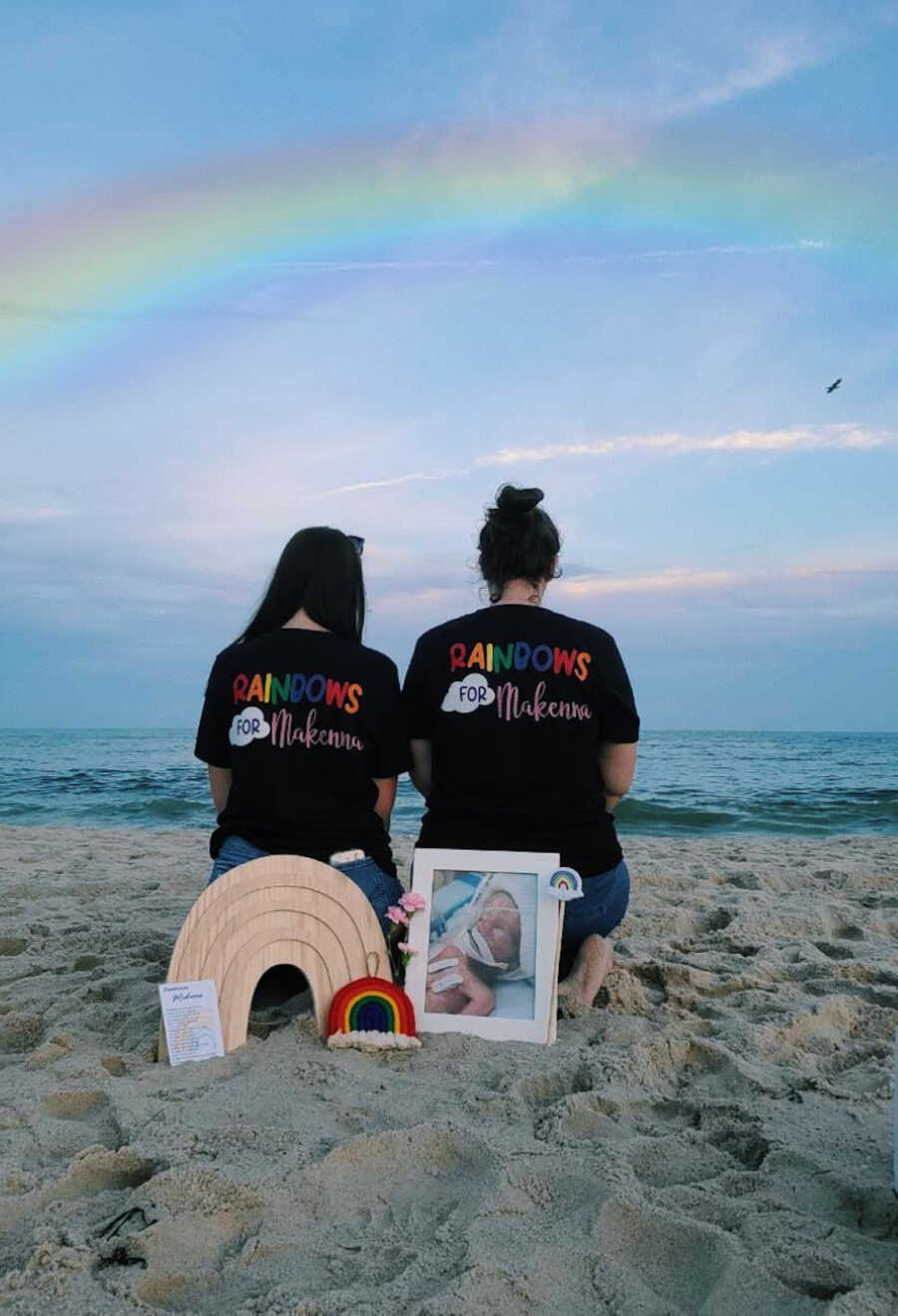 I know there is so much more in store for The Unicorn Project. I have so many new things I want to make and so many more posts about being a loss mom bestie to share.
Makenna has changed my life in such a positive way. Never did I think I would be 19 years old in college and also running my own small business. I am so incredibly lucky to be this angel's aunt.
There is not a single day that goes by that I don't think about her. I wear my 'Mak Stack' everyday, which is 3 bracelets all about Mak. One with her name, one with a unicorn and of course one that says, 'Aunt Tay.'
Each day Makenna guides me to new ideas for The Unicorn Project. I just know she has big things in mind for her Aunt Tay to help me change the world."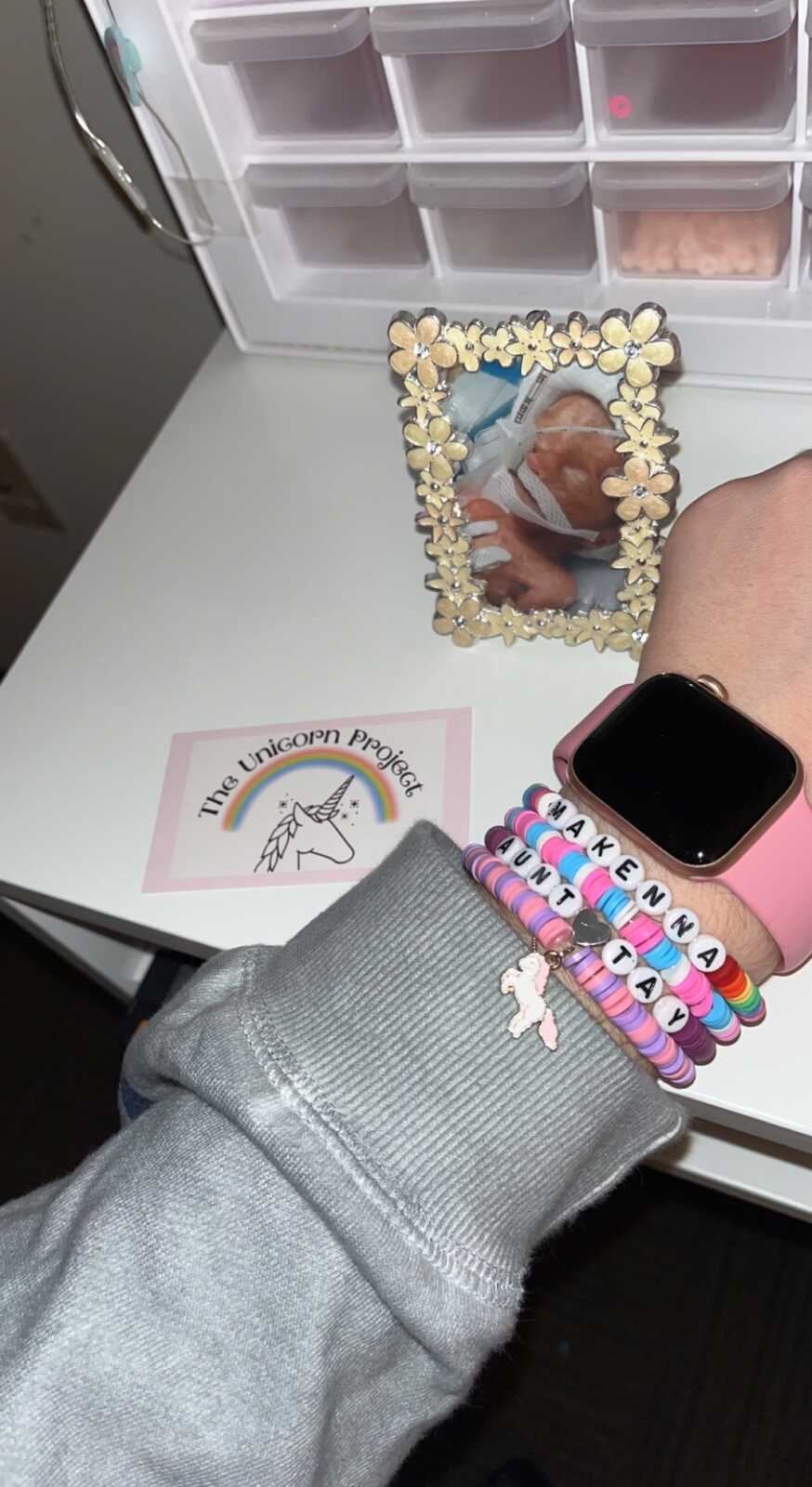 This article was submitted to Love What Matters by Taylor of The Unicorn Project. You can follow The Unicorn Project on Instagram. Join the Love What Matters family and subscribe to our newsletter.
Read more stories like this:
'I remember walking out of the hospital thinking, 'I don't know if I can survive this.': Bereaved mom shares heartbreaking loss of baby boy at 40 weeks
How To Support Loss Moms On Their Grief Journey
Do you know someone who could benefit from reading this? SHARE this story on Facebook with family and friends.