I know no one can care for my son as I can. My husband's a close second, I guess. My mom and mother-in-law are up there, too.
I also know that part of my calling in life is to work outside of the home. This required us to look for childcare. We were fortunate because after holding their grandbaby for the first time, our parents were so in love that they offered to watch him for his first year of life. But as his first birthday approached, so did the looming end date of free one-on-one childcare.
Looking for non-family care for your child is tough. There's no denying it. It's a process, and it takes time to truly find that perfect fit. Plus, there is an overwhelming amount of options out there. My husband and I took the following into consideration as we narrowed down who our childcare provider would be:
Types of Childcare
Not only are there tons of childcare providers out there, but there are also a ton of different options: in-home, facility, nanny, Montessori, full time, part-time, etc. It's important to look at what you want as a family and what you're comfortable with. For us, we wanted socialization to be a key part of our son's experience, and we wanted something reliable at least four days a week. In the end, we landed on a preference for a daycare facility, as opposed to an in-home daycare or hiring a nanny. We went back and forth on Montessori, but there was not one conveniently located near us. This leads me to our next consideration.
Logistics
I feel like a lot of time parenting is spent figuring out logistics. I'm constantly trying to figure out how to get to this location by this time with these potential obstacles. Finding childcare is no different. We determined based on our work schedule who would drop off and who would pick up, and then we narrowed down daycare facilities that would work with that schedule.
Finances
Childcare isn't cheap (everyone knows that). But, in all honesty, I would be cautious of any childcare that wasn't somewhat "expensive." This is my child, and I am a firm believer in "you get what you pay for." Why wouldn't I pay more money to make sure he was happy, healthy, and well taken care of? With that being said, my husband and I don't have unlimited resources. We have a budget, and that budget helped narrow down things a little further.
Discipline Policy
I worked in childcare for years before having my son. I work with young adults now. I've done the research and seen firsthand how certain discipline methods can negatively impact children. I knew that I did not want to send my child to a place where he would constantly be put in "time out" or shamed for behaving in an age-appropriate manner. For us, that was non-negotiable. It is important to determine the non-negotiable discipline policy for your family, too.
Gut Feeling
A mama's instinct is real. If something feels off about a place, even in the slightest, it isn't the place for you. The best way to put your instinct to the test is to see places in person. Covid restrictions made touring a little more difficult, but I was not going to sign our kid up for a place I had never set foot in. I needed to get a "feel" for the center and talk to the director, and the teachers to help determine if it was a good fit.
Choosing childcare is hard and uncomfortable because the idea of someone else caring for my little guy doesn't always sit right with me. Even if I logically understand it's necessary. In the end, though, I'm grateful we found the place we did. It's a daycare/preschool that is in a somewhat convenient location and in our price range. It has a discipline policy similar to ours, and when I toured the place, I felt a sense of love and care from all the teachers I met.
It isn't as good as me taking care of my son; it never will be. But it's getting close.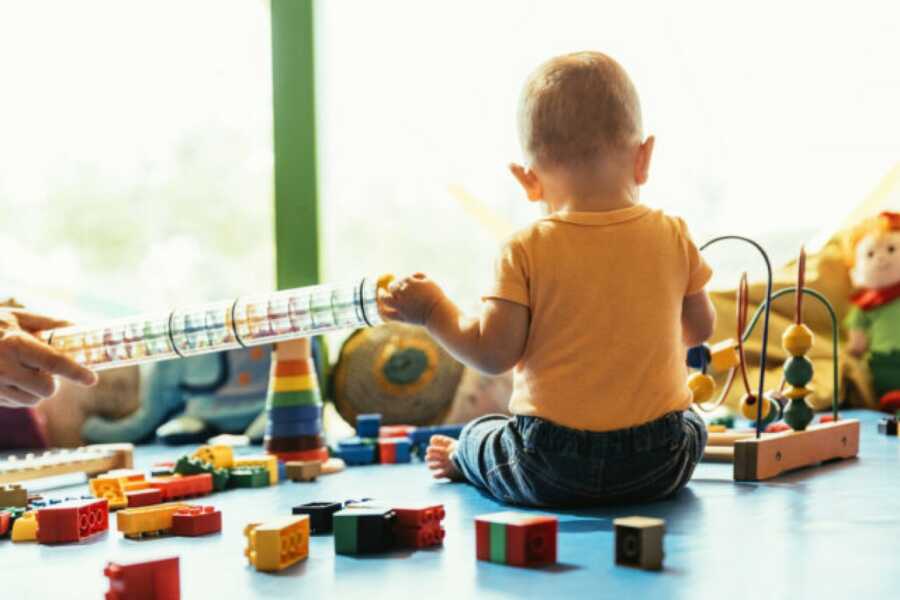 This story was submitted to Love What Matters by Latched Mama. It originally appeared here, on their blog. You can follow their journey on Facebook, Instagram, and their website. Submit your own story here and be sure to subscribe to our free email newsletter for our best stories, and YouTube for our best videos.
Read more stories from Latched Mama here:
We Need To Stop Asking Moms When They Plan To Have More Kids—5 Reasons Why
I Did Not Feel Back To 'Normal' Several Weeks Postpartum—And It's Time We Talk About It
When It Comes To Postpartum Moms, The Most Valuable Help Has Nothing To Do With The Baby At All
Watching My Firstborn Become A Sibling Has Been So Charmingly Sweet
Spread beauty and strength for other mothers. SHARE this story on Facebook with family and friends.