This is a follow up story to Shannon's on going grief journey.  To read the full back story please click here.
"The silence is deafening. Last night was especially depressing because it was just Ford and while he is quite the handful, it just isn't the same. Kinsley was loud and opinionated. Lord, did she stir up sh*t here in the house. The girls were always fighting, and the common factor was always her. The family dynamic has certainly been rocked and honestly, I am not sure I will ever be okay with this void.
I enjoyed the challenge that she was and at the end of the day, I giggled at my apology notes she flung down the stairs, asking to come out of her bedroom. She had a mouth on her and damn if it didn't get her in trouble the majority of the time. I would hate that Jordan and she would sit in this kitchen and argue and argue and argue. Neither of them was going to win and I can still hear her screaming 'OKAY DADDY,' and him returning with 'IF YOU OKAY DADDY ME ONE MORE TIME…' And then she would purposely do it again! She's totally her mother's child.
We have a perfectly blended family and with that comes sharing time. There are weekends where it seems we don't have many kids at all but on those weekends, we always had Ford and Kinsley. They were the two best buddies you would ever meet. I remember when we first told the girls about Ford (at that time we didn't know boy or girl) and all the girls were happy except Kinsley. She wanted nothing to do with having a baby. There's a video posted somewhere where you can see Kinsley giving a thumbs down and sticking out her tongue while the others were giggling and jumping up and down.
After Ford came into our lives, she was all about him. They played together, she helped take care of him, and most importantly, she was his protector. She would even get mad at Jordan and I for trying to discipline him. Ford has a lot of Kinsley in him and I will be forever grateful for that. I have a feeling I will be extremely pissed for many days to come, as she constantly pissed us off.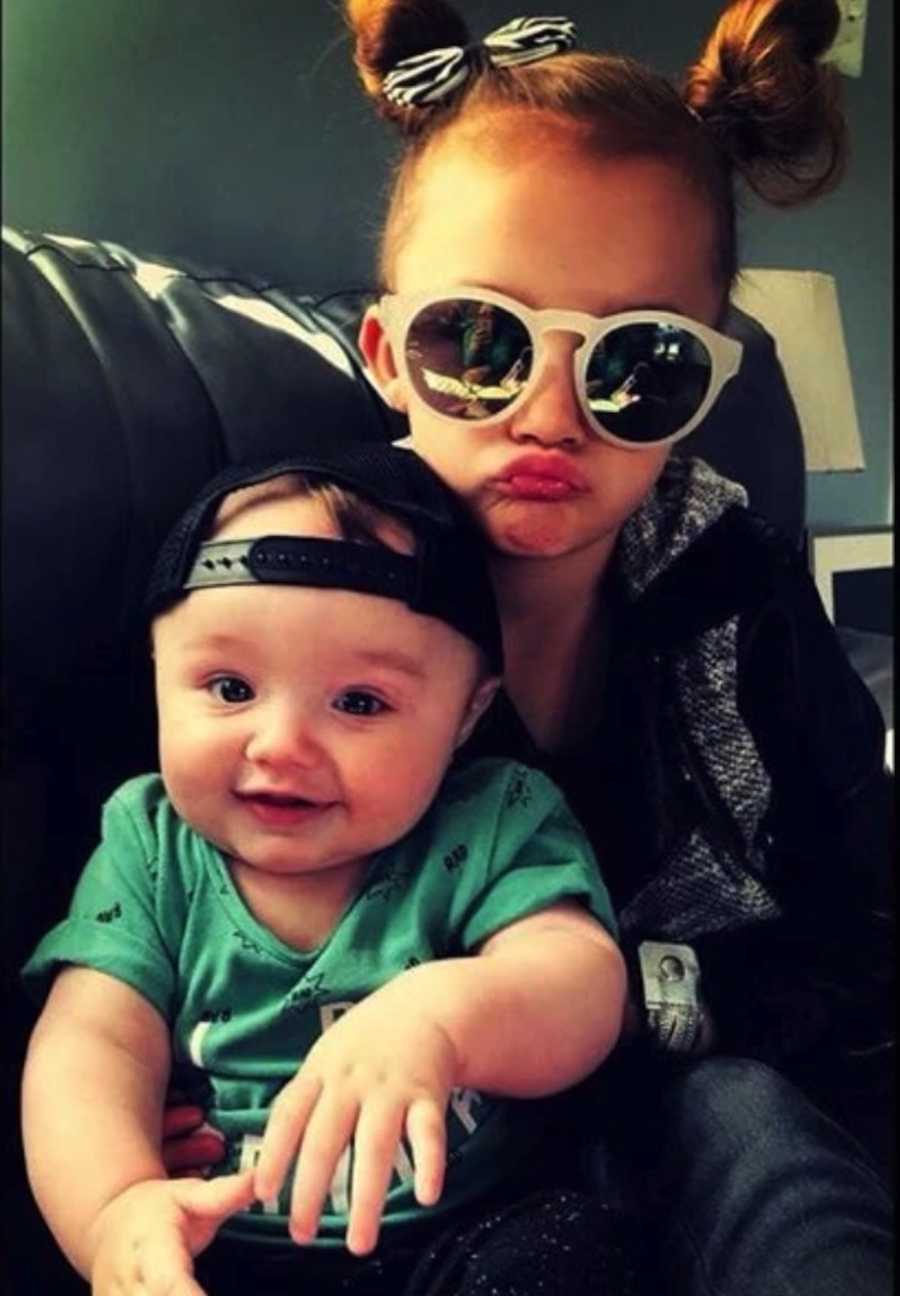 Every day is a struggle to get out of bed or be a mother. Of course every day, I choose the latter of the two. I have four other beautiful children to be there for and to create magic for.
If you know me, you know that I am extra. As I have mentioned before, my husband thinks I am crazy. I find something fun for the kids to do every holiday and make an excuse to buy them things for each holiday as well. And by holiday, I mean St. Patrick's Day too. I make shirts for every school function, and of course, theirs must be the best. My husband rolls his eyes and just lets me do me. By doing this, I have created so many memories for us and now that she is gone, I am forever grateful I did and will not stop. I can still vividly see her excitement over making her class valentines instead of buying from a store. The girls still talk about how awesome my Halloween costumes were last year and the Easter Scavenger Hunt was epic.
All these things that I do, while they stress me out and create more work, also create magic for the kids. There is truly nothing better than watching them filled with pure excitement and happiness.
A couple of weeks ago, when we were a family of seven, we thought Ford would absolutely love to see the monster trucks and cars crash. We also thought Kinsley would love going, just to see her brother excited and of course, she never passed up a good lunch out with her daddy.
Today will be extremely hard for me. I don't want to face that emptiness. I know Ford will have a blast today and I will only have an okay time with the empty seat next to me. I am not truly happy. It's a bittersweetness.
I can't help but think, will this forever? Will this be the way things go every time I try to do fun things with the kids or as a family?
There's always gonna be an empty seat and empty place in my heart but we are gonna go, we are gonna find something to laugh and smile about, and when music comes on, we are gonna dance because we are living this life like Kinsley!"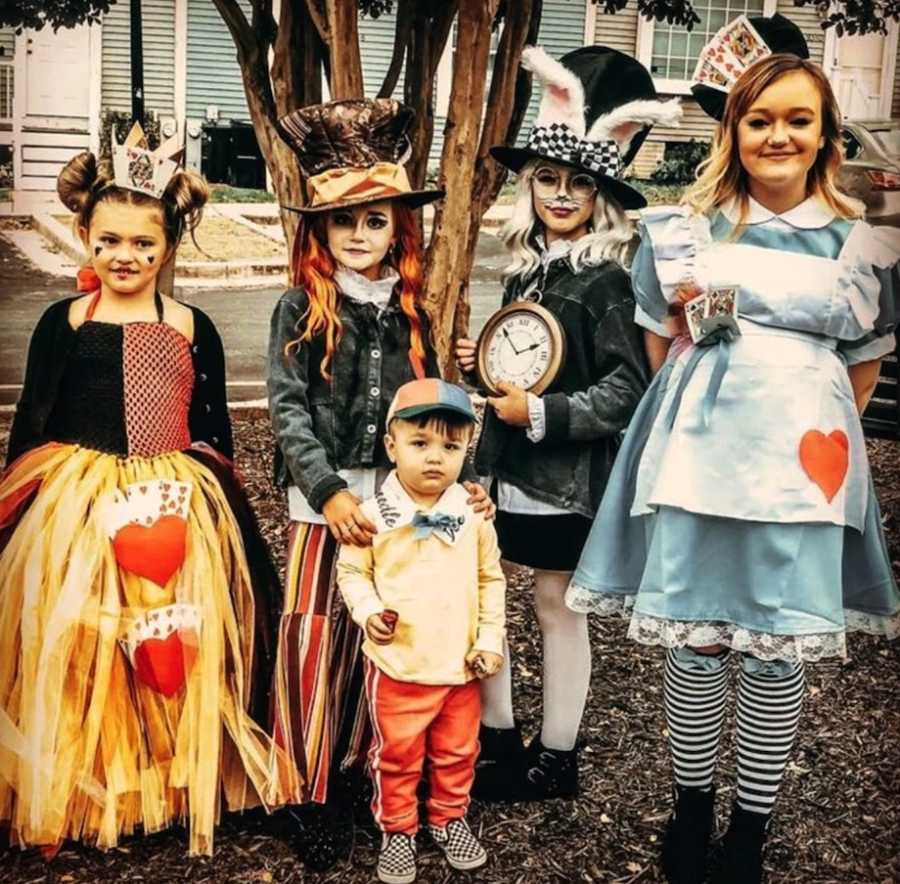 This story was submitted to Love What Matters by Shannon Sandvik. Follow her journey on her website here and Instagram here. Do you have a similar experience? We'd like to hear your important journey. Submit your own story here. Be sure to subscribe to our free email newsletter for our best stories, and YouTube for our best videos.
Read more stories from Shannon here: 
'Her eyes looked up at me in panic. 'Mommy, it's blood.' We were just in the ER and everything said she was fine. My stomach about hit the floor.': Family says goodbye to their 'forever Valentine' after battle with flu
'I watched him bury his head in his hands and sob. 'I'm not going anywhere, I need you. The kids need us.' He grabbed my face. 'We are going to make it.': After losing daughter to flu woman says 'I only thought I loved him before'
'We were at dinner when I said, 'Hell, give me another drink. I may take up smoking too.' Kinsley was as healthy as a horse and in a week span, she was dead.': Mom loses daughter unexpectedly to flu
'She is always with you.' There I was, burying my daughter, picking out the perfect casket. 'No, she's not f#$King here, is she?': Mom mourns loss of daughter to flu, 'In 20 years I will still be thinking about my baby girl'
'Kinsley always stood up for me.' Ava came from the playground, upset another little girl called her stupid. 'Where's Kinsley when we need her?': After loss of child, mom urges others 'Enjoy the moment'
Do you know someone who could benefit from reading this? SHARE this story on Facebook with family and friends.