The World Trade Center Is Targeted
"I grew up in rural Florida. My great-grandparents immigrated to the U.S. from Germany before the First World War, arriving like thousands of others, at Ellis Island. They settled in Staten Island.
As a kid growing up in the balmy south, my grandmother—Gram, I'd call her—would tell me stories about New York City, the bright lights and chaotic lifeblood seeming like a whole other country.
She loved to talk about the 1964 World's Fair, a shining moment of American pride before the Vietnam War rocked the nation. She voraciously read every copy of National Geographic and kept all her back issues stacked on her screened-in porch, where I'd spend whole days thumbing through them with the heavy floral smell of jasmine flowers in the air.
Those years cultivated my passion for travel, a passion that would one day, years later, take me back to the Big Apple with dreams of becoming a professional photographer.
Just before 9 a.m. on September 11, 2001, I got a phone call from my friend Lilly, a photojournalist working for the Miami Herald. She told me there was a small plane crash at the World Trade Center near my place and wondered if I could go downtown and shoot some photos.
We both interned for the Herald years ago, and if nothing else, she figured I could get published in the paper.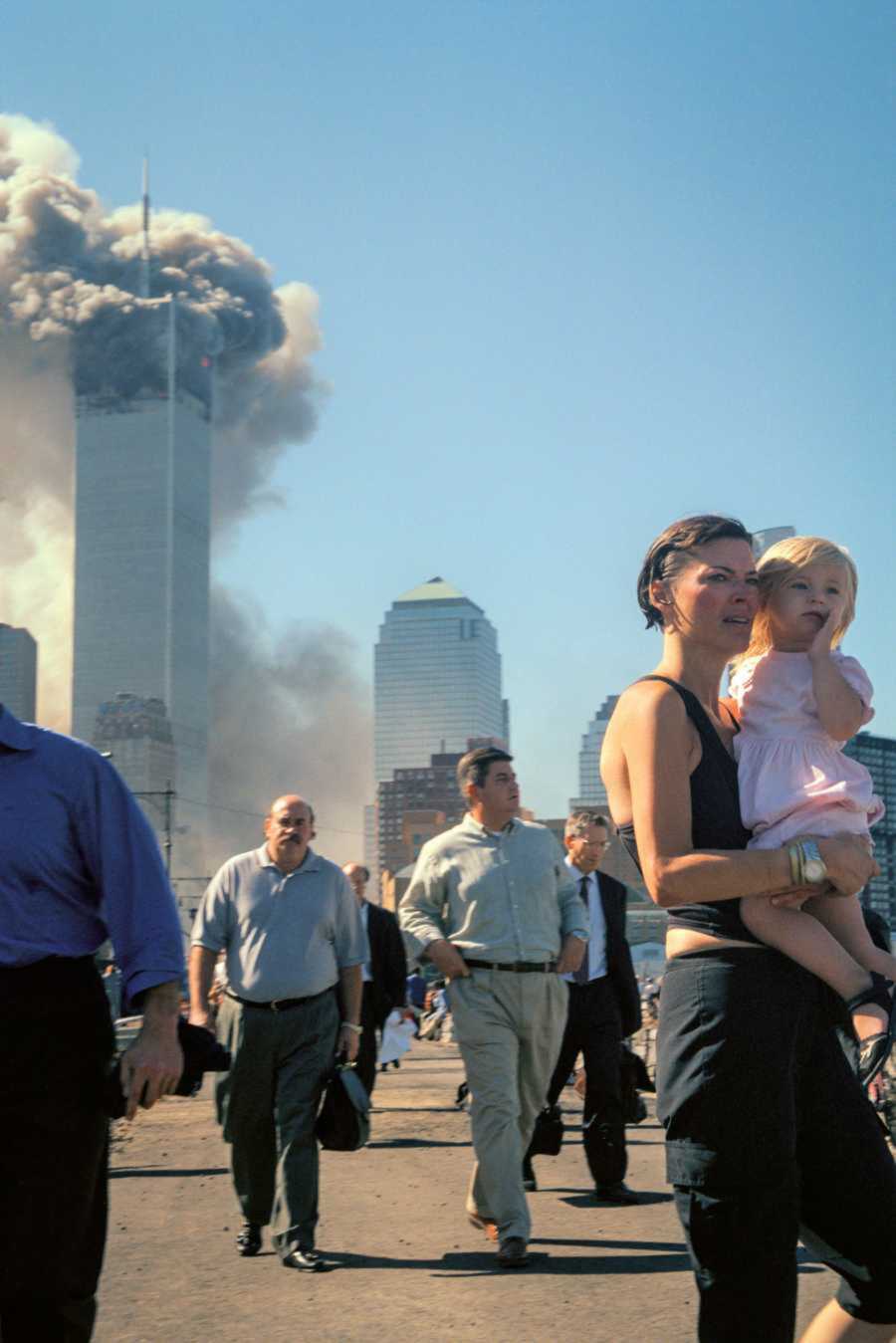 I quickly got up, grabbed my gear, film, and batteries, and ran out the door.
Leaving my apartment, I walked into a splendid September day: low humidity, and abundant sunshine. I jumped on the downtown Six train, anxiously wondering what was happening.
All the other riders were already talking about 'the accident' in ominous voices and hushed tones.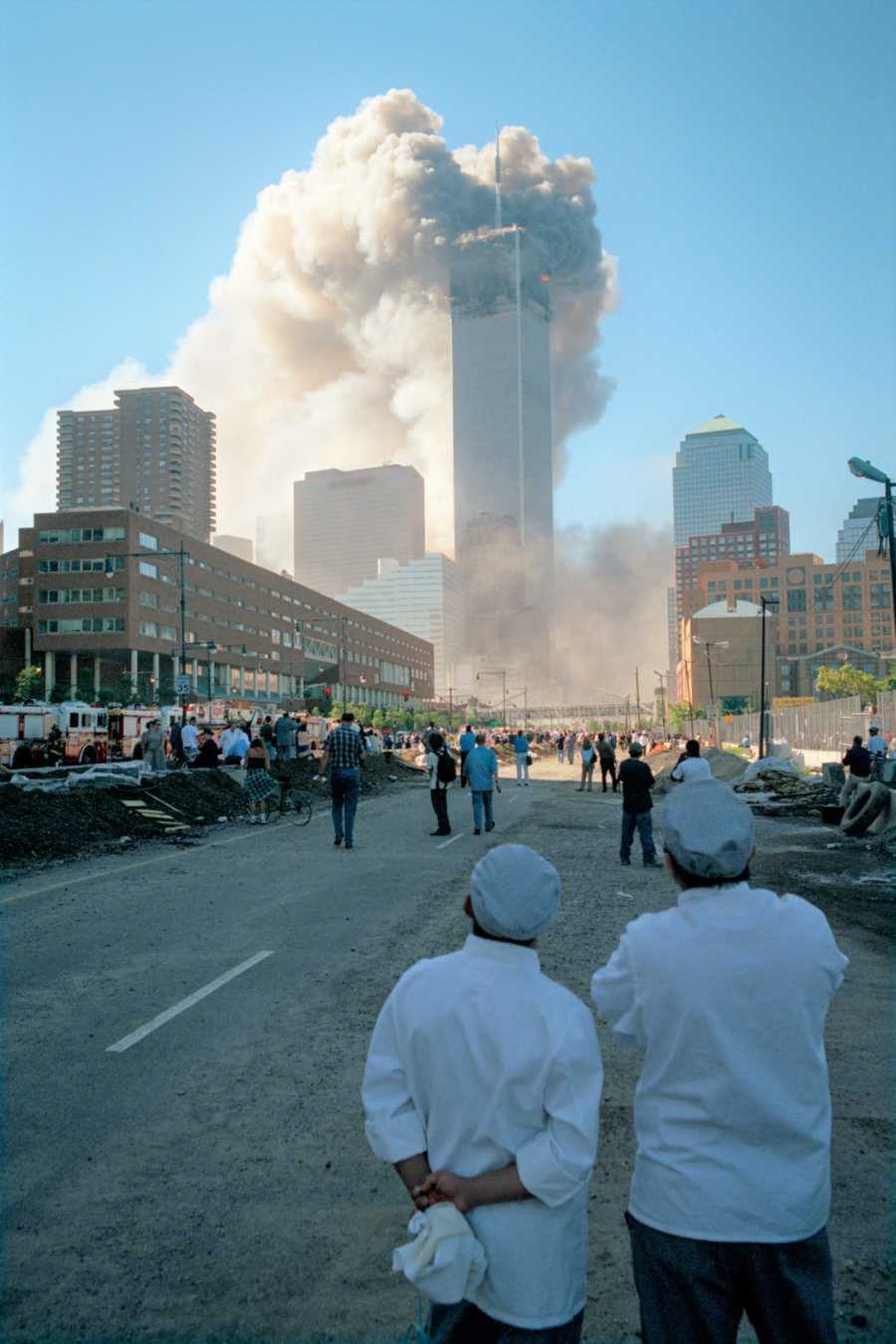 I made it to Canal Street before the entire train line stopped. The conductor's voice crackled over the intercom, informing us that trains were no longer traveling southbound.
Our journey was over. We needed to get off.
Before I peeked above ground, I already knew this was no accident. By the time I made it out of the subway, both buildings had been hit; black smoke and fire billowed out.
When I first saw the destruction, my initial thought was naive. 'Oh, the firemen are here. They'll go up and put out the fire.'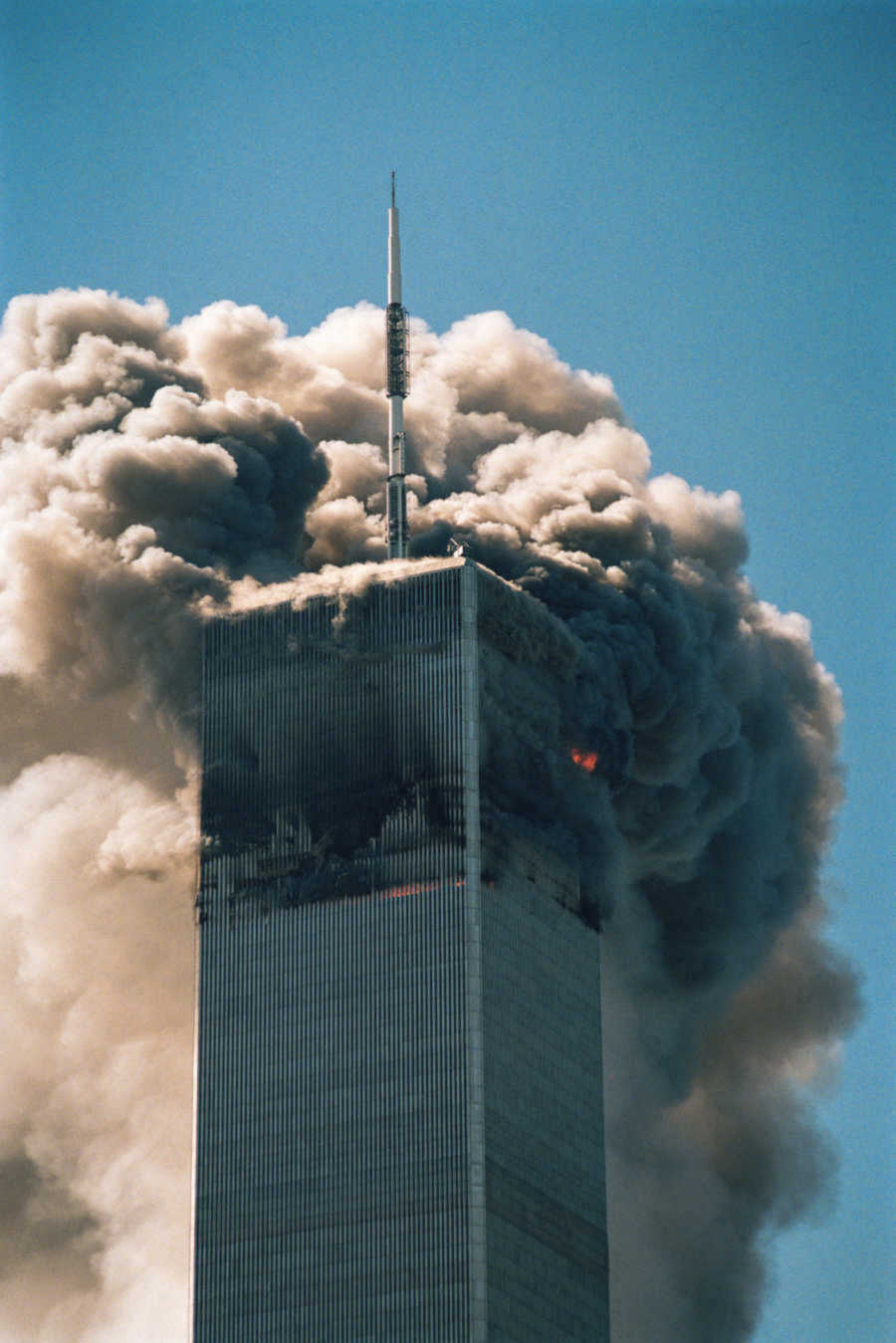 Fire trucks and sirens were racing in every direction. It'll be okay, I figured.
But as I moved closer, walking past terrified people running in the opposite direction or simply paralyzed with fear, I realized the extent of my shock and denial. I sensed the horror and astonishment on everyone's faces.
And then, as I was still weaving through the streets of Lower Manhattan, the South Tower fell. It took just a few seconds to disappear completely.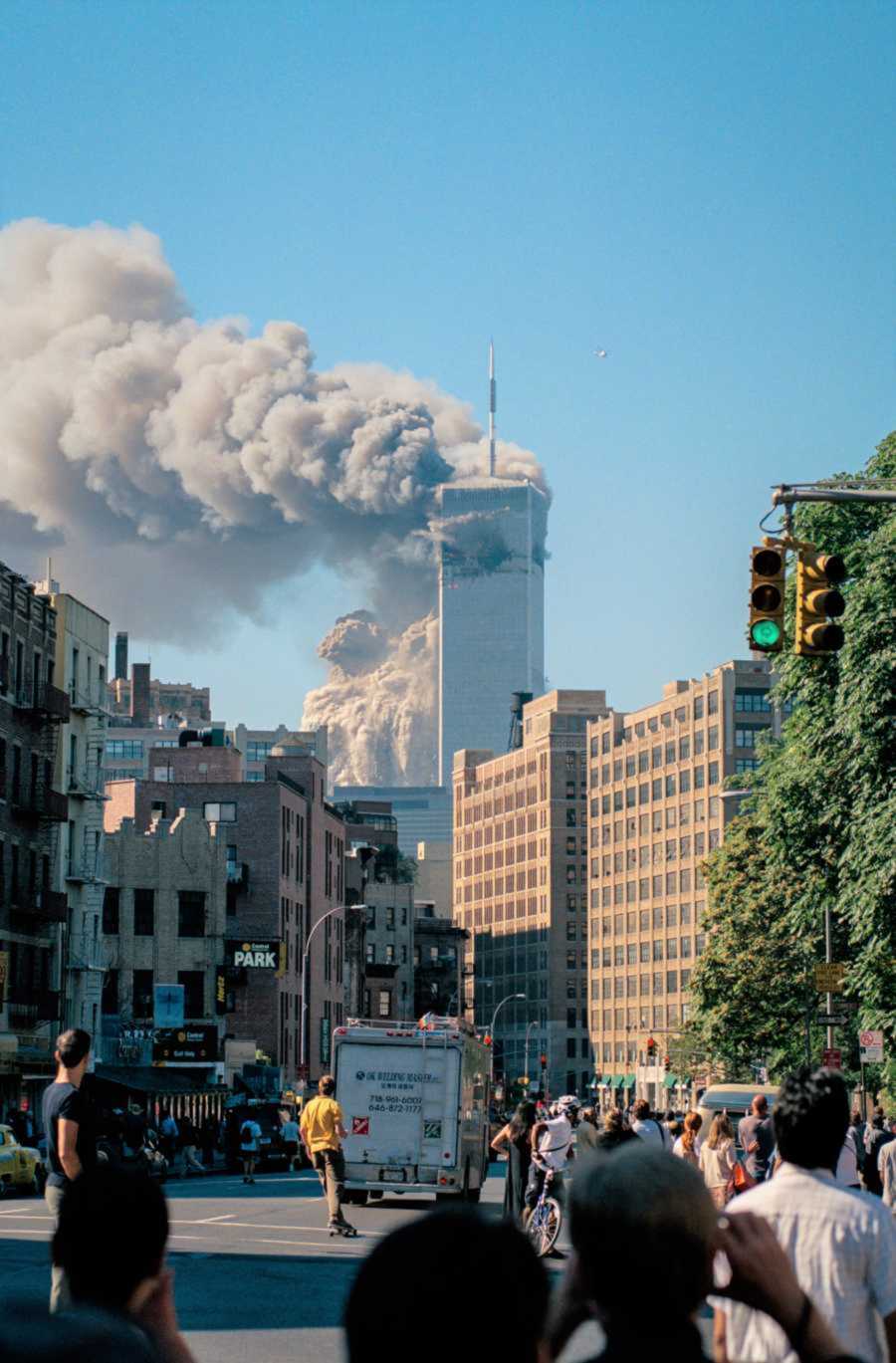 Tragedy Strikes Twin Towers
Once I emerged onto the West Side Highway, I finally got a clear view of the carnage. Was there really only one tower?
It was unbelievable. I'd seen these buildings as immovable since the 1980s. You don't imagine looking out your window one day to discover a mountain suddenly missing.
I remember the first time I saw the Twin Towers in 1986, working a brief gig at a family friend's restaurant on Long Island. They were a North Star for us lost souls—always there, guiding us.
There were so many rumors on the street that day. Cell Phone service was cut, so I wasn't able to contact anyone. People across the world watching on TV knew more than us on the ground.
We were left to our imaginations, scrambling amid the stories spreading among us.
Was it an accident? Was it on purpose? Was it terrorism? Were the planes hijacked? What's that about an explosion at the Pentagon? Were people really jumping from the buildings?
Many people thought the better option was to jump. I can't even fathom how horrible it must have been to be trapped inside that inferno.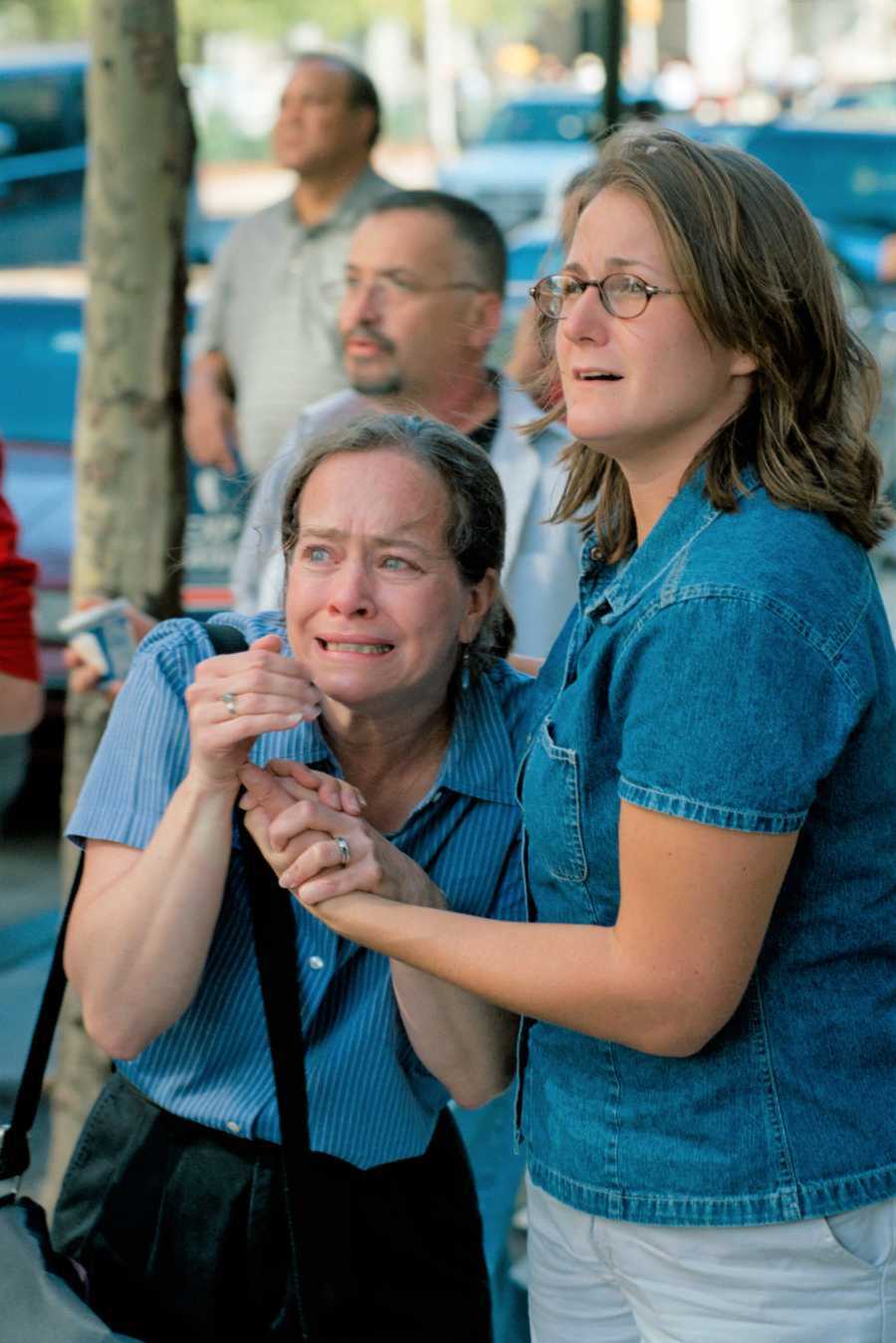 Manhattan was on lockdown. Anything seemed possible. I kept moving south, as the bad got worse.
At 10:28 a.m., the second ground-shaking roar began. This time, I was much closer. I knew there was nothing I could personally do to help, but my instincts took over and I kept shooting.
I was covered in a thick, hellish white powder. God only knows what I inhaled that day. The air was thick with dust and debris, airplane fuel, human remains, sharp bits of metal, and loose sheets of paper.
It was impossible to avoid the toxic fumes washing over us. I scrambled to cover my face and camera at the worst times, but I could only cover so much. My asthma is my lifelong memento.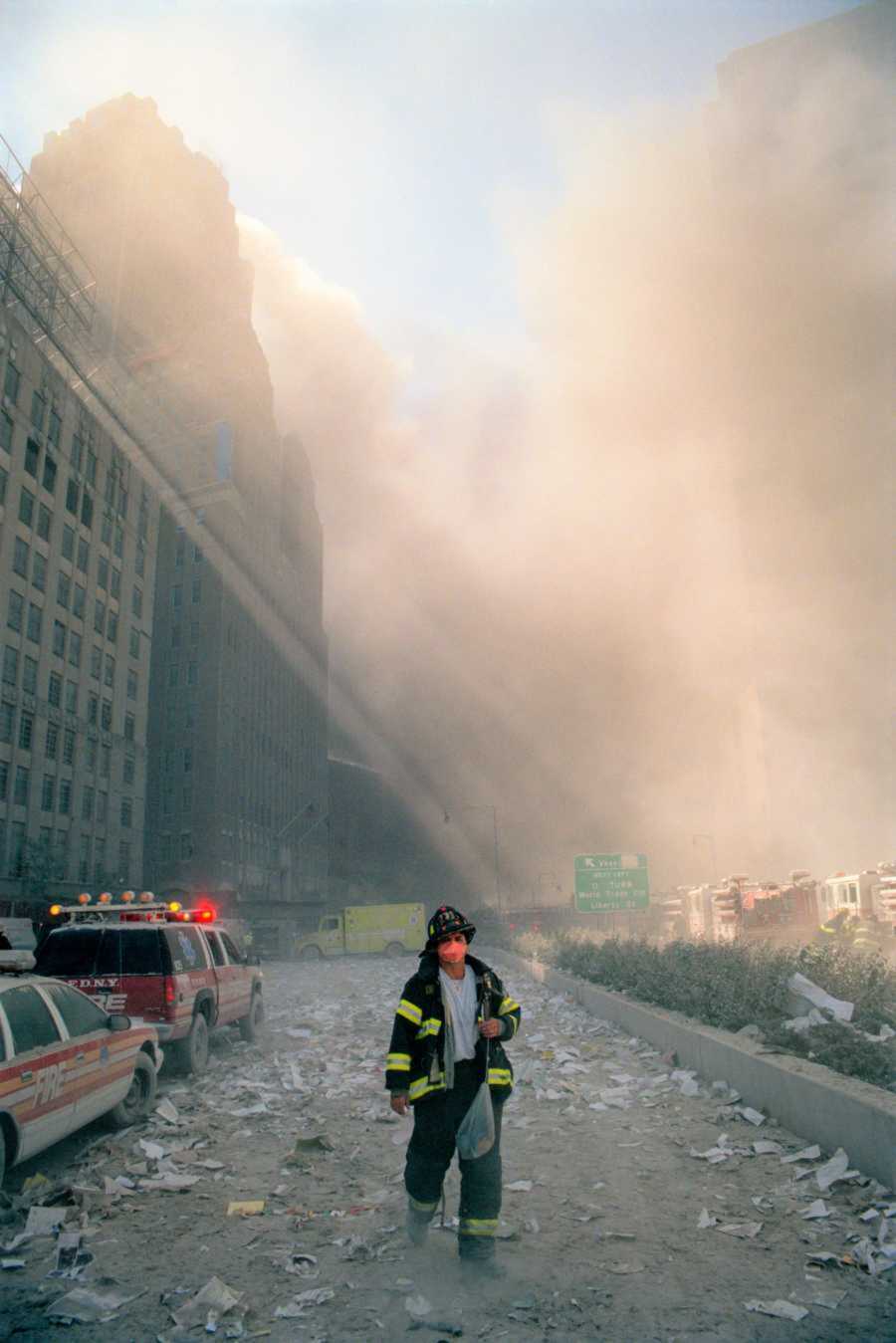 I remember hearing a police officer yell into his two-way radio, 'It's gone. The World Trade Center is gone.'
Paramedics and firefighters ran everywhere with emergency equipment and empty stretchers. But there was no one to save—everything was gone.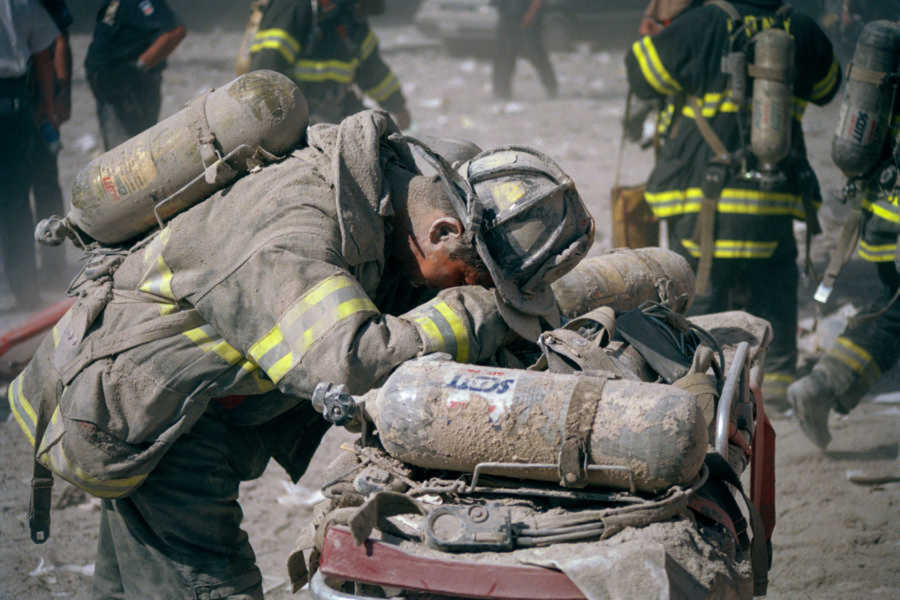 Honoring First Responders
New York City's bravest rose to their biggest challenge. Faced with the worst, they gave us their all.
I ran toward the burning buildings alongside them while others ran away, but make no mistake, I am not the hero of this story. They are. I merely witnessed this moment and helped document it so the details could never be disputed or forgotten.
The best way to honor these heroes is to show them at their best.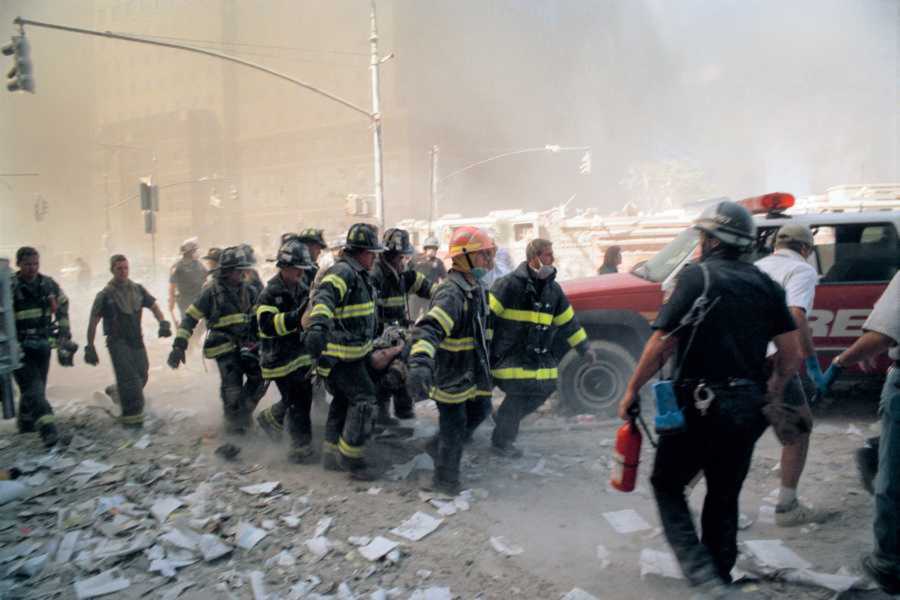 Amazingly, these same first responders kept returning to Ground Zero day after day, week after week, month after month. They still knew they needed to help search for survivors.
Meanwhile, the staff at the local hospitals waited for new patients that would never come.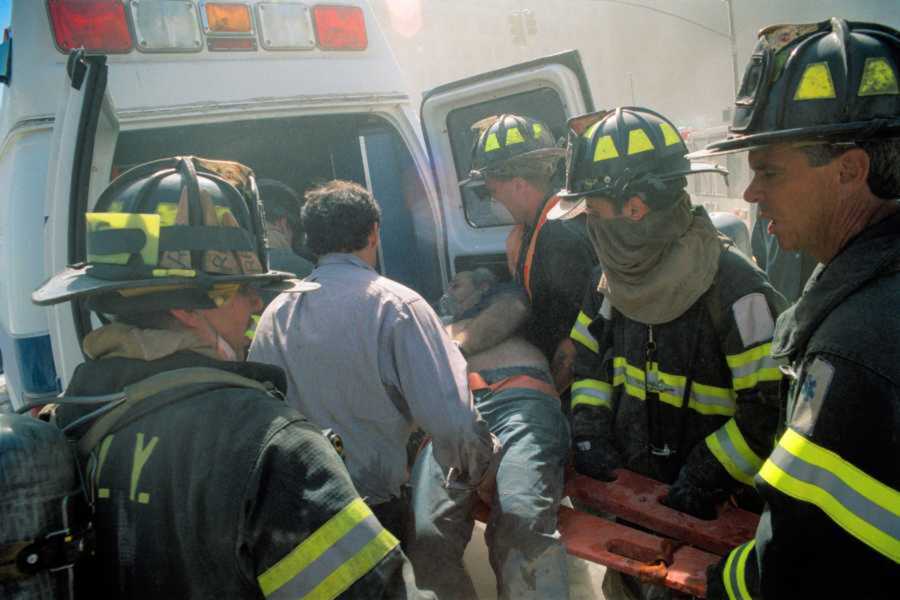 Unable to see anything else, all I could think was, 'The rest of downtown must be gone too.' There were massive fires everywhere; cars were exploding. I wasn't sure I'd survive. It truly was like a war zone.
Once the dust cleared a bit, I was able to look up and see for the first time that they had simply vanished. They had disappeared, like a perverse magic trick. I stood there in absolute disbelief.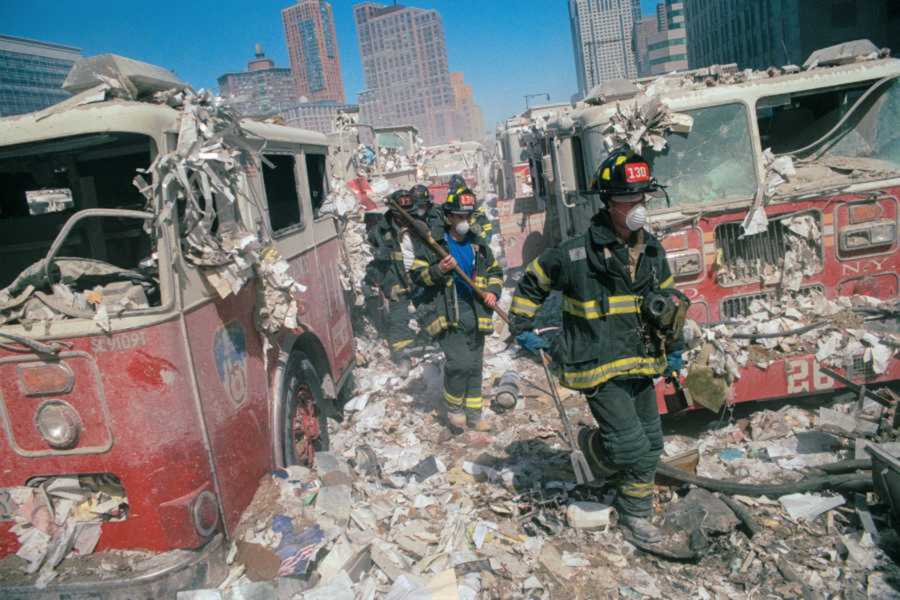 Our Lives Forever Changed
The world had truly changed.
As I ran out of film and headed home, I reflected on the valor and inspiration I witnessed.
Firefighters ran into rubble. Police officers saved lives. Strangers hugged on the street. Store owners gave away bottles of water to people in need.
That's the true story of 9/11. The story of resilience.
I want to be perfectly clear: I didn't take these photos for myself, or even for The Herald. While thousands of lives were lost that day, countless more were saved by the heroism of the city's first responders.
I am writing this for them— especially those who died in their virtuous struggle. I witnessed firsthand all the unbelievable work these true American heroes did that day, sacrificing everything to help save the lives of strangers.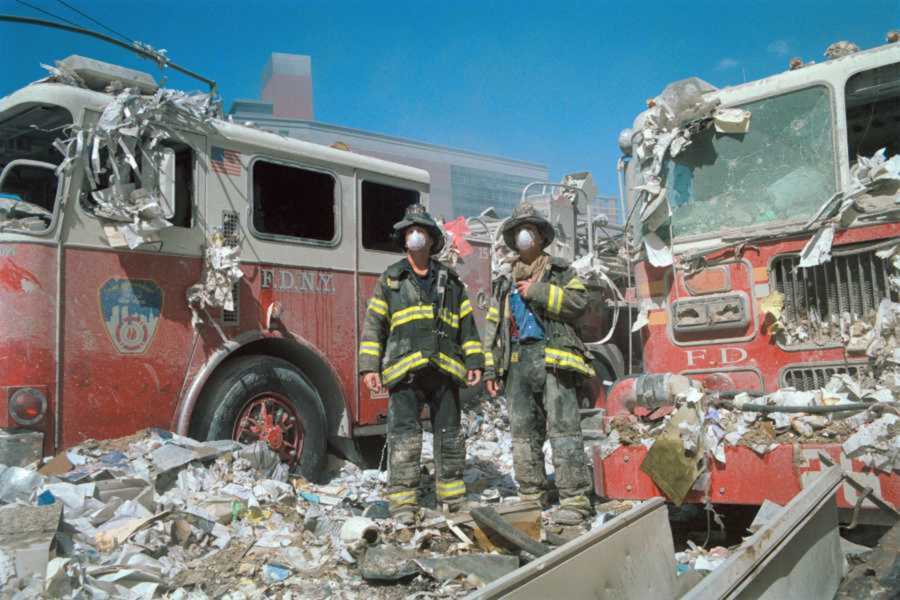 I take responsibility for this story very seriously. To be part of it, even in the smallest way, was my destiny—the most consequential day of my life. A switch had been flipped for me.
There was my life before 9/11, and my life afterward. I believe I was chosen to be in New York on that day, to contribute in any way possible. And in return, it would change who I was for the rest of my life.
No, I don't believe I was in New York by accident on Sept. 11, 2001.
When I say my life changed after, I mean literally. I developed a bad case of asthma and severe allergies, things I never suffered from while growing up.
I started drinking heavily to handle the trauma, to suppress memories that haunted me. I sabotaged a relationship and fell so far behind on my taxes that the government started garnishing my wages.
I was depressed and morose, symptoms I now can recognize as belonging to post-traumatic stress disorder.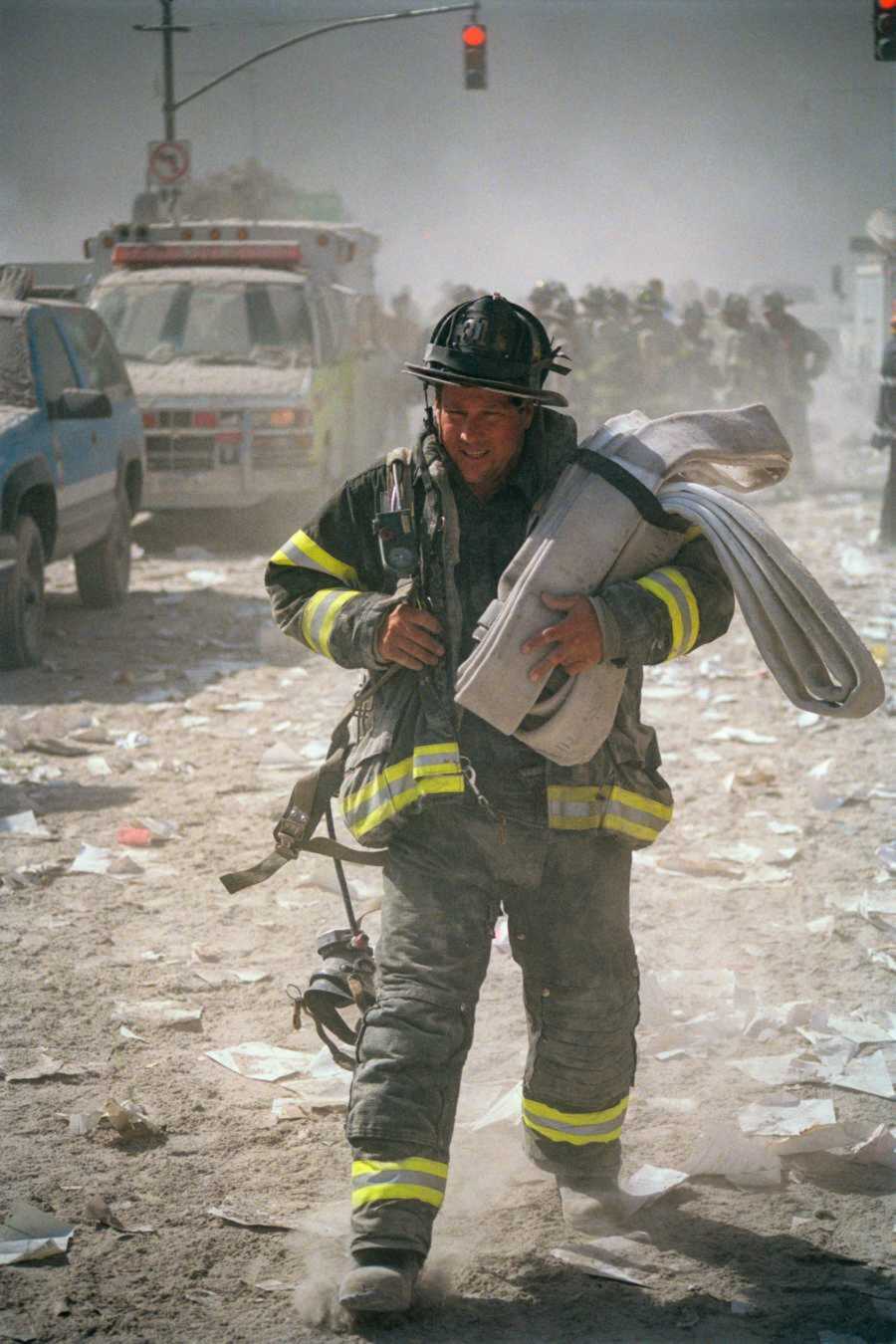 Still, I was fortunate. I was able to pull myself together.
I got my asthma under control with inhalers I still use every day. I got my career back on track. I met someone in 2002, and we've now been married since 2015. Sept. 11 damaged me, but it didn't destroy me.
New York rebounded in the same way. That's what I mean by resilience.
I see the numbers '911' everywhere. Pretty much every morning I somehow glance at my watch at 9:11, as if even my circadian rhythm is traumatized.
Sometimes at stores or restaurants, my receipt is for purchases worth $9.11. It's on a license plate, in someone's phone number. All the way in Lima, Peru, I even found myself sleeping in room 911 at the Westin Hotel.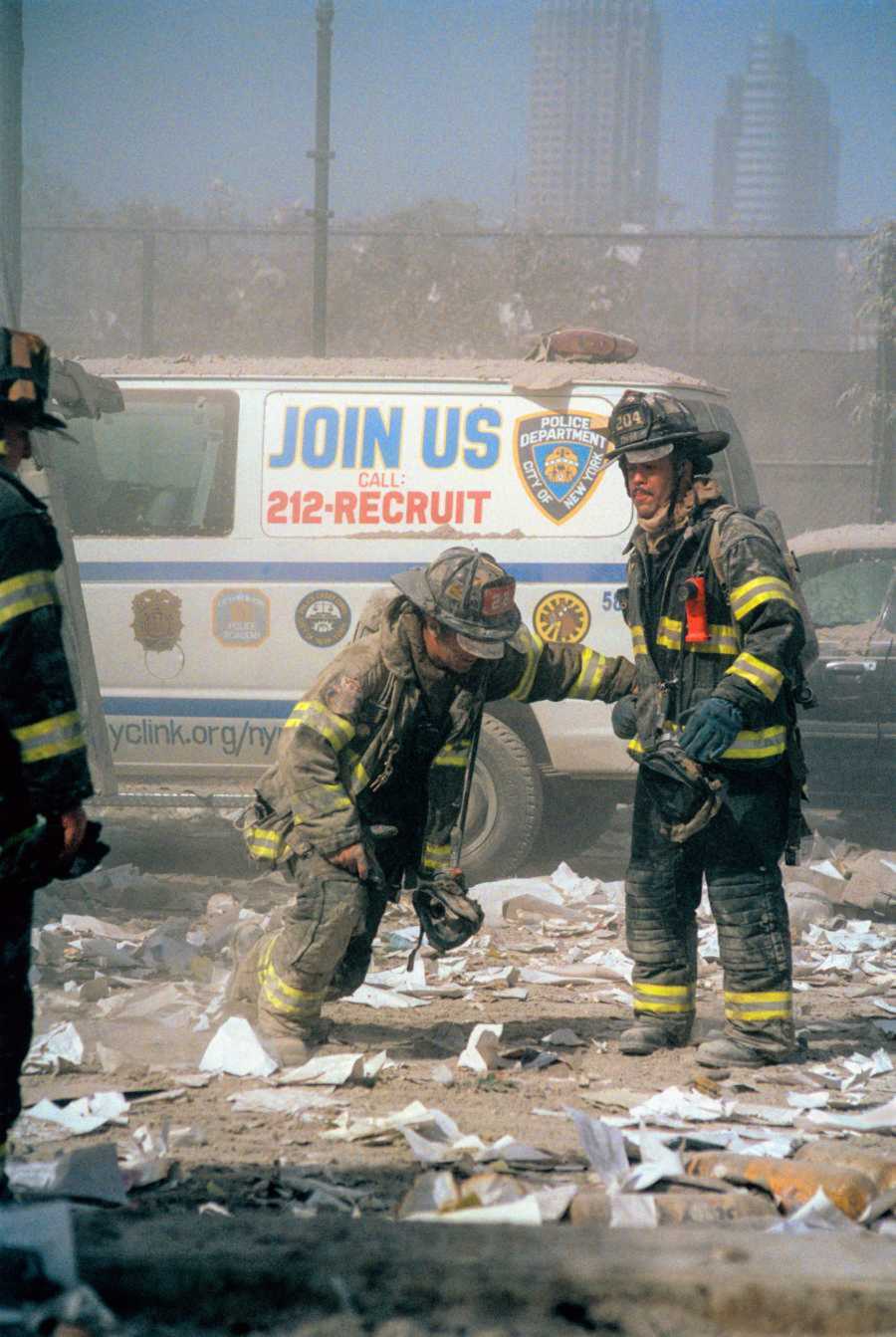 I want to continue telling this story for the generations who won't remember this momentous event.
Our goal is to find the subjects of my photographs and their families and interview them about their lives before, during, and after that fateful day. My colleague and I want to better understand the ramifications, on a human scale, of this global disaster.
I believe in life, in every experience, you should take away as many lessons as you can—and always try to leave a little of yourself behind. We grow while helping others grow. We survive by sharing our stories, our knowledge, and our memories.
This is the ripple effect that's essential to humanity's existence, and especially our heroes, whose work never ends."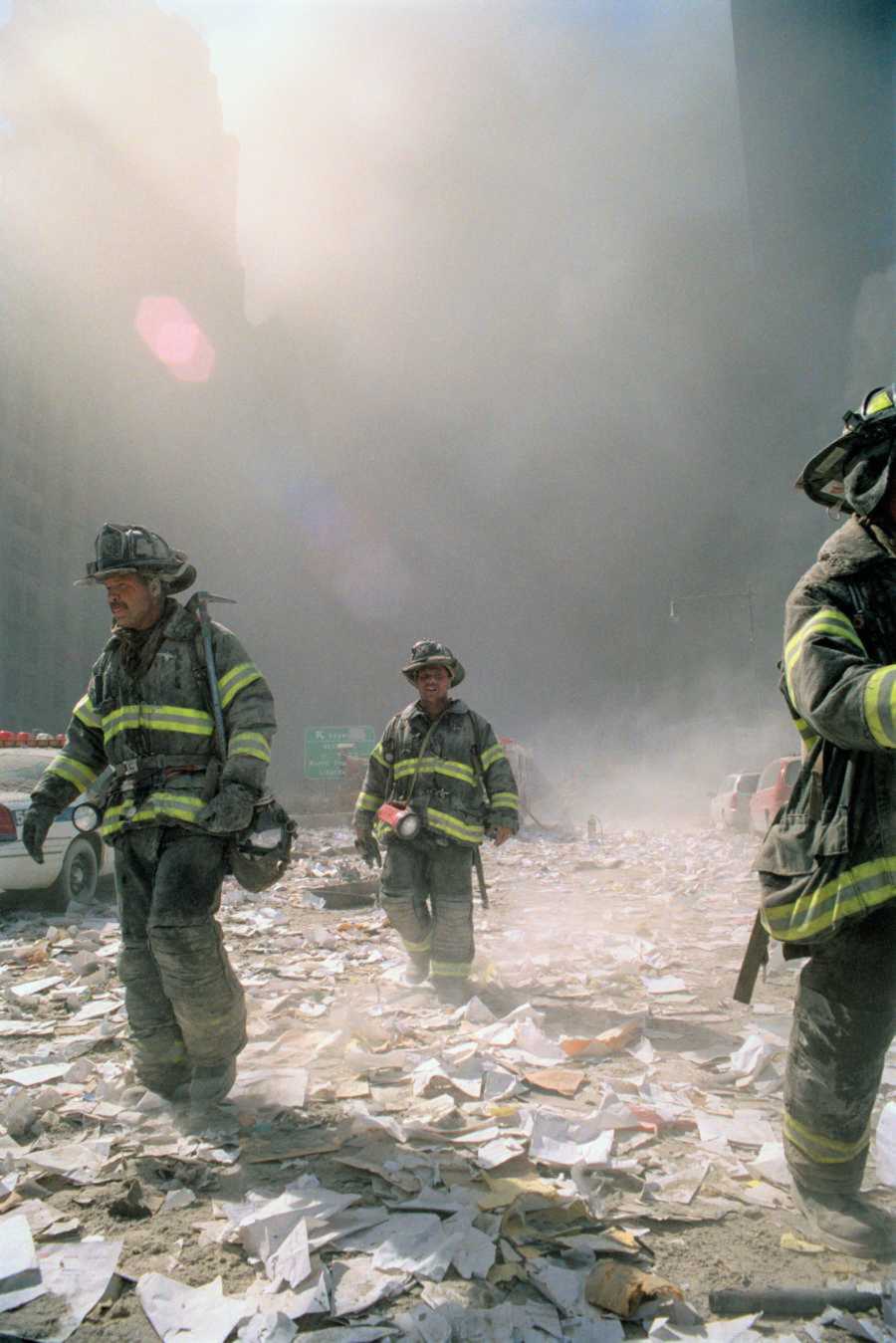 This story was submitted to Love What Matters by Ron B. Wilson of Miami, Florida. You can follow his journey on Instagram and his website, artstyleflow.com. Join the Love What Matters family and subscribe to our newsletter. 
Read more stories like this:
'The principal came over the loudspeaker. 'What's going on?' I panicked as we left. 'They can't find your Grandma Myrna.': Woman remembers grandma lost on 9/11, 'I still miss her laugh'
'You're getting out of here.' He lifted me up. The lights faded and panic set in.': 9/11 survivor thanks firefighter for saving her life, 'I will live each day to its fullest, never in vain of his heroism'
Do you know someone who could benefit from reading this? SHARE this story on Facebook with family and friends.