"This photograph captures a special moment between a man, his wife and their best friend. She had recently lost her dear husband to a sudden heart attack and wanted to see him one last time to say goodbye.
When Andy passed away at home their dog of 13 years, Sadie, would not leave his side. After his death, she showed signs of depression, would not eat and waited for him to come home everyday.
His wife expressed the need for Sadie to be there. I agreed and we planned to have her attend.
The day of the service Sadie's mood like everybody else's was suitably subdued. Like she could sense at least the energy of the people around her.
At the end of the service Julia brought Sadie into the chapel so they could both pay their respect.
Sadie approached slowly but without hesitation or fear. The guests were all affected by seeing Sadie; knowing what she meant to Andy. Not a dry eye in the house.
Sadie did not have to be coaxed or forced to jump her front paws up to the casket.
I knew as it was unfolding it was a special moment. A moment that Julia may not have been able to take in fully. Taking meaningful pictures and videos at funerals has been a practice for decades. This was no different. For Julia to see this photo after would bring her comfort and would be one of the tools she needed for the grieving process. Grief can dull the senses and impede the ability to remember details like this. Photos help and allow others not present to share in what happened.
Sadie calmly stepped down and walked out. After 10 days of not eating and 10lbs of weight loss, Sadie walked into her home again after the service and ate her first meal.
The outpouring of support and grief has been much greater for Sadie's loss than I have ever come close to seeing for an actual widow in nearly 25 years of funeral service.
Animals feel and sense emotion. They suffer separation and loss not unlike humans.
This picture screams 'man's best friend.' more than a thousand photos of the family dog chasing a ball or swimming in the local lake.
Perhaps more than any photo or experience with the family dog this one speaks volumes about the deep connections we have with our pets. Everyone in the room saw a level of expression from a canine that was as human as our own. Maybe more for at this funeral everybody present knew there were, with the exception of Julia, only a few guests more deserving of the right to pay their respect that day than Sadie."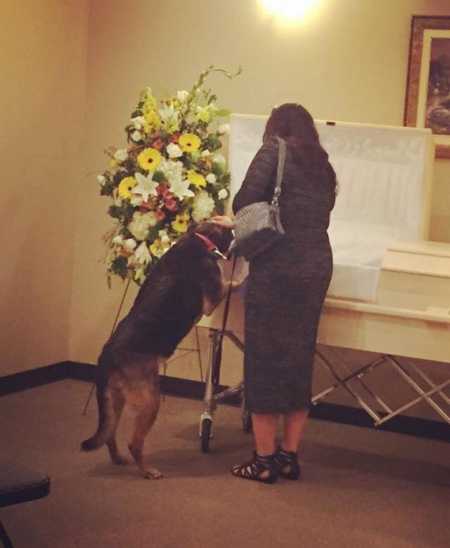 This story was submitted to Love What Matters with permission by Jeremy May, of Elements Cremation, Pre-planning & Burial  Submit your story here, and subscribe to our best love stories in our free newsletter here.
Save
SaveSave
SaveSave