"I've been sitting on this 'proud mom' post for a few days, not sure if I wanted to share (for fear of stigma), but there's no way to convey my pride in this boy without the back story.
He's never excelled in school. He has worked his tush off every year to make satisfactory grades. He's always had teachers who loved him, and who passed him along because he's a good boy, who works hard, and makes it by 'okay.'
Some dismissed my concerns that something might be 'off,' some simply said he was too young to tell. This year, he's had a phenomenal team of educators at Old Mill, who've worked collaboratively together (and with me), and came to the same concern.
Yes, he's doing fine…but he could be doing great. He's emotionally intelligent enough to see it's easier for other kids to keep focused, and to beat himself up because he couldn't. Despite never wanting a scary 'label' on my baby, I knew I had to act. He was too distraught.
Finally, he met with a pediatrician who specializes in attention dysfunction. He himself nearly told me to take a hike after talking to Ben. He's personable. Bright. Fidgety, sure, but does he have ADHD? He didn't think so…until he saw his scores on his exam.
He was shocked. Ben has spent all these years doubling his efforts and hiding his struggle so much, he almost fooled a doctor.
One week on the lowest possible dose of medication and his teachers are FLOORED. He's happy. He's confident. He's able to grab all the information he's worked so hard to learn, and use it with ease. They even told him they feel he'll graduate from his intervention/tutoring programs before the year is out.
I'm just so happy for him, and so proud of him for being open about this. He was self-aware enough to know he needed this, and he's shown no inkling of shame about asking for help.
This past Friday night, he had his first ever lacrosse tournament. I was scared for him because he's small for his age and has less experience than a lot of the kids. But after the last few weeks, seeing how strong this kid really is, I knew he'd be just fine.
In fact, he was better than fine, he was great. My Benny boy. So, so proud of you!!"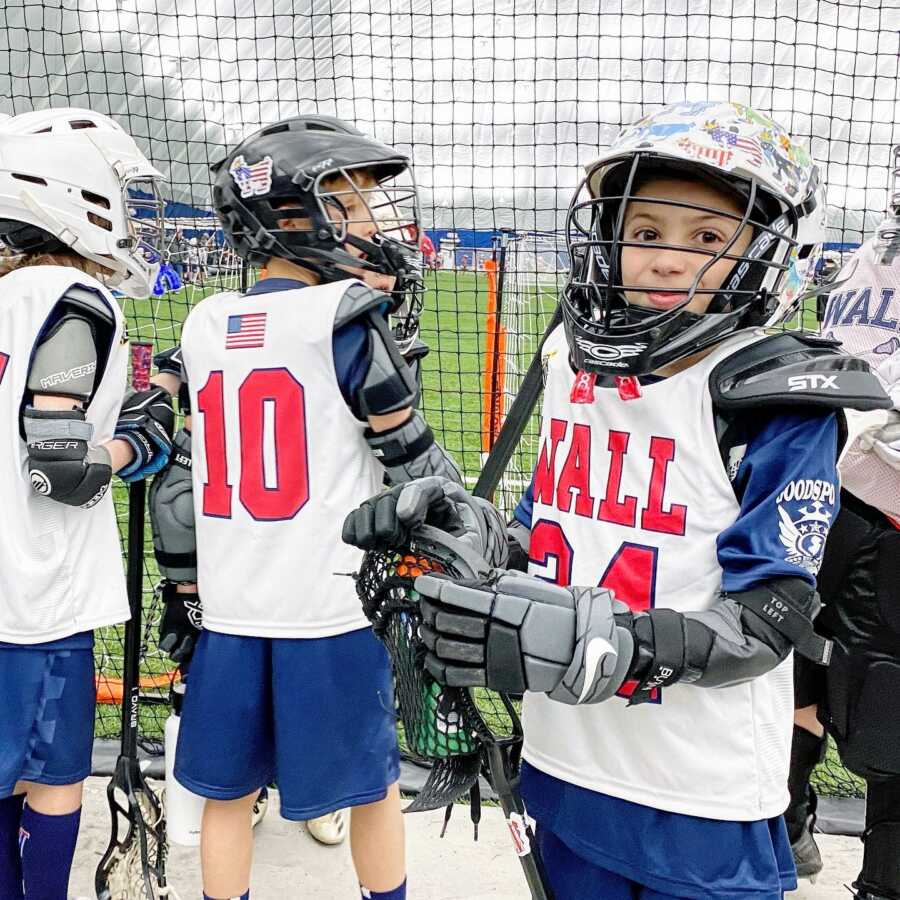 This story was submitted to Love What Matters by Megan Courtney Boyle. You can follow her journey through Instagram, Facebook, and her blog. Submit your own story here and be sure to subscribe to our free email newsletter for our best stories, and YouTube for our best videos.
Read more from Megan:
'I jostled awake to the sensation of the couch moving. 'PLEASE!!' His eyes rolled back. I watched as Kenny's body flailed uncontrollably.': Woman finds love after losing husband to cancer
Read more stories like this here:
'Make sure she takes it every morning, please.' I stood back, absolutely mortified. I was the weirdo kid who had to take medication.': Woman shares life with ADHD
'Isabella has potential…but is easily distracted.' I am not stupid. I am neurodivergent.': Woman diagnosed with ADHD urges 'representation matters'
'She flatly told us his 'problem.' One phone call changed my understanding as to what was happening in the school walls.': Son diagnosed with ADHD, mom talks about how proud she is he made it through school
SHARE this story on Facebook or Twitter if you know someone who may benefit from this story.