"What feels like the end is often the beginning."
"Life is what happens to you while you're busy making other plans."
Quotes like these are what I repeat to myself constantly to remain positive. The reality is, the title of this article is my aspiration rather than the truth.
See, I always envisioned myself having two kids. I grew up with an older brother and my husband, Devin, was the youngest of three. When we got married, we agreed we would go for two kids, maybe even three.
We began trying for our first baby immediately upon getting married—we were in our 30s and felt there was no reason to wait. We were lucky to get pregnant without issue within five months, and we were thrilled. Our son Alexander was born, and he was perfect.
A year later, life was becoming a little more balanced, and we decided to go for baby No. 2. We were filled with optimism and excitement for this next chapter in our family's evolution.
Before we knew it, six months had passed, and I still wasn't pregnant. I did, however, endure a miscarriage early on. While the miscarriage was heartbreaking, I told myself they are incredibly common. I took this hurdle in stride and assumed I would become pregnant soon thereafter—this time for the long, 9-month haul.
Fast-forward about 18 months, and I still wasn't pregnant. After this length of time, we knew seeing a fertility specialist was our next step. After we underwent the arduous process of several rounds of tests, it was determined we had what's known as Unexplained Secondary Infertility. This meant, in a nutshell, that there was no clearly determined reason for our inability to get pregnant this second time around.
We tried two rounds of Intrauterine Inseminations (IUIs) with the fertility specialist, which is a first-step, less invasive and more affordable fertility procedure. Both IUIs failed; I did not get pregnant either time. I will never forget the night I found out the second IUI failed and the emotions I went through.
Devin and I both took the failed second round very hard. It finally really set in: two years of trying and two failed fertility treatments. Things were not looking good for us, and our bright hopes for a family of four began to dim.
For sanity's sake, we decided to take a few months off from the fertility train. About six months later, we mutually agreed we were emotionally ready to take the next step and give In Vitro Fertilization (IVF) a shot. Unfortunately, IVF didn't work either. I only produced a handful of eggs, and the only two embryos which were capable of being retrieved both had genetic abnormalities, so the doctor recommended against implanting them. I would have either miscarried the embryo or, if I carried to full-term, our child would have birth defects.
After two years of the exhaustive ups and downs, I knew I needed to move on and enjoy my life and my many blessings. Each day, I work towards making peace with the fact we are the proud parents of just one. Since making this conscious decision, I do truthfully still go through moments of grief, but I live with the following principles in mind:
It's not what happens to you, but how you react to it that matters.
I could go on the rest of my life focusing on my bottomless despair for the exact life I pictured with that second child. Or, I can be grateful for my present circumstances of having one child.
Be the change you want to see in the world.
I decided I hated the stigma around infertility and miscarriage, and I wanted to do what I could to speak-up about our situation as much as possible. By doing so, more couples open-up on this sensitive issue and do not feel alone. While going through IVF, I started a public blog sharing all details of what we were going through. I hope my blog, and this article, helps other couples to not feel alone in their infertility struggles.
Having one kid is actually pretty awesome.
There are a lot of reasons why being the mom of an only is a big plus. For example:
Careers can still be a priority. My husband and I both have demanding executive careers which we are passionate about. Having just one child allows us to have the best of both worlds, being able to experience being parents but not having to forego our desire to continue to grow in our careers.
Our schedules are more manageable. We only need to worry about one child's school schedules, swim lessons, soccer practices, etc.
Travel is much easier. We love to travel and have not slowed down on this passion at all since becoming parents, as it is relatively easy to travel with just one child.
We have more time to dedicate to our marriage, social commitments and hobbies. We have date nights often, and see our friends a lot. My husband enjoys going fishing with his buddies. I can take a day and unwind at the spa.
It's cost-effective. Having children and saving for college is expensive. We can dedicate all our resources to our one and only and ensure he gets the best of the best education.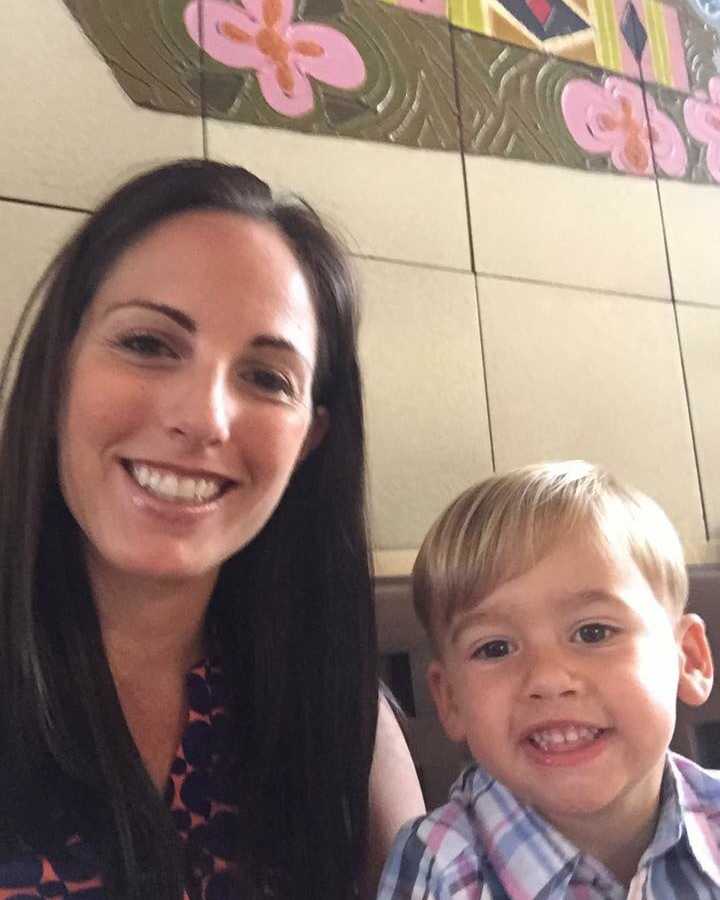 I will continue to make peace with my circumstances.
I'm still wrapping my head around us being parents of only one child. It's not what I pictured for myself, but I do believe there is a reason and a grand plan for my family. We will continue to enjoy our beautiful son, as well as each other. We will be at peace with our circumstances as parents of just one.
This story was submitted to Love What Matters by Heather Sanderson, 35, of Tampa Bay, FL. This piece originally appeared on workingmother.com.
Submit your story here, and be sure to subscribe to our best love stories here. 
SaveSave
SaveSave