"We learned a hard yet valuable lesson last night about the dangers of bunk beds even with a safety rail on the top bunk. Last night at bedtime, Brady, who sleeps on the top bunk, was leaning over the safety rail to talk to Eli on the bottom bunk. The safety rail gave way and Brady fell headfirst to the floor, landing on the hard wooden safety rail. He put his arm up as he fell to protect his head, and his wrist bore the brunt of his landing.
He was very shaken up and his wrist hurt a lot, but he calmed down and was able to move it so we thought all was fine and put him to bed. At 3:30am, he woke up and started vomiting. He said he had a bad headache and was lightheaded/dizzy. I honestly at first just thought he had a stomach bug, but as the night went on and he continued to vomit and have a headache, I began to worry he might possibly have a concussion.
We called his pediatrician as soon as they opened this morning and they told me to bring him to the ER, which is where we are now. He had several tests done and his doctor just came in to tell us that he has 'a significant, horrible concussion, one of the worst she has ever seen in a child.' Based on his symptoms and some other concerning things she saw while examining him, she was very worried he might have a skull fracture or brain bleed, but praise the Lord, his tests don't show either of those things. He will have to be very careful in the coming days as he recovers. Although I realize what happened was an accident, I feel horrible that I thought his bunk bed was safe because it has a safety rail. Please reconsider the use of bunk beds/loft beds for your kids, even with a safety rail."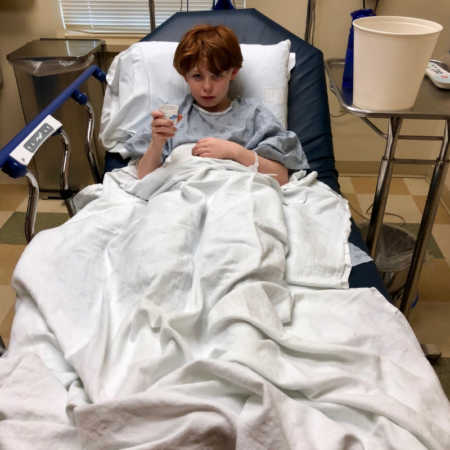 This story was submitted to Love What Matters by Sarah Crothers. Submit your story here.