"I walked out of jail on day one physically shaking, humiliated, angry, unstable, underweight, separated from my husband, and seriously scared. So incredibly scared. 
Scared to drink. Scared to start over. Scared to be sober.
Scared to fail. Scared to stay married. Scared to get divorced.
Scared to go home to my 4 kids under 6. Scared to be their caretaker. Scared to go to rehab.
Scared to get honest about my life. Scared of facing my family, friends, and neighbors. Scared of facing my husband.
I was the most scared to face my true self.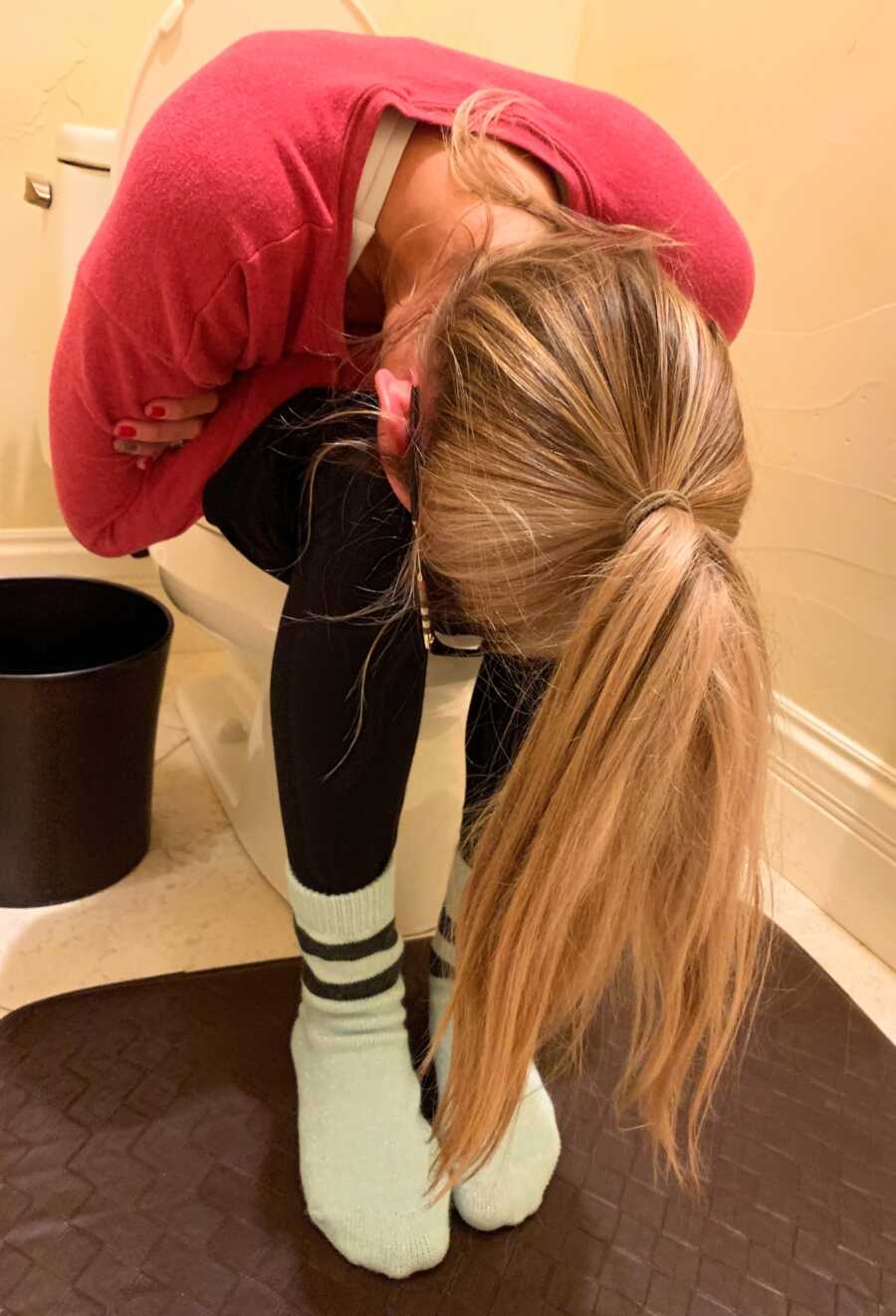 I was sick of excuses. Sick of the silent treatment. Sick of parenting alone.
Sick of saying I'm sorry, genuinely meaning it, and somehow screwing up again. 
I was sick of drinking. Sick of thinking about drinking. Sick of buying, hiding, and disposing of my drinks.
I was sick of the lies rolling off my tongue like the truth once had. Sick of the dual life. Of managing the impossibility of moderation.
Sick of walking on eggshells. Sick of pretending to be okay. Sick of being in survival mode.
Sick of isolation. Sick of crying. I was sick and tired of being sick and tired.
So, so, so tired.
Fast forward 4 years. My life today is a direct result of addiction and divorce. Not the experiences themselves, but my response to them.
The work I've done because of them. The deeply grateful woman I've become because of them. The confidence I've gained from showing up again and again and again, even when it was hard.
I showed up even when the 3-hour drive in the backseat of my parents car from Gary, IN (where I got arrested for a DUI) to Madison, WI (where I lived) was perhaps the most horrendously awful car ride of all time. I couldn't defend myself. I didn't even try.
I busied myself looking up and reaching out to rehabs until I found one that could take me a week later.  
I showed up even when we hired a full-time nanny. I packed a suitcase and then kissed my four kids goodbye for 60 days. I went to a dual diagnosis residential treatment center. I thought I would get sober and stay married, or get divorced and keep drinking.
Before rehab, I'd never even considered getting sober and getting divorced. Was that a thing? It certainly wasn't part of my fairytale.
But it was my truth.  Coming home after rehab was rough. Not only was I managing everyday triggers like participating in life with a valid ID and not purchasing alcohol at the grocery store, but also life with 4 small kids, a traveling husband, and a silent power struggle between nanny and mom sharing one role.
Tension in the house was at an all-time high between everyone; no one trusted me. I didn't trust myself, either, but I hated feeling policed.  I couldn't heal where I had been so hurt. 
So, I moved into an apartment a half a mile away and we started nesting.  I'd be home when he wasn't.  He'd be home when I wasn't. 
Our nanny was our kids constant. We couldn't have done it without her.  
At 90 days sober, I started writing about sobriety on Instagram. I needed accountability, and since I'd pretty much burned all the bridges in my life, strangers would do just fine. And strangers have done the job, but many have become friends and supporters along the way.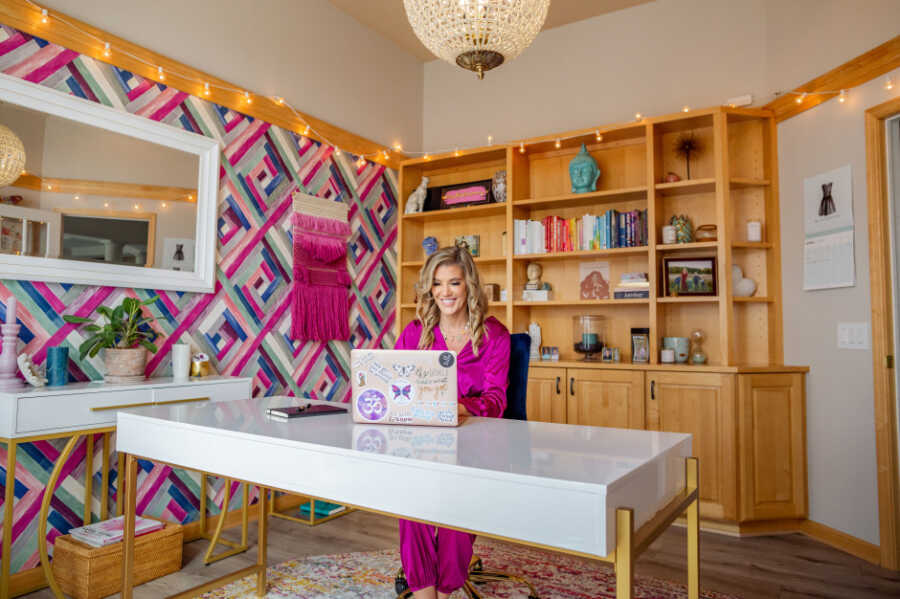 I've shared the messy reality of my simultaneous sobriety and divorce story since. It has been anything but linear or predictable. Sobriety didn't make my problems go away, but it made it possible for me to manage them. 
We changed our separation to a divorce. We told our kids a week before Christmas. They didn't really understand, which was a blessing at the time.
I stayed sober.  
During the COVID outbreak, the five of us moved in with my parents for a month in Florida. With the happy-hour-all-day-golf-club-culture, drinks were always available. It was hard at 8 months sober to even be around people drinking, especially my parents.
I stayed sober. I got my 9 month chip at an AA meeting in Naples, FL.
I closed on a new home, unpacked a whole house, virtually assisted teaching 2nd grade and kindergarten over Zoom with a 4 and 2 year old in toe, and finalized our divorce over zoom.
I stayed sober. 
It has taken weekly talk therapy, sobriety support groups (AA, She Recovers, The Luckiest Club to name a few), ugly crying, journaling, getting honest, getting even more honest, and doing something about it. It has taken learning how to slow down. To keep it simple, per the hand painted rock Liz Gilbert handed me in Chicago at the She Recovers conference this summer.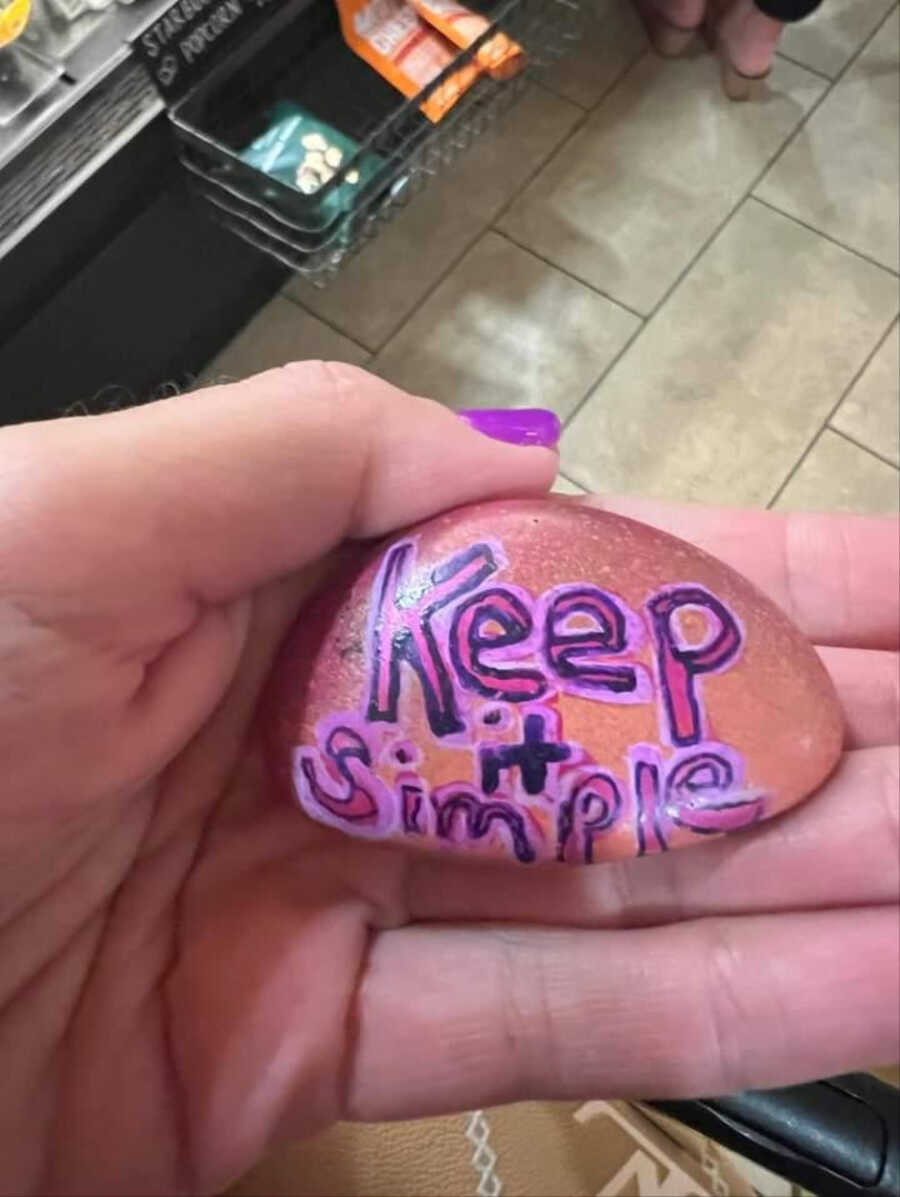 It has taken facing things head on. Saying no to others to say yes to myself. Doing the next right thing. 
It has taken yoga, meditation, and manifestation. Mostly, it has taken trusting myself, listening to intuition, and believing the best is yet to be.
Since my divorce, I have become a certified recovery coach, a certified divorce coach, hosted women's wellness events, told my story, written articles, created mocktail events, and spoken with hundreds of women about their own journey of sobriety and divorce. The opposite of addiction is not sobriety, it's connection. Connection can help you get sober.
Sobriety has allowed me to rediscover my creativity, to take the high road, to let things go. It's allowed me to experience moments of serenity, to take risks, to be fully present, to deeply understand my children. It's allowed me to dream bigger, to stay honest, to get healthy, to forever be a messenger of resilience, happiness, and hope.
At day 1,654 days sober, I am living my life with integrity, purpose, and passion. I'm responsible, reliable, and as real as they come. I know how I feel, what I stand for, and I like who I am.
I do not regret the past nor wish to shut the door on it. I'm a little more sassy and a lot more classy.
Keep no secrets, carry no shame. You got this!"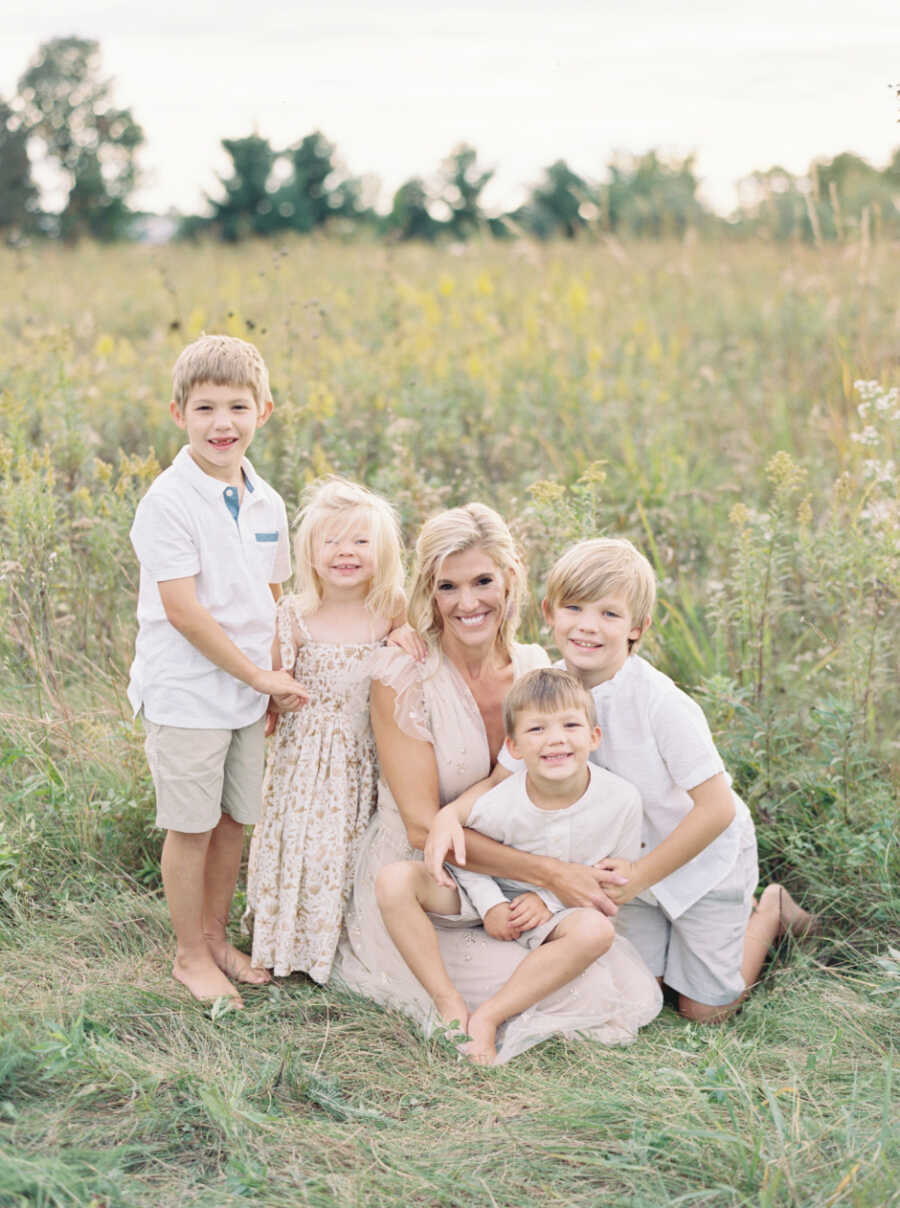 This story was submitted to Love What Matters by Kristi Tanner. You can follow her journey on  Instagram. Subscribe to our free email newsletter, Living Better—your ultimate guide for actionable insights, evidence backed advice, and captivating personal stories, propelling you forward to living a more fulfilling life.
Read more inspiring stories about sobriety: 
'My alcoholism successfully destroyed everything I loved.': Woman achieves 12-year sobriety after prolonged addiction
'I wasn't ready to live a sober lifestyle. I was trying to stop drinking for someone other than myself.': Recovered alcoholic shares prolonged journey to sobriety
Provide hope for someone struggling. SHARE this story on social media to let others know a community of support is available.