"Today, I quite literally cried over spilled milk. I joke sometimes about being 'dead inside' and incapable of producing tears unless I'm in a movie theater with a soundtrack shaking the walls as horses run straight towards cannon fire on a battlefield.
I know I'm not truly dead inside—but I do get annoyed at the inconvenience of big feelings demanding my full attention, and I'm very good at telling them to shut up and get back in their box if they start to peer out.
There are too many parts I must keep moving in my day full of hungry toddlers, hairy dogs, and endless laundry, so I'll give them their time when I can schedule it alone at the movies.
It was approximately 10 a.m. when everyone was screaming, whining, and clawing at my legs when one of our giant, hairy dogs trotted into the kitchen and bumped into me as I was mid-pour with a full gallon of milk in hand.
It was the event of milk spilling ALL over creation that finally broke me, but it wasn't why I sat in my car and cried like a big fat baby.
I cried because I can hear the validating career sounds of my husband upstairs in a work meeting, at the same time my toddler is spitting out the food I spent an hour preparing on the floor.
I cried because my adorable 18-month-old slapped me across the face for taking a pair of scissors out of his fist, and it really hurt my feelings.
I cried because it's been 3 years since I've had 8 hours of unbroken sleep.
Finally, I cried because a weirdly magical thing about being around really little kids all day is they absolutely do not care who sees them feeling their feelings, ever— and maybe it's starting to rub off on me a little.
Allowing space to feel big feelings is certainly not as convenient for someone like me who craves calm, rituals, and steadiness.
I'm slowly getting better at giving my tears the floor when I know it's their turn instead of telling them to get back in the box – because how can I expect to raise the big hearts of my little humans to feel, speak and process in a healthy manner if I'm not modeling it for them myself?
I still enjoy a good movie cry, but I guess today I have the spilled milk to thank for reminding me it's okay to feel big."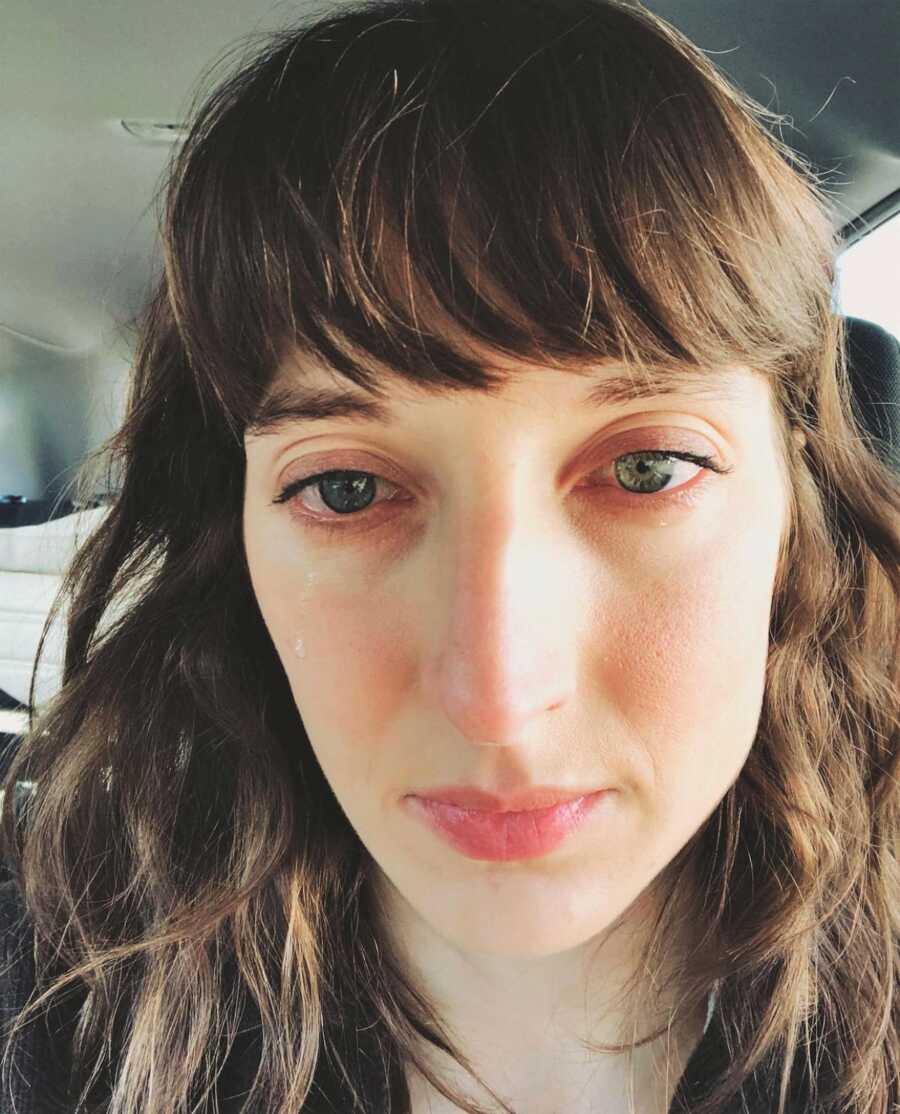 This story was submitted to Love What Matters by Genevieve Wilhelm. You can follow her journey on Instagram. Do you have a similar experience? We'd like to hear your important journey. Submit your own story here. Be sure to subscribe to our free email newsletter for our best stories, and YouTube for our best videos.
Read more stories like this:
'College essays. Refereeing kitchen cleanup so much you should wear stripes and a whistle. The adult wounds you can't fix with bandaids and blankies.': Tired mom of teens says 'I wouldn't have it any other way'
'I had JUST pulled him out of the pool and he began a meltdown. Then a woman my age said, 'It gets easier, I promise.': Tired mom thankful for woman's compassion, 'I needed your words more than you knew'
'I was always the tired mom. I was always the yelling, burnt-out, over-worked, stressed-out mom.': Single working mom shares blended family's busy schedule, 'I'm still figuring it all out'
'I am so tired of breaking up fights. I am so tired of forced playdates, folding laundry, cooking food that won't get eaten, and speaking in limited vocabulary.': Mom admits 'I am so spent'
Do you know someone who could benefit from this story? Please SHARE on Facebook or Twitter.