The Gift Of Sweaters
"Quite honestly, they're ugly.
The downstairs coat closet in the house I grew up in had a section lined with old fogey sweaters my dad wore. I'm sure he didn't think of them that way, but they were old fogey to me. Nonetheless, if I was cold, I'd grab one of them because they were big, warm, and convenient.
The various colors hung from their hangers in a perfect row, all vertically oversized for his 6'3 stature.
I'd always make a different selection and after my dad had found enough long strands of blonde hair covering all of them, he requested that I pick one to claim and that's the one I could always wear. It was a solution to keep me warm and keep his others hair-free.
I chose the red and black knitted one with extra-long arms and four buttons that served no purpose as the only body part they enclosed was my upper thighs. There were two shallow pockets on either side of those four pointless buttons and the hem ended at mid-thigh.
At some point later in my life, college or marriage, I took that sweater with me. I claimed it for good. Whether I got permission, I can't remember, but I was the one that had been wearing it for so long it didn't really matter.
It now hung in my own house, and although it eventually drove me crazy because the sleeves would no longer stay pushed up over my elbows, always resulting in wet wrists when doing dishes or washing my hands, I continued to wear it for many years. It still hangs in my closet, although rarely worn as it's been replaced by another.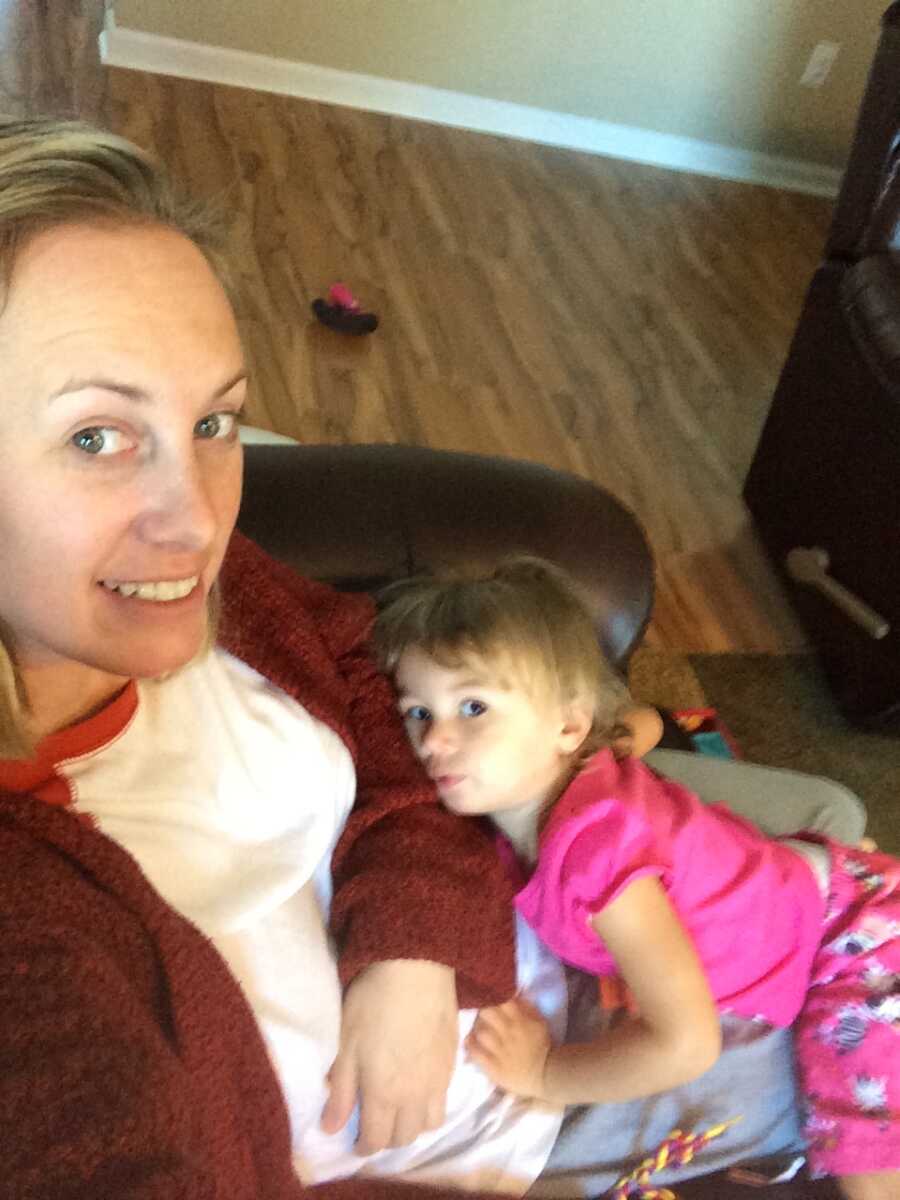 Finding Comfort
My paternal grandma was well-known for sewing clothes for her family. When we were young, my cousins and I would often open a box at Christmas or our birthdays to find yet another sweatshirt with an iron-on image or a knitted sweater.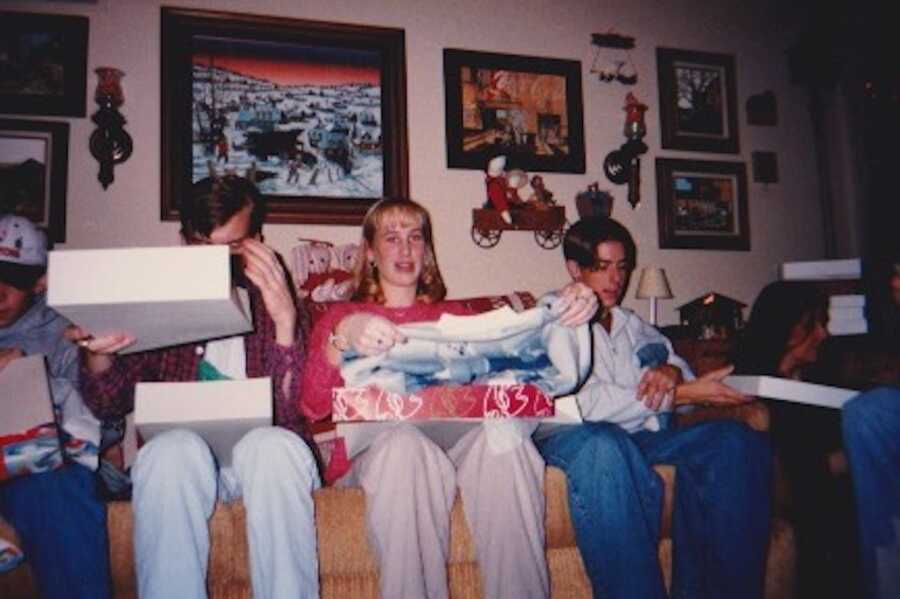 One time I received not one, but two Independence Day themed sleeveless jumpsuits – one white with blue stars and the other red with white stars.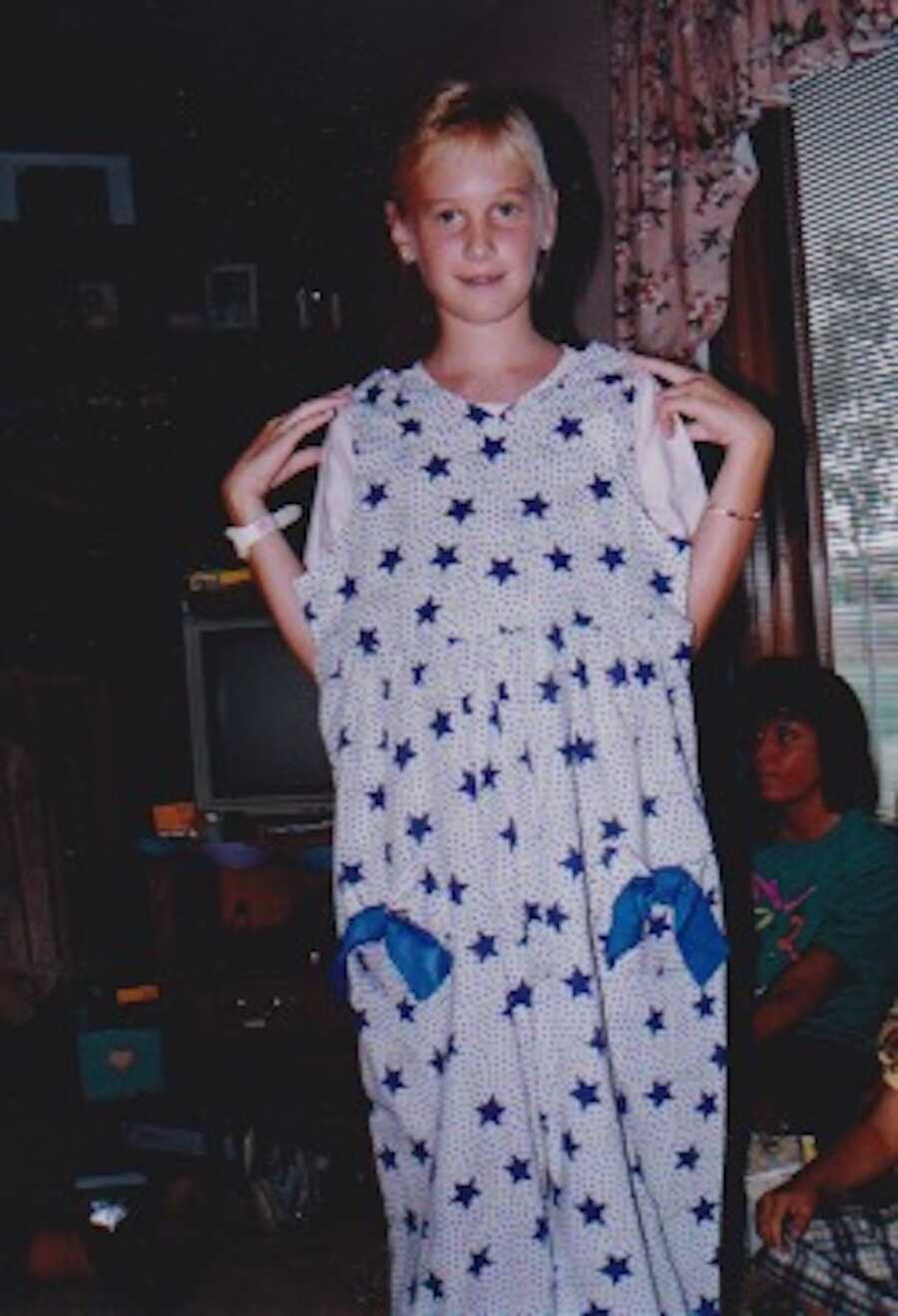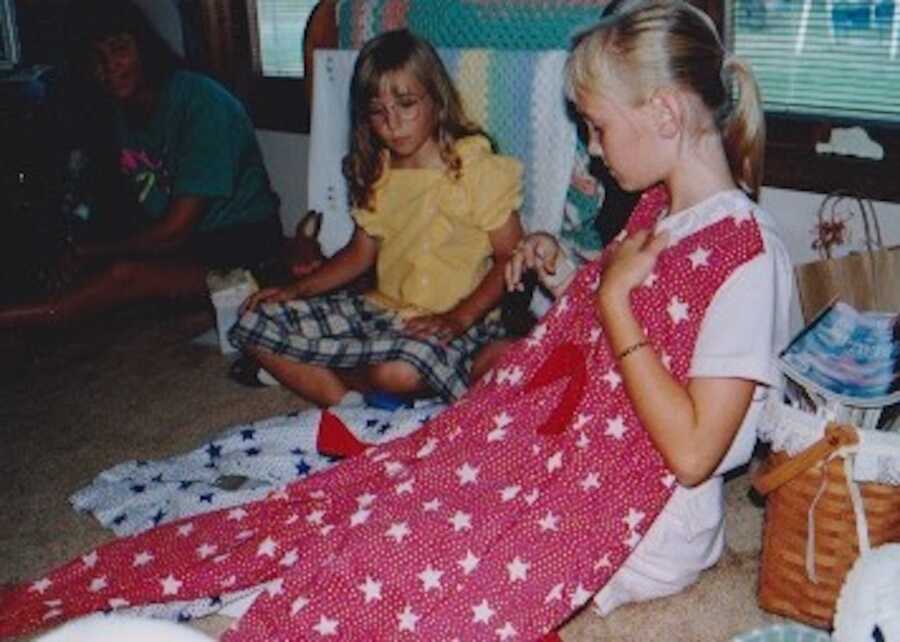 Often times these creations were only worn when I'd visit their house. One sweater she made for many of us was a long zip-up collared fleece covered in a print of deer, evergreen trees, and snowflakes. I literally refer to it as my 'deer among evergreens sweater.'
This sweater has a deep pocket on either side of the zipper, perfect for toting around our modern-day iPhones or other clunky objects.
Grandma knew what she was doing. She also sewed in an internal drawstring (long ago pulled out by one of my children) so it could be cinched in at the waist from the inside, I guess to feminize this sweater that some may call 'bulky.' It sat for a long time unused because as a teenager I didn't want to be caught dead in it.
After I moved out of my parent's house, it continued to hang in the closet of the room I slept in when I visited home.
At some point many years later when I was married and visiting my parents, I got really cold and thought of that fleece, so I grabbed it and realized how warm and comfy it was. It continued to be my visiting sweater whenever I was there until I chose to bring it back with me many years ago.
It has become my go-to sweater in the wintertime so much so that it is pretty much how my family always sees me from November to April. I drop my kids off in the carpool line wearing it. I watch late-night TV in it. I take the trash to the curb in it. That sweater has become synonymous with 'under 60 degrees.'
Appreciating The Little Things In Life
So, back to the beginning. Are these sweaters ugly? To the stranger on the street, yes. If I saw them hanging in someone else's closet, yes. If I saw another mom dropping her kid off at school in it, yes. But to me, their value outweighs my homebody fashion sense.
Since my grandma's passing three years ago, that deer among evergreens sweater has even greater meaning now when I wear it. Every time I grab it I don't think of it as the 'ugly but warm' sweater anymore. I think of my grandma.
I picture her at the sewing machine. I envision her watching her grandkids open yet another one of her creations with those fake enthusiastic grins we give our grandparents when we have to act appreciative. I hear her laugh.
She comes to life every time I grab that sweater off its hook. And one day, when my dad is no longer around to give me human comfort, I'm certain I will turn to that extra big red sweater, lacking any functioning elastic, take it out of retirement, and wrap it around me to feel his love and warmth.
And every time I look down at it I'll probably pull off yet another long strand of blonde hair."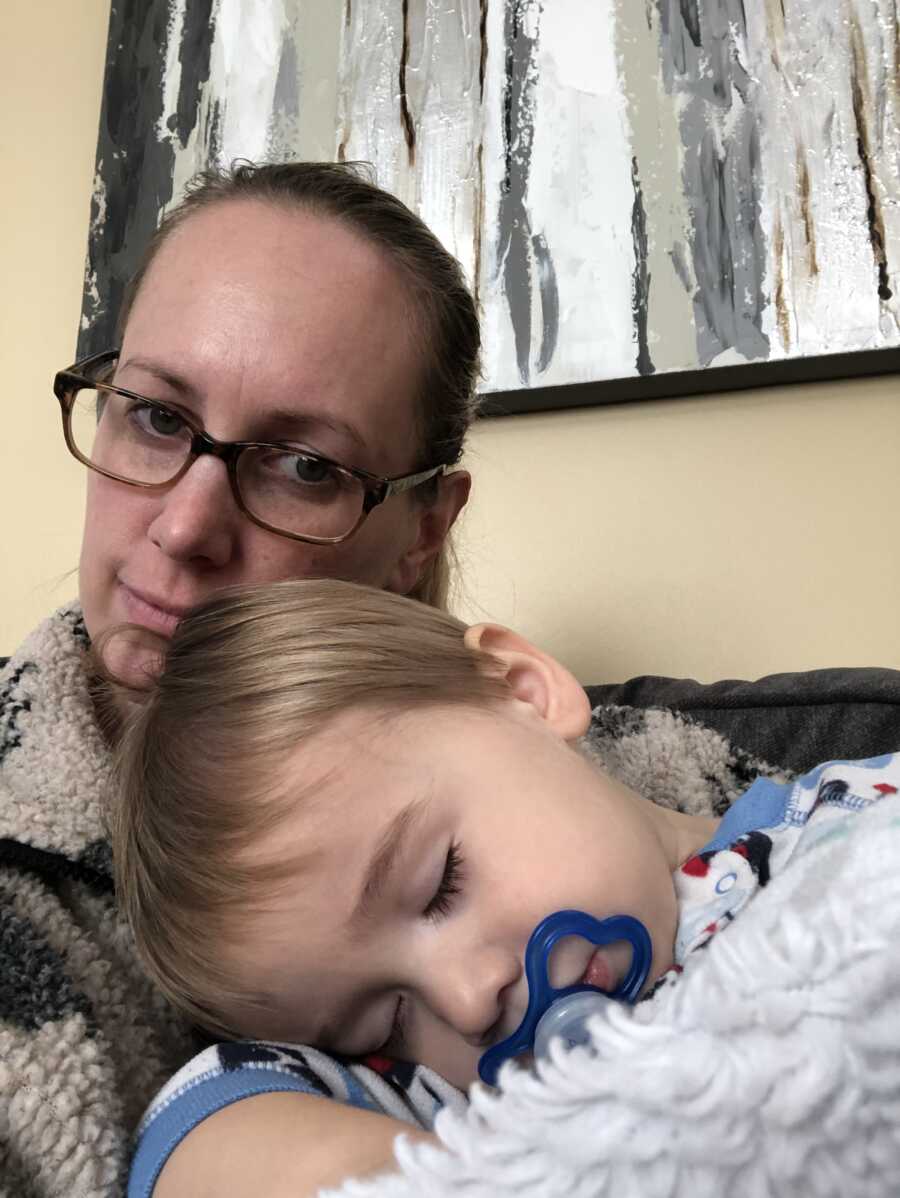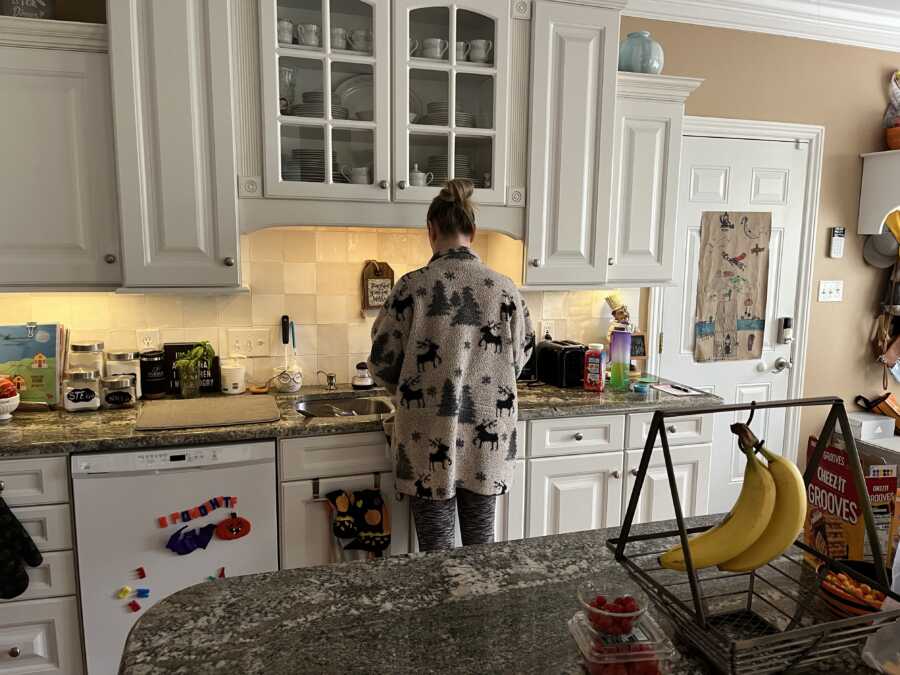 This article was submitted to Love What Matters by Jamie Mikol. Join the Love What Matters family and subscribe to our newsletter.
Read more stories here:
'I love you, too.' She'd finally remembered me. I curled up in her arms, taking it all in. It was the last time I'd see her alive.': Woman shares sweet reminder to 'hug your grandparents while you can'
'Grandparents are a sweet blessing in life. They will always hold a special place in my heart.': Bonny reminisces on growing up with both grandparents thanks to StoryWorth, 'I am so lucky'
Do you know someone who could benefit from reading this? SHARE this story on Facebook with family and friends.