"I became a Recon Marine in 2009 and then I was assigned to the 1st Recon Battalion in Camp Pendleton, California. In 2010 I was deployed to Afghanistan. I was stayed there for an intense 5 months. I went home sooner than the rest of my guys when I stepped on an IED. Sorry for the lack of prettier ways to put this, but the explosion completely evaporated my legs ENTIRELY, plus my left hand was mangled pretty bad as well. About an hour or more after the explosion a British helicopter came to pick me up, all during a very intense fire fight, and they brought me to Camp Bastion. I don't remember any of this and it's probably for the best.
In Camp Bastion, they stabilized me as best they could but because of the extremity if my injuries I needed to be shifted to better medical care ASAP. The US Air Force took me from there to Kabul and then to Bagram. I woke up in Bagram. That was the first time I woke up and I was confident I was headed home. I had no idea the extent of my injuries, the pain was relentless though, but I stayed focused on what mattered most to get through it all. That thing was family and the fact that I was still alive. The flight from Bagram to DC was the most painful time of my life. I feel like living each moment at that point was a choice and I was desperately hanging in as best I could. Finally, I made it back to US soil and it felt great to back home. I was reunited with my family. I was so happy to see them. Then I discovered how severe my injuries really were. I knew my feet were gone, maybe my knees too but I didn't really care enough to even check. Finally, I felt ready to explore my injuries, so my plan was to grab my thigh and slowly work my way down to my injuries, so I didn't accidentally hurt myself. Suddenly my bottom half was a ghost. All I could feel was the hospital bed. No feet. No knees. No thighs. Nothing.
My life flashed before my eyes. What would the rest if it be like? Honestly, I just kind of swallowed it or swept it under the rug. I aimed myself at trying to gain small victories. I knew I had to be strong for my family and especially for my guys back in Afghanistan. I wanted them all to know I was going to be okay.
Honestly, I have no idea how I managed to deal with my injuries so well. Perhaps it was my childhood or my training. More than likely, it was the amazing support group I had, and the countless prayers aimed at me. Maybe I was just delusional ha-ha. I would give credit to all of those things but if I had to say, I think my gratitude for everything is what calmed my suffering the most.
Fast forward almost 9 years. I've been on wild adventures all over the US. Plus, I've met some of the nicest souls in this country, but I have met all the people I owe my life to. Over the years telling my story over and over again almost every time I'm in public I have realized that it is my story. My story is just snippets of other people's stories. I've always wanted to meet everyone involved from the moment I stepped on that IED to the moment I was back in US soil. Its humbling to know that these people are from many walks of life, each practicing their profession, from different nationalities, skin tones, and belief systems as well. All I know is I owe them my life.
I was flying to Oregon to meet with my platoon on April 4th to do some training. I'm having a custom backpack made so that they can carry me up Mt Baker in July. We are doing the climb as a fundraiser for the Force Reconnaissance Foundation with the mission to provide charitable support, in the form of scholarships and financial assistance to the members of the Reconnaissance Community of the United States Marine Corps, both present and former, and their families.
So, I'm at my layover in Denver. I'm boarding my next flight so I'm at the door of the plane and I prefer to jump out of my wheelchair and just walk on the plane to my seat. The flight attendant grabbed my bag. The pilot, Captain Marc Vincequere was standing there as I walked by and he followed me to my seat. He asked me if I was in the military. I get asked this daily. I said "yes," but then he said, "Afghanistan 2010." At this point, I was surprised because I knew he knew me. He shocked me though when he told me he recognized my injuries and my face. He told me he was the USAF pilot that flew me out of Afghanistan. Honestly, I'm still kind of shocked. I shared a picture of us, and it seems to be going more and more viral.
The pilot was standing around as I got out of my wheelchair to board my flight to Portland. He followed me and the…

Posted by Todd Love on Friday, April 5, 2019
The last time he saw me I was in some crazy medical box getting wheeled onto the plane. Now suddenly he sees me doing a cartwheel out of my chair and getting down the aisle faster than most people just to fling myself into my seat.
I'm speechless about all of it to be honest. It's a nice reminder for me as well. I really appreciate all the love we have received since. I definitely want to be more active about really meeting the others that helped me get back home. To all of you that serve as doctors, nurses, pilots, or boots on the ground…. I salute you. I know many of you don't serve in the military, but the love has been received in my life from you all. My soul is full thanks to that, and that is serving in its own way in my opinion."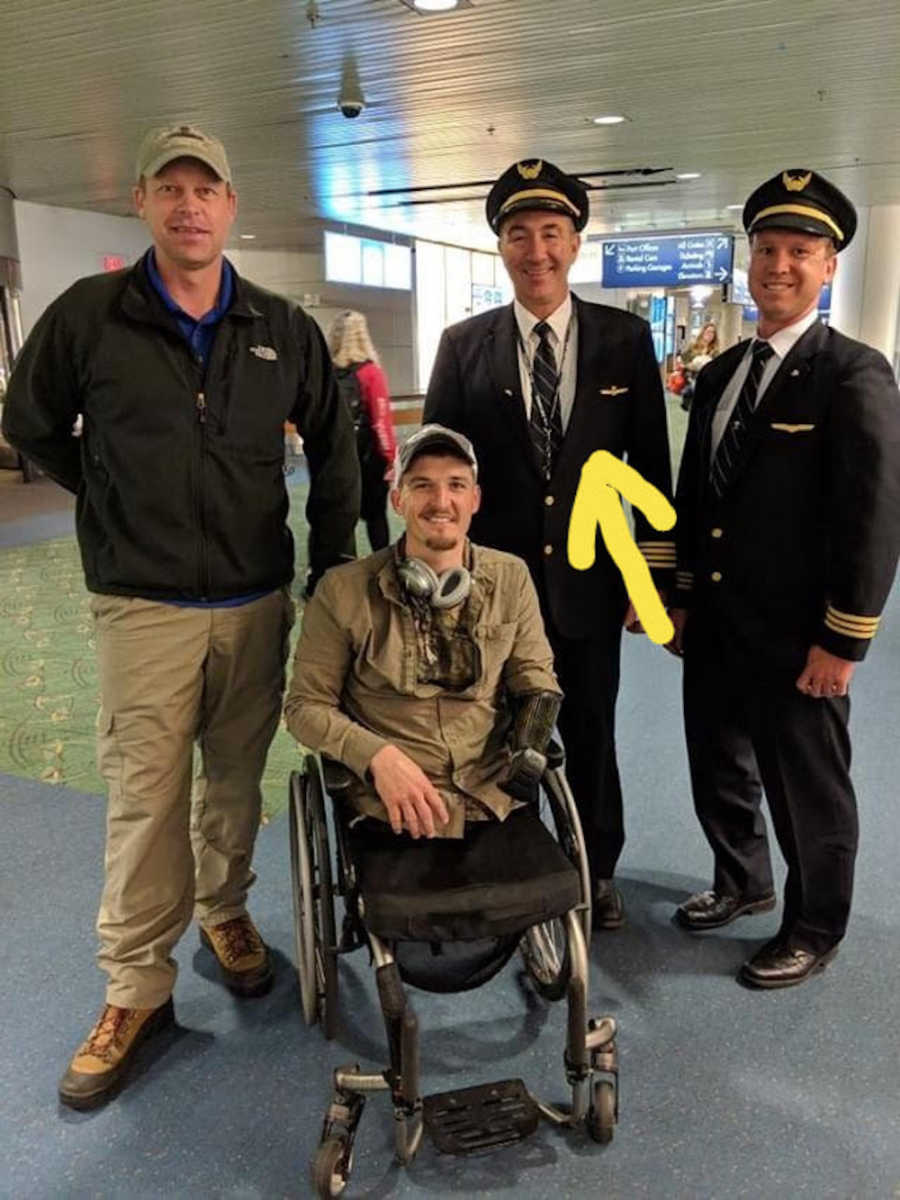 This story was submitted to Love What Matters by Todd Love of Georgia. Do you have a similar experience? We'd like to hear your important journey. Submit your own story here, and subscribe to our best stories in our free newsletter here.
Help us show compassion is contagious. SHARE this story on Facebook with your friends and family.