For many of us, sending our kids outdoors to play until dinnertime is common practice. After the rigor of school schedules, they need exercise, fresh air, and the freedom to play unbounded. And the "witching hour" is much better spent outside, isn't it? But what activities can you do when the sun sets early and daylight fades by 4 or 5? We don't want to send them outside to play in the dark… do we?
The good news is that we don't need to be limited by daylight — kids can still have fun after the sun sets!
If your children know to stay close to the house and are adventurous spirits, you can still encourage them to have fun in the dark if they are old enough and understand the limits you set in place.
That being said, it's important to set up some ground rules with your kids.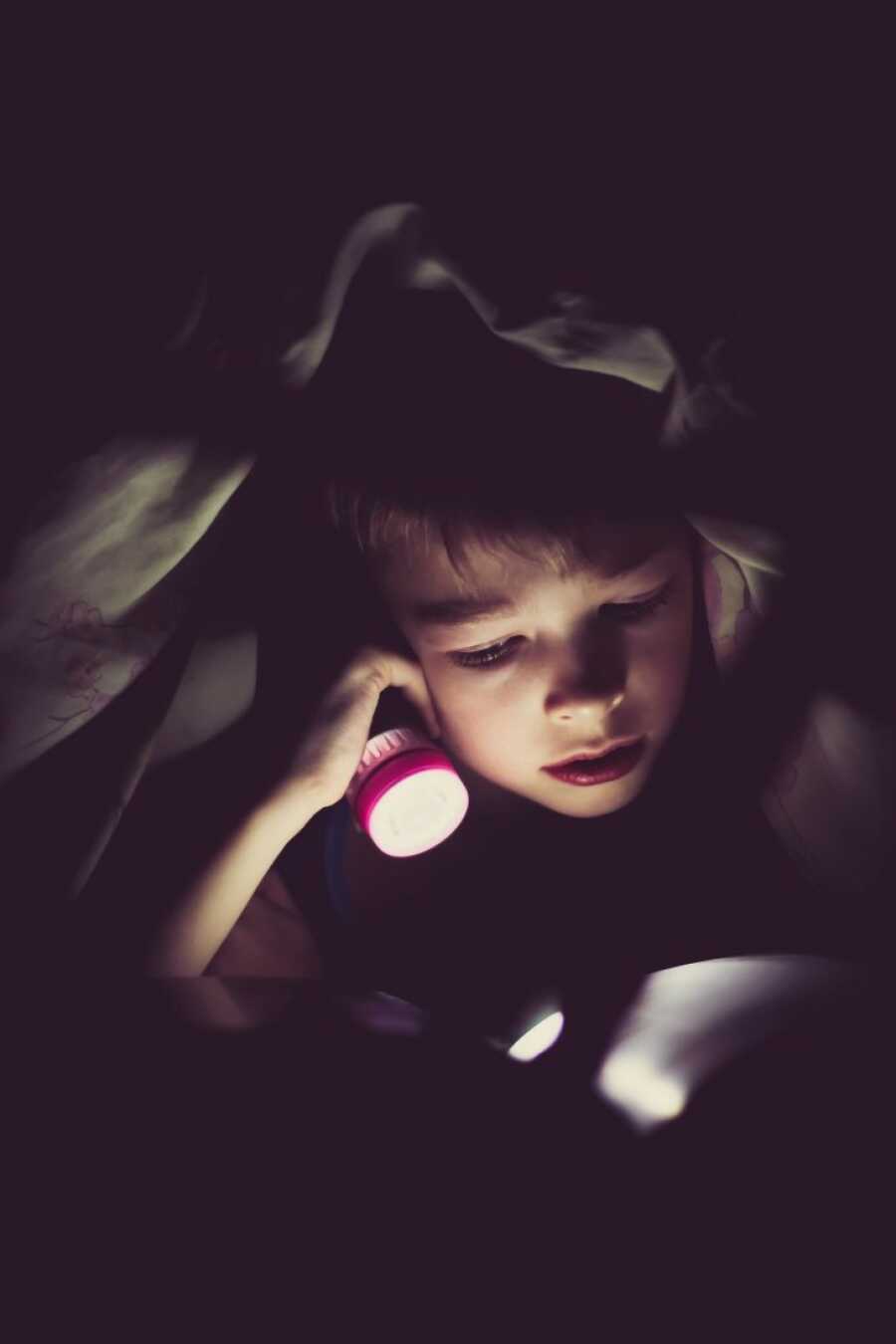 Ground Rules
Tell them where they can go (define boundaries)
Tell them when you want them back
Encourage them to check in often
Better yet: join in the fun yourself!
Useful Tools
Kids' headlamp
Battery-powered glowsticks (reusable!)
Flashlight
Battery-powered bracelet
Solar-powered lantern
Outdoor play doesn't need to stop once the sun sets. Here are twelve outdoor activities for kids to do in the dark that can be fun and exciting for all:
1. Flashlight Tag
Play tag with flashlights. The person who is "it" tries to tag players with their flashlight beam. Variation: Sit in a circle with the person who is "it" in the middle, blindfolded, with a flashlight. Players creep forwards and get as close as possible before being tagged by the flashlight. The person who gets closest is the winner.
2. Glow-In-The-Dark Treasure Hunt
Hide glowsticks or battery-powered candles in your yard ahead of time, then go out together to find them. Tell your children the boundaries and let them lead the way to see how many they can find.
3. Flashlight Nature Walk
Give each person a flashlight, hold hands and set off into nature (or just your backyard). What can you see when you look up? When you look down? What happens when you turn off your flashlight — can you still see anything?
4. Stop And Listen
Head outside and find a comfortable place to sit. Ask everyone to stay quiet for several minutes, taking note of everything that they hear. When the time is right, share your observations. Then repeat the process to see if you hear anything different the second time.
5. Star Gazing
On a clear night, take a blanket outside, lie back and gaze at the stars. How many stars do they see? Any constellations or planets? (Research ahead of time to see which ones might be visible.) You can also consider keeping a Sky Journal.
6. Light-Up Toys
Use light-up or glow-in-the-dark frisbees and balls. Other options include light-up Rocket Copters. Or get creative and tape spoke lights to a beach ball!
7. Flashlight Hide And Seek
Everyone has a flashlight to begin with. While the seeker covers their eyes and counts, the hiders all find their hiding spot (within predetermined boundaries) and turn off their flashlights. When time is up, the seeker uses their flashlight to see who they can find.
8. Flashlight Art
Using a camera with an extremely slow shutter speed, you can "draw" in the air with flashlights (or glowsticks). Set the camera on a tripod or other sturdy surface, and ask them to "draw" a simple shape in the air with the light pointed towards the camera (after you've pressed the shutter). Start with a 14-second exposure setting, an aperture of f/8, and ISO 1600, then play around to see what results you get.
9. Dance Party
It's always time for a dance party, so have one in the dark with flashlights and/or glow sticks. Put on some music (being mindful of your neighbors) and go wild!
10. Glow-In-The-Dark Bowling
Collect 6 empty soda bottles and 6 glowsticks. Put a glow stick in each bottle and set them in formation (one in the first row, two in the second row, three in the third row) on a relatively flat spot in the yard. Choose a ball (the larger the ball, the easier it should be) and have fun!
11. Reading Nook
Set up a tent or lean-to outside, and gather together some battery-powered fairy/Christmas lights, blankets, or sleeping bags and flashlights. Ask your child to choose a favorite book and head outside for some fresh-air reading time.
12. Light It Up
If permitted, have a campfire! Ask your children to help gather kindling (preferably earlier in the day) and lay the base for your fire. When the time is right, light it up and spend some time together sharing stories and maybe even a s'more or two.
Embrace the darkness with your kids and experience the outdoors in a new way!
This story was submitted to Love What Matters by Get The Kids Outside, and originally appeared here. You can follow their journey on Facebook and Instagram. Be sure to subscribe to our free email newsletter for our best stories.
Read more stories like this:
5 Life-long Lessons Your Child Will Learn From The Wonder Of Crafting
How Crafting Helps Develop Fine Motor Skills In Children
Do you know someone who could benefit from reading this? SHARE this story on Facebook with family and friends.