Are you ready to spend an intimate evening at home with your partner or a fun-filled Galentine's Day with friends? Save time scrolling through streaming services and find inspiration for some of the most romantic Valentine's Day movies you can watch on your night in. 
1. Always Be My Maybe (2019)
Can sparks still fly for a childhood couple that has spent 15 years apart? They may be in different places in their lives, but actors Ali Wong and Randall Park portray characters with so much chemistry that you will be smiling throughout the entire film. 
2. An Affair to Remember (1957)
If you are looking for Valentine's Day movies that are full of romance, look no further than An Affair to Remember. Considered one of the most romantic films of all time, this 1957 classic pairs two unlikely people together who may (or may not) be meant to be. 
3. Brokeback Mountain (2005)
In what is arguably one of late-actor Heath Ledger's most iconic roles, Brokeback Mountain is a tortured love story between two cowboys in the 1960s. This breathtakingly beautiful film features a star-studded cast that will remind you why love is worth fighting for.
4. Brown Sugar (2002)
What if the love of your life has been right in front of you since childhood? In this romantic comedy, a shared love for music brings two childhood friends together… if only they can take the step from friends to romantic partners.
5. Crazy Rich Asians (2018)
What happens when class differences clash with family? Rachel Chu (Constance Wu) learns the truth about her longtime boyfriend's life while visiting his home country Singapore. Can the couple overcome these differences while everyone around them weighs in on their relationship?
6. Dirty Dancing (1987)
Of all Valentine's Day movies to put in the corner, Dirty Dancing is one that deserves the spotlight. The summer romance between Baby (Jennifer Grey) and Johnny (Patrick Swayze) is sure to warm your heart on your cold Valentine's Day evening, whether you have someone to snuggle with or not.
7. If Beale Street Could Talk (2018)
Set in Harlem during the 1970s, this romantic drama follows a young woman named Tish (KiKi Layne) as she attempts to clear the name of her lover (Stephan James) after has been wrongly charged. With the help of her family, Tish works tirelessly to prove his innocence before the birth of their first child. Keep tissues handy as you watch this heartbreakingly beautiful film
8. La La Land (2016)
Shared interests are often the foundation of a beautiful relationship but could your dreams tear you apart from the one you love? A-list actors Ryan Gosling and Emma Stone star in this highly successful film based in Los Angeles that took home numerous awards at the Golden Globes and Academy Awards. 
9. Love & Basketball (2000)
If you struggle with getting your partner interested in romance movies, Love & Basketball could be the perfect blend of romance and sports. Childhood friends Monica (Sanaa Lathan) and Quincy (Omar Epps) share an aspiration and love for basketball, but are they suited for romance?
10. Love, Simon (2018)
A modern love story where closeted high school student Simon (Nick Robinson) falls in love with an anonymous classmate online, Love, Simon is the first film to focus on gay teenage romance by a major Hollywood studio. This film will tug at your heartstrings from start to finish.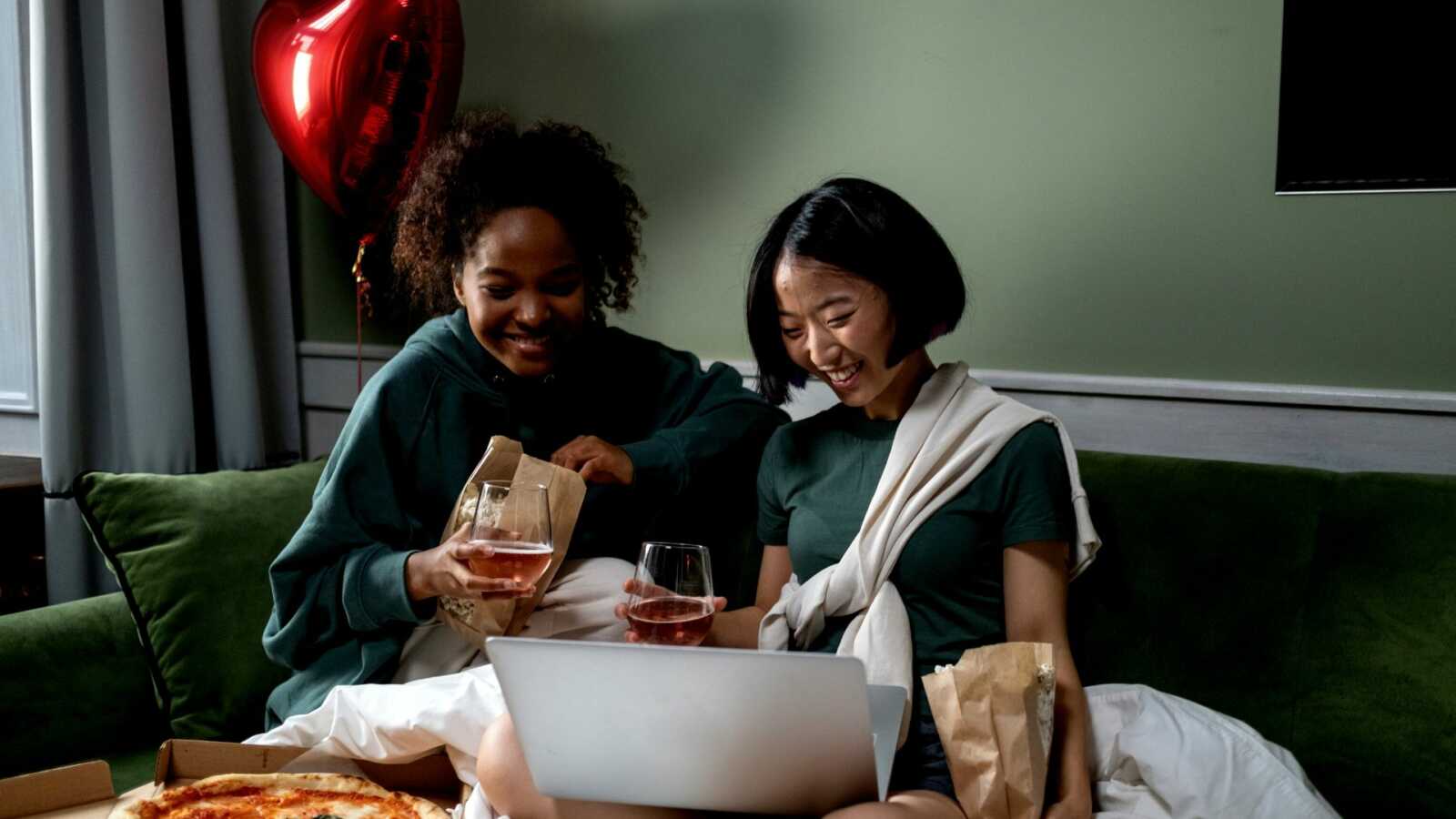 11. Portrait of a Lady on Fire (2019)
If historical romance is a genre you adore, Portrait of a Lady on Fire is a must-watch this Valentine's Day. Set in 18th-century France, the film tells the story of a lesbian affair between painter Marianne and aristocrat Héloïse. 
12. Sleepless in Seattle (1993)
The end all, be all of Valentine's Day movies, the classic romantic movie Sleepless in Seattle is a must-see. Starring the queen of rom-com Meg Ryan and the ever-talented Tom Hanks, the film follows a journalist who falls in love with a widower. But, will they meet in person at the Empire State Building on Valentine's Day and find each other?
13. Titanic (1997)
The tragic love story between star-crossed lovers Jack Dawson (Leonardo DiCaprio) and Rose DeWitt Bukater (Kate Winslet) set on the ill-fated cruise ship Titanic is a timeless film. Whether you want to watch a romantic story with your partner or you are looking for a film to bring you some comfort, this is one of those heartwrenching Valentine's Day movies. 
14. The Big Sick (2017)
Actor Kumail Nanjiani co-wrote The Big Sick with his wife Emily V. Gordon and the film is loosely based on their real-life love story. The fictionalized film showcases cultural differences an interracial couple must face that only grow more complicated when one of them falls ill. 
15. The First Wives Club (1996)
On the hunt for the perfect Galentine's Day movie? Look no further than The First Wives Club, starring three iconic actresses: Bette Midler, Goldie Hawn, and Diane Keaton. This comedic movie follows three women who exact revenge on their ex-husbands that will leave you laughing and bonding over the strength and confidence of these characters. 
16. The Notebook (2004)
This early-2000s film featuring heartthrob Ryan Gosling and the talented Rachel McAdams has easily become a romance classic. For a story that showcases what it means to be someone's soulmate, queue this film up and come prepared with tissues. 
17. The Proposal (2009)
A pretend romance, a trip to Alaska, and the iconic Betty White are the makings of a touching and humorous romantic comedy that stars Sandra Bullock and Ryan Reynolds. For a film that will keep you laughing while swooning over the chemistry between Bullock and Reynolds, stream The Proposal with your partner this Valentine's Day.
18. To All The Boys I've Loved Before (2018)
Based on the young adult novel of the same name, To All The Boys I've Loved Before follows teenager Lara Jean after five secret letters she wrote to five crushes over the years get out to wreak havoc on her life. The touching film is the first in the series, so consider cozying up with your partner to binge all three while you see if Lara Jean gets her fairy tale romance. 
19. When Harry Met Sally (1989)
Can men and women ever just be friends? In this romantic comedy starring Meg Ryan and Billy Crystal, friends explore why friendship is an essential ingredient to falling (and staying) in love. You can go wrong with this classic film that features witty banter, iconic lines, and undeniable chemistry. 
20. You've Got Mail (1998)
Another classic Meg Ryan romantic film, You've Got Mail was one of the first movies of its kind to explore a burgeoning online romance. While Kathleen (Ryan) and Joe (Tom Hanks) find chemistry in their anonymous emails to each other, the two are bitter rivals with competing book companies. When they learn the truth about who they are, will it rip their romance to shreds?
This article was written exclusively for Love What Matters by Kate Fann. Be sure to subscribe to our free email newsletter for our best stories.
Read more stories like this:
After Years Of Marriage And Multiple Kids, Valentine's Day Looks Different
'A population forgotten.': Community rallies to surprise widows with Valentine's Day flowers
Do you know someone who could benefit from reading this? SHARE this story on social media with family and friends.